Peeps S'mores Dip is the ultimate Easter dessert dip. Chocolate chips, S'mores, with your favorite dippers. This s'mores dip recipe is loaded with sweetness and waiting to be dipped!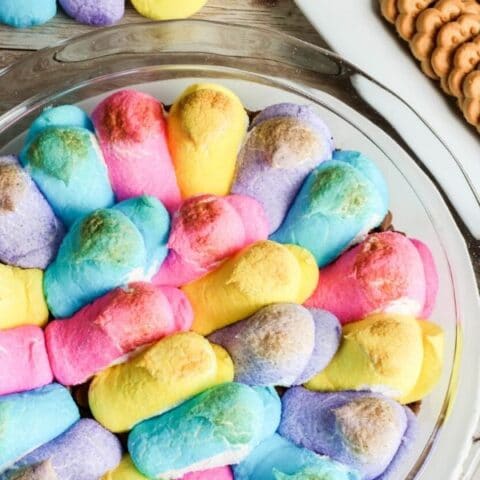 Have you tried Peep S'mores Dip before? This s'mores dip is a creamy chocolate topped with colorful sugary peeps and baked to gooey perfection. 2 ingredient Peeps dip, is calling your name. S'mores dip will transform your life.
Pair your peeps s'mores with graham crackers, shortbread cookies, and more. The ultimate delish Easter recipe!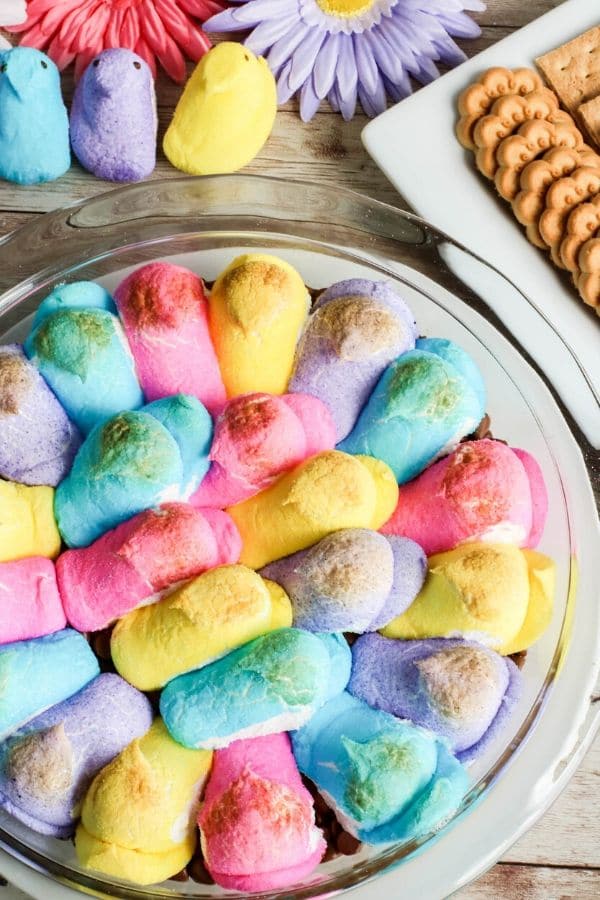 You either love or hate peeps. In my books, I enjoy them. When they transform into a s'mores dynamic they are dynamite.
Marshmallow Peeps, melted chocolate chips, and graham cracker dippers.  The ultimate Easter recipe.
This Peeps Recipe Is…
Made with 3 Ingredients
S'mores Dip Recipe (with a twist)
Sweet and Delicious
Great For Parties
Ingredients Needed
For this Easter Peeps recipe here is all you need.
Chocolate chips – So you can use milk chocolate, semi-sweet, etc. Or do half one variety and the other half another variety to add more dimension.
Peeps – I used a mix of colors to add a fun rainbow Eater theme. Feel free to use any shape or color of Peeps you want.
Dippers – We used graham crackers but cookies, fresh fruit, pretzels, all work for dipping.
How to Make
Full directions are below, this is a visual walk through on how to make this s'mores dip with pictures.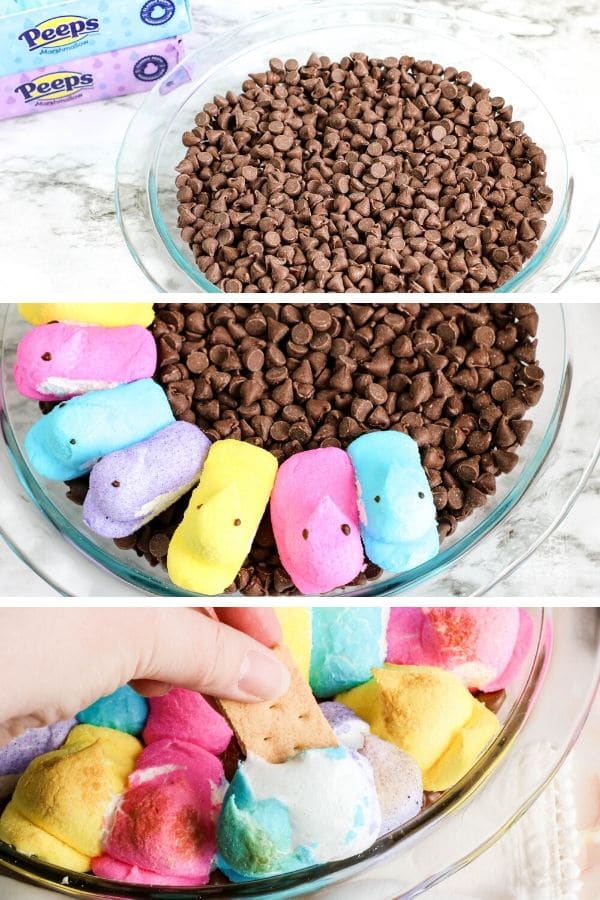 Step One: Dump your chips in a pan
Step Two: Next you will place the Peeps in a single layer on top. Try to place them right next to each other.
Step Three: Bake as directed, and once done serve with your favorite dipping items like graham crackers! op with peeps, cook as directed, remove and pair with crisp cookies and Graham's for dipping. 
Note: The sanding sugar will somewhat bake off as it heats in the oven. This skillet s 'mores recipe is so tasty, and easy.

Variations to Peep S'mores Dip Recipe
Mix in a variety of chips- white,
butterscotch, peanut butter, etc.
Chop up candy bars and mix in with the chocolate chips.
Swirl in some caramel or even peanut butter.
Do a layer of Nutella spread on top of chips
As you see here you have an option. Make it the same way I did or reach for other candies and ingredients for this easy Easter dessert!

Best Peeps For Peeps Skillet S'mores
Any Peeps work perfectly in this skillet s' mores recipe! I have used the Classic chicks and the bunny and both are delightful and tasty.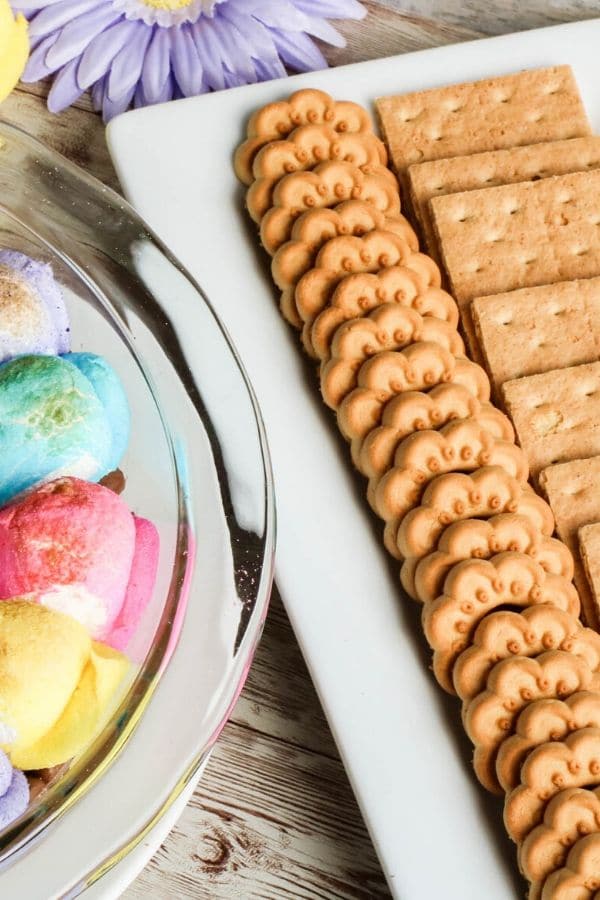 What to use for dippers
Graham crackers
Vanilla wafers
Apples
Strawberries
Etc
You can dip any and everything in this Peep Smore recipe. Get creative and have fun dipping all hour favorite cookies.
Best Baking Dish For S'mores Peeps Recipe
Any shallow baking dish will be great for this recipe. Whether you reach for a cast-iron skillet for a rustic presentation. Or opt for a white round baking dish for an elegant and effortless look.
Your family or guests will be delighted when they see this dessert dip getting served up.
Storing Leftover Dip
If you are lucky enough to have dip leftover, cover and place dip in the fridge. This Peeps dip will store for 3-6 days in the fridge.
You can eat it cold or toss in the microwave or even warm in the oven for a reheat! It tastes just as good as night one in my opinion.
How To Reheat
Like any warm dessert dip, you might think how do you warm this up. If your dip cools down and you want to make it a bit warmer you have a couple of options. 
Depending on what type of dish you used you can warm in the oven for a few seconds if it is microwave safe. 
Or if you want to put the s'mores back in the oven for a couple of minutes to reheat!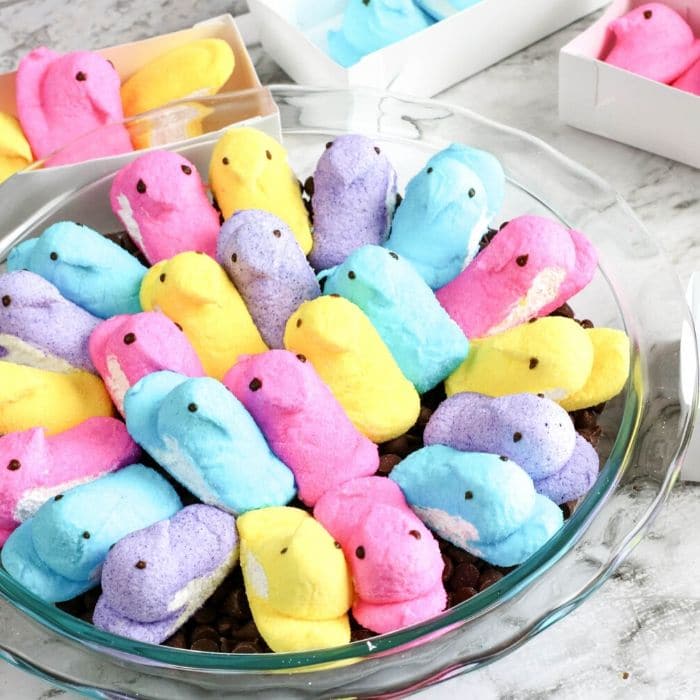 FAQs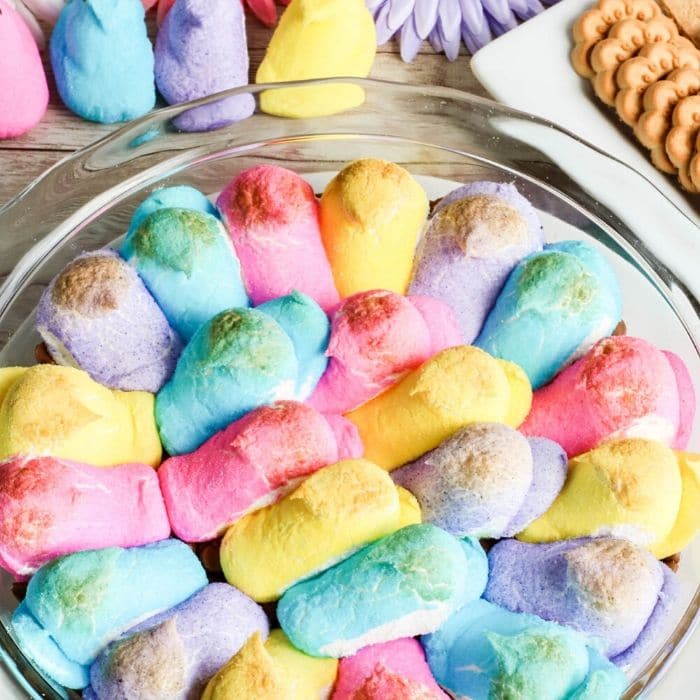 More Easter Recipes
Have you tried the recipe? If so, please leave a star ⭐️⭐️⭐️⭐️⭐️ rating in the recipe card below or drop a comment. Also stay in touch with me through social media by following me on Facebook, Pinterest, or My Facebook Group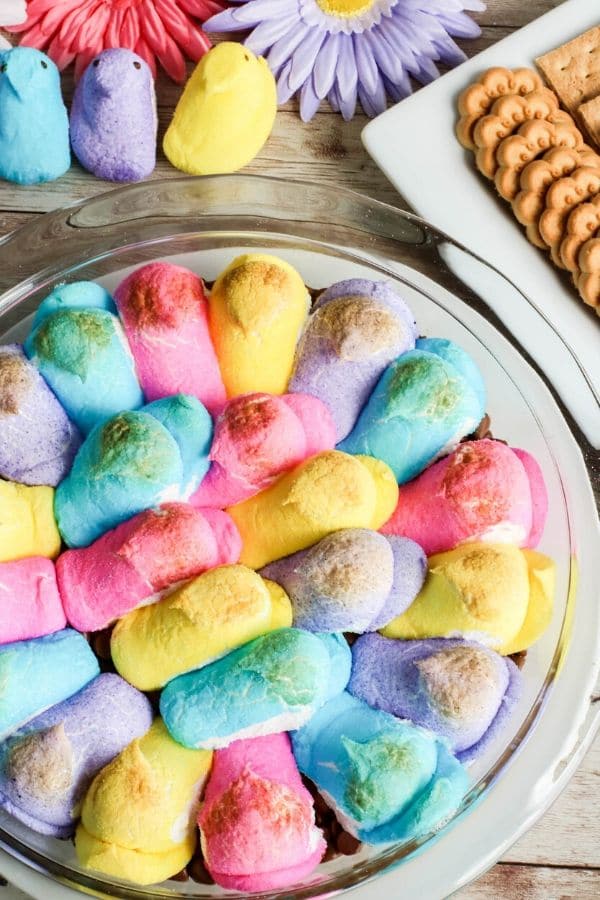 Peeps S'mores Dip
Servings 25 servings
Peeps S'mores Dip is the ultimate Easter dessert dip. Chocolate chips, S'mores, with your favorite dippers. This s'mores dip recipe is loaded with sweetness and waiting to be dipped!
Ingredients
Peeps marshmallow candies – you will want around 25
3 to 4 cups milk chocolate morsels or semi-sweet
Graham crackers and/or butter cookies
Instructions
Start by preheating your oven to 350 degrees. Then grease a round baking dish lightly with cooking spray.

Now you will want to place your chocolate chips in an even layer in your round pie pan. Spread them out.

Take your peeps and place them all over the chocolate chips, to cover the top.

Now you will want to place your smores dip in the oven and cook for around 8-10 minutes or until your chocolate is melted, and the Peeps turn golden brown.

Once you pull it out of the oven, pair it with some graham crackers, fresh fruit, butter cookies or whatever you want to dip.

Serve up this Peeps S'mores Dip with any of your favorite dippers and enjoy.
Notes
Air Fryer, Instant Pot Duo Crisp, and Ninja Foodi Directions
Assemble in a pan that fits in your air fryer or Duo Crisp or Ninja Foodi. Do 325 degrees for 5-7 minutes or until the Peeps are golden and chocolate chips are melted.
To reheat or to soften peeps: Place pie plate in the microwave and
heat for 30 seconds. Watch carefully as the peeps will expand and
bubble.
You can use semi-sweet chocolate chips, milk chocolate, white chocolate, etc. Or do a mix of chocolate if you want.
You can replace with plain marshmallows instead of Peeps if you want
Nutrition
Serving: 1gCalories: 443kcalCarbohydrates: 50gProtein: 6gFat: 24gSaturated Fat: 15gPolyunsaturated Fat: 7gCholesterol: 20mgSodium: 70mgFiber: 3gSugar: 42g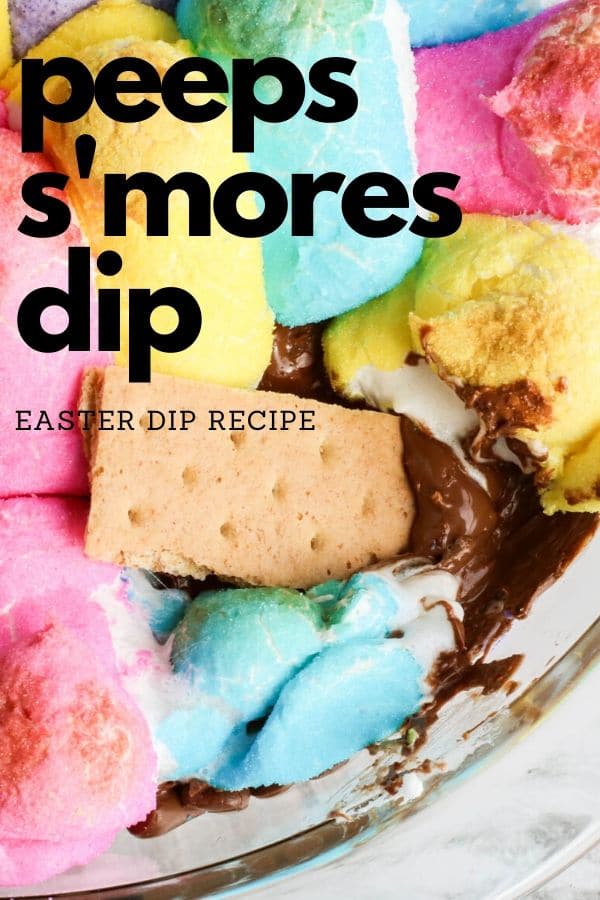 Have you ever made a Peeps S'mores dip?
Reader Interactions