Looking for those perfect Easter desserts to bring to your family gatherings this year? Or maybe you are in charge of taking Easter desserts to school or daycare for your child.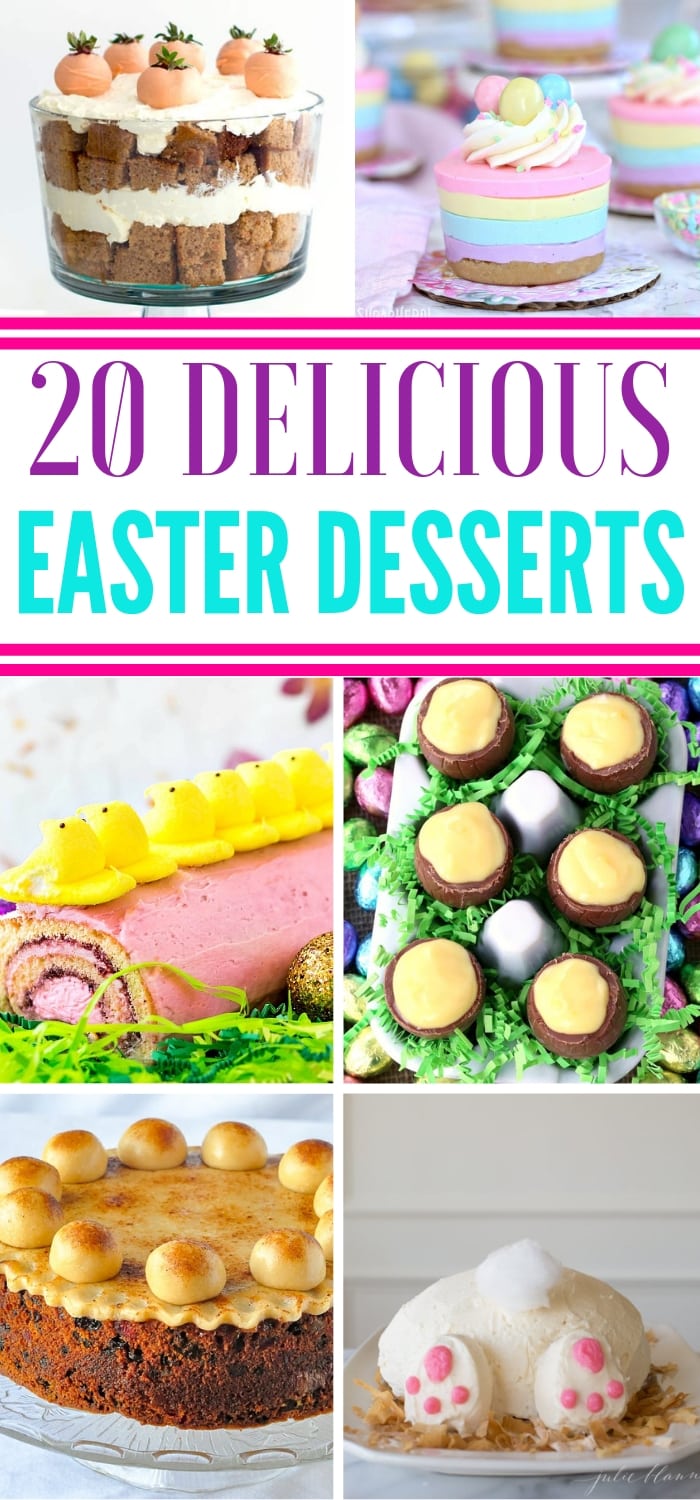 Easter is always such a fun time of year. I love doing Easter egg hunts with our boy, he has a blast running around the yard looking for those bright colored eggs scattered all over the yard.
Growing up I had so many fond memories of Easter egg hunts at my grandma's house. It was truly one of my favorite holidays.
I curated a list of the best Easter desserts that you will want to make this year.
Easter desserts for kids, traditional recipes, and even some super easy no-bake recipes. I got you covered in the Easter department.
Delicious Easter Desserts You Have To Try
Easter Fudge is a creamy chocolate fudge that is topped with Cadbury eggs. This recipe is one of my favorites.

No bake mini cheesecakes might be simple to make, but don't be fooled, the colors and flavors are dynamite! Pretty in color and even more satisfying in taste!
Whip up a carrot cake dip that tastes like carrot cake but takes minutes to make! Creamy, smooth, and the perfect cold dip to serve up guests.
Bunny tail cupcakes are an Easter dessert for kids and adults. While kids love the looks they will also enjoy the moist and light cake paired with the coconut.
Pavlova with Raspberries and Lemon Curd is a more traditional Easter dessert that adults will really enjoy. Of course, children can eat it too. This dessert offers bold and vibrant flavors in a rich and creamy texture.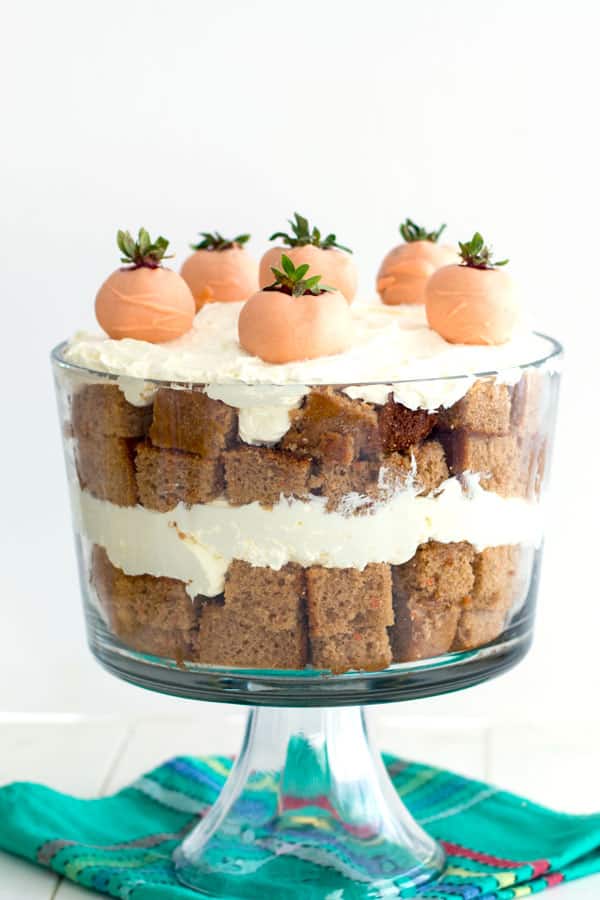 This carrot cake trifle couldn't get any more traditional! Layers of tender carrot cake with layers of no-bake cheesecake filling.
I love making these bird nest treats, they are no bake and that means no fuss. Quick to whip up, great for a crowd, and the right amount of sweet to satisfy your sweet cravings.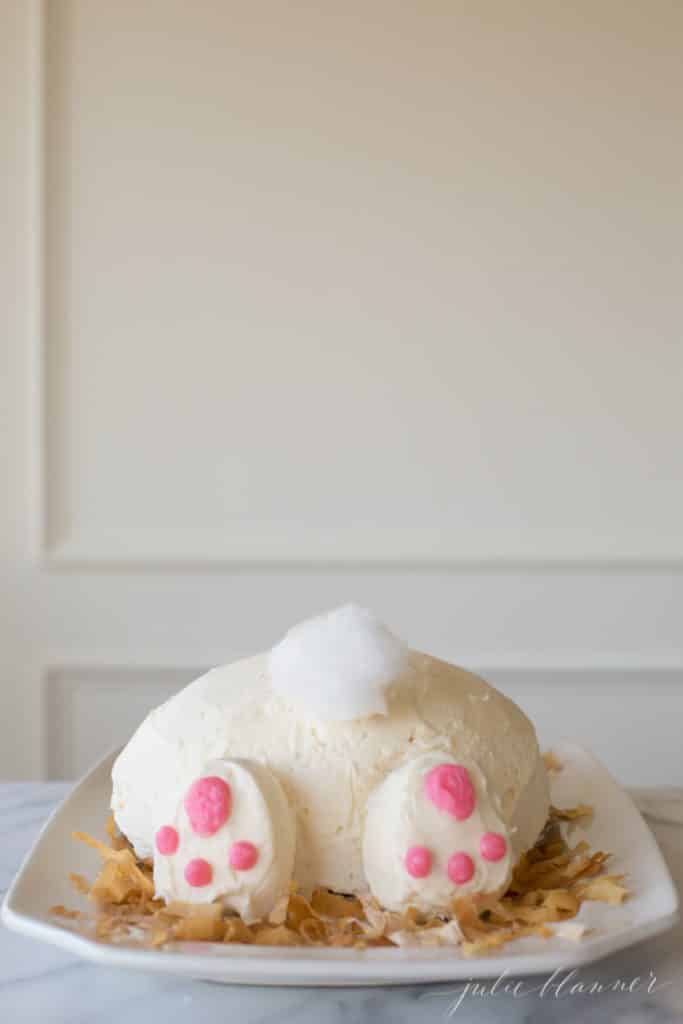 Easter Bunny cut out cookies are a creative cookie that totally feels like Easter in every bite. These are easy to make that kids can roll up their sleeves and help.
How adorable is this Easter Bunny Butt cake? I mean come on, look at that fuzzy tail and little fit. This would be the ultimate cake for your party festivities.
My lemon blueberry muffins are great to add on to your dessert table. These muffins are sweet, light, and fluffy in texture and great for snacking on after you enjoyed your tasty meal.
Cake Batter Truffles are the perfect bite-size dessert. I love making truffles as they are such a sweet treat that can please anyone.
No-Bake Coconut Cream Lush Dessert is incredibly smooth, easy to make, and no baking required. Coconut is such a refreshing flavor at Easter.
What Desserts to Bring to Easter Dinner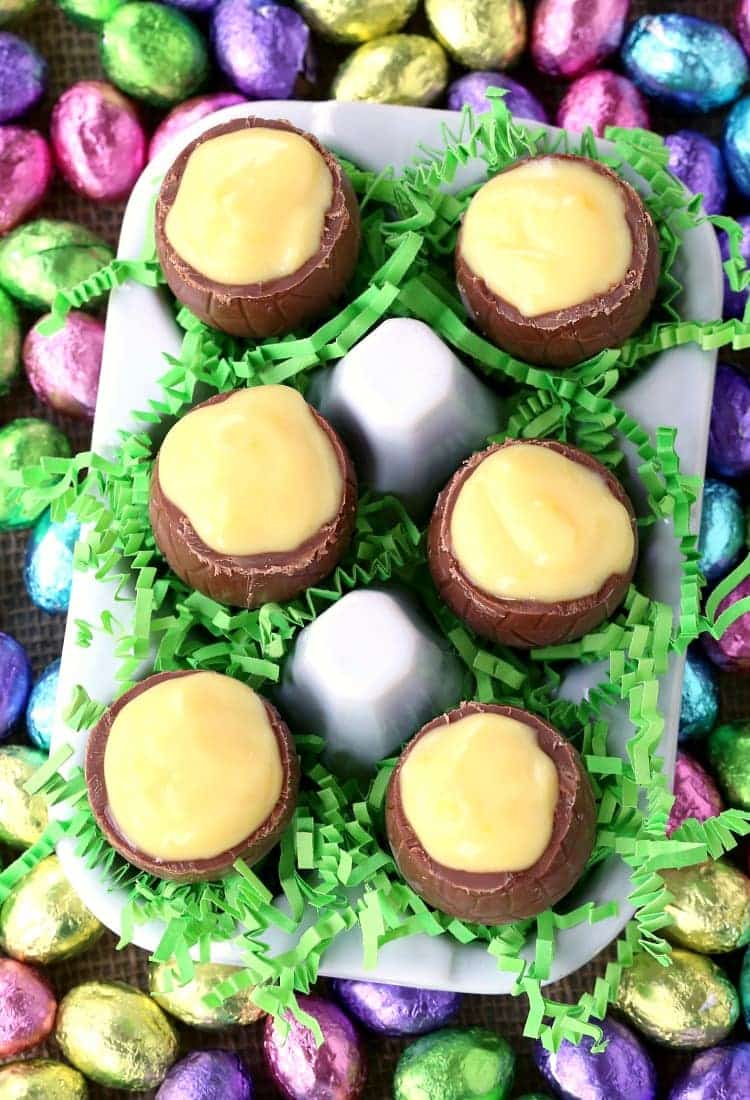 RumChata Chocolate Egg Pudding Shots are a boozy take to your Easter desserts. Creamy, smooth, and carries a little booze filled kick to them.
Carrot Pretzels are a dipped pretzel that is decorated to look like a carrot. These are a no-bake treat that you could even let your kids help make.
Wow your family and friends with this gorgeous Italian Sweet Ricotta Easter Pie! Hand pies that offer a sweet ricotta filling that is so creamy and rich it melts in your mouth.
Easy Easter Desserts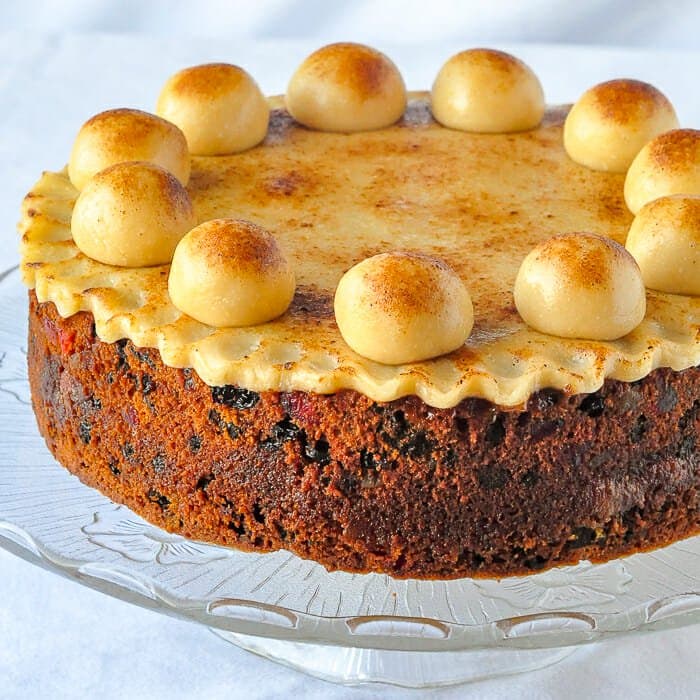 Simnel Cake is a traditional Easter British Dessert to make. Filled with dried fruits, and baked in a light and delicious cake base and topped with frosting.
No Bake Coconut Nests give you that coconut and chocolate blend that is a winner. Then top with little jelly beans or egg-shaped candies to mimic bird nests.
Sere up a Ricotta Easter Pie for dessert. Bold citrus flavors paired with creamy ricotta, and more for one stunning pie. This will shock and wow your guests by the beauty.
Feeling like making cookies. Here are some Easter grass sugar cookies that are light, buttery, and will melt in your mouth and give you a colorful dessert.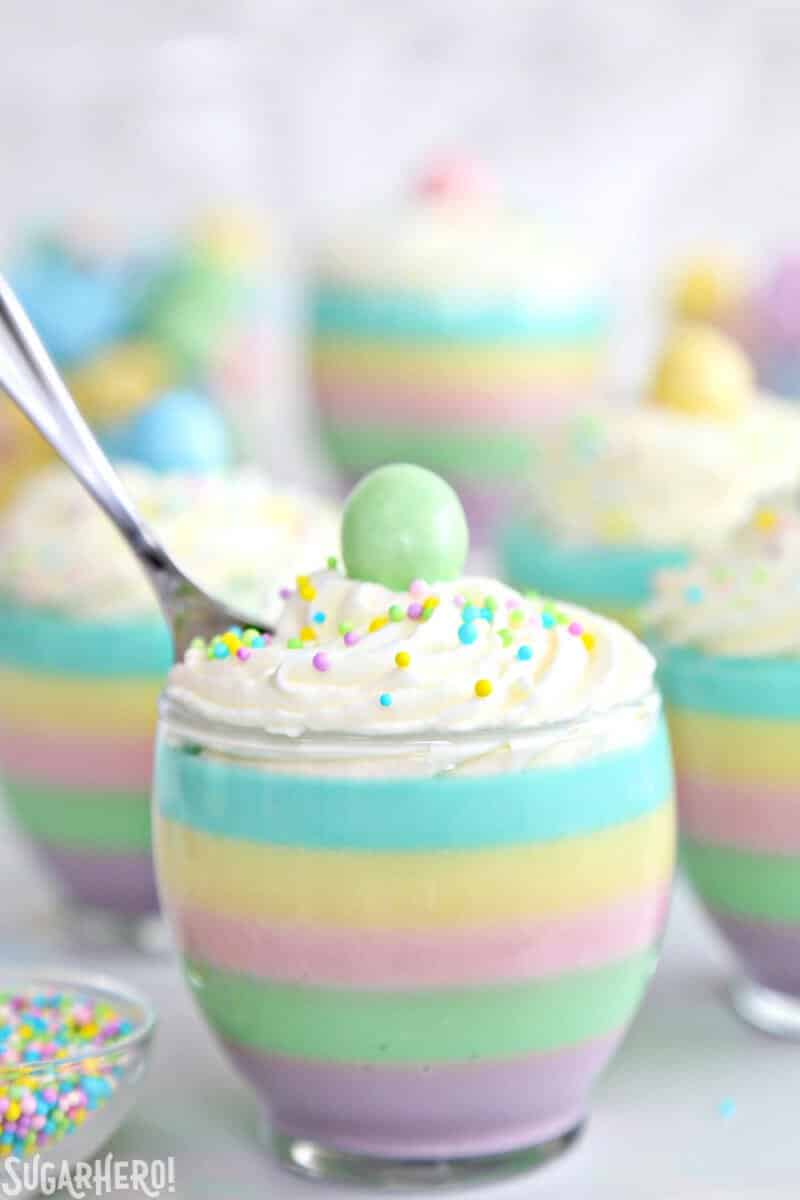 Whip up a handful of these Pastel Rainbow Gelatin Cups! I love the pastel layers of gelatin throughout. These would make a tasty treat at any party you might be hosting this Easter.
Lemon Cheesecake Crescent Rolls are a really tasty dessert. They are light, flakey, and inside a sweet citrus lemon cheesecake filling.
Peeps Buttercream Jelly Roll just screams Easter from the fun colors it offers. This is colorful, fun but also such a tasty treat to make.
And there you have 20 incredible Easter Desserts for you to try out. From traditional to fun and all things in between. I love Easter, and who can resist bright or pastel colors when added to your desserts? I know I sure can't!
What is your go-to Easter Dessert you enjoy making?