Fruit kabobs are so simple to make, and a great way to lure little ones into eating more fruit! These patriotic fruit kabobs are filled with red, white, and blue! Whether you are serving at a summer bbq, 4th of July, or even Memorial Day, these easy fruit skewers are the best.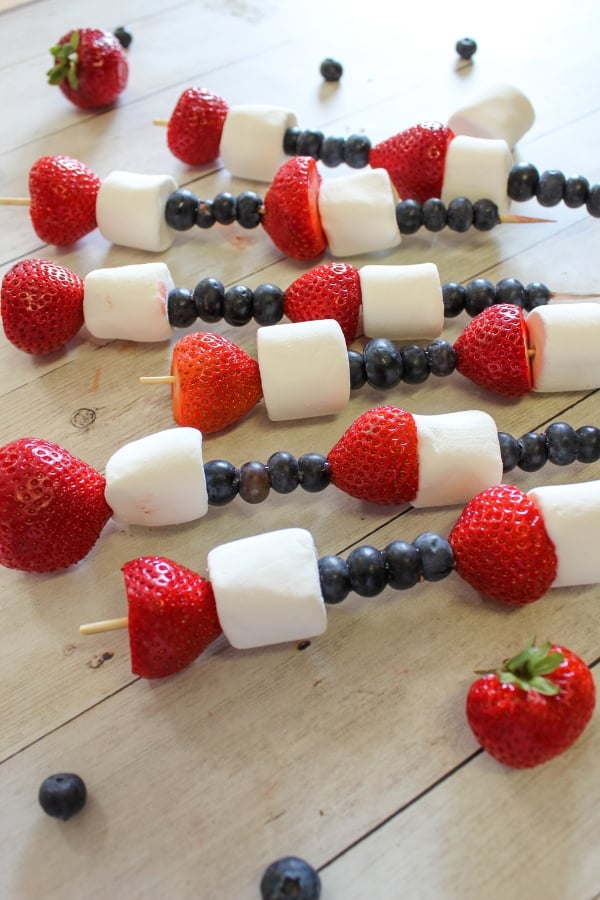 The best part of all is with a little prep these red white and blue fruit kabobs can be made and ready to serve to family and friends. The marshmallows add a nice sweetness to the fruit! Pair with a fruit dipping sauce, or even chocolate fondue, and dive in!
Pack these for swim meets, summer cookouts, baby showers, play dates, or any other occasion you see fit!
More Tasty Desserts To Serve Up
4th of July Fruit Kabobs
I used wooden skewers for my fruit skewers but you are welcome to use other skewers that fit your needs! Fresh fruit and marshmallows is all you need! Feel free to play up the fruits to make it fit any of the flavors you want! I will share some other fresh fruit that goes with the red white and blue theme!
Blackberries
Red Grapes
Raspberries
Bananas (drizzle with lemon juice to prevent from browning)
Or if you want to skip the red white blue theme, there are other fruits that are fantastic.
Kiwi
Oranges
Pineapple
Watermelon
Cantaloupe
Honeydew Melon
Any type of berries
Green Grapes, Red, Purple
Etc.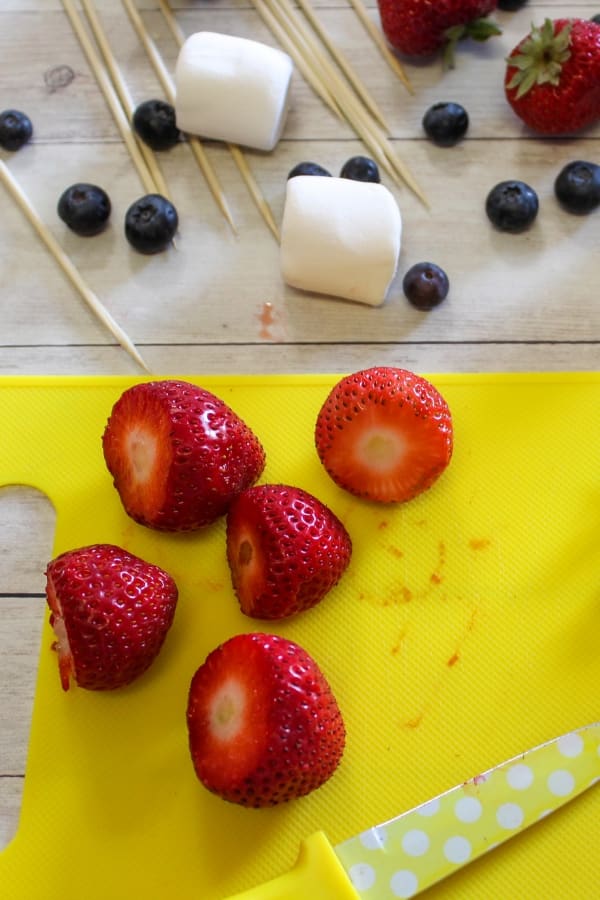 Can You Make Fruit Kabobs A Day Ahead?
Because of the fruit used in this recipe, yes you can make your fruit kabobs the day before. Just make your fruit skewers and wrap in plastic wrap and place in the fridge until you are ready to serve it up! The marshmallows will get a little hard but as they drop back down to room temperature they will soften up.
Can You Cut Up Fruit The Night Before?
If you are using fruit that isn't meant for this recipe, some fruit can't be cut up the night before. Bananas are one fruit that will brown as the air hits it. If you use blackberries or raspberries, you want to rinse right before serving, as they will soften up as they sit.
Bamboo Skewers
Kabob Skewers Stainless Stee
1 Inch Wide Stainless Steel
Flat Barbecue Skewers
Do You Soak Wooden Skewers in Water For Fruit Kabobs?
No, you do not need to soak your wooden skewers in water for fruit kabobs. Your skewers get soaked in water for when you are using them on the grill. It keeps them from burning up as they cook. Since you are not grilling your skewers you do not need to soak them.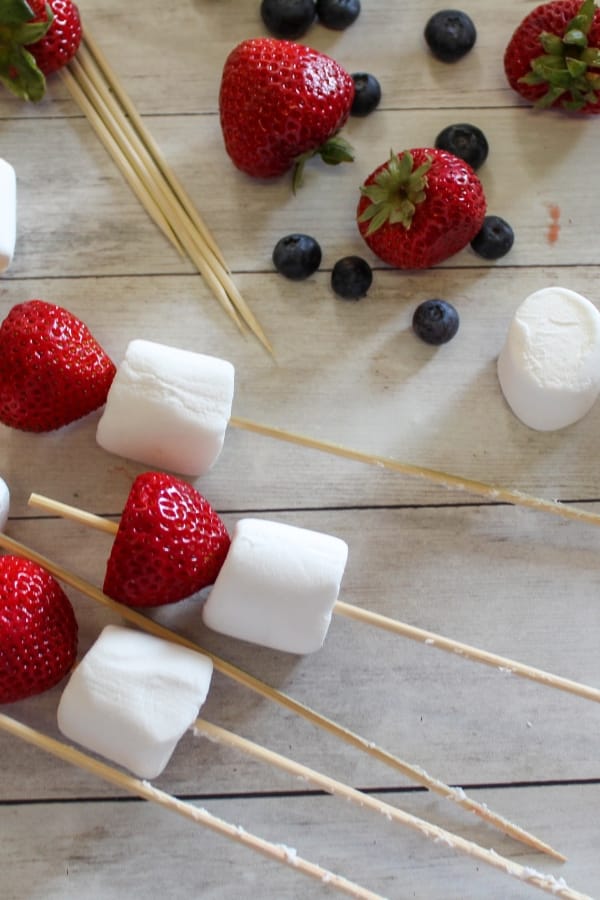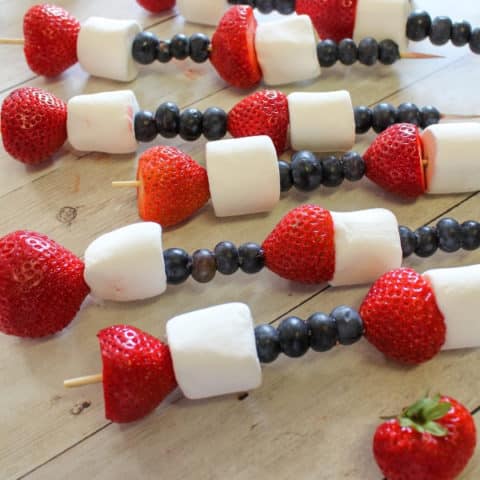 Patriotic Fruit Kabobs
Red, white, and blue patriotic fruit kabobs. Great for any entertaining, holiday parties, and more.
Ingredients
Fresh strawberries
Blueberries
Large Marshmallows
Instructions
Start by washing and prepping your fruit. Cut off the stems of strawberries, and rinse blueberries.
Then start placing fruit on wooden or metal skewers.
Do this for each skewer, until all your fruit and marshmallows are placed on skewers.
Notes
Feel free to use any fruit you would like.
Nutrition Information:
Yield:

24
Serving Size:

2
Amount Per Serving:
Calories:

2
Total Fat:

0g
Saturated Fat:

0g
Trans Fat:

0g
Unsaturated Fat:

0g
Cholesterol:

0mg
Sodium:

0mg
Carbohydrates:

1g
Fiber:

0g
Sugar:

0g
Protein:

0g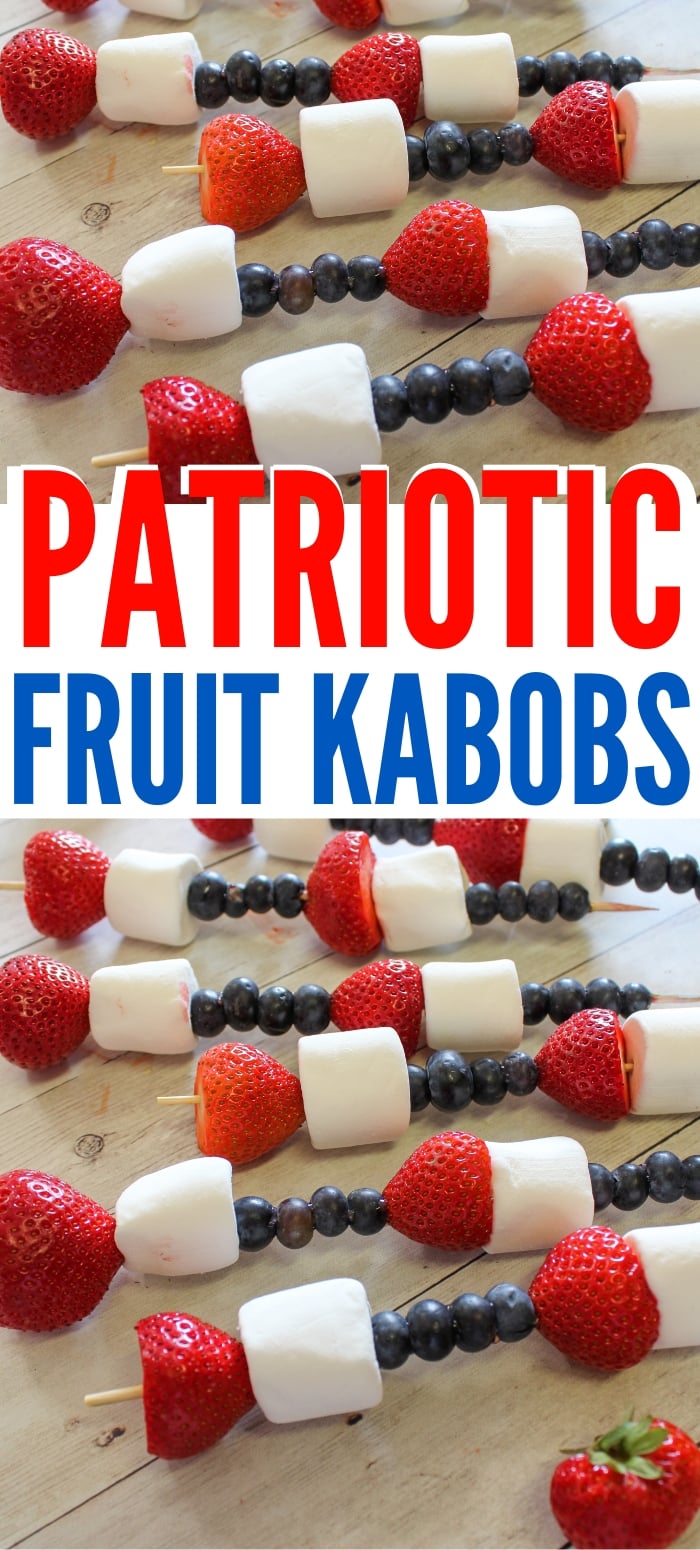 Are you a fan of fruit kabobs?