Egg substitutes are a great way to swoop in and save the day when you are in the kitchen. Maybe someone has an egg allergy you are trying to avoid, or you used your last egg, and your cake is halfway made. These egg substitutes for baking will really be helpful for when you are in the kitchen and want to replace an egg in a recipe with another ingredient.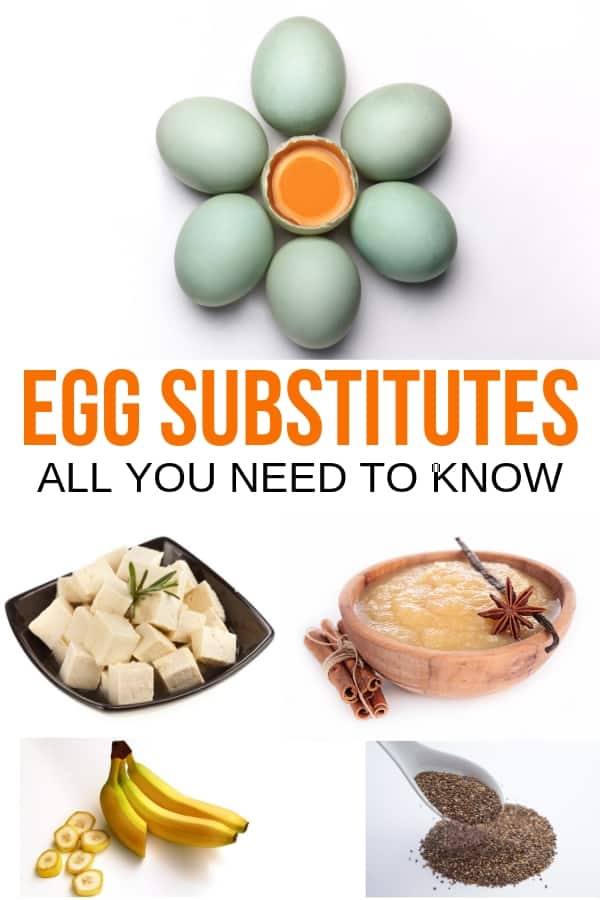 What can I use as an egg substitute for baking? That is the question I think we have all found ourselves asking once or twice! Egg free recipes, vegetarian baking needs, or you just ran out, all of these are valid reasons to know what ingredients can be used to replace eggs in recipes.
Food Tips and Tricks
Egg Substitutes
You will find using an egg substitute will give you a good result at the end of the cook time for your dish. It might slightly change the texture or flavor, but for the most part, you will find the recipe to be very similar, or you may not even notice an egg was not used in the recipe.
What is The Eggs Roll In Baking
Generally, you will find eggs are used for one of two roles in your baked goods.
Eggs can act as a Leavening Agent, which can help the food rise.
Or eggs are a Binder, which will help bring the dish together and allow it to hold up as it bakes.
Measurement of 1 Egg In A Recipe
You will find 1 egg is around 1/4 cup volume that will need to be replaced in the recipe. You need your egg substitute to be equal to the amount the egg would have been in the recipe.
Egg Substitutes For Recipes
With each recipe, you will find certain egg substitutes work best. Let me share some of the most popular egg substitutes and what type of recipes they are generally used in!
Best Egg Substitutes For Cakes And Cupcakes
You will use this measurement for each egg that is called for in the recipe.
1/4 cup applesauce or pureed fruit
3 tablespoons nut butter (make sure it is a creamy nut butter)
1/4 cup buttermilk
1/4 cup Silken Tofu (puree it so it offers similar consistency)
1/2 a medium mashed banana
1/4 cup mashed potatoes
1 tablespoon ground Chia Seed plus 3 tablespoons water
2 tablespoons water plus 1 tablespoon oil, and 2 teaspoons baking powder
1 teaspoon baking soda and 1 tablespoon white vinegar.
Best Egg Substitutes For Cookies or Brownies
For cookies and brownies, eggs help add moisture into the recipe as well as bind it together. That is why these are all wonderful options to give your cookies that moisture they need, and offer a fudgy brownie as well.
1/4 cup applesauce
1/4 cup pureed prunes
1/2 a medium mashed banana
1/4 cup Silken Tofu (pureed)
1/4 cup Yogurt (can be vegan or regular)
1/4 cup buttermilk
1 tablespoon of cornstarch with 2 tablespoons of water
1 tablespoon ground Flax Seed plus 3 tablespoons water
1 tablespoon ground Chia Seed plus 3 tablespoons water
For the flax seed or chia seed, you want to use a food processor or coffee grinder, to ensure it is ground up. Then mix with water and allow it to sit for 2 minutes, so it absorbs, then mix into your recipe.

Barney Butter Almond Butte
Perfect Keto Nut Butter
Trader Joes Mixed Nut Butter
Pure Pecan Butter –
Classic Cashew Butter
SunButter Organic Sunflower Seed Spread
Nut Butter As Egg Substitute
I want to note when you use nut butter as an egg substitute you want to be aware it will add a nice nutty flavor to your dish. So if you don't want the taste of cashew or almond, opt for a different alternative. Almond butter, cashew butter, sunflower butter, all are wonderful alternatives.
Bobs Red Mill Egg Replacer
Ener-G Egg Replacer
Namaste Foods Egg Replace
The Plant Based Egg (Vegan Egg Replacement
Neat, Egg Substitute, 4.5 Ounce
Follow Your Heart Egg Vegan, 4 oz
Commercial Egg Replacer
You can find commercial egg replacers on the market, that you can use as well. Just follow directions on the packaging to know how much to use per egg needed in a recipe.
Whole Flax Seed
Organic Ground Flaxseed
Cuisinart Supreme Grind
Cuisinart Elemental 8 Cup Food Processor
Ground Flaxseeds
Ground Flaxseeds
is a very popular alternative, that adds even more health benefits into your baked goods. Just make sure you grind it up well in a coffee grinder
or food processor
and allow it to sit in the water as directed above. If you don't do this, you will not end up with a good turnout.
Mashed Potatoes
The mashed potatoes route is really great for quick breads, dinner rolls, and even cakes. It offers a really unique texture, and if you have ever had a potato roll you know what I am talking about! Just make sure the potatoes are not overly seasoned, or they will add flavor into your recipe.
What is your favorite go-to egg substitutes?