There is nothing quite like a homemade Reuben sandwich. Buttery grilled rye bread, piled with corned beef and sauerkraut. Melted Swiss cheese and thousand island dressing. A corned beef sandwich that is mouthwatering good.
This Reuben sandwich recipe is the perfect way to use up corned beef! Learn how to make a Reuben at home that tastes just as good as restaurants.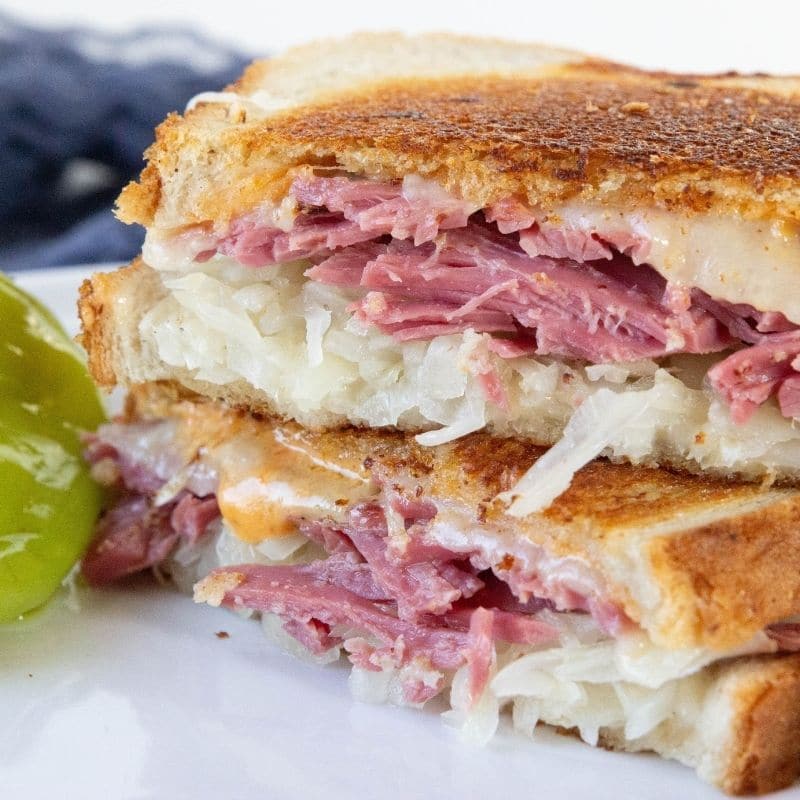 This is a classic Reuben sandwich that you know and love. Hands down this is my favorite sandwich of all time.
Why You Will Love This Reuben Sandwich Recipe..
Flavorful
Just as good as your favorite sandwich shop
Great to use leftover corned beef
Can use Russian dressing and/or Thousand Island Dressing
Tangy sauerkraut
Melted Swiss cheese in every bite
Toasted grilled rye bread
The best Reuben recipe
What's On A Reuben Sandwich
Corned Beef – I used leftover corned beef I made in the Instant Pot. Now you can also use store bought corned beef in the deli as well.
Swiss Cheese – This is the traditional cheese for a Reuben. It is such a delicious compliment to the sandwich.
Rye Bread – Swirled or not rye bread offers a nice stout flavor that goes with the corned beef nicely.
Thousand Island or Russian Dressing – Both of these sauces or dressings work great. You can make homemade or reach for a bottle.
Sauerkraut – I reached for a jar at the refrigerator section at the store. Just warm it up on the stove then pile on your sandwich!
Butter or Mayo – Slather butter or mayonnaise on your bread to help give your bread that perfect golden crust as you heat it in the skillet.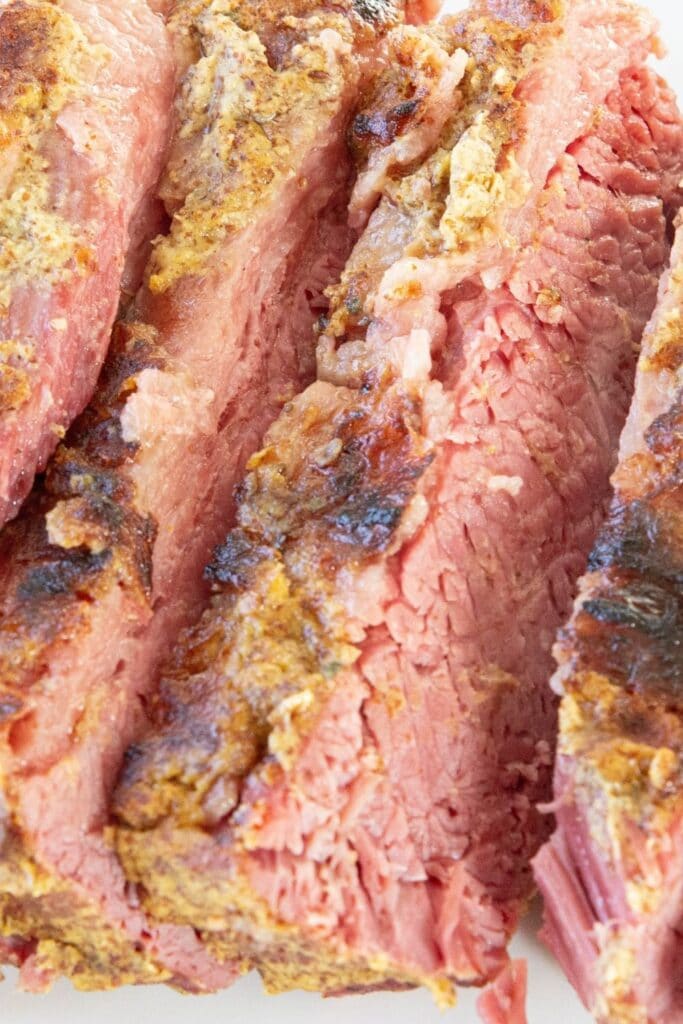 How to Make
Full directions and measurements for this recipe are in the printable recipe card below.
Step 1: Start by adding a little butter to one side of your bread. This will face down in the pan and help give you a golden crust to the bread.
Step 2: Warm your skillet over medium heat and place your bread butter side down.
Step 3: Add a layer of sauce, then top with Swiss cheese, corned beef, sauerkraut, and then one more slice of cheese. Lastly, place another piece of buttered bread on top.
Step 4: Allow the bread to warm up to get golden brown. You can carefully lift up on the bread to peak with a spatula.
Step 5: When the bread is toasted, carefully flip the bread and toast the other side.
Step 6: Once done, remove from the skillet, slice in half if you want and serve!
We enjoy eating pepperoncini peppers on the side of plain chips with this sauerkraut sandwich. Go ahead and reach for any of your favorite side dishes!
How to Make Homemade Thousand Island Dressing
½ cup mayonnaise
Splash of Worcestershire to taste
2 tablespoons sweet pickle relish
1 ½ tablespoons ketchup
¼ teaspoon onion powder
Mix and then use as you would for salads, this sandwich, etc. This makes the perfect Reuben sandwich sauce to smear on your bread.
Can I Make This Lower Carb
If you are watching your carbs, reach for a low carb bread or even a low carb tortilla. You can butter and toast it just like bread but it would be similar to a quesadilla style.
Or assemble the ingredients into a baking dish and bake in the oven without the bread as a casserole!
Recipe FAQs
What is the difference between a Reuben and Rachel?
Reuben are served with corned beef. Rachel's are served with Turkey or pastrami. Both sandwiches tend to be made on rye bread that is pan cooked and Swiss cheese.
Is Russian dressing the same as Thousand Island?
Russian dressing doesn't have the sweetness like thousand island dressing. It offers a spicier flavor as it doesn't contain sweet pickle relish.
Are Reubens Irish?
To much surprise, Reubens sandwiches are not Irish. This sandwich was invented in Nebraska from what has been said.
Is Pastrami the same as corned beef?
Pastrami and corned beef are not the same thing and both offer unique flavors. Corned beef is from a brined brisket.

Pastrami on the other hand is made from beef but cooked differently so you get a whole different flavor. You can use pastrami but it then turns the sandwich into a Rachel sandwich, as noted above.
Tried this recipe? Make sure to rate ⭐️⭐️⭐️⭐️⭐️ and leave a comment to let me know how you like it! Plus get more Instant Pot Recipes or Home Cooked Recipes Facebook Page on my Facebook. Stay up to date and Follow Me On Pinterest!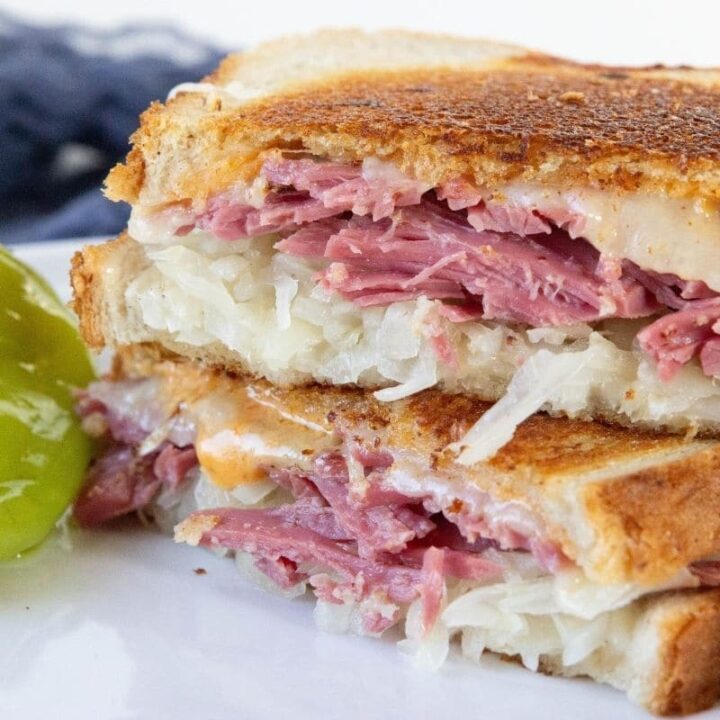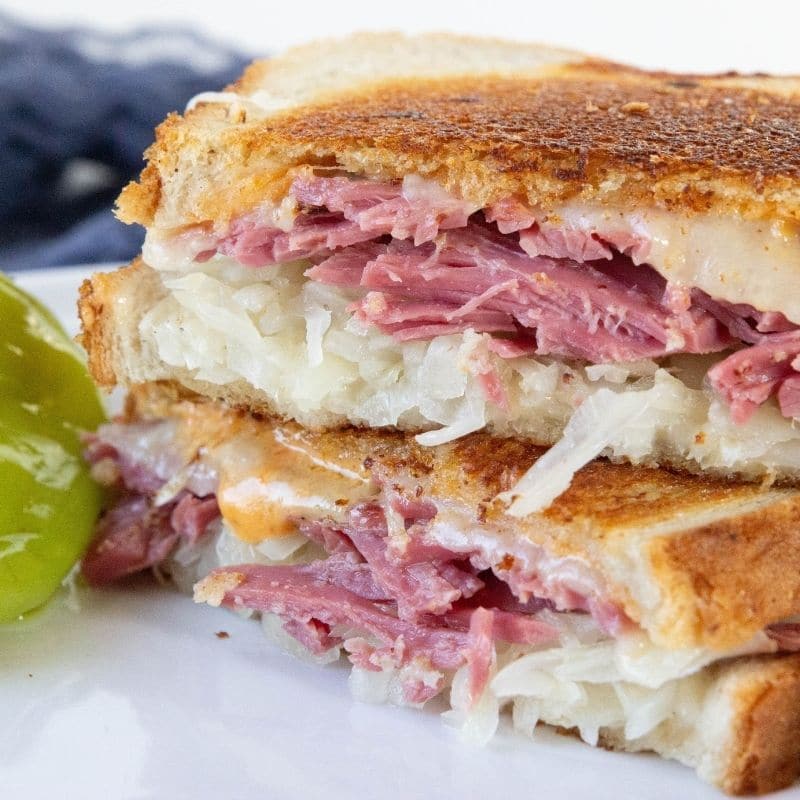 Reuben Sandwich
There is nothing quite like a homemade Reuben sandwich. Buttery grilled rye bread, piled with corned beef and sauerkraut. Melted Swiss cheese and thousand island dressing. A corned beef sandwich that is mouthwatering good.
Ingredients
8 slices rye bread
3 tablespoons butter
8 slices Swiss cheese
1 cup sauerkraut
1/2 cup Thousand Island or Russian dressing
16-18 ounces Corned beef
Instructions
Start by buttering one side of each piece of bread.
On a cast-iron skillet heat over medium heat. Place the butter side of the bread in the pan.
Spread on some of the dressing, a slice of cheese, corned beef, and then some sauerkraut.
Top with the other side of bread on top with the butter side up.
Once the bread is toasted, flip the sandwich and toast the other side.
Slice and serve with more dressing if you would like.
Notes
You can use mayonnaise or butter to spread on one side of your bread
Feel free to add a little or a lot of dressing to your sandwich.
I recommend making your sandwiches right when you plan to eat, otherwise, the bread will sog up once pan-fried.
You can warm your sauerkraut in a skillet on the stove and the same for the corned beef if you would like. Then top your sandwich.
Nutrition Information:
Yield:

4
Serving Size:

1
Amount Per Serving:
Calories:

780
Saturated Fat:

23g
Sodium:

249mg
Fiber:

4g
Sugar:

7g
Protein:

39g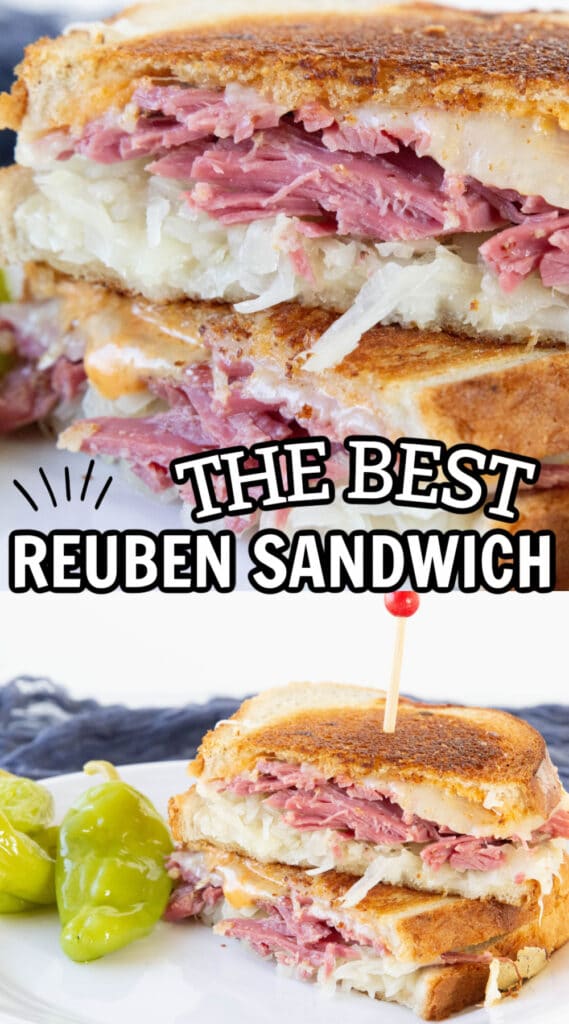 This is the best sandwich recipe, I hope you enjoy it!