Pizza Cupcakes are a mini deep dish pizza made with biscuit dough! These are an easy muffin tin pizza recipe that is a great appetizer or weeknight dinner recipe.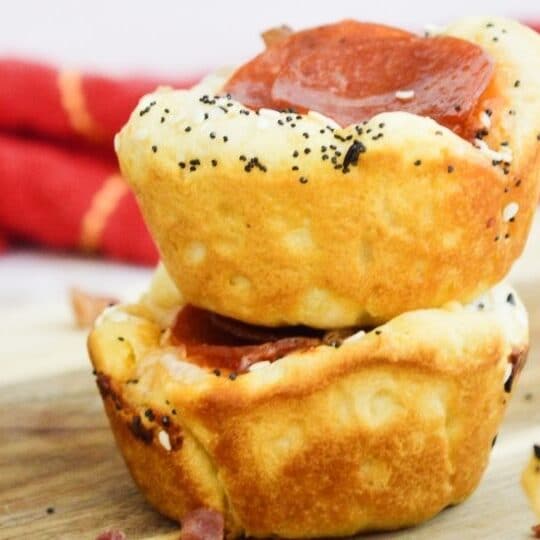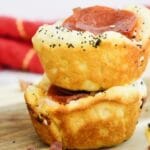 Pizza cupcakes are a savory biscuit cup that is filled with pizza sauce, pepperoni, bacon and topped with mozzarella cheese. Pizza in a cup is a fun new way to serve up pizza night!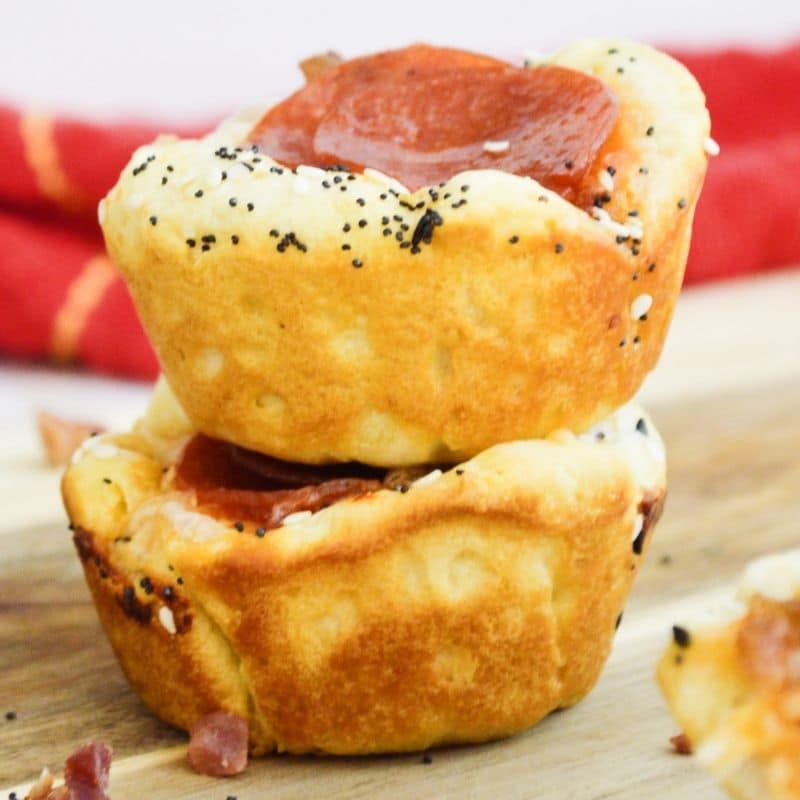 Canned biscuit pizza crust is so simple, and it is a bit heartier than a classic crust. Cheese and pepperoni were our favorite pizza muffin toppings.
Muffin tin pizza cups make a great dinner or even appetizer to serve up. Load up your mini deep dish pizzas with your favorite toppings and bake till golden brown!
Why You Will Love These Pizza Cupcakes…
Kid friendly
Bakes in just 12 minutes
Pile in your favorite pizza toppings
Uses canned biscuits for easy prep
Literally takes minutes to prep – just 5 minutes
Cheesy goodness in each bite
Affordable and very budget friendly ingredients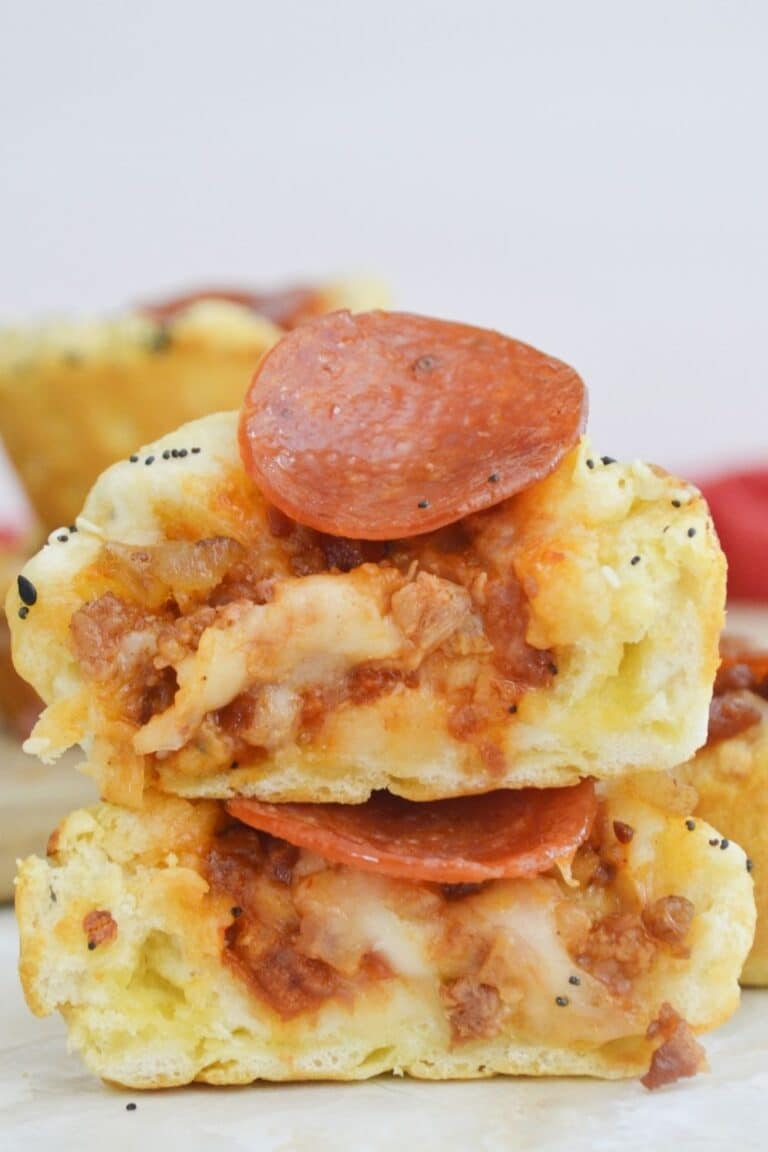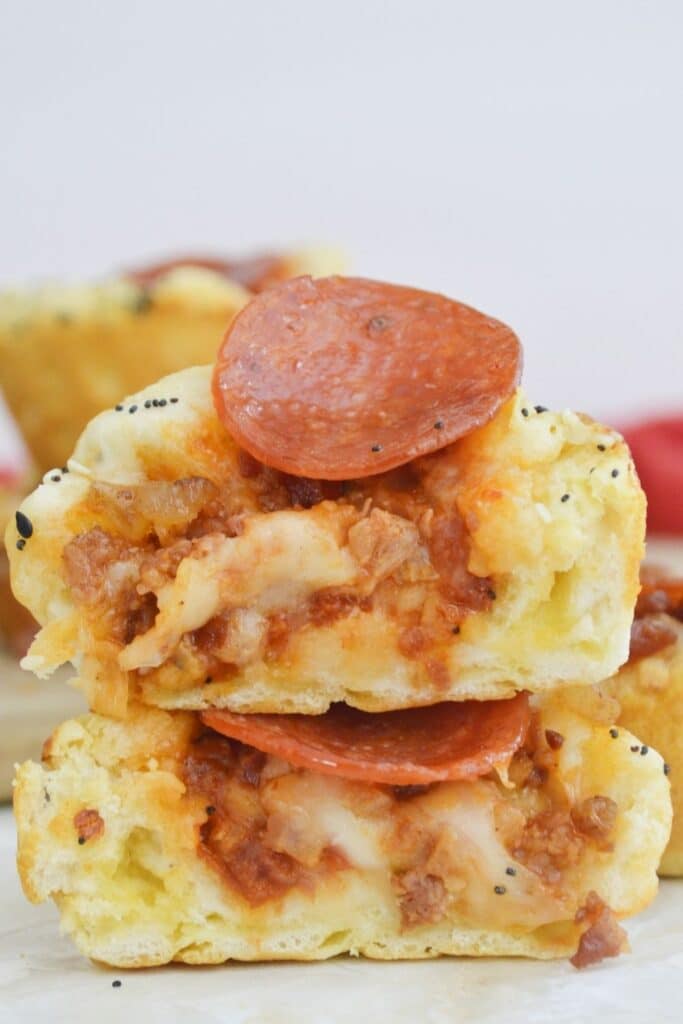 🍅 Ingredients Needed
Canned biscuits – I used Pillsbury grands biscuits
Pizza Sauce – Do homemade sauce or jarred sauce
Mozzarella
Pepperoni and Bacon – can use and meats or go meatless.
Everything Bagel Seasoning
Pizza Toppings (optional)
🍕 How to Make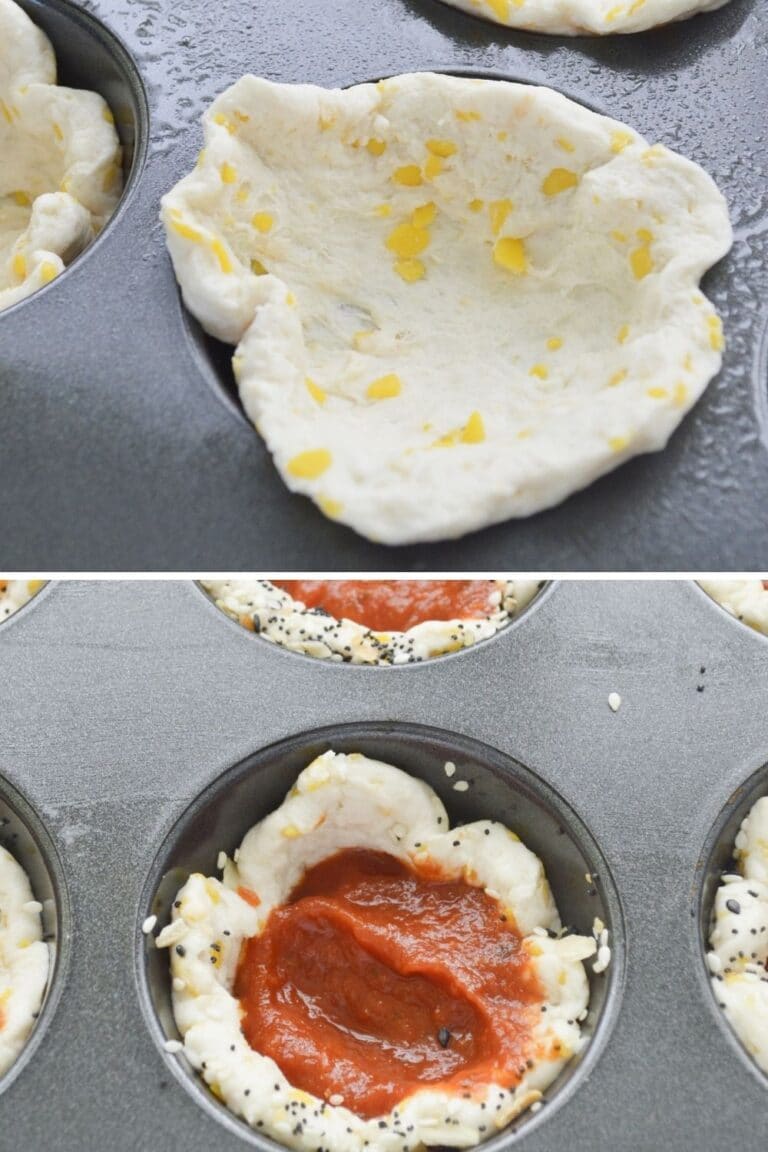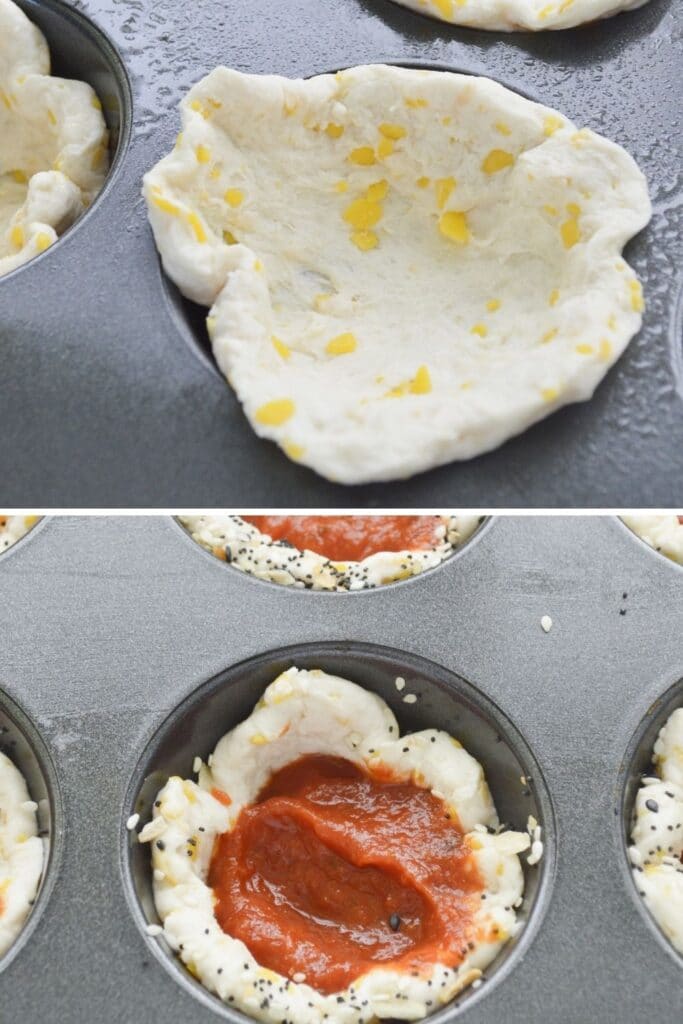 Step 1: Grease your muffin tin well with cooking spray. Then open biscuits up and split dough in half. 
Step 2: Next, stretch out the dough and press into the muffin tin. Make a hollow nest of dough.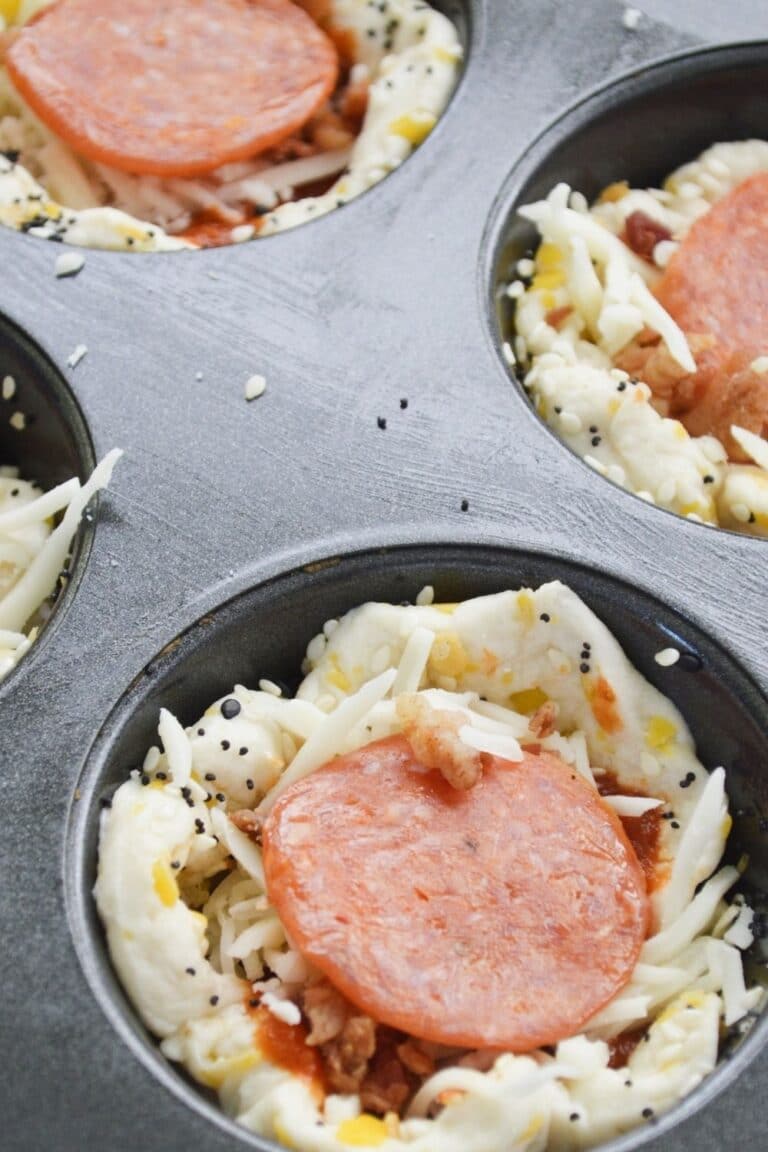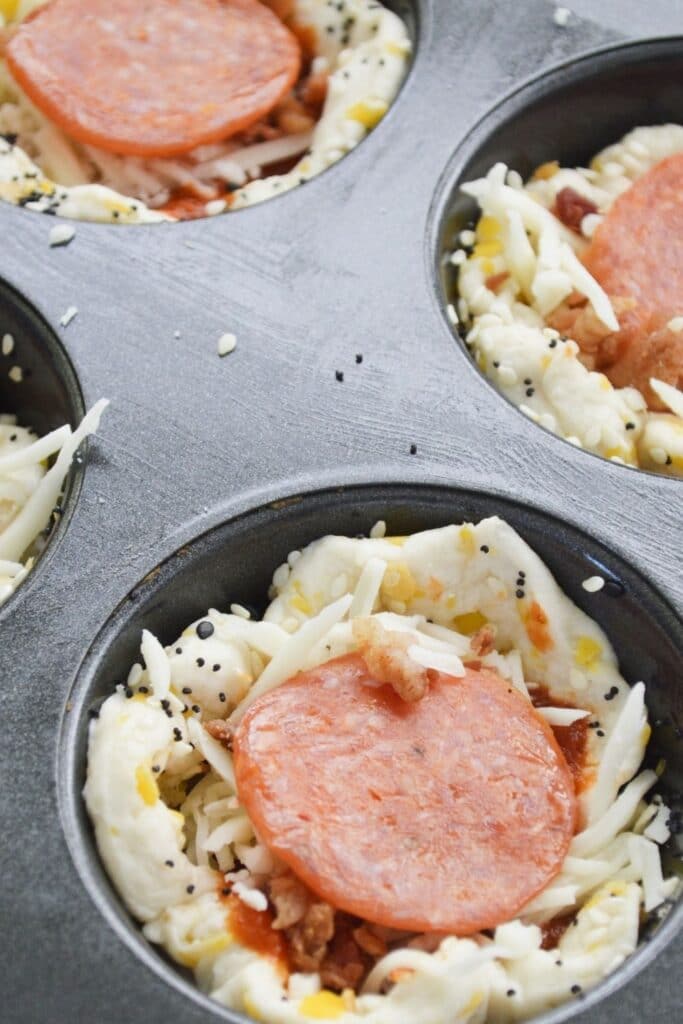 Step 3: Sprinkle edge of biscuit dough with the Bagel seasoning. Then add in some pizza sauce, pepperoni, crumbled bacon, and mozzarella cheese. 
Step 4: Bake as direction then serve up these muffin tin pizza cups! 
🍳Variations to Recipe
Add on some diced peppers, mushrooms, and onions for a supreme pizza cup. 
I did a meat lovers pizza cup. Consider adding some ground beef, Italian sausage, Canadian bacon, etc 
Make meatless if you would like 
Any style of canned biscuit will work
Make homemade pizza dough instead of biscuits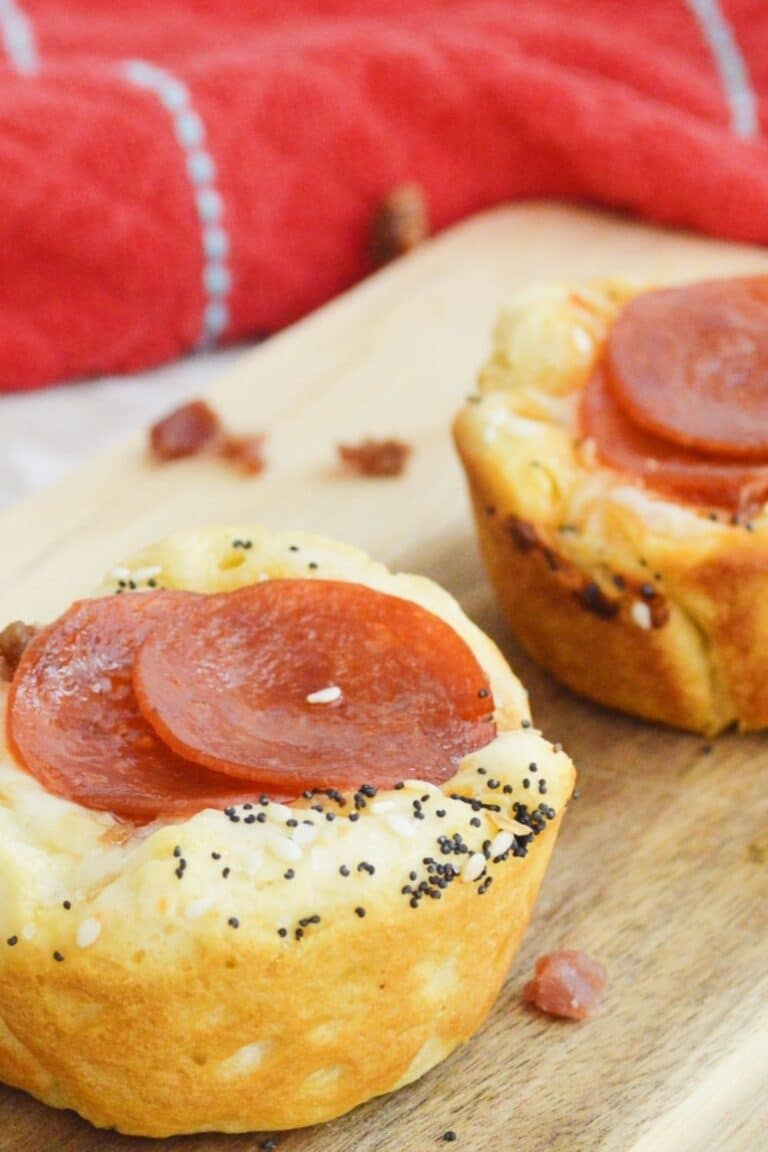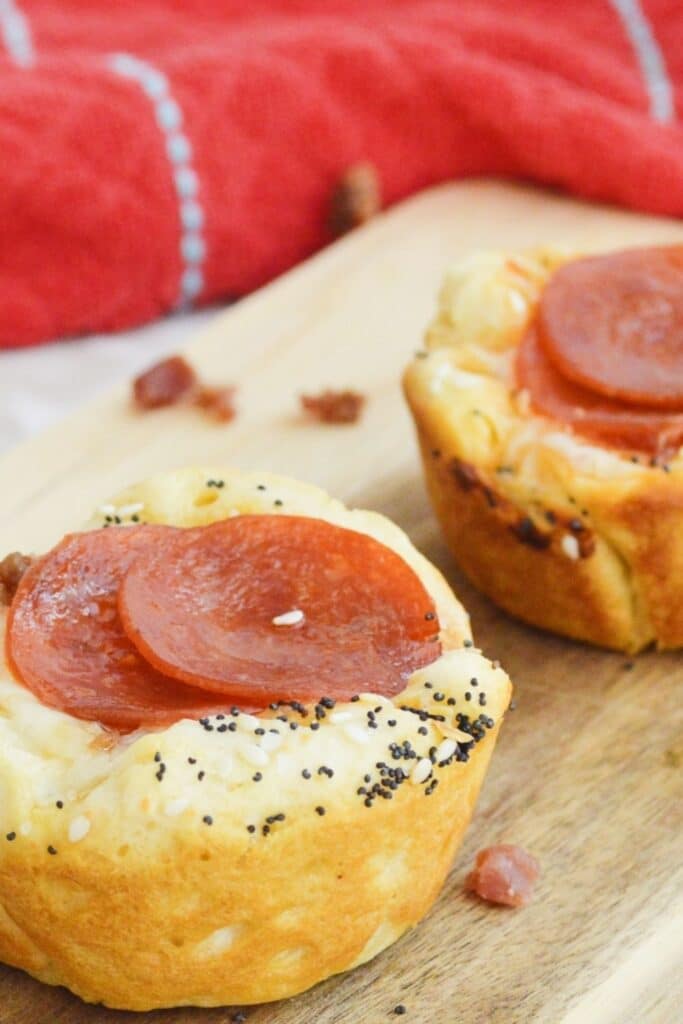 🍽️ Can I Make These Pizza Cups in Air Fryer
Go right ahead and reach for your air fryer. If you have an air fryer oven you can fit a smaller-sized muffin pan in there. 
Otherwise you can use ramekins or silicone muffin cups to place in air fryer. You can cook at 350 degrees for 6-10 minutes or until biscuits are fully cooked.
🧀 Expert Tips and Variations
Spread out the biscuit to make a thinner crust. If you prefer thin crust you can even cut biscuits into 3, to stretch them. 
Watch your biscuits so they don't overcook. 
These muffin pan pizzas are best served warm. 
These pepperoni cups make a great appetizer or dinner option. 
Swap bagel seasoning with Italian seasoning if you would like. 
Sprinkle crushed red peppers on top for a little spice or Parmesan cheese. 
Any brand of refrigerated biscuits works or try crescent rolls for a lighter fluffy crust.
Mini pepperoni works great if you don't want large pepperoni.
🍴 Storage
Fridge – These mini pizzas can be stored in the refrigerator for 2-3 days. They will soften a bit as they cool down in the fridge.
Reheat in the microwave or even in the oven.
Freezing – If you like to meal prep and create freezer meals, you can freeze these muffin pizzas. Just allow them to cool and then freeze for 3-4 months.
Then heat the biscuit dough pizza in the microwave or opt for the oven to reheat. You can reheat straight from frozen. Or place the frozen pizzas in a lunchbox the night before so they are thawed by morning.
Feel free to double the recipe and make a bunch of mini pizzas from biscuits and stock that freezer.
Recipe FAQs
How to know pizza cupcakes are done?
You will know when the cupcakes are done by the biscuit dough being golden brown and color. Just stick a toothpick in to ensure it is not a wet dough batter.
Is biscuit dough the same as pizza dough?
Biscuit dough is not the same as a classic pizza dough. You will find they can be interchanged but your crust will taste like a biscuit. Not as light of texture as a classic pizza dough.
Do cans of biscuits go bad?
Cans of biscuits do expire just like any other food. Make sure to read the expiration date before you open and use for the pizzas.
More Pizza Recipes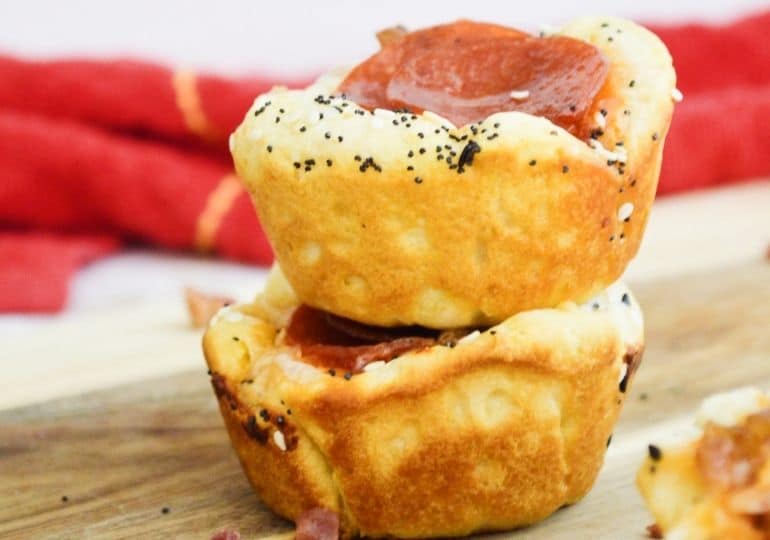 Pizza Cupcakes
Servings 16
Pizza Cupcakes are a mini deep dish pizza made with biscuit dough! These are an easy muffin tin pizza recipe that is a great appetizer or weeknight dinner recipe.
Ingredients
Supplies
Ingredients For Pizza Cupcakes
1 16 ounce. can refrigerated biscuit dough
2 teaspoons Everything Bagel Seasoning
1 Cup Pizza Sauce
1 Cup Shredded Mozzarella
1/2 cup bacon crumbles
32 pepperoni slices 2 for each pizza
Instructions
Preheat the oven to 350 degrees. Then you will want to cut your biscuits in half to make 16 pieces.

Then grease your muffin pan well, and then with your hands gently stretch the biscuit dough a bit.

Next, place the biscuit dough in each muffin tin spot. You want it to create a hollow area in the center.

Sprinkle the edges of the biscuits with the Everything Bagel seasoning, or Swap with Italian seasoning.

Now, spoon in some of the pizza sauce, shredded cheese, bacon, and pepperoni slices.

Bake the biscuit pizzas in the oven at 350 degrees for 10-12 minutes or until the biscuits are golden brown.

Remove the pizza cupcakes, allow to cool a little then serve.
Notes
You can use crescent rolls to replace the biscuit dough. Any of your favorite biscuit dough will work for this recipe. Feel free to change up with the fillings – small diced peppers, onions, mushrooms, etc. Or do just cheese and sauce for a meatless pizza cup. You can make as many or as few of these as you would like. Store the leftover pizza cups in the refrigerator for 3-4 days. Then you can freeze them as well for up to 3 months. Just place in an airtight freezer container or freezer bag. If gluten-free you can do this with gluten-free biscuits as well. To air-fry: Use silicone mold or a smaller muffin tin and batch cook your mini pizzas. 350 degrees for 6-10 minutes or until the pizza cups are fully cooked.
Nutrition
Serving: 1gCalories: 94kcalCarbohydrates: 8gProtein: 4gFat: 5gSaturated Fat: 2gPolyunsaturated Fat: 3gCholesterol: 12mgSodium: 281mgSugar: 3g
Let me know how you like these Pizza Cupcakes!
Reader Interactions