Mini cheesecakes with blackberries are a baked cheesecake that is full of fresh blackberries and then topped with a black berry fruit topping. These cheesecake cupcakes are always a hit.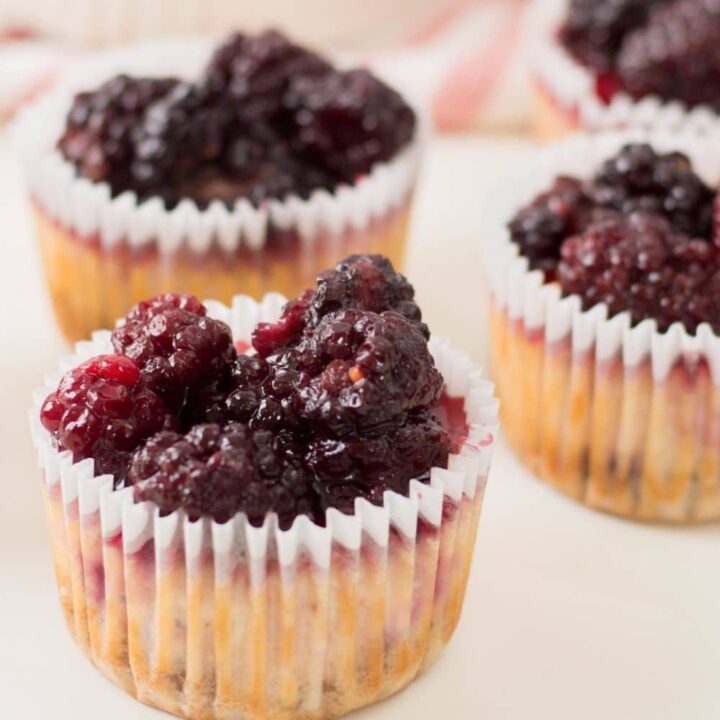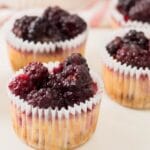 Mini cheesecakes with a blackberry topping is one of my favorite mini cheesecakes recipe. Individual cheesecakes that are adorable, refreshing and bursting with fruity flavor.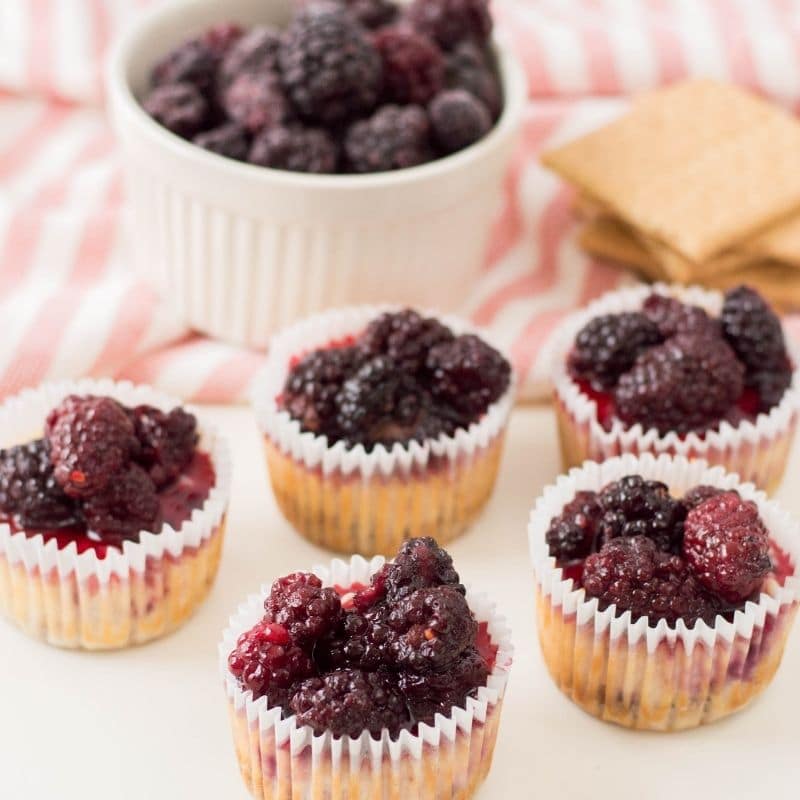 This mini cheesecake recipe is so easy, and essentially you can top these mini cheese cakes with any of your favorite toppings!
I can promise you that you're going to love the flavor and taste of these tiny cheesecakes so much that you're going to be happy that you get to enjoy and savor every bite. They'll literally be gone the moment you set them out to share!
This blackberry cheesecake is…
Simple
A cheesecake cupcake
Delicious blackberry dessert
Crunchy and buttery graham cracker crust
The perfect balance of sweet with and tart
Bite-sized
Freezer friendly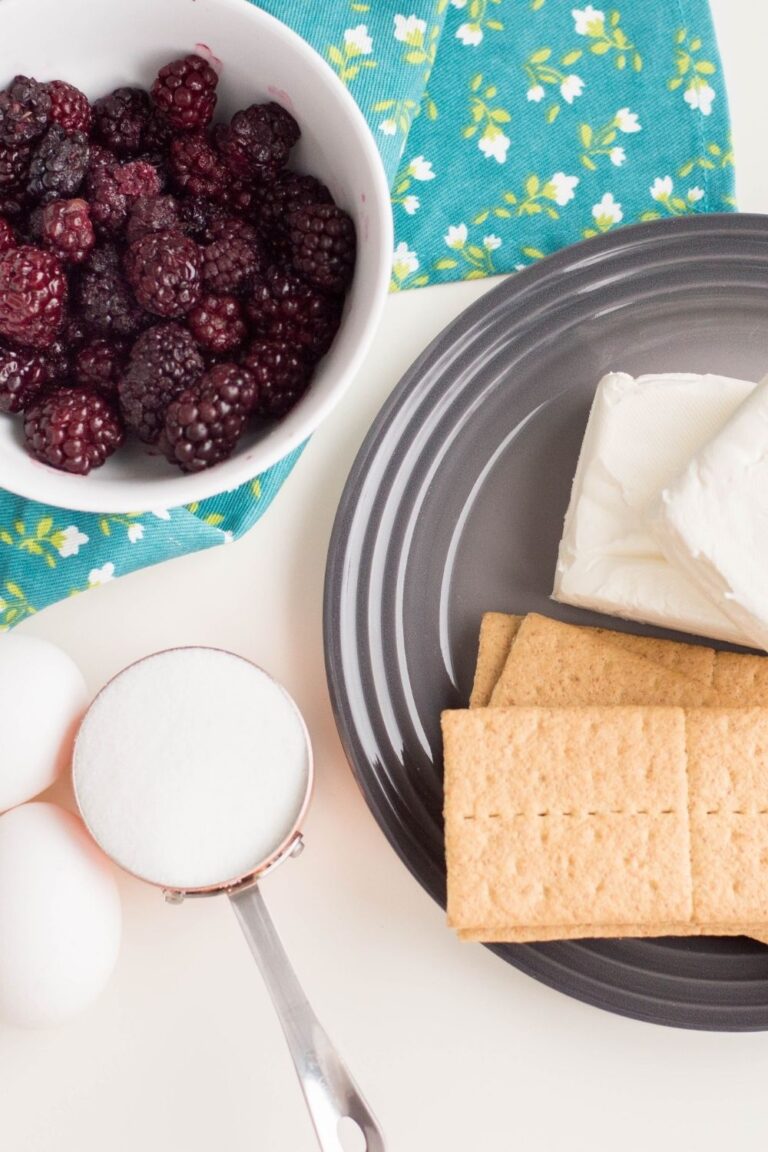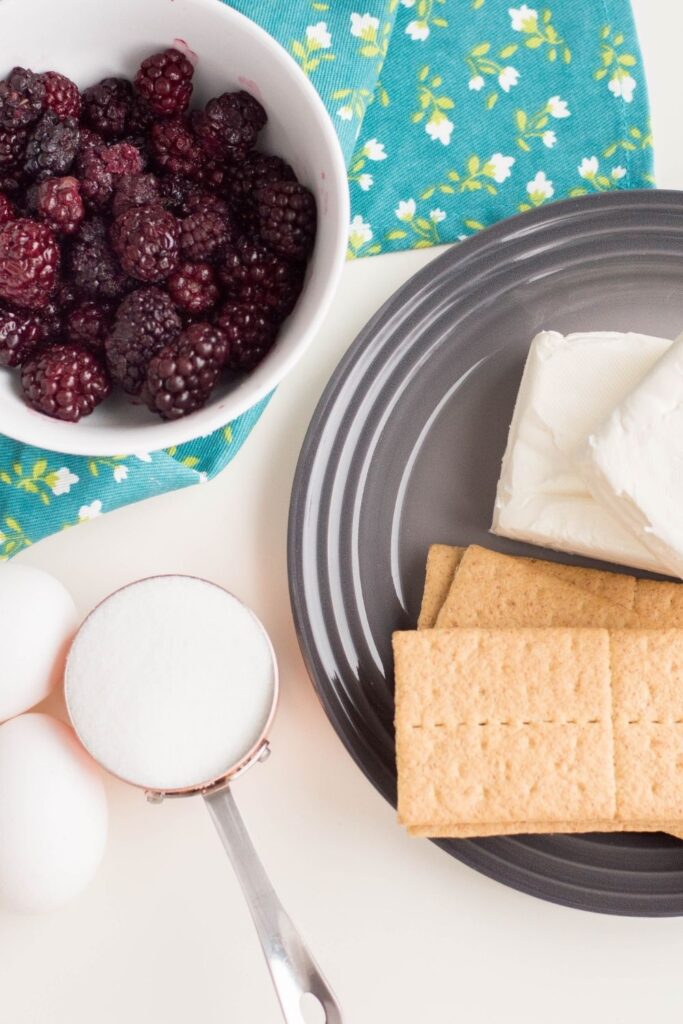 Ingredients
Crushed graham crackers
Butter
Cream cheese
Eggs
Sour cream
Granulated sugar
Blackberries
Grab my Free Kitchen Conversions Printable! This shows you how many cups are in a quart, pint, etc. A great printable to keep handy for when you need to convert a recipe.
Supplies
How to make Mini Cheesecakes with Blackberries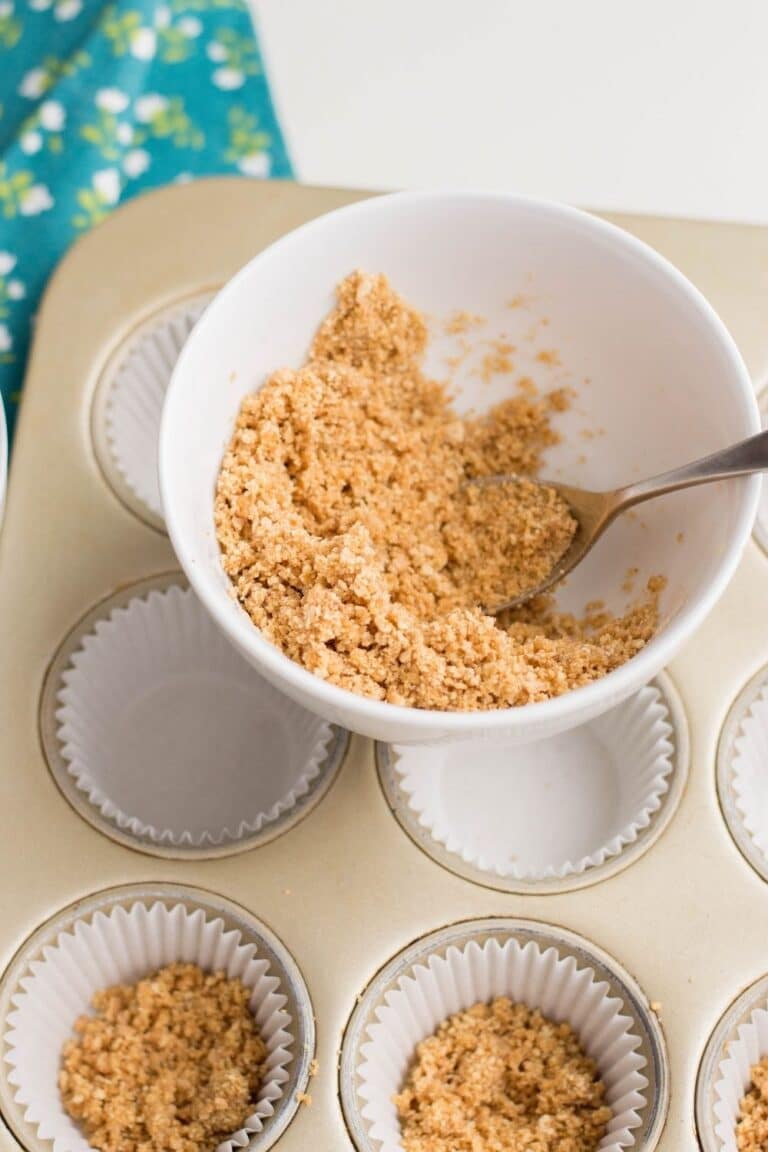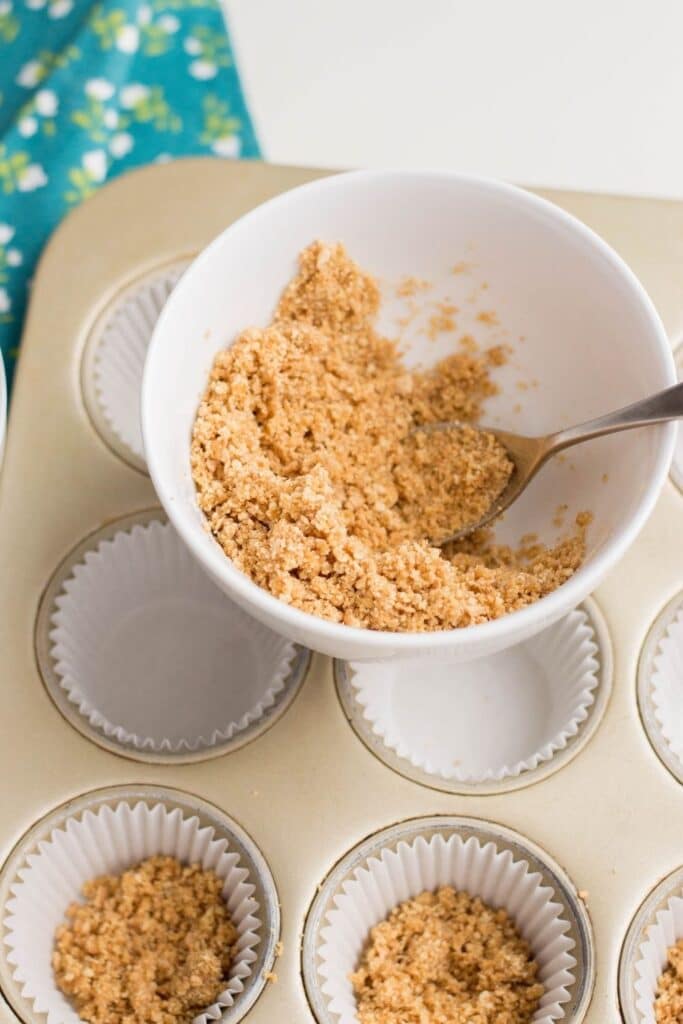 Step 1: Make your graham cracker crust and put it into the muffin pan. Bake in the oven for 10 minutes.
Step 2: Add blackberries to your cheesecake mixture and fold in. Put cheesecake mixture into baked crusts.
Step 3: Bake for 25 minutes or until the cheesecake cups are done. This can vary in time depending on your oven.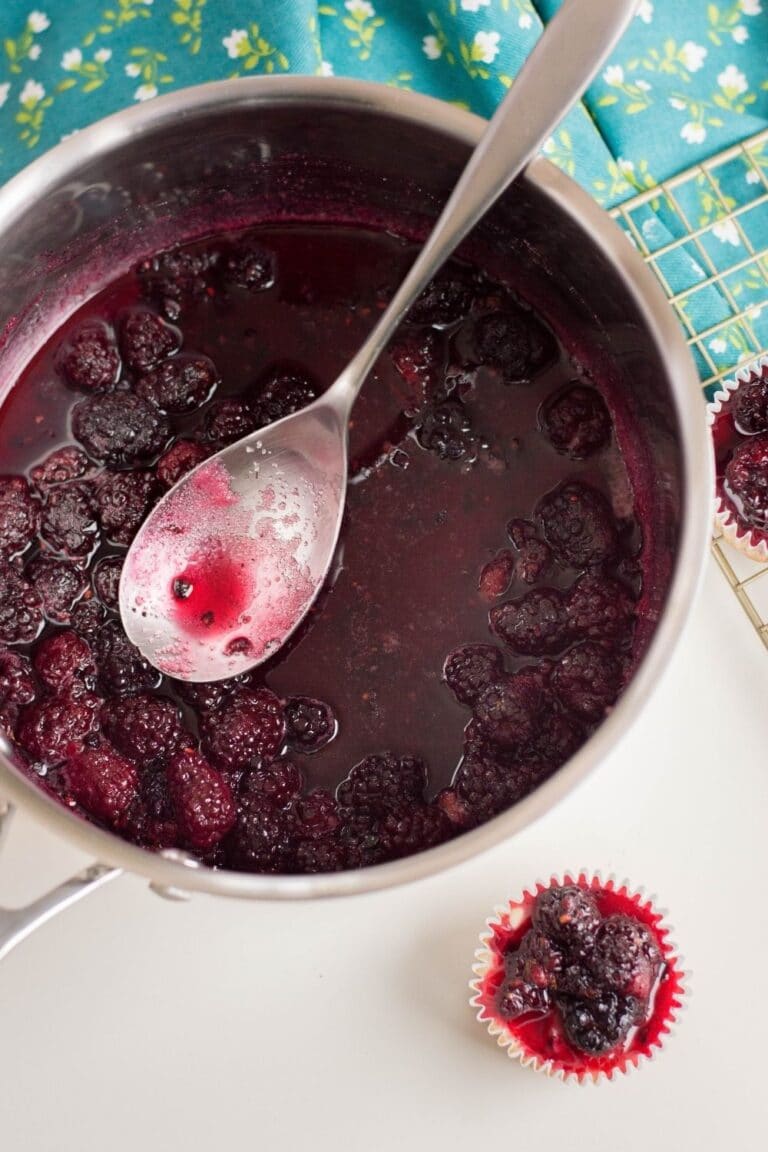 Step 4: Let cheesecake cool before adding the topping. Then in a pan you will cook up your blackberry topping as directed in the recipe card below.
Step 5: With a spoon you will add a little blackberry topping and juice on top!
Expert Tips
It's super important that when you're making the graham cracker crust that you're packing it down in the muffin tin so that when it bakes, it sticks together and forms a crust. If you don't pack it tight enough, it'll fall apart.
Cream cheese needs to be room temperature or it will curdle up and not offer the velvety texture you want.
Be certain that you let the cheesecakes cool all the way once you take them out of the oven. If you don't, the blackberry topping is going to melt and slide right off.
If you're worried about the cheesecakes sticking in the muffin pan, just use a knife and run it around the edges to loosen it before removing it. This should help them pop right out with any issues at all.
These tips are simple and easy to do and will save you a lot of time and frustration when it's your turn to make them.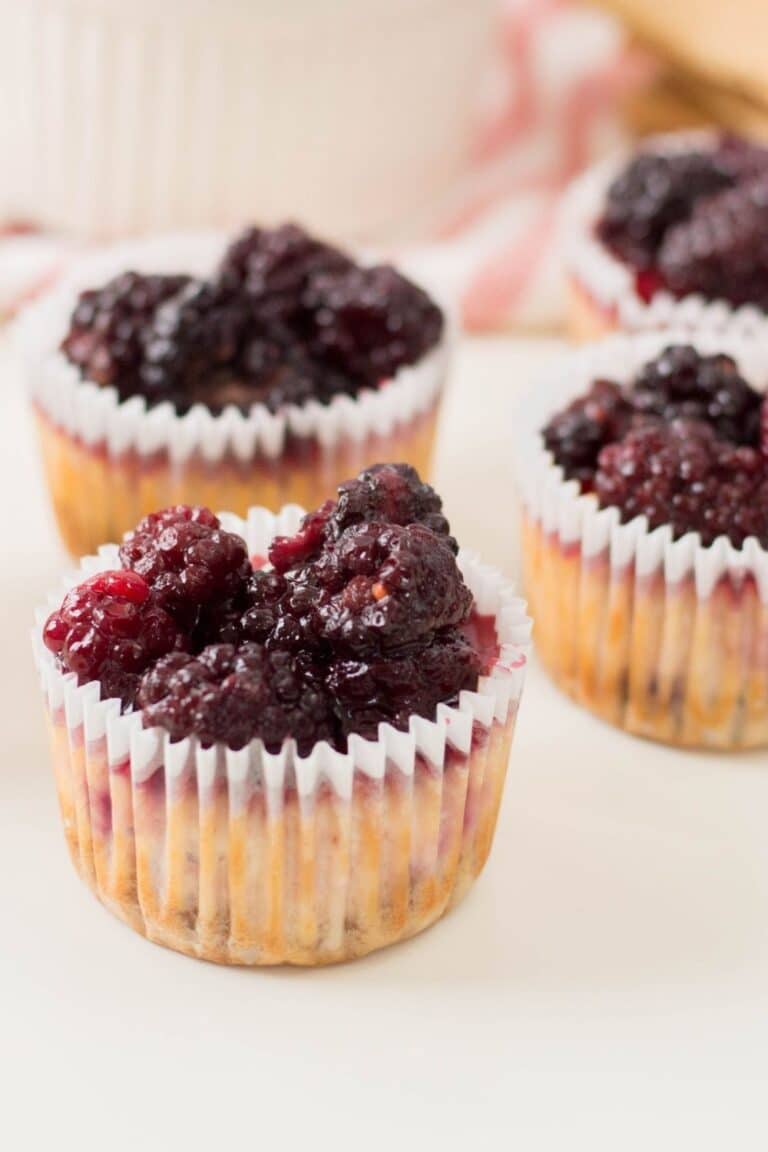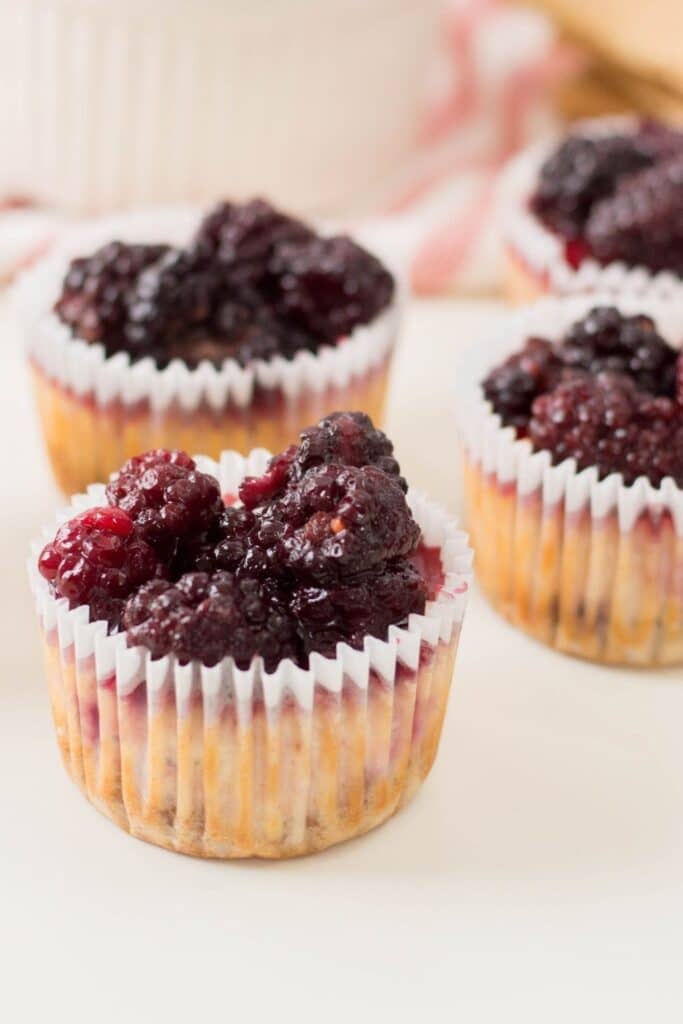 Variations to Recipe
This is a pretty simple recipe to make but there are a few things that you can easily do to change up the flavor and taste.
Change out the fruit topping to another fruit of choice. You could easily make this recipe using cherries, blueberries, or even strawberries as well.
If you wanted to add more of a citrus flavor to this recipe, you can add some lemon zest to the mixture. This would give each bite a slightly lemon flavor but could be a really refreshing and tasty addition!
You can also leave the cheesecake plain and not have any toppings. It's still a great recipe without the fruit topping!
FAQs About Blackberry Mini Cheesecake
Can you use frozen berries for mini cheesecakes?
I prefer to actually use fresh blackberries for this recipe but frozen will work just fine as well. The biggest thing to keep in mind is that when you're storing the blackberries into the mixture, you need to be really careful.

This is because you don't want to mash them all up when you're mixing them because they're going to turn the entire cheesecake blue.
Can you freeze cheesecake?
Go right ahead and freeze any cheesecake you don't plan to eat right away.
Just like anything that you put in the freezer, you need to be certain that you're storing it in an airtight container with a lid. It should be fine for 3-4 months.
Why are there cream cheese lumps in my cheesecake? 
There's a really good chance that you didn't let your cheesecake come to room temperature if you're finding lumps of cream cheese.

Just let it have enough time to soften before using it so that it gets all nice and creamy. 
How do you know when mini cheesecakes are done?
Mini cheesecake cups are done when the cheesecake is set. If you see the center looks wet, cook for another 1-3 minutes. Then take a toothpick and stick in the center, if it comes out clean of wet batter they are done.

Another option is the jiggle test. Simply jiggle the pan and see if the cheesecake bites jiggle in the center. If they do, they need to bake longer.
Why do mini cheesecakes sink in the middle?
There are two main reasons your mini cheesecake bites could have sank in the middle. One option is you did not allow the cheesecakes to fully cook. If they are undercooked they will sink in the center.

The second reason is if you overmix once you mix in the eggs, it can crack. If it cracks too deep, it will cause the center to crack and sink down. Use a toothpick to stir the liquid cheesecake batter before baking to break up any air pockets in the batter.
How long do mini cheesecakes last in the fridge?
5 days! You can expect your cheesecakes when stored properly to last up to five days.
Craving More Desserts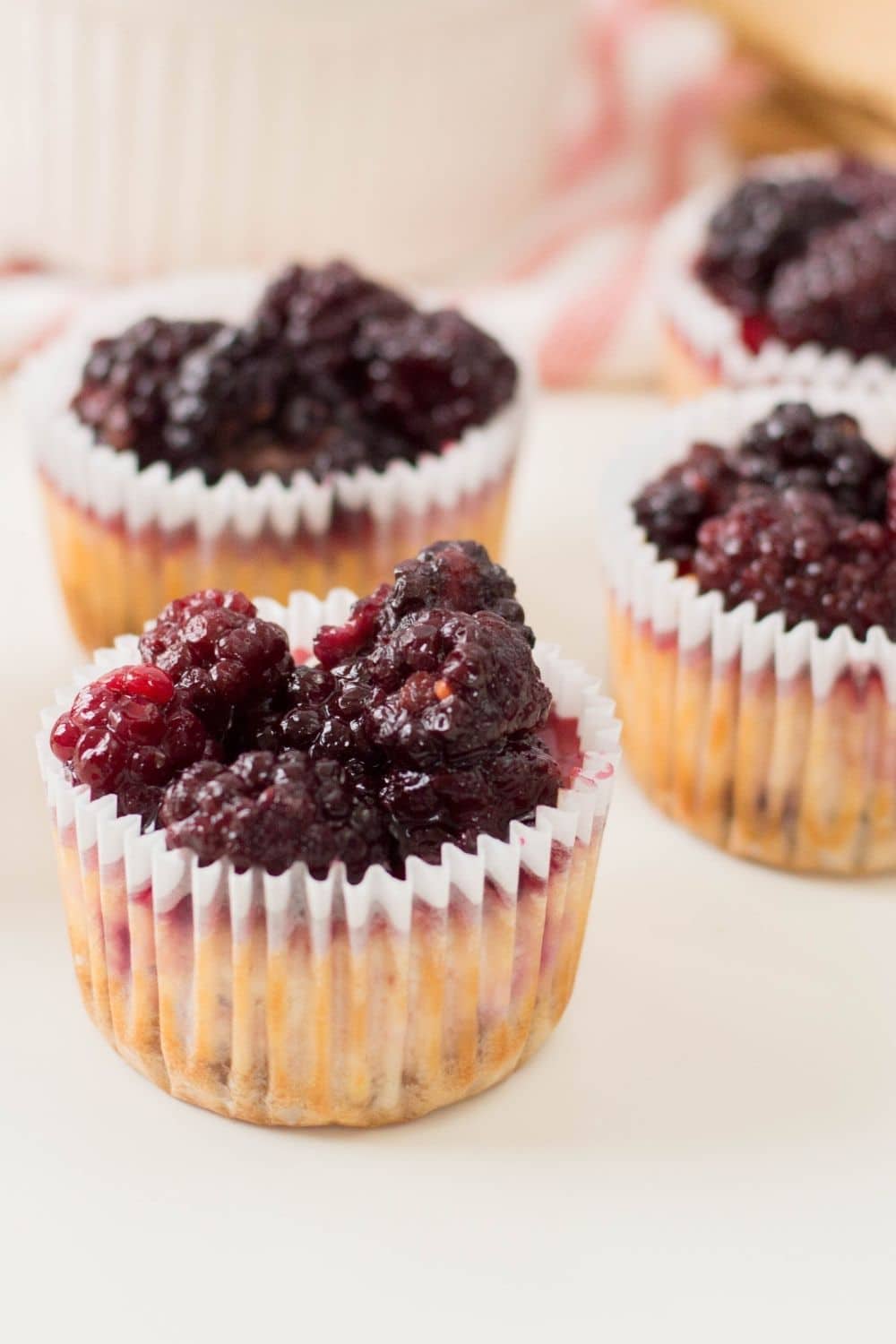 Mini Cheesecakes with Blackberries
Servings 12
Mini cheesecakes with blackberries are a baked cheesecake that is full of fresh blackberries and then topped with a black berry fruit topping. These cheesecake cupcakes are always a hit.
Ingredients
For the cheesecakes:
1 cup crushed graham crackers approx. 6 standard size graham crackers, pulsed in a food processor
3-4 Tablespoons melted butter
12 oz. cream cheese softened approx. 1 ½ bricks
2 eggs – room temperature
½ cup sour cream
½ cup granulated sugar
1 cup blackberries frozen blackberries can be used, so long as they are thawed
For the topping:
1 cup blackberries if frozen, thaw them out
½ cup granulated sugar
Instructions
Start by preheating your oven to 325 degrees. Then line your muffin tin with paper liners and set aside.

Now in a bowl you will want to work on the graham cracker crust. Take your graham cracker crumbs and mix with the melted butter. Once crumbly like sand, press into each muffin tin. I did about 1 1/2 tablespoon scoops to each muffin slot.

Press down the graham cracker crust tightly, then bake for 10 minutes.

While the crust is baking, take your softened cream cheese, eggs, and sour cream and sugar and mix until creamy.

Fold in the diced blackberries, and then scoop the batter into each slot and fill a little over 3/4 the way full.

Bake for 20-25 minutes or until the cheesecake is set.

Allow the cheesecakes to cool for 30 minutes.

In a pan on the stove you will add your berries and sugar and cook over medium heat until it boils gently.

Remove from heat and allow it to cool.

Then top each mini cheesecake with the berries and syrup.

Refrigerate the cheesecake cupcakes for up to 5 days.
Notes
You can use frozen berries in replace of fresh. Feel free to change out the fruit used, cherries, strawberries, blueberries, etc. You can use a gluten-free graham cracker if you need a gluten-free cheesecake. These mini cheesecakes need to be refrigerated or freeze for 3-4 months.
Nutrition
Serving: 1gCalories: 225kcalCarbohydrates: 18gProtein: 3gFat: 16gSaturated Fat: 9gPolyunsaturated Fat: 5gCholesterol: 44mgSodium: 155mgFiber: 2gSugar: 13g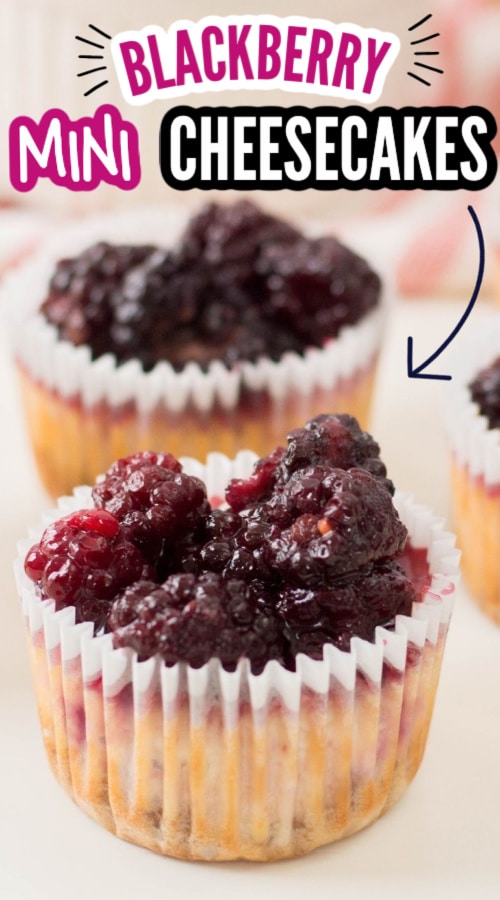 Reader Interactions