Stuffed acorn squash is one of our favorite stuffed squash recipes. This Instant Pot acorn squash recipe is super easy to prepare, sweet, crunchy, and downright tasty.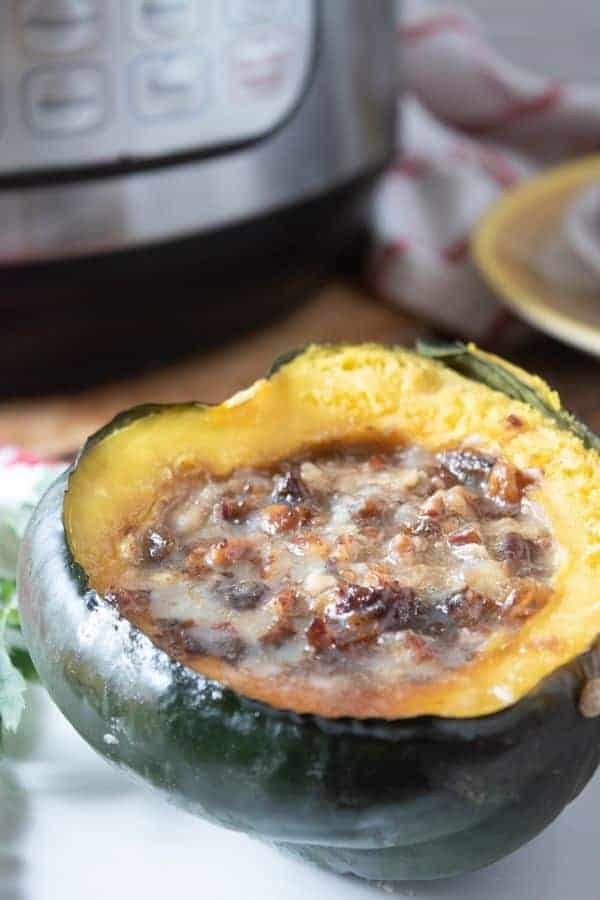 If you have some acorn squash you need to cook up, consider this acorn squash Instant Pot recipe.
The pressure cooker will do a fantastic job of giving you that tender squash that is filled with a sweet filling. Dive in and devour. Try my Instant Pot Sweet Potato Casserole. 
Stuffed Acorn Squash
Brown sugar, pecans, dates, and butter are exactly what I think of when I think of a fall squash recipe. A hint of dependency with a sweet flavor, that makes a fantastic side dish recipe. Try my Pierogi Soup recipe for an easy dinner idea.
Whether you serve this up at Thanksgiving or for a side dish for your weeknight meal. This recipe is great to pair next to pork tenderloin or chops, chicken, or any other proteins.

I am an Amazon Affiliate, so if you purchase through a link I will earn commission on sales.
Why This Recipe Works
5 minute cook time
Perfect tender acorn squash every single time
You can essentially fill it with any of your favorite ways to serve up your squash
Simple prep
How Long Does It Take To Cook An Acorn Squash
In the Instant Pot, it takes around seven minutes for the pot to come to pressure. Then a five minute cook time, and you will naturally release pressure for five minutes.
This shaves off a ton of time from cooking in your oven for example. Instant Pot squash is a super-fast way to cook up your acorn squash.

Cooking Acorn Squash
Wash the acorn squash.
Slice the squash in half.
Use a spoon to scoop out all the seeds.
Season the squash, and cook accordingly.
🍴 How to Cook In The Oven
If you want to make this stuffed squash in the oven you can do all the same prep, and then place in a baking sheet.
Then bake at 400 degrees for 50-60 minutes or until the squash is fork-tender. This stuffed acorn squash recipe can be made in the oven or in the Instant Pot. You can choose. 
Roasted acorn squash is always a fun and different side dish, and it is easy to cook the squash for that fork-tender flesh.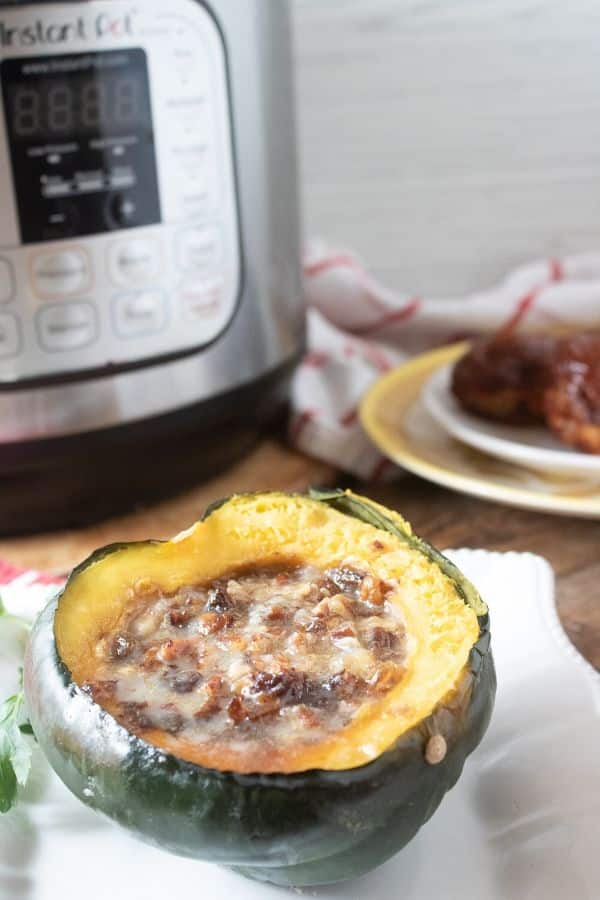 🍽️ Variations For Stuffed Acorn Squash
Swap dates with dried cranberries or raisins
Use walnuts in replace of pecans or leave the nuts out
Grate some orange zest over the top of your squash once you get ready to serve it up
Use coconut sugar instead of brown sugar

Different Ways to Cook Acorn Squash
Cinnamon and drizzle with honey or maple syrup (sweet) 
Cinnamon, nutmeg (sweet) 
Salt and Pepper (savory) 
Chili Powder (savory) 
Brown Sugar, Pumpkin Spice (sweet) 
Oregano or Italian Seasoning and a sprinkle of parmesan or mozzarella (savory) 
Cayenne, Chili powder, salt and pepper (savory)  
Make wild rice and stuff inside the center of the acorn squash (savory) 
Do a stuffing with onions and celery and stuff in the center of squash (savory) 
Here are more Instant Pot Recipes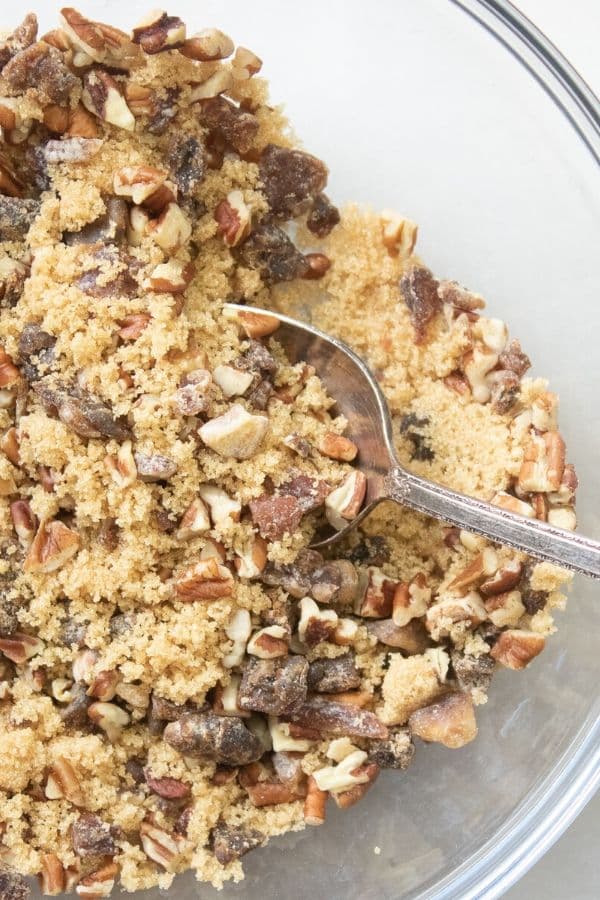 How To Store Leftover Stuffed Squash
If you happen to have leftover squash just place in an airtight container and store in the fridge for up to three days. Then warm it up in the microwave or oven when you are ready to eat it.
The texture will change a bit, as it is going to become even softer in texture.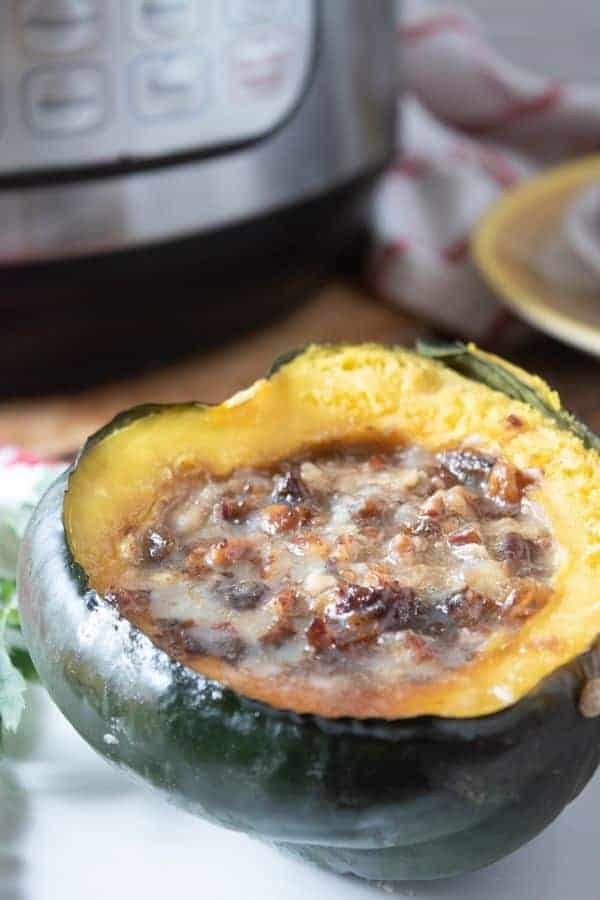 Stuffed Acorn Squash
Servings 1 squash
Stuffed acorn squash with brown sugar, dates, and nuts. A crunchy, creamy, and sweet dish to pair next to dinner. This Instant Pot Acorn Squash recipe is a must make.
Ingredients
1 Acorn Squash
1/2 cup brown sugar
1/2 cup dates chopped
1/4 cup butter
1/2 cup pecans
Instructions
Place one cup of water in the bottom of your Instant Pot.

Prep your squash by washing and removing the seeds from the center. Then place it into a pan that is safe to cook in the instant pot.

In a small bowl you will mix up your brown sugar, chopped dates, and pecans.

Fill your acorn squash center with the brown sugar mixture.

Cut butter and place over the top of the squash.

Cook on manual high pressure for 5 minutes, and natural release for 5 minutes.

Vent the valve after 5 minutes of natural release. Then carefully remove your squash and serve it up.

Serve up this stuffed acorn squash as a side or a main dish for dinner tonight.
Nutrition
Serving: 1/2 acornCalories: 359kcalCarbohydrates: 45gProtein: 2gFat: 21gSaturated Fat: 8gPolyunsaturated Fat: 12gCholesterol: 31mgSodium: 100mgFiber: 5gSugar: 34g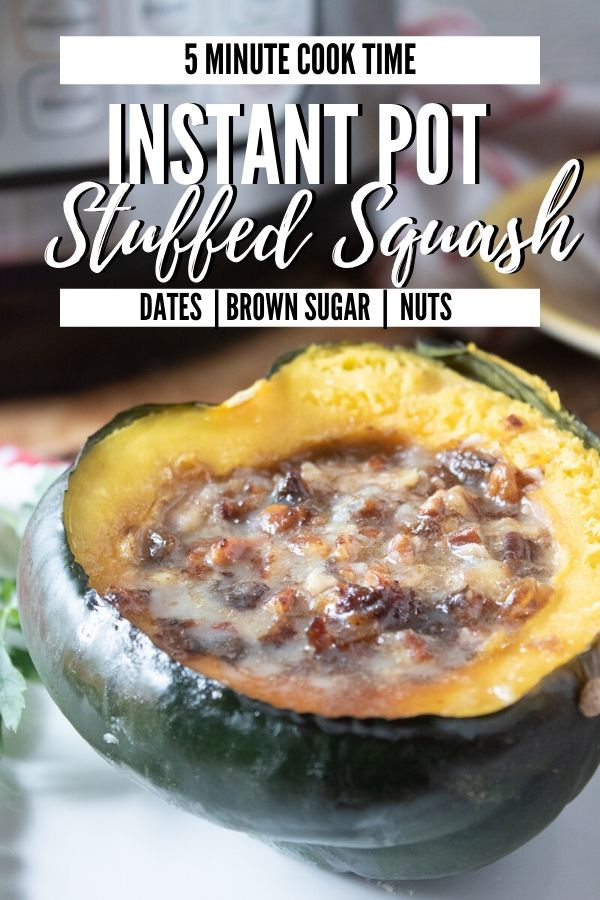 Reader Interactions