Did you know you can color and cook hard boiled eggs at the same time in your Instant Pot? This Instant Pot Easter Eggs recipe is so easy, and I show you how you can dye raw eggs!
Now, this won't take away from our tradition to dye Easter eggs the traditional way. But it is a fun and easy way to use your pressure cooker for Easter eggs! Dying easter eggs with gel food coloring is great for those who don't have kiddos at home, but want colored eggs for a hunt.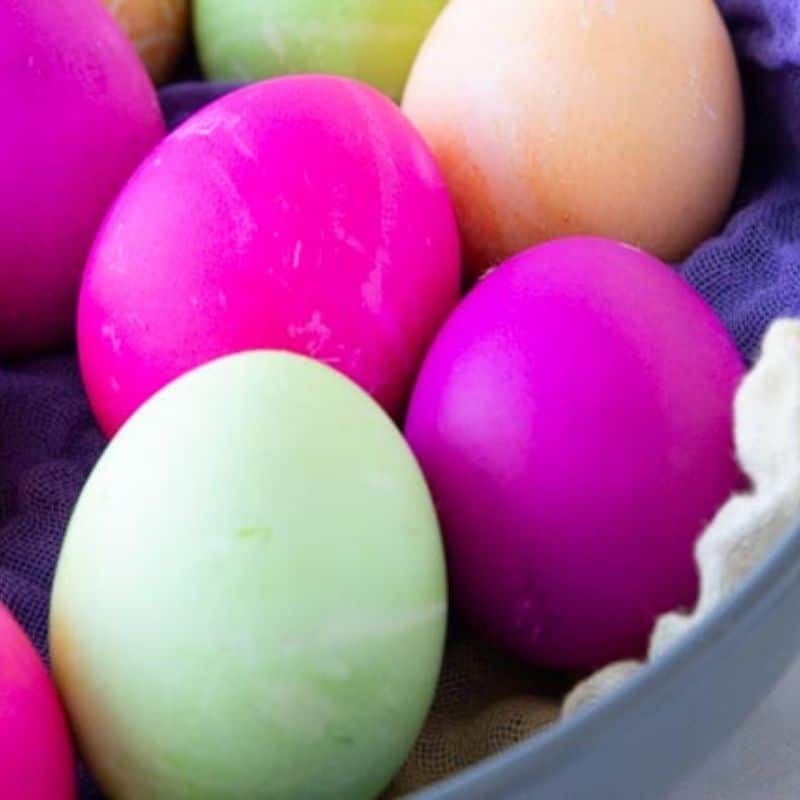 Boiling eggs for dying them in the Instant Pot makes it simple. Instant Pot eggs are always such a big hit.
So, using mason jars in Instant Pot to infuse color, only makes it even better. Learn how to dye Easter egg without a kit! Minimal money goes into these colorful eggs.
More Easter Recipes: Layered Easter Cake, Italian Easter Bread, Carrot Cake Fudge.
Why You Will Love This Instant Pot Easter Egg Recipe…
Cooks and colors the eggs at the same time
You use food coloring and vinegar to dye the eggs
Easy steps
Hands off approach
Tasty Instant Pot Hard Boiled Eggs
Learn how dying Easter eggs with food coloring is easy and affordable
No dye kit required
Fun way to create colored eggs for Easter
Ingredients Needed
Eggs
Food Coloring – I used gel but liquid works too
White Distilled Vinegar
Water
Supplies Needed
Here is my Free Instant Pot Cheat Sheet Printable to use as well for your cooking needs.
How to Make
Full steps are in the printable recipe card below on how to use mason jars and the Instant Pot for coloring Easter eggs.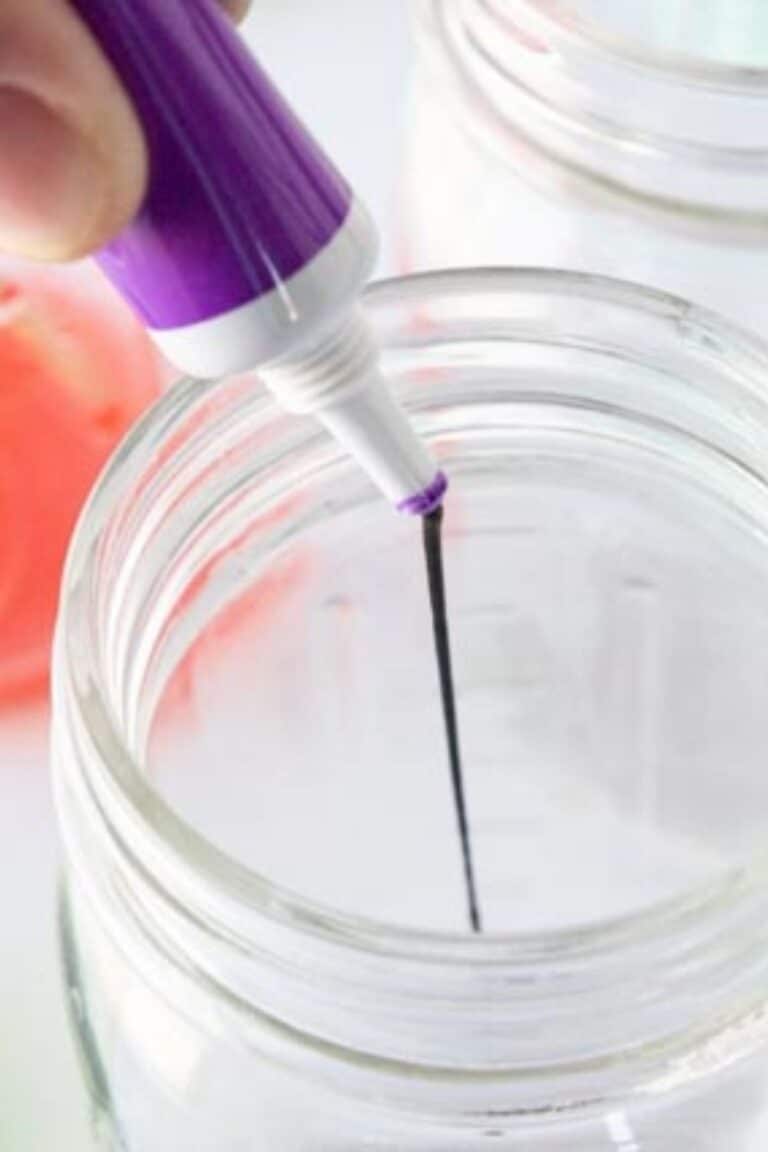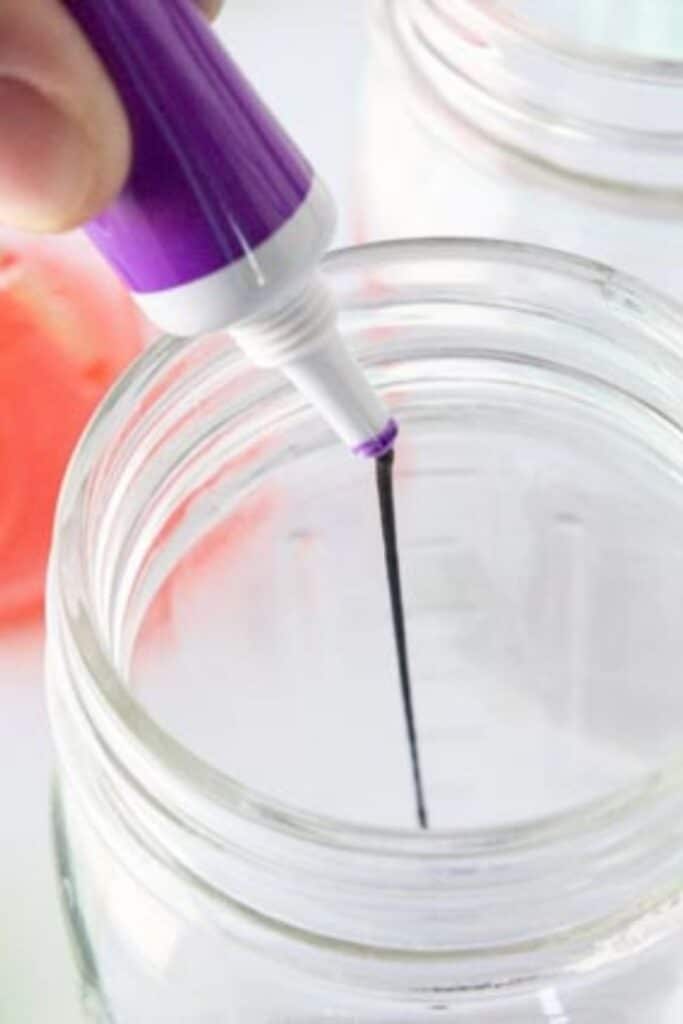 Dying Easter Eggs with food coloring is easy when the pressure cooker is involved. Cook and dye the eggs at the same time.
Step 1: Start by adding vinegar into each mason jar. Then squirt in the food coloring and stir well till mixed. Add as much or as little of coloring.
I did a good amount as I wanted my dyed Easter eggs to be bolder in color.
Step 2: Add in 2-3 eggs per jar or however many you can fit.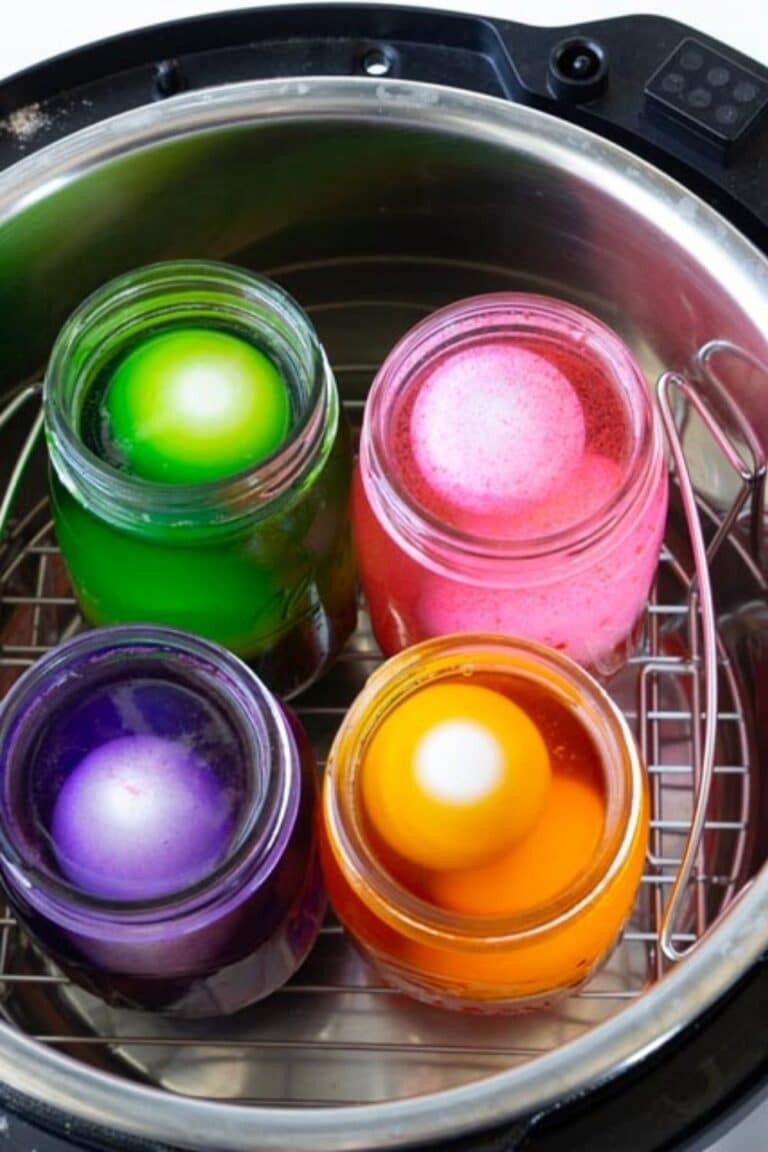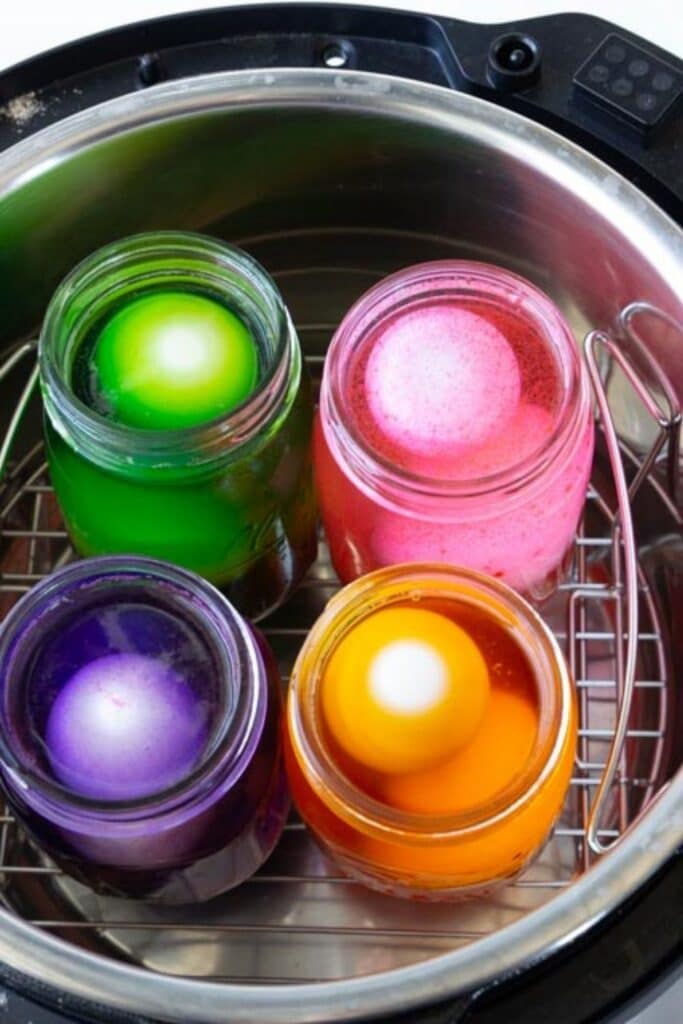 Step 3: Place eggs in Instant Pot on a trivet. Pour water into each mason jar till the eggs are covered. Then add 1 1/2 cups water into the Instant Pot.
Step 4: Place the lid on the Instant Pot and cook on high pressure for 5 minutes on manual high pressure, with a natural pressure release.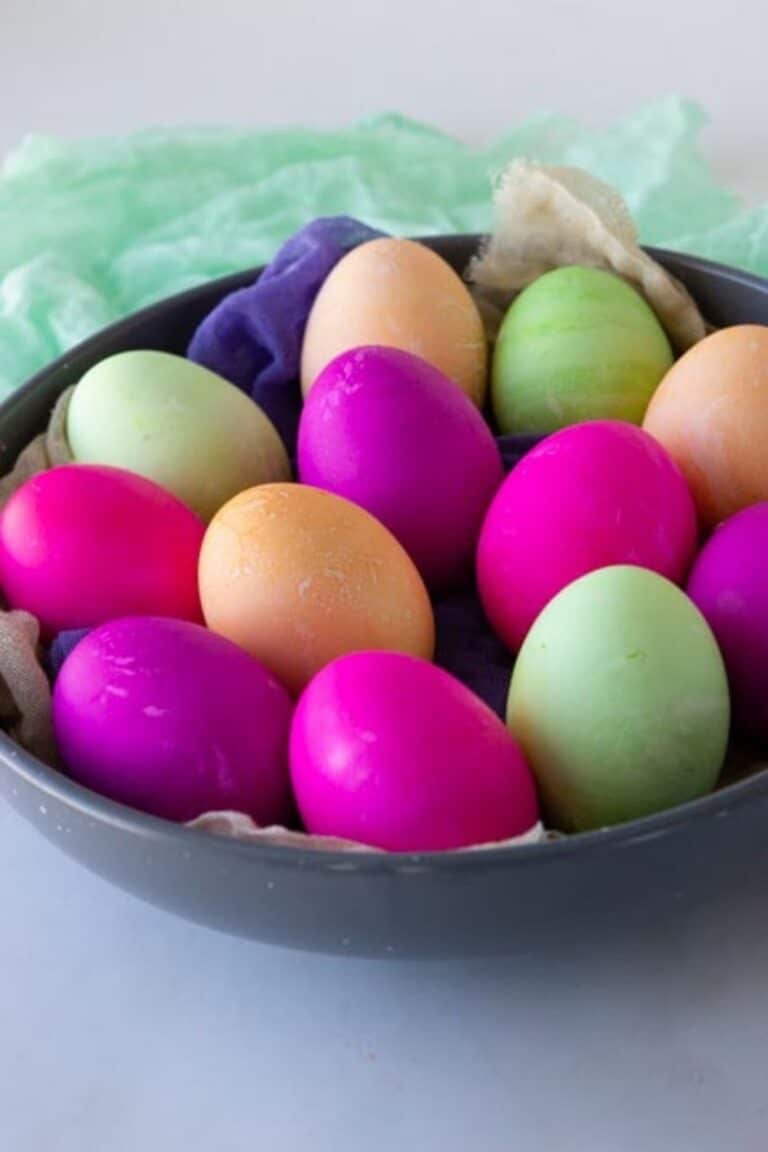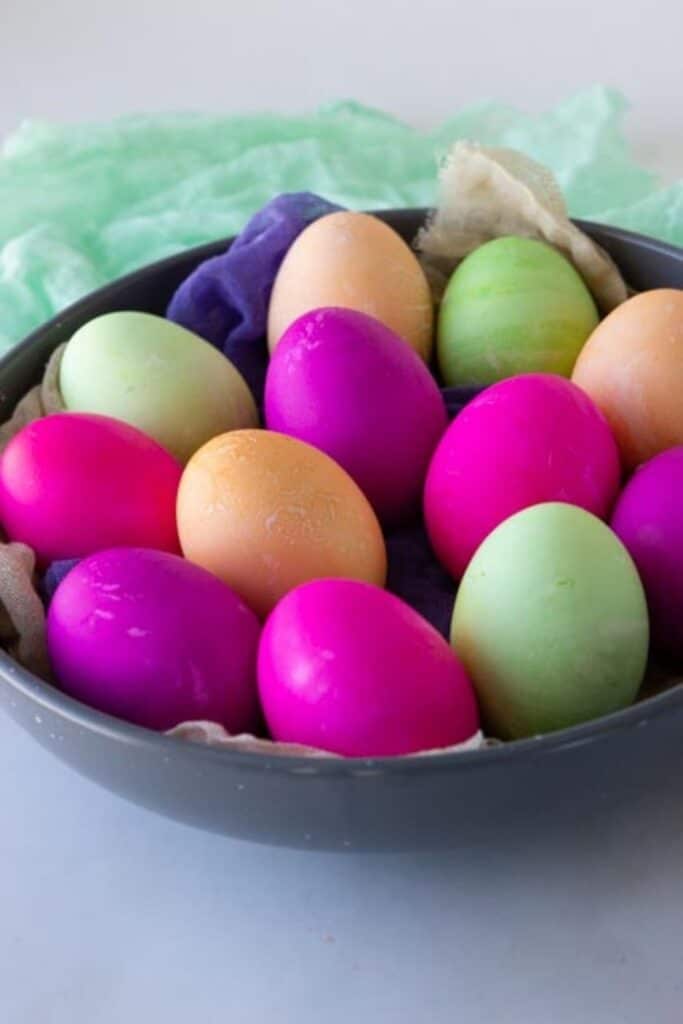 Step 5: Remove the pressure cooker lid, and carefully remove eggs from each jar. Let them cool and then you have colorful Easter eggs to hide for an egg hunt.
Storing Eggs
You can store these eggs in an airtight container in the refrigerator. If you place them in an ice bath to cool down from being cooked, just know some of the coloring will wash off.
The color will be more pastel than vibrant. But it is up to you if you want to do an ice water bath or not.
Expert Tips and Variations
Here are some tips and tricks to set you up for success with this coloring easter eggs with food dye recipe.
Use liquid food coloring. I just didn't have any and that is why I used gel. I think the liquid would offer an even coating.
Make as many or as few as you would like.
Use a larger pan or bowl to place in the pressure cooker to color one color of the egg.
Make sure the water covers all of the eggs. I had just a tiny tip in a few sticking out and that was okay.
Use a Negg for easy pealing of your hard-boiled eggs!
Recipe FAQs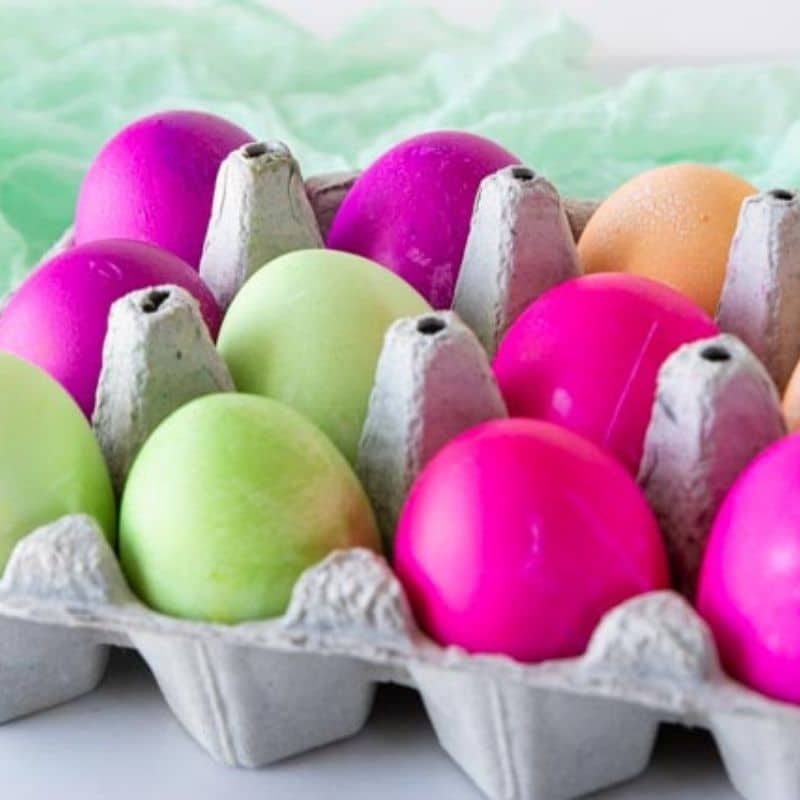 Popular Deviled Egg Recipes
Have you tried the recipe? If so, please leave a star ⭐️⭐️⭐️⭐️⭐️ rating in the recipe card below or drop a comment. Also stay in touch with me through social media by following me on Facebook, Pinterest, or My Facebook Group!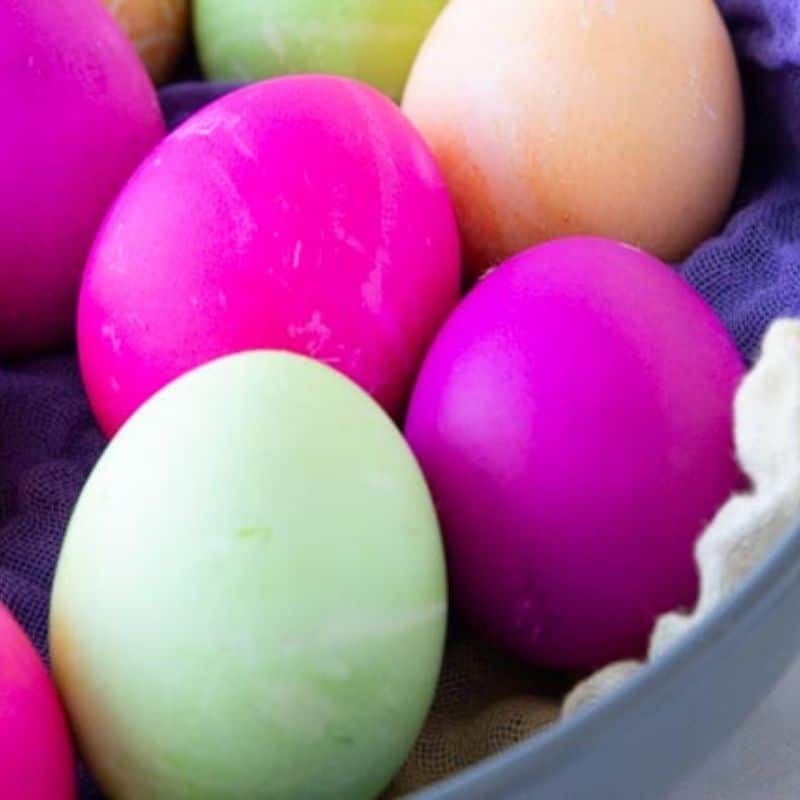 Instant Pot Easter Eggs
Servings 12
Here is a fun and creative way to make Instant Pot Easter Eggs. This can be a new way to dye Easter eggs with food coloring. This is a simple and easy step-by-step tutorial.
Ingredients
Supplies
Instant Pot Easter Egg Ingredients
8 tablespoons white distilled vinegar
12 eggs
water
Food Coloring I did 4 colors
Instructions
Start by adding 2 tablespoons of white distilled vinegar into each of the 4 mason jars. Then add in some food coloring. I did a good amount as I wanted bolder colored eggs.

Stir the vinegar and food coloring around to combine it.

Add 2-3 eggs in each of the mason jars, and then place the mason jars on a trivet inside the Instant Pot.

Add water to each mason jar, covering the eggs all the way. It is okay if a tiny bit of the top of an egg is sticking out.

Then add 1 1/2 cup water into the bottom of the Instant Pot.

Place the lid on the Instant Pot and make sure the valve is set to sealing. Pressure cook high manual pressure for 5 minutes with a natural release of 15 minutes.

Remove any remaining pressure and open your lid. Carefully remove eggs with tongs from the mason jars.

Place on a paper towel to dry. Then refrigerate the eggs until you are ready to use them.
Notes
Ice Bath: Doing an ice bath with the eggs will remove some of the colorings of the eggs. It is up to you if you do that or not. Edible: You can eat these hard-boiled eggs. Just store in the fridge until you are ready to put it out on display. Food Coloring: You can use liquid food coloring as well, it would do great. I just didn't have any at the time I made these.
Nutrition
Serving: 1gCalories: 73kcalProtein: 6gFat: 5gSaturated Fat: 2gPolyunsaturated Fat: 3gCholesterol: 186mgSodium: 72mg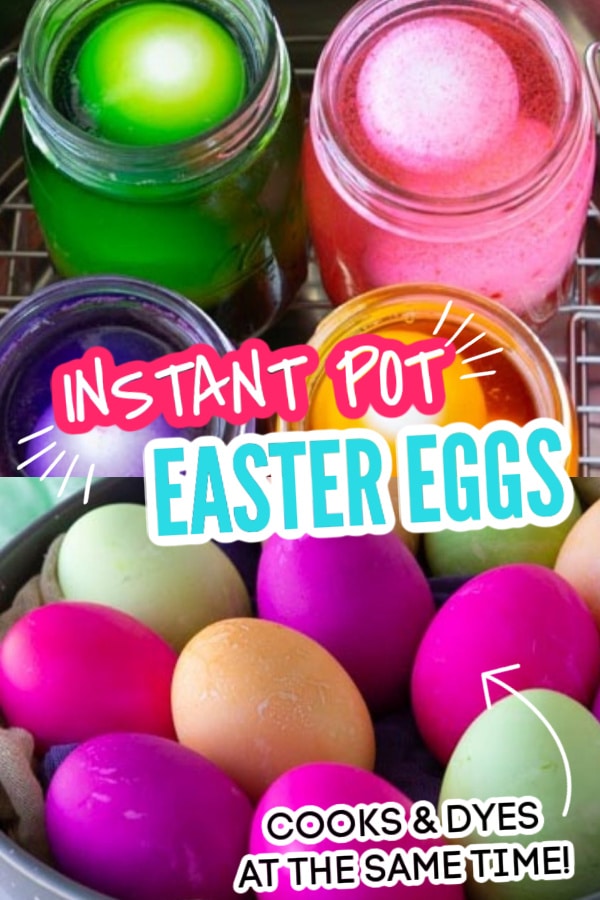 I hope you enjoyed learning how to boil eggs for dyeing the same time in the pressure cooker!
Reader Interactions