Dye Eggs with Rice is a great way to color hard boiled eggs for Easter without the mess. Add food coloring to rice and create vibrant colored Easter eggs. Give this guide to coloring Easter eggs a try.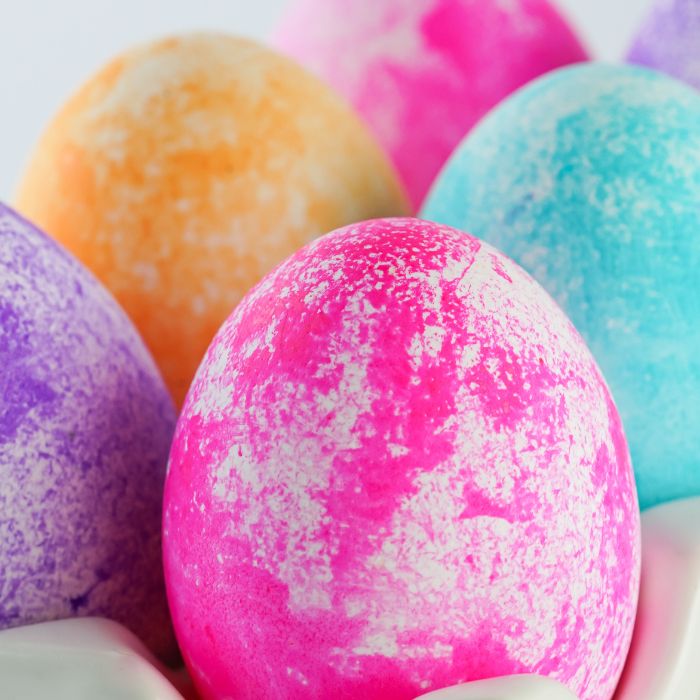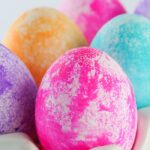 Learn how to dye Easter eggs with rice is so easy to do, and today I will share how easy it is. All you need is rice, food coloring, and hard boiled eggs. This is a great way to color eggs without a kit with your kids this Easter!
Coloring Easter eggs with rice instead of glasses of liquid can be a lot less of a mess. No worrying about the cups spilling over, and you still get those vibrant colored Easter eggs to use for Easter baskets or your next egg hunt.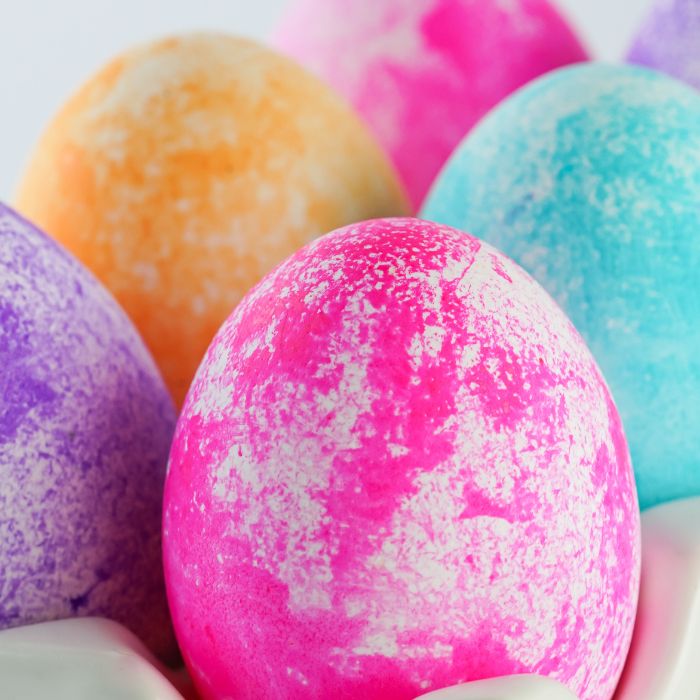 Egg dyeing with food coloring is so easy. You might also want to check out my Instant Pot Easter eggs using colored water all made and colored in your pressure cooker. Try my dessert Easter cheeseball for a cute dessert to serve up next to your colored eggs.
These Rice Easter Eggs Are…
Easy to do.
Quick to color.
Minimal mess compared to cups of coloring.
Fun for kids.
Easter approved.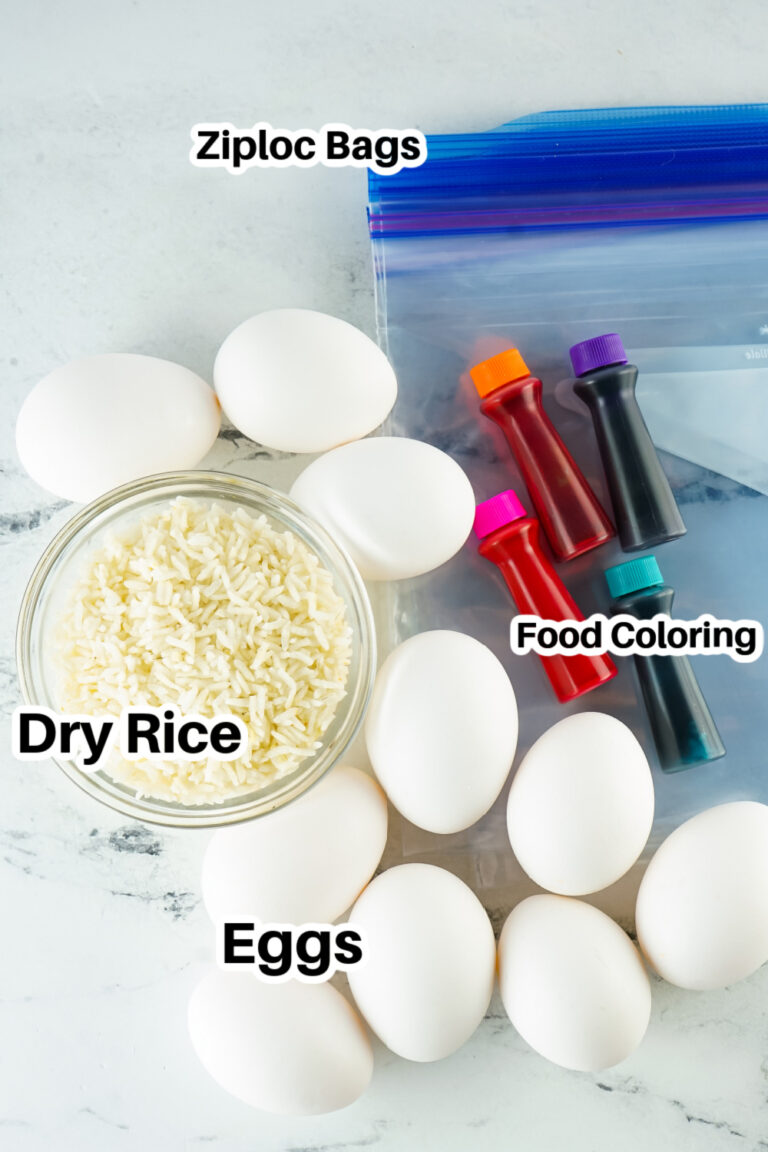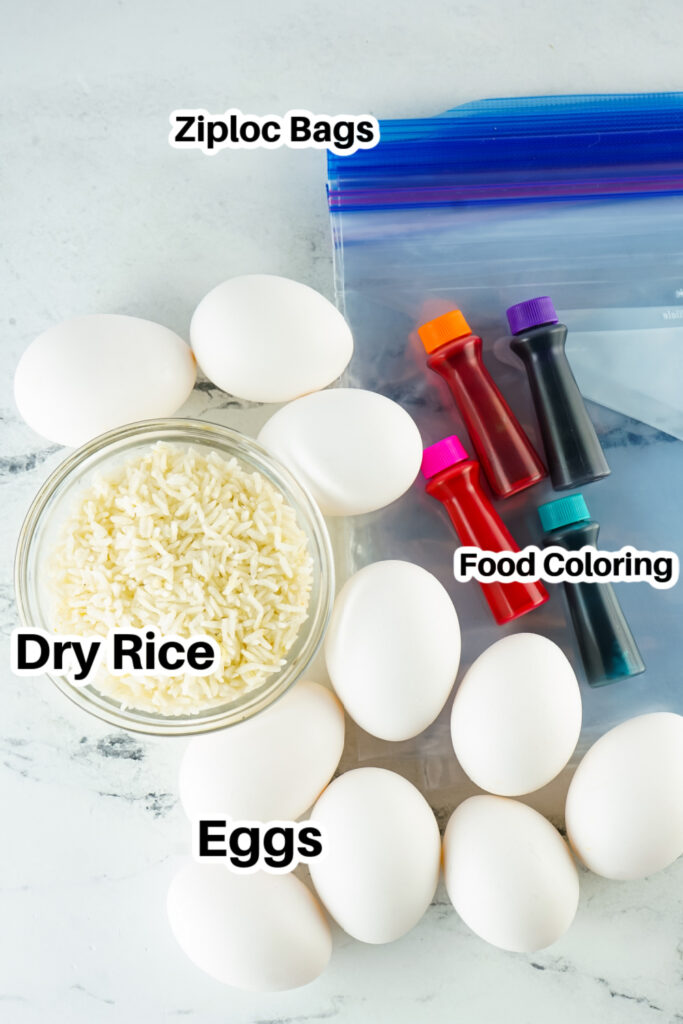 Ingredients Needed
Eggs – Hard boiled, shells-on.
Food Coloring – Liquid food coloring, colors of choice.
Rice – White rice, dry.
How to Make
Full steps on how to color hard boiled eggs with rice are in the printable recipe card at the bottom of the post. This is a visual walk through.
Add food coloring to each Ziploc bag with rice. Mix to color the rice.
Add a hard boiled egg into the bag.
Massage the bag to get the color from the rice to coat the egg. You can shake or massage bag.
Wearing gloves remove the egg from the rice bag. Then place in a container to let the egg dry.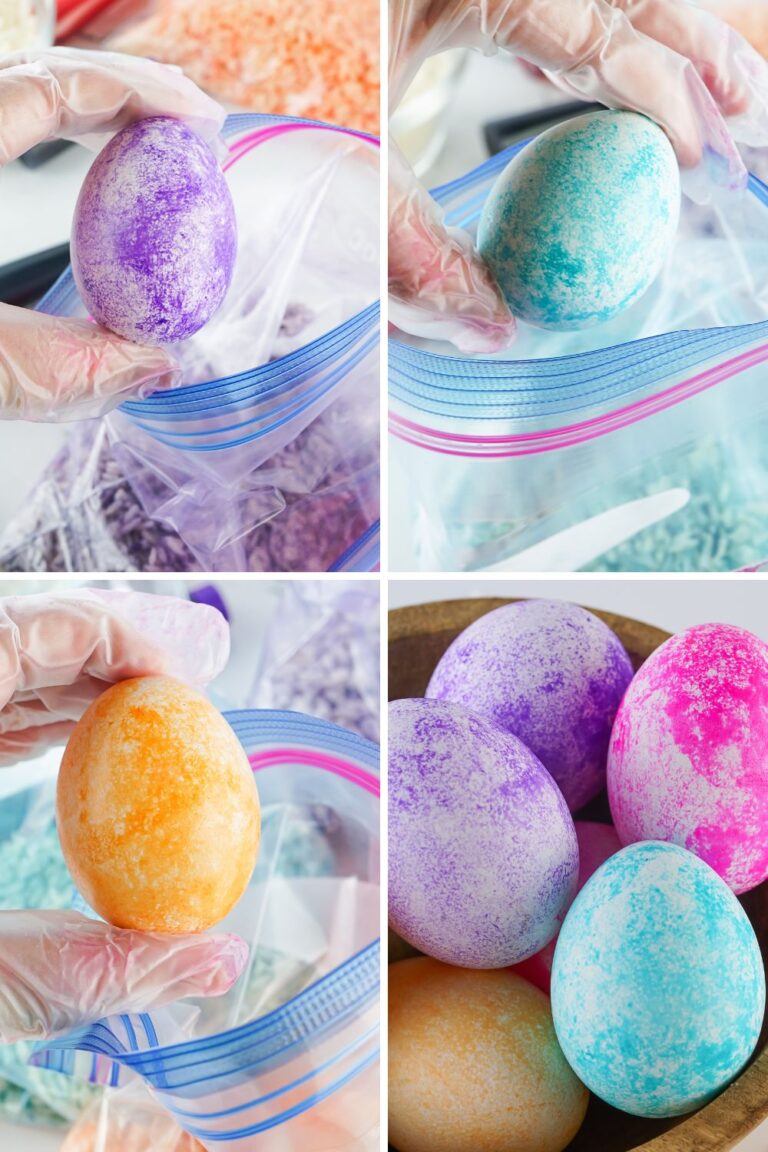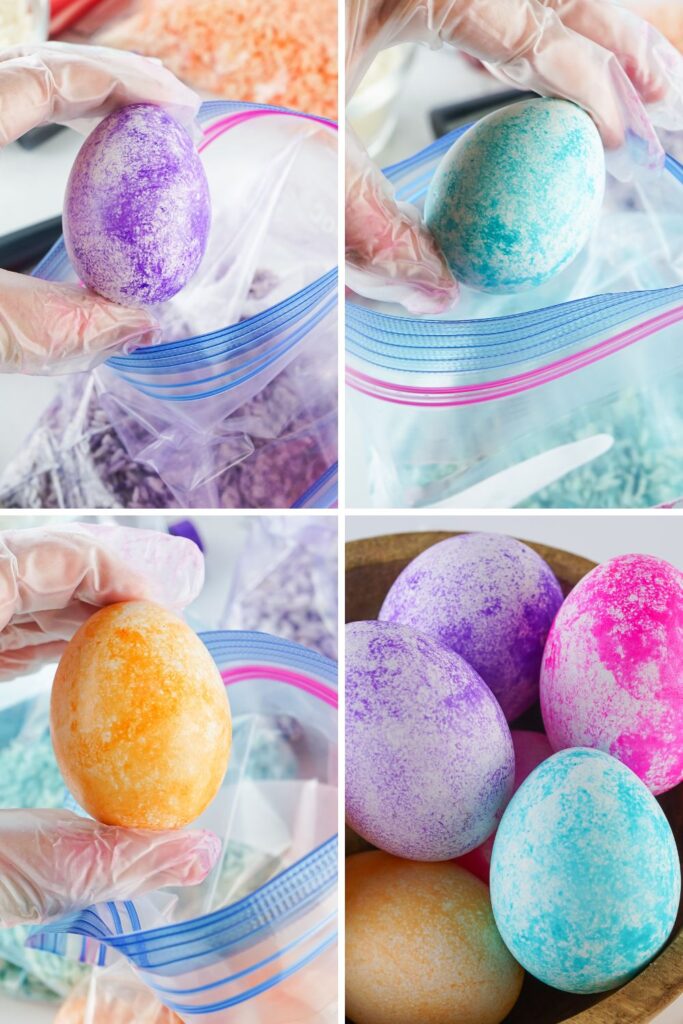 Repeat until all your Easter eggs are colored. You can add any color of food coloring to the rice. Use as bright or light as you would like.
Tips and Variations
Prepare the rice: You will need to dye the rice before using it to color the eggs. Mix some rice with food coloring in a plastic bag or container and shake until the rice is evenly coated. Allow the rice to dry completely before using it.
Choose the right eggs: Use white or light-colored eggs, as they will show the colors more vividly. Hard-boiled eggs work best for this activity, but you can also use blown-out eggs if you prefer. You could even use faux eggs if you want, so they last forever.
Roll the egg in the rice: Place the egg in a bowl or container of dyed rice and gently roll it around until it is completely covered. You can use different colors of rice to create a unique and colorful pattern.
Let the eggs dry: Once the egg is fully coated with color, allow the color on the eggs to dry.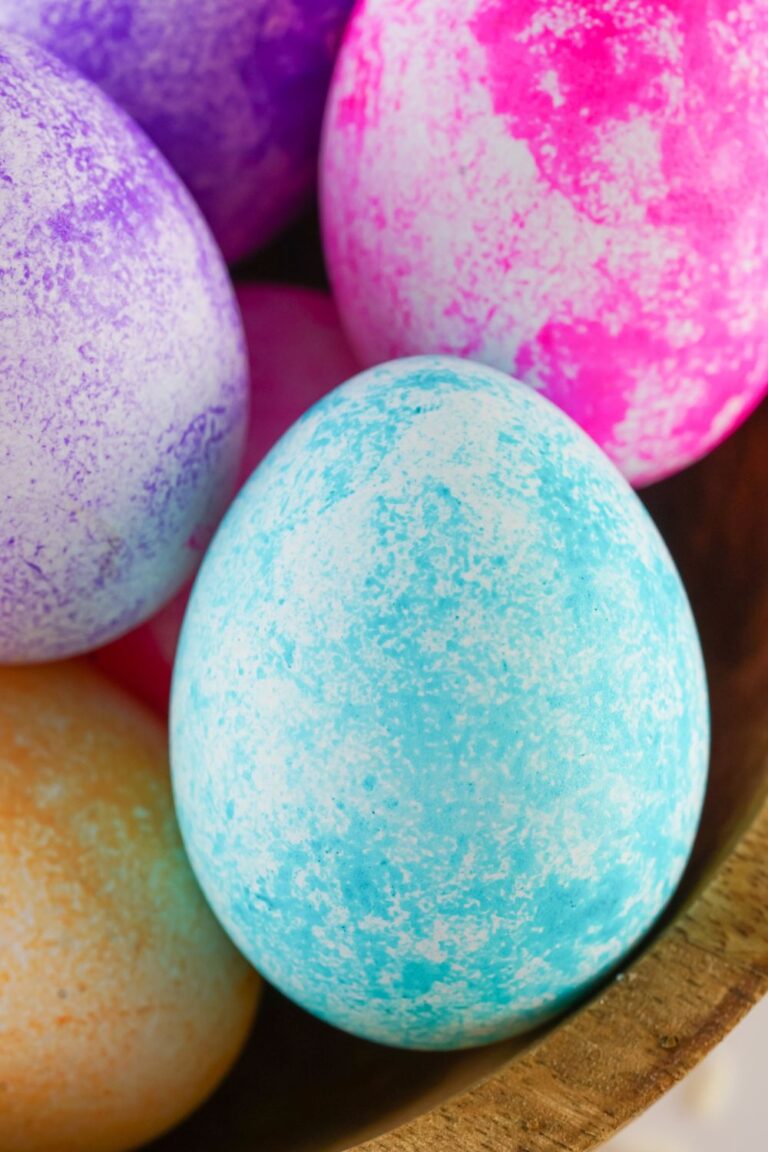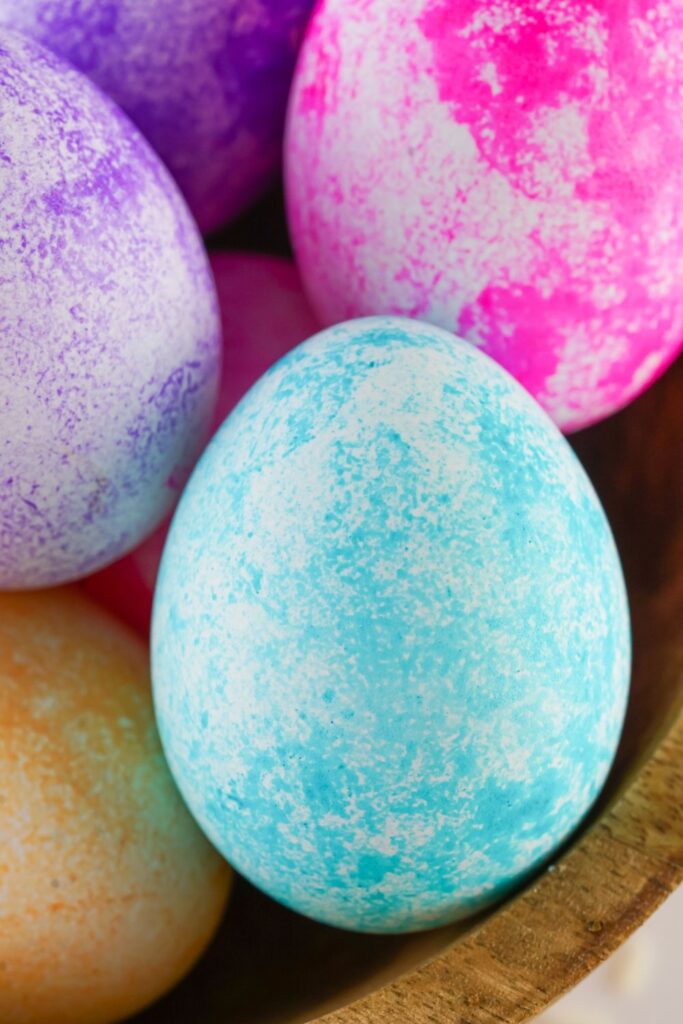 Storing
Refrigerate your eggs in a container or egg carton. Hard boiled eggs can only be stored at room temperature for up to 2 hours, as it can create food-borne illnesses if left out longer.
Unfortunately you should not freeze any of the eggs, as it will not thaw well.
FAQs
What type of food coloring should I use for coloring Easter eggs?
You can use any type of food coloring, whether it's liquid, gel, or paste. Gel and paste colors tend to be more concentrated, so you'll need less of them to achieve vibrant colors.
Can I use natural food coloring to color Easter eggs?
You can use natural food coloring to color Easter eggs. Natural food coloring can be made from ingredients like fruits, vegetables, and spices. However, keep in mind that natural food coloring may not produce as vibrant colors as artificial food coloring.
How do I create patterns or designs on the Easter eggs?
Simply roll your egg in one color of rice and then transfer it to another bag to roll around for a second color. Repeat until you reach the design of colors you wanted.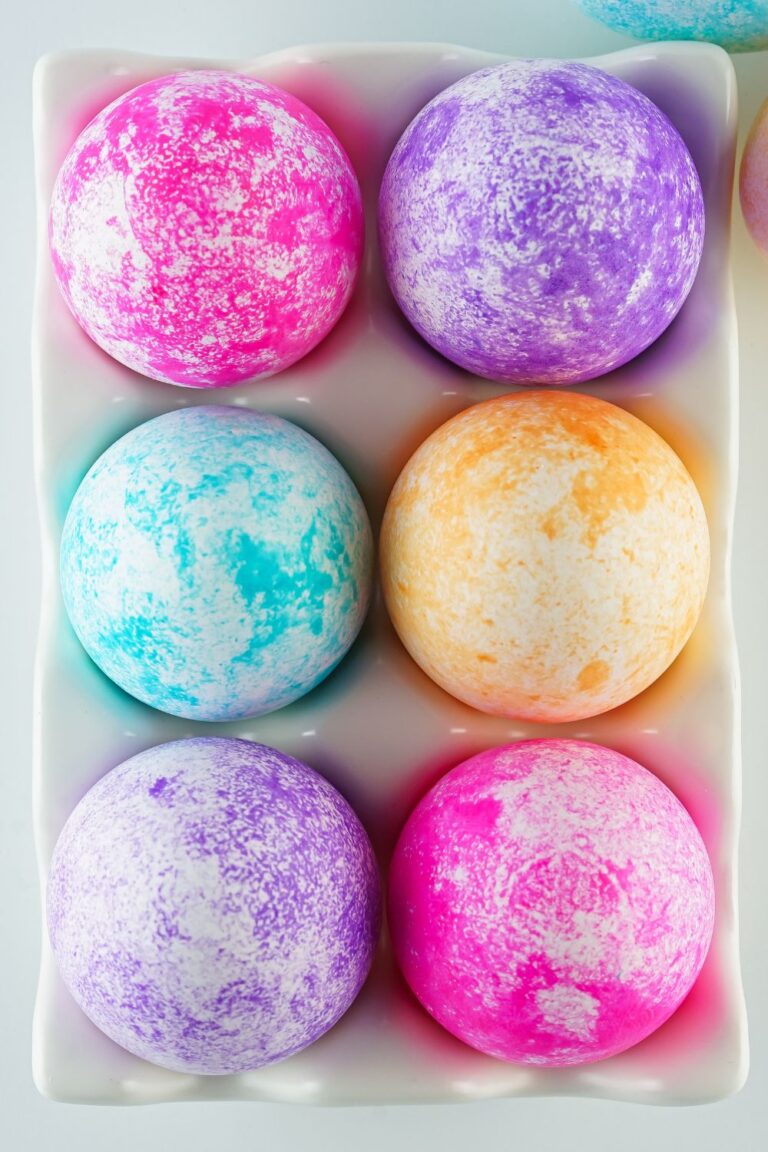 More Easter Recipes
Have you tried the recipe? If so, please leave a star ⭐️⭐️⭐️⭐️⭐️ rating in the recipe card below or drop a comment. Also stay in touch with me through social media by following me on Facebook, Pinterest, or My Facebook Group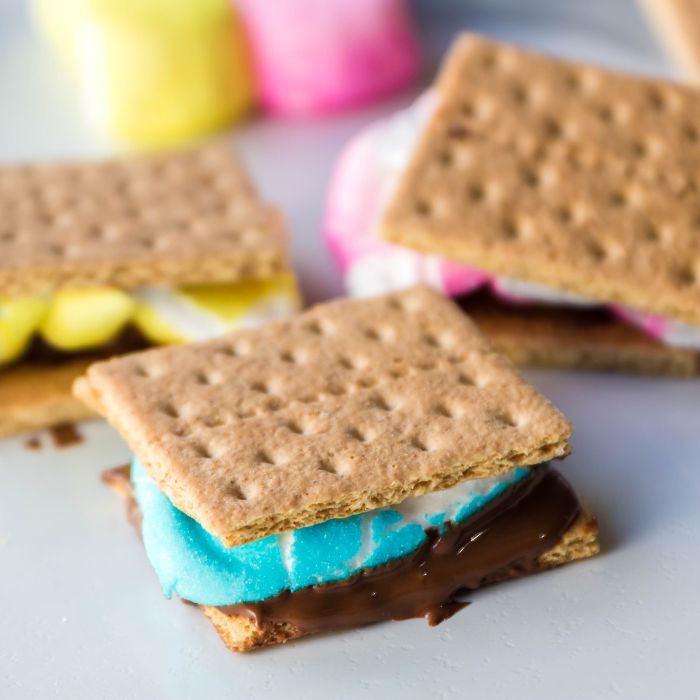 Peeps Smore's
Servings 4
Save your S'mores from the Easter basket and make up this Peeps S'mores dessert. This is a tasty and satisfying dessert the whole family can enjoy. Oven s'mores or microwave friendly.
Ingredients
2 graham crackers broke in half
4 Peeps
8 squares Hershey's chocolate
Instructions
Take a baking sheet and line with foil or a baking mat.

Break graham crackers in half. Place them on the baking sheet.

On one side add chocolate and the other Peeps.

Bake in a preheated oven for 2-3 minutes. Just enough to heat up the chocolate and marshmallow.

Remove from the oven and then smash the graham crackers and marshmallows together. Then eat and enjoy.
Notes
Microwave – Add the s'mores on a plate, microwave for 20-30 seconds. Then if needed to be warmer reheat till warm.  Chocolate – You can use whatever your chocolate you want. White chocolate, semi-sweet, etc. Now, you can use more or less chocolate just make sure to not add too much or it will ooze over.  Cookies – You could use a shortbread cookie instead of graham crackers or other cookies.   
Nutrition
Serving: 1gCalories: 58kcalCarbohydrates: 13gProtein: 1gFat: 1gSaturated Fat: 0.1gPolyunsaturated Fat: 0.03gMonounsaturated Fat: 0.3gSodium: 49mgPotassium: 12mgFiber: 0.2gSugar: 8gCalcium: 6mgIron: 0.3mg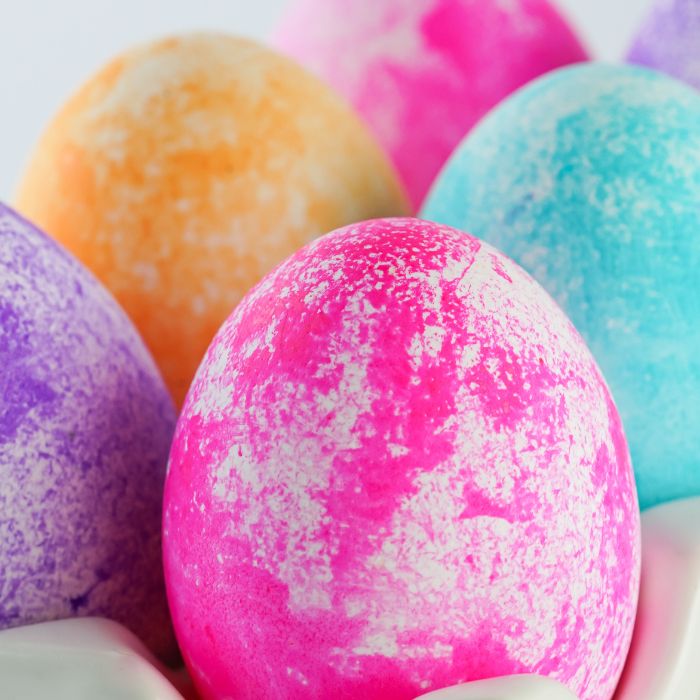 Dye Eggs with Rice
Servings 12
Dye Eggs with Rice is a great way to color hard boiled eggs for Easter without the mess. Add food coloring to rice and create vibrant colored Easter eggs. Give this guide to coloring Easter eggs a try.
Ingredients
2 cups White Rice
Food Dye
12 large Boiled Eggs
Instructions
You can do as many colors as you want. I did 6 bags with 1/2 cup of rice each.

Then I added food coloring to the rice, making sure to add enough color to each bag. Use less color for less vibrant or more color for a bolder look.

Place egg right in the bag and roll it around or massage it in the bag. Once egg is colored to your liking place on a lined tray or in a egg carton.

Repeat coloring the eggs one by one in each bag.
Notes
Rice – Any type of rice works, just make sure it is dried rice and not cooked.  Food Coloring – Any type of food coloring can be used. I like to use liquid but you can use gel food coloring if you want.  Gloves – I use gloves to help prevent the food coloring on my hands but that is optional. 
Equipment
Ziploc Bags

Plastic Gloves
Nutrition
Calories: 190kcalCarbohydrates: 25gProtein: 8gFat: 6gSaturated Fat: 2gPolyunsaturated Fat: 1gMonounsaturated Fat: 2gCholesterol: 187mgSodium: 64mgPotassium: 98mgFiber: 0.4gSugar: 1gVitamin A: 260IUCalcium: 34mgIron: 1mg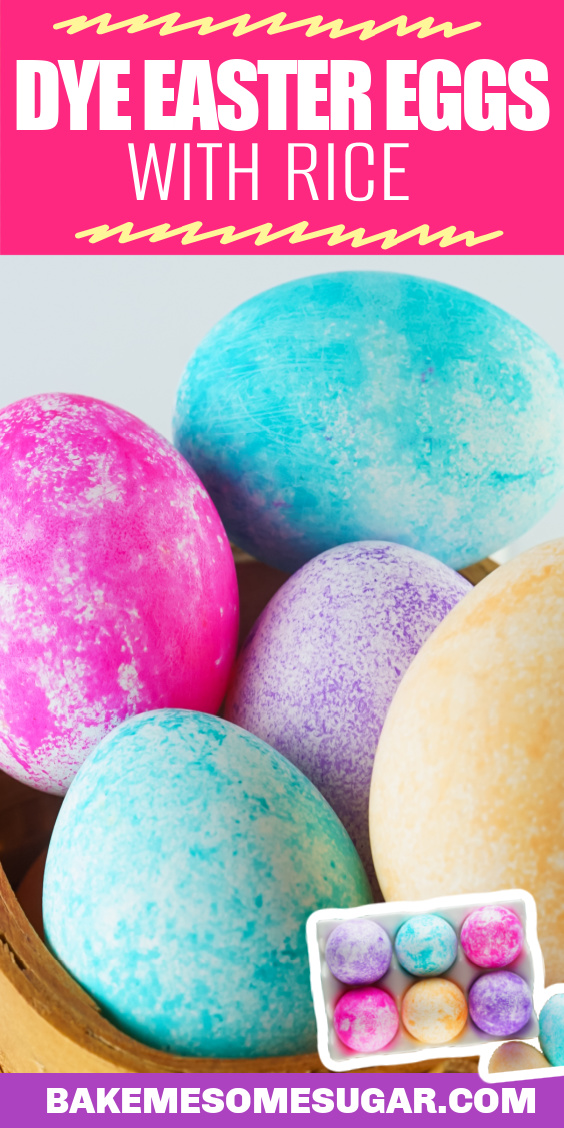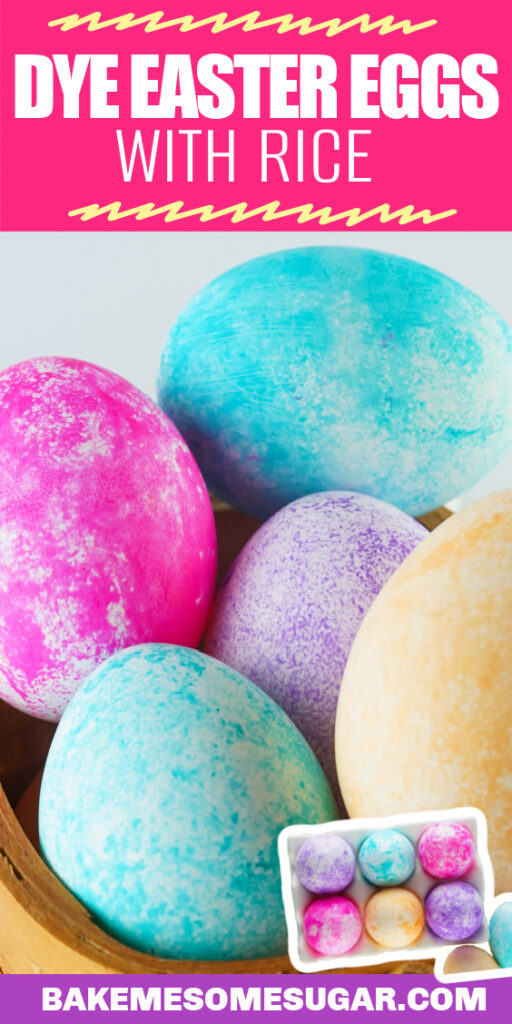 Reader Interactions