Easter punch is a delicious and colorful beverage that is perfect for springtime celebrations. Made with ice cream, lemonade, and soda, this fun and festive punch is a great way to add some flavor and flair to your Easter gathering.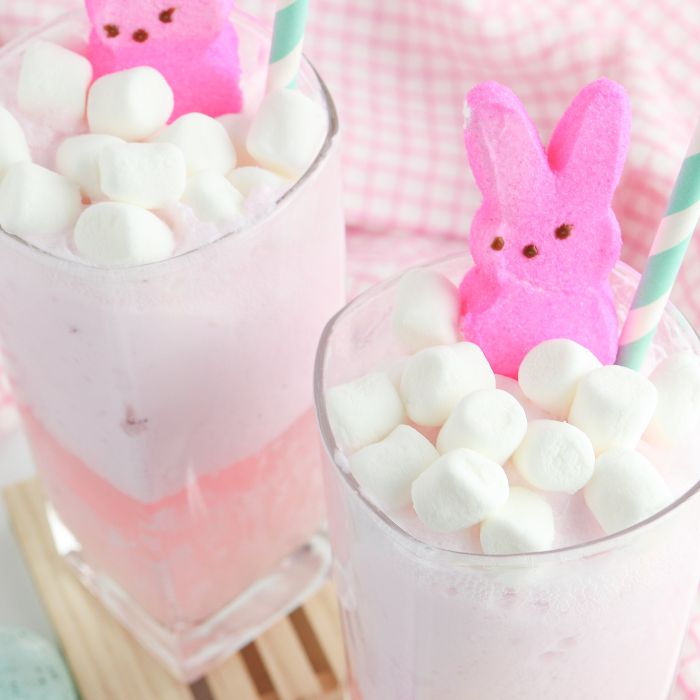 Try my easy Easter punch that is non alcoholic. This punch for kids is made with strawberry ice cream, lemon lime soda, strawberry lemonade and garnished with a sugary Peep on top. A must make Easter drink for the whole family to enjoy.
Punch is always welcome in my home. There is something about the sweetness paired with a hint of tart that just hits the spot. This strawberry punch is colorful and delicious. This punch for Easter is great for school parties, play dates, or even a treat to surprise your kiddo with.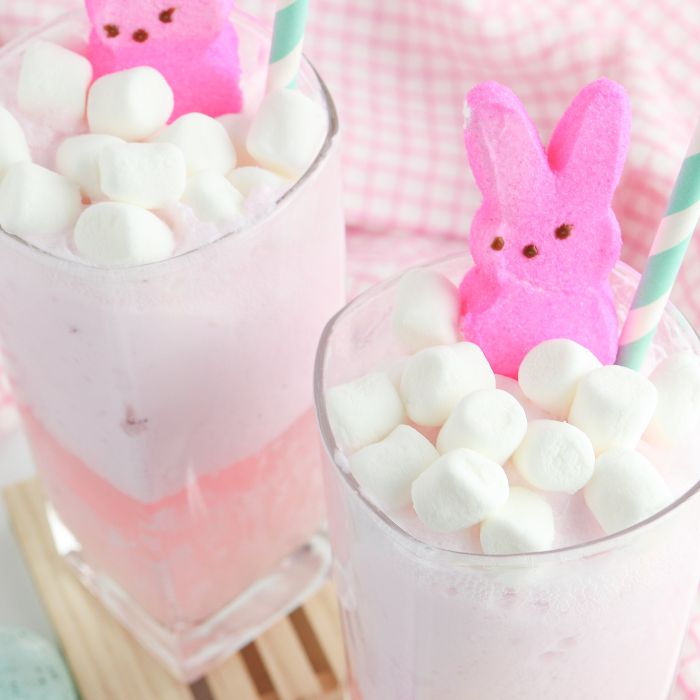 This Easter drink is…
Made with 5 ingredients!
Kid friendly, and family approved.
Refreshing, sweet, and perfectly sippable.
Decorated for an Easter celebration.
Versatile in flavors of ice cream and ingredients used.
Serve your punch along with this bunny butt cheeseball, it is a dessert cheeseball recipe.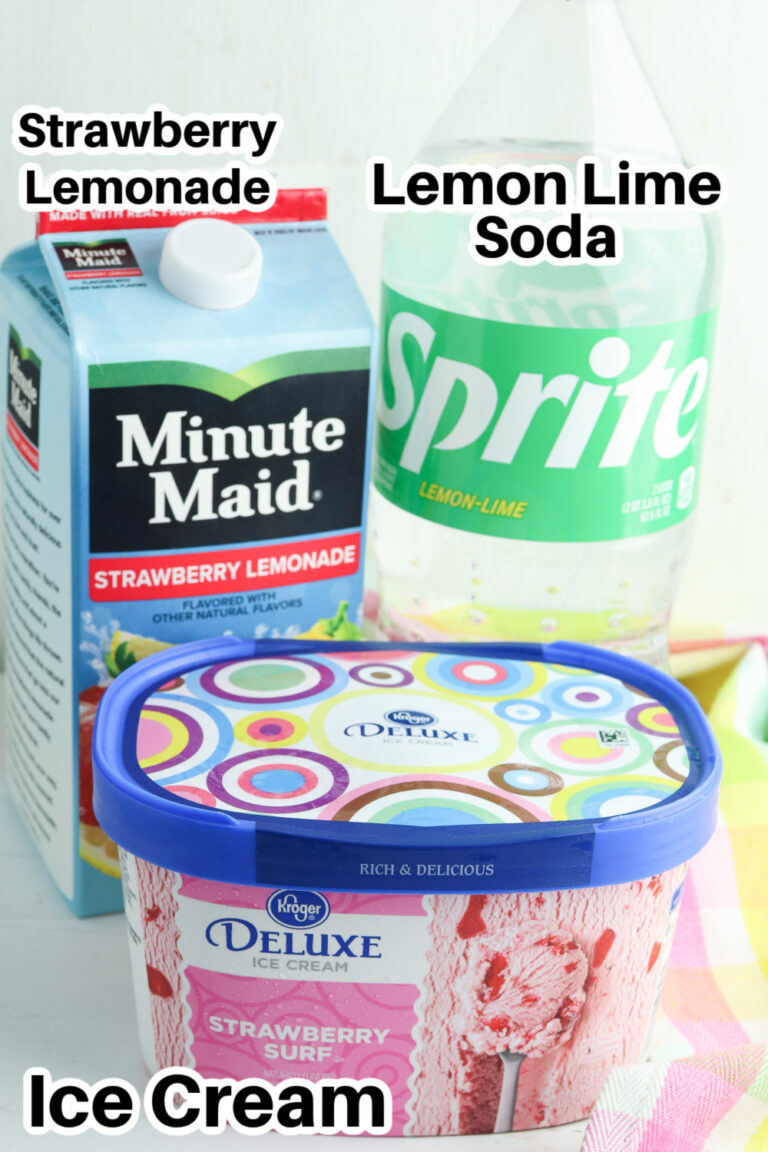 🐰 Ingredients
Strawberry Ice Cream – Any brand works, or if you want you can change up the flavor of ice cream. Or even reach for sherbet.
Lemon Lime Soda – Any lemon lime flavored soda works great for this party punch.
Lemonade – Strawberry lemonade is our favorite for this strawberry punch. You could use raspberry, plain, etc.
Peeps – This is an optional topping but it helps create an Easter punch look to the drink.
Mini Marshmallows – Optional but a fun topping for this drink.
🧋How to make
Full steps on how to make this Easter drink are in the printable recipe card at the bottom of the post. This is a visual walk through on how it is made.
Scoop two to three scoops of ice cream into each glass.
Pour strawberry lemonade over the ice cream.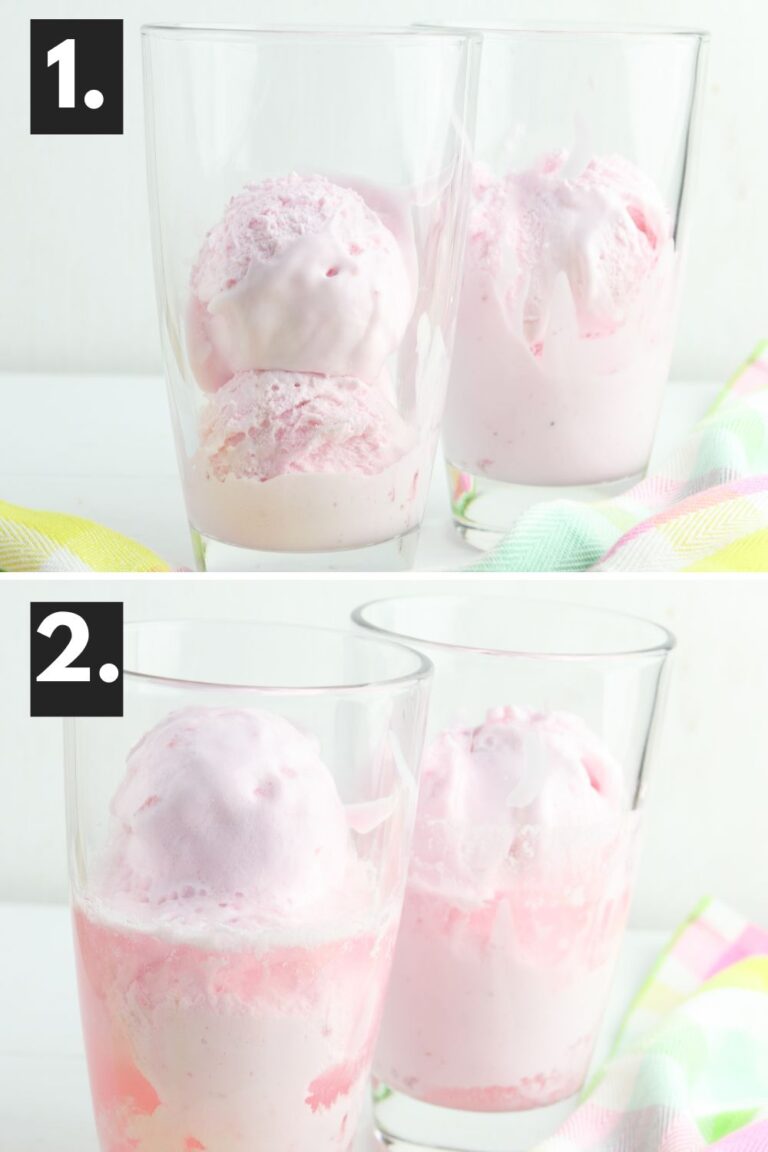 Pour lemon-lime soda slowly into each glass.
Add Peeps, mini marshmallows, and sprinkles to the top of the drink for decoration, if desired.
Give the drink a good stir before enjoying.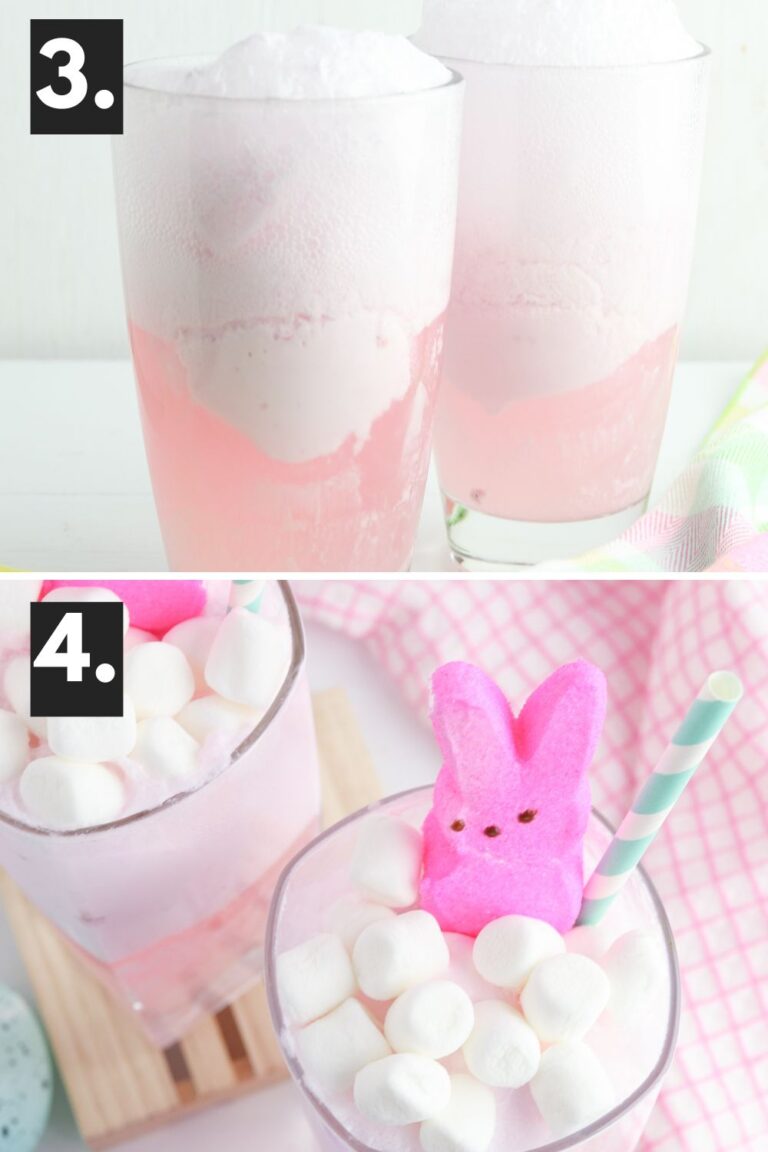 🍓 Variations to recipe
Use sparkling water instead of soda for a lighter, bubbly drink.
Add some slices of fresh strawberries or lemons to the punch for extra flavor and visual appeal.
Replace the strawberry lemonade with another fruit juice, such as raspberry or peach, for a different flavor profile.
Use sorbet instead of ice cream to make the punch lighter and creamier.
Add some vodka or rum for a boozy version of the punch (note: this is for adults only!).
Use frozen strawberries instead of fresh for a cooler, slushier punch.
Replace the Peeps and sprinkles with sliced almonds or coconut flakes for a more sophisticated garnish.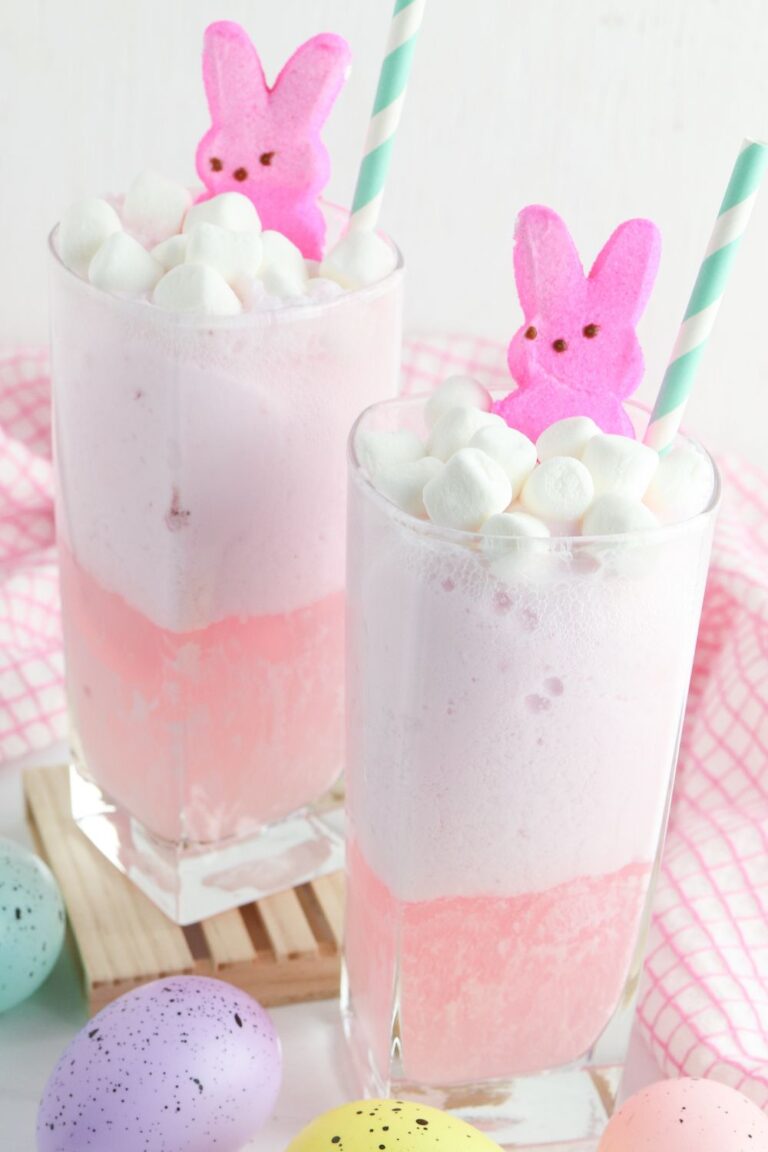 ✅ Expert tips
Use high-quality ice cream: The ice cream is a key ingredient in the punch, so make sure to use a high-quality brand that is rich and creamy.
Soften the ice cream before adding it to the punch: This will make it easier to scoop and incorporate into the punch. Let it sit at room temperature for a few minutes before using.
Chill all the ingredients: The punch will be more refreshing if all the ingredients are chilled before use, especially the soda or sparkling water.
Use a large pitcher or bowl: The punch can be quite voluminous, so make sure to use a large enough container to accommodate all the ingredients.
Don't add too much soda or water at once: Start by adding a small amount of soda or water to the punch and gradually add more until you achieve the desired consistency.
Consider the color of the punch: If you want a bright, colorful punch, consider using brightly-colored ice cream, fruit juices, or adding fresh fruit slices or garnishes.
Keep the punch cold: To prevent the ice cream from melting too quickly, keep the punch cold by placing the pitcher or bowl in a larger container filled with ice.
🍒 FAQs
Can I use any flavor of ice cream?
Yes, you can use any flavor of ice cream that you like for ice cream punch. Vanilla and chocolate are popular choices, but you can also experiment with flavors like cherry garcia, mint, or sherbet.
How far in advance can I make punch?
Ice cream punch is best made just before serving, but you can prepare the ingredients in advance and keep them chilled until ready to use.
Can I make ice cream punch without soda or sparkling water?
You can make ice cream punch without soda or sparkling water by using fruit juice or a flavored syrup instead. Just be aware that the punch may be sweeter without the carbonation to balance it out.
Can I make punch ahead of time and freeze it?
It is not recommended to freeze punch, as the ice cream may become icy and the other ingredients may not retain their texture and flavor.
More drink recipes
Have you tried the recipe? If so, please leave a star ⭐️⭐️⭐️⭐️⭐️ rating in the recipe card below or drop a comment. Also stay in touch with me through social media by following me on Facebook, Pinterest, or My Facebook Group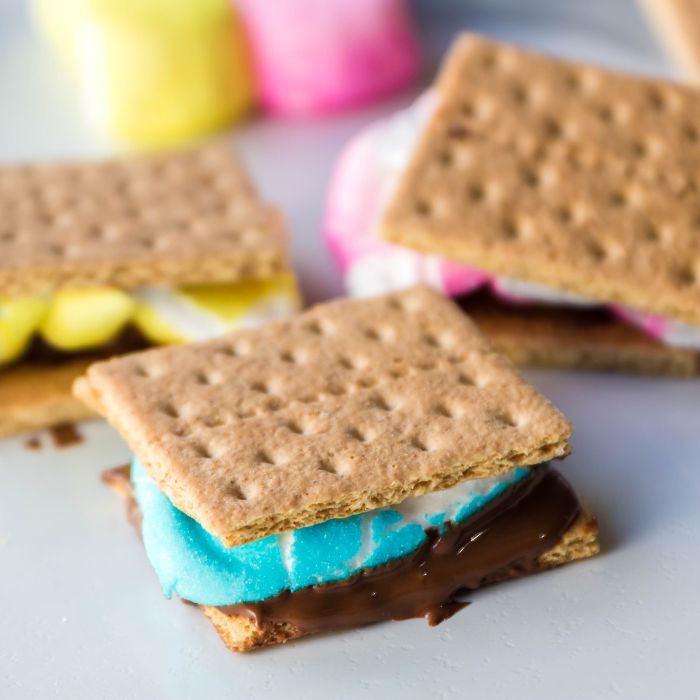 Peeps Smore's
Servings 4
Save your S'mores from the Easter basket and make up this Peeps S'mores dessert. This is a tasty and satisfying dessert the whole family can enjoy. Oven s'mores or microwave friendly.
Ingredients
2 graham crackers broke in half
4 Peeps
8 squares Hershey's chocolate
Instructions
Take a baking sheet and line with foil or a baking mat.

Break graham crackers in half. Place them on the baking sheet.

On one side add chocolate and the other Peeps.

Bake in a preheated oven for 2-3 minutes. Just enough to heat up the chocolate and marshmallow.

Remove from the oven and then smash the graham crackers and marshmallows together. Then eat and enjoy.
Notes
Microwave – Add the s'mores on a plate, microwave for 20-30 seconds. Then if needed to be warmer reheat till warm.  Chocolate – You can use whatever your chocolate you want. White chocolate, semi-sweet, etc. Now, you can use more or less chocolate just make sure to not add too much or it will ooze over.  Cookies – You could use a shortbread cookie instead of graham crackers or other cookies.   
Nutrition
Serving: 1gCalories: 58kcalCarbohydrates: 13gProtein: 1gFat: 1gSaturated Fat: 0.1gPolyunsaturated Fat: 0.03gMonounsaturated Fat: 0.3gSodium: 49mgPotassium: 12mgFiber: 0.2gSugar: 8gCalcium: 6mgIron: 0.3mg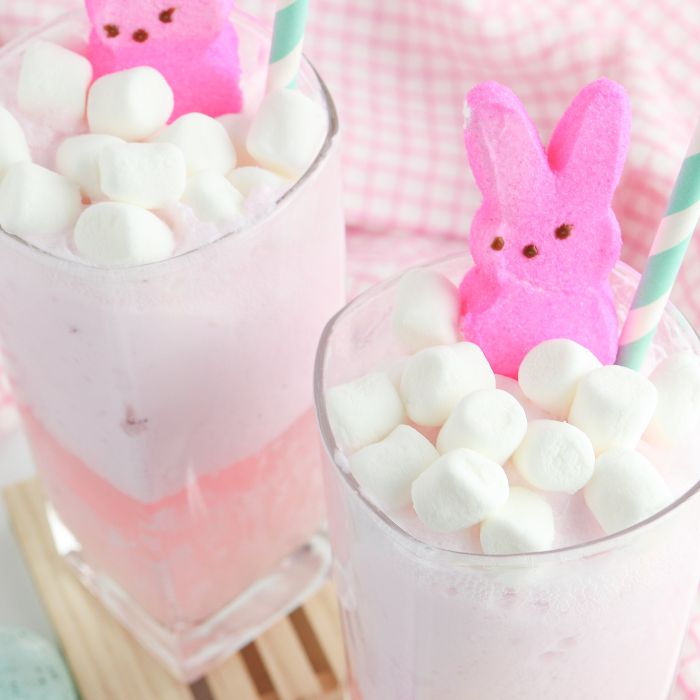 Easter Punch
Servings 2
Easter punch is a delicious and colorful beverage that is perfect for springtime celebrations. Made with ice cream, lemonade, and soda, this fun and festive punch is a great way to add some flavor and flair to your Easter gathering.
Ingredients
2-3 scoops strawberry ice cream
½ cup strawberry lemonade
½ cup lemon lime soda
Toppings (optional)
2 Bunny Peeps
1/3 cup Mini marshmallows
1/2 teaspoon Sprinkles
Instructions
Scoop 2-3 scoops of ice cream into each glass.

Pour strawberry lemonade over the ice cream.

Slowly add lemon-lime soda into each glass.

If desired, add Peeps, mini marshmallows, and sprinkles on top for decoration.

Before enjoying, give the drink a good stir to blend all the flavors together.
Notes
Ice Cream: Any flavor of ice cream works, or even Sherbet.  Lemonade: If you don't want lemonade, swap with a fruit juice of choice.  Serving: Mix up right before serving. Party punch can't be made in advance as it will lose the bubbles and go flat.  Toppings: You don't have to use an Easter Peep. This was just a fun twist to the drink feel free to decorate as you wish. 
Nutrition
Serving: 1gCalories: 56kcalCarbohydrates: 14gProtein: 0.2gFat: 0.1gSaturated Fat: 0.1gPolyunsaturated Fat: 0.01gMonounsaturated Fat: 0.01gSodium: 13mgPotassium: 1mgFiber: 0.01gSugar: 12gCalcium: 1mgIron: 0.03mg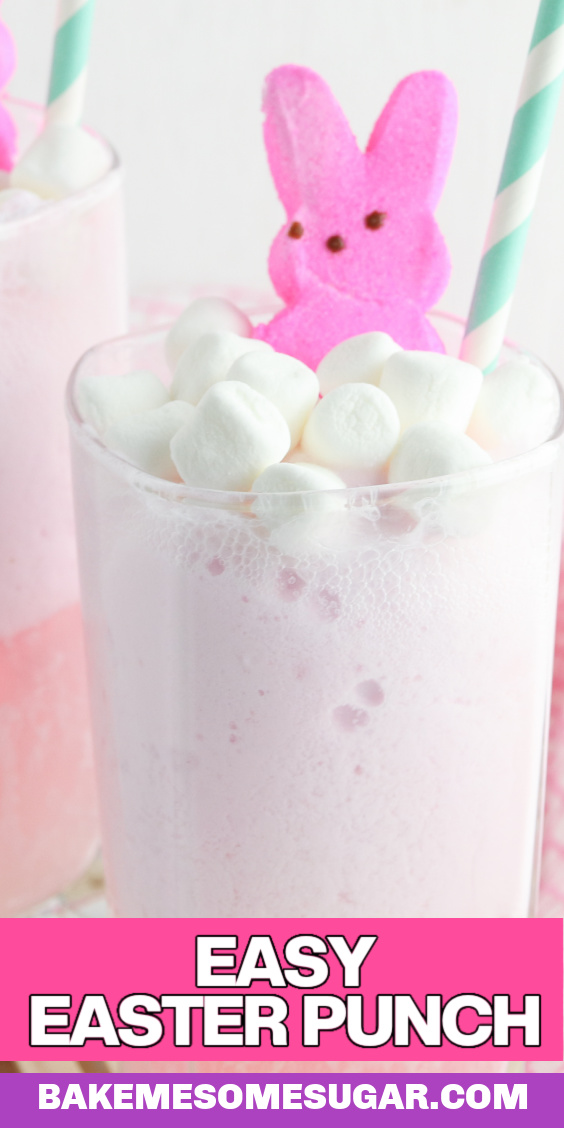 Reader Interactions