Looking for a delicious and healthy dessert idea? Try making Chocolate Covered Banana Pops! This easy-to-follow recipe involves dipping bananas in melted chocolate and freezing them for a refreshing and tasty treat.
Perfect for any occasion, these pops are sure to satisfy your sweet tooth without compromising on nutrition. These chocolate covered bananas are a must make!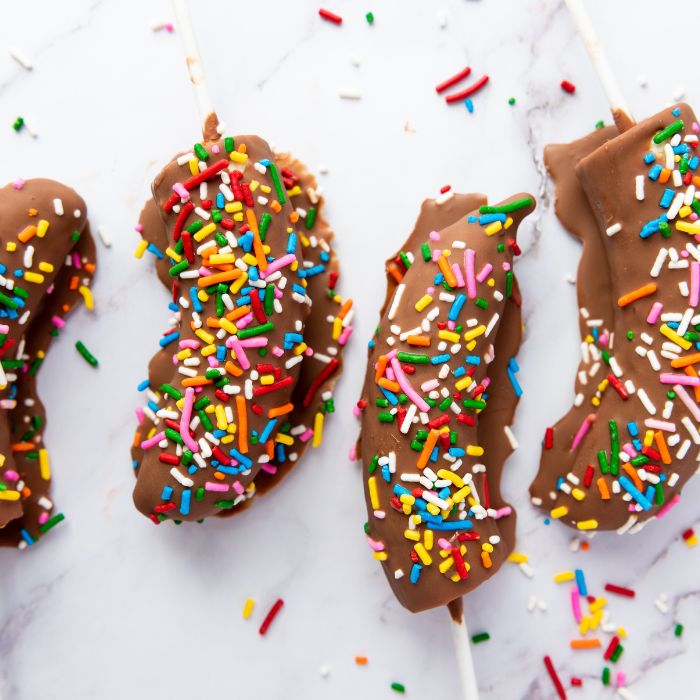 Why These Chocolate Covered Bananas Are So Fun…
Healthy snack idea with a sweet twist.
Use a stick to make it a treat like a popsicle.
Similar to TruFru chocolate covered banana bites
Great for hot days.
Kid friendly dessert idea that takes no time to whip up.
Only 3 ingredients needed.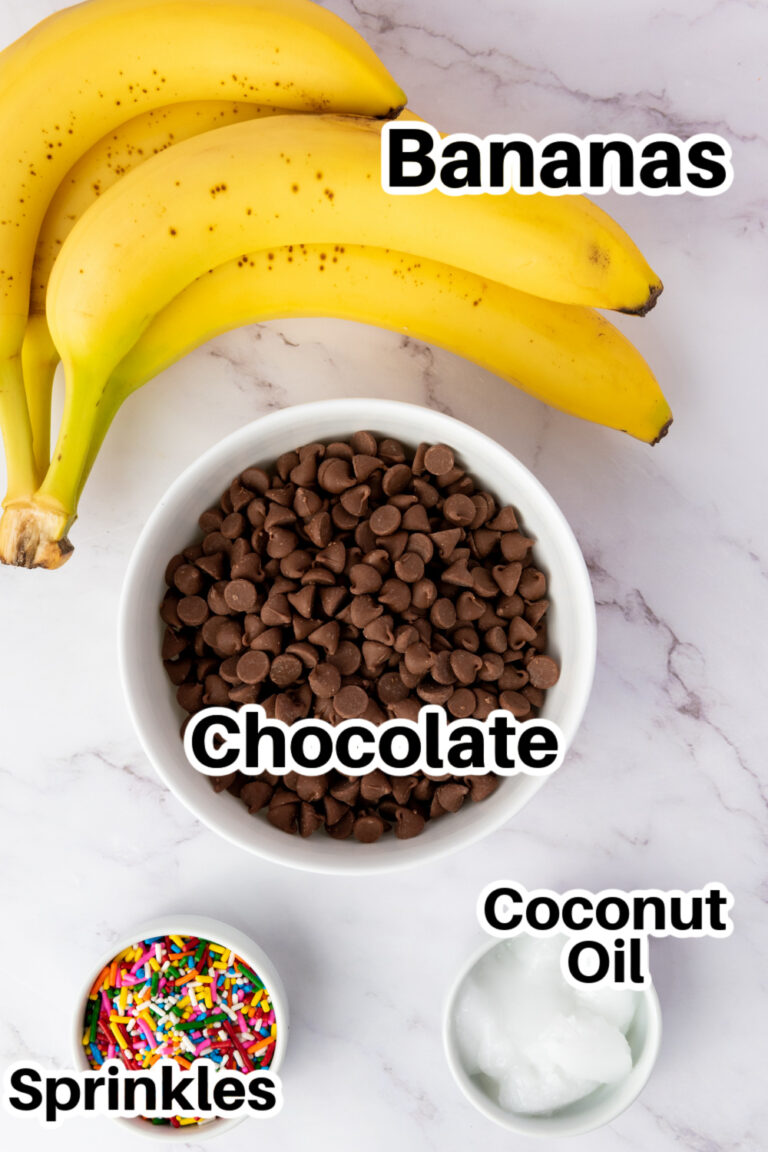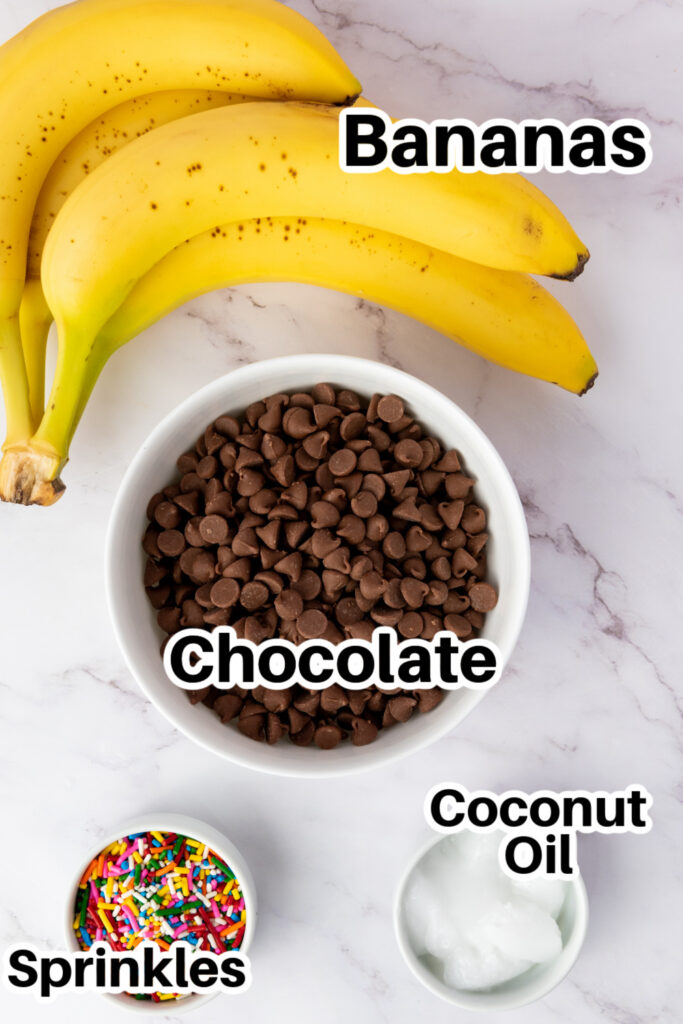 🍌Ingredients
Bananas are a great source of potassium, fiber, and natural sweetness, which makes them an excellent choice for a healthy treat.
Chocolate chips are used to create a rich and decadent coating for the bananas. Dark chocolate chips are recommended as they are a healthier choice than milk chocolate chips.
Coconut oil is added to the chocolate to help it melt smoothly and to create a shiny, smooth texture that is perfect for dipping the bananas. It also adds a subtle coconut flavor to the chocolate, which can enhance the taste of the dessert.
Sprinkles are used to add a fun and colorful touch to the pops.
🍫How to make
Full directions are in the printable recipe card on how to make. This is a visual walk through on how these choco bananas are made.
Peel your bananas and cut them in half. Then you will add a lollipop stick to the bottom of each banana. Push the sticks in about an inch.
Then in a microwave safe bowl add chocolate and coconut oil. Melt in the microwave., stirring every 30 seconds.
Dip the banana into the chocolate, to coat the banana.
Place on a parchment lined counter or tray, and add sprinkles or toppings of choice.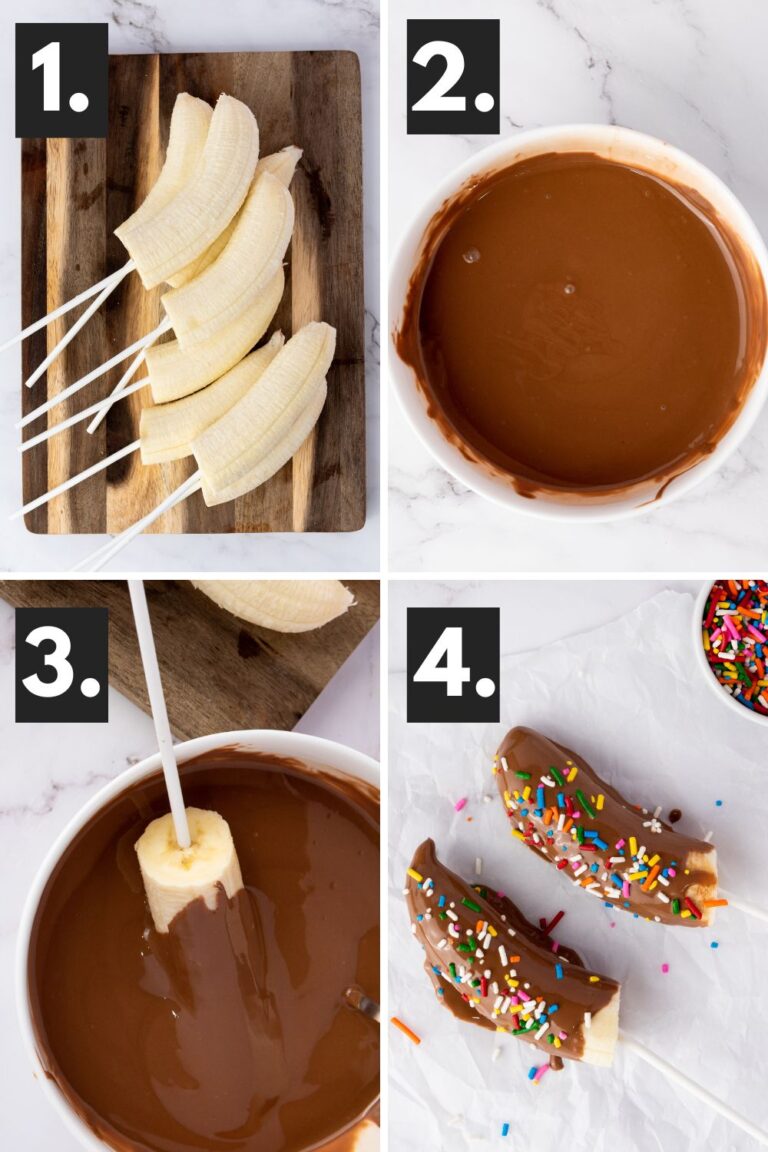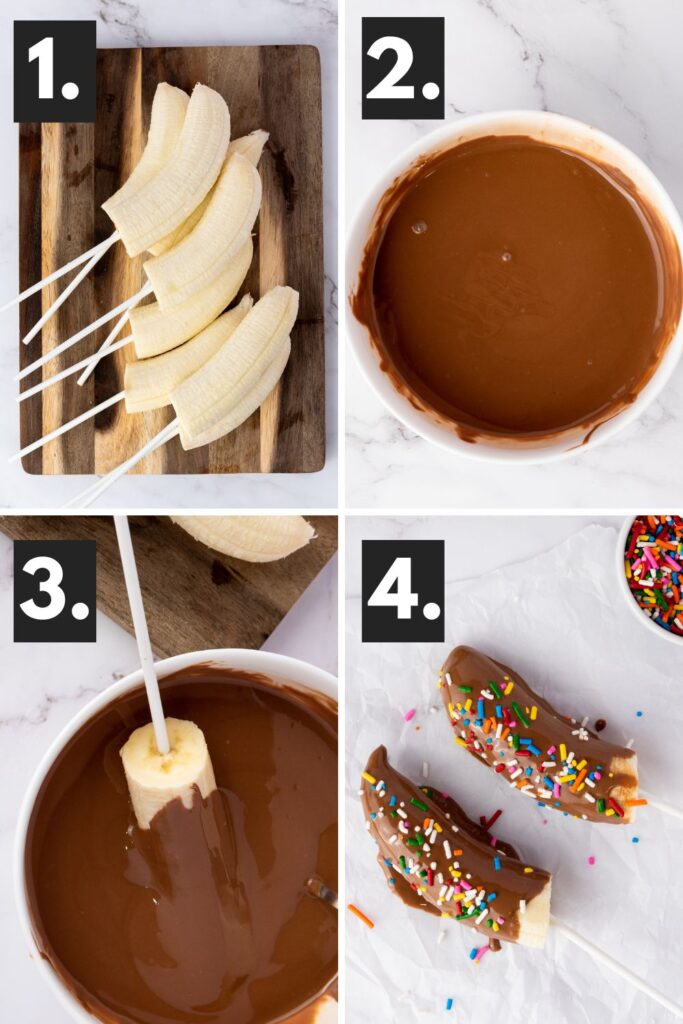 🍒 Topping ideas and variations
There are many variations to chocolate covered bananas that you can try to customize this delicious dessert according to your taste preferences. Here are some ideas:
Peanut Butter: Spread a layer of peanut butter on the banana before dipping it in chocolate. This will add a delicious nutty flavor to the dessert.
White Chocolate: Use white chocolate chips instead of dark chocolate chips to create a sweeter, creamier coating for the bananas.
Almonds: Add chopped almonds to the melted chocolate before dipping the bananas. The almonds will add a crunchy texture and a delicious nutty flavor to the pops.
Cinnamon Sugar: Mix cinnamon and sugar in a bowl, and then roll the banana in the mixture after dipping it in chocolate. This will add a warm, spicy flavor to the dessert.
S'mores: Roll the chocolate-coated banana in graham cracker crumbs and mini marshmallows to create a fun, s'mores-inspired dessert.
Frozen Yogurt: Instead of chocolate, use frozen yogurt to coat the bananas. This will create a lighter, healthier version of the dessert.
Toffee: Crush some toffee candies and sprinkle them on the chocolate-coated banana before it dries. This will add a sweet, crunchy texture to the pops.
Candy: M&M's, crushed cookies, chopped candy bars, or other sweets.
Etc.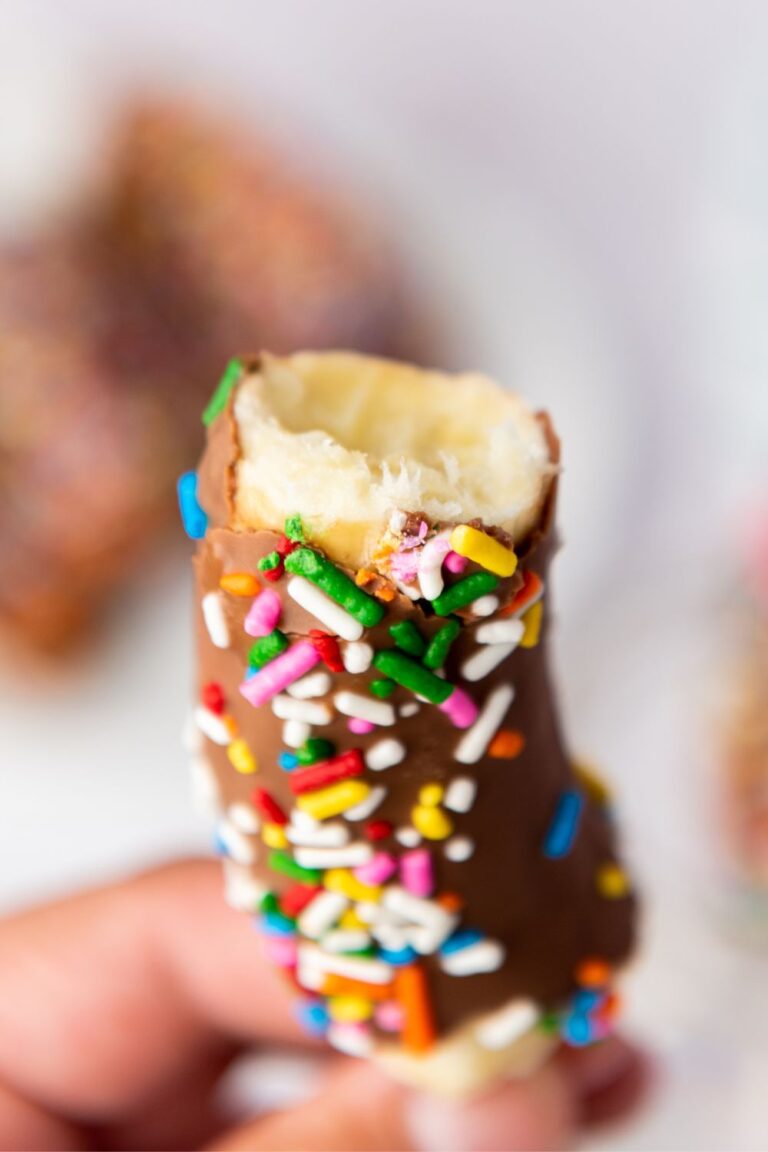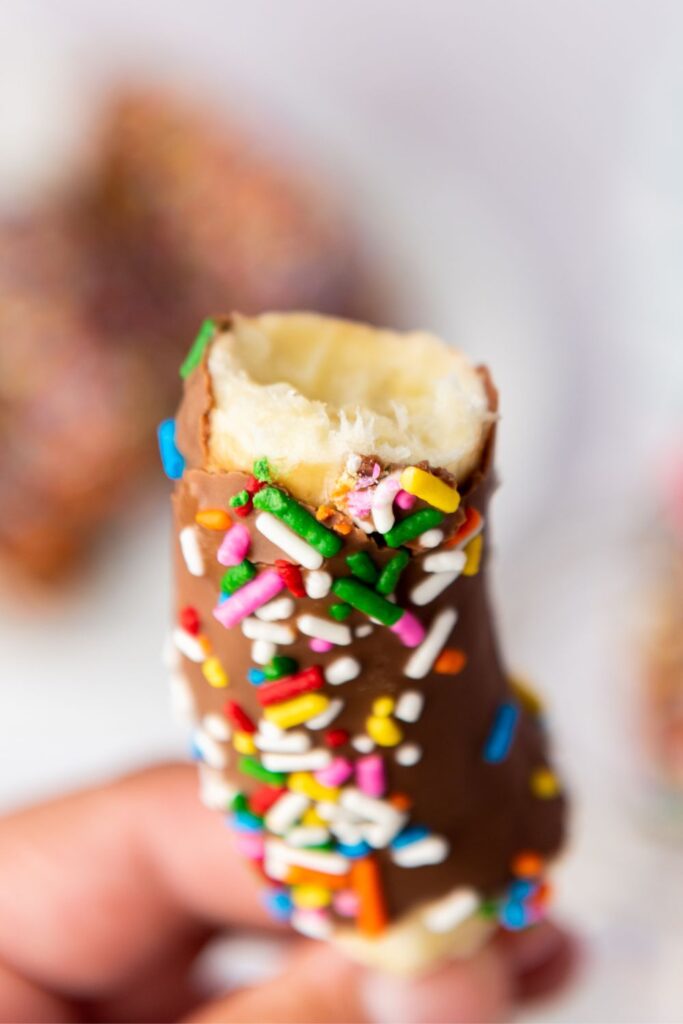 ✅ Helpful tips for success
Choose ripe bananas: The bananas should be ripe but not too soft, as they will be easier to handle and won't fall apart when dipped in chocolate.
Melt the chocolate properly: Use high-quality chocolate and melt it in a double boiler or a microwave, stirring frequently to prevent it from burning. If you're using a microwave, heat the chocolate in 30-second intervals, stirring after each interval.
Freeze the bananas: Freeze the banana pieces for about 30 minutes before dipping them in chocolate. This will help the chocolate stick to the banana and prevent it from melting too quickly.
Add toppings: After dipping the bananas in chocolate, add toppings like chopped nuts, sprinkles, or shredded coconut to add flavor and texture.
🧊 Storing
To store chocolate covered bananas, you should keep them in an airtight container in the refrigerator. The airtight container will help prevent any moisture from getting to the chocolate, which can cause it to soften or spoil.
Before storing the chocolate covered bananas, make sure that they are completely dry and firm. If they are not completely dry, the chocolate may melt or become sticky in the container, which can make them difficult to eat.
Chocolate covered bananas can last up to three days in the refrigerator, but for best results, it's recommended to eat them within 24-48 hours of making them. After that time, the banana may begin to brown and the chocolate may lose its quality.
🍱FAQs
Can I make the chocolate covered bananas in advance, or should I prepare them right before serving?
They can be stored for up to 3 days, but for best results, it's recommended to eat them within 24-48 hours of making them. You can make your bananas a day in advance.
How long should I let the chocolate-coated bananas set before serving them?
After dipping the bananas in chocolate, you should let them set for at least 20-30 minutes to allow the chocolate to harden. This will prevent the chocolate from being too soft and making a mess when you bite into the banana.
It's best to place the chocolate covered bananas on a sheet of parchment paper or a wire rack to allow any excess chocolate to drip off and to help them set properly.
What type of chocolate should I use?
You can use any type of chocolate that you prefer. Milk chocolate, dark chocolate, and white chocolate all work well and each will give a slightly different flavor to the final product.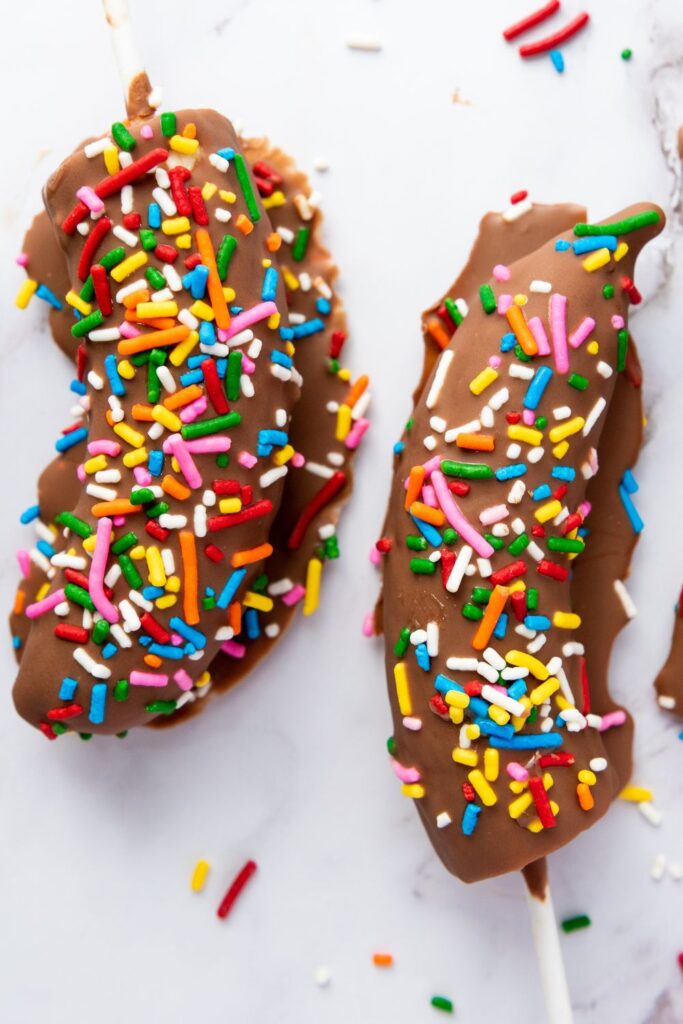 🍓Related recipes
Have you tried the recipe? If so, please leave a star ⭐️⭐️⭐️⭐️⭐️ rating in the recipe card below or drop a comment. Also stay in touch with me through social media by following me on Facebook, Pinterest, or My Facebook Group!
Printable Recipe Card