Accordion Potatoes are a small potato that is thinly sliced almost all the way through. Air fry these potatoes or bake in the oven. I share both directions for this accordion style potato recipe. A great side dish or even appetizer for your family.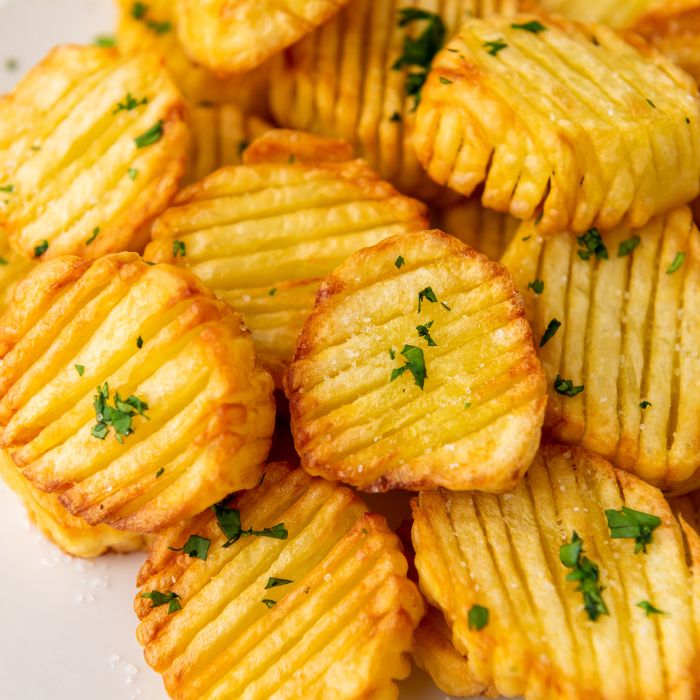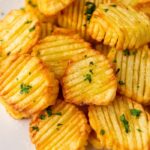 Looking for a quick and easy potato recipe? These accordion potatoes or also known as Hasselback potatoes are a delicious potato side dish recipe. Thinly sliced potatoes that are not fully sliced all the way through. Air fry or bake them in the oven for a crispy texture.
I share how to cook these sliced potatoes in the oven or you can cook in the air fryer, while both offer that crispy outside and fluffy tender center.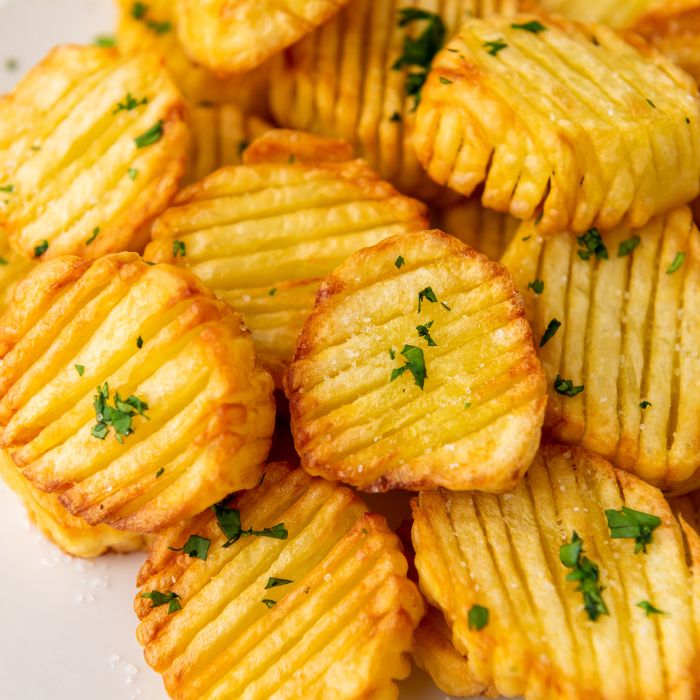 Consider these smashed potatoes for a crispy potato recipe. Or even these twice-baked potatoes, smoked gouda mashed potatoes, or even dive into these scalloped potatoes with ham.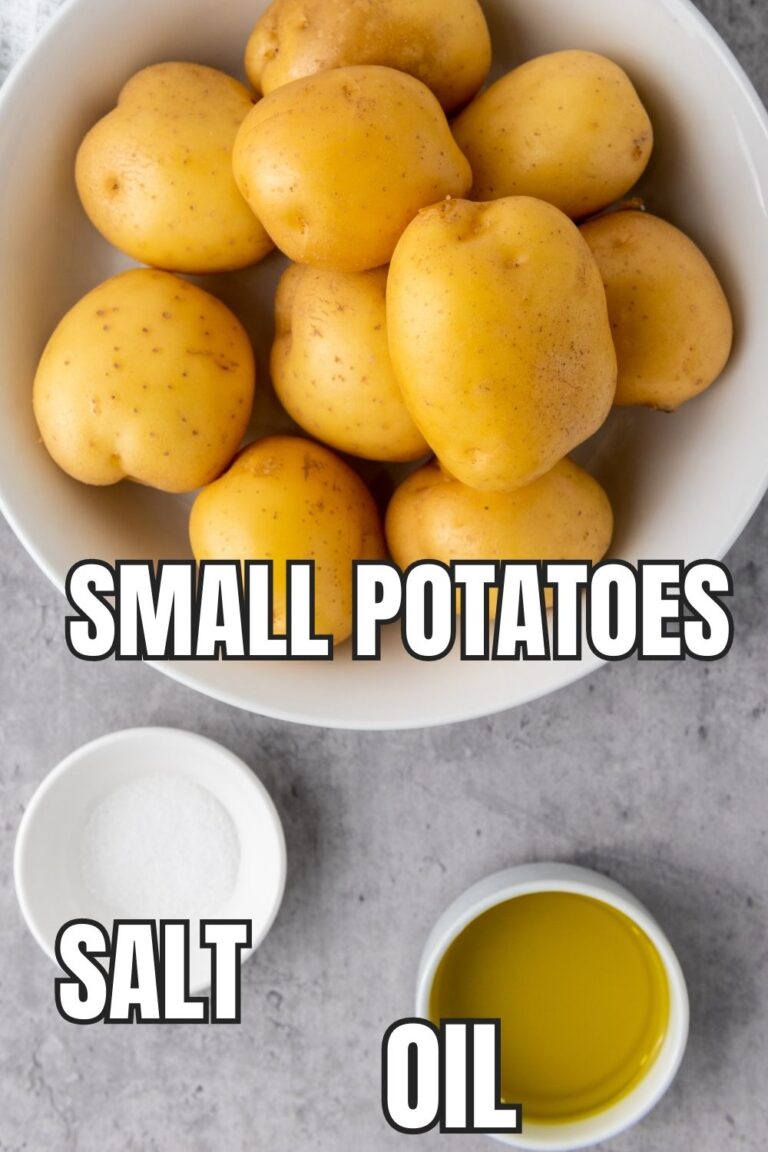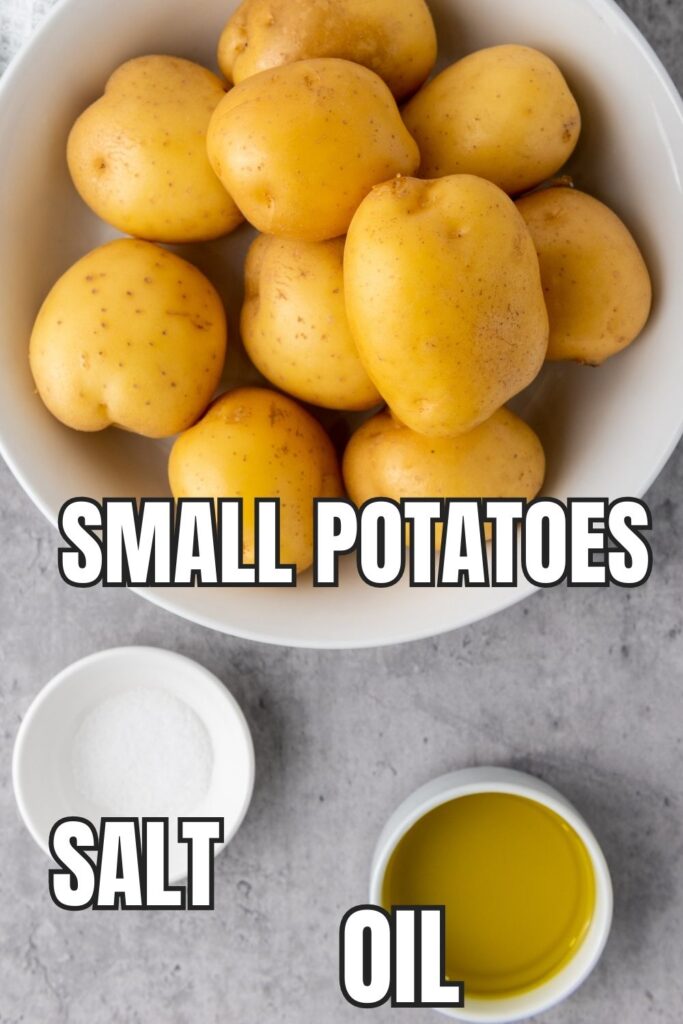 Ingredients You Need
Potatoes – I find that potatoes that offer a thinner skin like these golden potatoes or baby potatoes are best. They are the perfect size and offer a nice crunchy outside texture.
Oil – Avocado or olive oil are great options for drizzling on these air fryer potatoes.
Seasoning – I used a bit of salt and that was it. But you are welcome to use other seasonings if you would like. From season salt, creole seasoning, etc.
How to Make
Full steps on how to make accordion potatoes are featured at the very bottom of the post. Scroll to the bottom, this is a quick visual walk-through.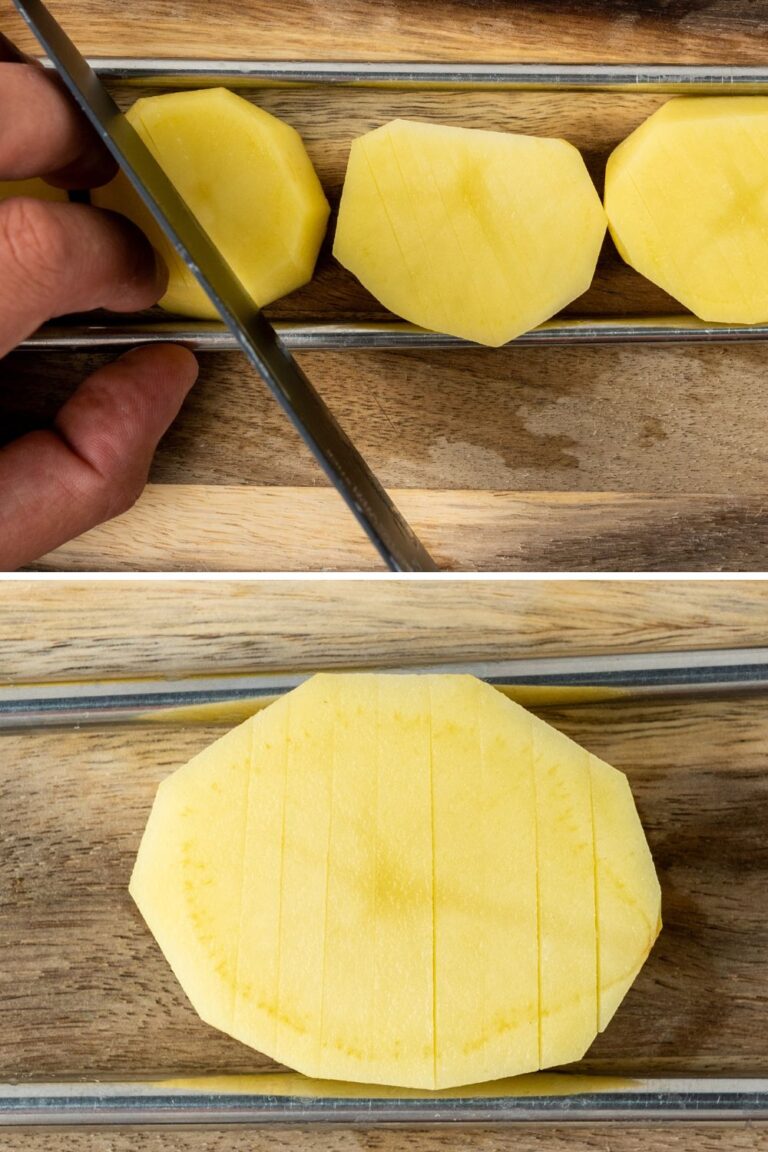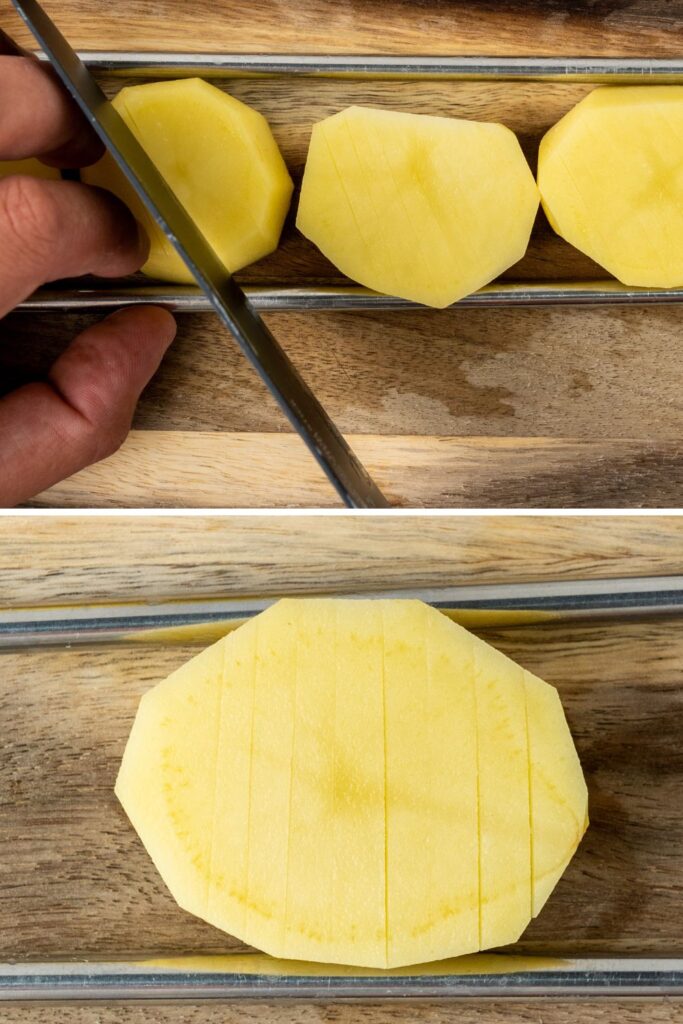 Peel the potatoes and run them under cold water to wash off excess starch. Or if you prefer you can leave the skins on if you want a chewier texture.
You will create thin slices all along the potato, but make sure you do not slice the potatoes all the way through, as you want the potatoes to stay held together.
Cover the potatoes with oil and season liberally with salt or other spices of choice.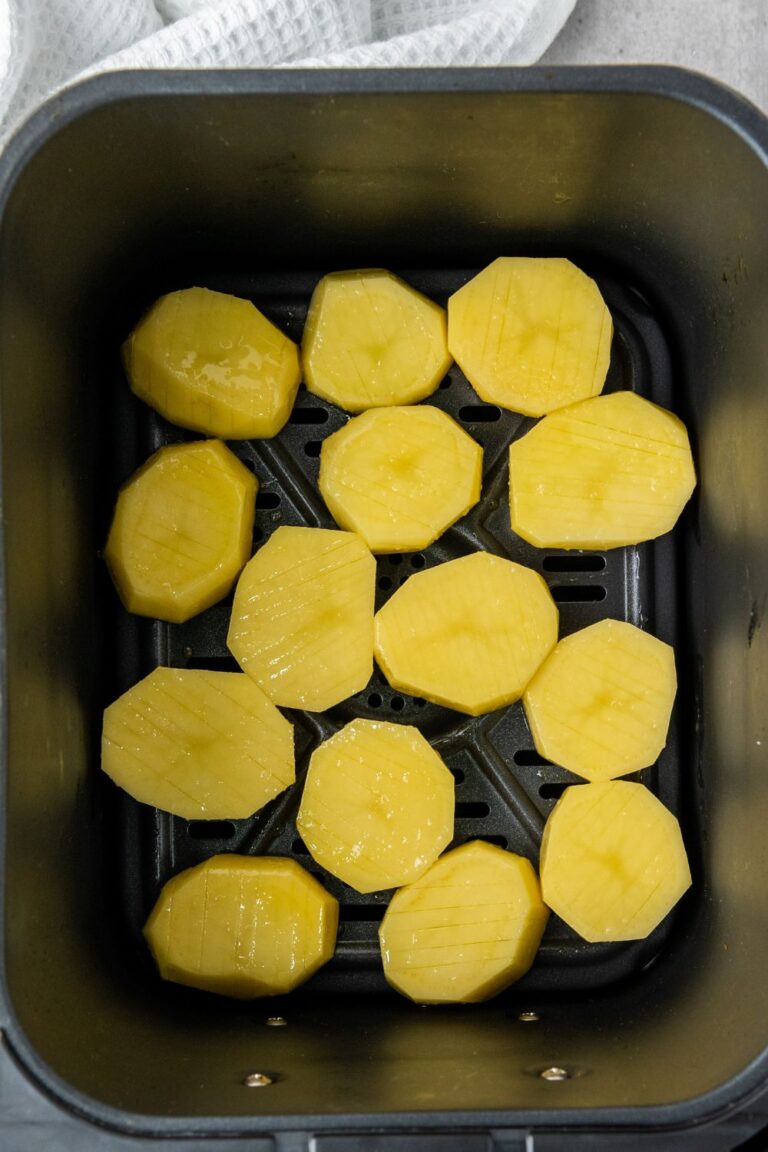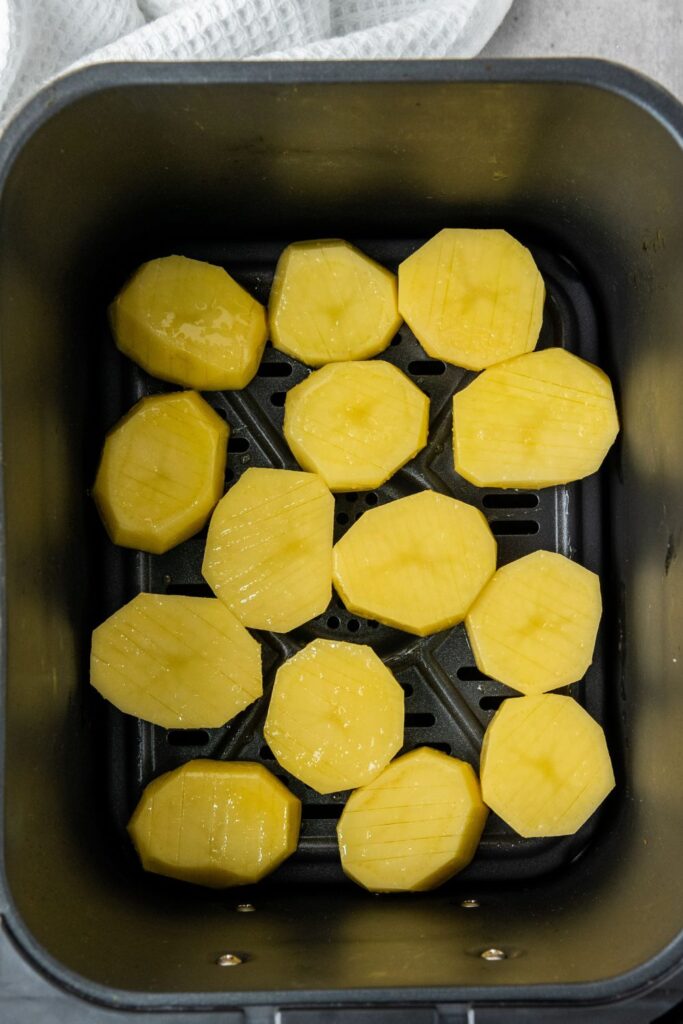 Put the potatoes in a preheated air fryer or bake them in the oven as directed until they are golden brown. You will flip the potatoes halfway through the baking. Both directions for cooking methods are in the printable recipe card.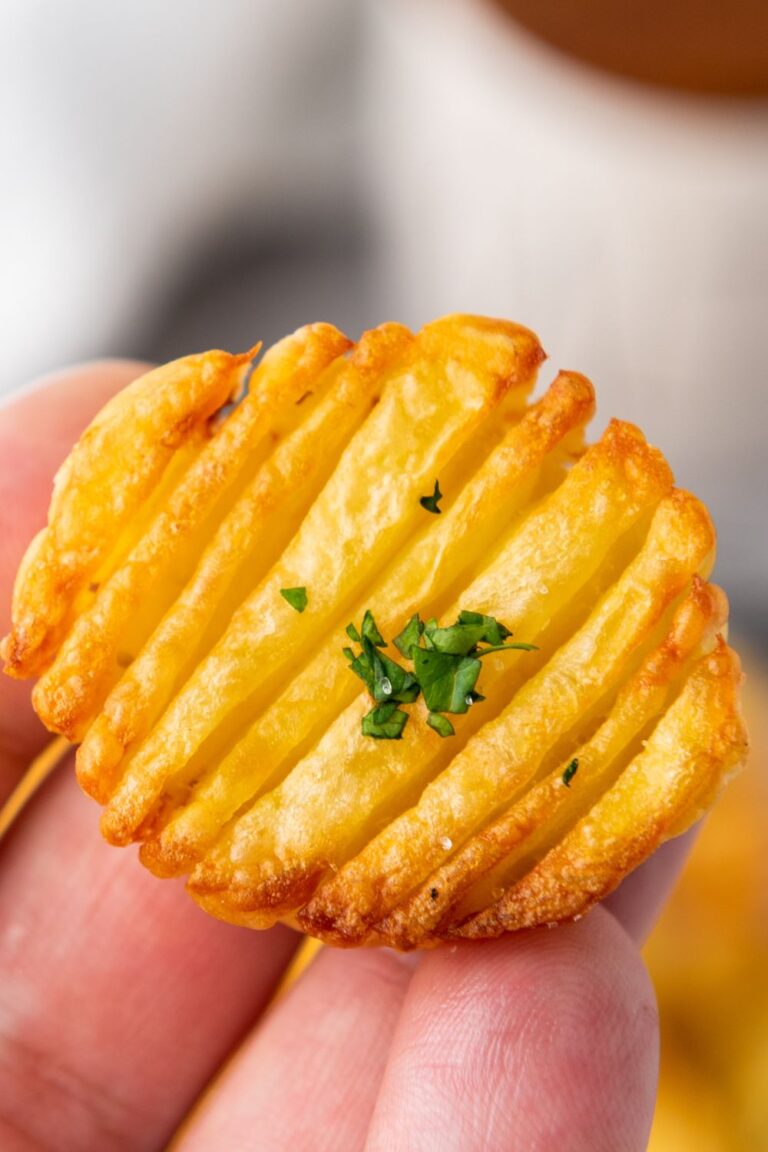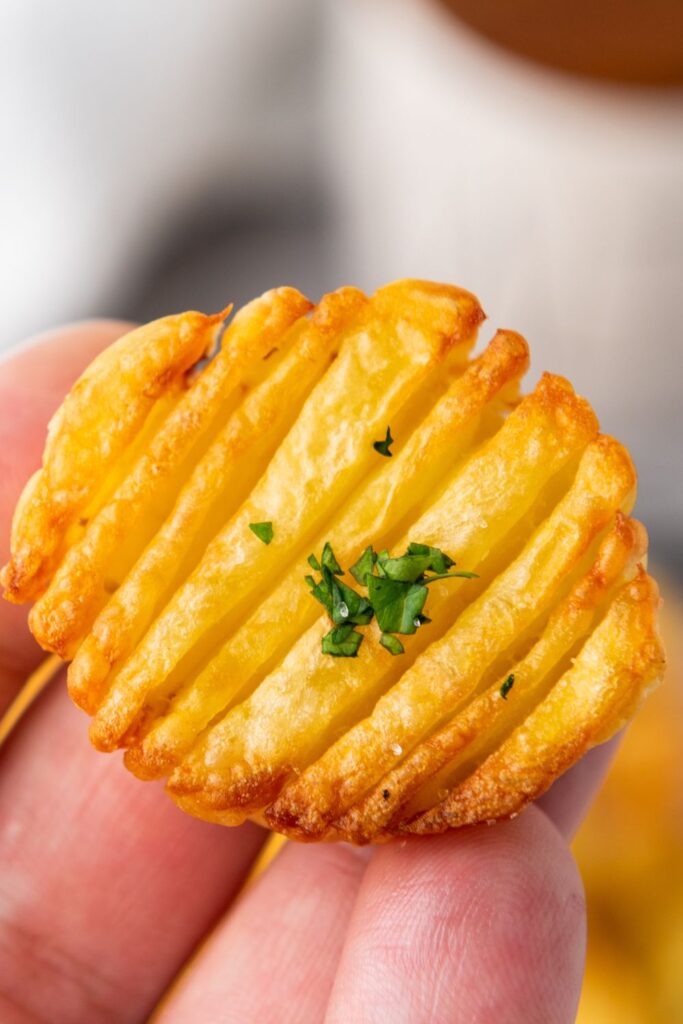 Once the potatoes are done serve hot and fresh.
Tips For Success
You can place a chopstick or kebab stick on each side of the potato. So when you go to slice you ensure you don't cut all the way through the potato.
Use a yellow potato or baby potato. You will find that Russets or Yukon Golds have too much starch, and will not air fry properly.
Aim for even slices on the potatoes. That will ensure the proper texture.
Rinsing off the potatoes after slicing ensures they remove any excess starch.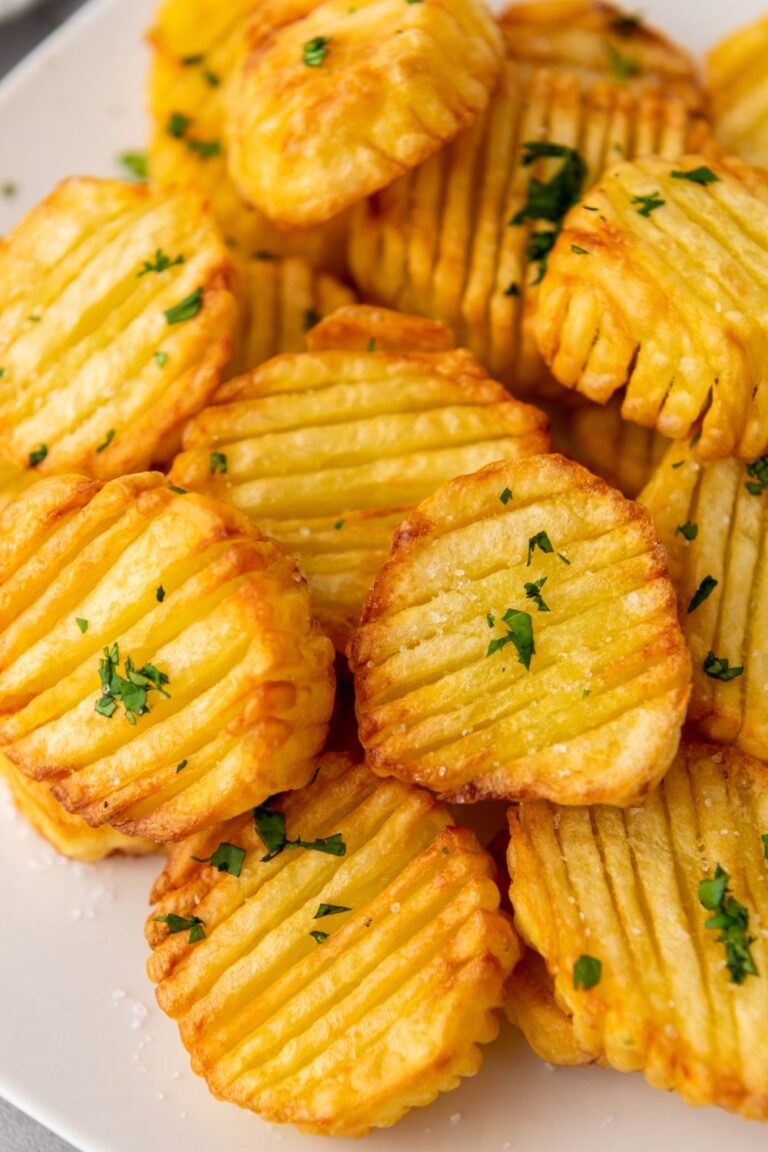 Variations To Recipe
Those are a few ways to change up the recipe to fit your taste buds. Feel free to try different methods as you wish.
Season with pepper, herbs, or any of your favorite spices or spice blends. I used plain salt but you can pick and choose what you want.
Brush with melted butter once the potatoes are done for added flavor.
Top with some grated cheese, crumbled bacon, green onions, and more.
Sprinkle with parmesan cheese on top of the cooked potatoes.
Dip your potatoes in a homemade ranch or sauce of your choice.
Storing Leftovers
Refrigerate – Refrigerate any of the leftover potatoes in a sealed container in the fridge for 2-4 days. Then you can eat cold or warm them up in the microwave, air fryer, or oven.
Freezing – You can also freeze any of the potatoes you don't plan to eat right away. Freeze for 2-3 months in a sealed freezer container. Then reheat from frozen or thaw in the fridge overnight then reheat.
FAQs
How thin should I slice the potatoes?
You will want to create a 1/8 inch thickness in between slices of the potatoes. If the potatoes are too thick you will find it gives an uneven cook.
How do I prevent the potatoes from sticking to the baking sheet?
Line the baking sheet with parchment paper or a silicone baking mat. Then spritz with cooking spray then line the potatoes on the sheet pan.
Can I make accordion potatoes with sweet potatoes?
Yes, you can peel the sweet potatoes and slice the same. Then air fry until the texture is fork tender with a crunchy outside. You will find sweet potatoes are going to not get crispy the same way a classic potato will.
What to serve with
Here are more ideas on what to pair with your accordion-style potatoes.
Have you tried the recipe? If so, please leave a star ⭐️⭐️⭐️⭐️⭐️ rating in the recipe card below or drop a comment. Also stay in touch with me through social media by following me on Facebook, Pinterest, or My Facebook Group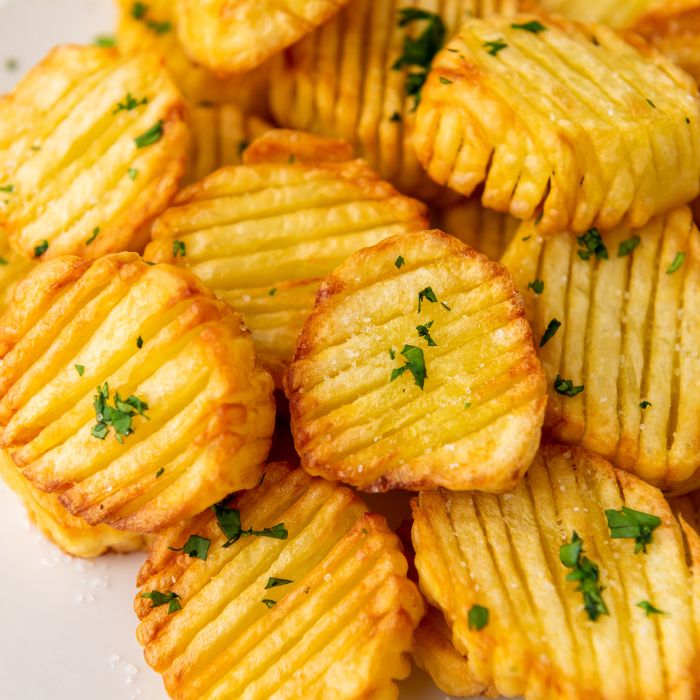 Accordion Potatoes
Servings 4 people
Accordion Potatoes are a small potato that is thinly sliced almost all the way through. Air fry these potatoes or bake in the oven. I share both directions for this accordion style potato recipe. A great side dish or even appetizer for your family.
Ingredients
2 pounds Golden Small Potatoes
1 1/2 tablespoons oil
salt to taste
Instructions
Peel your potatoes if you would like. Then rinse in cold water to remove excess starch.

Slice the potatoes almost all the way through, leaving the bottom part of the potato un-cut so it keeps the potato together. Do 1/8 inch apart.

Cover the potatoes with oil and then season with salt.

Place them in a preheated air fryer at 350 degrees for 15 minutes. Flip at the 15 minute mark, and then cook another 15-20 minutes to get nice and crispy. Or you will place potatoes on a sheet pan that is greased. Then bake at 400 degrees in a preheated oven. After 20 minutes flip the potatoes over and cook another 15-20 minute or until the potatoes are fully cooked and crispy.
Notes
Cook Time – Just know that the size of the potatoes will of course alter the cook time of the potatoes. So smaller potatoes will cook faster than larger potatoes.  Cooking Method – Use either method for cooking the potatoes. The goal is crispy outside and fluffy center.  Seasoning – You can flavor your potatoes any way you want. Different herbs or spices. Top with shredded cheese, bacon, etc. Or opt for plain. 
Nutrition
Serving: 1gCalories: 46kcalFat: 5gSaturated Fat: 0.4gPolyunsaturated Fat: 1gMonounsaturated Fat: 3gTrans Fat: 0.02g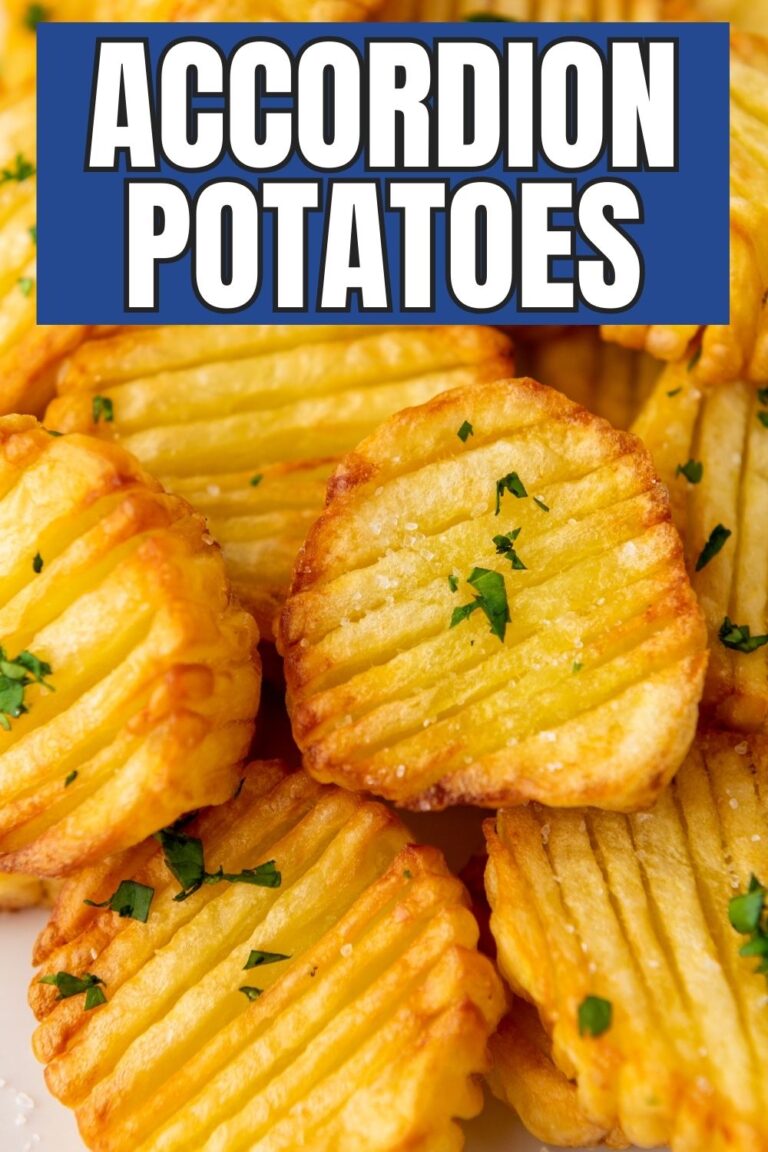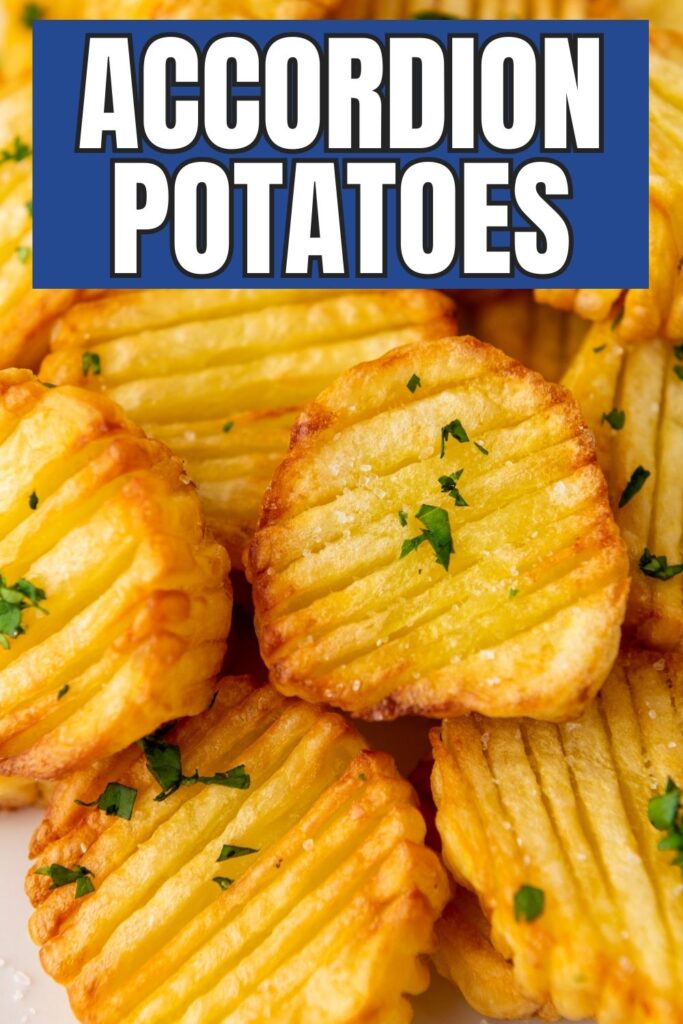 Reader Interactions