Grab a loaf of French bread, real butter, garlic, and a few more supplies and learn how to make garlic bread! This garlic bread recipe takes 15 minutes to make and just a few dollars to make!
This easy garlic bread has a garlic butter spread that is out of this world. I topped our bread with cheese, but that is optional. The DIY garlic butter really transforms the bread.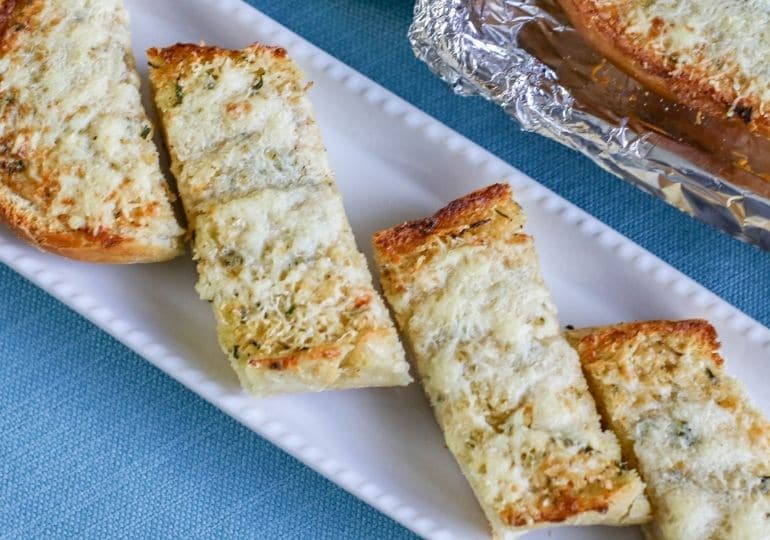 In this recipe you learn how to make garlic butter for bread and garlic French bread. Use the garlic butter for flavoring steak, mixing in veggies, and more.
Why This Recipe Works
Budget Friendly – You can buy a loaf of French bread for a few dollars. Our store has them for around $1.50. Then the garlic butter is very affordable to make.
Cheese or No Cheese – Feel free to choose to make a cheesy garlic bread or a classic bread without cheese. The choice is yours!
Quick Prep – It takes minutes to prep and get it cooking in the oven! A no fuss side dish!
Flavorful – This garlic French bread is tasty, and kid-friendly. Pair with your favorite pasta dish and enjoy.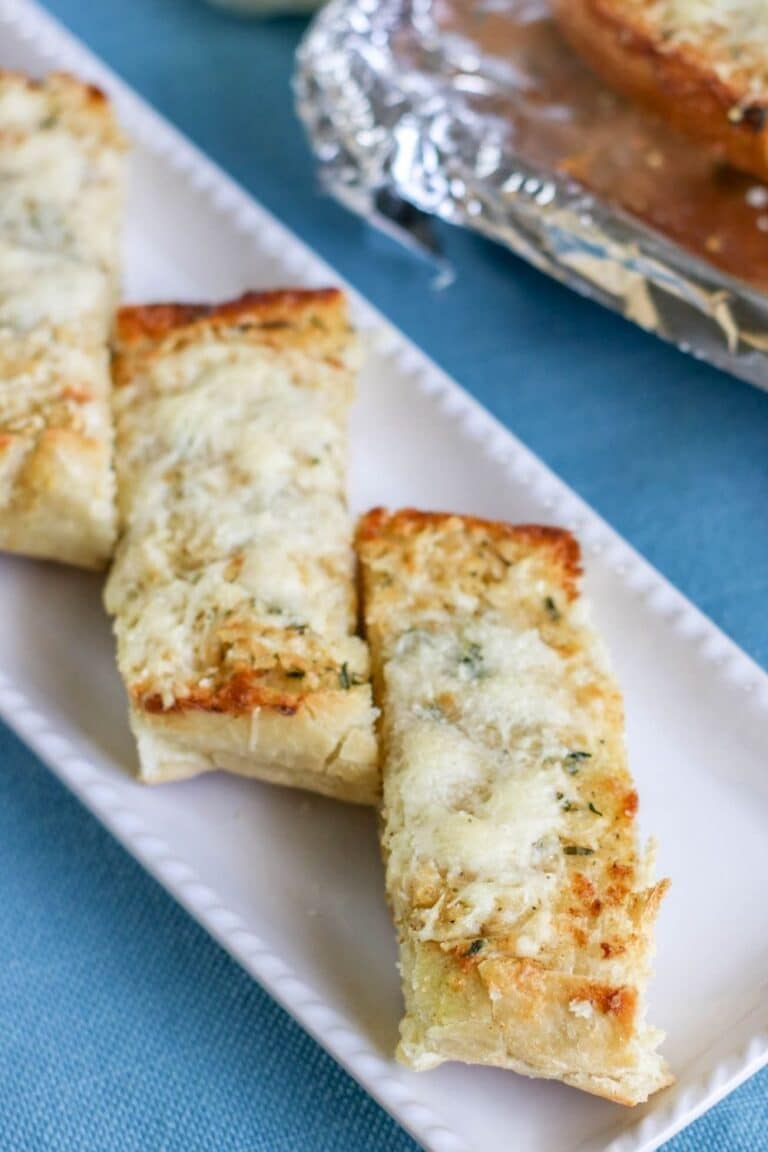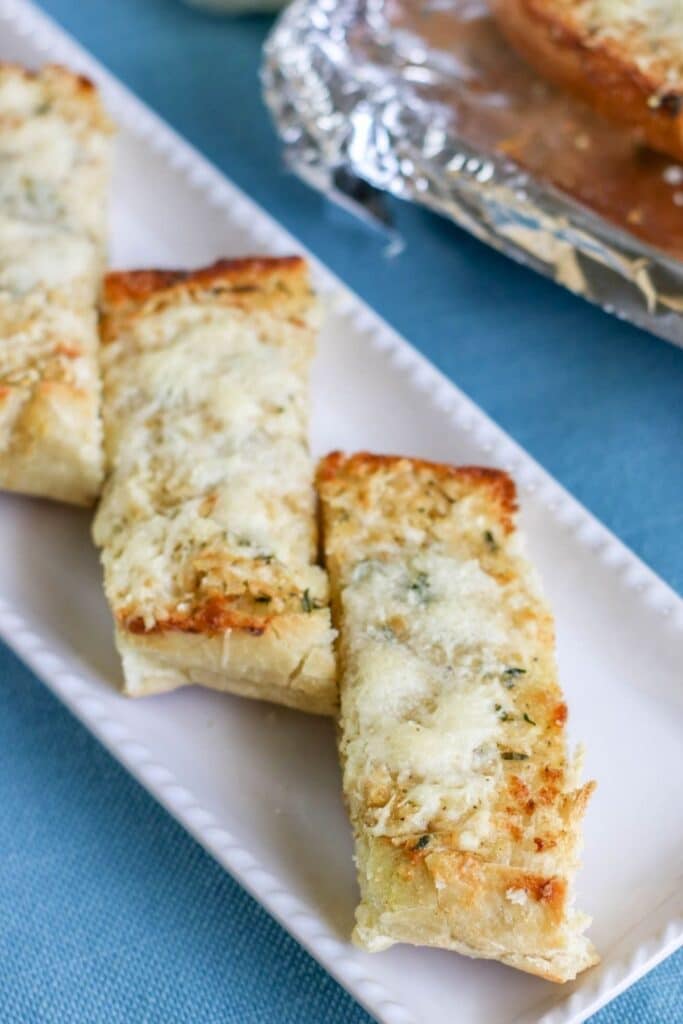 Ingredients Needed
French Bread – You can use other types of bread, but French bread is my favorite style to use for this homemade garlic bread recipe.
Butter – Real butter is recommended, omit the salt if you use salted butter.
Olive Oil – Canola can be used as well but the olive oil helps to give ultra creaminess to the garlic bread spread.
Garlic – Whole cloves are recommended, it is going to add tons of richness to the spread.
Sea Salt and Pepper
Parsley – You can use fresh or dried parsley for this recipe.
Parmesan Cheese – I love to use freshly grated parmesan for the bread, it helps to elevate the cheesy flavor.
Mozzarella – Shred off the block or buy pre-shredded to sprinkle on top.
Expert Tip: I have made this with just mozzarella and just parmesan, both are great. But I love the extra cheesy texture when you do a mix of both! Feel free to leave off if you don't want a cheesy garlic bread.
How to Make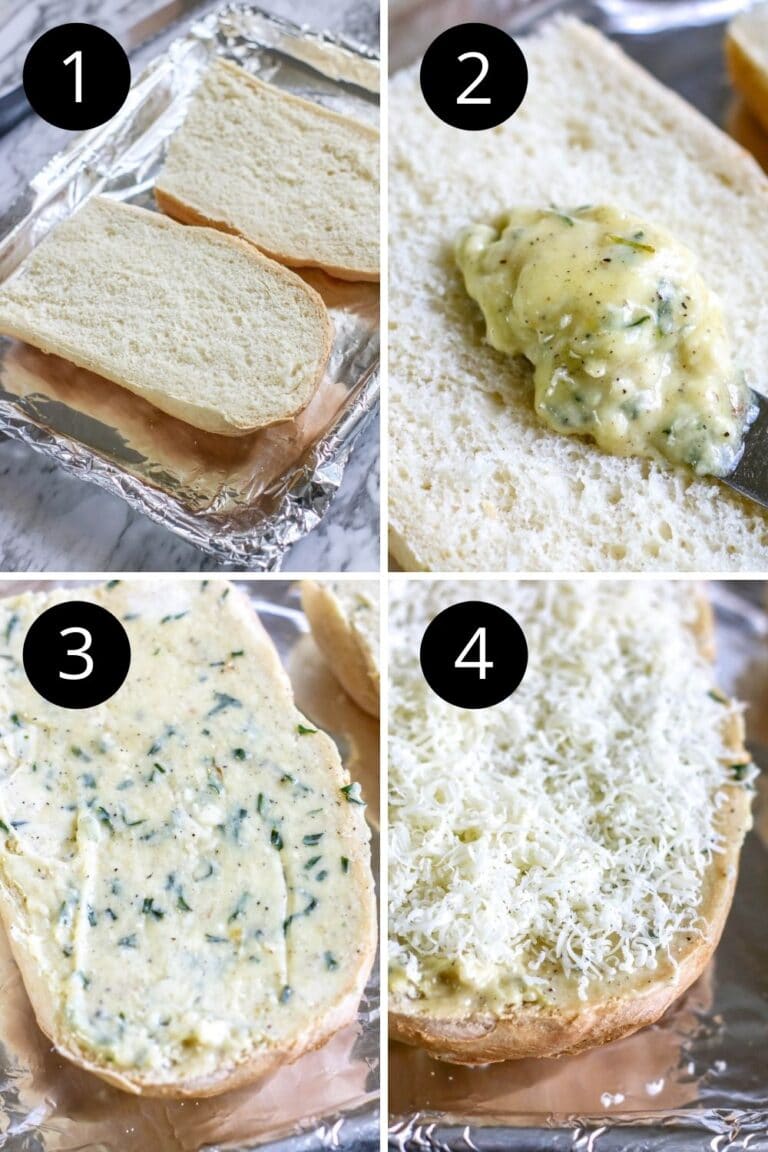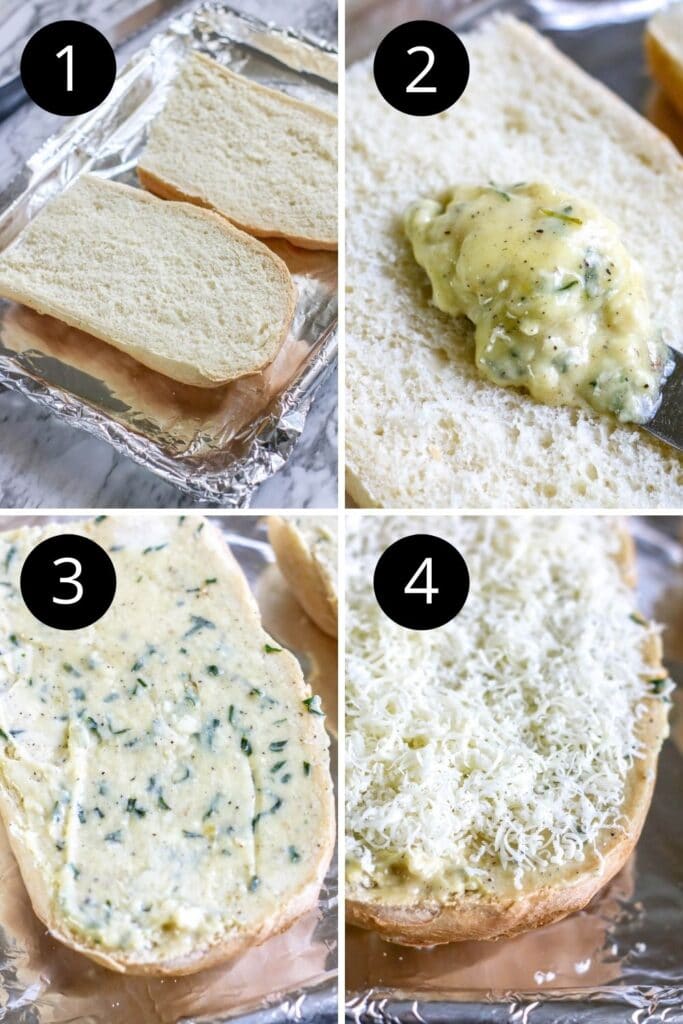 Step 1: Start by preheating your oven. Then line the baking sheet with aluminum foil. Then slice bread half lengthwise. Next, place cut sides up on baking sheet.
Step 2: In a food processor add your butter, garlic, olive oil, pepper, salt and parsley. Mix until blended.
Step 3: Spread the garlic butter on the bread in an even layer. You can choose how much or little you use.
Step 4: Then sprinkle with cheese. Place the garlic bread loaf in the oven and bake for 8-10 minutes. The cheese will be melted and slightly golden brown.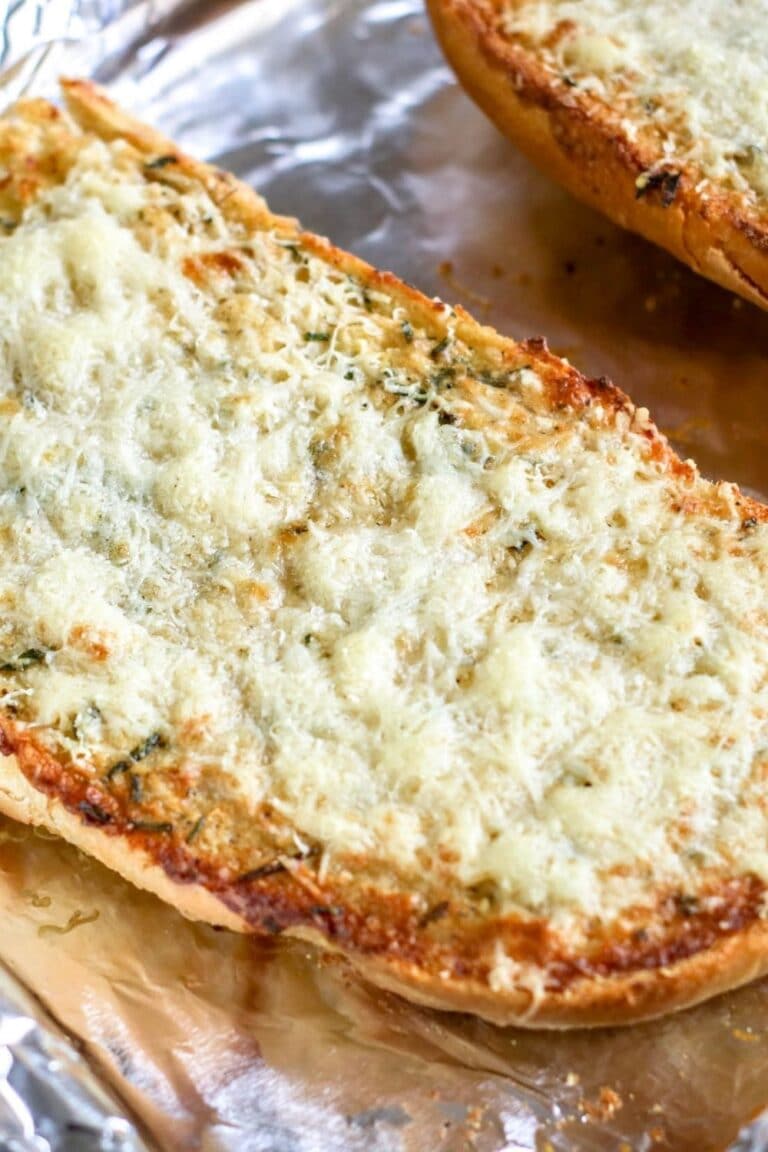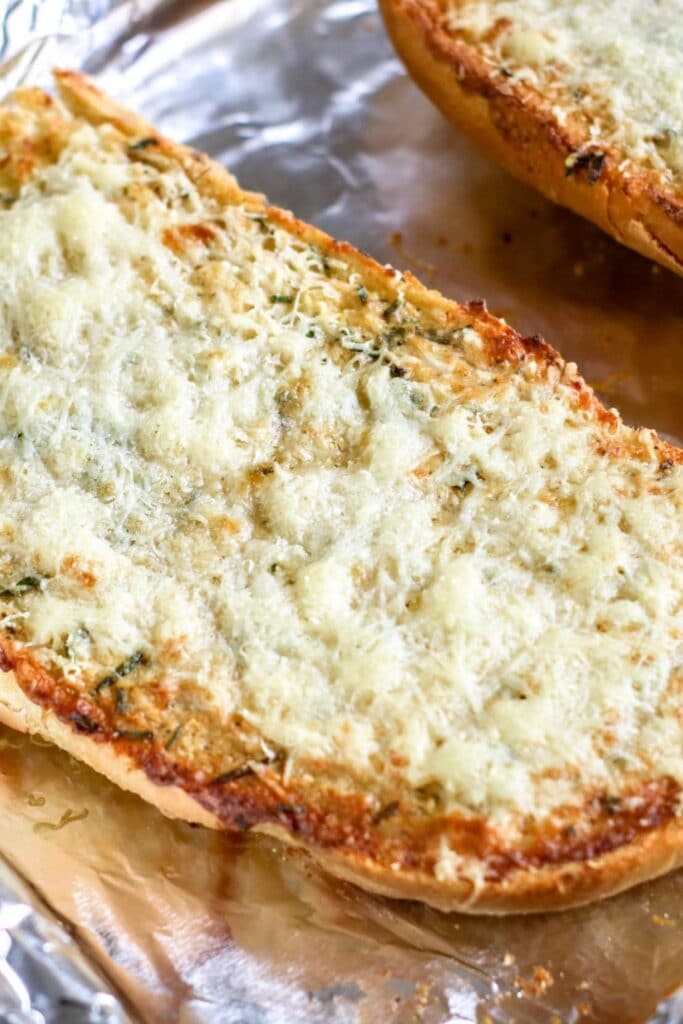 Step 5: Remove the bread from the oven, slice and serve.
Helpful Tips and Variations To Recipe
Here are a few changes you can make to this French bread garlic bread recipe.
You can easily slice the bread into slices instead of halfway through, to make single slices of garlic bread. The cook time will be a lot less time.
Feel free to use jarred minced garlic in replace of whole garlic cloves if that is what you have on hand.
I recommend using real butter for this recipe not margarine. It will really give the garlic spread incredible flavor.
Change up the bread to any other style. Even sliced Texas toast would work for this quick garlic bread.
Regular salt works in replace of sea salt.
Leave off the cheese if you would like.
Storage
Refrigerate – If you are going to save back what you don't eat, store in the fridge. The bread will store for 1-2 days.
Then reheat in the microwave, toss in the oven to reheat, or eat cold.
Freezer Options: You can freeze your homemade garlic butter you don't use, as well as the bread. Freeze the bread before it is baked, or after.
If freezing the garlic spread place in an airtight container, and then thaw in the fridge before serving the night before. Wrap the bread up in aluminum foil then place in a container, and freeze for 3-4 months.
Reheat in the oven for a crispy crunchy texture.
Recipe FAQs
What if I don't own a food processor?
If you do not own a food processor you can use a blender with the pulse feature. This will help to blend up the mixture well.
Or you can mince your garlic by hand and then hand mix up the ingredients to spread.
How to reheat garlic bread?
You can reheat garlic bread by placing it back in the oven to reheat that way, or the microwave. The microwave will soften the bread, where the oven crisps up the bread.
What to do with leftover garlic butter spread?
Refrigerate any of your garlic butter spread that you don't eat. You can top your steaks with the butter, mix in veggies, etc. The garlic butter can be used in any recipe to add a nice kick of flavor.
Can dogs eat garlic bread?
Garlic bread can be harmful to dogs, and should not be given to them. So skip, serving up any nibbles of your leftover bread.
How long do you cook garlic bread?
It takes 8-10 minutes to cook the garlic bread loaf. For a crunchier bread leave the loaf in longer to help crisp it up. Or pull it out sooner for a softer texture.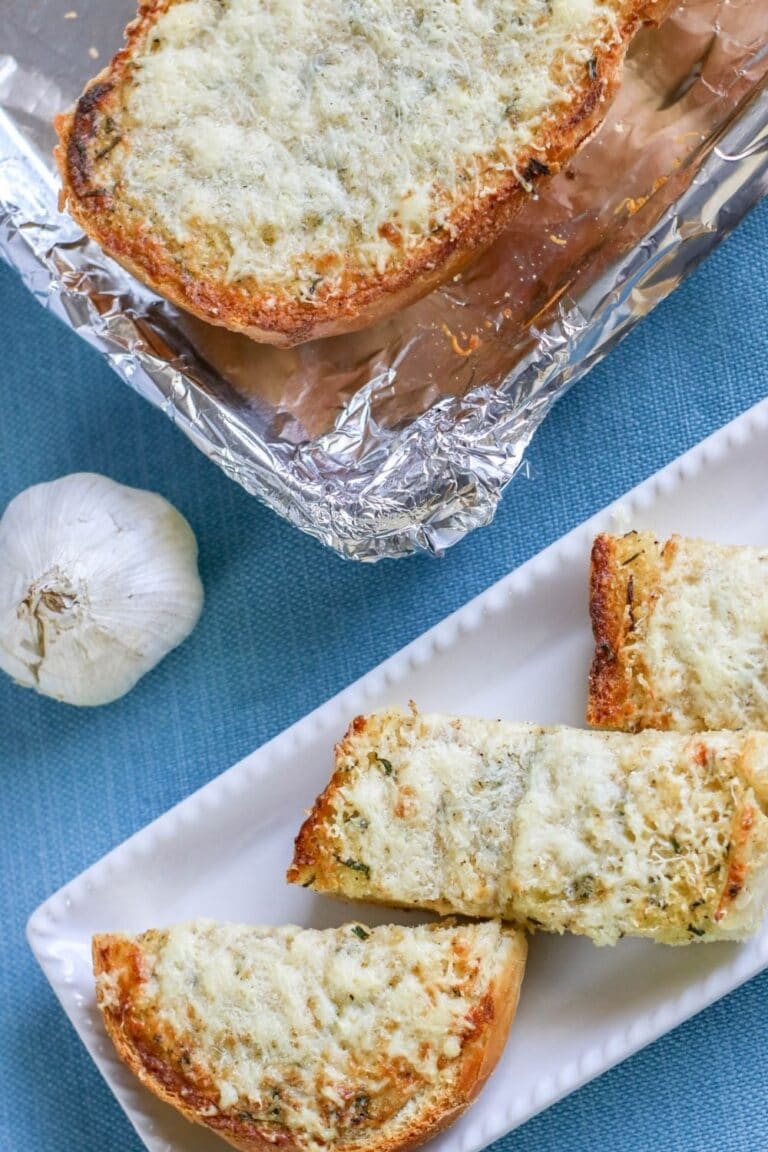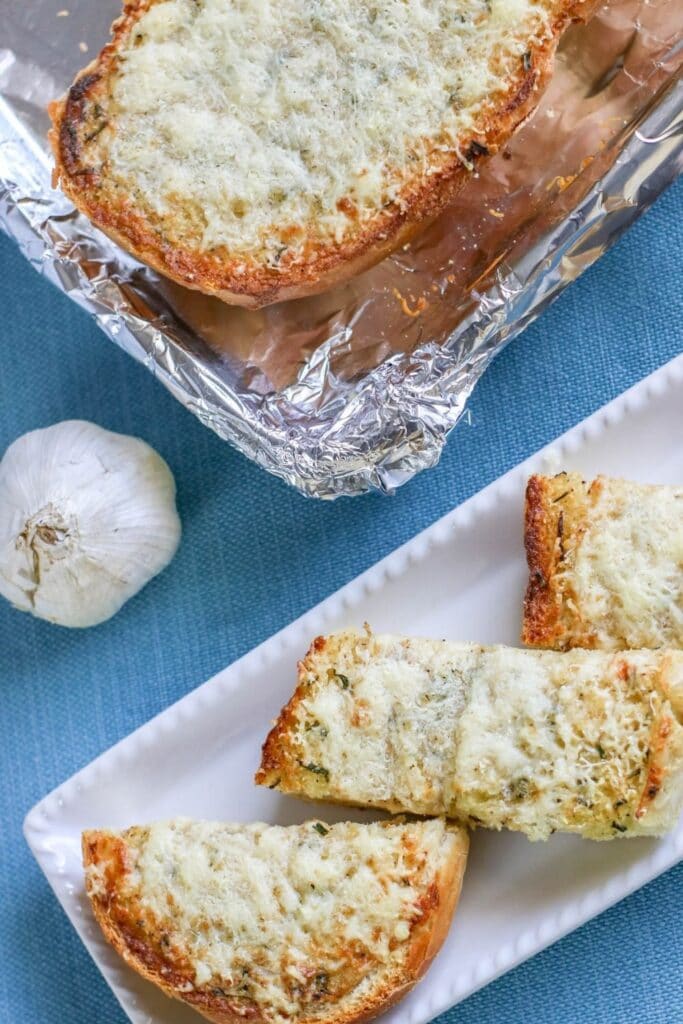 What goes with garlic bread?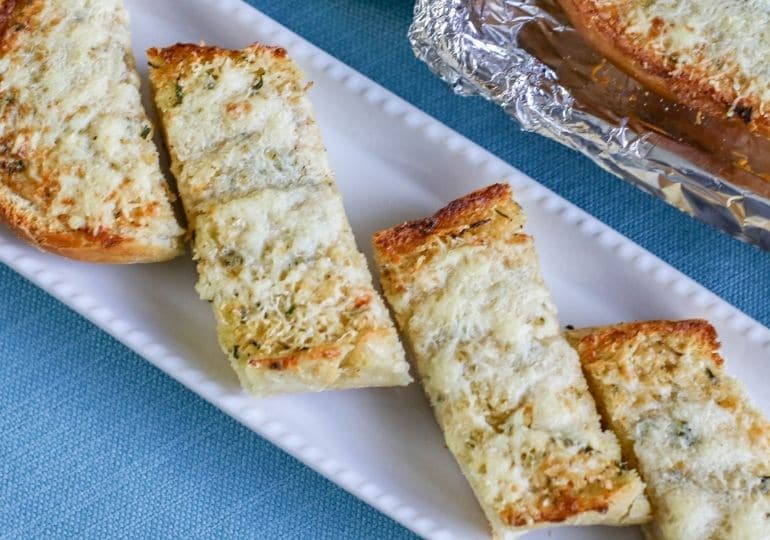 How To Make Garlic Bread
Servings 1 loaf
Learn How To Make Garlic Bread! This is a French bread garlic bread that is made with a homemade garlic butter spread and topped with cheese. Oven baked cheesy garlic bread is the perfect side dish for any meal.
Ingredients
1 loaf of French Bread great for day old bread
1/2 cup unsalted butter softened
1 tablespoon garlic minced
2 teaspoons olive oil
1/4 teaspoon pepper
1 teaspoon chopped parsley
1/2 teaspoon sea salt
1/2 cup parmesan cheese grated (optional)
1 cup shredded mozzarella optional
Instructions
Preheat the oven to 375 degrees. Line baking sheet with aluminum foil. Slice the bread lengthwise, using a serrated knife. Then place the bread on the baking sheet, cut side up.

Now in a food processor add the softened butter, oil, salt, pepper, parsley, and mix until blended.

Spread the garlic butter spread on the bread in an even layer.

Then sprinkle the garlic bread with the shredded mozzarella and grated parmesan.

Bake for 10 minutes or until the edges of the garlic bread until crispy and cheese is melted.

Remove the bread from the oven, let it cool, and then slice and serve.
Notes
Air Fryer Directions: Place the garlic bread in the air fryer, and cook at 350 degrees, and air fry for 5 minutes and check. Then cook another 3-5 minutes or until the bread is crispy and done. Bread – I used French bread, or you can reach for Texas toast or another cut of bread. Storage – Store the leftover bread in an airtight container in the fridge. To reheat you will warm in the microwave, or back in the oven. The oven will give the bread a crispy texture. Freezing Bread – You can freeze the bread before you bake it. Wrap in aluminum foil then place in an airtight container. Then place on baking sheet and cook from frozen, just add a few extra minutes for cooking. Garlic Butter Spread – if you have leftover garlic butter spread, store in an airtight container in the fridge. Mix in vegetables, top steak, pair with chicken for seasoning, etc. You can use the garlic butter for anything.
Nutrition
Serving: 1gCalories: 266kcalCarbohydrates: 26gProtein: 9gFat: 14gSaturated Fat: 8gPolyunsaturated Fat: 5gCholesterol: 34mgSodium: 539mgFiber: 1gSugar: 2g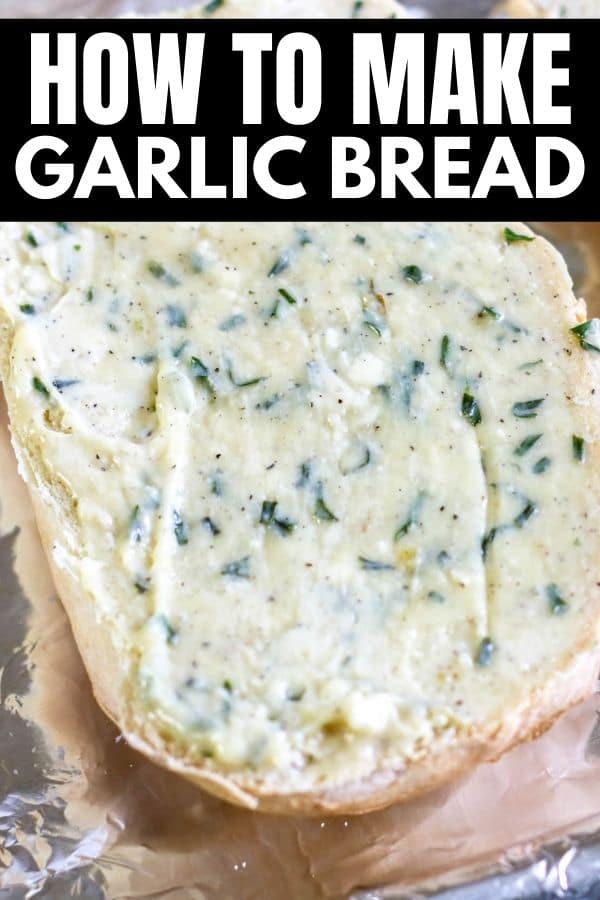 Reader Interactions