Whip up a batch of these Christmas ornament cookies. An edible ornament cookie that you can string up and decorate like a true Christmas ornament. A sugar cookie topped with royal icing.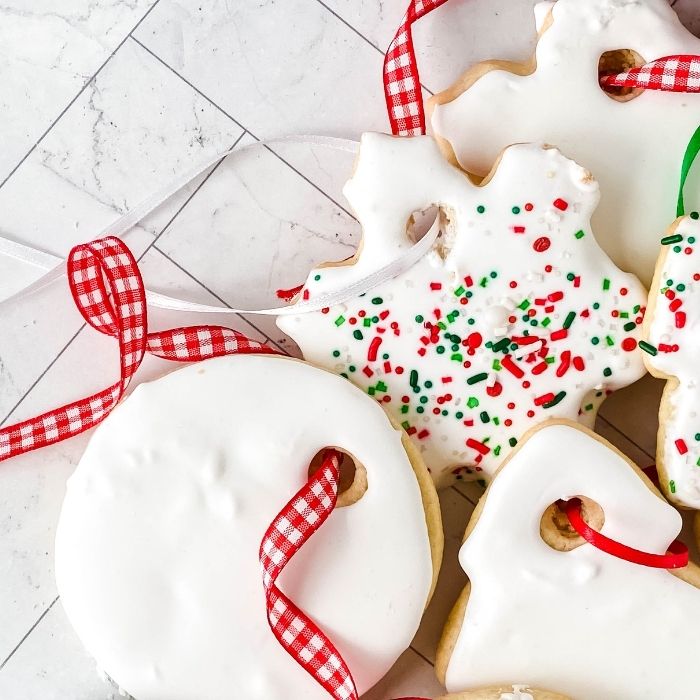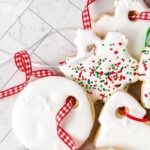 Whip up a batch of these ornament cookies for Christmas this year. Delicious buttery sugar cookie topped with a royal icing. These cookie cutter Christmas ornament cookies are so stunning. Sprinkle on some festive sprinkles, and ribbon for decoration!
A fancy decorated Christmas cookies that is great for entertaining, gifting to loved ones, or treating your family. These cookies will wow anyone with looks and taste. Give this cookie ornament recipe a try today. This is the best Christmas cookies. Or try out my Christmas pretzels.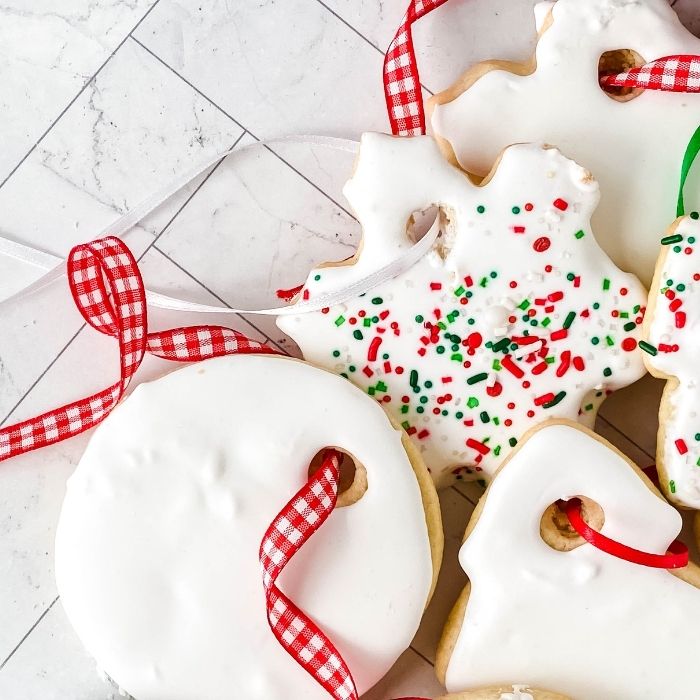 If you love Christmas like me. Here are some Christmas cakesicles that are a jumbo-size cake popsicle. These are so good. I also have a really easy Christmas shortbread cookie, or for a no-bake dessert try my cornflake cookies.
These Ornament Cookies Are..
Homemade cookies
Topped with Royal Icing
Edible cookie ornaments that you can hang on tree if you want
Festive
Simple to decorate
Ingredients You Will Need
Butter – Reach for room temperature butter. If you use salted butter, just leave out the teaspoon of salt in the cookie recipe.
Granulated Sugar
Flour – All purpose flour is what I used. Make sure to measure properly and level the top of the measuring cup.
Salt
Baking Powder
Eggs – Reach for room temperature on eggs.
Vanilla
Powdered Sugar – This is for making the royal icing.
Meringue Powder – I love this powder for making icing. You need meringue powder not egg white powder.
Helpful Tools
Couplers – This is great if you are going to change up the colors of your icing. That way you have multiple couplers to use.
Mixer – or Stand Mixer
Variations To Recipe
Extracts – Feel free to swap out the vanilla extract with an almond extract. It will give the cookies great flavor. Or do 1/2 teaspoon vanilla and 1/2 teaspoon almond.
Christmas cookie icing – Instead of royal icing feel free to swap with a buttercream, or any other style of frosting.
Coloring Icing – Consider coloring your icing if you want to decorate your cookies differently.
How to Make
Step One: Start by creaming your butter and sugar in a stand mixer. Let it whip for 5 minutes. This is important.
Step Two: Next, add in the vanilla and eggs. Mixing well.
Step Three: Next in a bowl add your flour, baking powder, and salt. Mix well.
Step Four: Begin to incorporate the dry ingredients from the wet.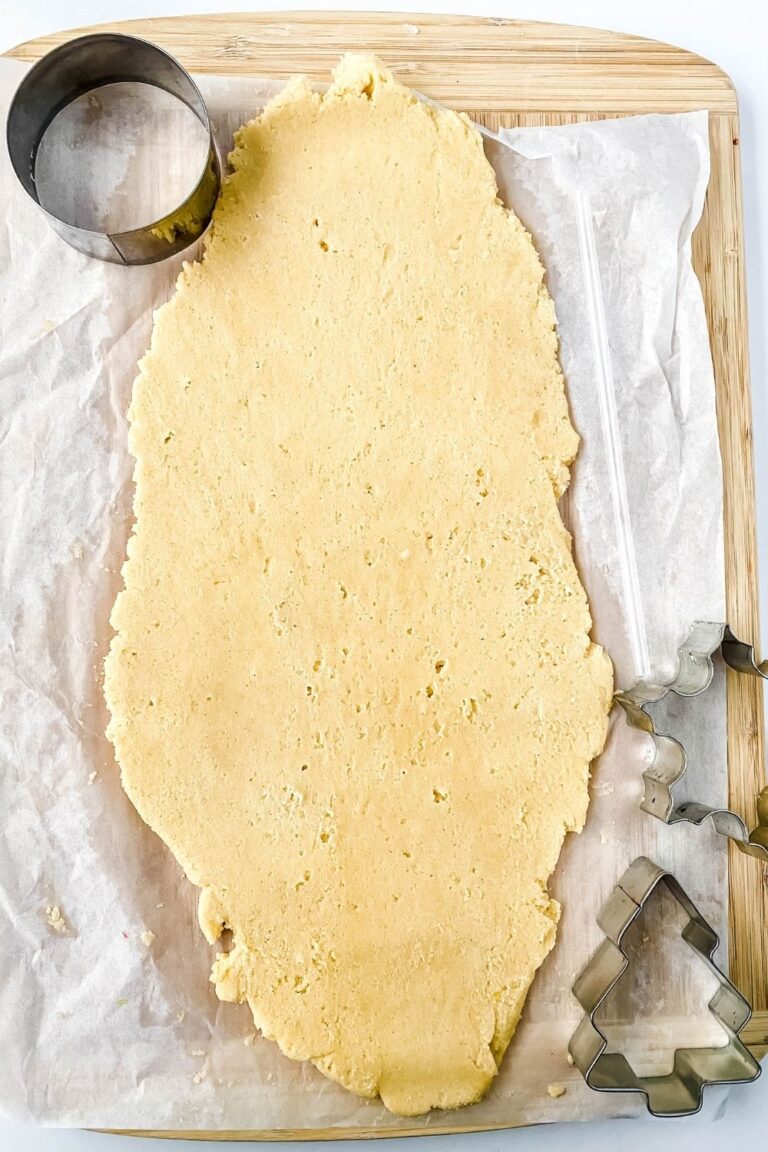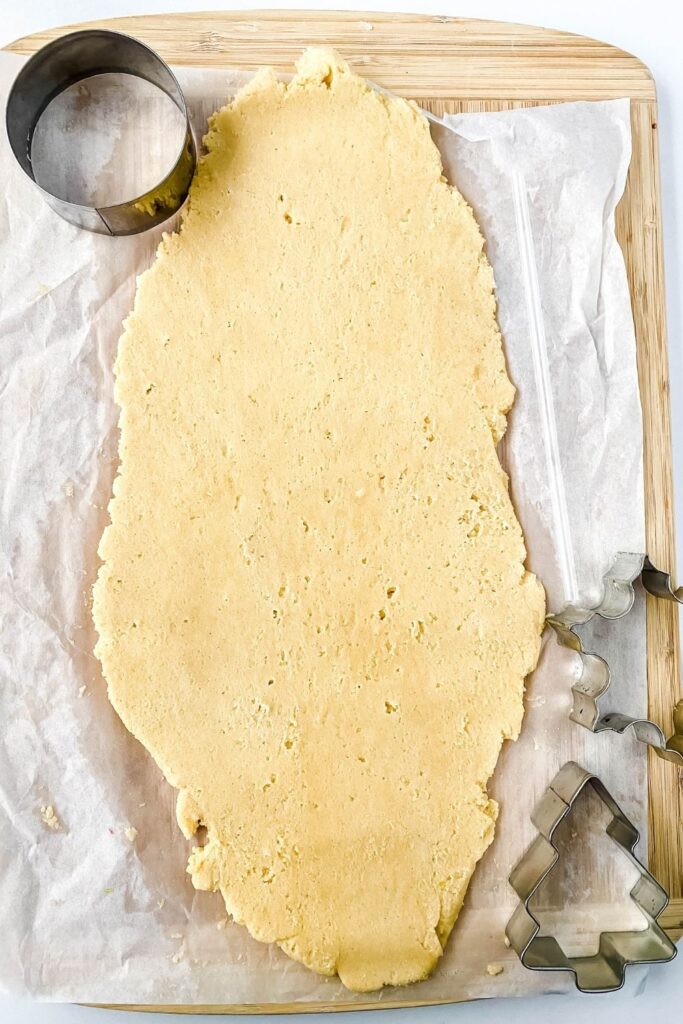 Step Five: Next divide the cookie dough in half. Roll out on a floured surface to get around 1/8″ thick. Then use Christmas cookie cutters and make your shaped cookie dough.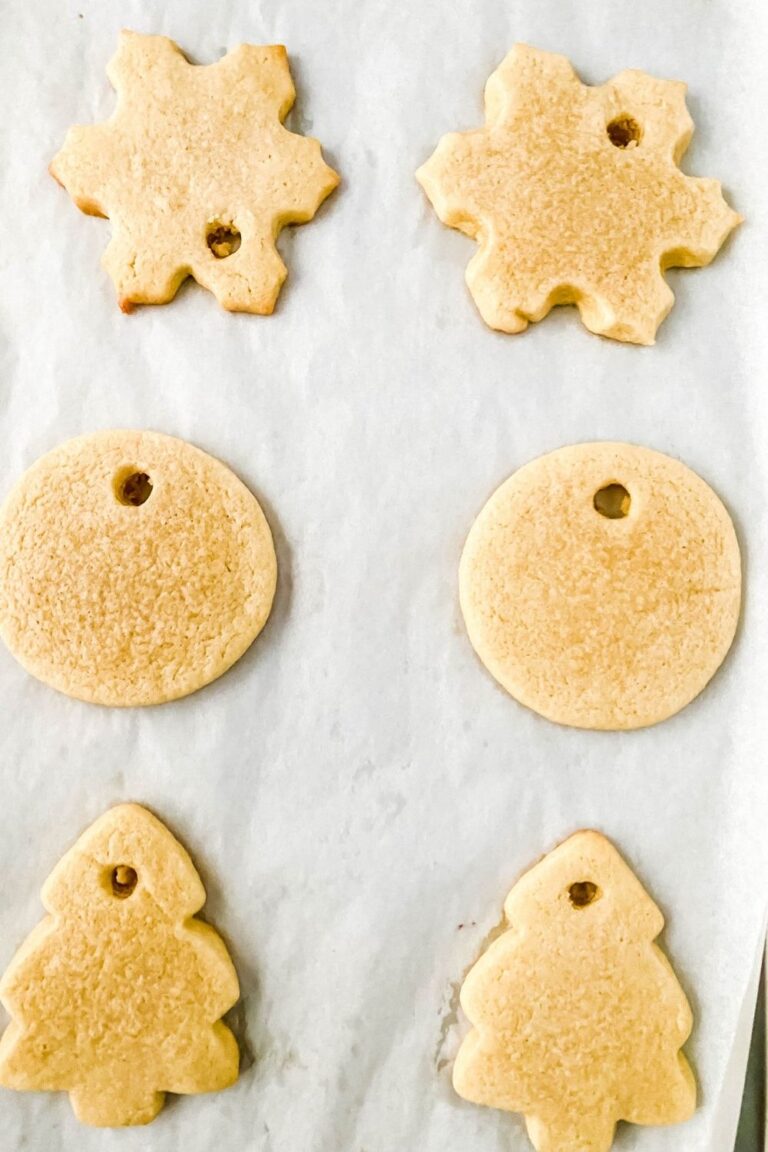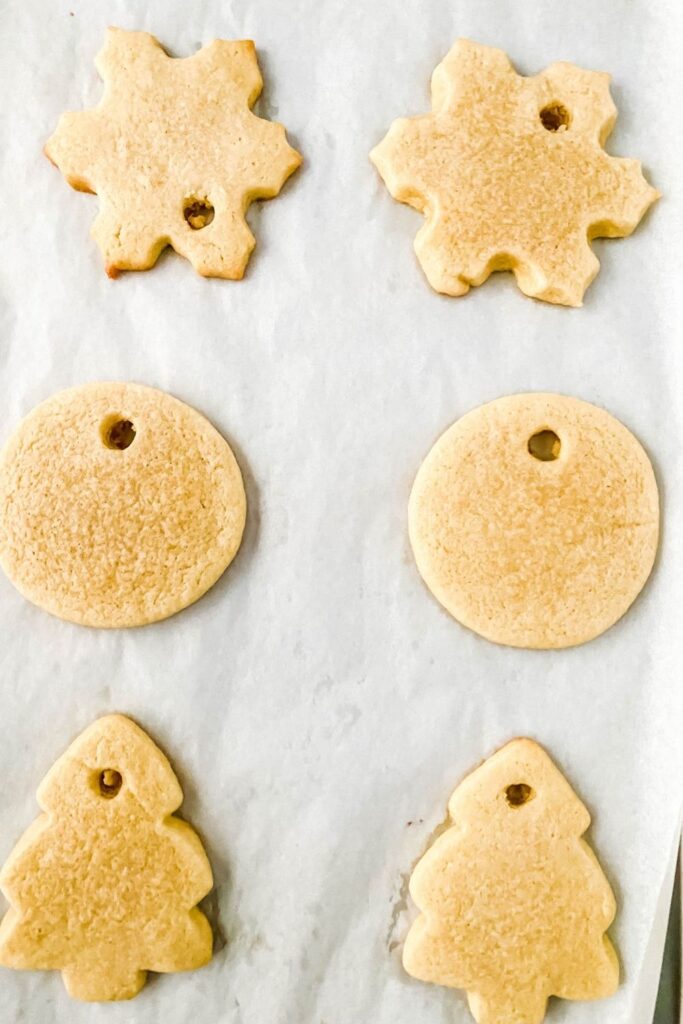 Step Six: Place the dough on a prepared baking pan and bake as directed, then allow to cool fully. When the cookies are done, use a straw to poke a hole on the top of the cookie, for where the string goes.
Step Seven: Once the cookies are cooled you will work on the royal icing.
Step Eight: Add ingredients for the royal icing in a stand mixer. Begin mixing until when you lift up the attachment the icing drizzles down into the bowl.
Step Nine: Now you can put the icing on the cookies and decorate. If you want color with food coloring to change up the color of the icing.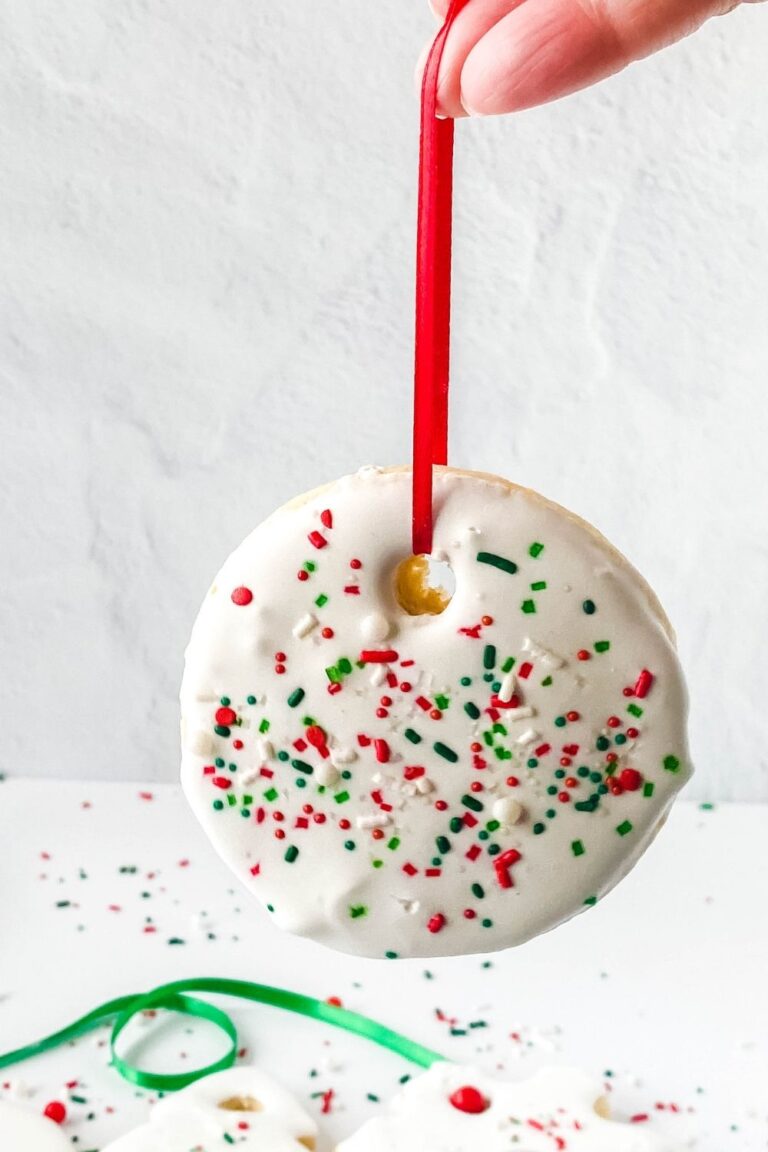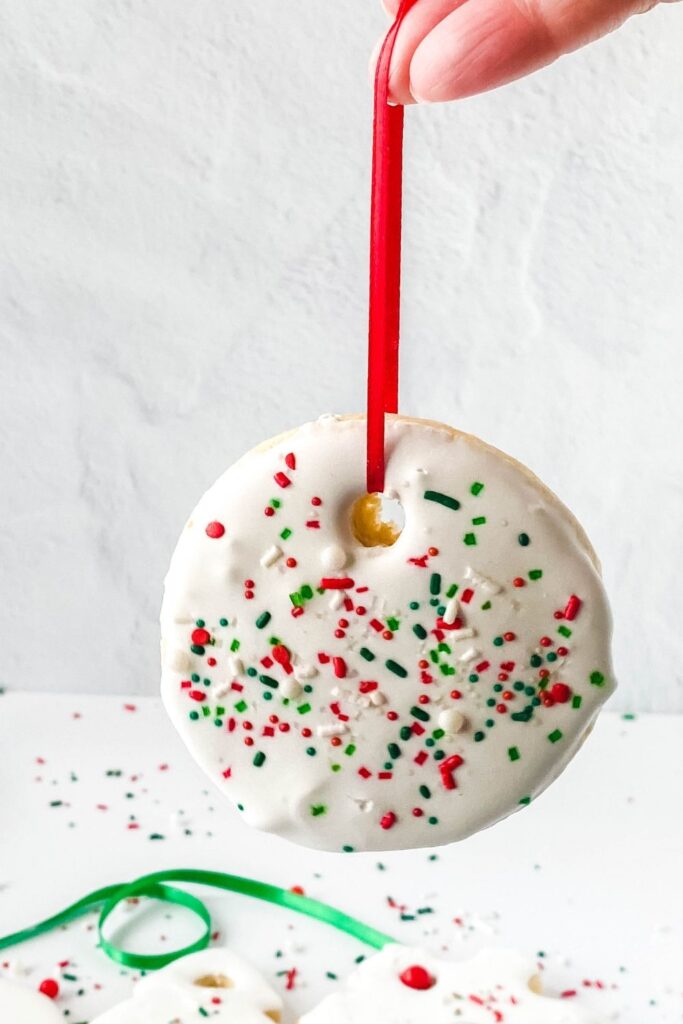 Expert Tips
If the cookies bubble up at all while baking. When you place them on a parchment lined cooling rack place upside down. This will help the bubbles go away.
The hole needs to be large enough for ribbon to go through. Make sure to check with the first one you make.
Don't make the hole to close to the top or it can break when you go to hang the cookies.
You can use ribbon or bakers twine if you would like.
The longer you mix royal icing the thicker the texture will become.
Make sure that you adjust the water as needed. I might use 10 tablespoons water one day and then later on use 12-14. Watch the consistency of the mixture.
You can make Christmas tree cookies, stars, ornaments, or any other shape you want. These are festive and fun.
Storing Cookies
Your royal icing Christmas cookies will store in an airtight container for 3-4 days. You will find these cookies will dry out as they store in a container.
You can also freeze your cookies for 3-4 months if you want. Or vacuum seal your cookies for a longer shelf life.
Note: If you use a different type of frosting, it might then need to be where you refrigerate the cookies if it is buttercream, cream cheese frosting, etc.
Frequently Asked Questions
Here are some common questions for these ornament sugar cookies.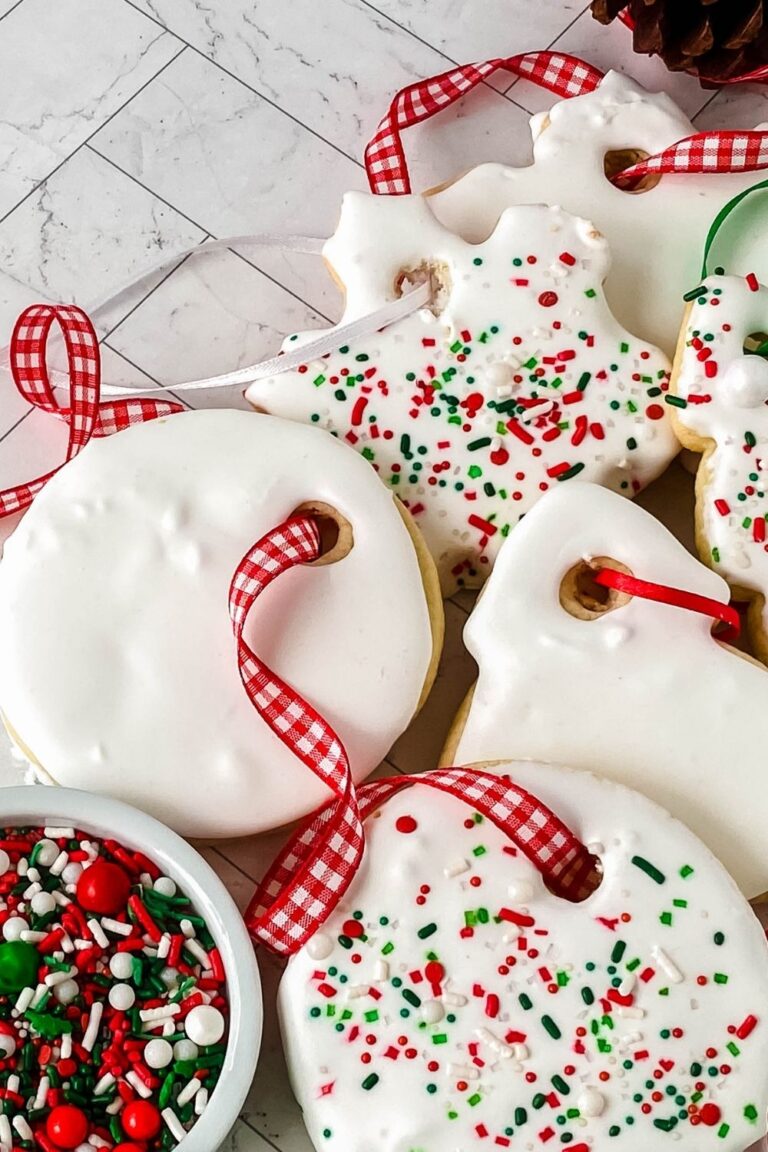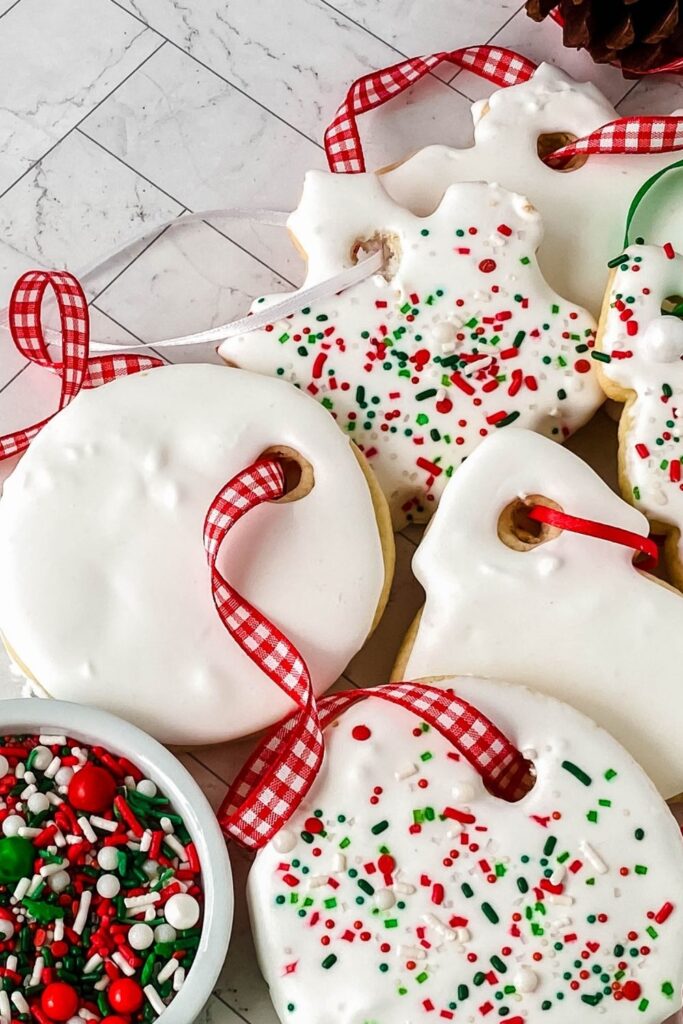 Related Recipes
Here are some more homemade holiday desserts to pair next to this Christmas cookie recipe.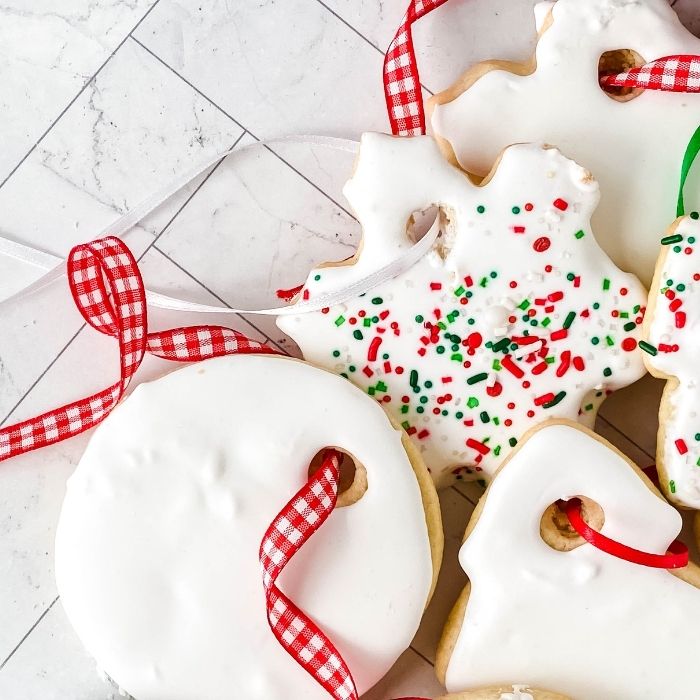 Christmas Ornament Cookies Recipe
Servings 30 -40 cookies
Whip up a batch of these Christmas ornament cookies. An edible ornament cookie that you can string up and decorate like a true Christmas ornament. A sugar cookie topped with royal icing.
Ingredients
Cookie Ingredients
4 sticks unsalted butter room temperature
2 eggs room temperature
2 cups granulated sugar
1 teaspoon salt
1/2 teaspoon baking powder
1 teaspoon vanilla extract
Instructions
In a stand mixer, you will cream your butter and granulated sugar for 5 minutes on medium speed.

Then you will add in your eggs and vanilla extract. Mix well and scrape down the sides.

Next in a small bowl add your flour, baking powder and salt, and mix well. Then slowly incorporate the dry into the butter mixture.

Divide you cookie dough into two sections and roll out the dough to 1/8" thick.

Use cookie cutters to design as you would like. Place on a prepared baking sheet, and cook for 8-10 minutes or until the cookies are fully done.

Once you remove from the oven take a straw and poke a hole in removing the cookie are to make a hole for string.

Let the cookies fully cool.
Royal Icing Directions
Start by adding your powdered sugar, meringue powder and 8 tablespoons of water into a hand or stand mixer. With the whisk attachment begin mixing the icing ingredients on high speed for 1 1/2 to 2 minutes.

At this time you can beat in more water if you find the mixture is too thick. Depending on humidity the texture will change.

You want the royal icing to drip down slowly on the whisk when you lift it out out of the bowl. Too runny will take longer for the icing to dry.
Decorating
Pour your royal icing or any type of icing in piping bag, and pipe your cookies.

Then you will add sprinkles if you want. Allow the cookies to set up.

Then take some ribbon or baker's twine and tie a ribbon through the hole of cookie.

Then you have Christmas ornament cookies ready to serve up!

Notes
Cookies – Depending on size of cookie cutters, will depend how many cookies you will end up with. Icing – You can use any type of icing you want. I like royal icing as it hardens, and allows the string or ribbon to not have frosting on it. Royal Icing – It takes around 2 hours for the royal icing to dry. If you are going to pause on decorating, place a wet paper towel over the icing in a bowl to prevent it from drying up. Texture of Icing – If you need you will add less or more water. Depending on humidity and other factors you will find the water varies. Storing Cookies – Store your cookies in an airtight container for 3-4 days. They will dry out after too long. You can also freeze your cookies if you would like. Cookies – If you find your cookies bubble up when baking just place them upside down on parchment paper to help remove the air bubbles.
Nutrition
Serving: 1gCalories: 227kcalCarbohydrates: 29gProtein: 1gFat: 13gSaturated Fat: 8gPolyunsaturated Fat: 4gCholesterol: 45mgSodium: 86mgSugar: 29g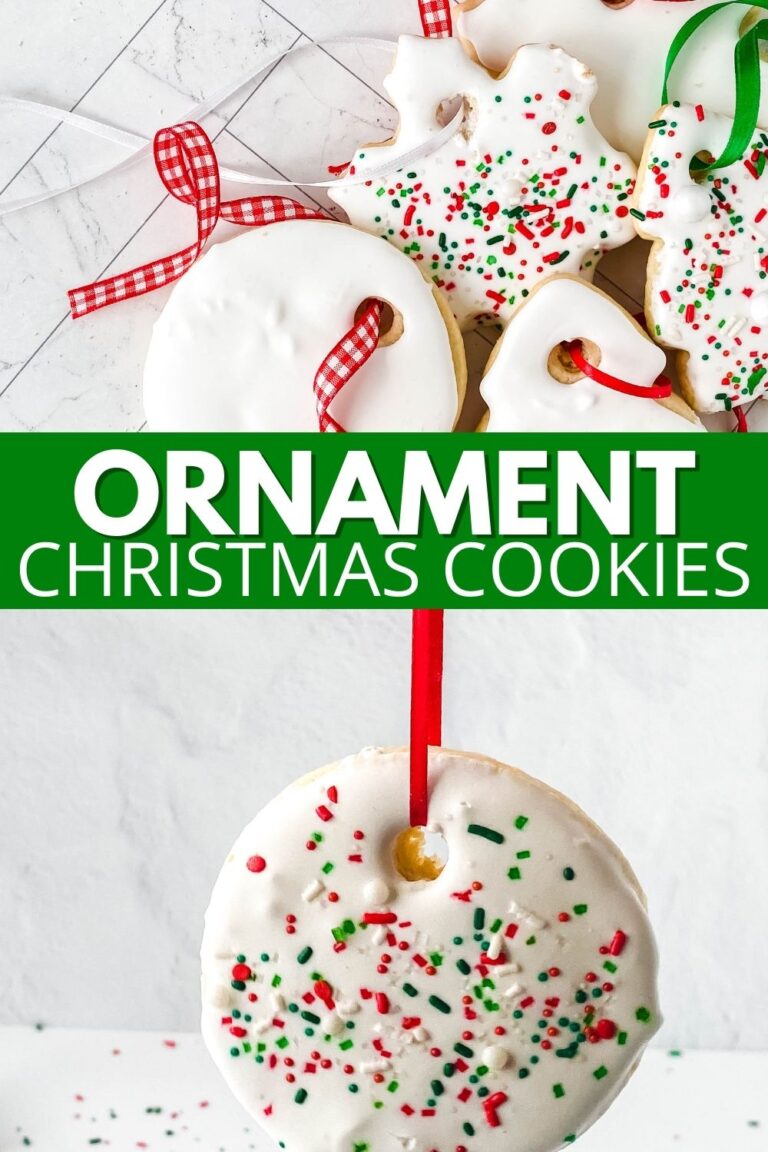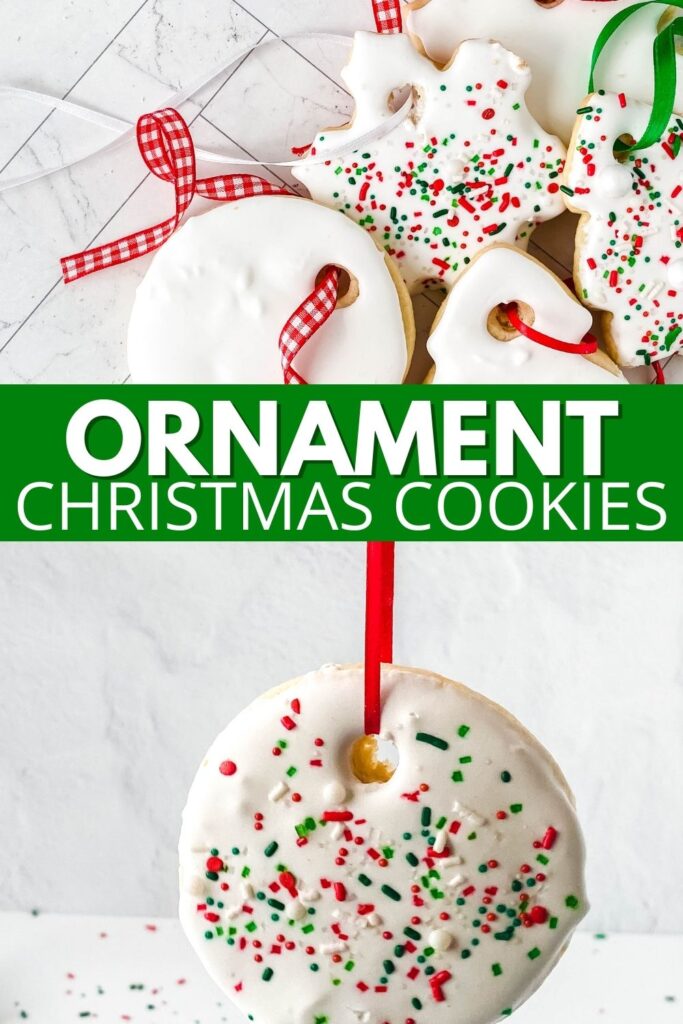 Reader Interactions