Cooking bacon in the oven is a no-fuss method. Learn how to cook bacon in the oven for a deep-golden brown crispy bacon each and every time. No splatter, or standing at the stove flipping bacon. This way of cooking bacon is my go-to.
Baked bacon is the perfect way for that perfect "fried" bacon. Skip the skillet and grab that baking sheet and transform your bacon game.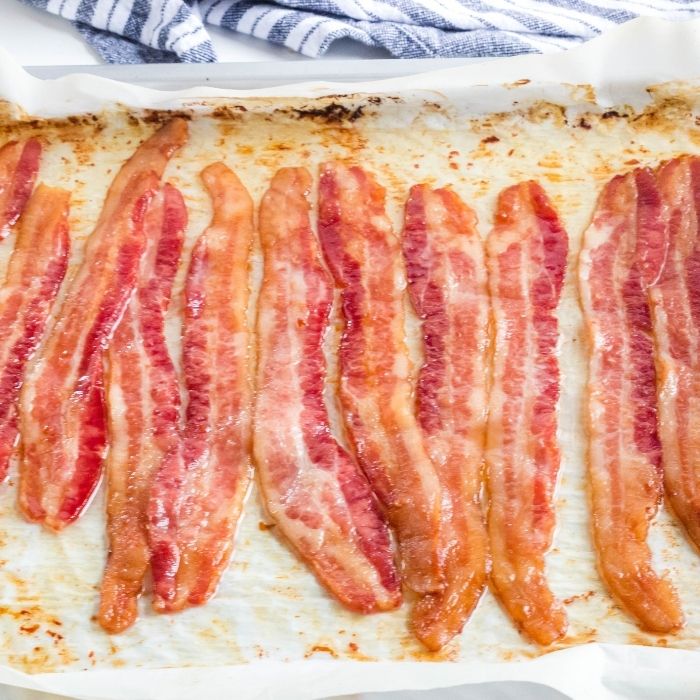 Ways to serve bacon? Here are some of my go-to recipes. Twice baked potatoes with jalapeno and bacon, garlic bacon kale, or candied bacon in the oven.
Why Make Bacon In The Oven
No Splatter – No getting splattered by hot bacon grease like when you pan fry bacon on the stovetop. A cleaner way to cook, so you are not cleaning up grease all over your stovetop!
Flat Thick Slices – I love how the bacon doesn't shrink as much and you get nice and flat pieces of bacon.
Easy Prep – So easy to place on a parchment or aluminum foil lined pan, and bake is all it takes.
Delicious – I love the taste of oven baked bacon. A nice crispy chew, rich flavor, and just as good as pan-fried.
Multi-Task While Baking – If you are the type that has a million things happening at once, baking your bacon in the oven is a game-changer. Work on other dishes for your meal, tackle laundry, etc. No hovering at the stove.
What You Need
Bacon – I used a thick cut bacon. Now if you use a thinner cut bacon, just know the cook time will be less. You just need to adjust how long to cook depending on thickness of the bacon you use.
Baking Sheet – Reach for a rimmed baking sheet, I used a sheet pan.
Parchment Or Aluminum Foil – If you want to learn how to make bacon in oven without a rack, this is the method to use. Instead of placing a rack in your oven on top of baking sheet, line with parchment or aluminum foil.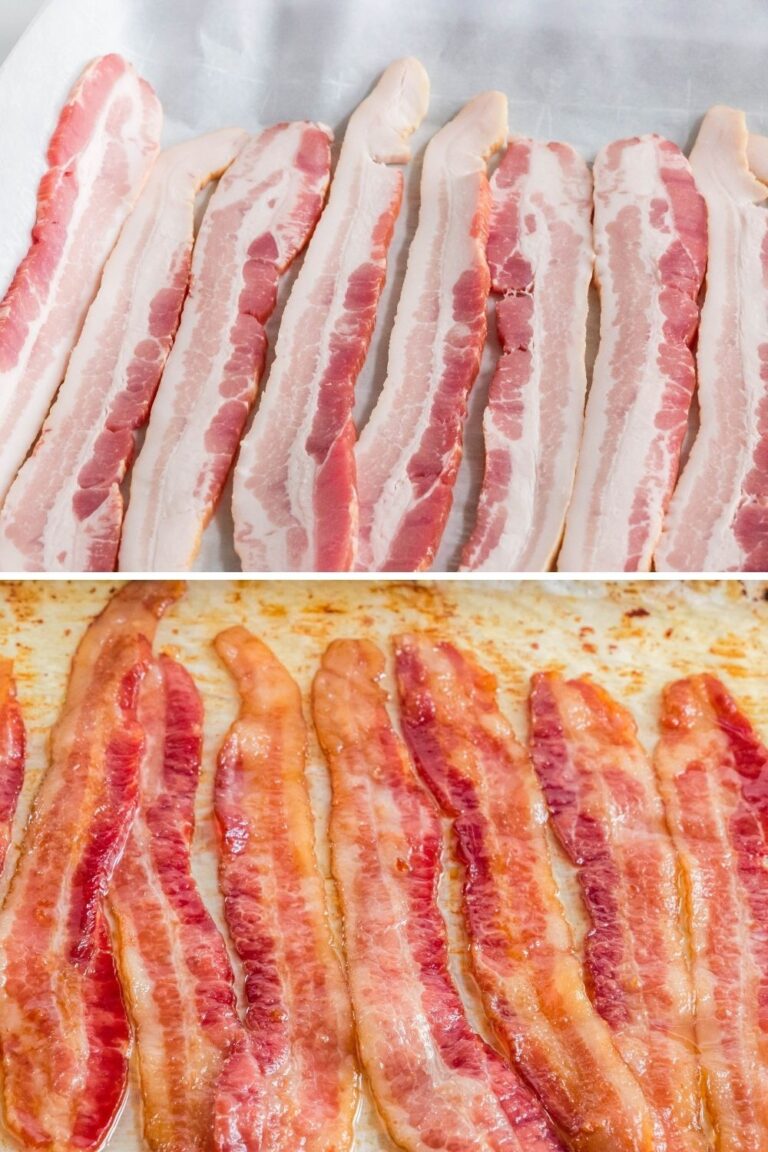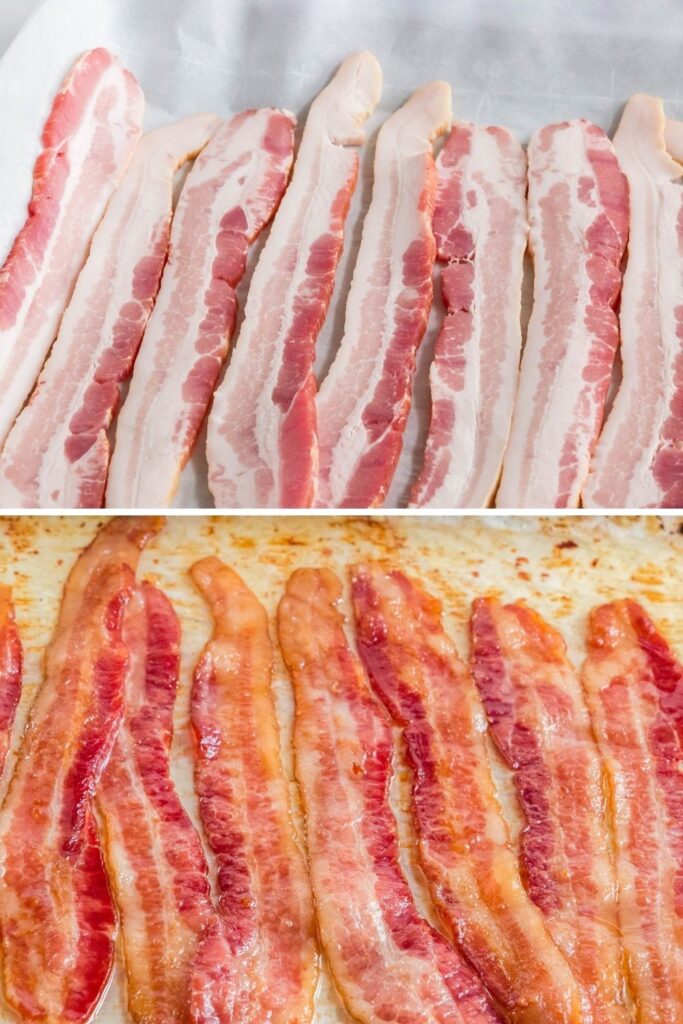 How to Make Bacon In The Oven In 5 Steps
Preheat the oven to 400 degrees.
Line a Baking Sheet with parchment paper or aluminum foil.
Lay out bacon in a single layer on baking sheet.
Bake for 18-20 minutes or until bacon is fully cooked to doneness you prefer.
Place bacon on a paper-towel lined plate to remove excess grease. Then serve.
Pro Tips
Helpful tips for making crispy bacon in the oven.
Line your pan with parchment paper, as it will make cleanup literally a breeze. Just have the parchment paper over hang the edges, so you can carefully fold it up with all the grease and toss it out.
Skip the oven rack bacon method, as you will spend so much cleaning all the crevices of the baking rack once the bacon is done cooking.
Place bacon on a paper towel lined plate when done. This will soak up the excess grease. If you feel you need to pat your bacon as well with paper towels to remove the grease.
Single layer your bacon so it gets an even cook. If you do overlap, then you will want to flip the bacon over and adjust half way through cooking.
Depending on thickness of bacon the cook time can vary, so check on it here and there.
FAQs
Common questions on how to cook thick bacon in the oven or thinner bacon.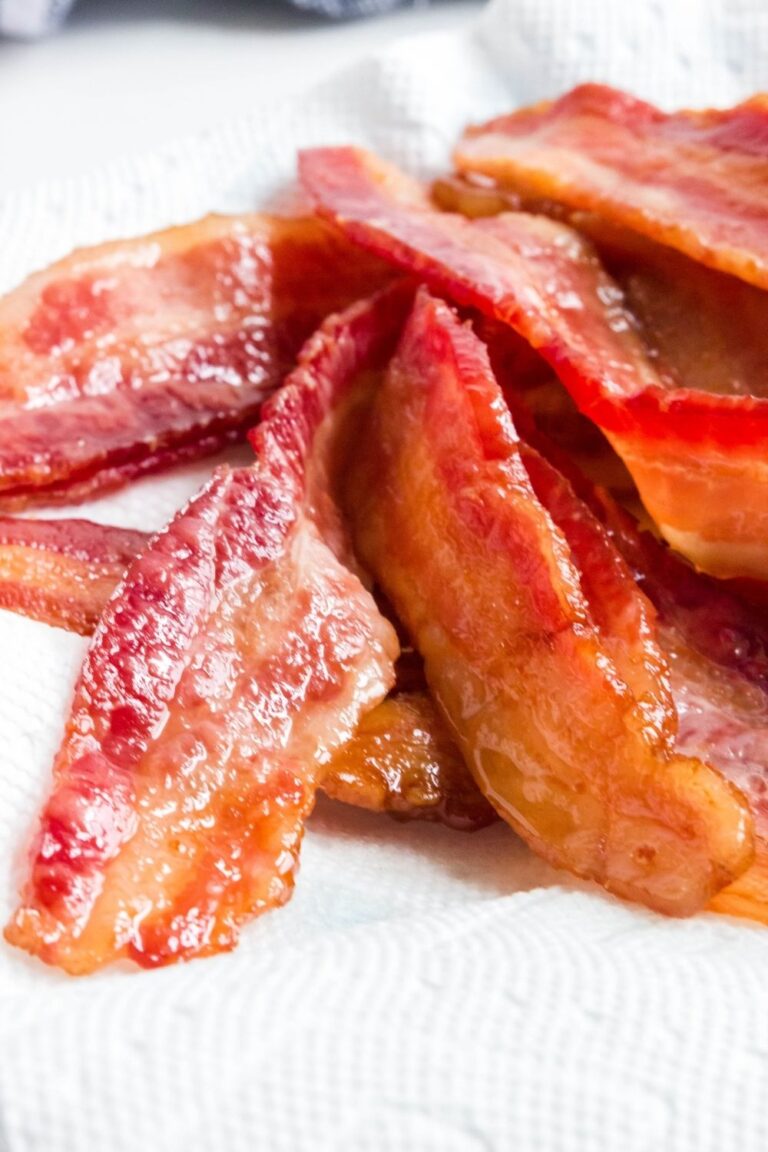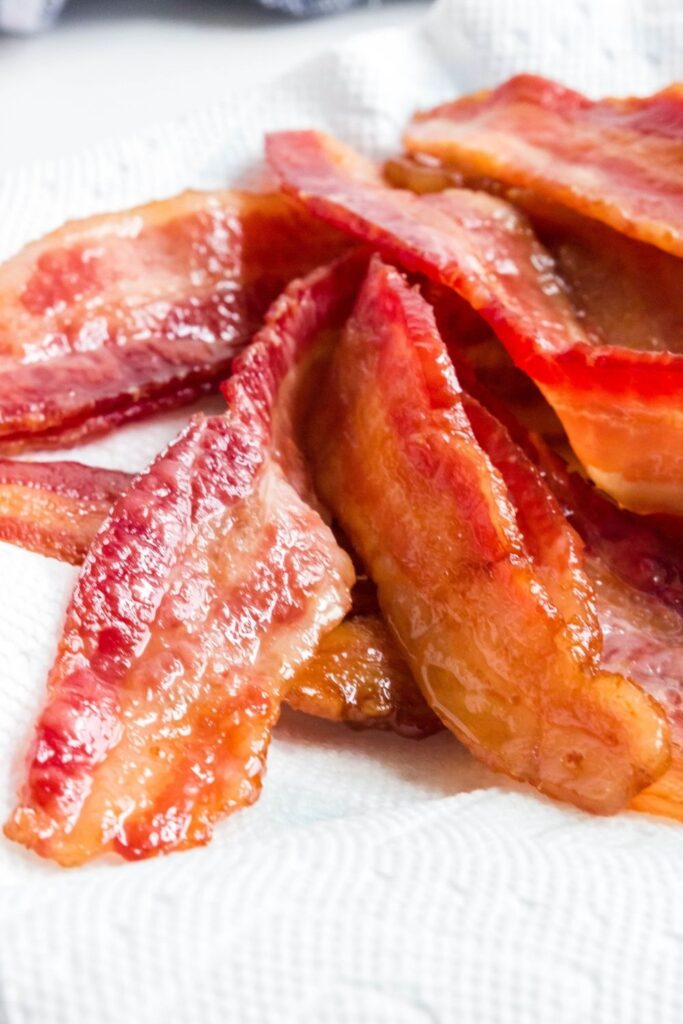 Related Recipes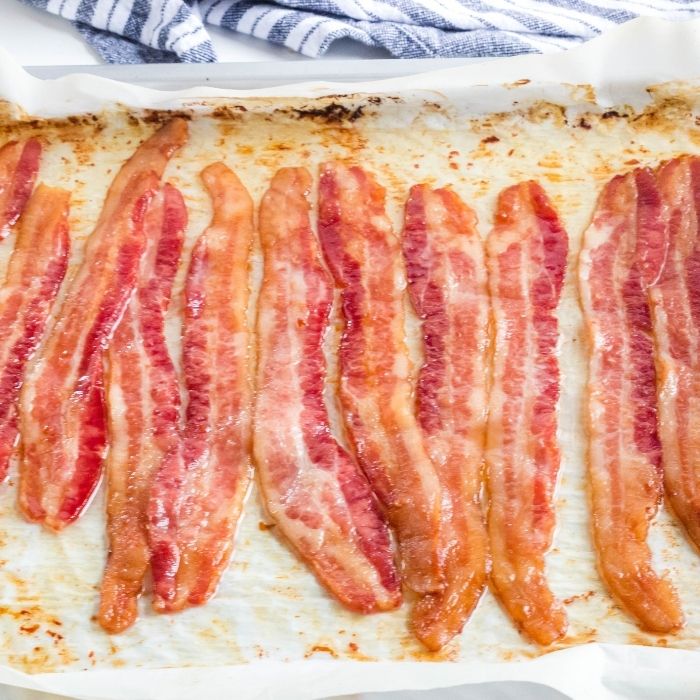 How to Cook Bacon In The Oven
Servings 1 package bacon
How to Cook Bacon In Oven so you get crispy bacon each and every time. Baked bacon is the way to go. Skip frying bacon and learn the no-fuss way to get crispy bacon every single time.
Instructions
Preheat the oven to 400 degrees.

Grab a sheet pan or cookie sheet that has an edge. Line with parchment paper, or even aluminum foil.

Place your raw bacon in a single row on the baking sheet.

Cook for 10 minutes, and then check on your bacon. If you have an oven that doesn't always evenly cook you can rotate the pan or flip the bacon at this point.

Continue cooking the bacon in the oven for 8-10 more minutes. Depending on thickness the bacon will vary in how long it takes. I used thick cut bacon for mine.

Once the bacon is done, remove pan from the oven and place the baked bacon on a paper towel lined plate then serve and enjoy.
Notes
Cook Time – Depending on brand and thickness the bacon will vary. At the 10 minute mark you will want to keep a closer eye on the bacon. Rendering the Bacon Grease – Place a cheesecloth in a fine mesh sieve and strain the bacon grease once the bacon is done cooking. Then place the grease in a sealed glass jar and store in the fridge. Don't use plastic as the hot grease will melt the container. Then use the grease for recipes like making eggs, cooking green beans, etc. If you get more grease just use the same jar and pour on the top. Storing – Bacon will store for about 3-4 days cooked in the fridge. Just store in a sealed bag or container. Reheating – Wrap bacon in a paper towel and heat for 10-20 seconds or until warmed all the way through. Freezing – You can freeze any bacon you don't eat, by vacuum sealing or placing in a freezer friendly container. It will freeze for 2-3 months. It will store for longer if you vacuum seal.
Nutrition
Serving: 1gCalories: 11kcalProtein: 1gFat: 1gPolyunsaturated Fat: 1gCholesterol: 2mgSodium: 39mg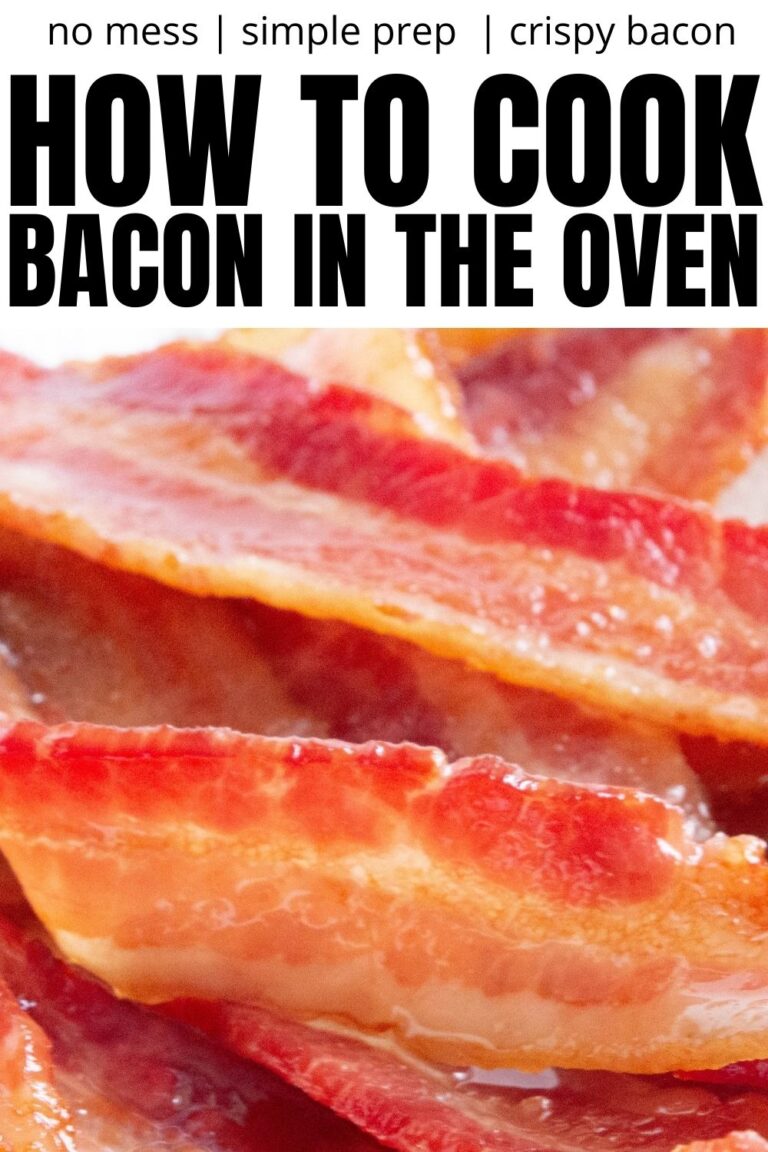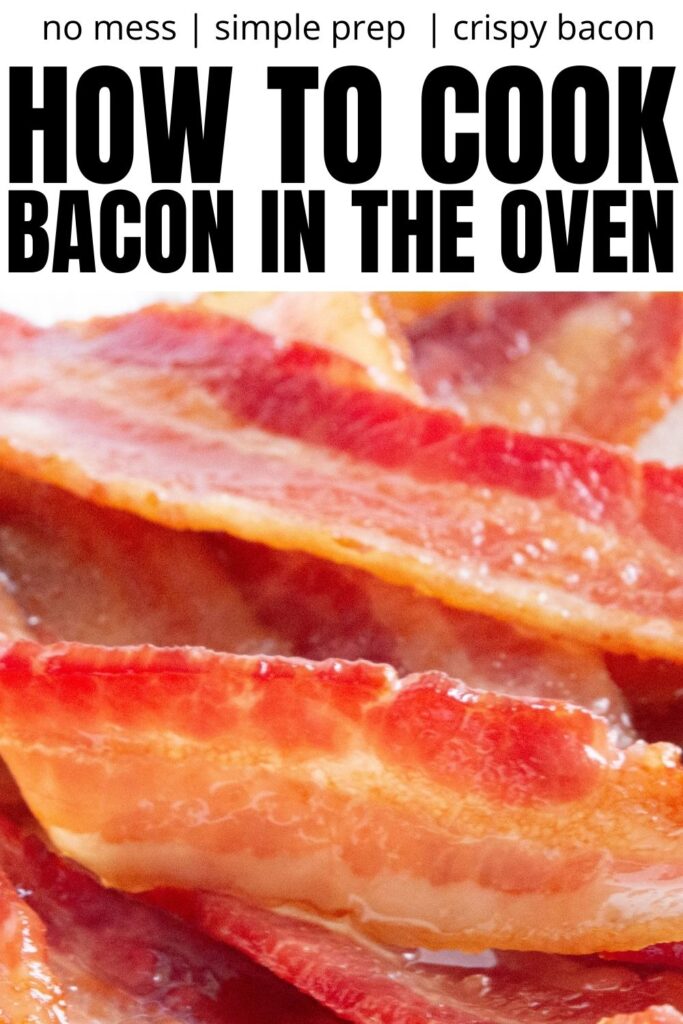 Reader Interactions