Skip the coffee shop line and make your own cinnamon dolce latte at home, anytime of the day, and for a fraction of the price. I will show you how to make this Starbuck's latte recipe, and with homemade cinnamon dolce syrup. Give this cinnamon latte a try today!
Warm cinnamon spice with a dolce twist, this Starbucks drink recipe is one you will want to make all year round. This cold weather coffee recipe is a hit. Or try my Starbucks Pink Drink, it is a fruity and refreshing chilled drink.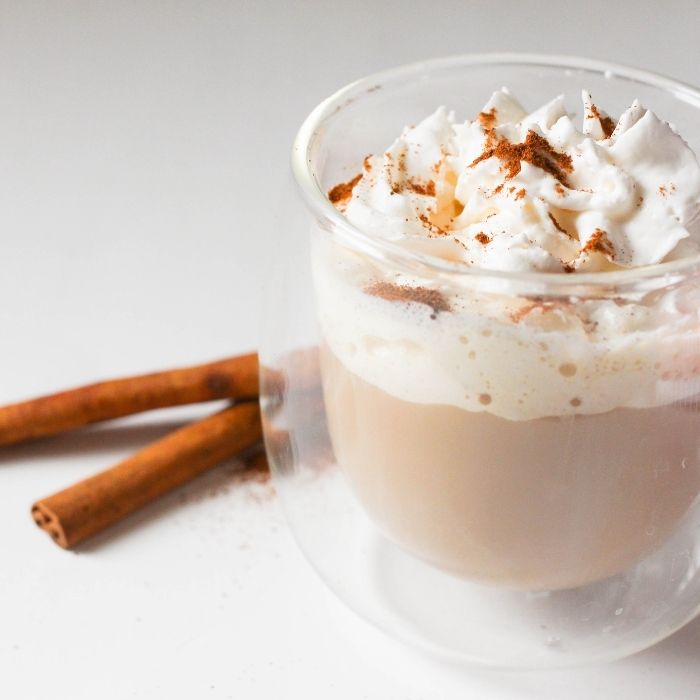 I love Starbuck's but I don't always love the prices that come with it. Plus, I have to drive to another town for a coffee fix, so making my favorite drinks at home is a must.
What Does Cinnamon Dolce Mean?
So before we begin let me address what does cinnamon dolce mean exactly! "Dolce" means "sweet" in Italian. So when you add on cinnamon dolce it stands for a sweet cinnamon latte.
You will find you get some warm spice from the cinnamon and then a buttery sweet from the brown sugar and granulated sugar.
This Latte Recipe Is…
Easy to Make
Store extra Cinnamon syrup in fridge
Starbucks copycat recipe
Affordable to Make
Sweet, warm spices, and soothing
Ingredients Needed
Espresso – You will brew up strong coffee or espresso. This is the coffee base. Feel free to use any brand or style of coffee you want. For a Starbucks version use espresso.
Sugar – I used white sugar and brown sugar for the cinnamon syrup.
Cinnamon Sticks and Cinnamon Powder
Vanilla – Adds a nice sweetness to the syrup.
Milk – Or you can use a milk alternative if you need a non-dairy coffee drink.
Whipped Cream – Optional.
How to Make
Step One: First you are going to work on your cinnamon syrup. Add your sugars, water, and cinnamon sticks in a saucepan and bring to a bowl. Mix occasionally to prevent burning.
Step Two: All the mixture to reduce for 10 minutes on a simmer. You want the liquid to reduce by half. Then remove from heat and add in vanilla, and allow to cool.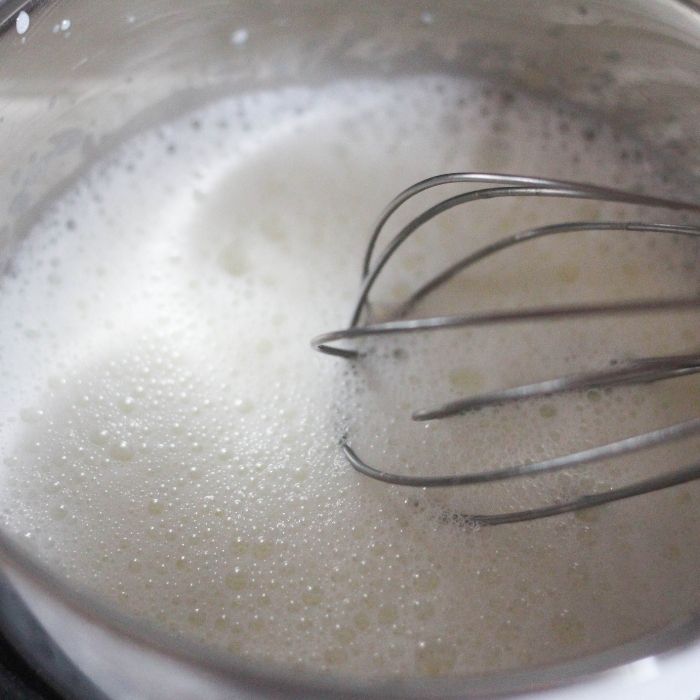 Step Three: Brew your espresso and then place milk in a saucepan over medium heat, whisking constantly to make it frothy.
You want the foam to be half foam, then remove from heat.
Step Four: Pour coffee in the cup, add your milk, then 1-2 tablespoons of the cinnamon dolce syrup. You can sweeten to your preference. Sprinkle with cinnamon, and serve!
Storing Cinnamon Syrup
For this Starbucks cinnamon drink, you will have leftover syrup. Store in a glass jar in the fridge for around 1 week. Then add to your coffee drinks when you would like.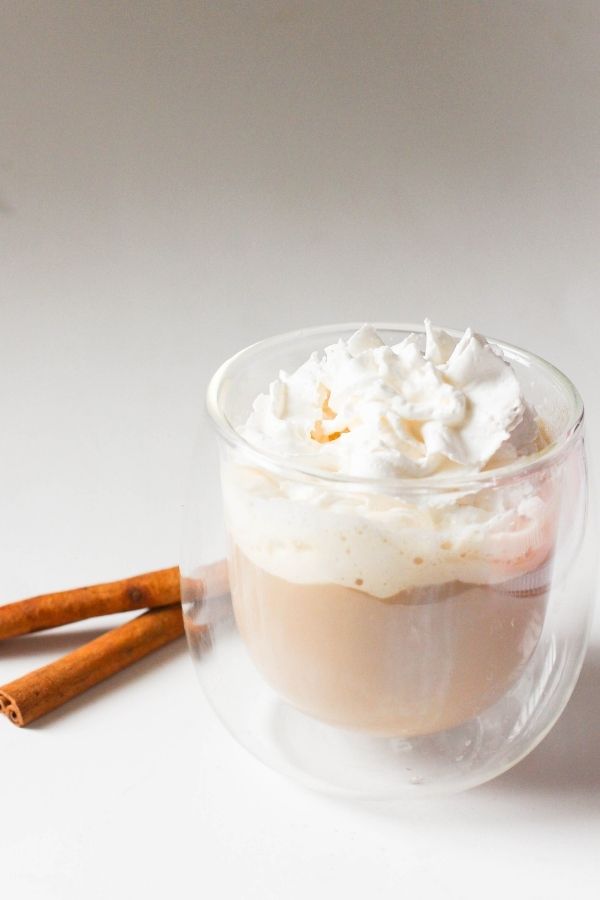 Frequently Asked Questions
Related Recipes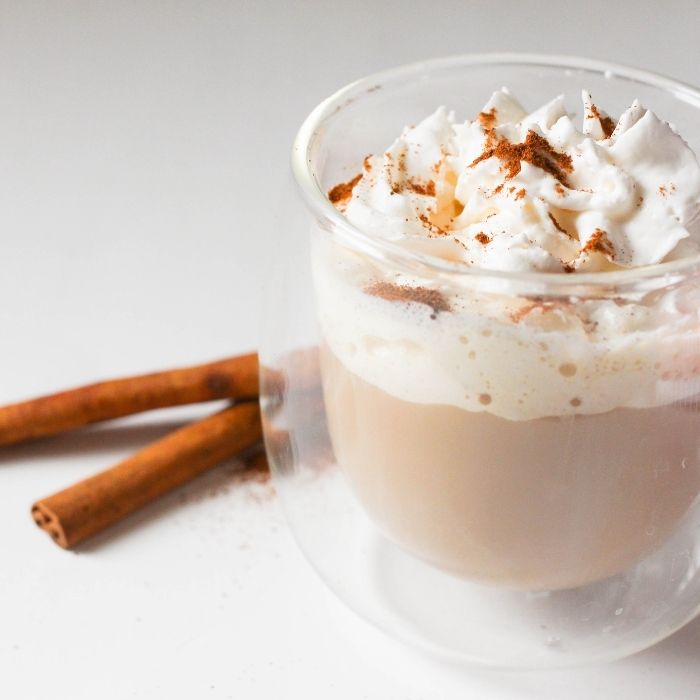 Copycat Starbucks Cinnamon Dolce Latte Recipe
Servings 2 cups
Copycat Starbucks Cinnamon Dolce Latte Recipe is a delicious Starbucks latte recipe at home. Cinnamon dolce latte is sweet, warm spiced, and delicious. Brew with coffee or espresso.
Ingredients
Homemade Cinnamon Syrup:
1 cup white sugar
1/2 cup brown sugar
1 1/2 cups water
1 Tablespoon vanilla extract optional
3 cinnamon sticks
Two cinnamon dolce lattes
2-4 Tablespoons cinnamon dolce syrup
2 cups strong brewed coffee
2 cups milk
Cinnamon for garnish
Whipped cream for garnish
Instructions
How to Make Cinnamon Dolce Syrup
Add your cinnamon sticks, water, and granulated sugar and brown sugar into a saucepan on the stove. Bring to a boil, whisking occasionally to prevent burning.

Once it boils, reduce heat to simmer and cook for 10 minutes. You want the liquid to reduce by half.

Once it has reduced by half the volume, remove from heat, pour in the vanilla, and let cool. Then store the cinnamon syrup in the fridge.
How to make cinnamon dolce lattes
Brew up your espresso or a strong coffee.

While coffee is brewing add milk into a saucepan on the stove and heat on medium-high whisking constantly. You want it to foam by half the amount. Once it does remove from heat.

Pour coffee into cups, then add 1-2 tablespoons of the cinnamon syrup, and top with the milk and foam.

Flavor to taste, you can use less or more of the cinnamon syrup.

Garnish with whipped cream if you want or ground cinnamon.
Notes
Coffee or Espresso – You can use a strong coffee or espresso. Since you add a lot of milk it will dilute the coffee a lot. That is why we recommend espresso. Starbucks – For a more authentic coffee from Starbuck's use the espresso. Non-dairy – You can make this a non-dairy coffee by swapping the milk. Just know non-dairy tend to not froth as much. Storing Syrup – Store your cinnamon dolce syrup in the fridge for around a week. Shake well or stir before adding to your coffee.
Nutrition
Serving: 1gCalories: 323kcalCarbohydrates: 15gProtein: 3gFat: 6gSaturated Fat: 4gPolyunsaturated Fat: 2gCholesterol: 12mgSodium: 12mgFiber: 2gSugar: 24g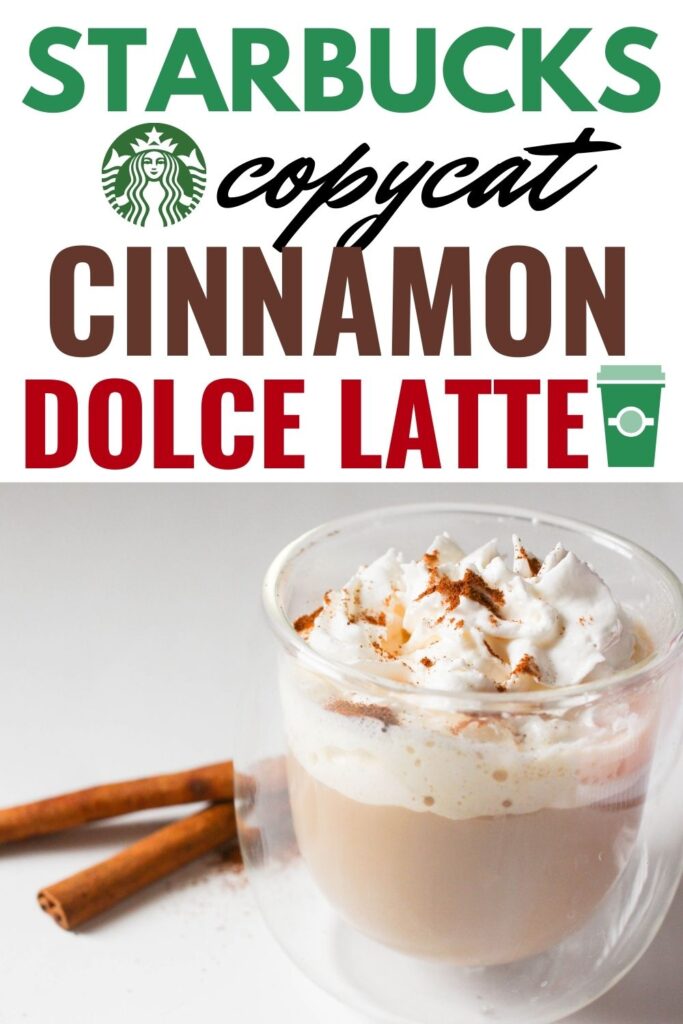 Reader Interactions