Learn how to make tea bombs that are a crytal globe that is filled with tea bags, edible flowers, and melts down as hot water is poured over it. This blooming tea is delicious, easy, and stunning.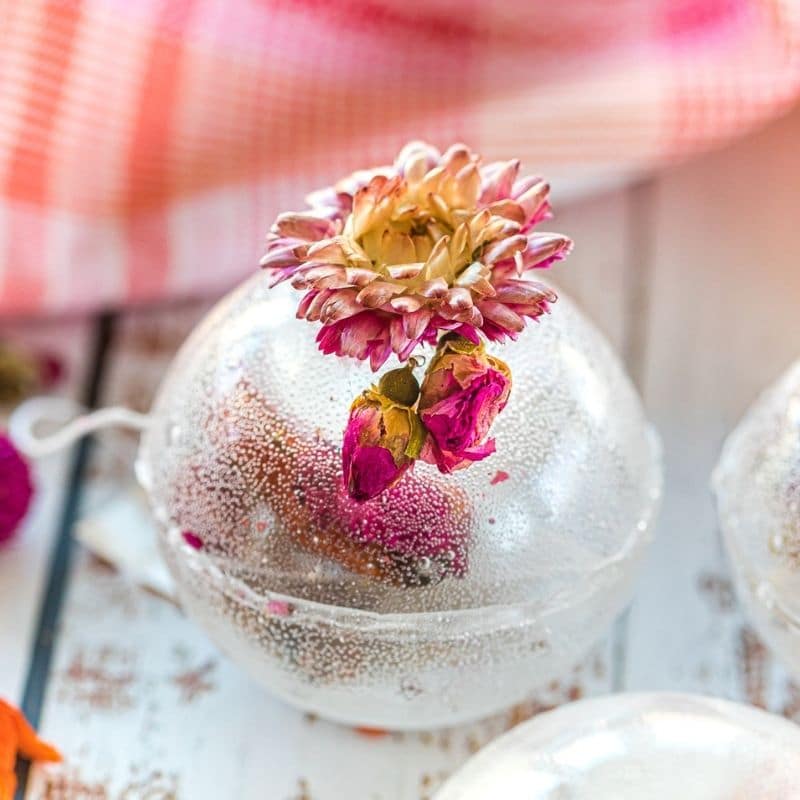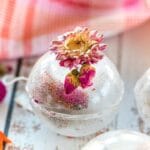 Skip the classic tea bag, and learn how to make tea bombs! A translucent floral tea globe, that you place in a cup, pour hot water over, and watch it melt for an incredible cup of tea. A tea recipe that stands out!
This is an inspiration to the popular TikTok recipes! I enjoy TikTok for all the food, drinks, home tips, and such. This Tik Tok tea bombs recipe will win you over with one sip.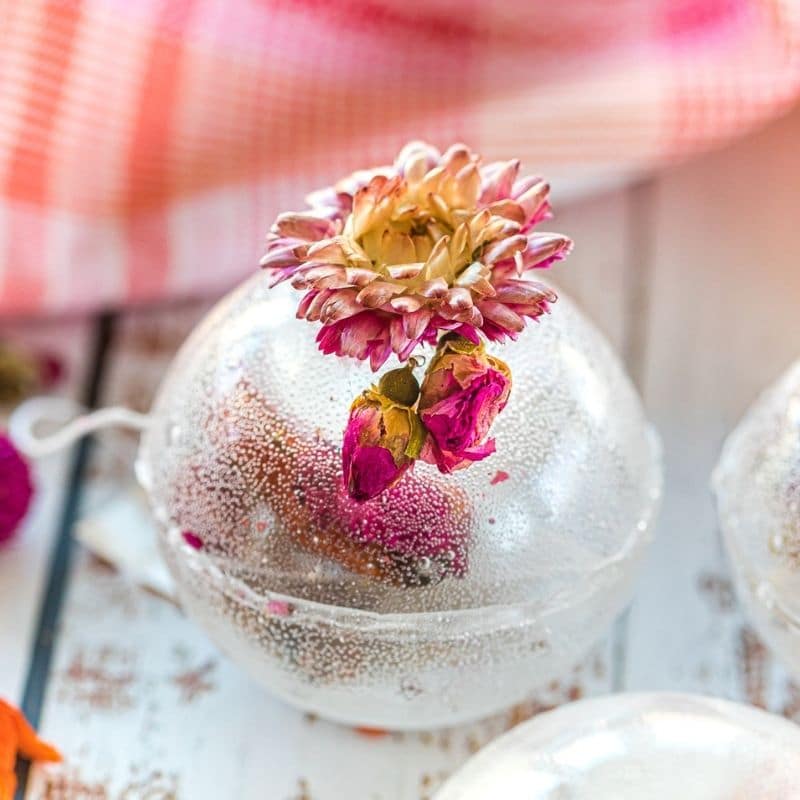 Don't get this confused with the Starbucks bomb tea, this is a floral tea recipe. Similar to a hot chocolate bomb, that is so popular right now.
If you are a fan of tea, this floral tea bomb is gonna be a treat. Or whip these up and gift to a loved one, friend, co-worker, etc.
Why You Will Love These Tea Bombs…
A Tea infusion
Unique
A fun hot tea bomb
Top with a globe amaranth
Use any herbal tea you want
Make the globes with a silicone mold
Like a flowering tea ball
Hot tea bombs that are refreshing
A great gift set for tea drinkers
Can make with tea bags or loose tea
Ingredients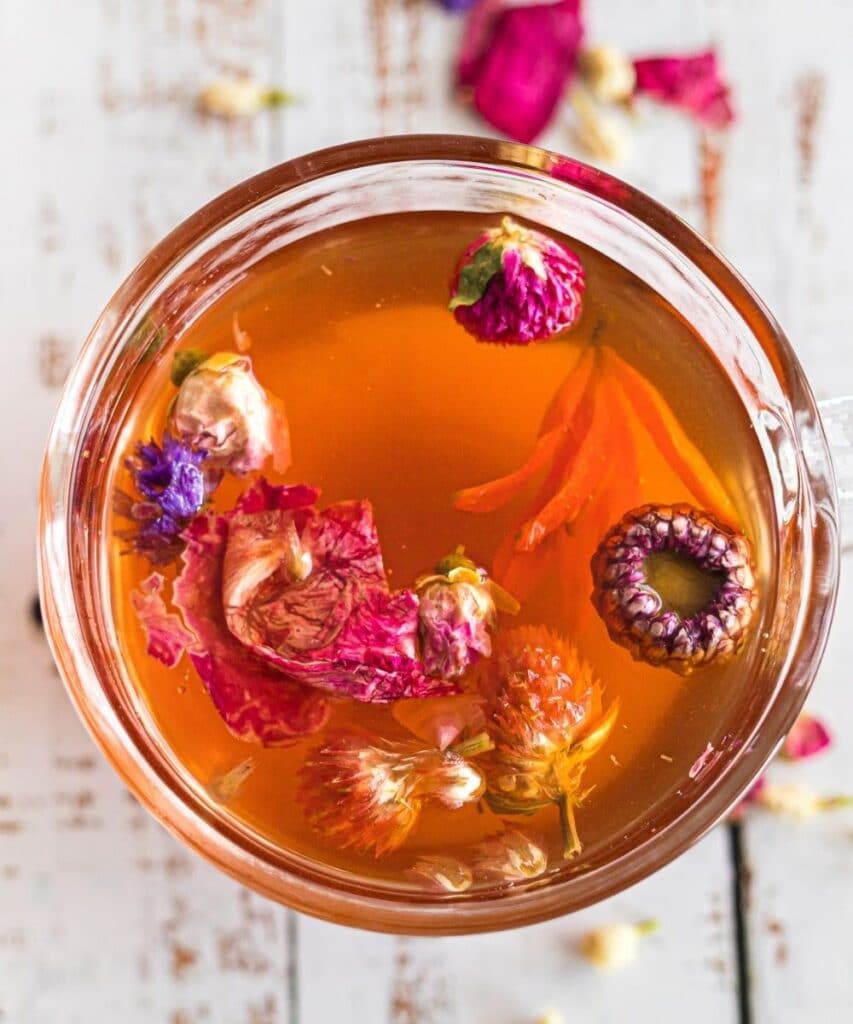 Isomalt Crystals
Dried Edible Flower
Tea
Just 3 ingredients are all you need for this tea bomb DIY!
How to Make
Step 1: Start by using a small saucepan to melt the crystals over medium heat. Do not stir, just allow the crystals to melt. Shake the pan to move the crystals around.
Step 2: Once it is melted, stir until the bubbles disappear and the liquid is clear.
Step 3: Now work quick, you will pour a few tablespoons of the liquid into the silicone molds. Be careful, this is extremely hot and will burn your skin.
Step 4: Rotate the inside of the mold evenly, to create the translucent shell.
Step 5: Allow the molds to cool, this takes around 30 minutes. Then add any herbs or edible flowers if you would like like. Lay the string out of the mold.
Step 6: Then you will heat a skillet on low, and place on piece of the globe on the skillet, to melt the edge just a little. This is going to be the glue that sticks the two globes together.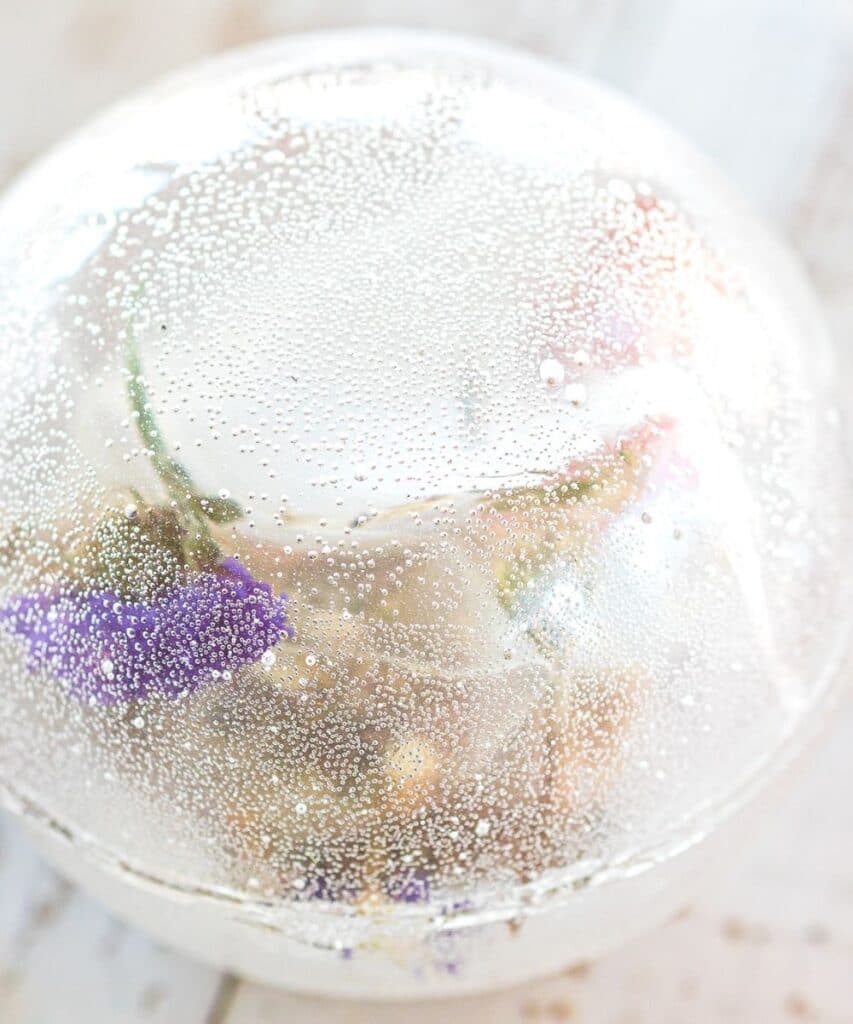 Step 7: Now you will place the globe on top of each other, with the string left out. Place the globe sides together making a sphere.
Top with a dried flower if you want. Let the globes set up.
Expert Tips
This is very hot, so I recommend using sugar gloves to prevent burning. Work with caution. These tea drops are gorgeous but you want to make sure to work safely.
Depending on how large or small your silicone molds are will vary how many tea bags you want to put inside.
These tea bombs are fragile and will shatter if you are not careful. Handle with care.
Make as many or as little as you would like on these tea bombs.
Storage
You can store these globes at room temperature in an airtight container. These will store for 1-2 weeks on the counter. They make great gifts as well, just handle with care.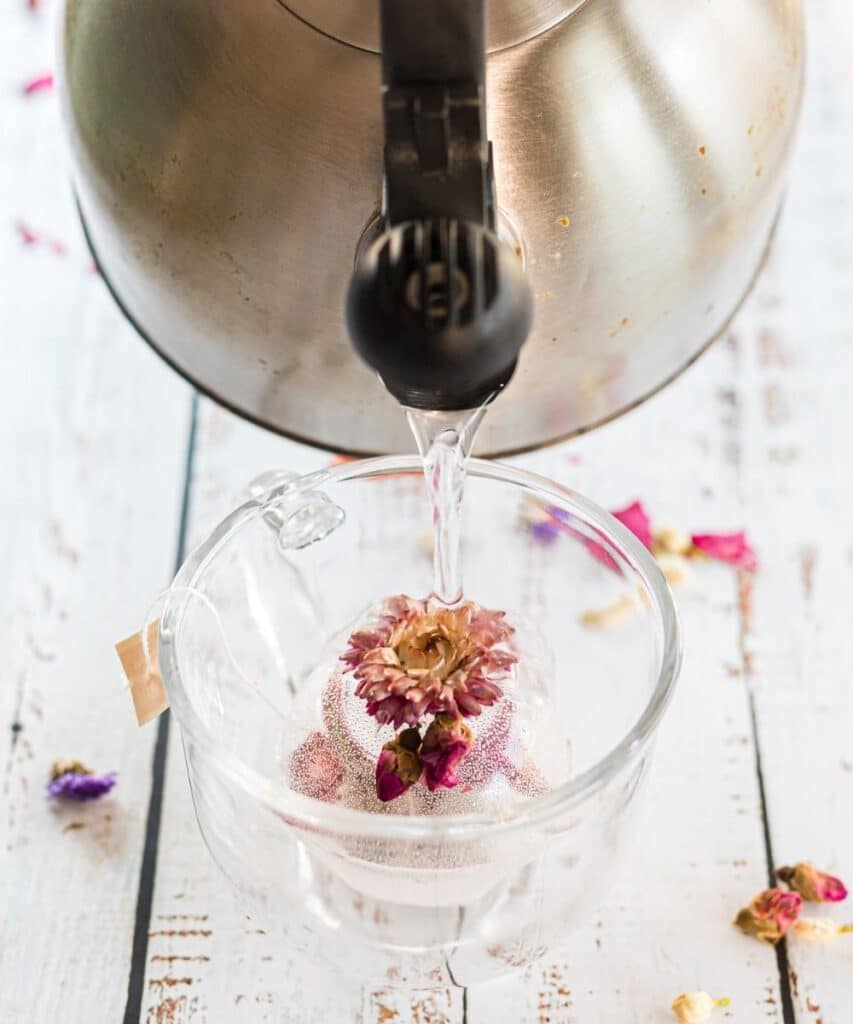 How To Use Tea Bombs
Place tea flowering tea ball in a coffee mug. Heat up your water in a tea kettle.
Pour the hot water over the tea bomb and watch it transform into a blooming tea. Allow it to cool a bit, add sugar if needed and sip and enjoy.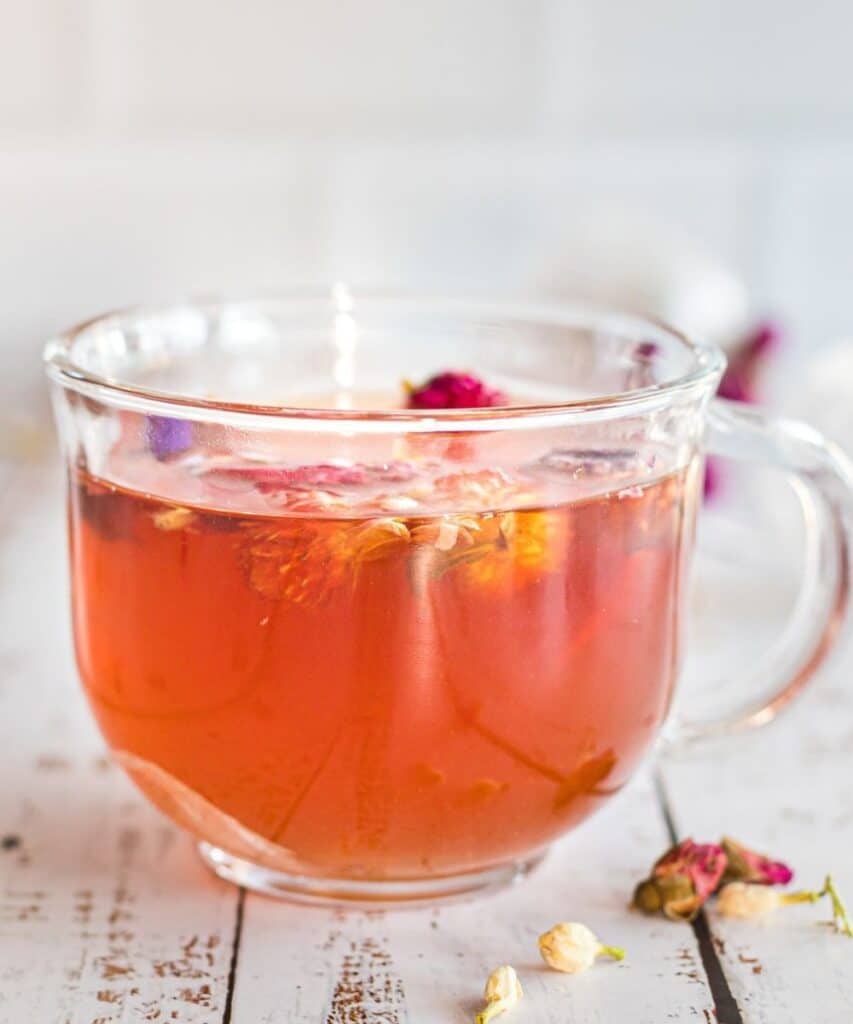 Recipe FAQs
Feeling Thirsty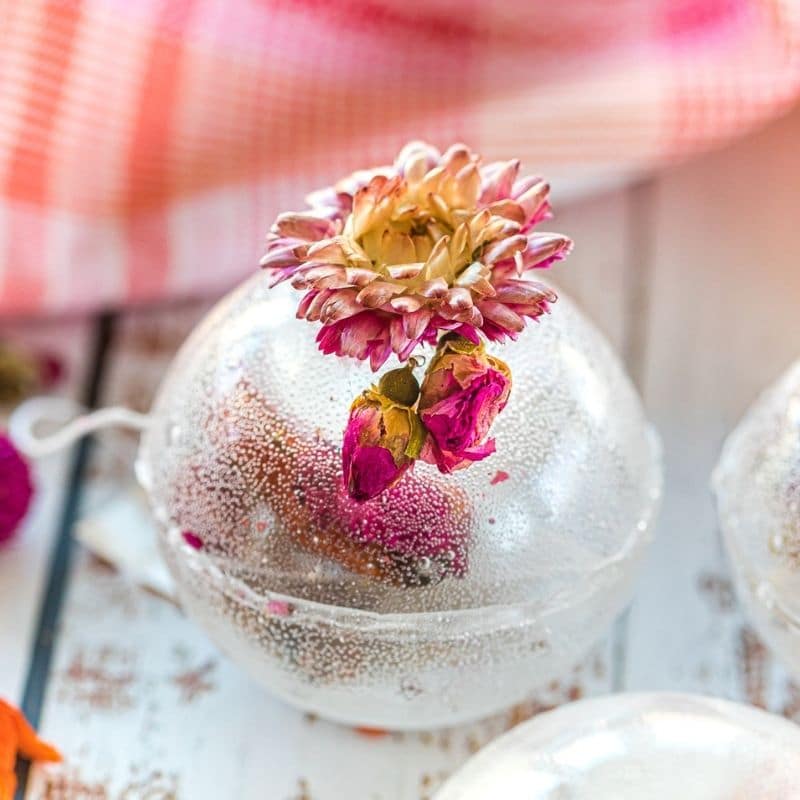 How to Make Tea Bombs -Blooming Tea
Servings 3 tea bombs
Learn how to make tea bombs that are a crytal globe that is filled with tea bags, edible flowers, and melts down as hot water is poured over it. This blooming tea is delicious, easy, and stunning.
Ingredients
Ingredients For Tea Bombs
Instructions
In the small saucepan you will add your Isomalt crystals over medium heat. Do not stir, and wait for the crystals to melt. If you need shake the pan if needed.

Once the crystals are fully melted, you will then stir until the the mixture is clear liquid.

Working quickly pour around a tablespoon or two of the liquid into each half of the globe, moving the mixture around to coat the entire area. This is VERY HOT work with caution. Wear sugar gloves if needed to protect skin.

Make sure the whole cavaties are completely coated in the Isomelt liquid.

Allow the orbs to cool for 30 minutes. They have to be fully set up or it will not work.

Place a tea bag in one of the orbs, you will make 3 blooming tea bombs. Then add in herbs or dried flowers to 3 of the cavaties.

Carefully remove 3 of the empty globes, and heat a small skillet over low heat. You want to melt the edges of one of the crystals, just enough to act as the glue.

Place the two tea globes together, making a sphere. If you want to add edible flowers on top, carefully dip the flower into the Isomalt mixture and attach to the top with sugar gloves.

Repeat the steps until you have all the tea bombs ready and set.
Notes
How to Use Tea Bombs: Place one bomb into a mug, and heat up hot water. Pour hot water over the bomb, and watch it melt away. Stir and let sit to steep, then enjoy. Use sugar gloves to reduce the risk of burning your skin. It will be EXTREMELY hot once melted. Make as many or as few as you would like for these blooming tea bombs. You can add more than one tea bag into each tea globe. Dried flowers are optional as well as the herbs. Store leftover flowering tea balls in a cool dry place, no refrigeration need.
Nutrition
Serving: 1gCalories: 2kcalCarbohydrates: 1g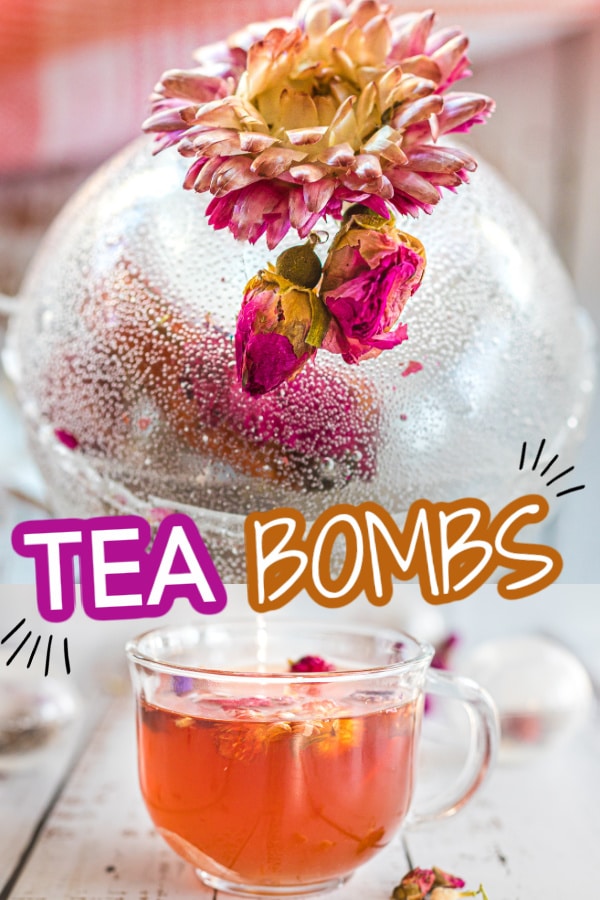 Reader Interactions