Hocus Pocus Cookies are a sugar cookie that is decorated with a homemade buttercream. These Hocus Pocus Halloween cookies are a must for your next Halloween party. Whip them up and watch kids and adults get excited to bite into these cookies.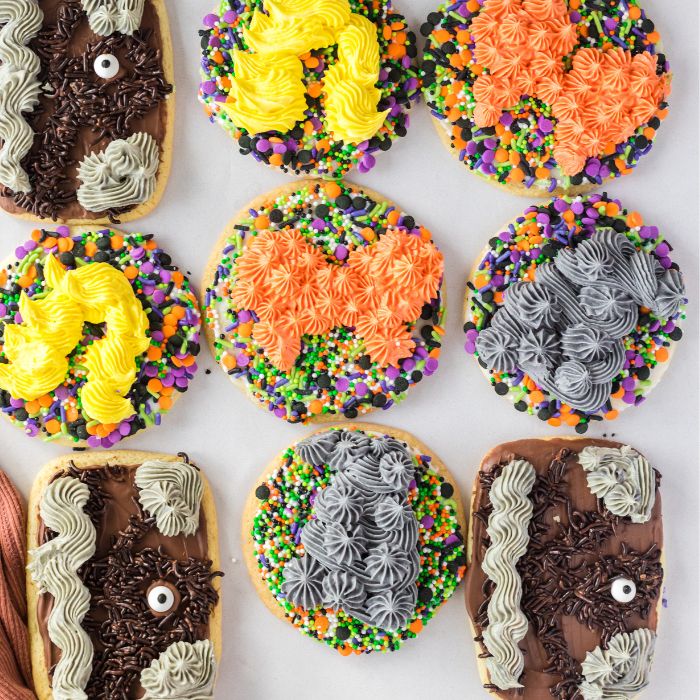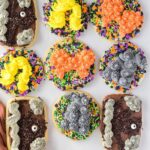 It's a bunch of hocus pocus! Are you a fan of the movie Hocus Pocus? If so you might enjoy these Halloween sugar cookies. Hocus Pocus themed sugar cookies that are decorated with bright colored buttercream frosting.  Don't wait and try these Hocus Pocus cookies today.
Light up the black flame candle, and whip up these buttery melt in your mouth cookies! The Sanderson sisters would approve of these spooktacular cookies.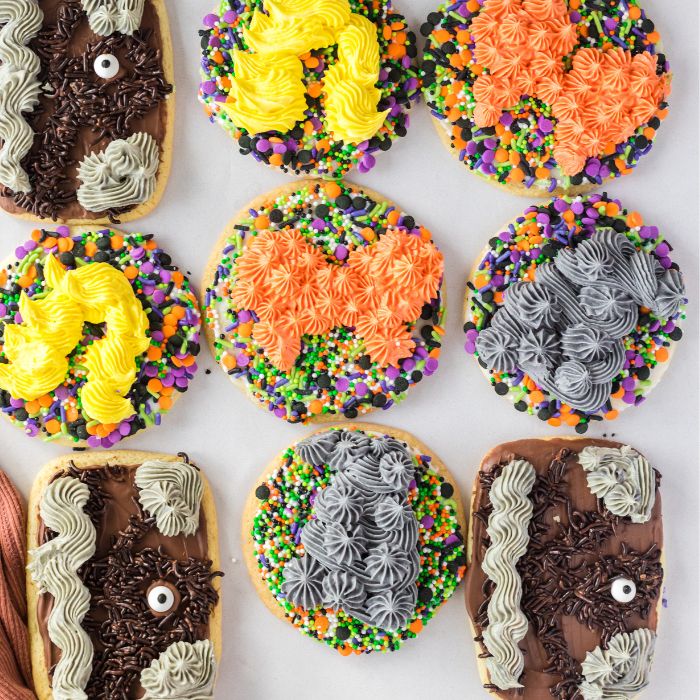 These Hocus Pocus Cookies Are…
Store Bought Cut Out Sugar Cookies
Hocus Pocus Themed Dessert
Best Halloween Cookies
Great for Halloween Parties
Homemade Buttercream Frosting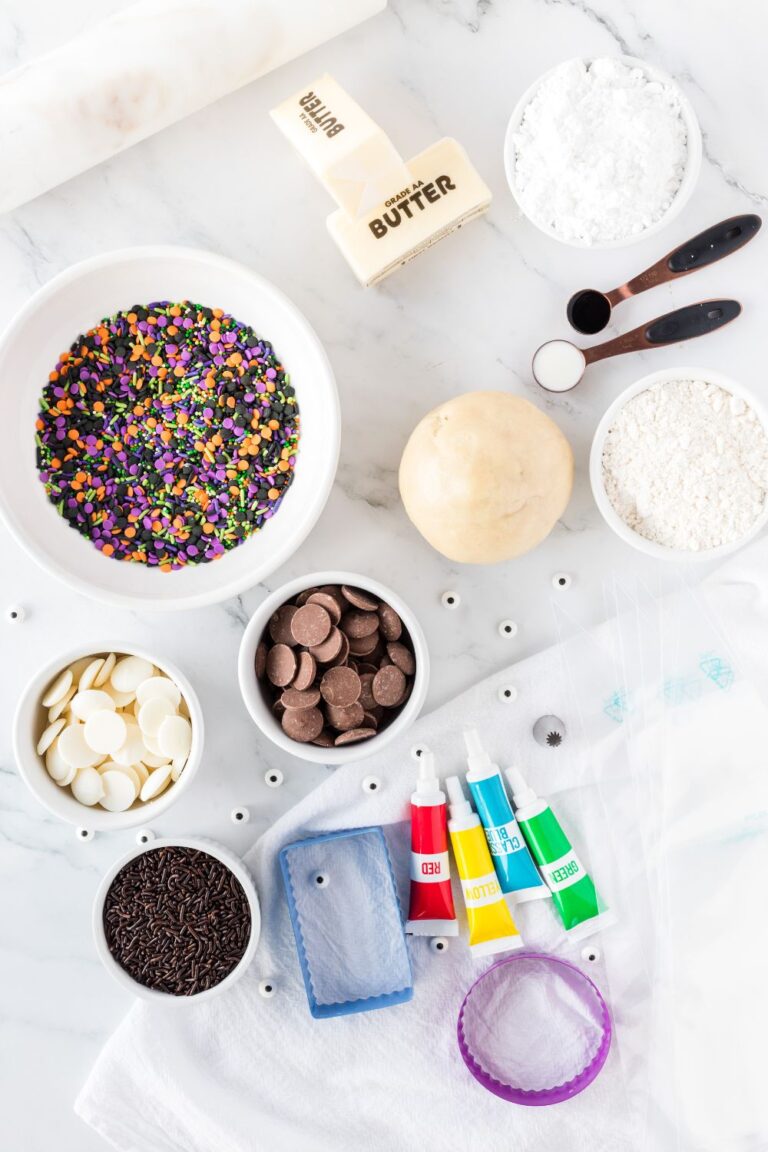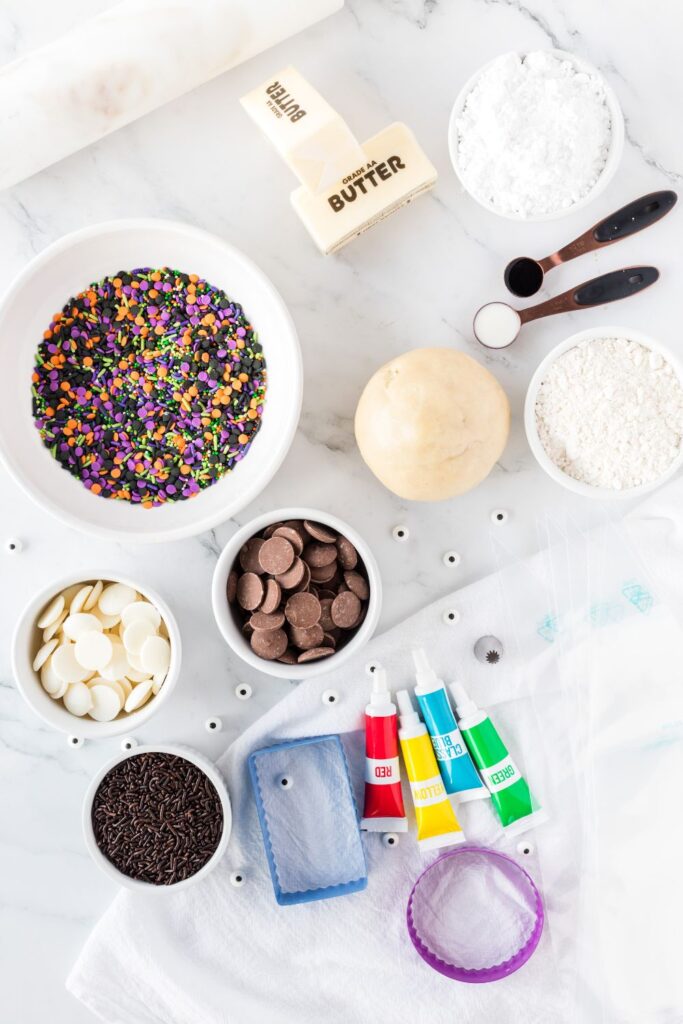 Ingredients Needed
Sugar Cookie Dough – Make your favorite sugar cookie
cut out dough or buy sugar cookie dough.
Flour – You will use flour to roll out the cookie dough. The flour prevents sticking to the counter and rolling pin.
Salted Butter – I love salted butter as the base to my homemade buttercream frosting.
Powdered Sugar – Powdered sugar is going to help give you that ultra creamy frosting that pipes beautifully.
Food Coloring – I love to use gel food coloring as it works great at coloring the frosting nicely. You can control how bold or light the colors are.
Candy Melts – You will use a mix of different colored candy melts to create the Hocus Pocus cookies.
Sprinkles and Candy Eyes – You can find these in the baking aisle of the grocery store by the sprinkles. Then you will find a mix of Halloween sprinkles will really dress up the cookies.
Tools Needed
Piping Bags and Tips – You will want to buy piping bags and tips so each color of frosting can be in its own bag. I used the Wilton #32 Tip which is a star a lot.
Rolling Pin – Using a rolling pin will help to thin out the cookie dough for cutting.
Cookie Cutters – I used a circle and a rectangle cookie cutter for these cookies.
Baking Sheet – I love using rimmed cookie sheets that way the cookies don't glide off. You can also use a baking mat or parchment paper.
Making Cookies
Full directions on how to make Hocus Pocus cookies are in the printable recipe card. This is a visual walk through.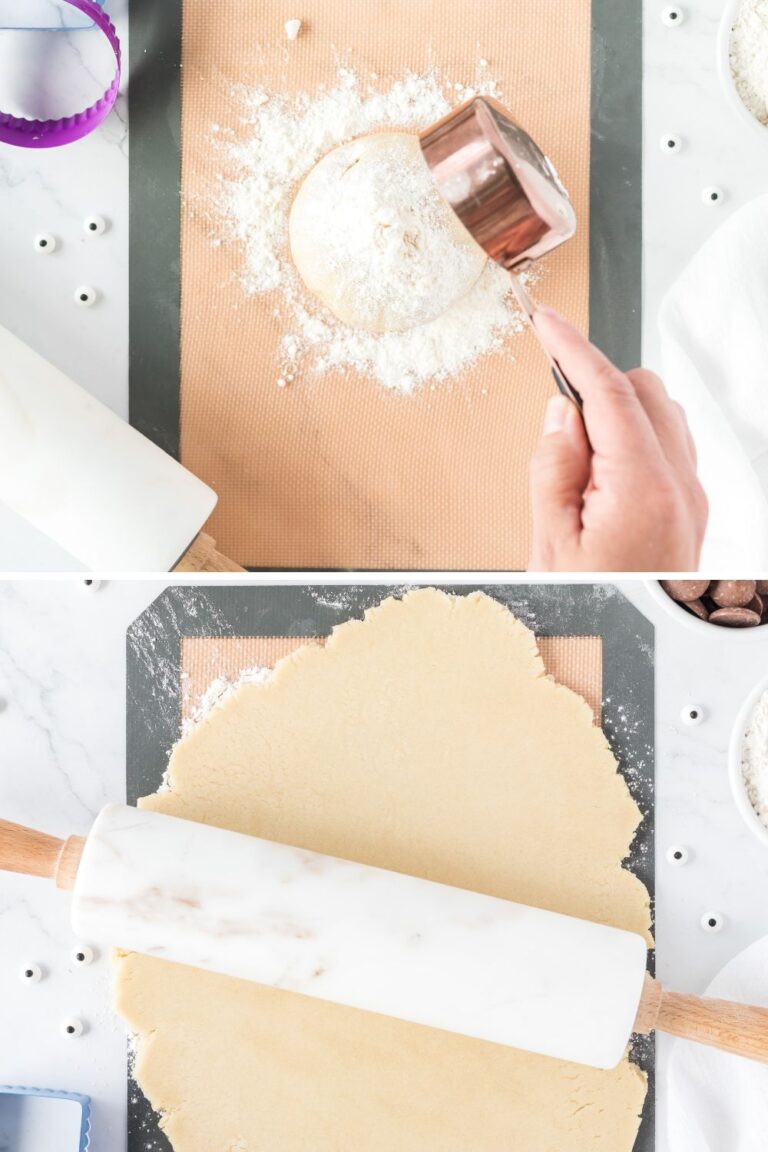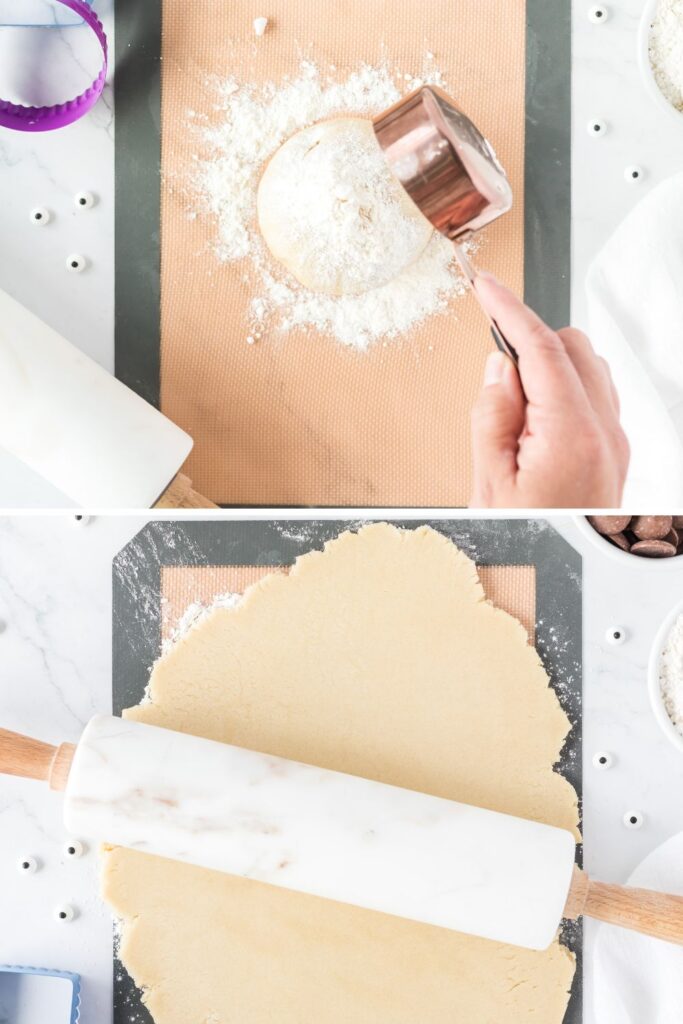 Step One: Preheat the oven and prep your cookie sheet pan. Then roll the cookie dough out to ¼" thick.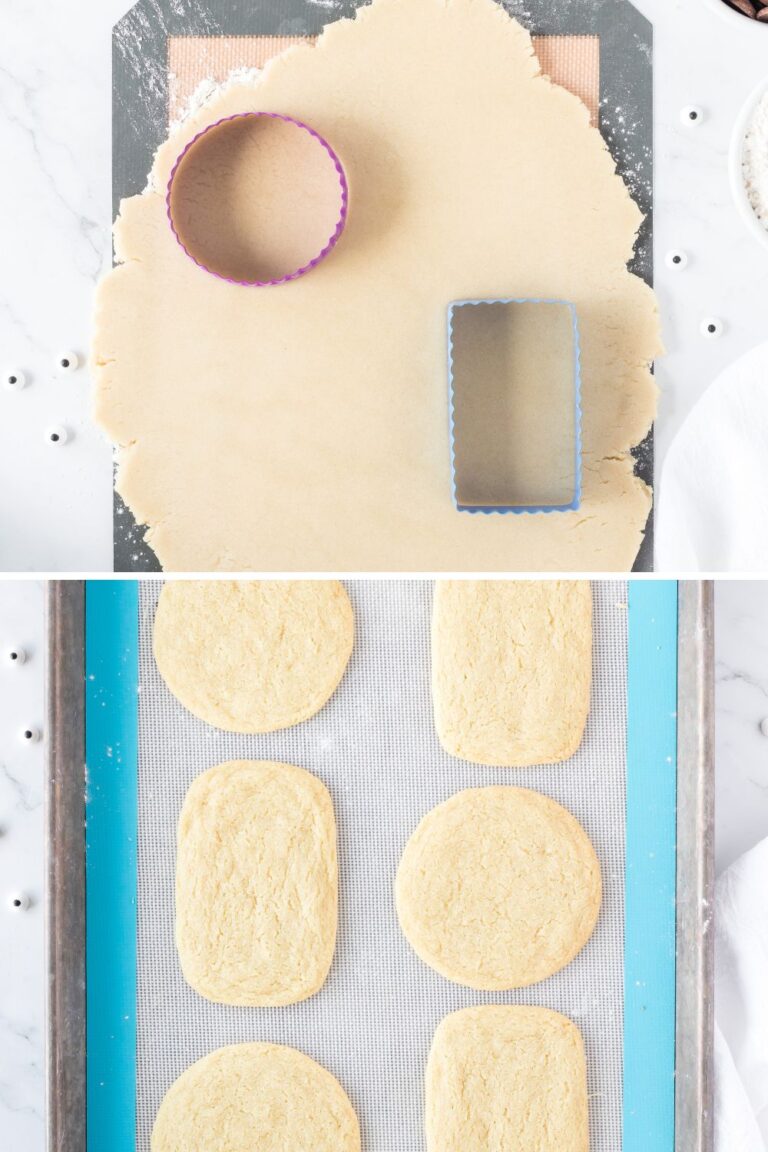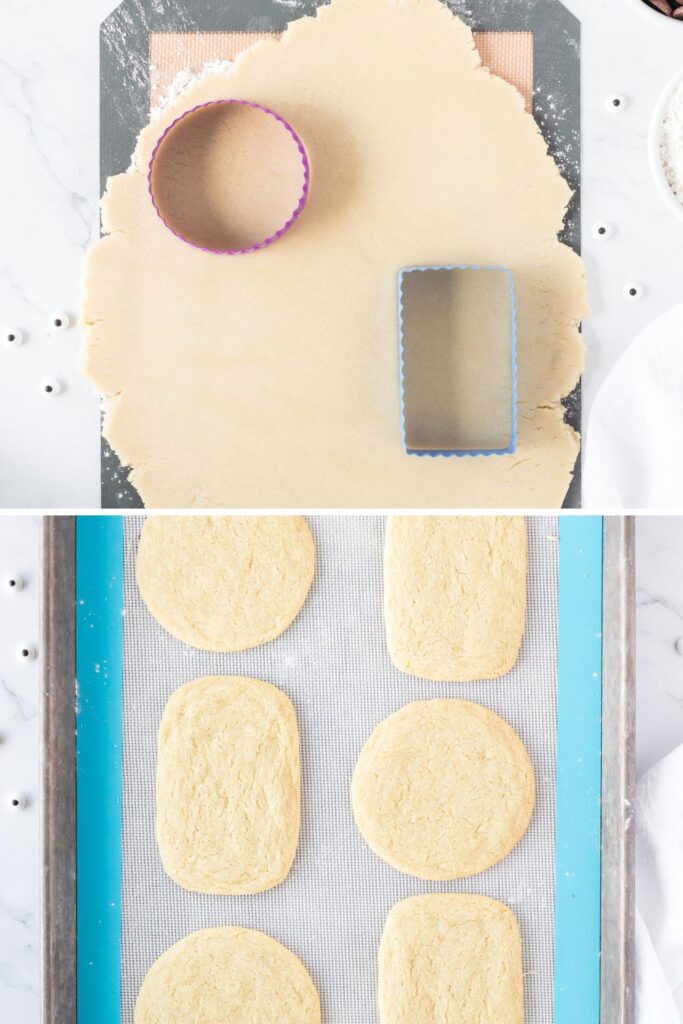 Step Two: Use your cookie cutters to shape cookie dough and place on the pan. Leave space between cookies.
Step Three: Once cookies are done remove and place on a cooling rack to allow the cookies to cool completely.
Step Four: Whip up your buttercream frosting and color into different colors as directed.
How to Make Hocus Pocus Cookies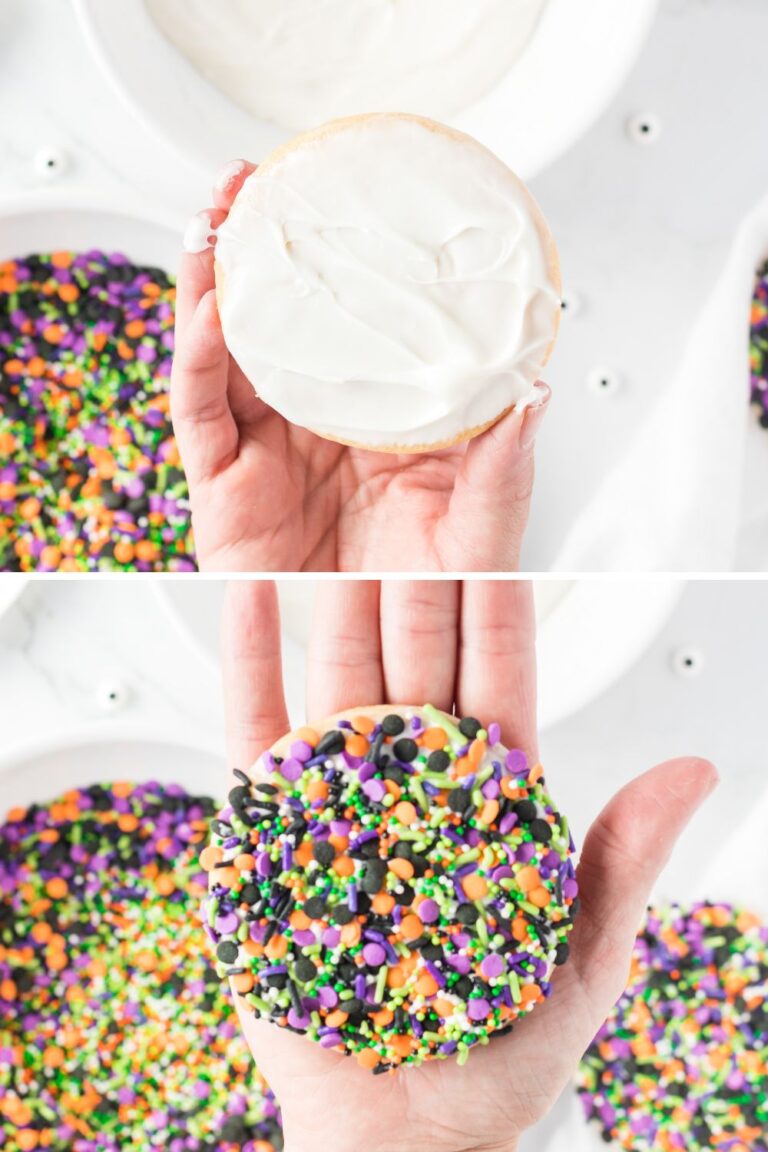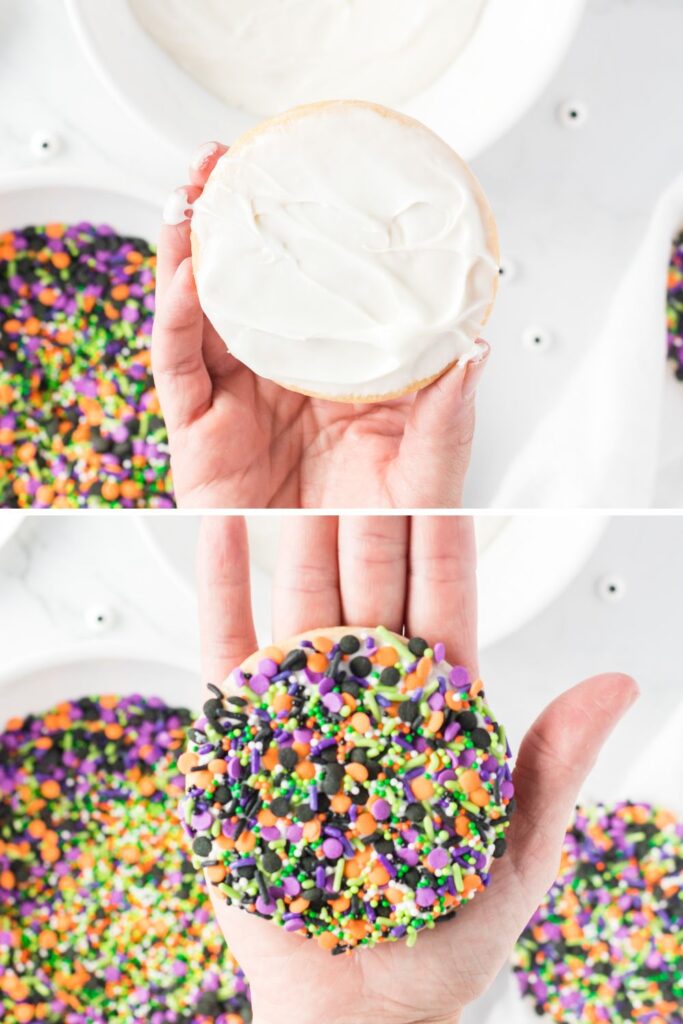 For the circle cookies you will want to melt your white chocolate. Then dip the whole cookie in the chocolate, leaving the back portion of the cookie free of chocolate.
Next dip your white chocolate cookies in sprinkles to cover the cookie. Let the chocolate set up.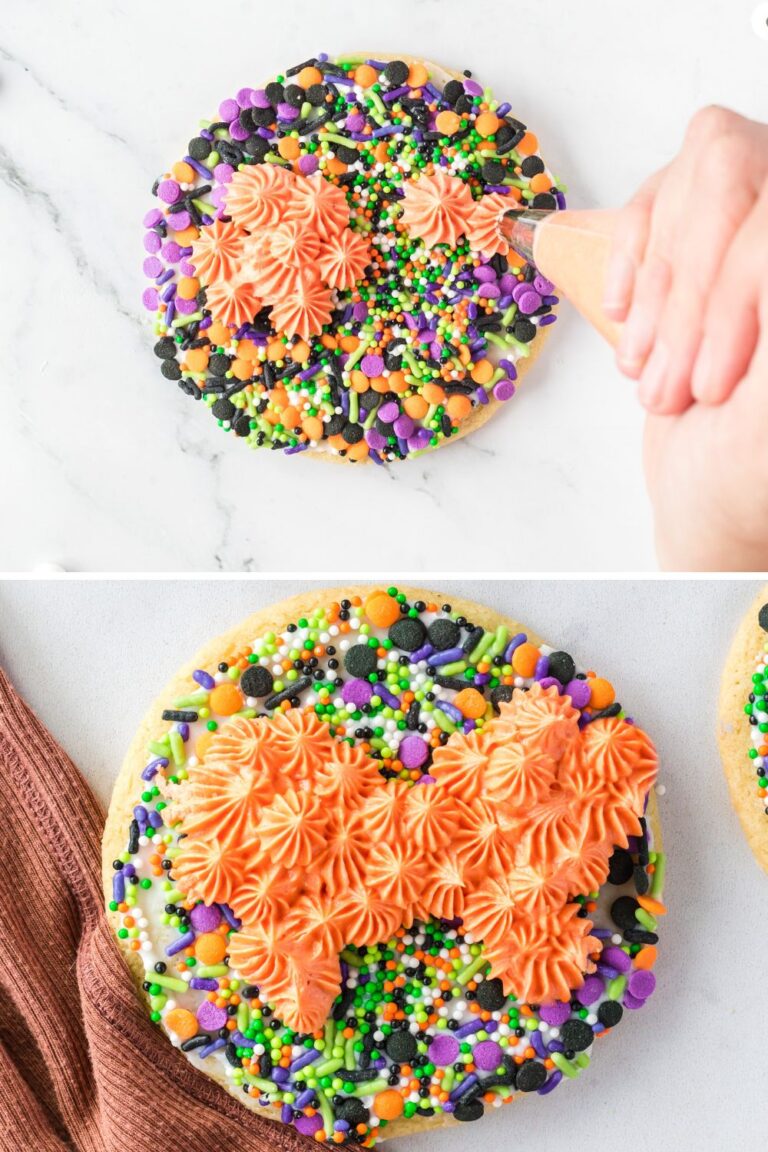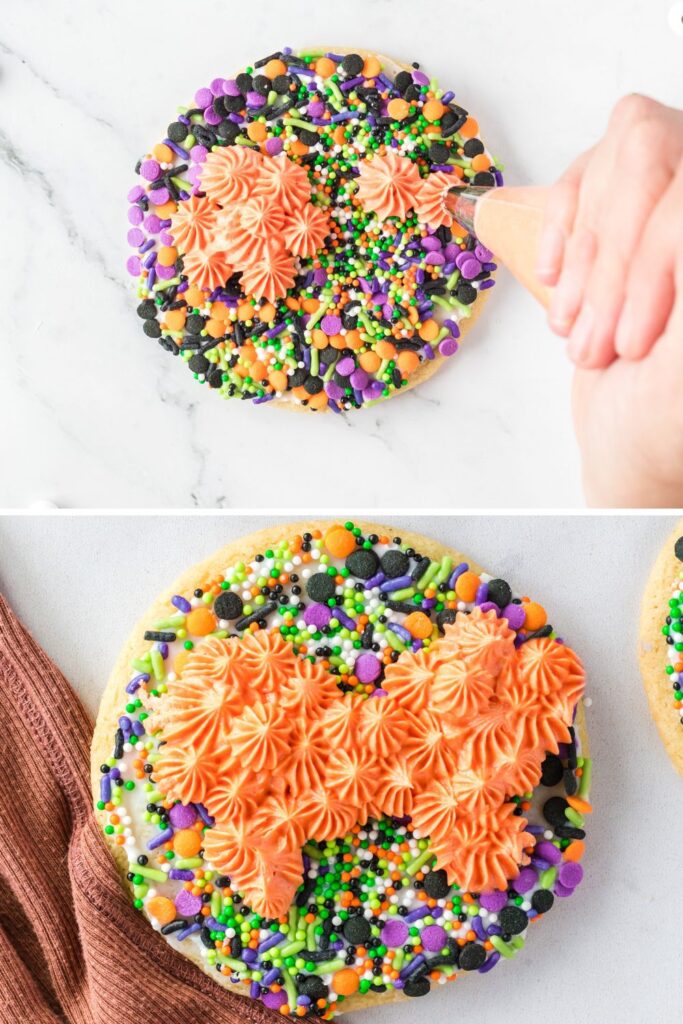 Winifred – She has orange frosting and has the triangle shaped hair that has a space buns look.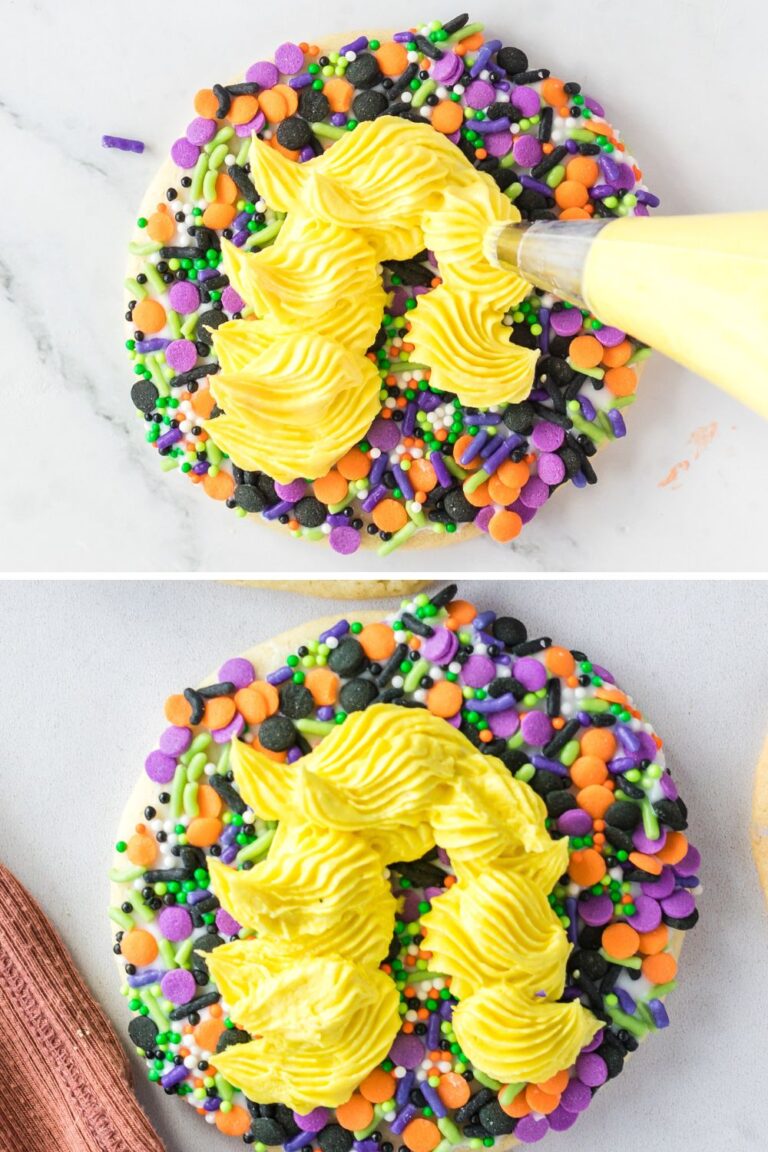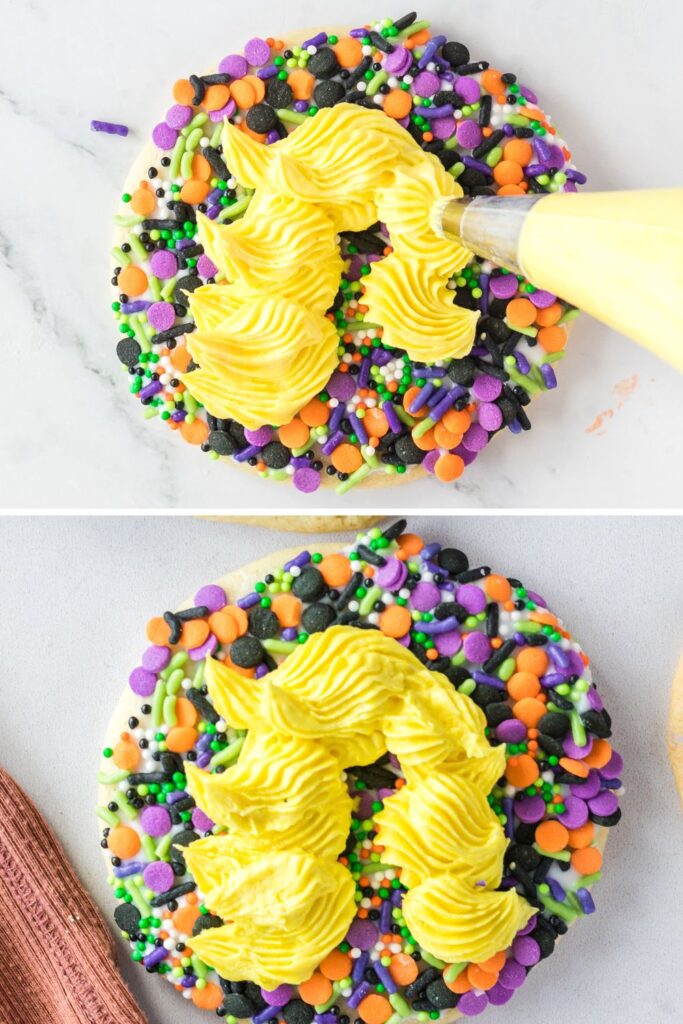 Sarah – You will use the yellow frosting for longer hair on the cookie.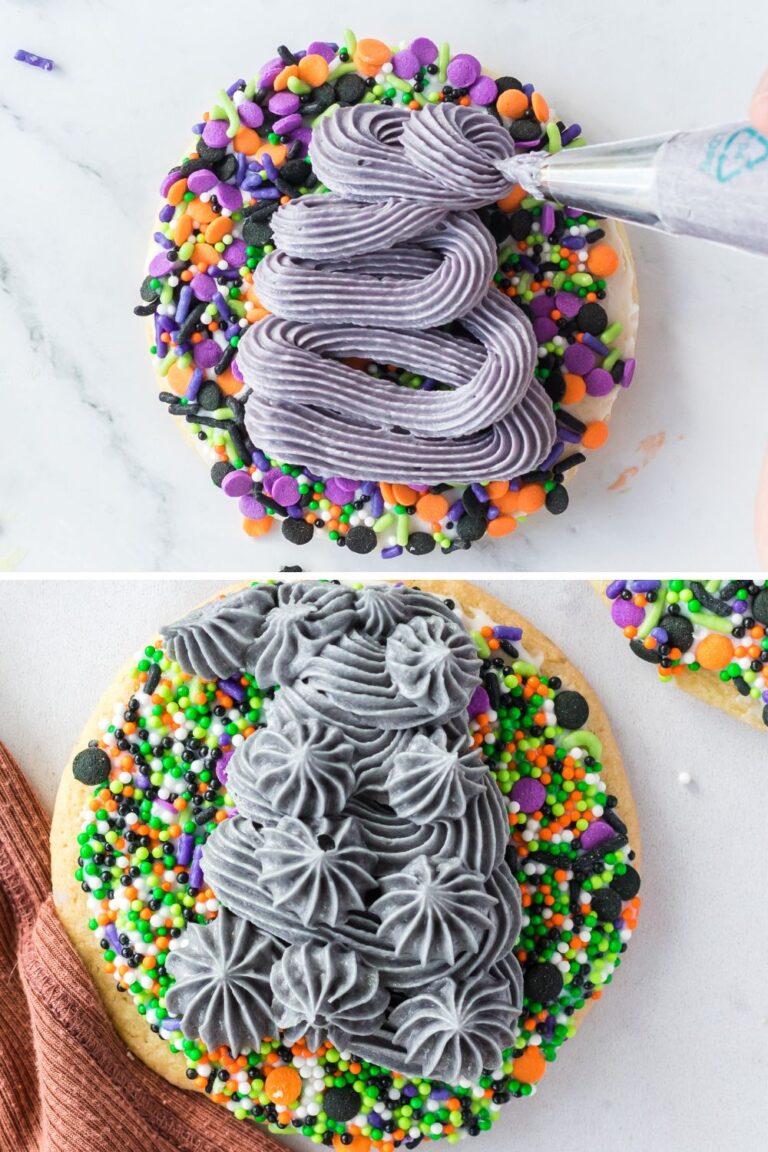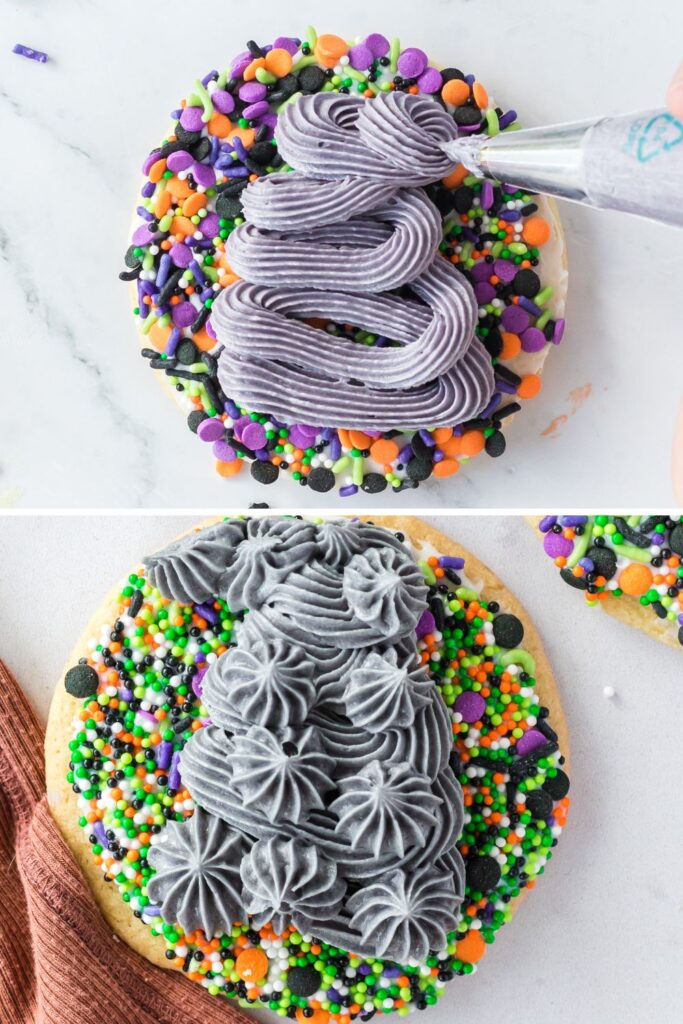 Mary – You will make a tornado shape with a tip that tapers on a side.
For the book cookie you will melt the milk chocolate and then spread over the cookies leaving a small edge.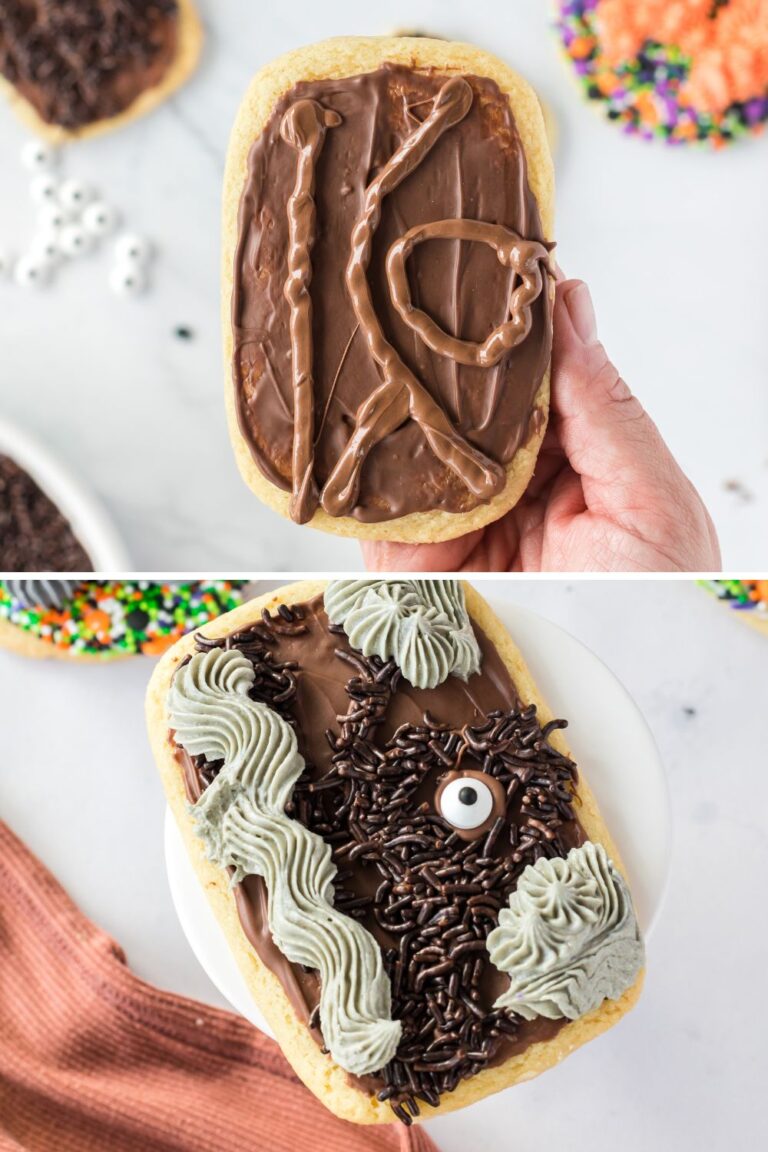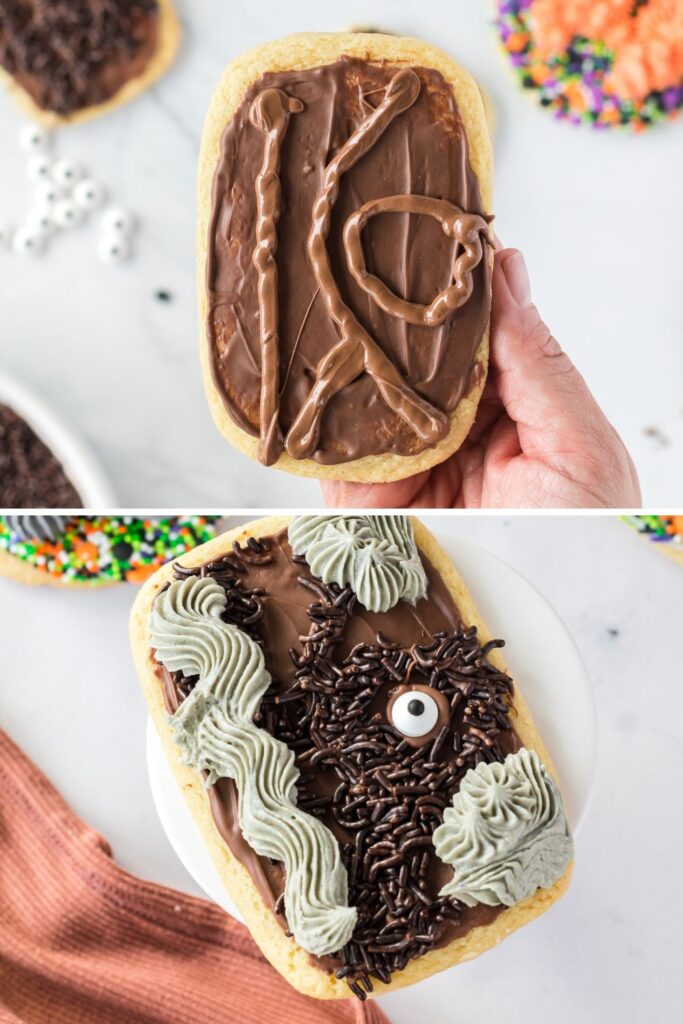 Then I added a circle for the eye with a frosting and stitches line. I dipped the cookie in the chocolate sprinkles.
Then you will use the grey frosting to create the line down the end and on corners. Then in the center add your candy eye.
While these look pretty complex, if you do each step slowly you can master these cookies!
Storing Cookies
Room Temperature or Fridge: You can store the buttercream frosted sugar cookies at room temperature for 2 days. Or place in the fridge for up to 5 days. Make sure to store cookies in an airtight container.
Freeze: You can also freeze any cookies you don't plan to eat. Just place in a single row and freeze 3-4 months.
If you want to stack place a wax paper in between each row to prevent the cookies from sticking together.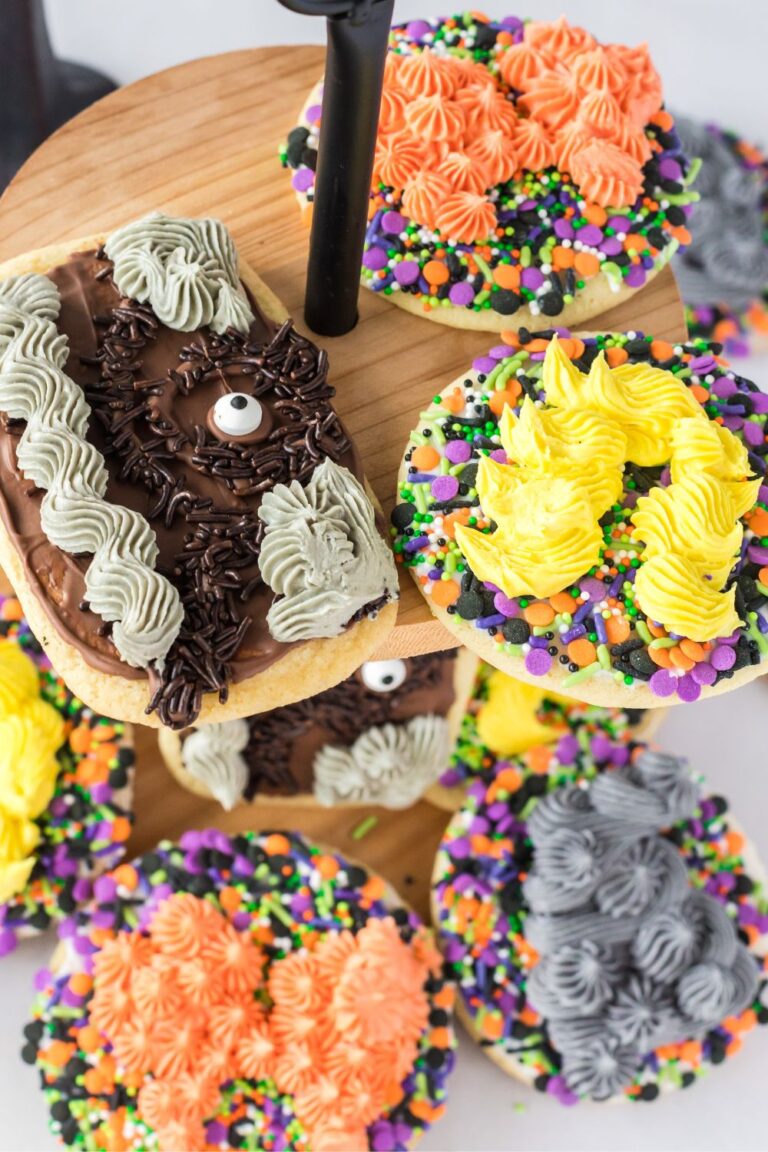 FAQs
Related Recipes
Have you tried the recipe? If so, please leave a star ⭐️⭐️⭐️⭐️⭐️ rating in the recipe card below or drop a comment. Also stay in touch with me through social media by following me on Facebook, Pinterest, or My Facebook Group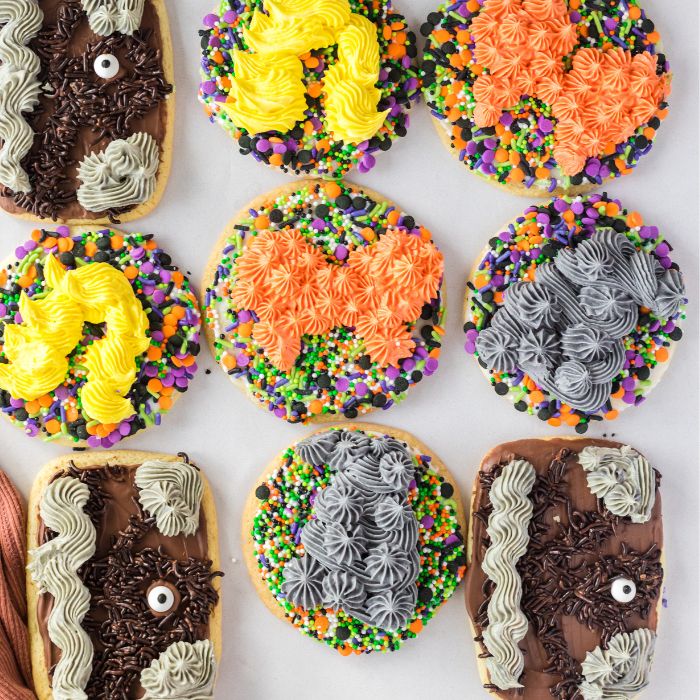 Hocus Pocus Cookies
Servings 10
Hocus Pocus Cookies are a sugar cookie that is decorated with a homemade buttercream. These Hocus Pocus Halloween cookies are a must for your next Halloween party. Whip them up and watch kids and adults get excited to bite into these cookies.
Ingredients
Cookies
16 ounce package store bought sugar cookie dough
½ cup all-purpose flour
Buttercream Frosting
1 cup salted butter two sticks, room temperature
2-3 cups powdered sugar
1 teaspoon vanilla extract
6 drops red food coloring gel
4 drops blue food coloring gel
7 drops yellow food coloring gel
2 drops green food coloring gel
Decorating Ingredients
2 3.8 ounce bottles Halloween sprinkles
10 ounce chocolate sprinkles
7 ounce package white chocolate melting wafers
7 ounce package milk chocolate flavored melting wafers
0.88 ounce package small candy eyeballs
Instructions
Cookie Instructions
Preheat oven to 350*F, or the temperature recommended by your packaged dough.

Prepare two cookie sheets by lining them with parchment paper, a baking mat or non-stick foil. Set aside.

Add ¼ cup flour to sugar cookie dough and knead to incorporate.

Dust your clean surface with flour.

Roll cookie dough into a ball and set it on the dusted surface. Dust the top of the cookie dough with more flour.

Roll out dough to ¼ inch thickness.

Cut out shapes with the cookie cutters. You should try to have twice as many circle cookies as you do rectangle ones. If you run out of room, remove the cookies you have cut out, and reshape the dough into a ball. Roll out the dough again, and continue doing this until you use up all of the dough.

Space the cookies on a lined baking sheet, leaving space for them to spread a little.

Bake according to the package instructions – approximately 10-12 mintues

While the cookies bake and cool, make the buttercream.
Buttercream Frosting
Put the room temperature butter and vanilla extract into a mixer with the whisk attachment. Add powdered sugar 1/2 cup at a time, until the buttercream is sweet enough to your liking. Mix until well-incorporated.

Separate the buttercream into four bowls of equal amounts. You will be making orange, yellow, purple, and gray colors.

In the first bowl, add two drops of red and two drops of yellow to make orange.

In the second bowl, add three drops of yellow coloring.

In the third bowl, add two drops of red and two drops of blue.

In the fourth bowl, add two drops of red, two blue, two green, and two yellow. You are trying to achieve a gray color. For any frosting colors, feel free to add more or less coloring to achieve your desired color.
Decorations Instructions
Melt the white chocolate wafers according to package directions.

Dip the circle cookies into the white chocolate (spread around as needed, you want the entire surface of the cookie covered.

Dip the cookie into the Halloween sprinkles, coating the surface.

For the Winifred cookies, add the orange buttercream to a bag with the star tip. Squeeze out a little at a time to make stars, varying in size. Continue doing this and forming the shape of her hair as shown in the photos.

For the Sarah cookies, add the yellow buttercream to a bag with the star tip. Going very slowly, draw the outline of her hair. Then, go over with a second layer making small strokes.

For the Mary cookies, add the purple buttercream to a bag with the star tip. Make a cyclone shape, tapering off to one side at the top. Go over the top with star dots to fill in the gaps.

Melt the chocolate wafers according to package directions.

Spread the chocolate onto the rectangle cookies and let the chocolate cool and harden.

Add the rest of the melted chocolate into a piping bag. Cut the tip off of the bag to make a tiny to small opening. Draw the stitching onto the spell book cookies.

Dip the cookies into the chocolate sprinkles.

Add a drop of chocolate for the eye and add the eyeball candy.

Add the gray frosting to a piping bag with a star tip. Pipe out the spine and the corner bindings to the spell book cookies.

Enjoy!
Notes
Cookie Cutters – I used a square and circle cookie cutter for these, but you can use different shapes if you want.  Sugar Cookies – You can use any other style of cookie or even use homemade sugar cookie dough if you need. 
Equipment
Disposable piping bags

Star piping tip (I used Wilton #32)

Circle cookie cutter

Rectangle cookie cutter

Rolling Pin
Nutrition
Serving: 1gCalories: 400kcalCarbohydrates: 55gProtein: 1gFat: 20gSaturated Fat: 13gPolyunsaturated Fat: 1gMonounsaturated Fat: 5gTrans Fat: 1gCholesterol: 49mgSodium: 147mgPotassium: 13mgFiber: 0.2gSugar: 49gVitamin A: 567IUCalcium: 7mgIron: 0.3mg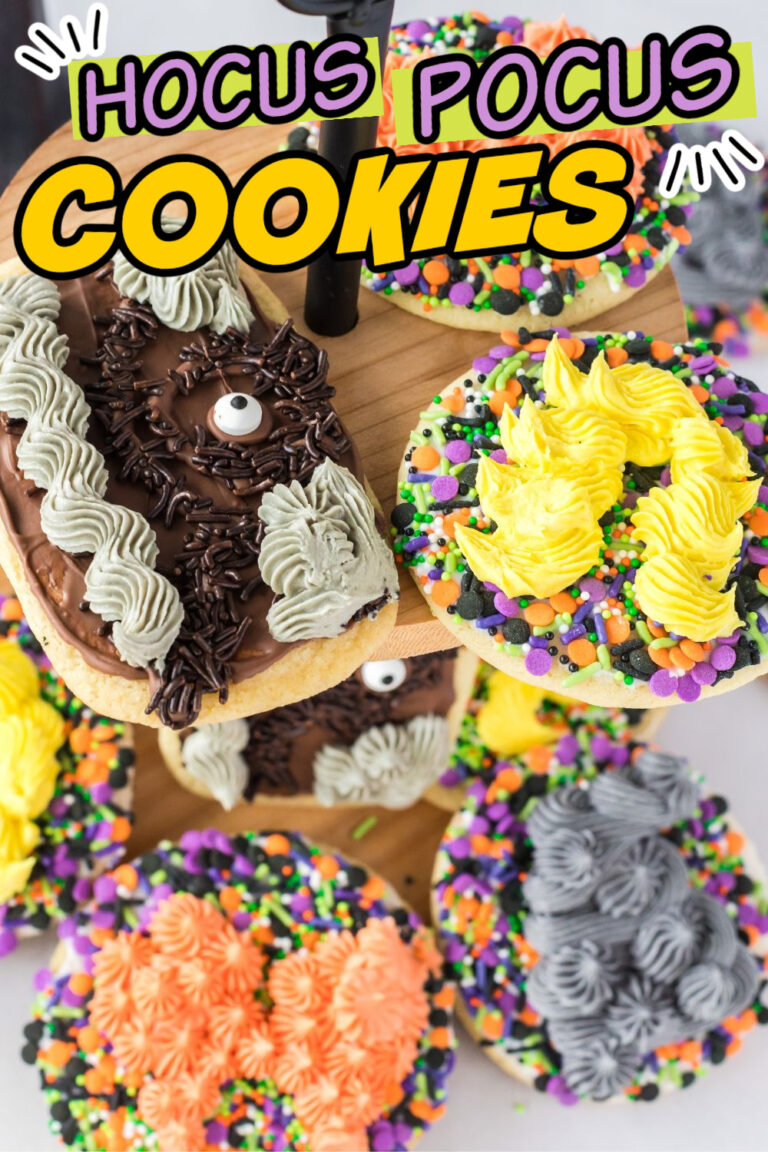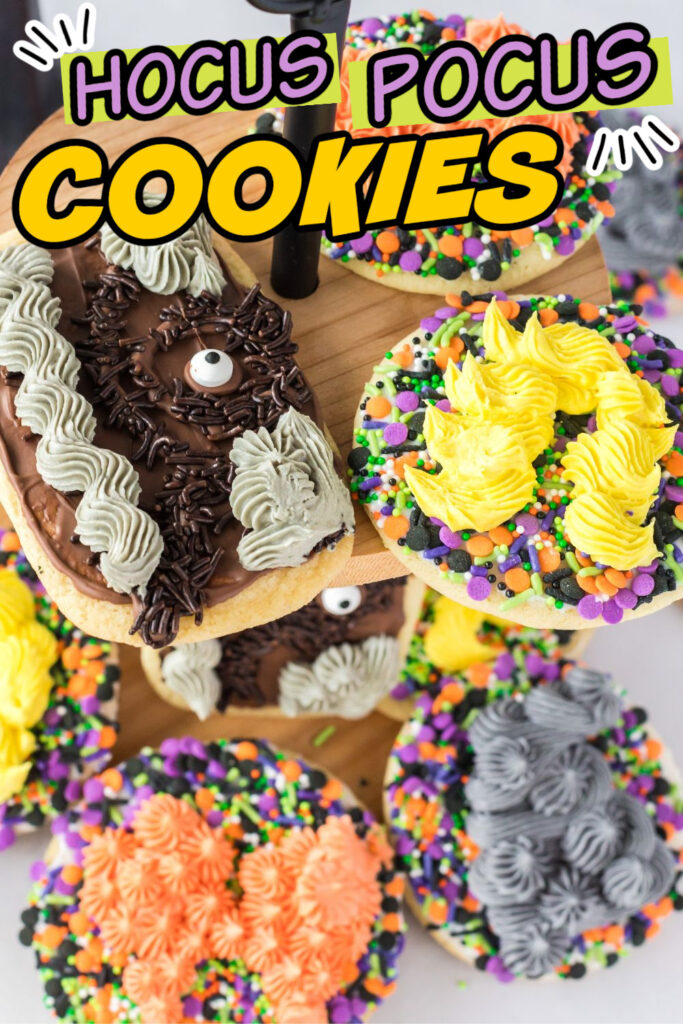 Reader Interactions