Tiramisu is a classic authentic Italian dessert. This creamy and easy tiramisu is so simple to make at home and offers a big flavor. Mascarpone cheese, ladyfingers, coffee, rum, all created into a layered tiramisu dessert.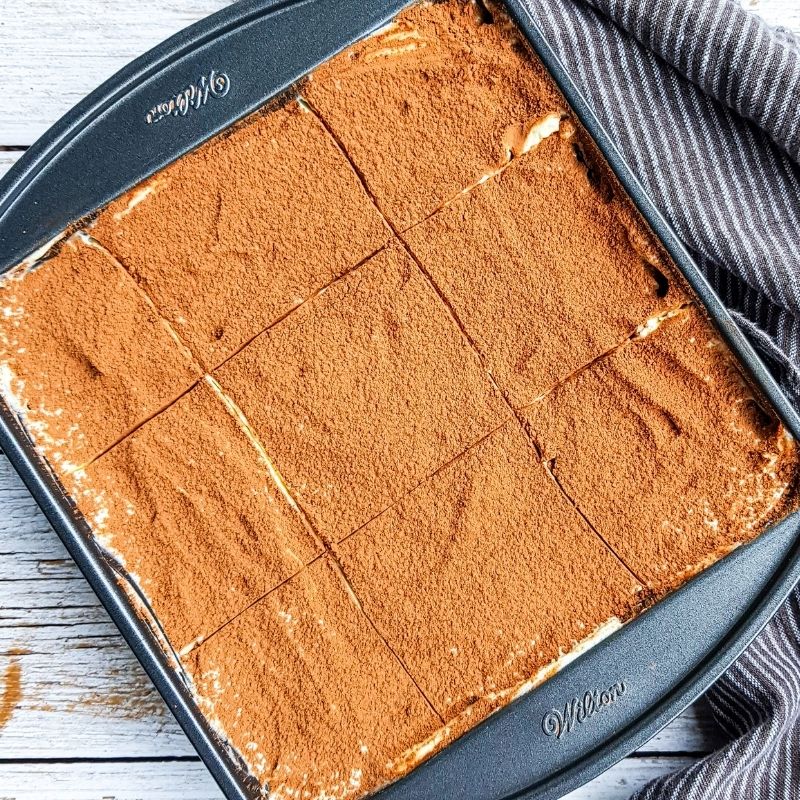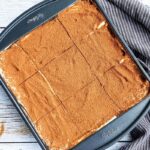 Ready to learn how to make tiramisu? This delicious dessert may look like it's hard but it's really not! I promise! This tiramisu lady fingers dessert is an easy tiramisu recipe.
Homemade tiramisu is one of my FAVORITE desserts. There's really nothing quite like it out there and I think that's probably why I crave it all the time.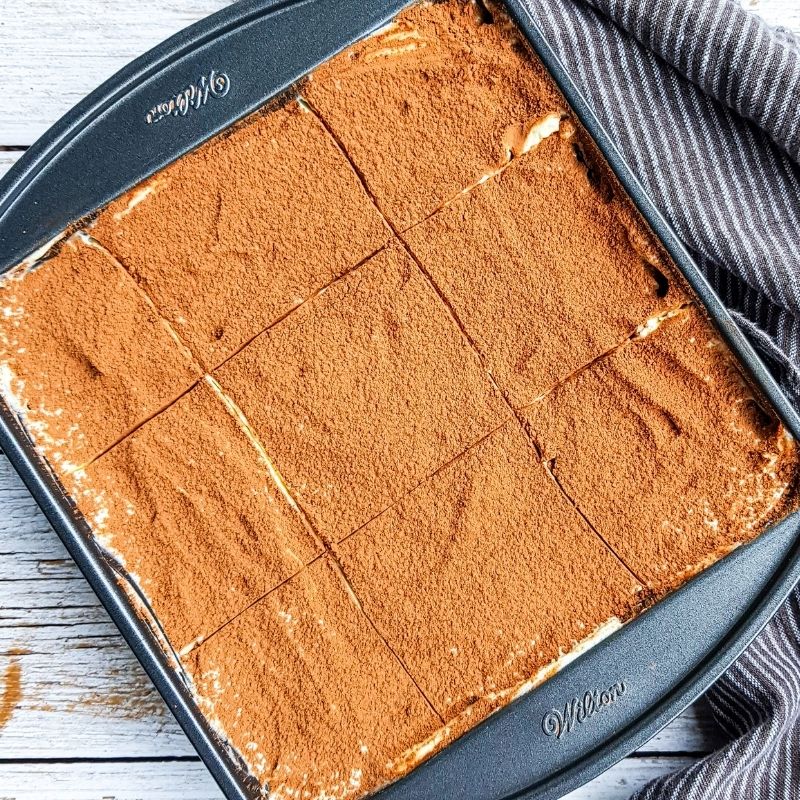 Classic tiramisu offers a creamy texture paired with the perfect sweetness makes this one dessert that I have no problem saying "yes" to a second helping of.
If you're ever had tiramisu ladyfingers or ordered tiramisu at a restaurant then you know exactly that flavor and taste that I'm talking about. It's literally one that you just can't forget.
Now that I have this awesome recipe, I'm resting so much easier knowing that I can easily make it anytime that I want.
This homemade tiramisu is…
Perfectly sweet
Fast to make and addictive to eat
Created using the best ingredients
Large enough to share with your family and friends
What is Tiramisu Made Of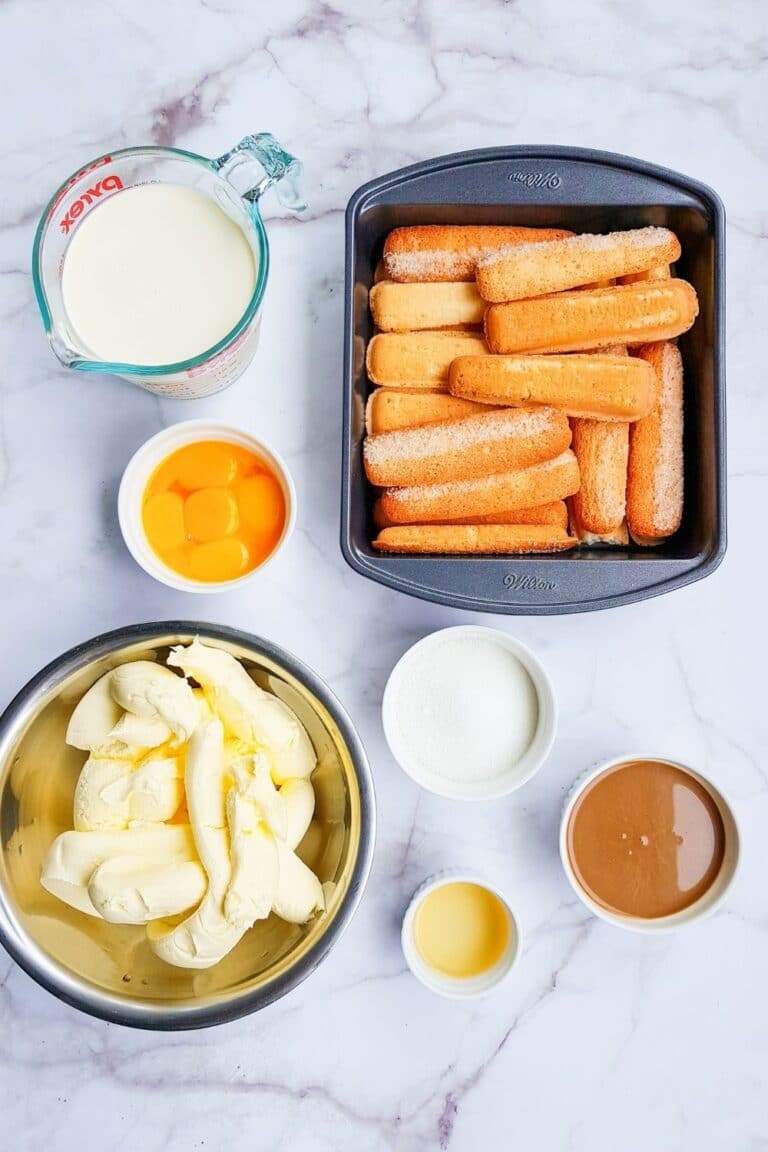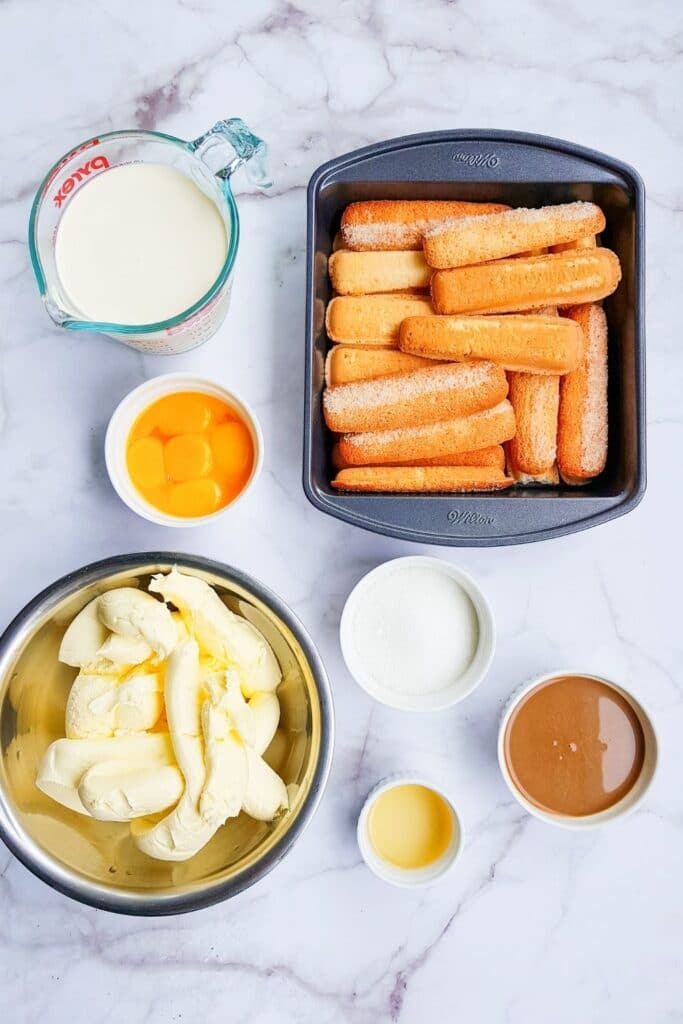 ladyfingers
coffee
eggs
rum
sugar
mascarpone
heavy cream
cocoa powder
How to Make Tiramisu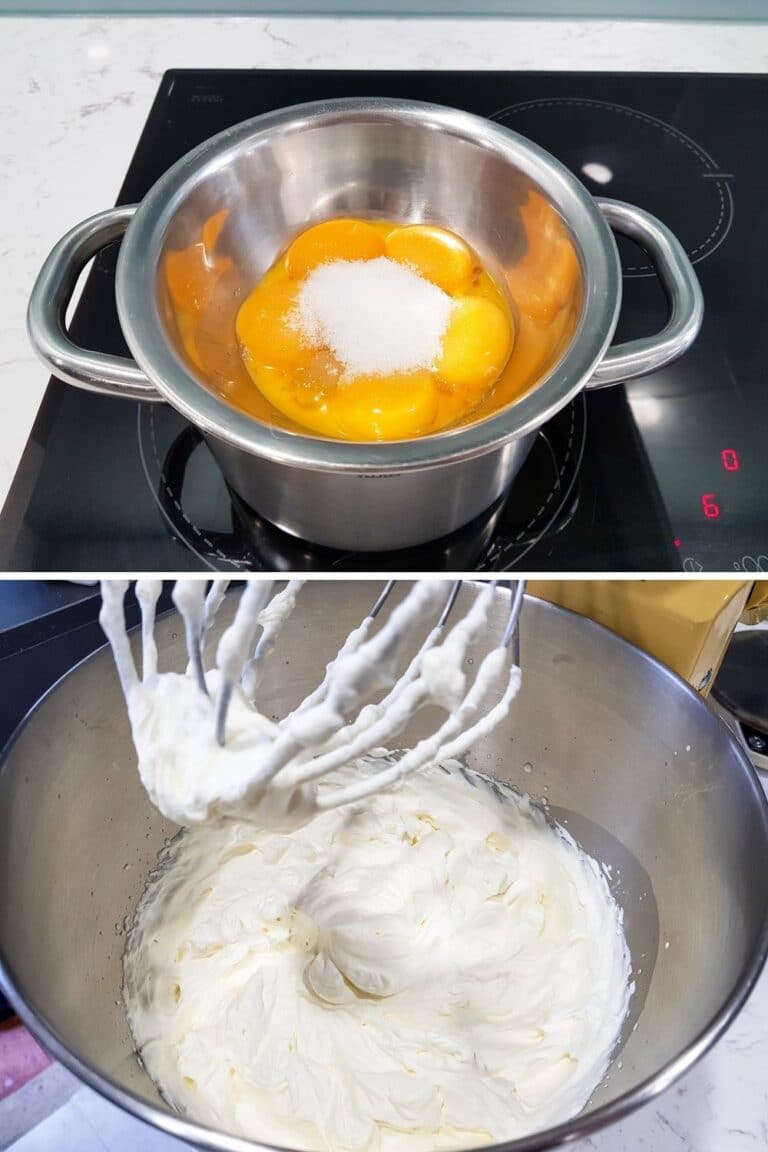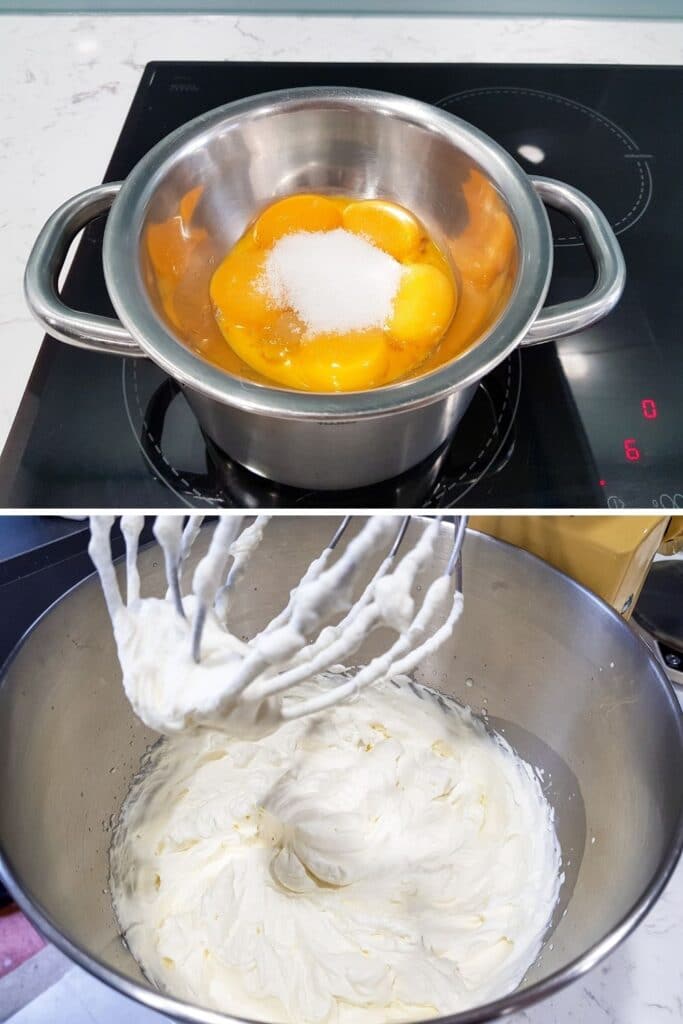 Step 1: Cook the egg yolks and sugar in the double broiler. Make sure to stir often or you will burn the mixture.
Step 2: Beat together the egg whites and sugar until foamy. This will take a few minutes for the egg whites and sugar to stiffen. I find using a higher speed helps to get your egg whites stiffer.
Step 3: Add the heavy cream to the mixing bowl and beat on high until stiff peaks are formed.
Step 4: Fold the whipping cream and eggs into the mascarpone. Use a spatula to incorporate the mixture till it is combined.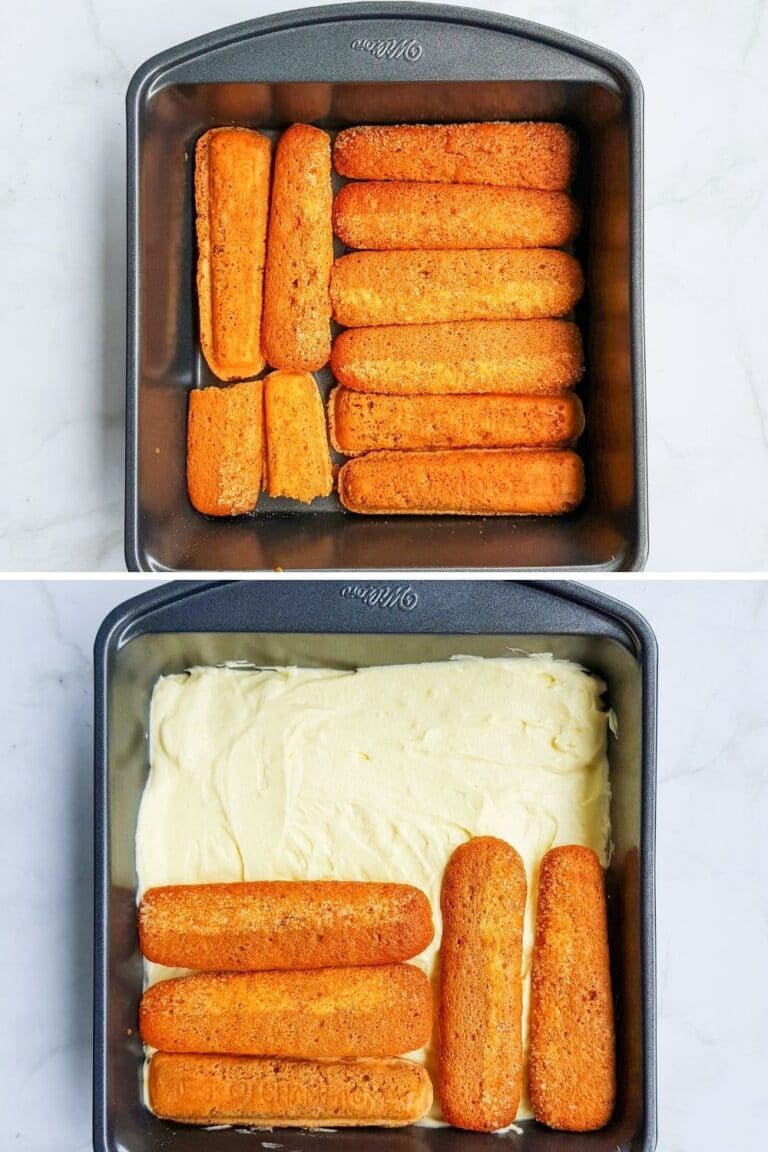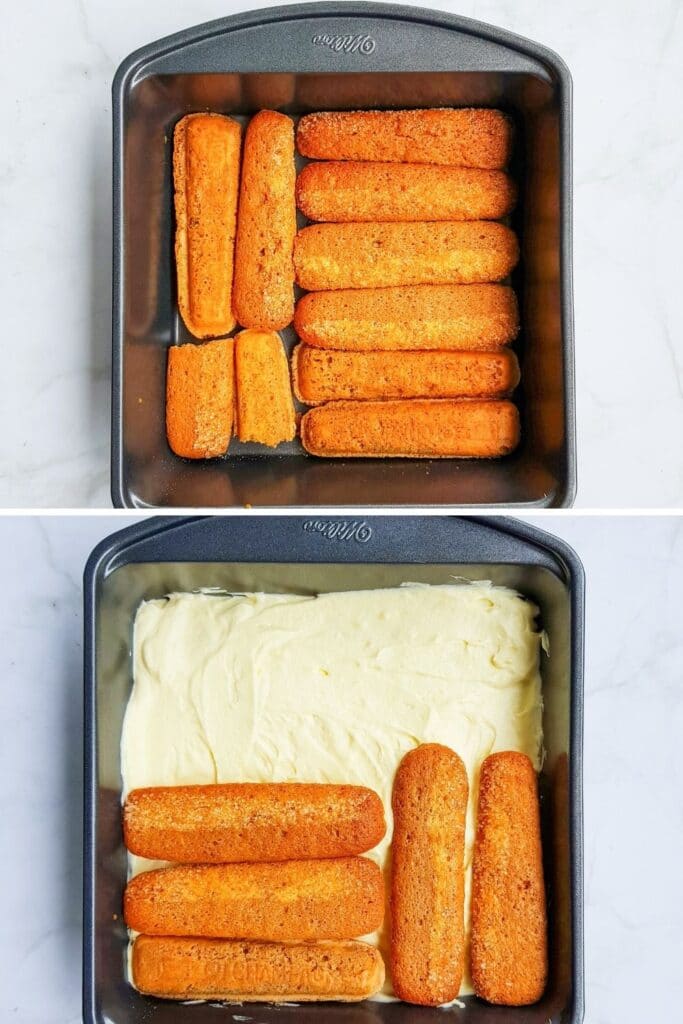 Step 5: Next, you will begin to arange the ladyfingers on top of the mascarpone. Then repeat with more layers. It is okay to have gaps, the cheese mixture will soak into the wedges.
Step 6: Chill the tiramisu for 6 hours in the fridge. Make sure to have your pan covered tightly in the fridge.
Step 7: Before serving the tiramisu mascarpone dessert, add cocoa powder on top.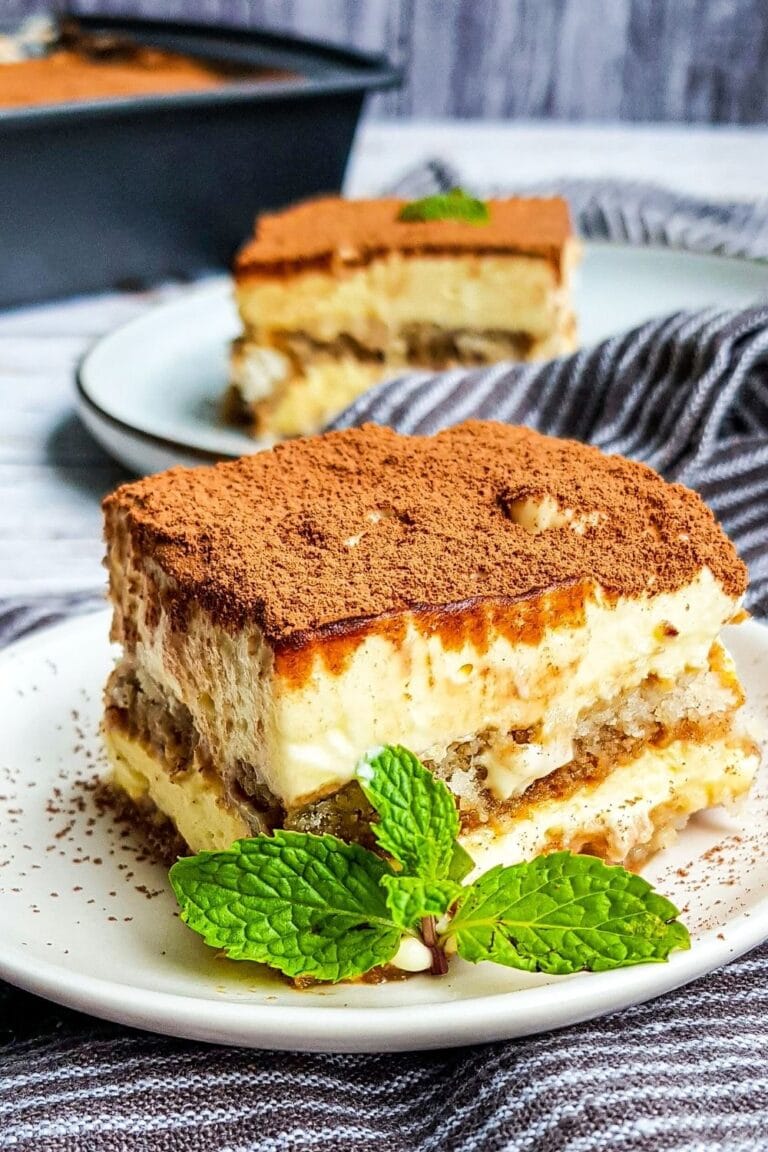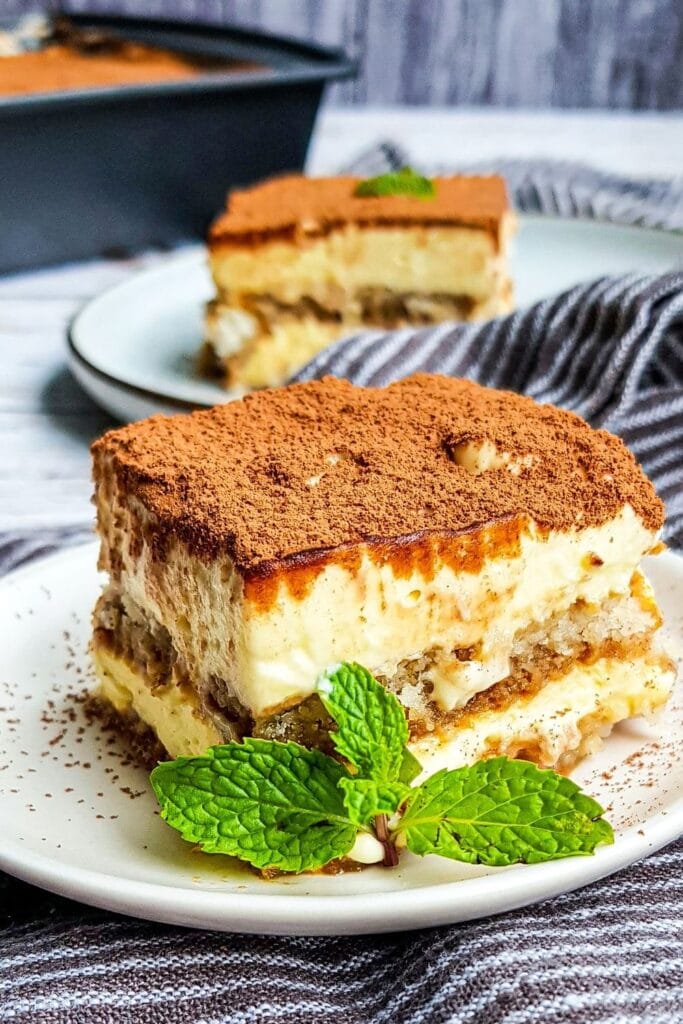 Expert Tips
Make certain that you're whisking the ingredients and mixing them well. The air combined with the ingredients is what gives that fluffy and creamy texture.
Layer the ladyfingers pretty close together so that none of that delicious mascarpone falls through the cracks. (of course, it's going to, but just do your best!)
Chilling for the full 6 hours is key as it really enhances the flavor and taste.
Use these expert tips as a way to perfect this homemade tiramisu recipe! Once you make this dessert once, you're going to be wanting to make it over and over again!
Grab my Free Kitchen Conversions Printable! This shows you how many cups are in a quart, pint, etc. A great printable to keep handy for when you need to convert a recipe.
Variations to Recipe
Since this is such a standard tiramisu recipe, there isn't a ton of variance to do. But just in case you're open to changing up the flavor a bit, here are some fun ideas you can try!
Leave off the cocoa powder from the top and try something a bit sweeter instead. Some people don't care for that bitter chocolate flavor and this is where you can use chocolate shavings or something along those lines to add a bit more sweetness.
Make homemade ladyfingers if you would like compared to buying.
Omit the coffee if you're worried about the caffeine portion of this recipe. It will change up the flavor but it's still going to taste amazing!
Feel free to leave out the rum as well if you're not a fan of adding alcohol to your treats.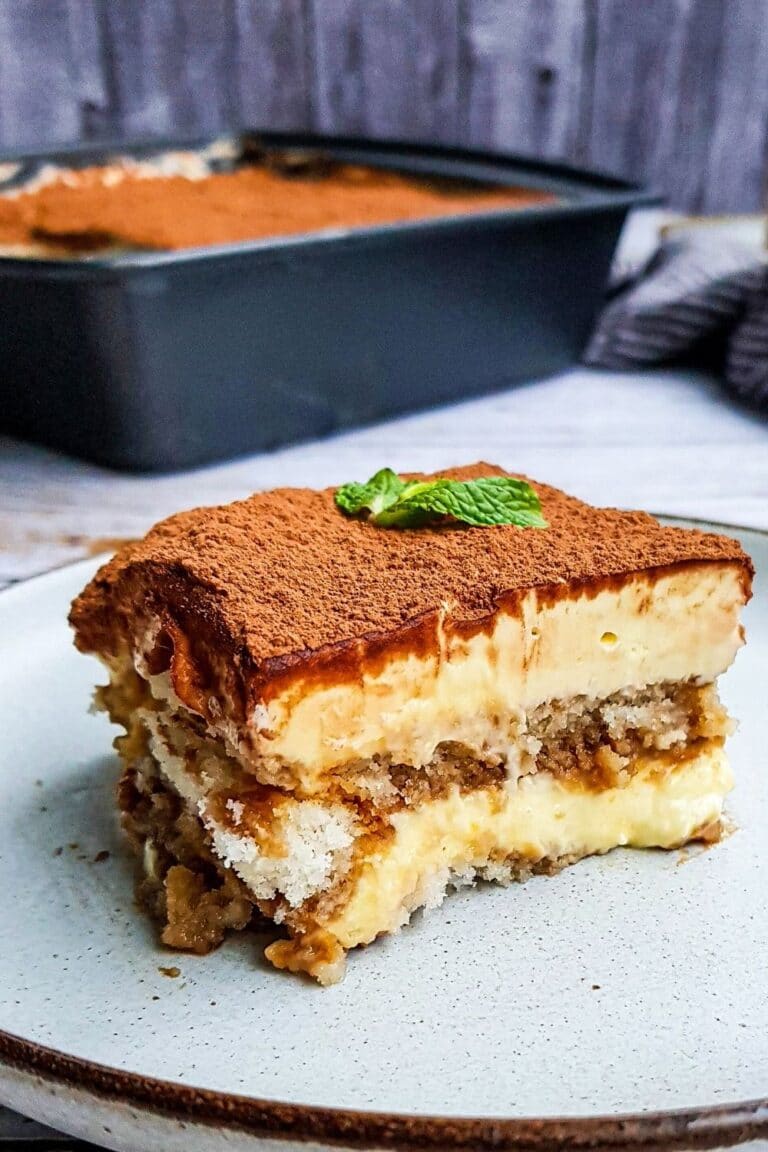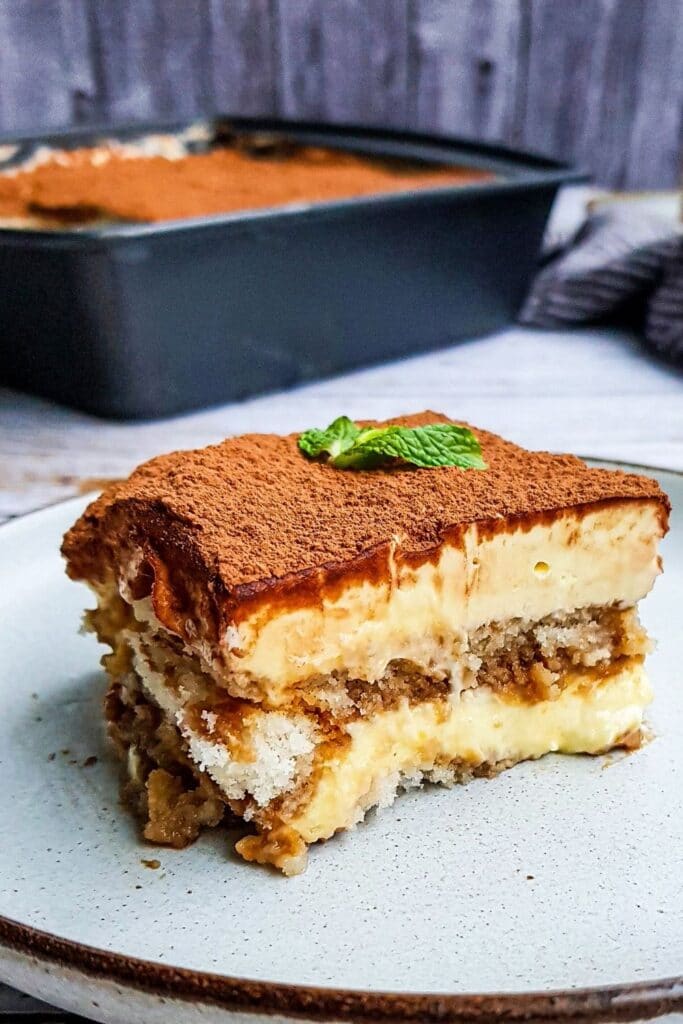 Recipe FAQs
How to pronounce tiramisu?
tee·ruh·mee·soo
Does tiramisu have alcohol in it?
This recipe does! It has a little bit of rum that adds such a great flavoring and taste!

Some other tiramisu recipes actually put a bit of wine in their dessert. 
What does tiramisu taste like?
Due to the coffee ingredient and cocoa powder, it's going to have a bit of an expresso flavor and taste.

Paired up with the rest of the ingredients, it's a very mild and sweet flavor. 
Is Tiramisu considered cake?
Not really. It's actually more of like a pudding or custard texture but there are some people that do call it a cake.

You'll actually find many recipes that do make it with a cake and while I'm certain it's delicious, I prefer this style better. 
Are ladyfingers soft or crunchy?
When you first add them to this dish, they're going to have a crunchy texture.

However, after a short amount of time, they're going to become soft because of the mascarpone sitting on top. 
Do you keep tiramisu in the fridge?
Yes. Due to the ingredients, this does need to be stored and kept cool in the fridge. And if you find that you can't eat it all in a few short days timeframe, go ahead and cover and pop it in the freezer.

It should stay good for up to 3 months that way! The easiest way to thaw a frozen tiramisu dessert is to take it out of the freezer the night before and let it thaw that way.

This will allow it to be completely thawed out when you're ready to eat it!
Is tiramisu gluten free?
You can buy gluten free ladyfingers to use which will then make this tiramisu cake gluten free.
Can you freeze tiramisu?
Make sure to freeze your tiramisu well and then freeze for up to three months in the freezer. Then place in the fridge to thaw before slicing and serving.
Is tiramisu Italian?
Authentic tiramisu is an Italian dessert, and you will find there are variances to what recipes call for. Ladyfingers and mascarpone mixture help this dessert have that stand out flavor.
How long does tiramisu last?
This delicious dessert can store for up to 4 days in the fridge. Or opt to freeze for up to 3 months.
Where to buy mascarpone cheese for tiramisu?
Mascarpone can be found in the refrigerator section by cream cheese and other dairy ingredients. Some grocery stores don't always have it, so hopefully, your mass retailer will.
Craving More Desserts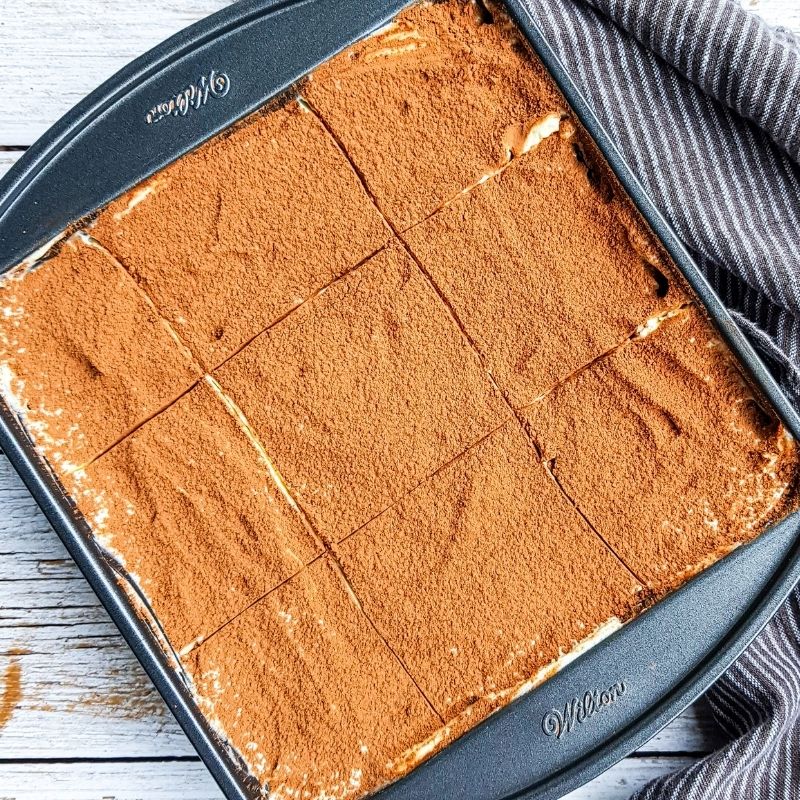 Tiramisu
Servings 8 x8 pan
Tiramisu is a classic authentic Italian dessert. This creamy and easy tiramisu is so simple to make at home and offers a big flavor. Mascarpone cheese, ladyfingers, coffee, rum, all created into a layered tiramisu dessert.
Ingredients
20 ladyfinger cookies
6 medium eggs separated
2-3 cups coffee room temperature
1 tablespoon rum
1 1/2 pounds mascarpone cheese
1/2 cup granulated sugar
1 1/2 cup heavy cream
1 tablespoon cocoa powder
Instructions
Start by adding your egg yolks and 1/4 cup of granulated sugar into a double boiler. You want to turn the heat to medium heat. Use a whisk to whisk the eggs till they are pale in color and the sugar is fully dissolved. This takes 8-10 minutes.

Now you will turn off the heat from the egg mixture and allow it to cool.

Put egg whites into a stand mixer bowl, and use the whisk attachment. Whisk on medium-high heat until the eggs begin to become foamy. Then add in the remaining sugar, and beat until stiff peaks form. This takes about 5 minutes.

Move the egg white mixture to the side. Clean the whisk attachment and with a clean bowl add your heavy cream in and mix on high speed for another 5 minutes. You want it to form into whipped cream.

With a large spatula, fold the egg yolks with the mascarpone cheese.

Then you will fold your whipping cream and egg whites in the mascarpone cheese mixture till it is combined. This takes a minute.

In a deep dish stir your coffee and rum together, and mix until combined. Dip your lady fingers quickly in the coffee to just get it slightly wet.

Arrange the dipped lady finger cookies in a single layer on the baking dish. Then spread a layer of mascarpone cheese on top, and then do a repeat of lady fingers and mascarpone mixture. Do a total of 3 layers.

Put the tiramisu in the refrigerator for 6 hours to set up.

Right before serving, dust cocoa powder on top of the tiramisu and slice and serve.
Notes
You can leave out the rum if you would like. Reach for homemade ladyfingers if you would like instead o buying them. You can double the recipe if you want and use a 9×13 size pan instead of 9×9.
Nutrition
Serving: 1gCalories: 372kcalCarbohydrates: 18gProtein: 6gFat: 31gSaturated Fat: 18gPolyunsaturated Fat: 10gTrans Fat: 1gCholesterol: 175mgSodium: 242mgSugar: 9g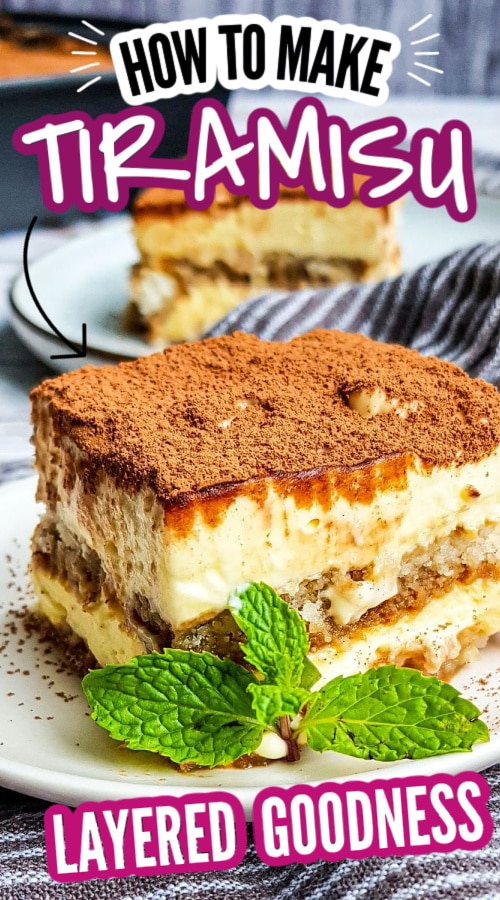 Reader Interactions