Peppermint hot chocolate bombs are a festive drink for Christmas. Serve these up for movie night, or consider making to create an edible Christmas gift. Dark chocolate hot chocolate bomb filled with hot chocolate and peppermint flavor.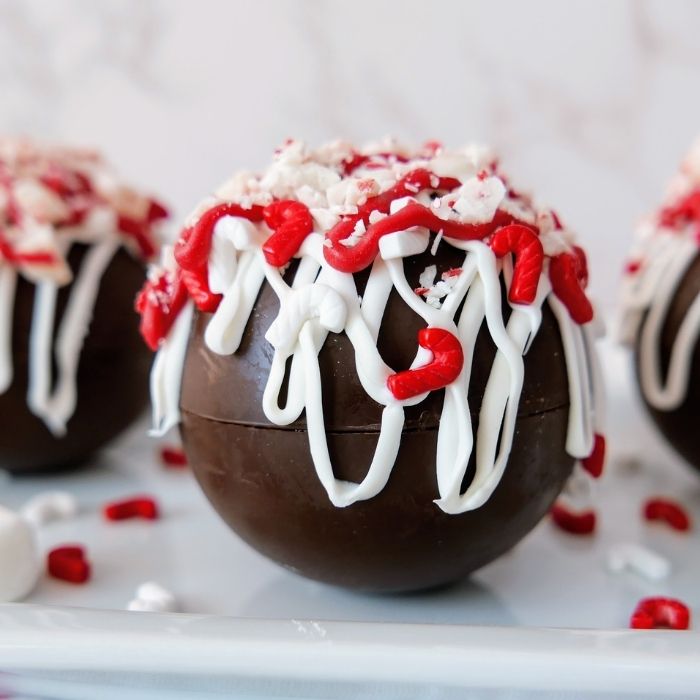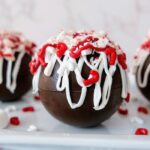 Check out these festive and tasty peppermint hot chocolate bombs! These Christmas hot chocolate bombs are easy to make and make a great edible gift to give loved ones for the holidays.
These hot chocolate drink bombs are full of minty flavor, smooth chocolate and the perfect amount of hot chocolate! Pair with my meringue cookies for a sweet treat.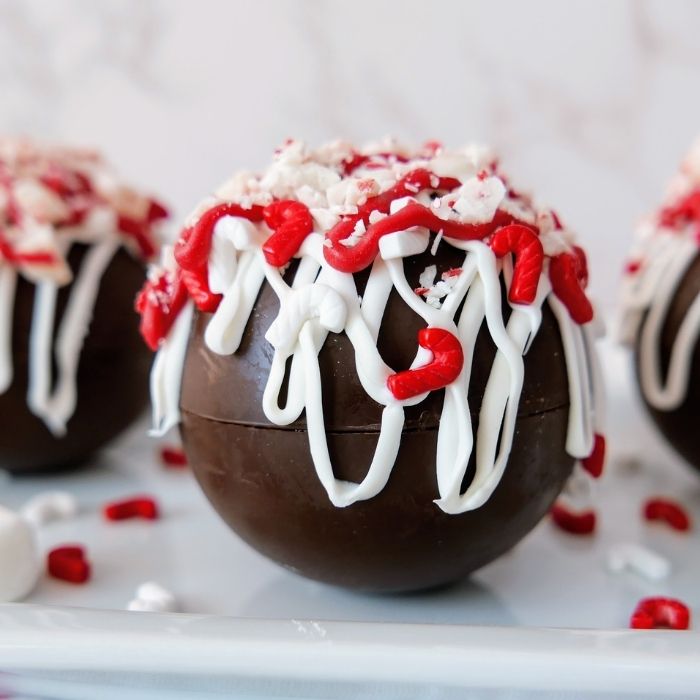 This Peppermint Hot Chocolate Bombs Recipe Is…
Festive
A perfect Christmas good idea
Delicious
Easy to make
A feezer friendly recipe
Creative
Full of minty flavor
More Hot Chocolate Bomb Recipes: Pumpkin Spice Hot Chocolate Bombs, Boozy Hot Chocolate Bombs , and Unicorn Hot Chocolate Bombs.
You can watch the video on how to make this Christmas hot chocolate bomb diy turn into the perfect Christmas drink. Peppermint hot cocoa never tasted so good.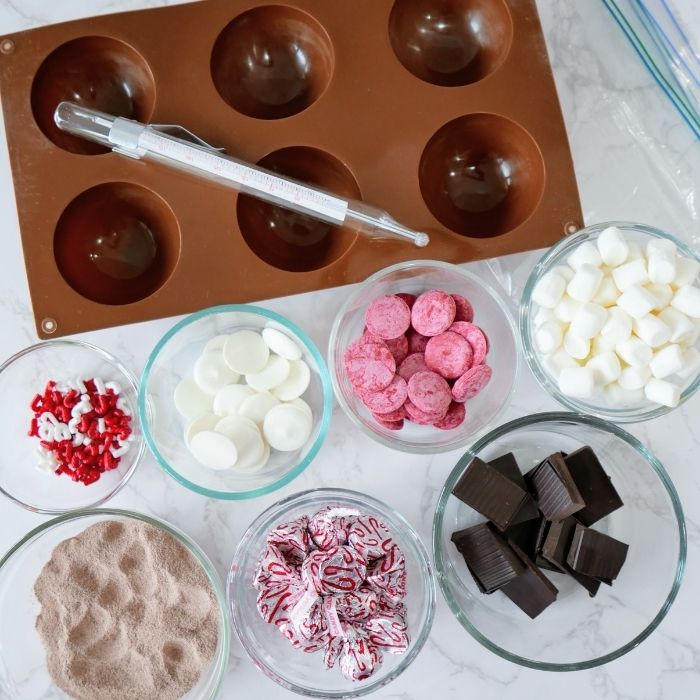 Ingredients You Need
Dark Chocolate Bar – I used a 72% dark chocolate bar. I then chopped up for melting. You can use any just make sure it contains cocoa powder.
Candy Cane Hershey Kisses – This is a part of the smooth mint flavor. If you can't find these buy some peppermint bark. Ghirardelli has some great bark that works well too.
Hot Chocolate Powder – Any brand works. With the dark chocolate shell just don't go too rich of powder or it will overload your drink.
Marshmallows – You can use dehydrated marshmallows or mini marshmallows. Both will work great.
Candy Melts – I used candy melts for drizzling over the top of the balls to add some color. You can use white chocolate chips if you want instead.
Sprinkles– Sprinkles are optional. Just be aware that any small sprinkle if it doesn't dissolve can be a choking hazard for little kids. Make sure to buy ones that can can melt away, don't use, or yell older kids and adults to be aware.
Tools Needed
Silicone Sphere Mold – This allows you to easily remove the chocolate without breaking the mold.
Candy Thermometer – You want to have your chocolate reach no higher than 90 degrees Fahrenheit. Otherwise it can affect tempering and cause a chalky look, instead of glossy.
Pasty brush – A pastry brush is great for applying the chocolate to the mold. You need an even coating and using a brush helps move the chocolate to the right areas.
Piping Bags – Use piping bags for drizzling on chocolate at the end. Or reach for a Ziploc bag you cut the tip off of.
Microwave Safe Plate – The plate will be used to melt the chocolate on the edge of the hot chocolate bomb. It will act as glue when you press it onto the other side of sphere.
How To Make
Full directions on how to make peppermint hot chocolate bombs are below in the printable recipe card.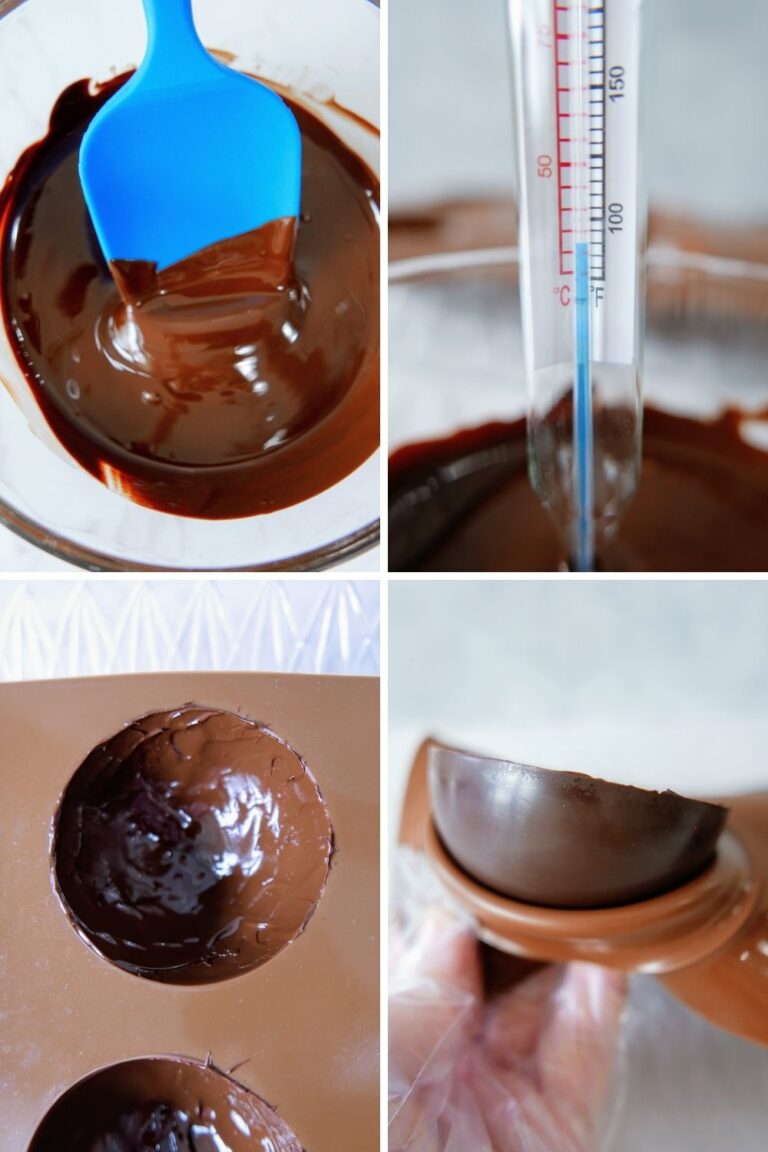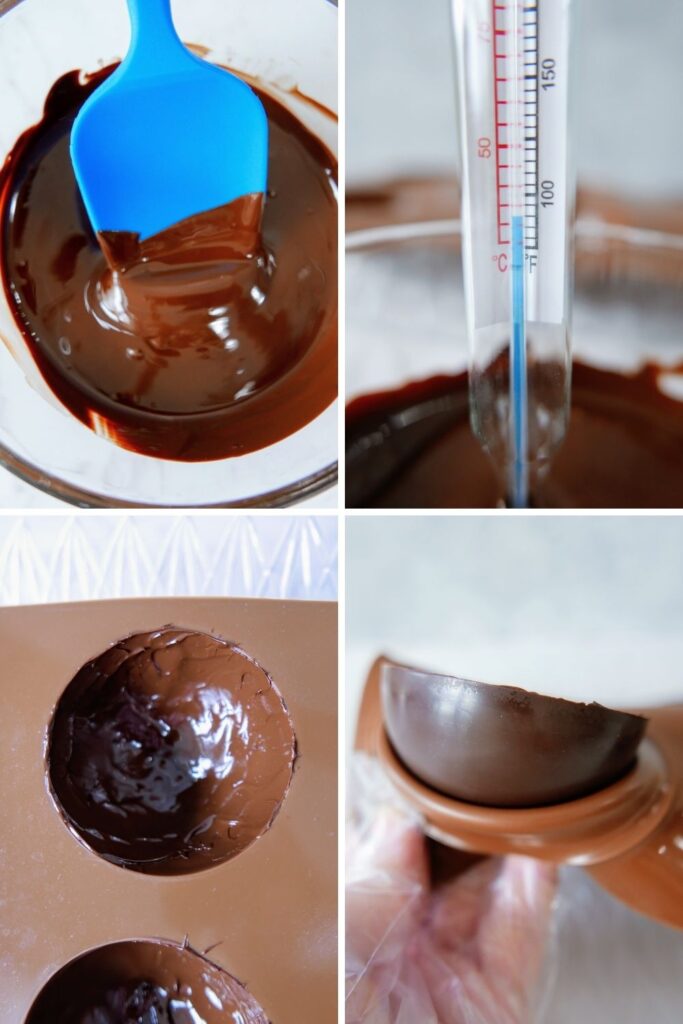 Step One: Start by melting your chocolate as directed. Use a candy thermometer to ensure the chocolate does not go over 90 degrees Fahrenheit.
Step Two: Add some chocolate into the sphere silicone molds and use a brush to coat all of the mold. Make sure your chocolate doesn't pool up at the bottom.
Step Three: Refrigerate your silicone mold and after a couple of minutes coat with another thin layer of chocolate. Then refrigerate once more to set up.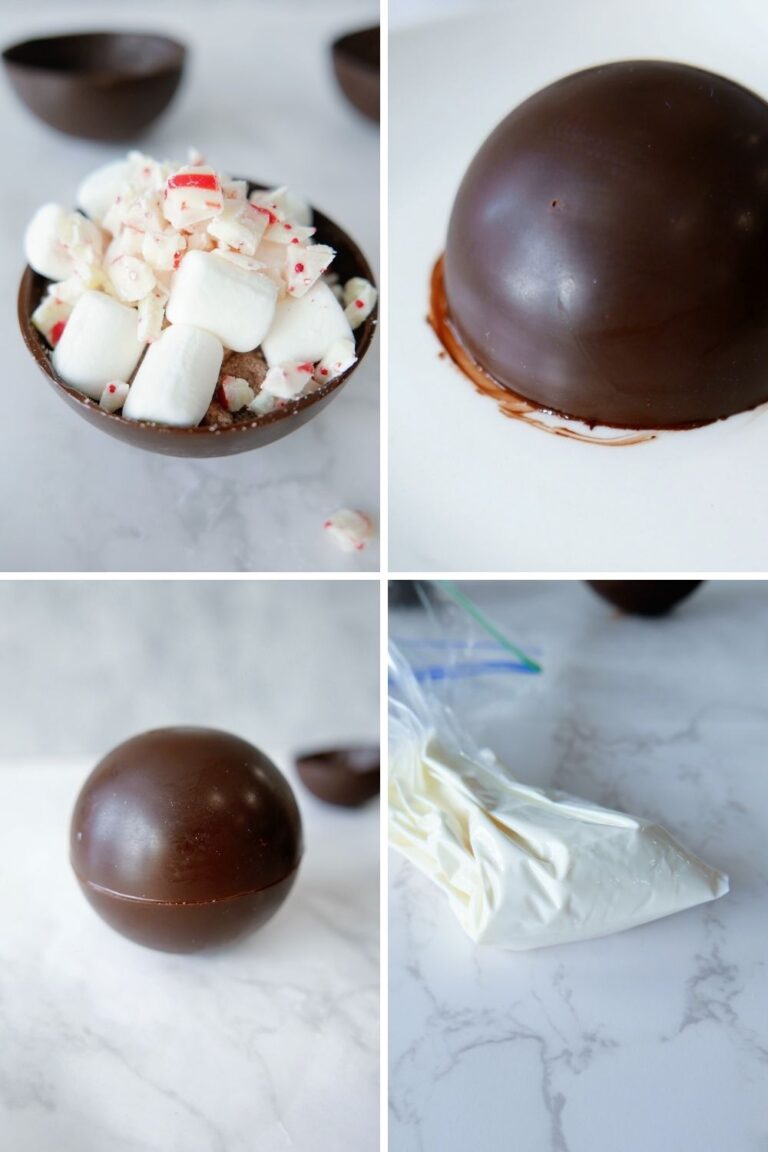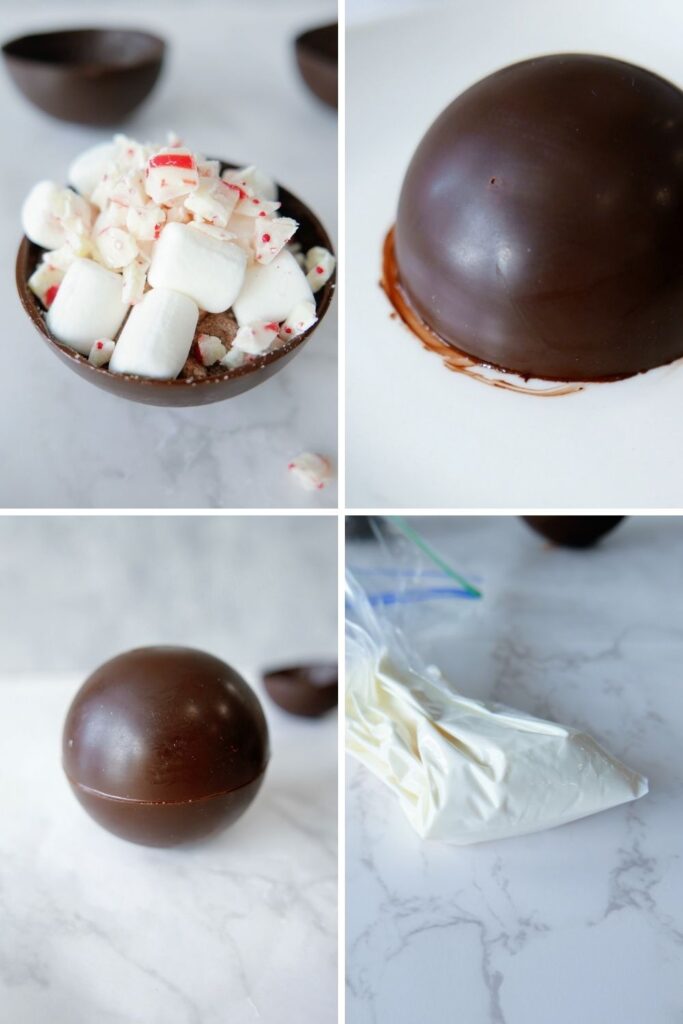 Step Four: Remove the chocolate from the molds and place on work station. Add in hot chocolate, chopped Hershey's kisses, and mini marshmallows.
Step Five: Place microwave safe plate in the microwave and heat for 30 seconds to 1 minute.
Step Six: Place empty chocolate sphere on plate and allow it to lightly melt the chocolate. This will act as the glue for sticking the chocolate ball together.
Step Seven: Place the chocolate ball together and wipe away any excess chocolate.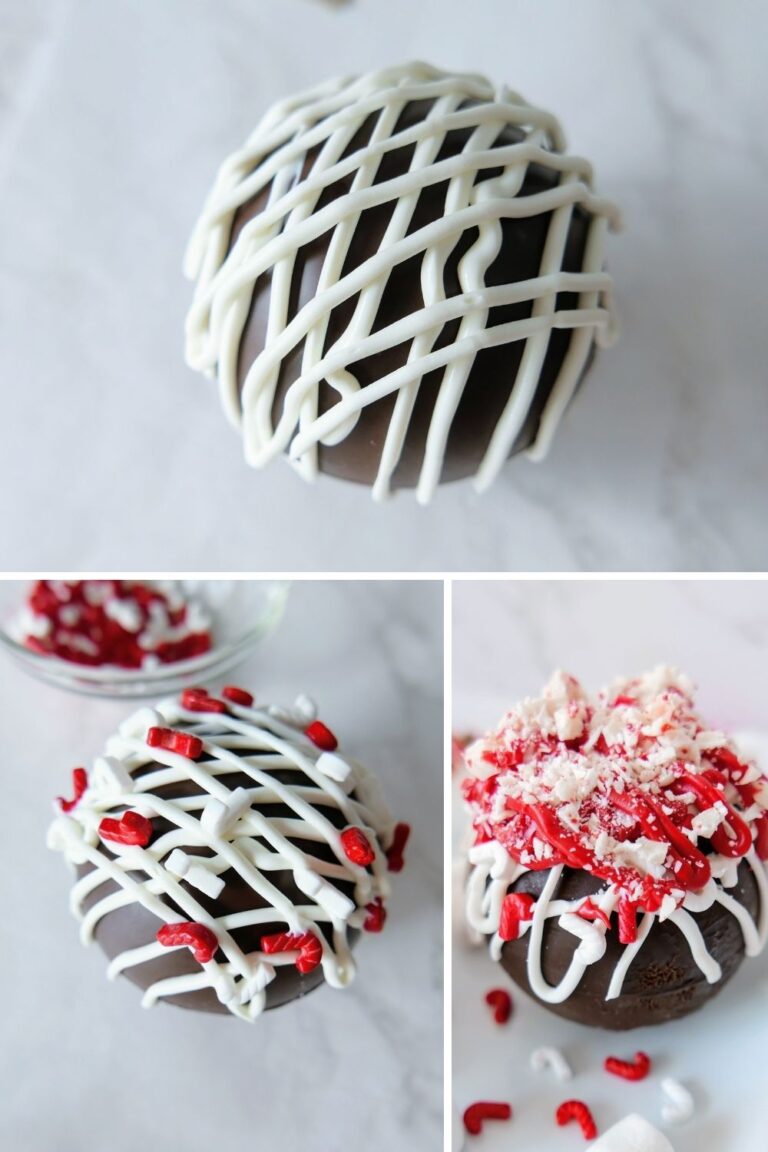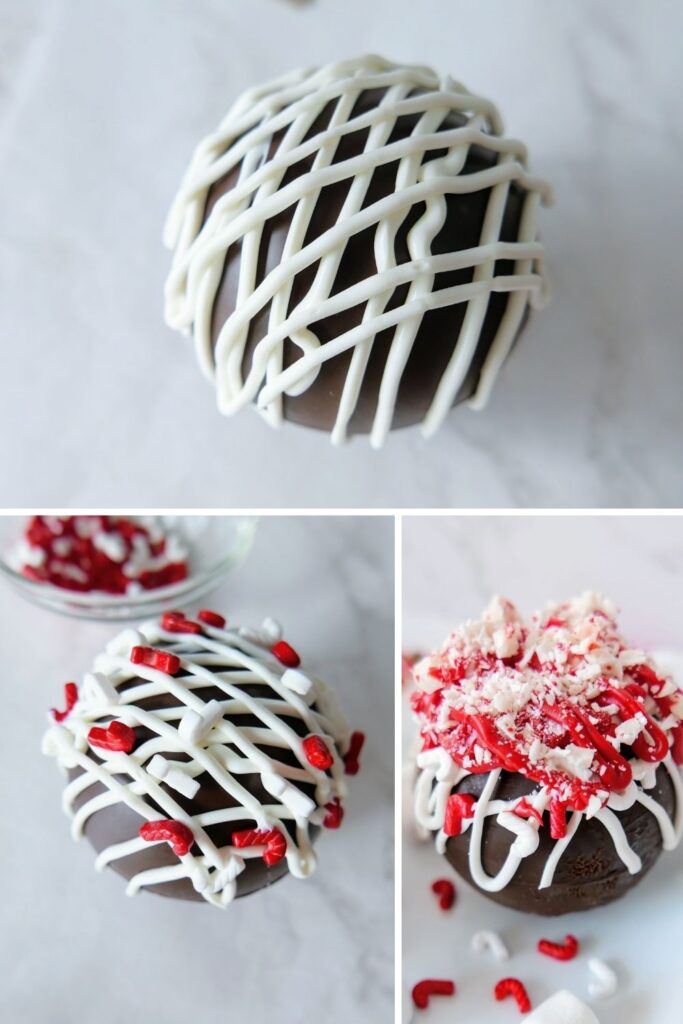 Step Eight: Heat up candy melts and drizzle over the top of the hot chocolate bombs and add on some festive sprinkles. You can decorate simple, or load them up with toppings. You can see to ways to decorate!
How to Gift For The Holidays
Want to do this diy recipe and gift to friends, children's teacher, co-workers, or even to sell?
Add a chocolate bomb in a cellophane bag and tie some ribbon on top. Place in a coffee mug, or add on a festive spoon.
Then hand out these as a treat for the holidays. These are also a fun Christmas stocking to consider.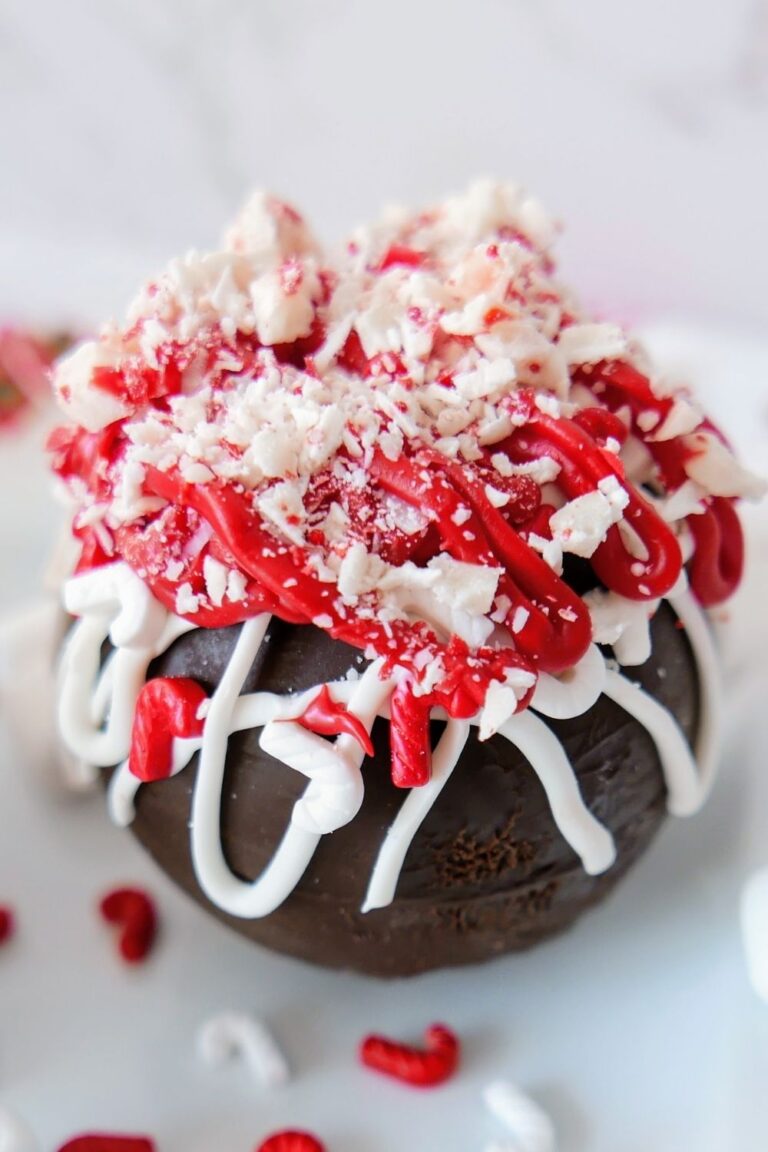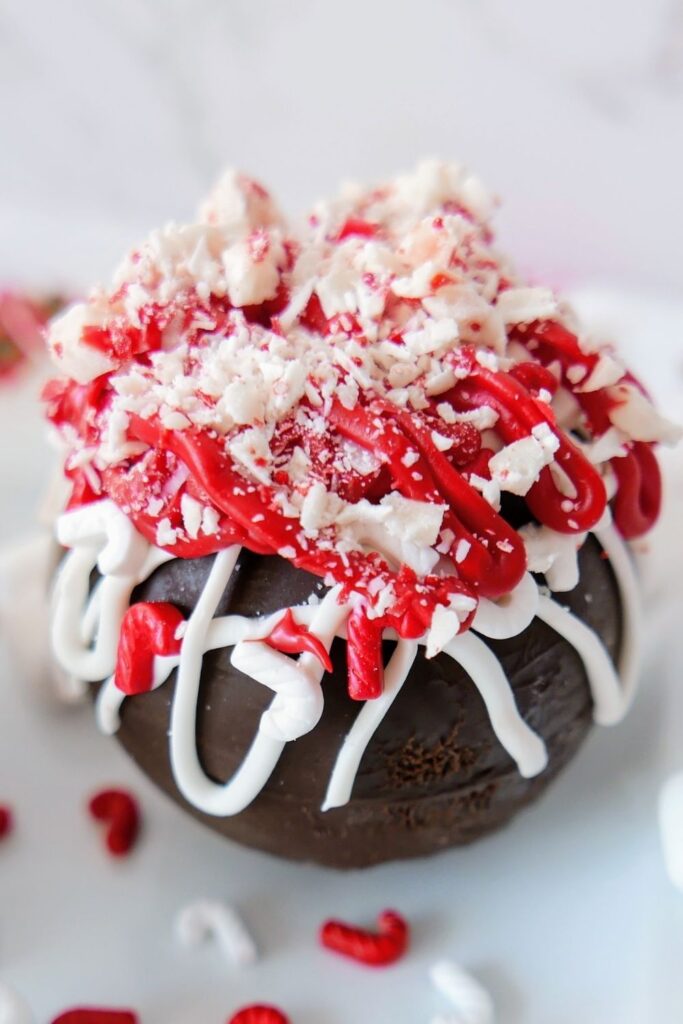 Expert Tips
Consider wearing gloves, this will help make sure no fingerprints or smudges show on your balls. Your fingers radiate heat and if you work with the chocolate it can leave prints or smear the chocolate.
You can add in as little or much hot chocolate mix as you want. 1-2 tablespoons is what I prefer.
To add a richer mint flavor add ¼ teaspoon peppermint extract into the dark chocolate. This will help enhance the minty flavor.
Making your chocolate layer too thick will cause the chocolate ball to not melt down properly.
You can use warm milk or a plant based milk alternative for pouring over the hot cocoa bombs.
You can use sugar free ingredients if you would like.
How to Make Homemade Hot Chocolate Mix
Here is a simple hot chocolate mix recipe you can use for making your own hot chocolate to put in the bombs instead of store bought.
2 cups powdered sugar, sifted
2 cups powdered milk
1 cup unsweetened cocoa powder, sifted
Sift powdered sugar and cocoa powder. Mix in the powdered milk. Store in an airtight container for up to 6 months!
Depending on how light to rich you want your drinks adjust how much powder to use. We use 2-4 tablespoons for 8 ounces.
Frequently Asked Questions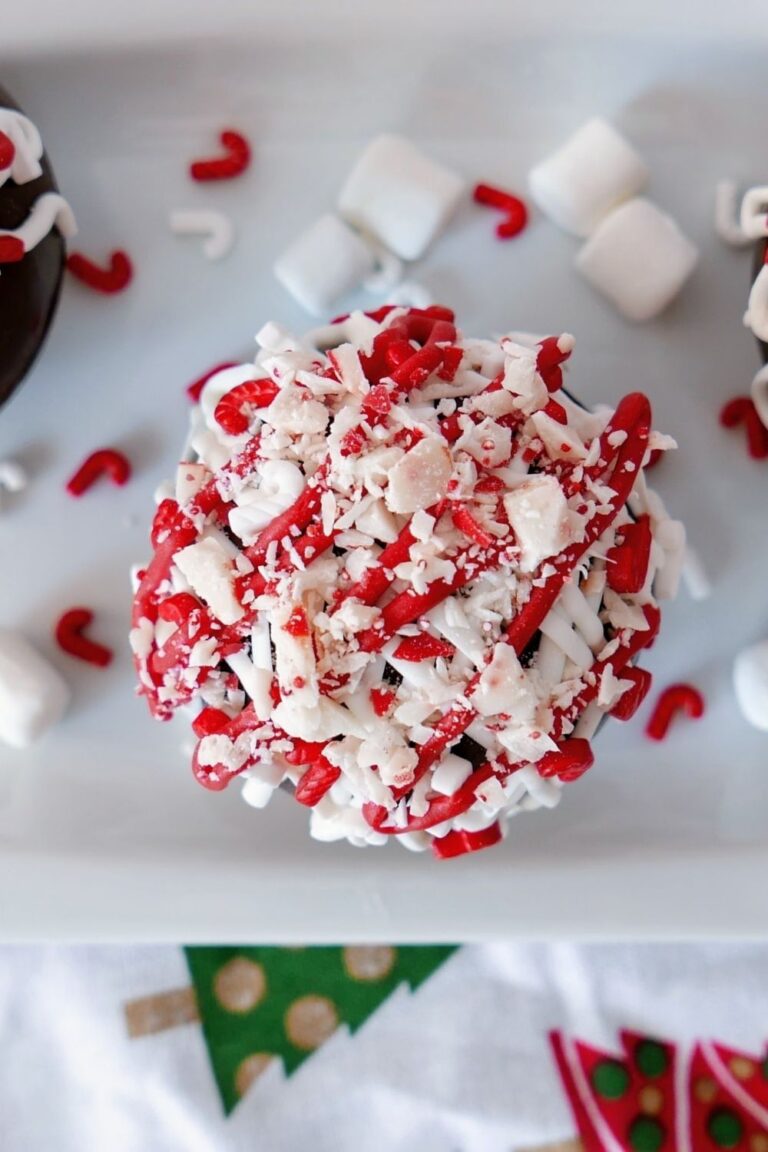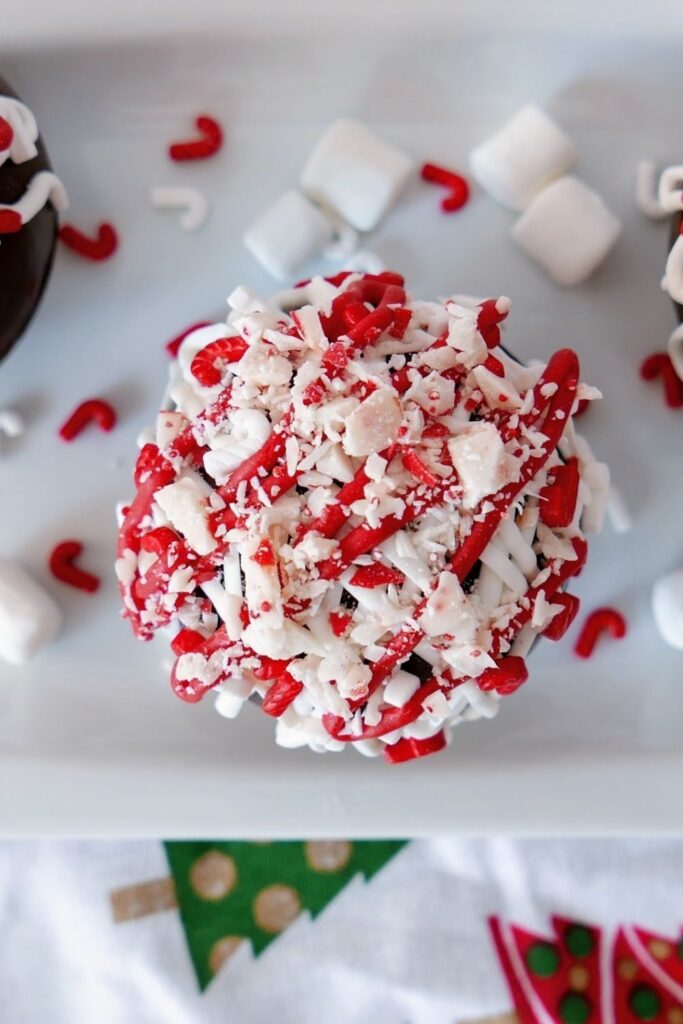 Related Recipes
Have you tried the recipe? If so, please leave a star ⭐️⭐️⭐️⭐️⭐️ rating in the recipe card below or drop a comment. Also stay in touch with me through social media by following me on Facebook, Pinterest, or My Facebook Group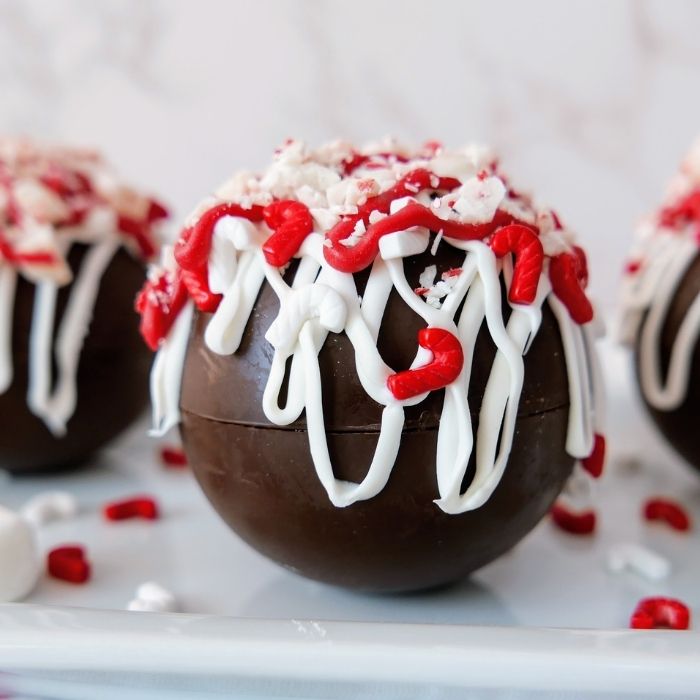 Peppermint Hot Chocolate Bombs
Servings 3
Peppermint hot chocolate bombs are a festive drink for Christmas. Serve these up for movie night, or consider making to create an edible Christmas gift. Dark chocolate hot chocolate bomb filled with hot chocolate and peppermint flavor.
Ingredients
1 1/2 cups dark chocolate needs to contain cocoa butter. I used 72% cocoa
1 cup Hershey Candy Cane Kisses chopped
6-9 Tablespoons hot chocolate powder mix
1/2 cup mini marshmallows
1/2 cup white candy melts
1/2 cup red candy melts
Candy cane sprinkles optional
Instructions
Start by breaking up your dark chocolate into small pieces and warm in a glass bowl in the microwave. Do 30 second intervals at 50% power.

Stir between each heat cycle, and make sure to not let the chocolate get hotter than 90 degrees. It will untemper the chocolate and cause it to streak and turn white and not be glossy.

Pour around a tablespoon of the melted chocolate into the silicone molds. Use a pasty or paint brush to coat the sides and bottom. It is very important to create an even layer of chocolate. Don't make it too thick.

Place in the fridge for 2-3 minutes to allow the chocolate to harden.

Then repeat with another thin layer of dark chocolate, brushing the chocolate evenly. The chocolate will pool to the bottom so keep brushing it up and around sides.

Refrigerate again, and once hardened, carefully remove the chocolate from the molds.

Roughly chop your Hershey Candy Cane Kisses, and set them aside.

In one side of the chocolate sphere halves, add 2-3 tablespoons powder hot chocolate mix. Add in some peppermint candies that are chopped, and mini marshmallows.

Heat a microwave safe plate in the microwave to warm it up a bit. Place the empty chocolate half on the plate to let it melt just slightly. This is going to act like the glue.

Place the sphere halves together making a ball. Wipe away any excess chocolate at the seams.

Repeat until all the hot chocolate bombs are created.

Now melt your candy melts and drizzle over the top. Add on Christmas sprinkles or more peppermint candies you crushed up.

Store the peppermint hot chocolate bombs in a cool place that is in an airtight container.
How to Use Peppermint Hot Chocolate Bombs
Add one peppermint hot chocolate bomb in a large mug. Heat some milk up (around 1 cup) and pour slowly over the chocolate ball. It will slowly begin to melt the chocolate.

Take a spoon and lightly stir and the cocoa mixture will release once the chocolate melts.

Stir well then sip away!

Notes
Gloves – Wearing gloves can help prevent fingerprints on your hot chocolate bombs. Colors – Use any colors of candy melts to decorate the top of your chocolate peppermint bombs. Hot Chocolate – You can add less or more to create a super rich or lighter drink. It is all about your personal preference.
Nutrition
Serving: 1gCalories: 540kcalCarbohydrates: 18gProtein: 2gFat: 12gSaturated Fat: 11gPolyunsaturated Fat: 6gCholesterol: 5mgSodium: 22mgFiber: 4gSugar: 13g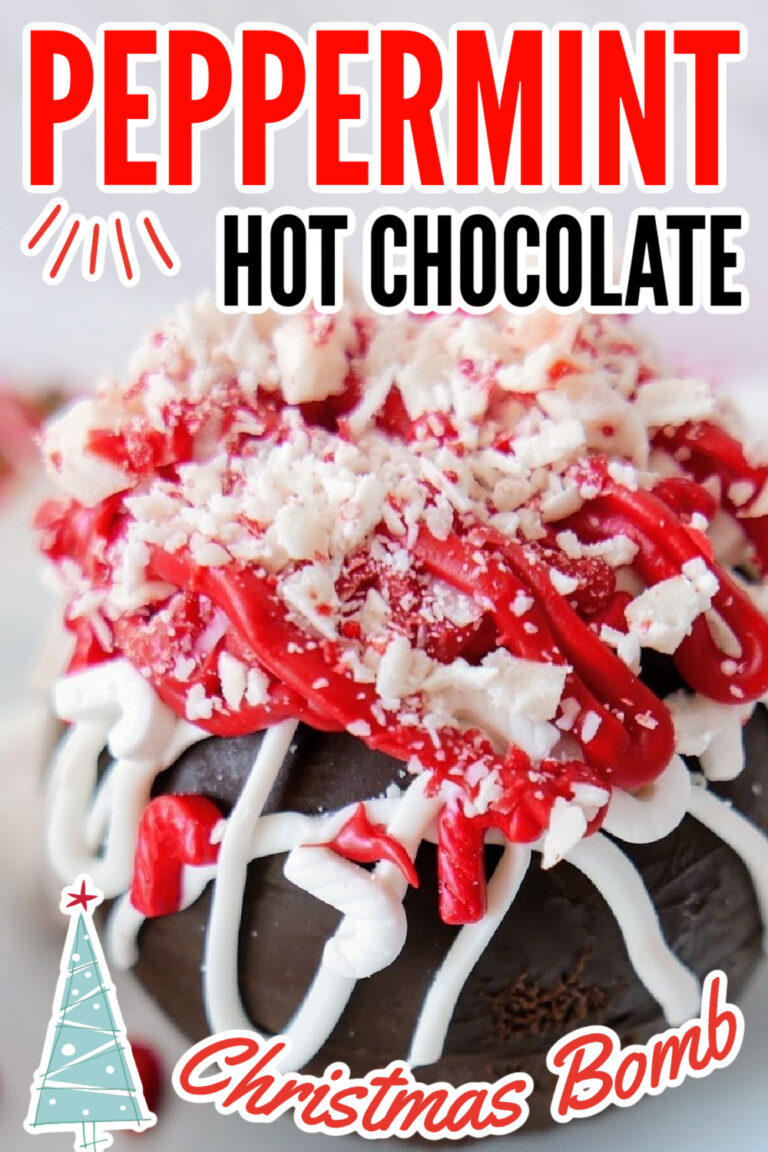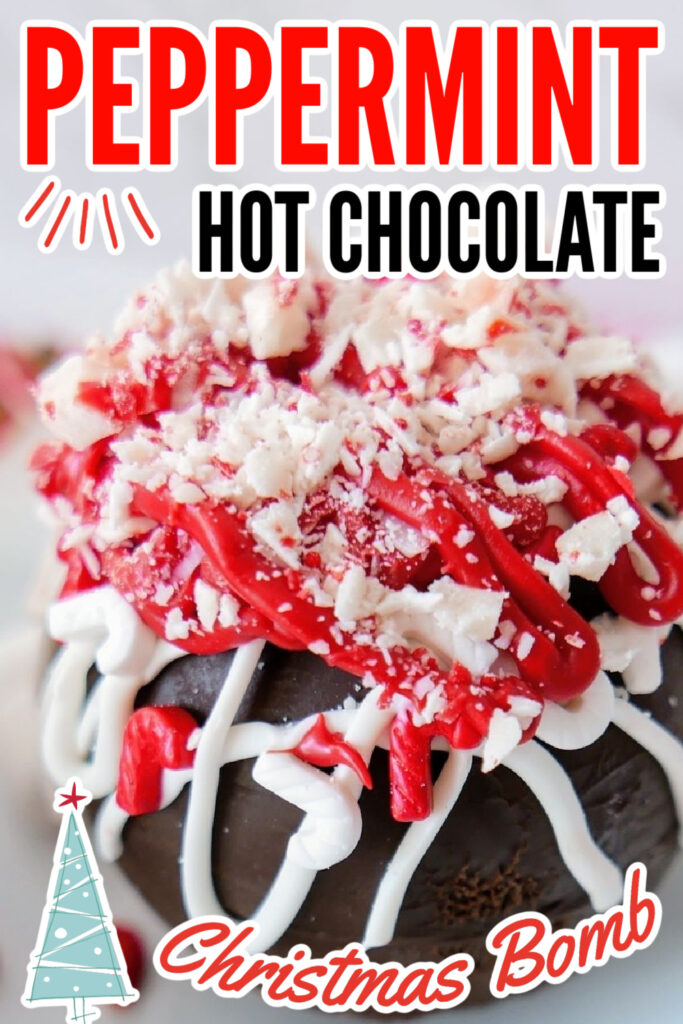 Reader Interactions