Lemon Poppy Seed Zucchini Muffins are a delicious and easy lemon muffin that is paired with shredded zucchini. The perfect zucchini recipe for summer. These lemon zucchini muffins are a must.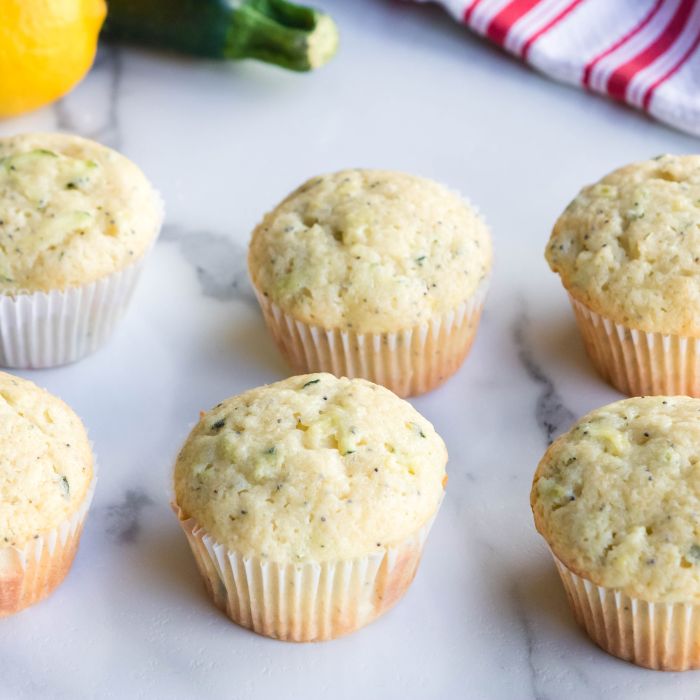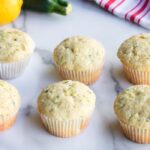 Any lemon lovers out there? If so, these lemon poppy seed zucchini muffins will blow your mind. Light and fluffy lemon muffins that are paired with grated zucchini. The perfect summer muffin.
Zucchini is in surplus right now so I like to get creative. Lemon poppy muffins are my all time favorites. So creating this recipe was a must try. . This muffin recipe does has a nice lemon flavor but isn't overpowering. Use up your summer zucchini with these great muffins.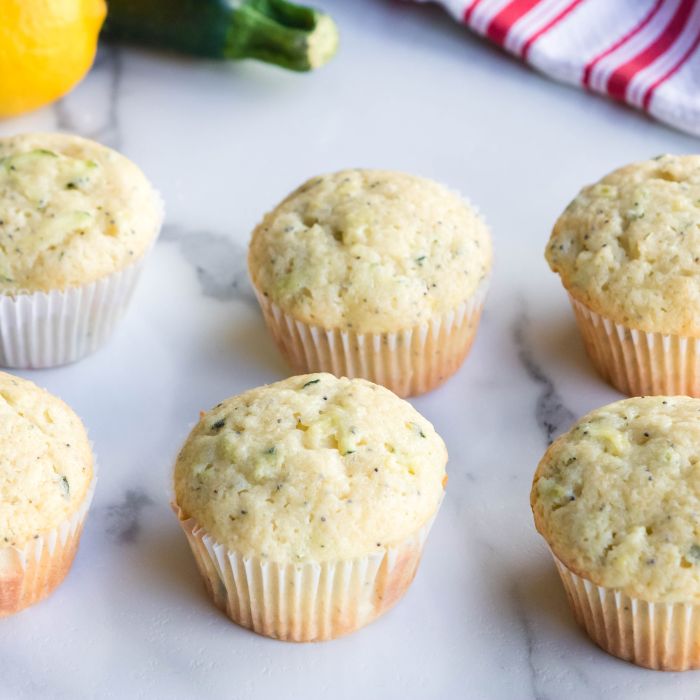 If you love zucchini like me, make sure to try out my other zucchini recipes. Easy chocolate zucchini cake, ground beef and zucchini skillet, or crunchy zucchini chips.
This Lemon Poppy Seed Zucchini Muffins Recipe Is…
Made from scratch
Freshly grated zucchini
Lemon juice and zest used
Freezer friendly
Easy recipe for breakfast or a dessert
Ingredients Needed
Here is all you need for these breakfast muffins, simple ingredients with a big flavor.
Zucchini – The first ingredient is zucchini. I use a grater to grate up the whole zucchini. Skin and all. This is a great way to sneak in extra veggies into your picky eaters diet.
Lemon – You will use lemon juice and lemon zest ( I use this zester). This gives these muffins a stand out flavor.
Eggs – The binder that helps all the ingredients stick
Flour – All purpose flour is needed. Scoop the flour into the measuring cup, then level it off with a knife.
Baking soda, baking powder, salt – These ingredients help to flavor and offer that fluffy texture.
Poppy Seeds – There is something about poppy seeds that are irresistible to me when joined with lemon.
Granulated Sugar – The perfect sweetness to the muffins without making the muffins too sweet.
Sour Cream – The sour cream adds just a hint of tangy flavor to the muffins.
Oil – When making muffins you will find oil is great as it helps to keep the muffins moist.
Vanilla – I used vanilla extract but you can use almond extract for a twist of flavor.
How To Make
Full directions on how to make lemon poppy seed zucchini muffins are in the printable recipe card. This is a visual walk through on how this zucchini muffins recipe is made.
Step One: Preheat the oven and prep your muffin pan with muffin liners. Set it aside.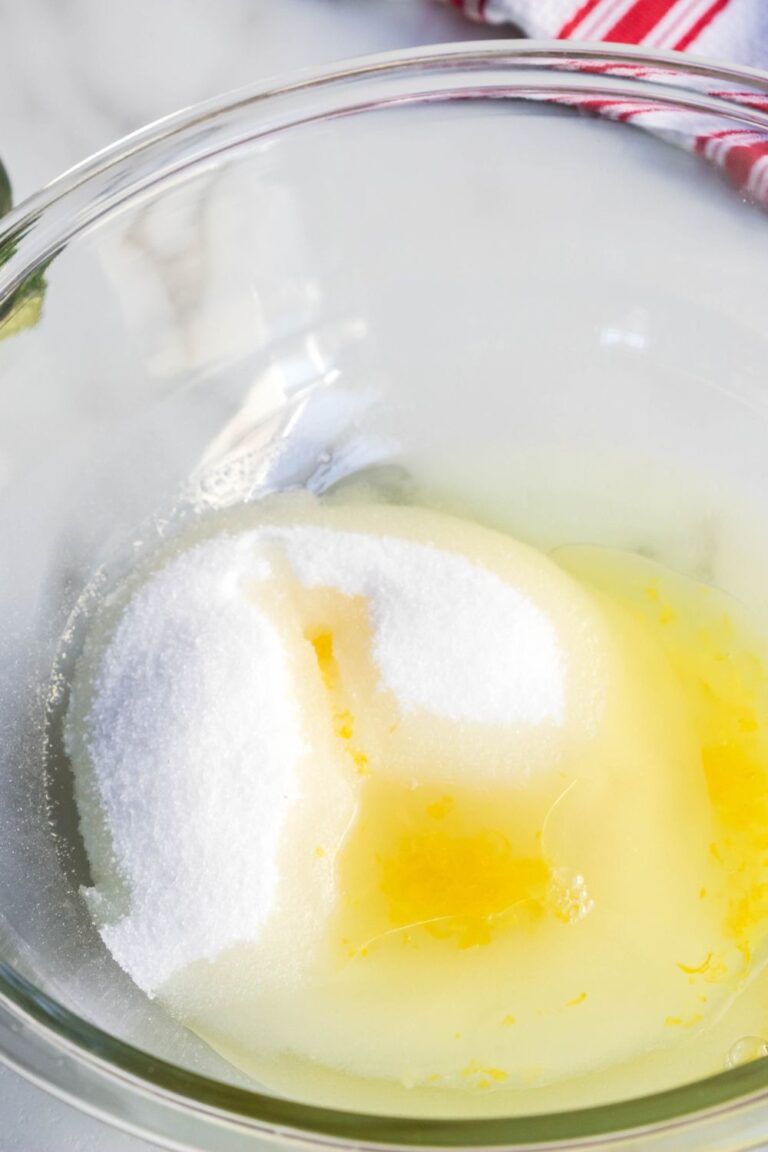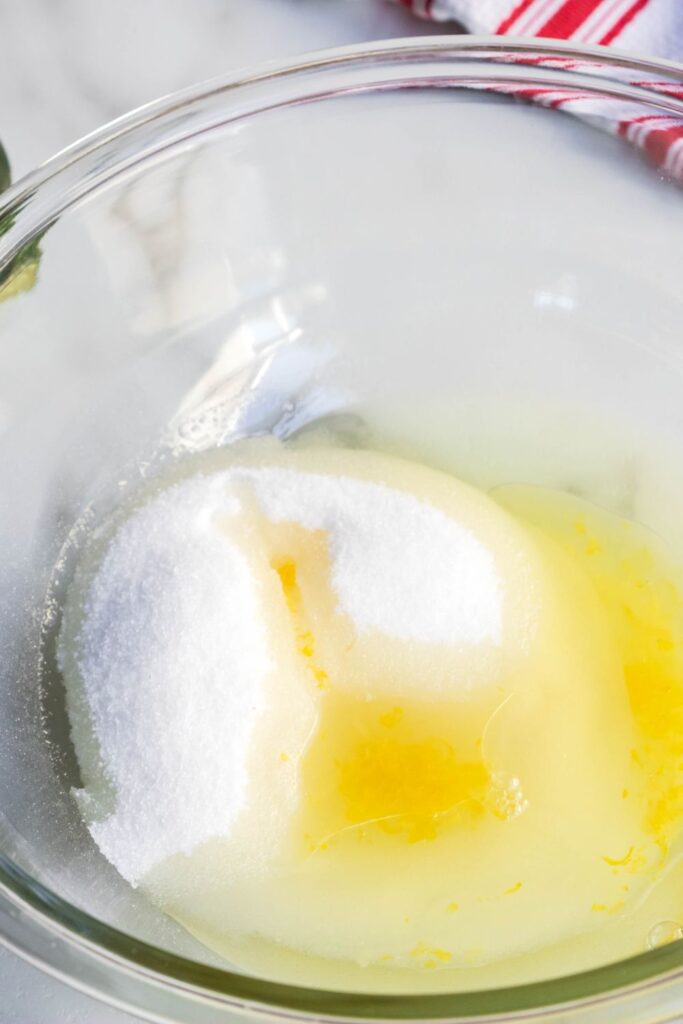 Step Two: In a large bowl you will cream your granulated sugar, oil, lemon zest and lemon juice. Mix on low to medium speed for 1-2 minutes.
Step Three: Next pour in your eggs, mixing to combine. Followed by sour cream and vanilla.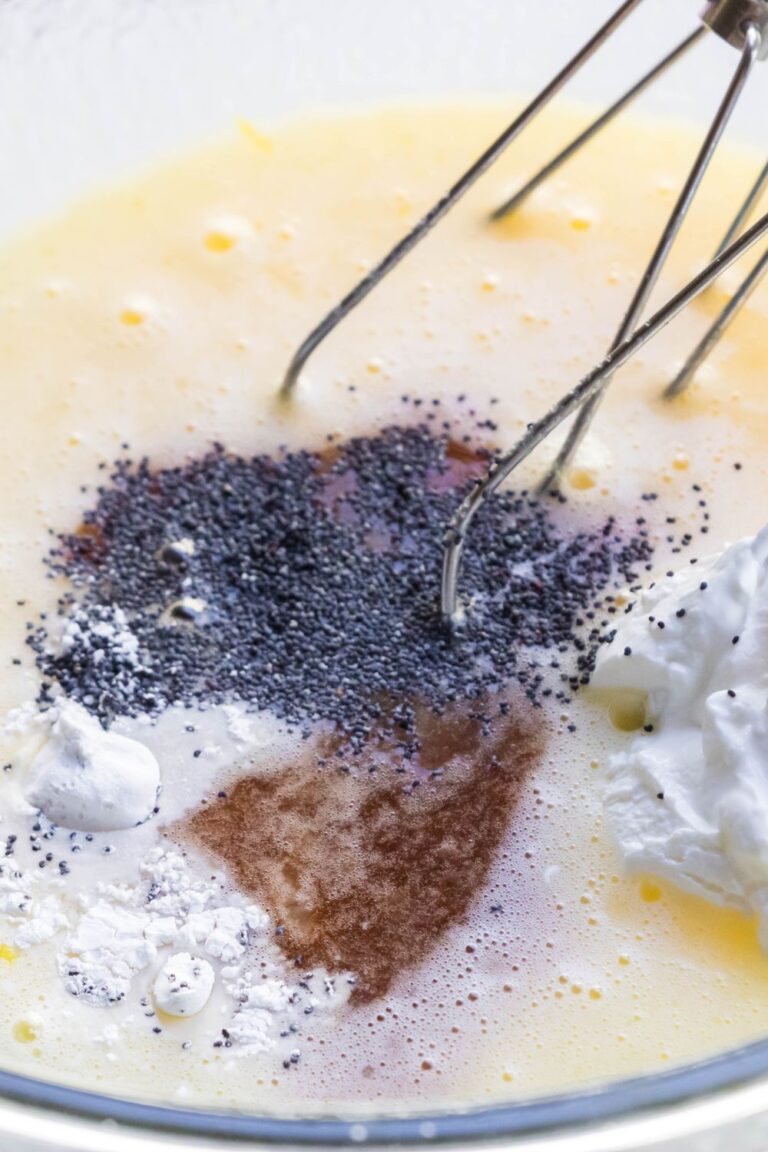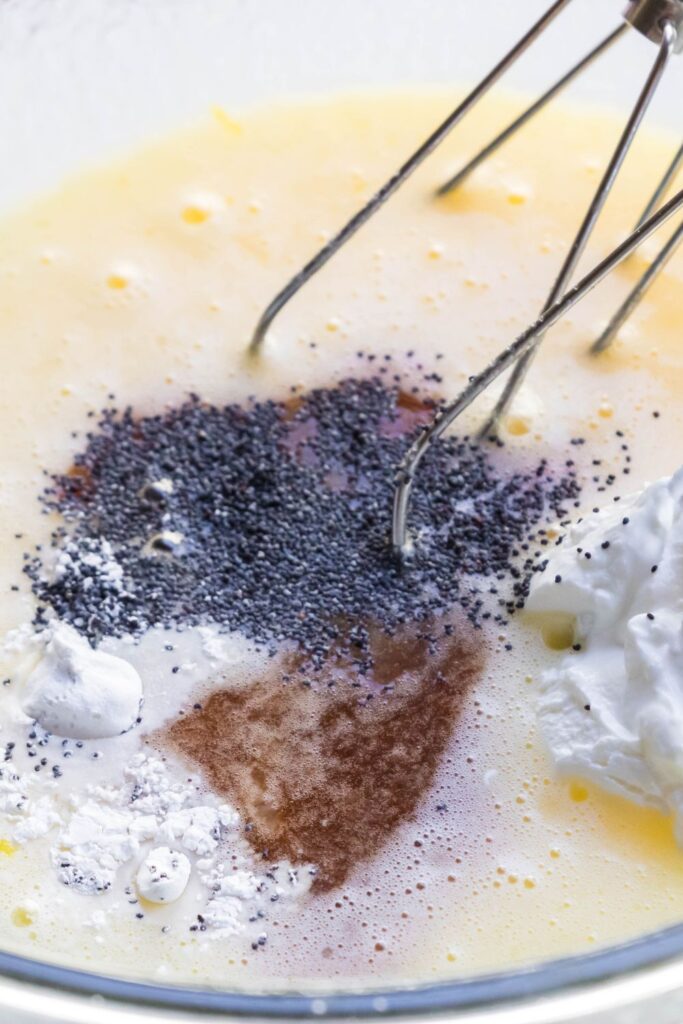 Step Four: Next I add in the salt, baking soda, baking powder, poppy seeds, and salt. Then I slowly add in the flour.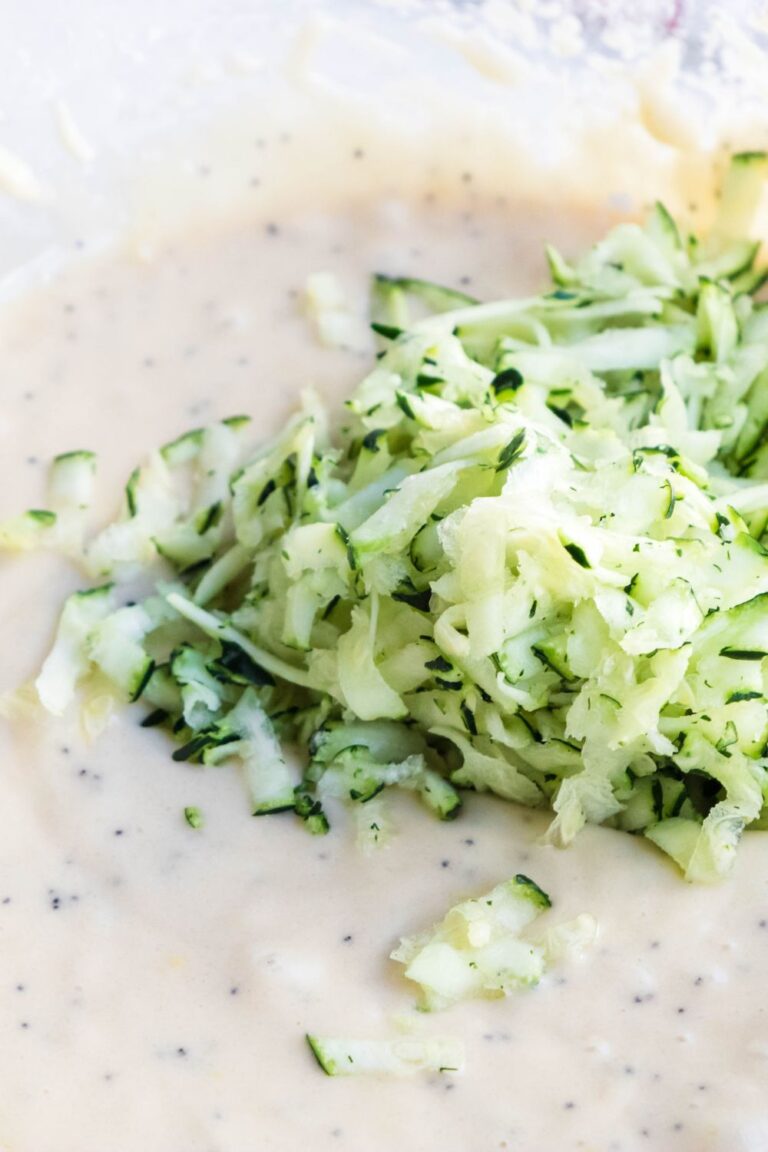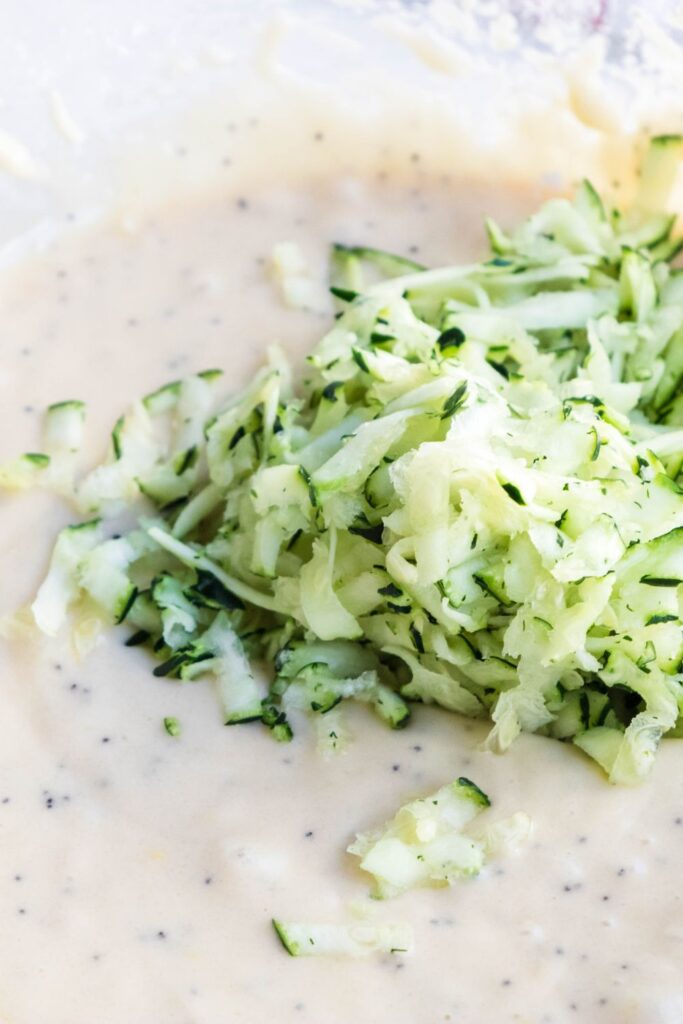 Step Five: Now you will fold in the grated zucchini, and fold it into the batter.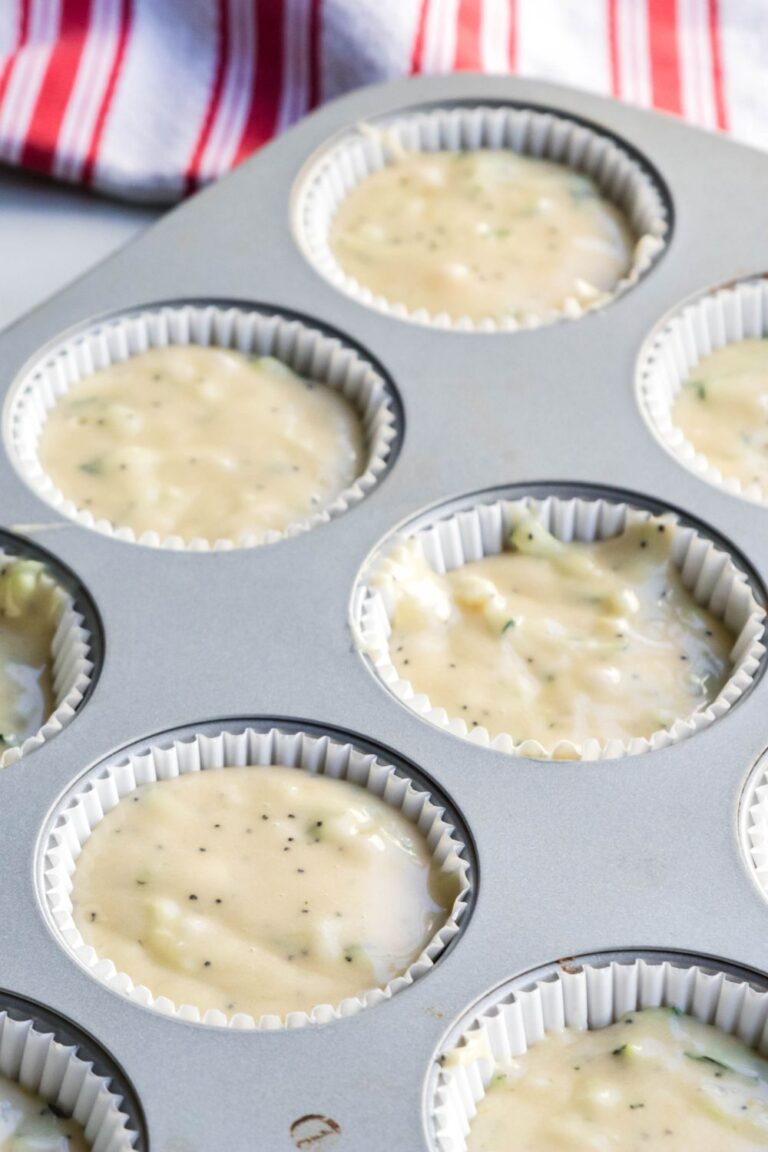 Step Six: Pour the poppy seed muffin batter into the lined pan, I did about 3/4th full, and then bake as directed.
Let the muffins cool a few minutes then place on a cooling rack to allow the muffins to cool completely.
Tip for Shredding Zucchini
I used a grater to get thinly sliced zucchini. Just wash and grate with the skin on.
You also want to place the zucchini on a plate that is lined with a paper towel. Then place paper towels on top. This is going to soak up the excess liquid from the zucchini.
Just give it a little bit of a squeeze and then place the zucchini into the muffin batter and fold it in. This is going to help give you a moist muffin.
Variations and Tips For Success
Feel free to use a jumbo muffin tin or mini muffin tins, just adjust the cook time to the muffins.
Stick a toothpick in the muffin tops, if it comes out clean of wet batter, the muffins are done.
Leave out the poppy seeds for a plain lemon zucchini muffin recipe.
Mix powdered sugar and lemon juice together for a sweet lemon glaze to drizzle over the top of the cooled muffins.
Swap the sour cream with buttermilk or plain Greek yogurt.
Zucchini shreds really easy, you can use a food processor to shred or a hand shredder.
If you have pre-shredded frozen zucchini that works, or grab fresh zucchini to grate.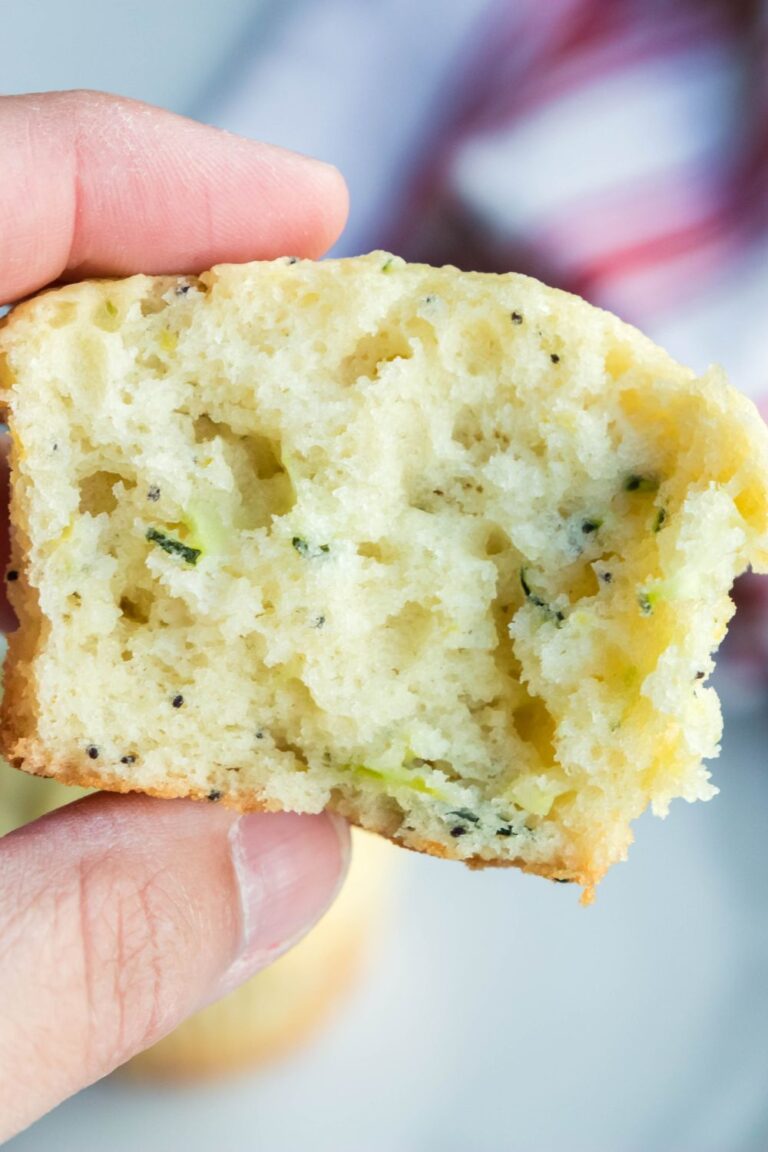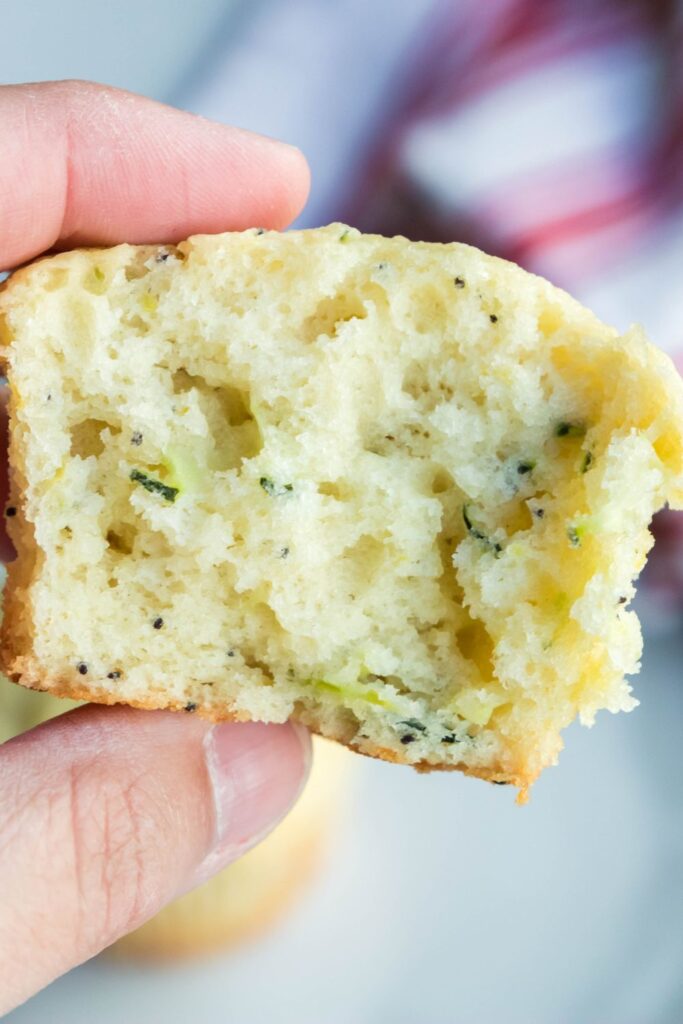 Storing Muffins
Refrigerate – I like to refrigerate any muffins you don't eat right away. Store in an airtight container or sealed bag in the fridge for 4-7 days. The muffins are best fresh, as they will begin to dry out with each day.
Freezing – You can also freeze these muffins. Allow the muffins to fully cool and then place in a freezer container or even a freezer bag. Freeze muffins for 2-4 months. Then thaw on the counter for about an hour or refrigerate for a slow thaw.
FAQs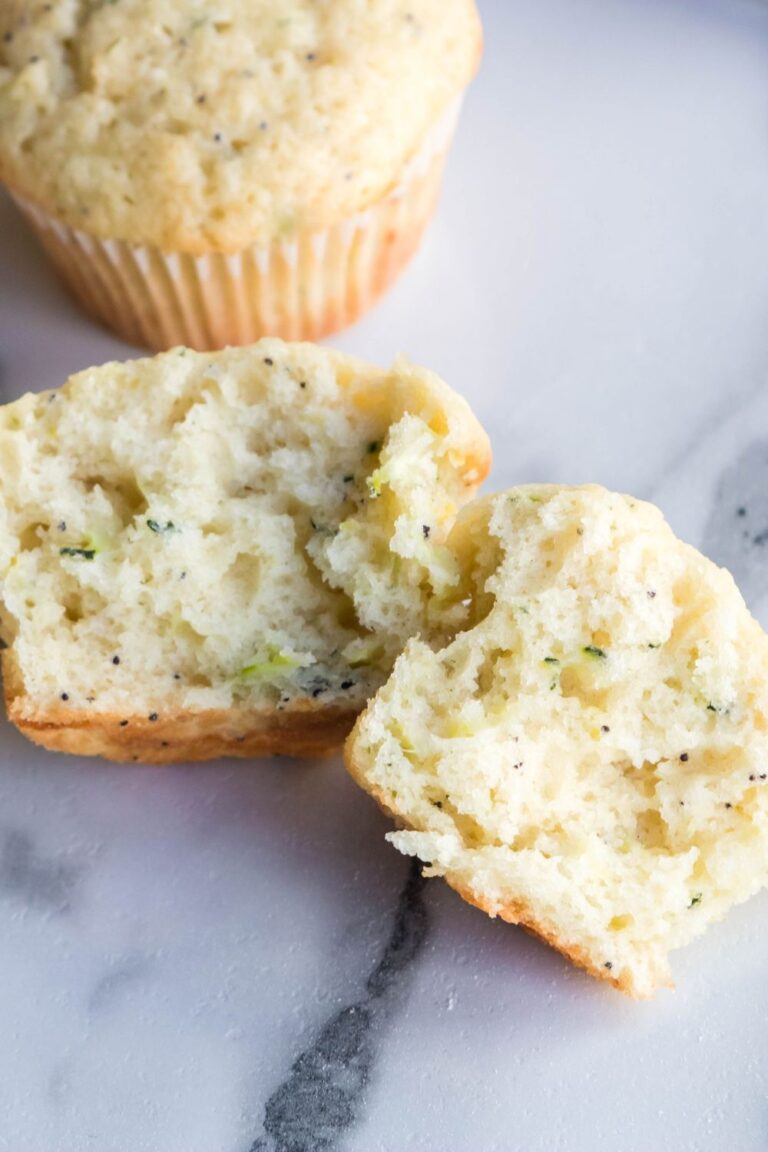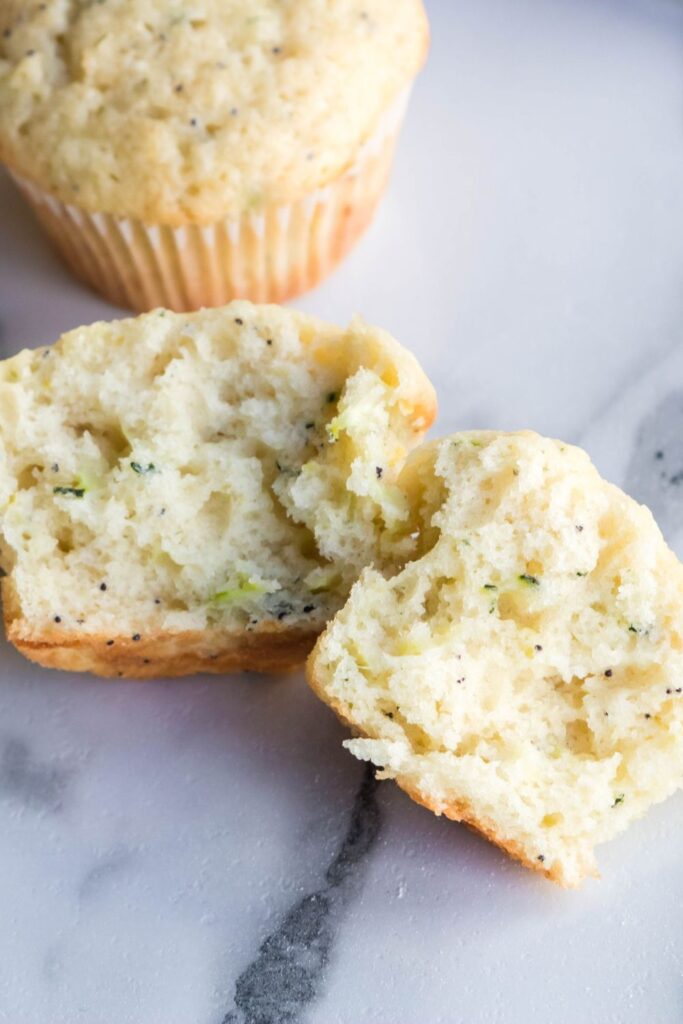 Related Recipes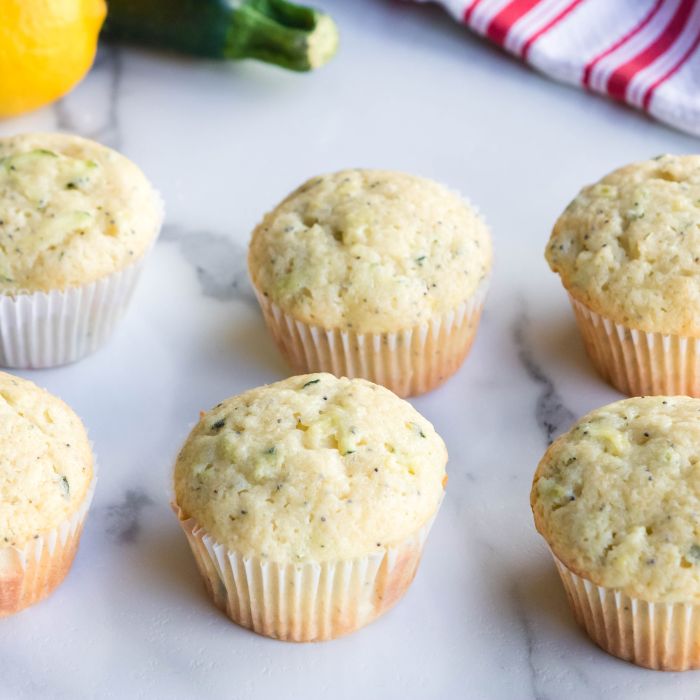 Lemon Poppy Seed Zucchini Muffins
Servings 12
Lemon Poppy Seed Zucchini Muffins are a delicious and easy lemon muffin that is paired with shredded zucchini. The perfect zucchini recipe for summer. These lemon zucchini muffins are a must.
Ingredients
1 1/2 cups all purpose flour
1/2 teaspoon baking soda
1/2 teaspoon baking powder
1 1/2 tablespoons poppy seeds
1/2 teaspoon salt
1 cup granulated sugar
2 large eggs
1/2 cup vegetable oil
1/4 cup sour cream
2 tablespoons lemon juice (1 large lemon)
zest of one lemon
1 teaspoon vanilla extract
1 cup zucchini, shredded
Instructions
Preheat the oven to 350 degrees. Then place muffin liners in your muffin tin and set it aside.

Grate your zucchini and place it in between paper towels and let it sit while you are mixing up your muffin batter.

Next in a large bowl add your granulated sugar, oil, lemon juice and zest. Mix on low to medium speed for 1-2 minutes.

Next add in the sour cream, vanilla, eggs, poppy seeds, salt, baking powder, and baking soda. Mix to combine.

Then you will add in the flour, a little at a time. Mix until it is combined.

Now you will squeeze your zucchini in between the paper towels to remove some of the liquid. Then fold in the zucchini to the batter.

Pour the lemon poppy seed batter into the muffin tin to about 3/4th the way full.

Bake 18-23 minutes or until the muffins are cooked through. Then allow the muffins to cool a bit.
Nutrition
Serving: 1gCalories: 226kcalCarbohydrates: 29gProtein: 3gFat: 11gSaturated Fat: 3gPolyunsaturated Fat: 3gMonounsaturated Fat: 4gTrans Fat: 1gCholesterol: 34mgSodium: 157mgPotassium: 63mgFiber: 1gSugar: 17gVitamin A: 75IUVitamin C: 1mgCalcium: 36mgIron: 1mg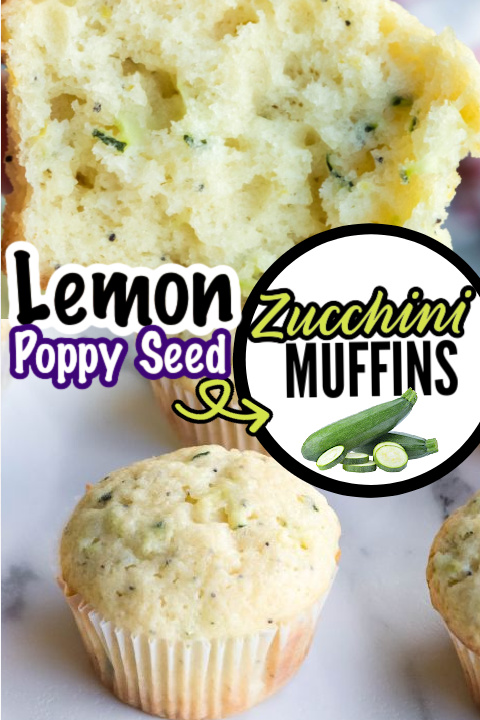 Reader Interactions