This Keto Zuppa Toscana Instant Pot Soup with Wild Ramps is not just a mouthful to say but it's also a mouthful of goodness as well.  A low carb Zuppa Toscano soup that is made in no time for that slow-simmered taste.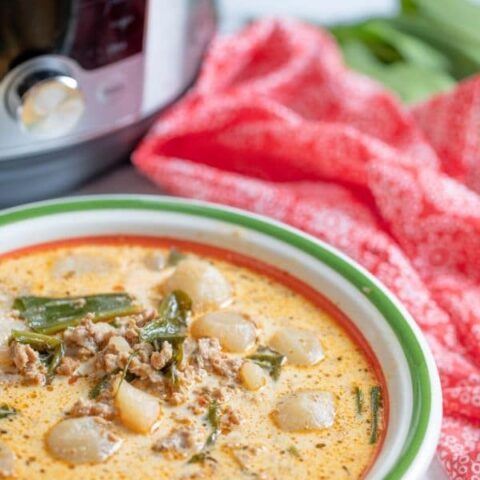 This Keto Zuppa Toscana Instant Pot Soup with Wild Ramps is seasoned pork, wild ramps (or greens), radishes, and the perfect blend of seasonings. This Zuppa Toscana Instant Pot soup is bursting with flavor all while being Ketogenic.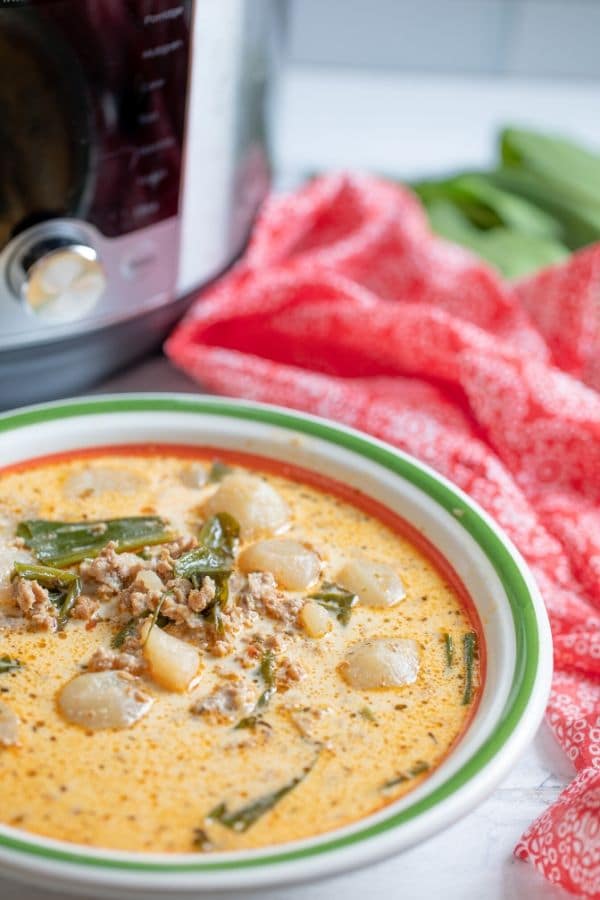 A low carb Zuppa Toscano soup that is made in no time for that slow-simmered taste.
Keto Zuppa Toscano Instant Pot Soup
And don't worry, if you're a little nervous about making this recipe because it's got a few words in it that you might not be familiar with, don't fret.
I'm going to walk you through the whole process and break it down so that it's simple and easy to do! 
 You'll be wowed once again by just how amazing your Instant Pot is. It can literally take any recipe and create a delicious and easy meal.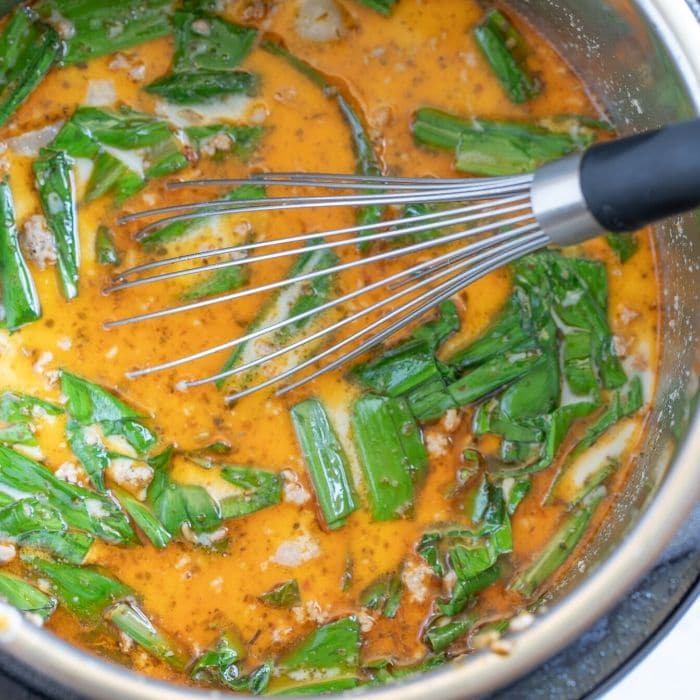 If you are interested in Keto, here you go
What are wild ramps?
I get it. When I first hear someone talking about wild ramps, I had no idea what they were talking about either!
This is because we technically don't call them by this name in my area…but now I kind of actually like it! 
Wild ramps are actually just wild onions. How cool is that? If you've ever pulled up an onion that was randomly growing out in nature, there's a good chance that it might be a wild ramp.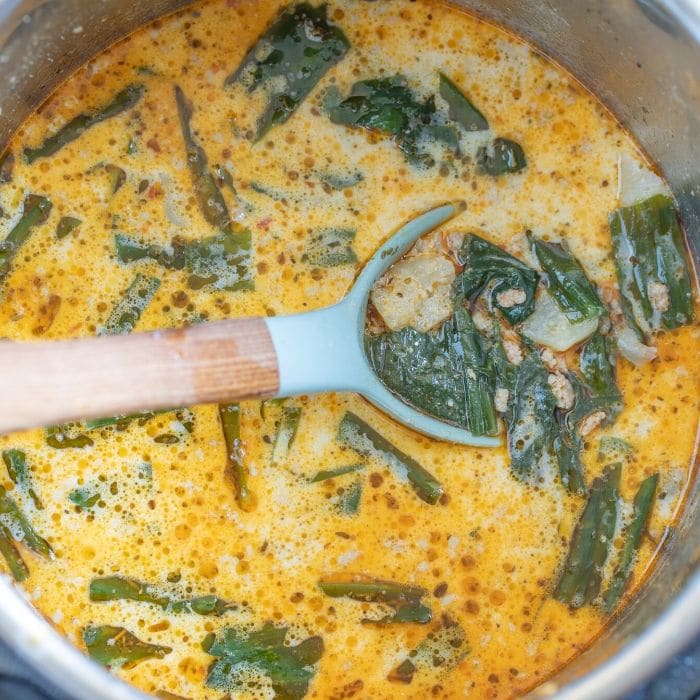 Can I replace wild ramps in the recipe?
You sure can! If you're not all about finding onions out in the wild, no worries.
Don't let that stop you from whipping up this delicious dish. You can easily just substitute in other onion greens or keto-approved greens that you have at home or can purchase from the store.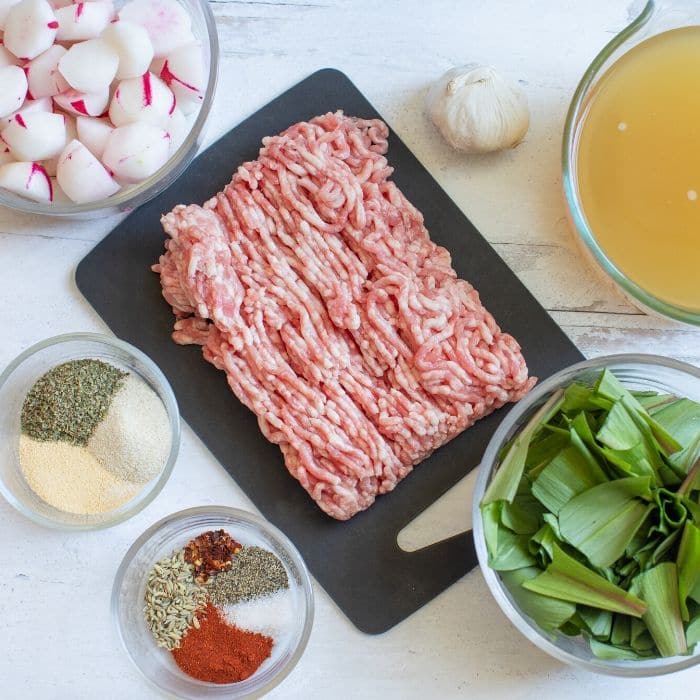 Can I Replace Ground Pork In This Recipe
For sure! Any type of ground meat will work just fine. I just like to use ground pork because it goes so well with the other ingredients in this recipe. Ground pork always takes on the flavors and tastes really, really well.
But if you're wanting to use a different type of meat, go for it. Ground beef, ground turkey, and even ground chicken can all be good options as well. And since they're all keto-approved, you have nothing to worry about when you make the switch.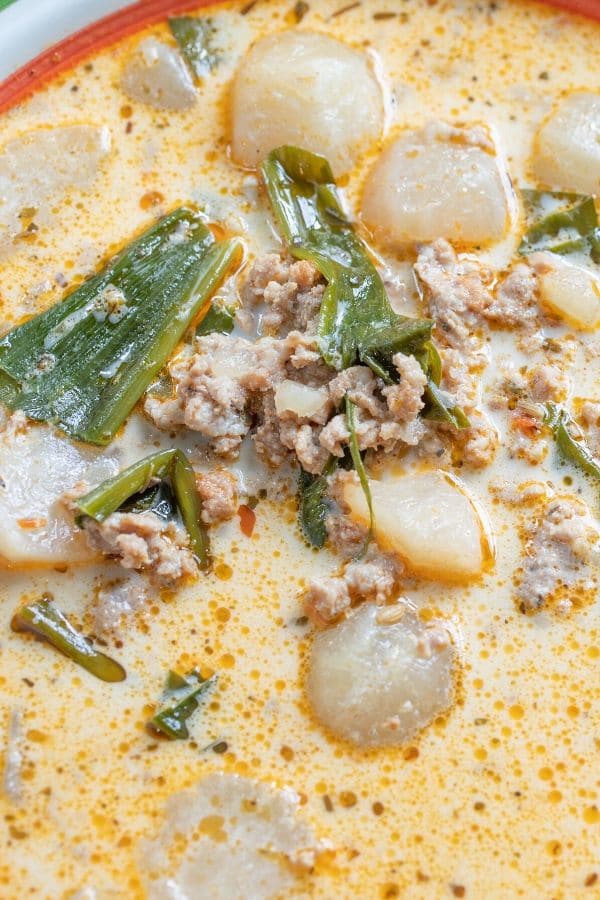 Variations To Zuppa Toscana Recipe
While I'm over the moon happy with how this simple soup recipe is, you can always make changes to it if you want. Some simple variations that you could try could be:
Leaving out the radishes and adding in another vegetable instead
Adding a bit of cayenne pepper to take up the heat
Slice up some zucchini and stir that in at the end of cooking
And those are just a few ideas on how you can add a few changes to this simple Instant Pot soup. It's up to you on whatever variations that you want to do so have fun with it and enjoy the differences in the flavor.
Topping Ideas For Zuppa Toscana Soup
Whatever toppings that you choose to add to this soup, make certain that it follows your Keto diet. Some of my favorite toppings are:
Shredded Cheese
Cilantro
Sour Cream or Greek Yogurt
Swirl in Cream Cheese
Fresh Jalapenos
But again, you can always add in whatever toppings you're craving! This is what makes it such an awesome dish!
How To Store Leftovers
The easiest way to store leftovers of this Instant Pot soup is to keep it in a container and store it in the fridge.
Then, once you're ready for another bowl all you have to do is scoop some out and reheat slowly on the stove or quickly in the microwave. It's really just as simple as that.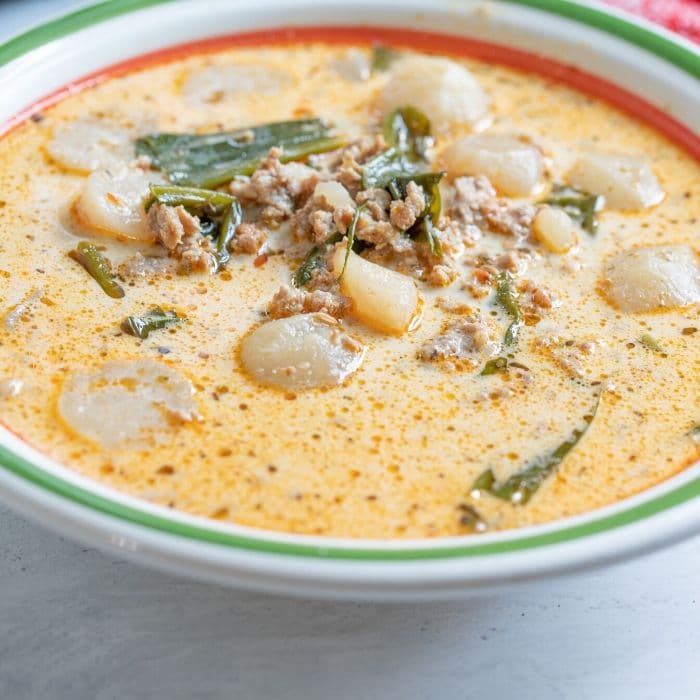 Can You Freeze Leftover Zuppa Toscana Soup
You sure can! Make certain that you add the leftover soup to a freezer-safe container and label it before you add it to your freezer.
I like to add a date as well so that I know how long it's been in the freezer before I eat it. Are you excited and ready to get this simple recipe? I hope you're going to love it as much as I do! 
Zuppa Toscana Keto
The time is now to whip up this soup recipe in your Instant Pot. The flavor of this soup is crazy good.
It's one soup that you can easily make all year long! You won't believe that eating Keto can taste this good!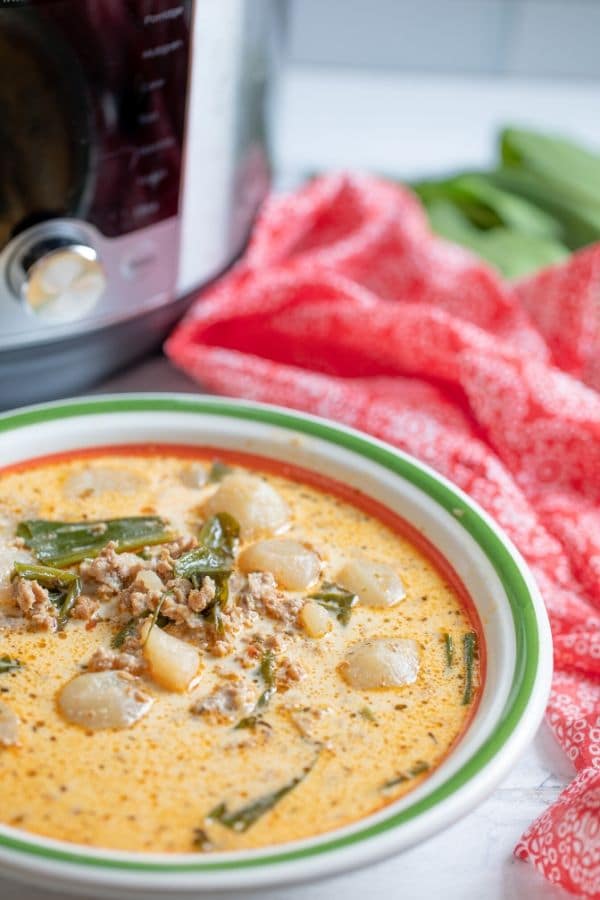 Keto Zuppa Toscana Instant Pot Soup
Servings 8 servings
This Keto Zuppa Toscana Instant Pot Soup with Wild Ramps is not just a mouthful to say but it's also a mouthful of goodness as well.  A low carb Zuppa Toscano soup that is made in no time for that slow-simmered taste.
Ingredients
1 tablespoon extra virgin olive oil
1 pound ground pork
1 teaspoon fennel seed
1/2 teaspoon crushed red pepper flakes
1 teaspoon paprika
1 tablespoon Italian seasoning
1 teaspoon black pepper
1 tablespoon garlic powder
1 tablespoon onion powder
2 teaspoons salt
2 garlic cloves minced
4 cups chicken stock or bone broth
1 pound radishes peeled and halved
A bushel of Ramps chopped into 1-inch pieces (can substitute with 2-3 cups of your choice of low carb leafy greens)
1 cup heaving whipping cream
Instructions
In a bowl, you will want to add your ground pork, fennel seed, red pepper flakes, paprika, Italian Seasoning, pepper, garlic powder, onion powder, and salt. You will want to work this into the pork till kneaded well.

Now pour the oil in the Instant Pot and turn it to saute. Cook your pork until it is fully cooked and no longer pink. I used a meat chopper to get ground sausage.

Add in garlic and saute until it becomes fragrant. This takes about 1 minute.

Turn off saute, and pour your chicken stock. Use a wooden spoon to deglaze the bottom of your Instant Pot.

Toss in your radishes, and give a quick stir. Place lid on your Instant Pot and make sure it is sealed. Cook on high pressure for 10 minutes with a natural release of 5 minutes.

Open the lid and stir in the heavy cream and the chopped ramps or leafy greens. Stir in and then ladle up this keto Zuppa Toscana soup for meal time.
Nutrition
Serving: 1gCalories: 279kcalCarbohydrates: 10gProtein: 20gFat: 18gSaturated Fat: 9gPolyunsaturated Fat: 8gCholesterol: 56mgSodium: 590mgFiber: 2gSugar: 4g
Craving More Instant Pot Soups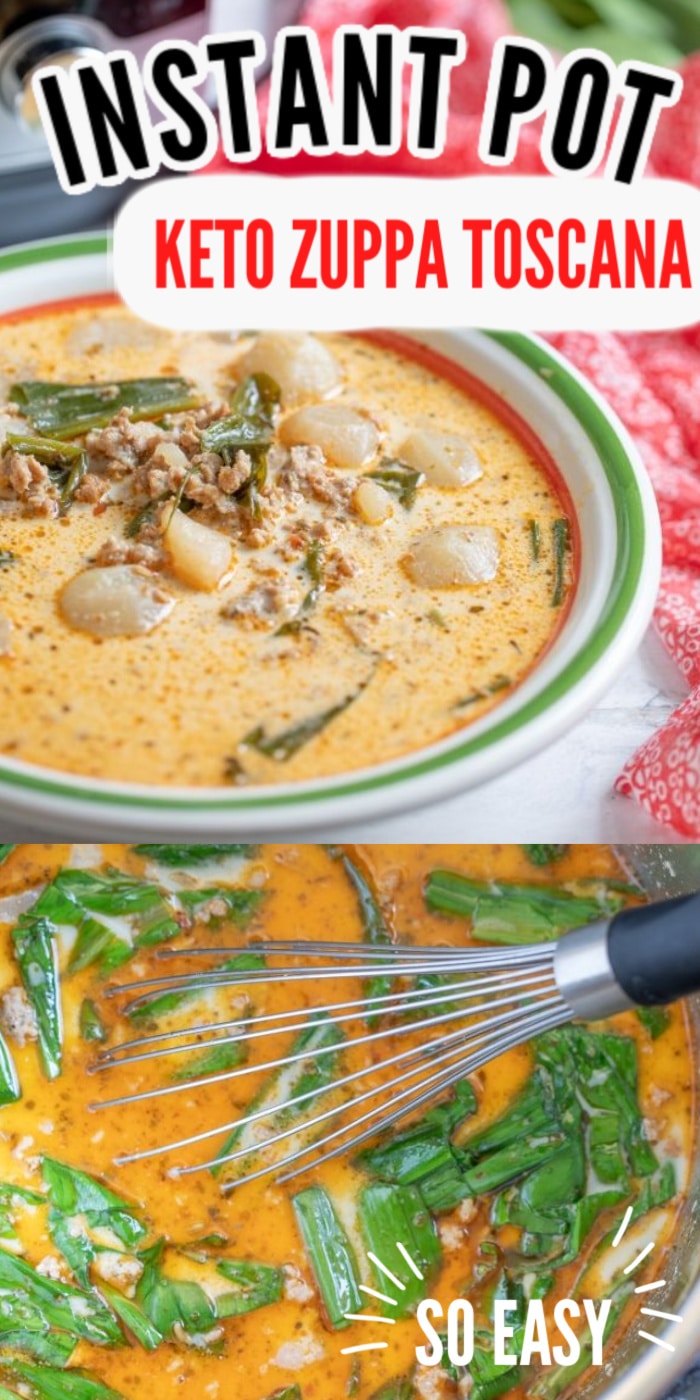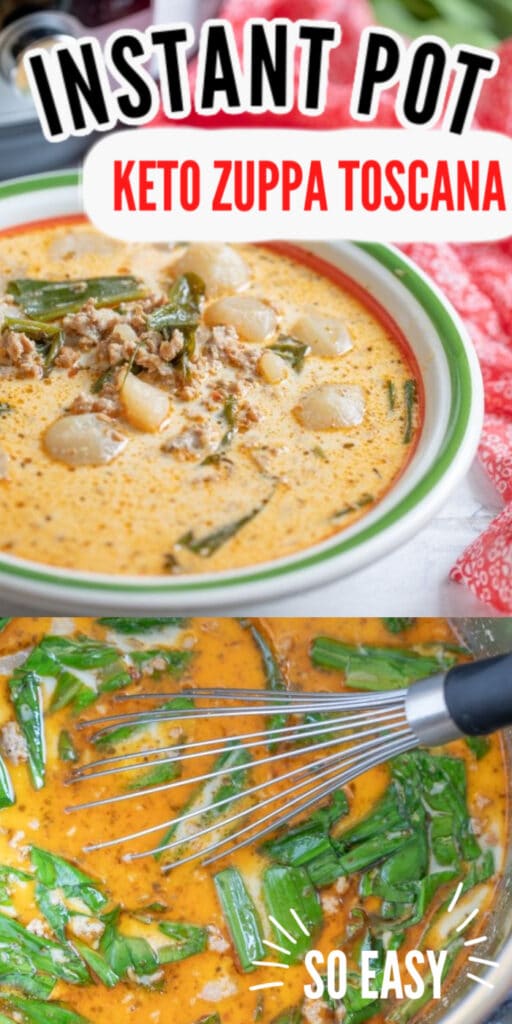 Try out this Instant Pot Keto Soup today!
Reader Interactions