Instant Pot Corn On The Cob is a quick and easy way to pressure cook corn on the cob. A step by step guide to making an easy corn side dish to pair with dinner or serve at a summer cookout.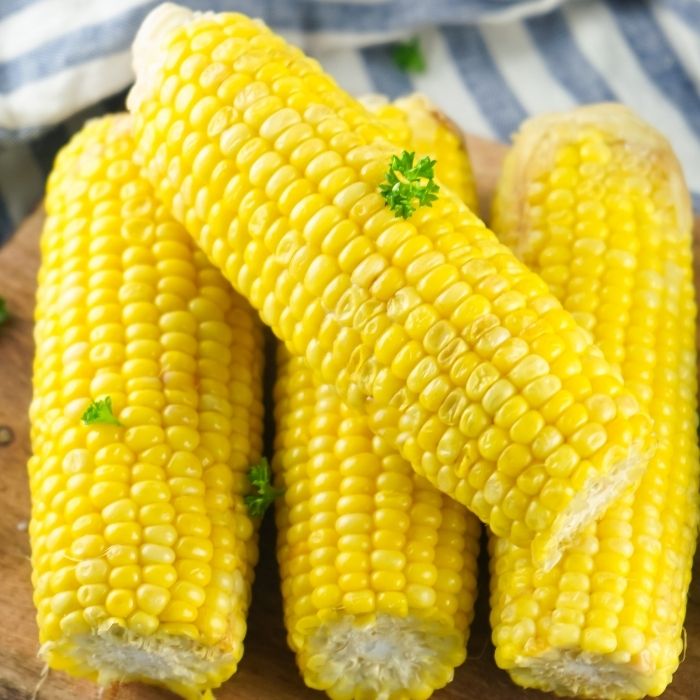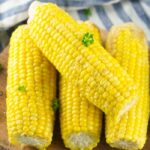 Looking for a tasty side dish to pair with dinner this week? If so try out my Instant Pot corn on the cob. It is a quick and easy way to cook ears of corn in your pressure cooker. This fresh corn on cob recipe is sweet, juicy, and perfectly cooked corn.
All your need is corn and water to make this Instant Pot corn recipe. So grab those ears of corn and get to cooking. Pair your corn with some slow cooker bbq chicken legs.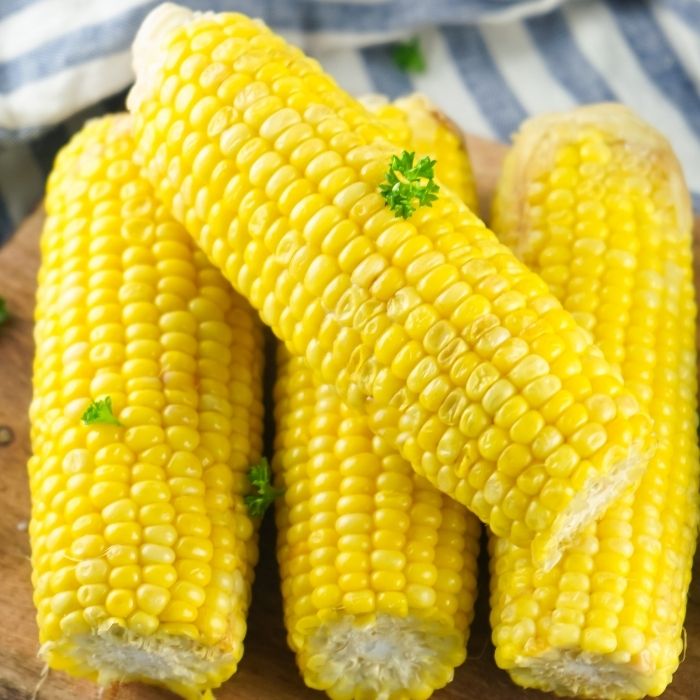 I love cooking sweet corn in our Instant Pot or even Ninja Foodi. It is a perfect side dish for a summer cookout or weeknight dinner that the whole family enjoys.
This Instant Pot Corn On Cob Recipe Is…
Quick and Easy pressure cooker corn on the cob
Plump Kernels
Fresh Flavor
Juicy
Sweet Corn
Simple Side Dish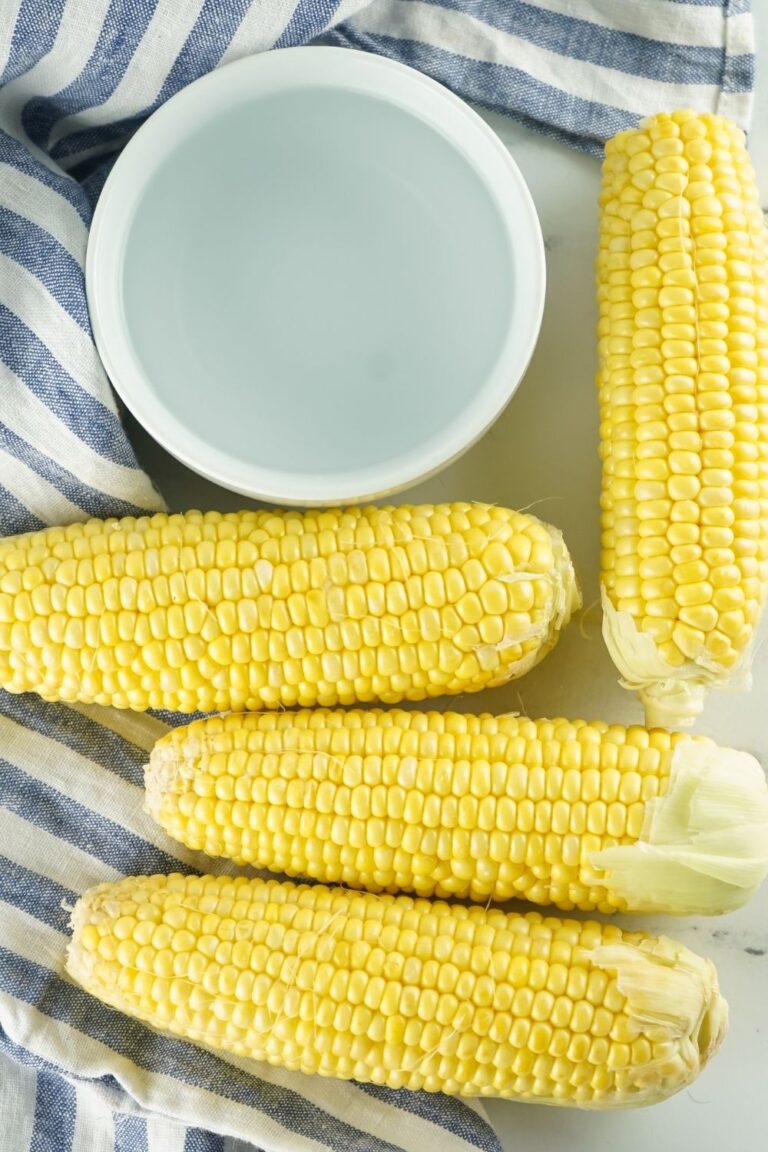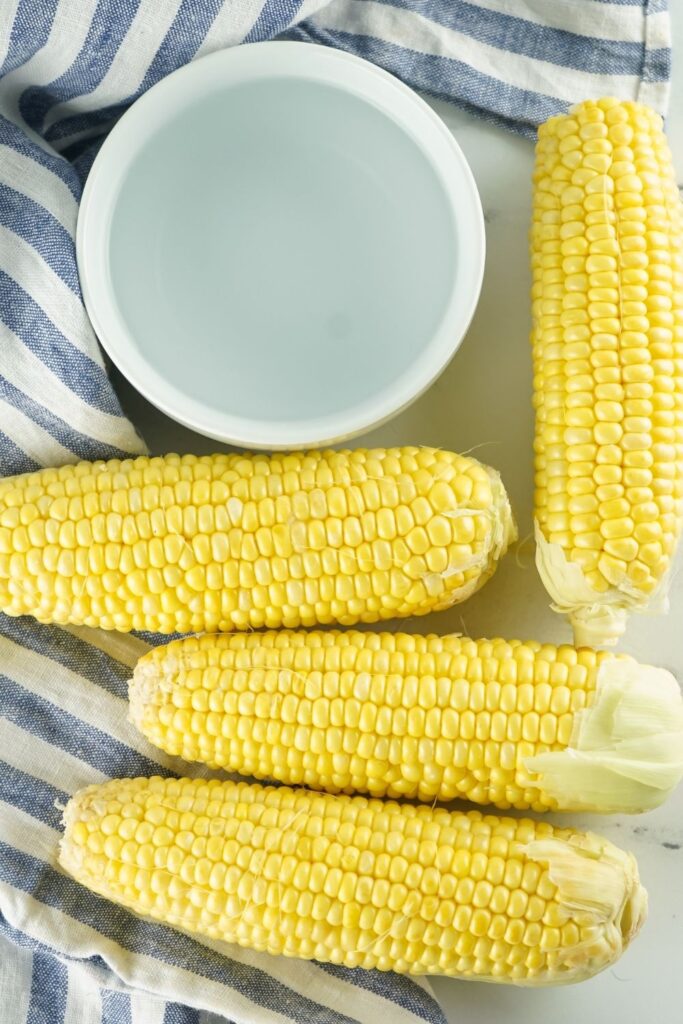 Ingredients
Here is all you need for this corn on the cob in instant pot!
Corn on Cob – You can use fresh ears or frozen corn on the cob for this recipe. I find that frozen corn can kind of wilt down a bit in the kernels.
Water – I recommend using filtered water, we have an Reverse Osmosis that I used to help keep the water more pure.
Tools Needed
Instant Pot – I used a 6 quart Instant Pot, but feel free to use whatever size of pressure cooker you have. If your ears are too long, just cut them in half.
Steamer Basket – I used a steamer basket. You want to make sure your corn is out of the water.
How to Make
Full directions on how to make Instant Pot corn on the cob. This is a visual walk through for readers if they would like.
Step One: First place your steamer basket in the Instant Pot. Then place the corn in the basket.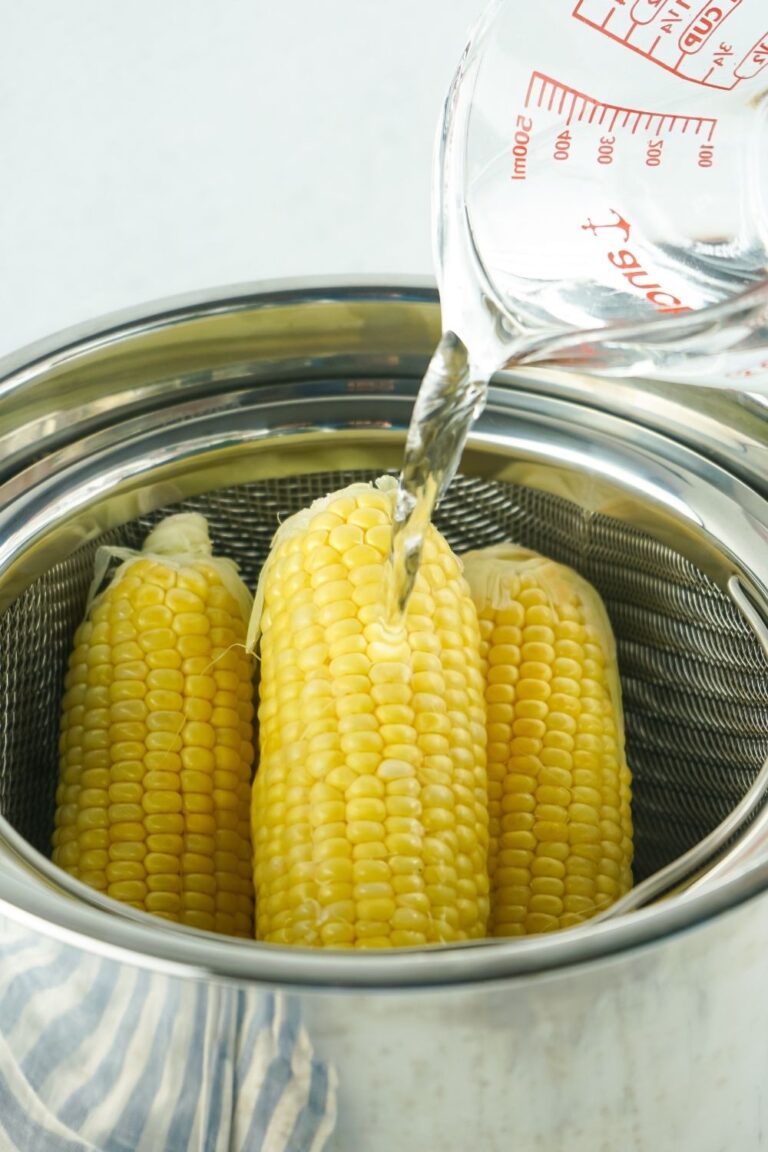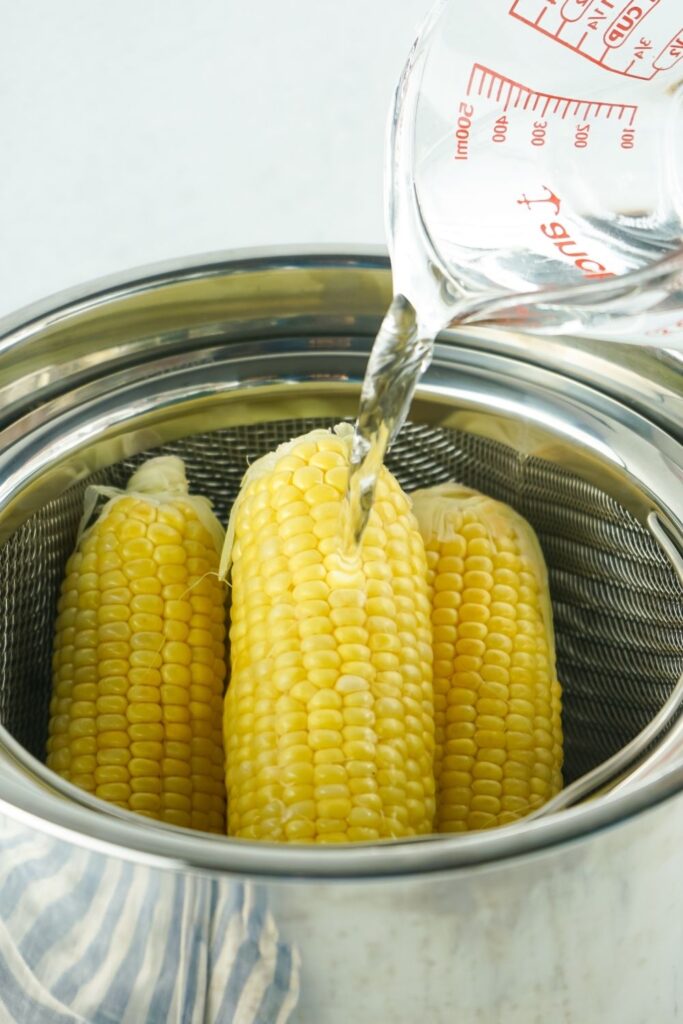 Step Two: Next pour in the water, and place the lid on the pressure cooker. Make sure the valve is set to sealing, and do high manual pressure.
Step Three: Lastly, pressure cook as directed, and then quick release pressure once done.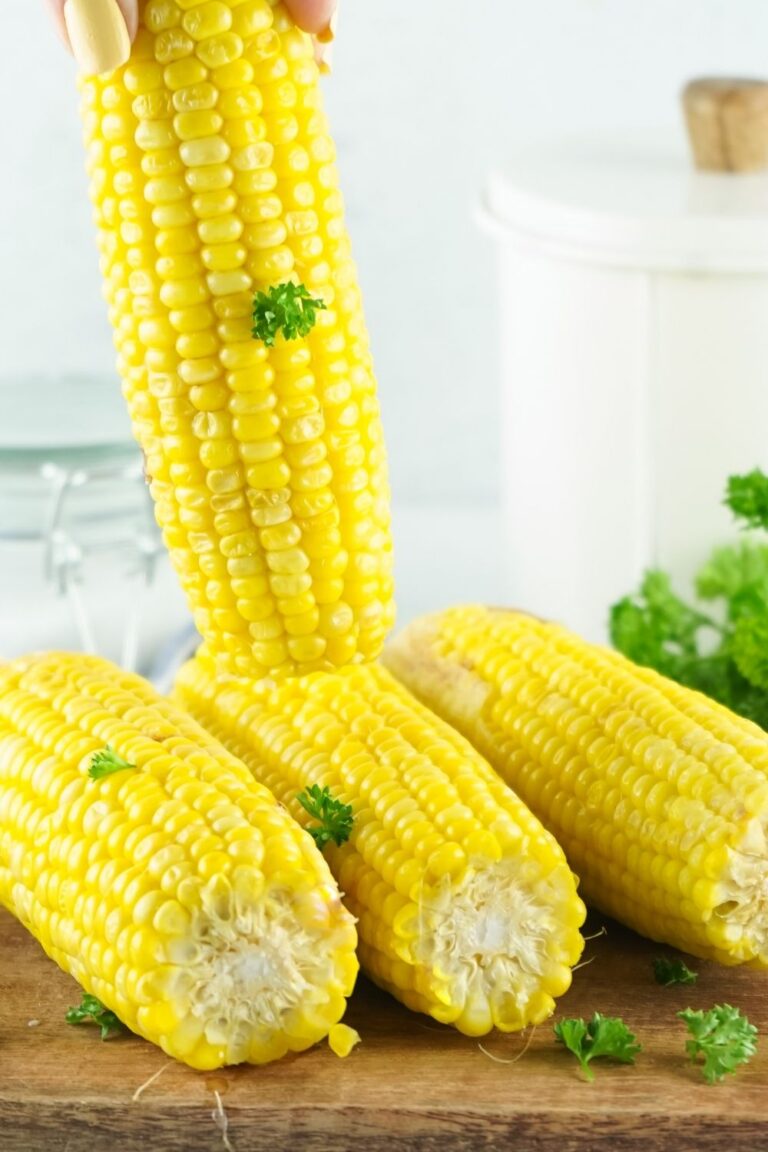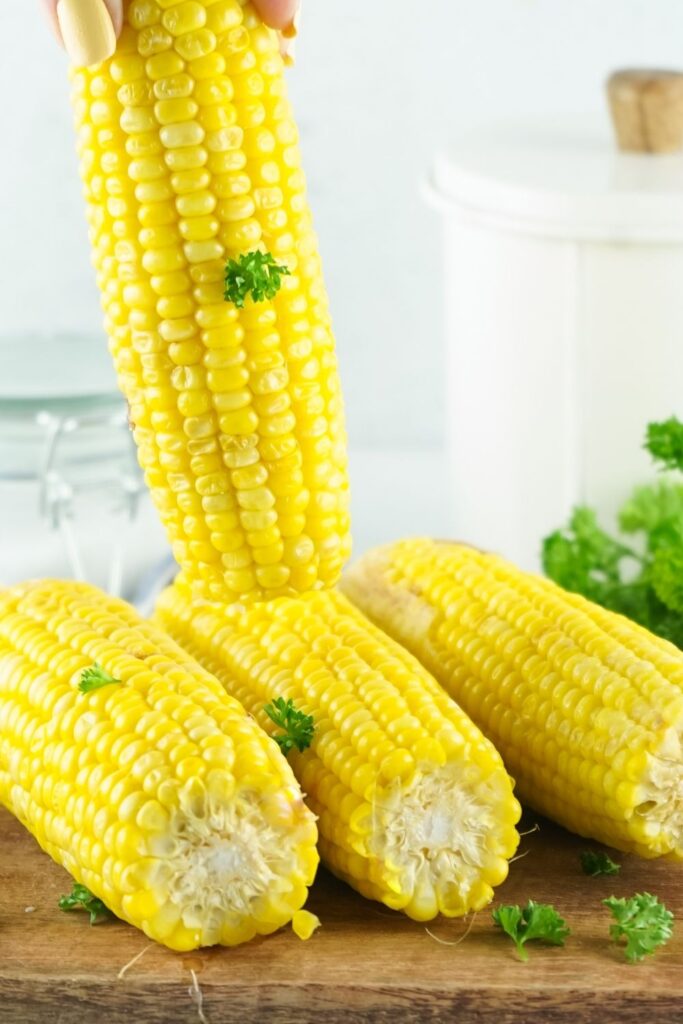 Step Four: Once all the pressure is done, open the lid, and carefully remove the corn.
Pro Tips For Success
Cut corn into half and place in basket if you have larger corn on the cobs.
I used a steamer basket, but you can use any insert that keeps the corn out of the water. If the corn touches the bottom it will sog up a bit.
Also, overcooking the corn will either cause the kernels to become mushy or hard depending on how overcooked you make the corn.
Corn on the cob can be grilled, boiled, microwaved, pressure cooked, or even roasted! This is my pressure cooker version.
How to Pick Corn At The Store
Husks – Reach for bright colored husks as that shows they are freshly picked. If you buy brown husks that means the corn has been there for a bit and is getting old.
Corn Silks – The hair like silks you see in the corn can be a good indicator on the corn you are buying. The more silk you see the better. It will be a golden color and a bit sticky to the touch.
Stems – Look at the bottom of where the corn was cut from the plant. You will find if it is still moist that means your corn is fresh still. If you find it is brown on bottom, just like the husks the corn is older.
Kernels – You will find many stores allow you to pull back the husks to look at the corn you are going to buy. Look for plump evenly sized kernels. If they are wilted that means that part of the kernel is inedible and will need to be cut out.
Ways To Dress Up Corn
Not sure how to serve up your corn? Here are tasty toppings you can pair with your corn to transform the flavor.
Butter
Salt and Pepper
Garlic butter and Parmesan
Shredded cheese
Bacon crumbles
Cotija cheese
Creole Seasoning or Old Bay Seasoning
Storing
Not sure how long does corn on the cob last in the fridge? If you happen to not eat all the corn you can store in a container in the fridge for 1-3 days. You will find your corn is best served fresh.
Common Questions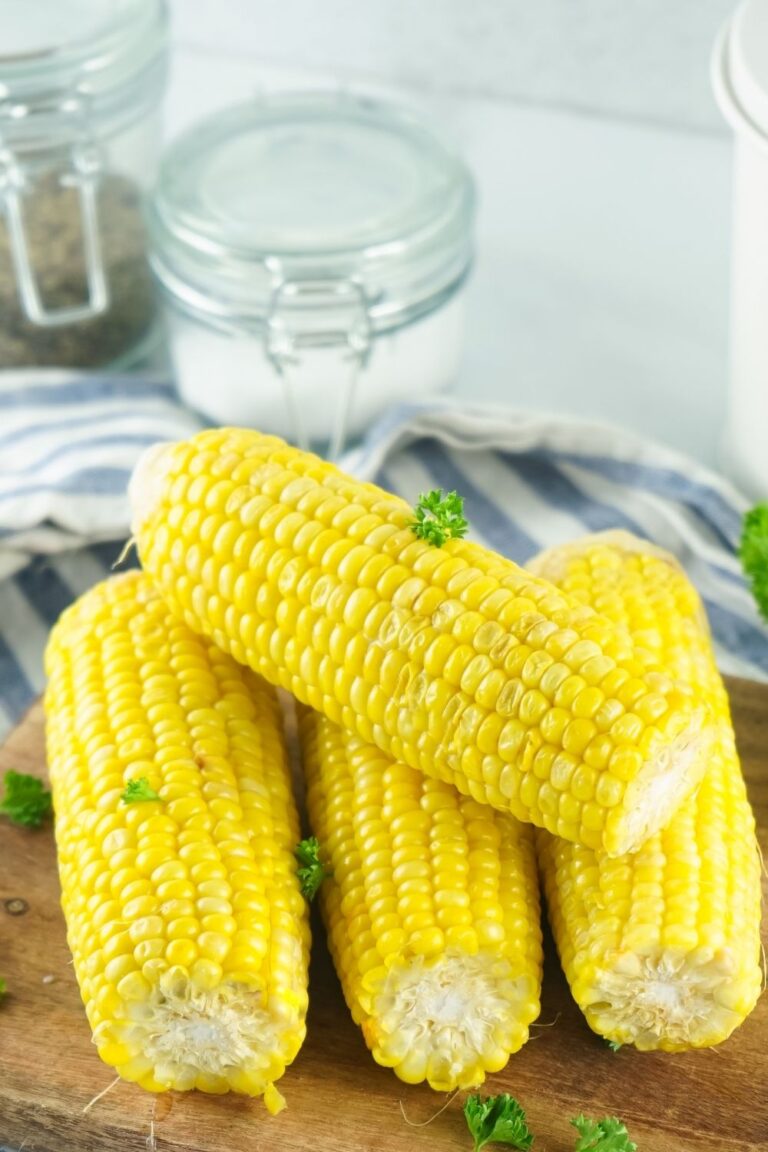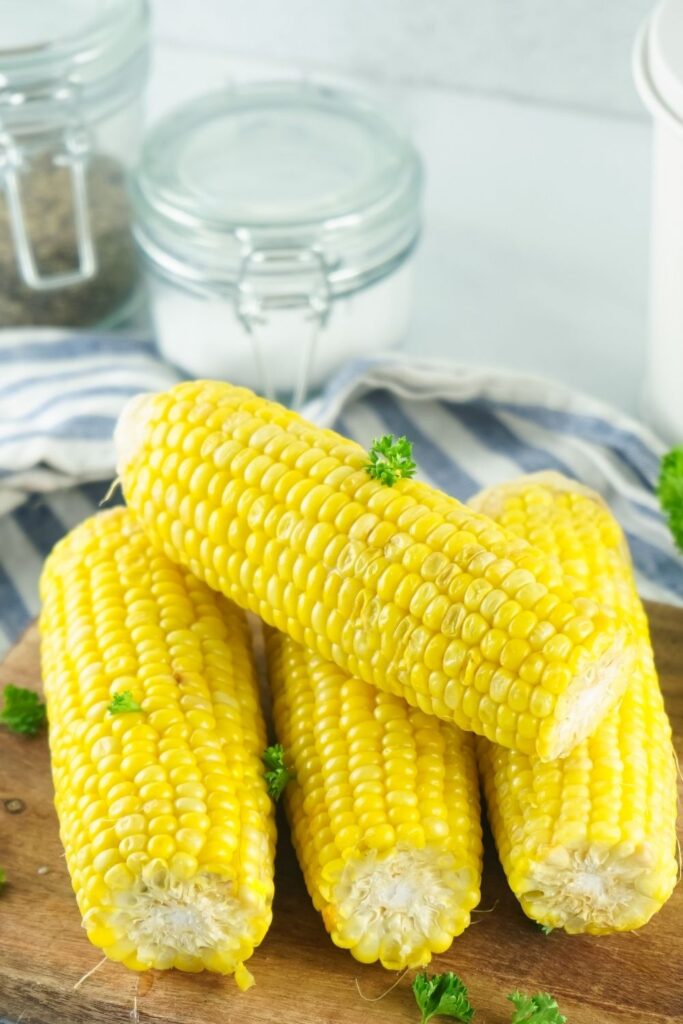 Related Recipes
Have you tried the recipe? If so, please leave a star ⭐️⭐️⭐️⭐️⭐️ rating in the recipe card below or drop a comment. Also stay in touch with me through social media by following me on Facebook, Pinterest, or My Facebook Group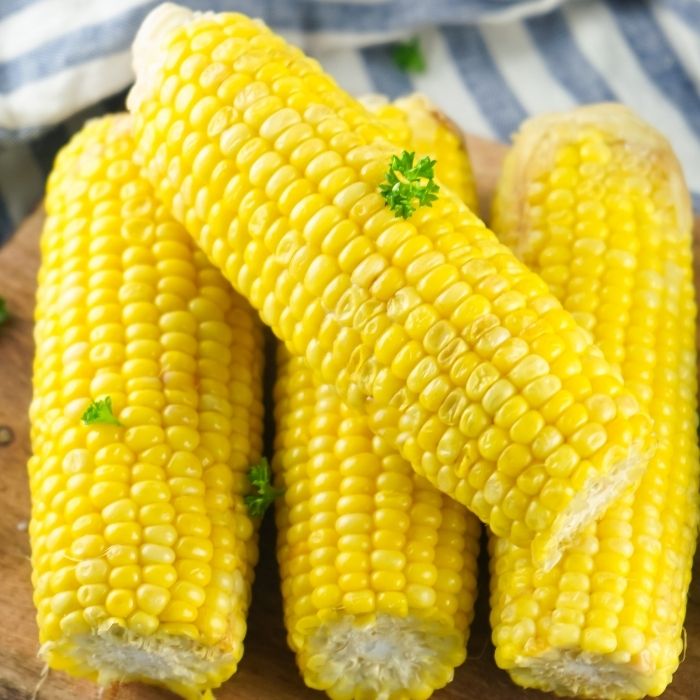 Instant Pot Corn On The Cob
Servings 4 -6
Instant Pot Corn On The Cob is a quick and easy way to pressure cook corn on the cob. A step by step guide to making an easy corn side dish to pair with dinner or serve at a summer cookout.
Ingredients
1 cup water
4-6 ears of corn
Instructions
Place your steamer basket or trivet into the Instant pot. Then place your ears of corn on top of the trivet or in the basket.

Pour your water into the Instant Pot.

Place the lid on your pressure cooker and make sure the venting knob is set to sealed. Pressure cook on high manual pressure for 1-2 minutes.

Once the timer is done, quick release the pressure, and open the pressure cooker and remove the corn on the cob.

Serve and enjoy!
Notes
Size of Instant Pot: I used a 6 quart, you can use any size pressure cooker. If your corn is too tall cut it in half to make it fit. Corn: Make sure the corn does not sit in the water. You need a trivet or steam basket to place the corn on.
Nutrition
Serving: 1gCalories: 114kcalCarbohydrates: 25gProtein: 4gFat: 2gPolyunsaturated Fat: 1gSodium: 4mgFiber: 3gSugar: 5g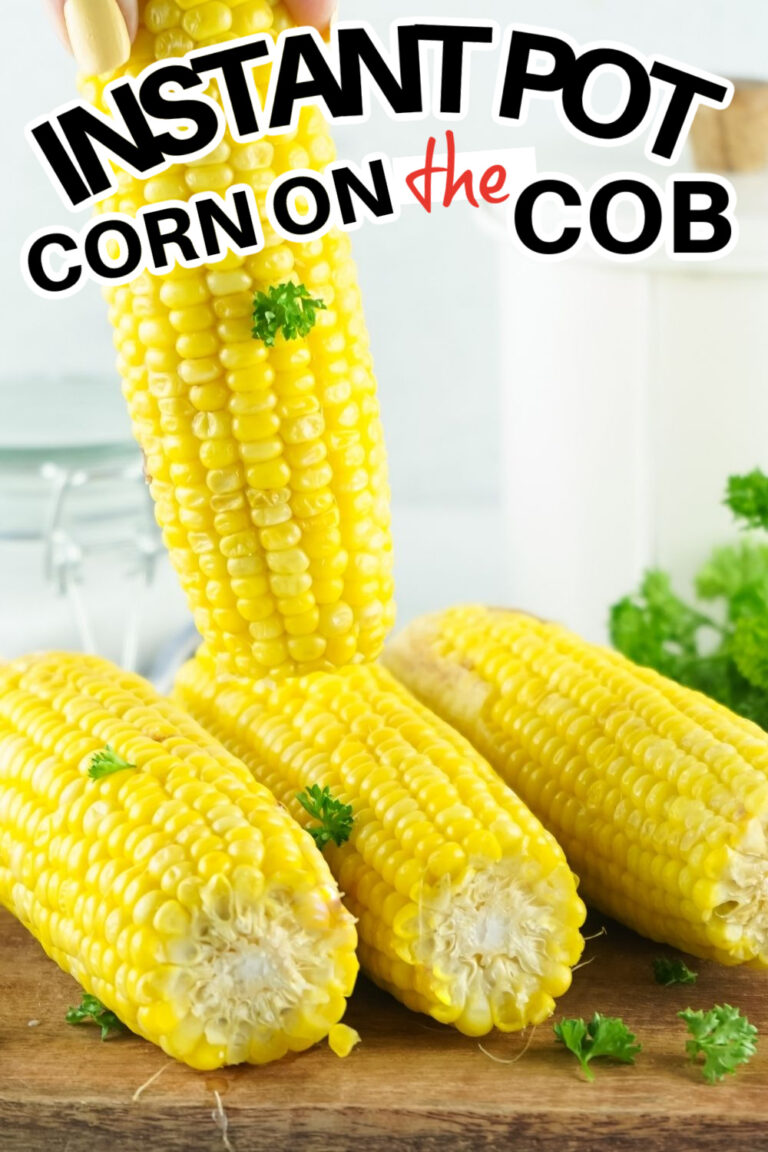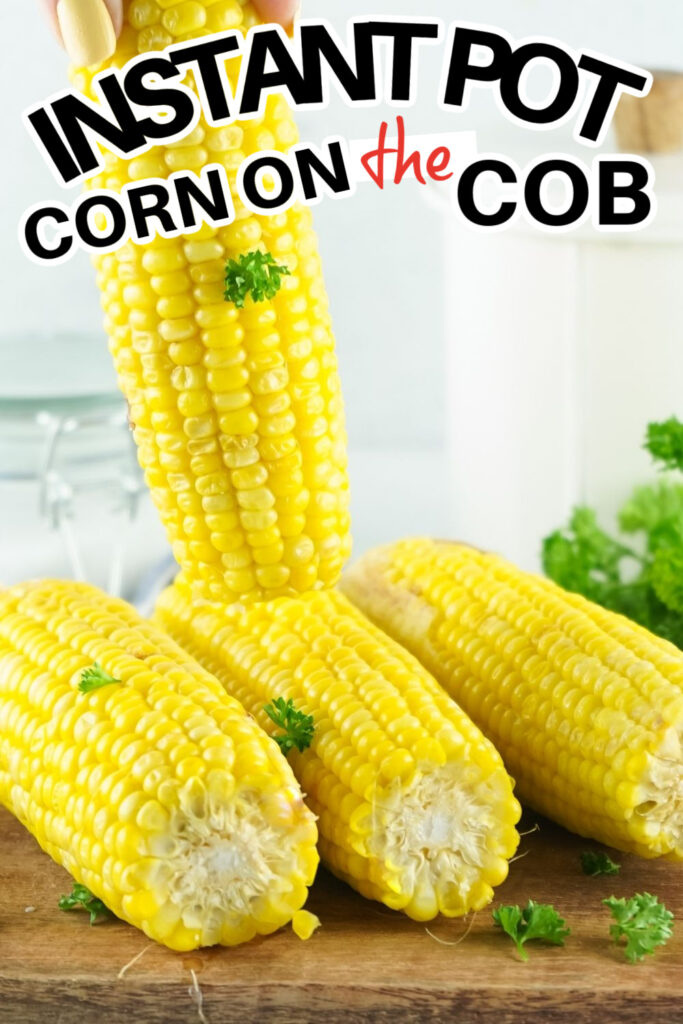 Reader Interactions