Hazelnut Chocolate Protein Balls (Ferrero Rocher Style) are a tasty no-bake protein ball that is loaded with roasted hazelnuts, protein powder, chia seeds, and more. This will give you a similar flavor to a Ferrero Rocher ball.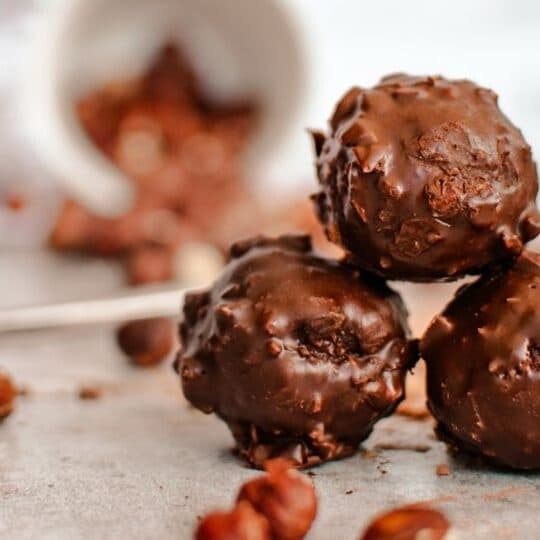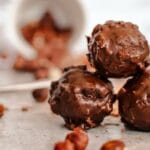 If you love Ferrero Rocher Balls you have to try this hazelnut chocolate balls recipe. Vanilla protein powder, hazelnuts, chia seeds, and more for healthy snacking. An energy ball that is loaded with rich chocolate and a tasty hazelnut inside the center of the energy bite.
A no bake dessert you can make and serve for the holidays, as a 2 pm pick me up treat, and more. Or whip up this protein mug cake for another healthy snack or dessert.
If you are a fan of Ferrero Rocher, this "healthier" version will curb your cravings with the same crunch and sweetness in every single bite.
🌰Why This Recipe Is A Must Make
Healthy dessert
Similar flavor to a Ferrero Rocher Hazelnut candy
Loaded with protein powder to boost your body
Simple to make
No baking required
Make ahead and then enjoy a grab and go snack
Freezer Friendly
🍫 Main Ingredients for Hazelnut Chocolate Balls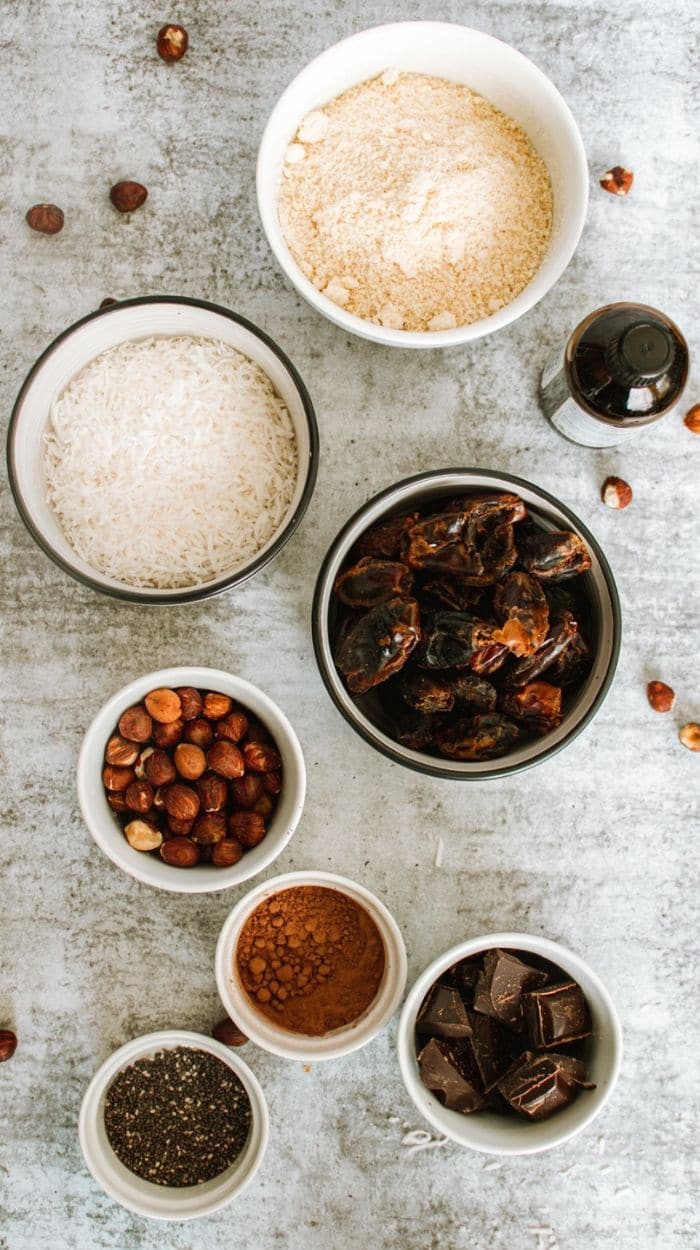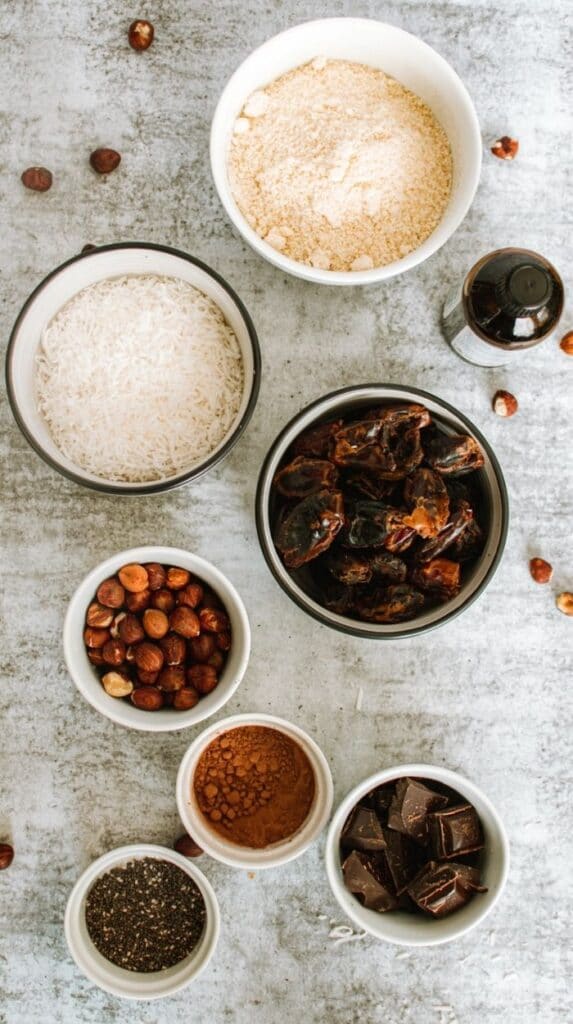 Dates | These dates will add tons of flavors in every single bite. When you pair with the coconut it melts in your mouth.
Hazelnut | Whole hazelnuts are going to be hidden in the center of your bites. That are wrapped in melted chocolate mixture.
Filling | Protein powder, chia seeds and more come together to help add texture and flavor to your bites.
🥥 How to Make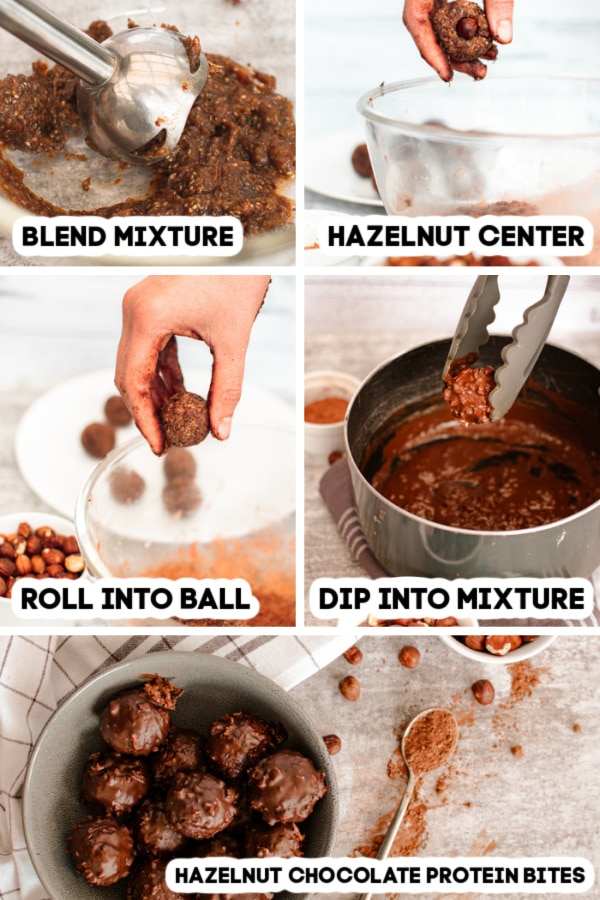 You will want to soak your dates in some water as directed in the printable recipe card below.
While the dates are soaking roast your hazelnuts in the oven at 180 degrees for 10 minutes.
You will leave a handful of nuts to the size, to place in the center. The rest you will grind up.
Take your dates and place in a bowl, add protein powder, cocoa powder, chia seeds, and almond meal. Mix up and then grab a scoop.
Place hazelnut in the center then roll into the balls. Place balls on parchment paper.
In a pan, you will add your chocolate, cocoa powder, chopped hazelnuts, and coconut, and mix well until melted and combined.
Then dip each ball in the chocolate mix and sit on the parchment paper to set up.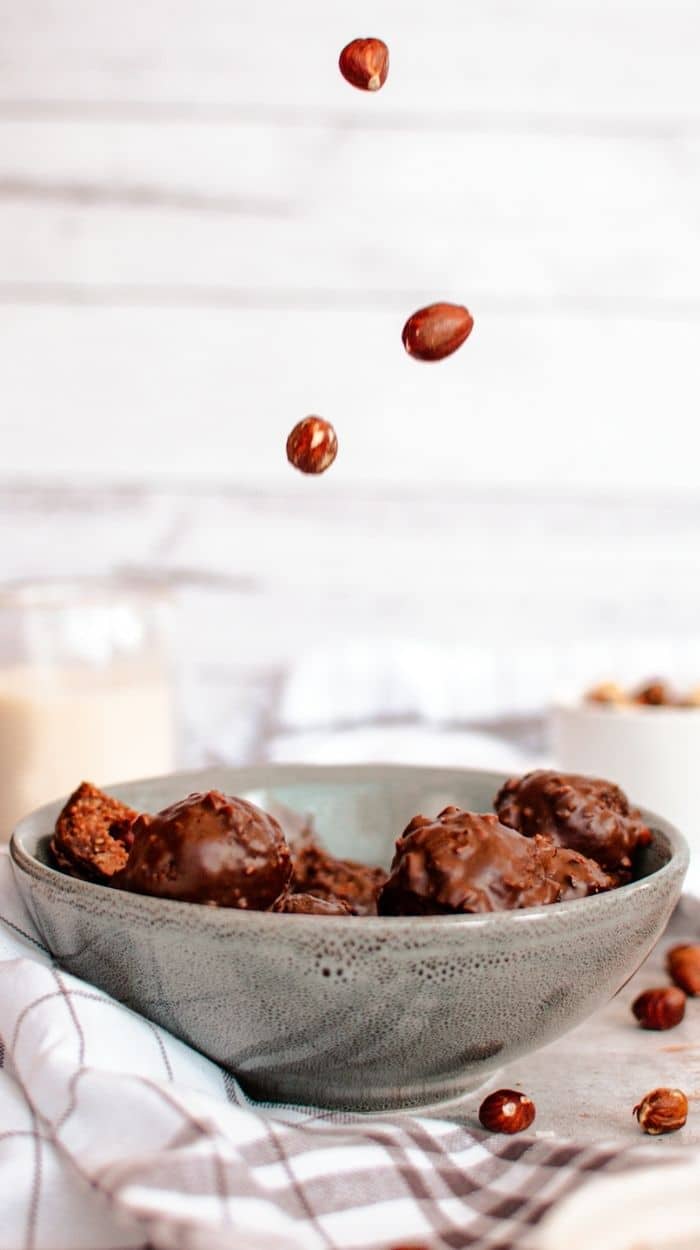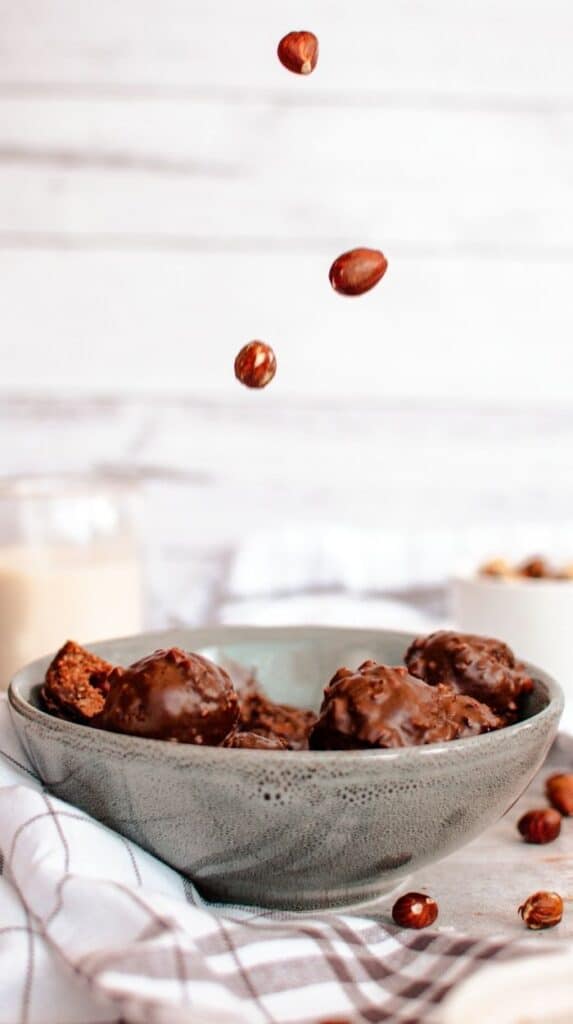 Storing And Meal Prep
You will want to store your leftover Ferrero Rocher bites in the refrigerator. Make sure if you stack these bites, that you place parchment paper in between the layers to prevent sticking together.
You can meal prep these and then store in the fridge for up to a week. Or you can freeze your protein bites for up to three months. Then just thaw on the counter for a quick thaw, or the fridge overnight.
🥄 Expert Tips
You want to soak the dates so they soften up and can become a bit of a sticky texture.
Leave some of your hazelnuts out so they can be in the center of the balls.
You can use chocolate chips, baking chocolate or whatever you would like for dipping.
You can use a sugar free chocolate if you want this to be a lighter dessert without added sugar.
Unsweetened coconut is what I used for this recipe. I reach for a smaller coconut flake.
Recipe FAQS
Why do you roast hazelnuts?
Roasting your hazelnuts will give you a more nutty flavor. It will also help you to loosen the skins as well. Get all the skin removed.
Are protein balls healthy for you?
Protein balls are healthy when you eat them in moderation. Just like anything moderation is key.
Can I Use A Dairy Free Chocolate to Dip?
Go right ahead and reach for a dairy free chocolate if you need to for dietary needs to make these hazelnut chocolate protein balls. Just melt it down as directed, then stir in chopped nuts and coconut.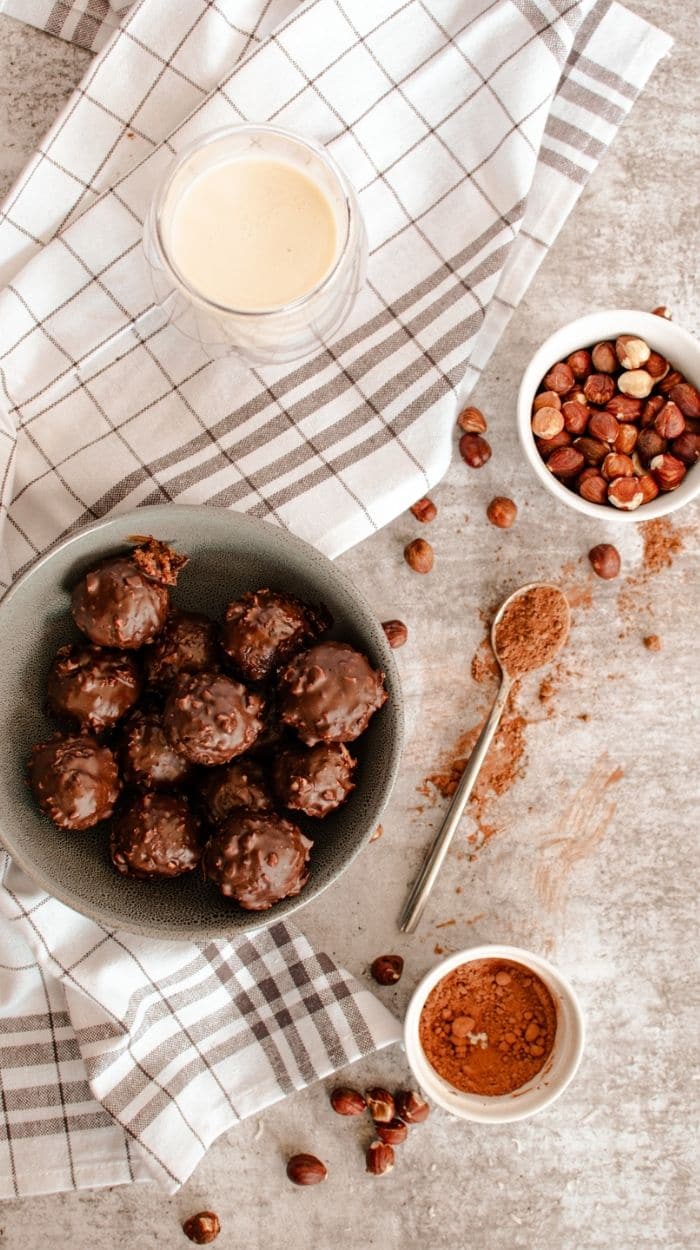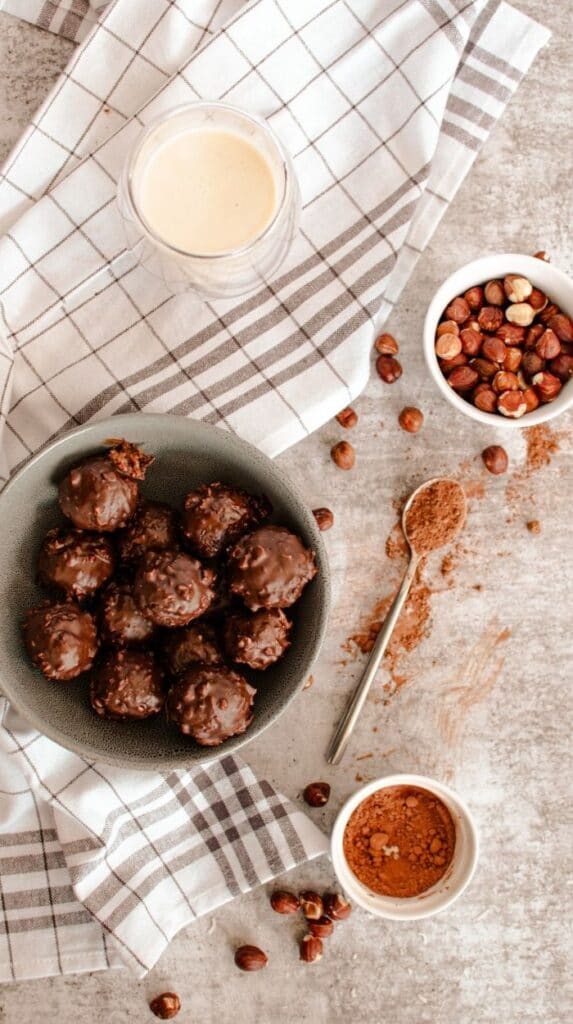 Here Are More Recipes To Try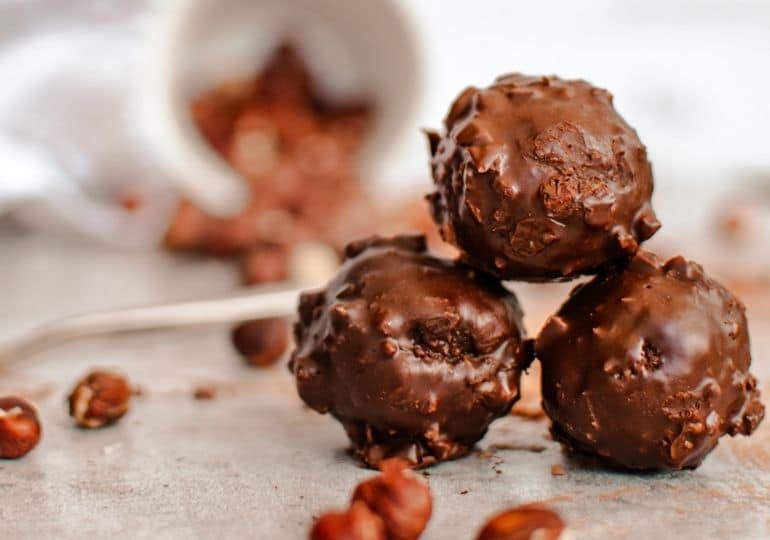 Hazelnut Chocolate Protein Balls (Ferrero Rocher Style)
Servings 12 bites
Hazelnut Chocolate Protein Balls (Ferrero Rocher Style) are a tasty no-bake protein ball that is loaded with roasted hazelnuts, protein powder, chia seeds, and more. This will give you a similar flavor to a Ferrero Rocher ball.
Ingredients
8 pitted dates
1/4 cup of almond meal
1 tablespoon of vanilla protein powder
1 cup of hazelnuts reserve some whole for the filling
1/4 cup of water
1/2 cup melting chocolate chocolate chips or baking chocolate
1 tablespoon of chia seeds
1 tablespoon cocoa powder
1/4 cup shredded unsweetened coconut
Instructions
Start by taking your dates and soak them in the 1/4 cup water for 15 minutes.

In a baking pan you will lay out your hazelnuts in a single layer. Roast for 10 minutes at 350 degrees F. Once done remove, and allow the nuts to cool.

When your dates have soaked pour them into a food processor. Add in your almond meal, protein powder, chia seeds and cocoa powder. Mix up well.

Then use a cookie scoop and place one roasted hazelnut in the center and roll the mixture around the hazelnut.

Then in a pan melt chocolate add in chocolate and begin to melt. Then add in your cocout and chop up the hazelnuts.

Once well mixed, dip each ball one at a time in the chocolate. Then place the ball on a wax paper or parchement paper.

Let them set up, or toss in the fridge to set up the chocolate faster.

Store your hazelnut chocolate protein balls in the fridge!
Notes
Make sure you soak your dates to help get them to the softened texture you want.
Use any flavor of chocolate. Whether it be chocolate chips or baking chocolate.
You can use an immersion blender to replace a food processor if you need it.
Top with more coconut or chopped nuts for added topping.
You need to keep your bites in the fridge to prevent them from spoiling.
Double the recipe if you would like.
Freeze your chocolate hazelnut bites in the freezer for up to three months.
Nutrition
Serving: 1gCalories: 153kcalCarbohydrates: 11gProtein: 4gFat: 11gSaturated Fat: 3gPolyunsaturated Fat: 8gCholesterol: 2mgSodium: 8mgFiber: 3gSugar: 7g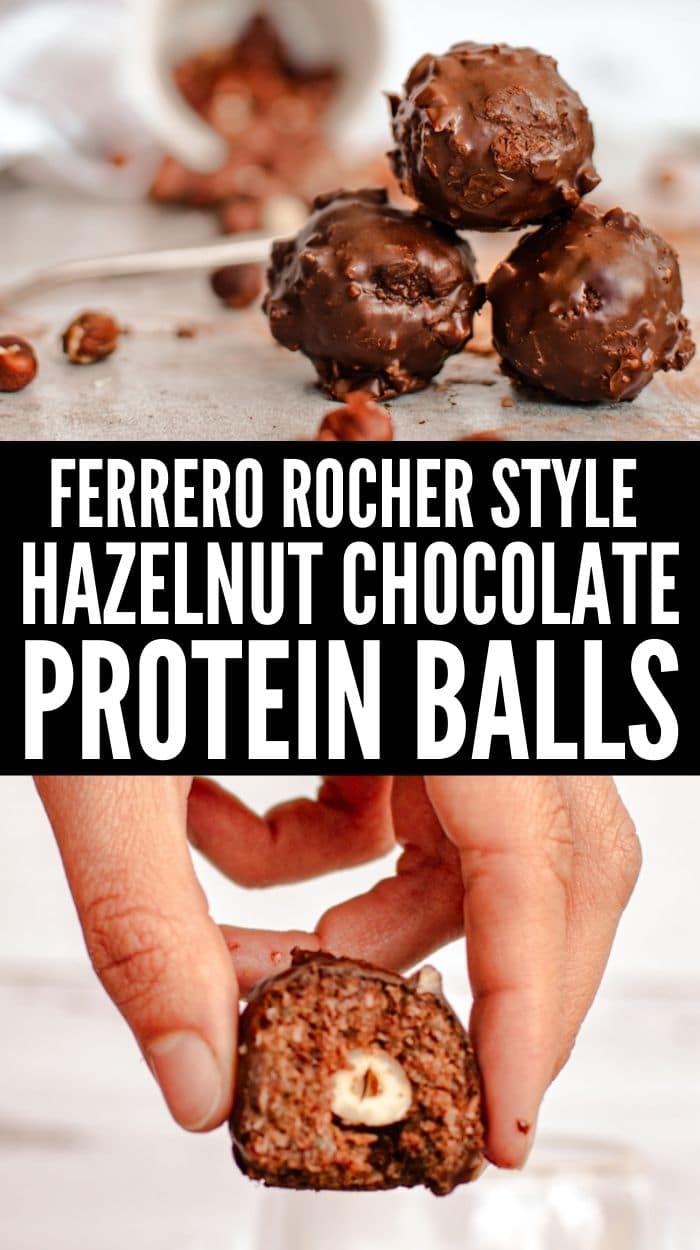 Do you think you would enjoy these hazelnut chocolate balls?
Reader Interactions