Fried Oreos are a pancake batter dipped Oreo that is fried in oil. A popular fair food dessert that will blow you away with one bite. Deep fried Oreos are a must make!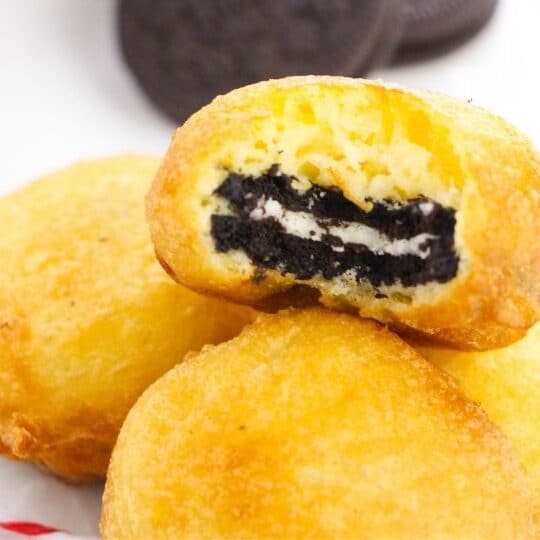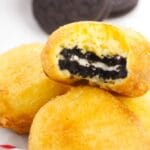 5 ingredients are all it takes to make this easy fried Oreos. A battered Oreo that is deep-fried to golden puffy texture. A fair food recipe is a must-make. A fried cookie never tasted so good. This is one of my favorite fair food recipes you have to try. Don't hold out for your local fair, learn how to make this deep fried Oreos recipe.
Deep fried Oreos are a fun dessert to whip up, and serve to your family. A pancake battered coating that turns super fluffy, and then the Oreo cookie is nice and soft in texture and cooked to golden brown perfection. The worlds favorite cookies just got a whole new level of flavor. Also, try this Oreo banana bread for another Oreo dessert.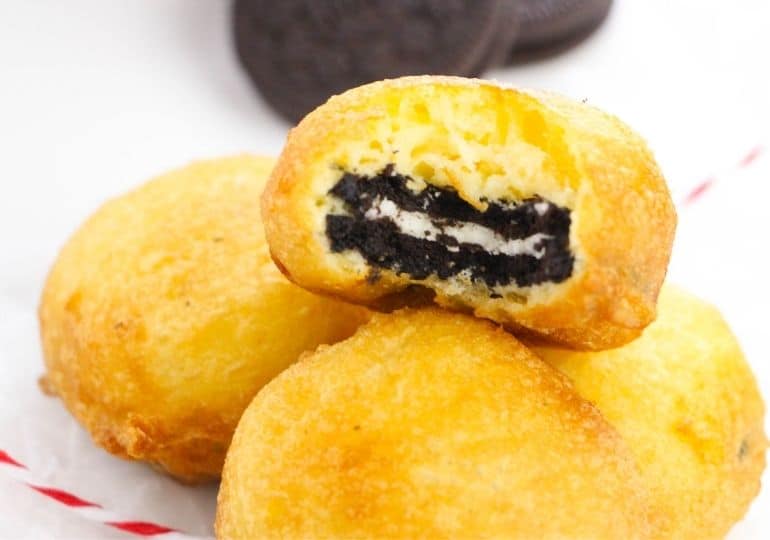 Give this easy fair food treat a try at home, and curb those cravings. Simple ingredients big flavor. You can use a deep fryer or a pan with some oil. Either way these golden coated cookies are a must make dessert. Also try this edible Oreo cookie dough as a delicious treat.
Why You Will Love These Fried Oreos
5 ingredients is all it takes to make this quick and delicious treats for a crowd.
Easy to Make in the comfort of your own home.
Fry in a pan with oil on stove or use a deep fryer.
Fluffy texture batter that becomes golden perfection once fried.
Favorite Indulgent Fair Food (I love funnel cakes too)
Rich Oreo flavors in each bite that tickles your sweet tooth.
Ingredients Needed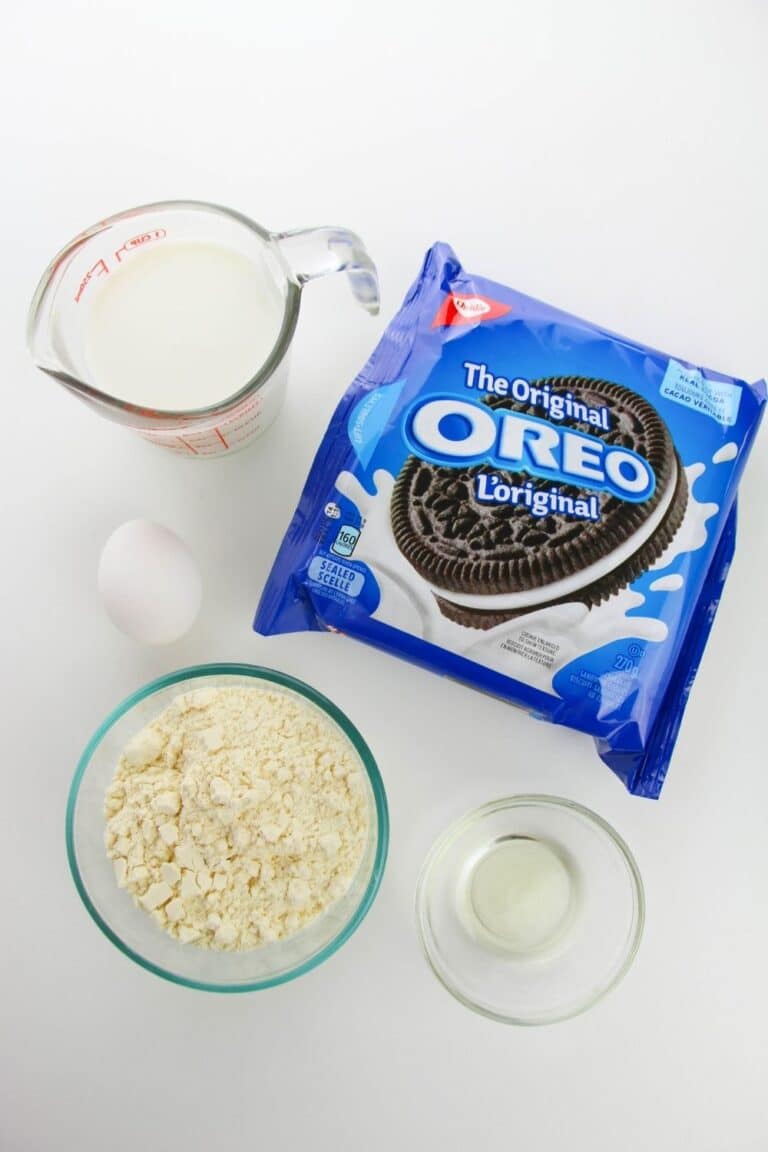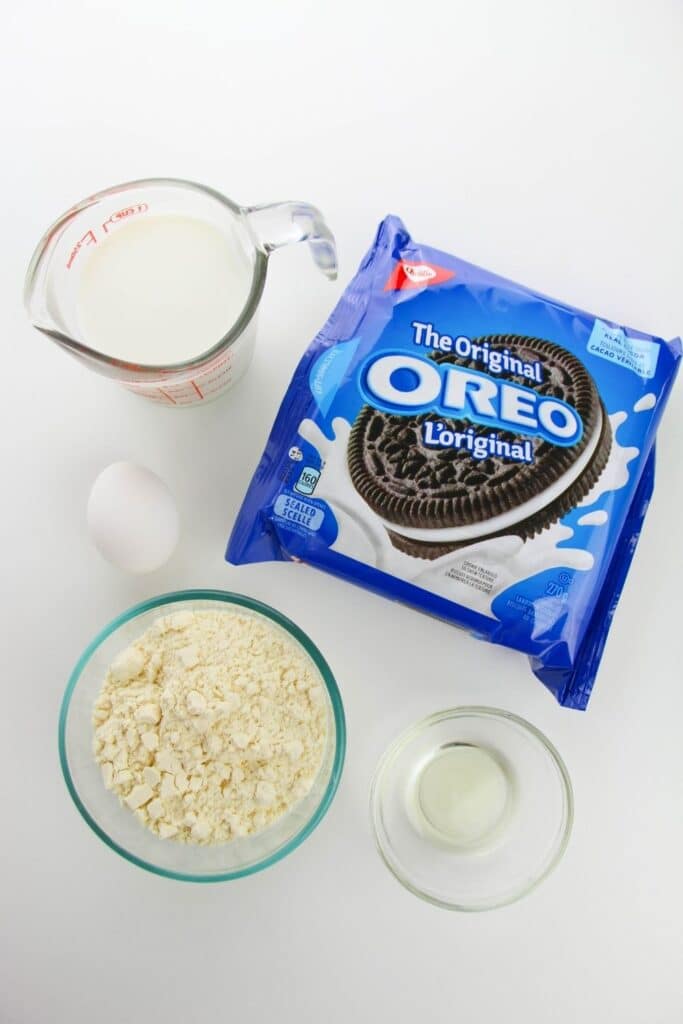 Oreos
Pancake Mix
Egg
Milk
Oil
Powdered Sugar (optional)
How to Make
Full directions on how to make deep fried Oreos are in the printable recipe card below. This is a quick walk through with pictures for visual learners.
Step 1: Heat Oil
In a heavy-duty pot,(deep pot) you will add in your peanut oil and bring it to 350 degrees. Use a candy thermometer to check the temperature of the oil.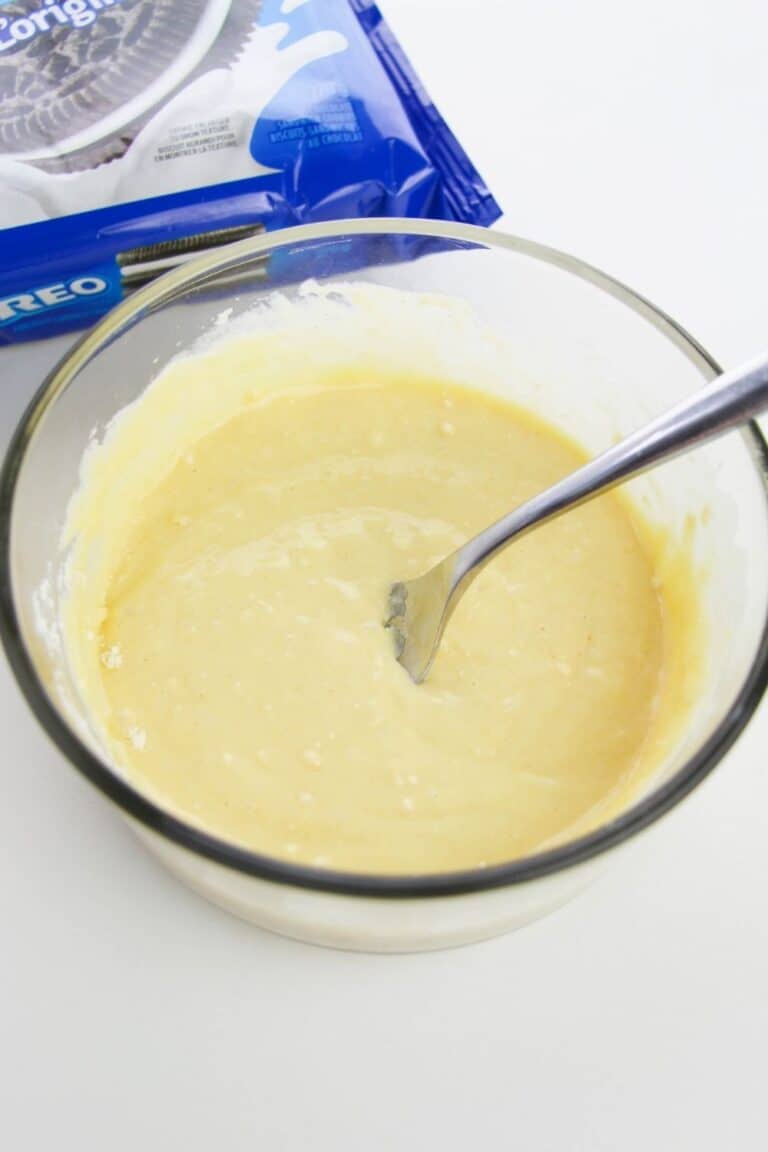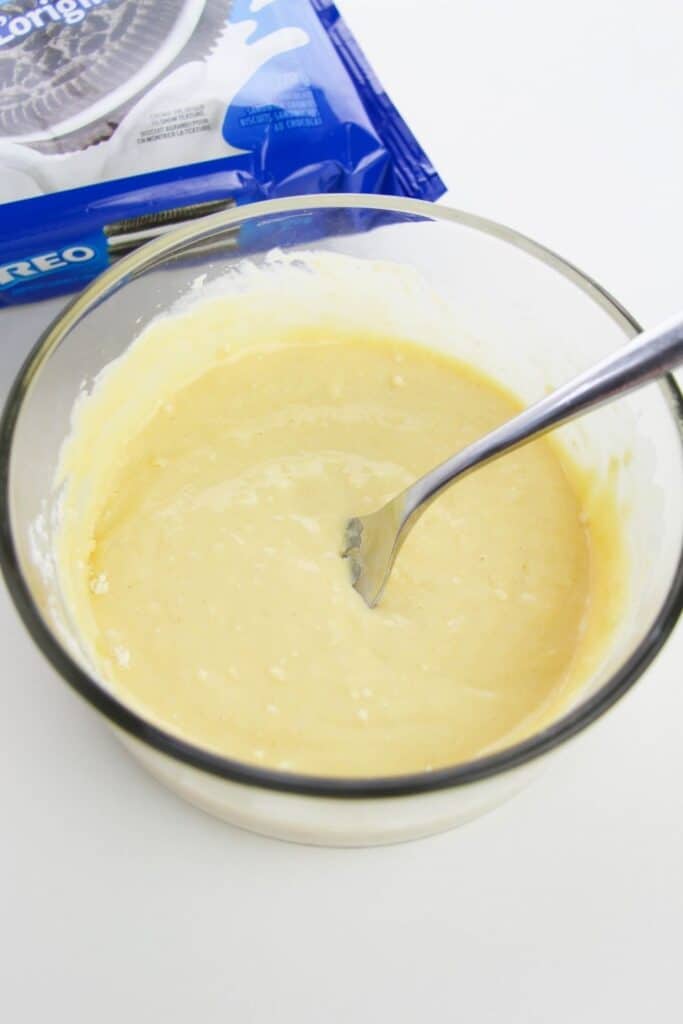 Step 2: Mix up Batter
Combine pancake mix with the mix, egg, milk, and 2 teaspoons of vegetable oil. Once well combined, you will get ready for deep frying Oreos.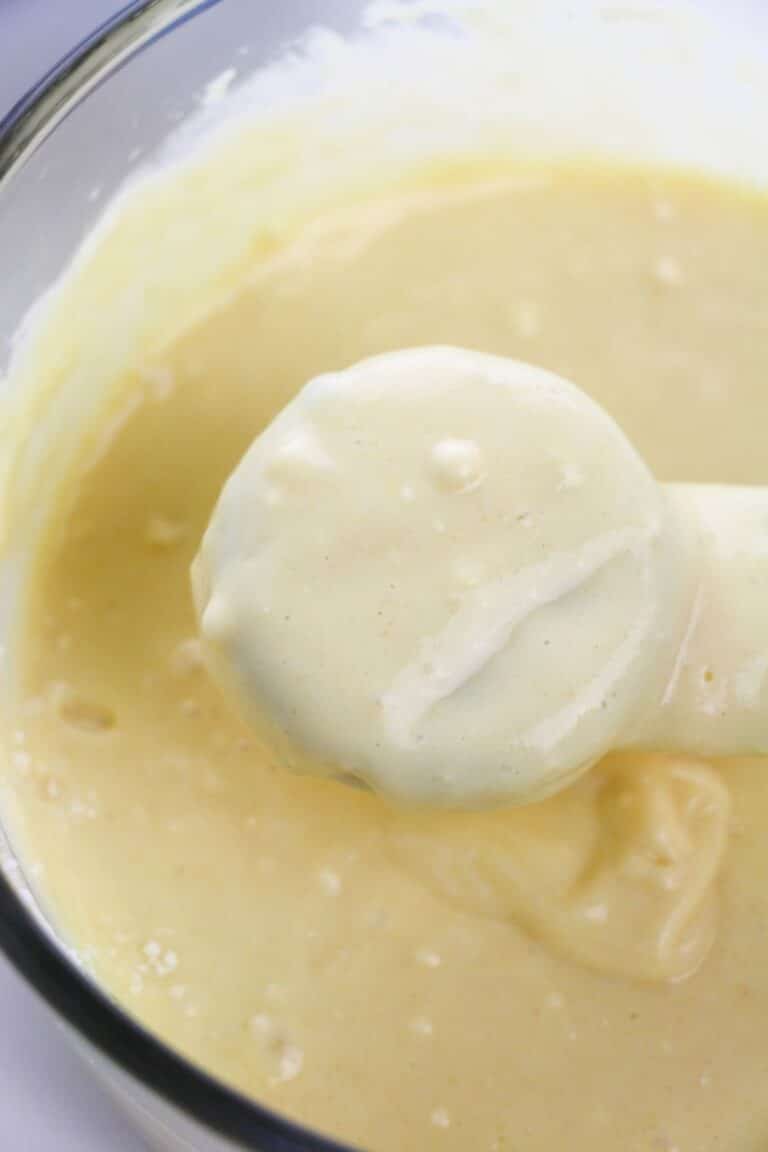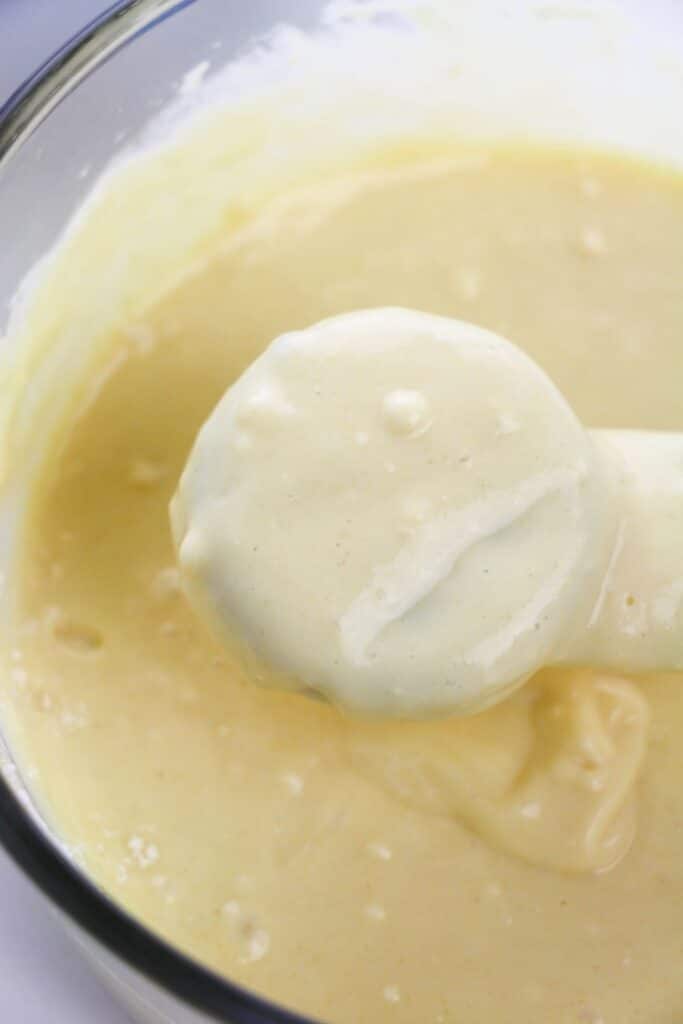 Step 3: Dip Cookies
Now you will dredge the chocolate cookie in the batter, lift it out and let it drip for a few seconds. Remove the excess batter from the cookies. Then carefully place in the pot of hot oil.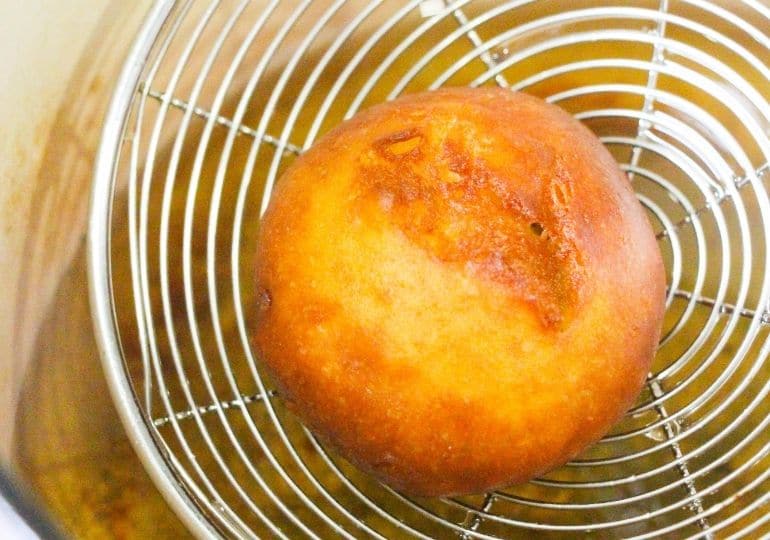 Step 4: Fry Oreos
Fry for around a minute per side, and flip the Oreos so both sides cook. Then remove (I used this oil skimmer) and place on a paper towel-lined plate.
Dust with powdered sugar and serve!
Storage
This deep fried Oreo recipe is best made fresh. It is a unique treat that is a perfect way to serve up a tasty dessert. You will find you can store leftover Oreos in the fridge for 1-2 days. The texture will soften quite a bit. But the flavor will still be tasty.
Then you can eat the battered Oreos cold or warm them up in the microwave or in the oven.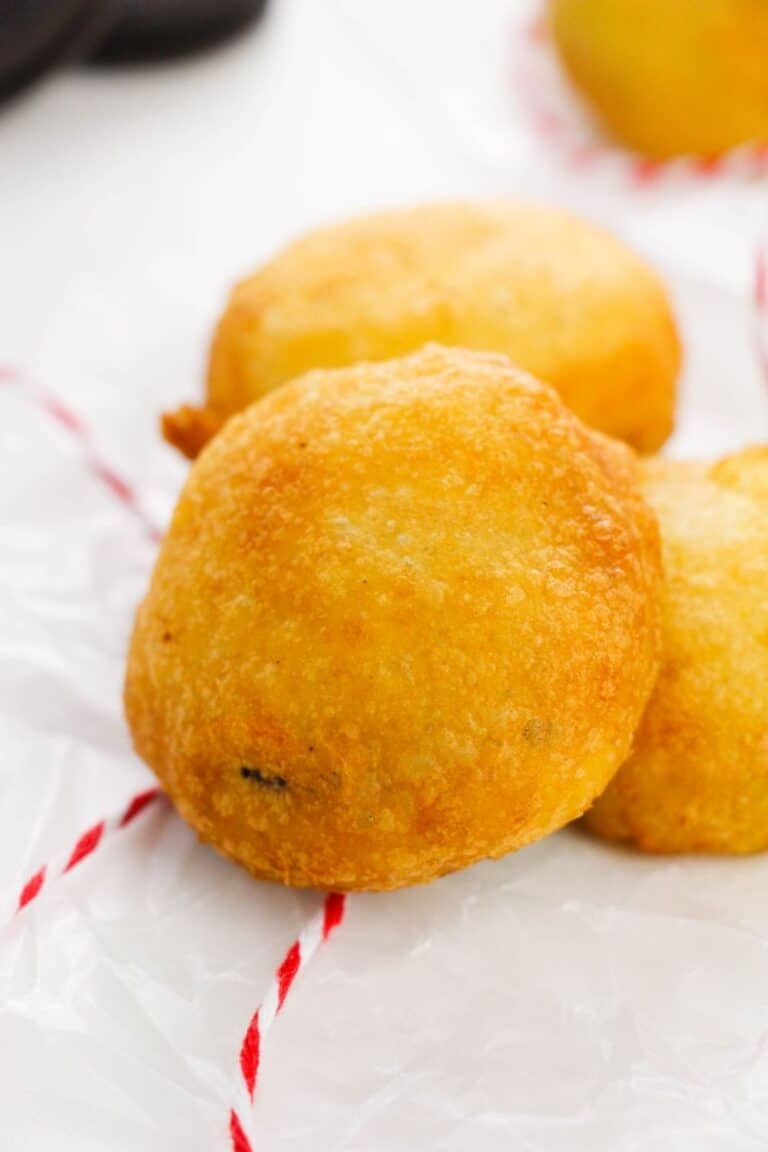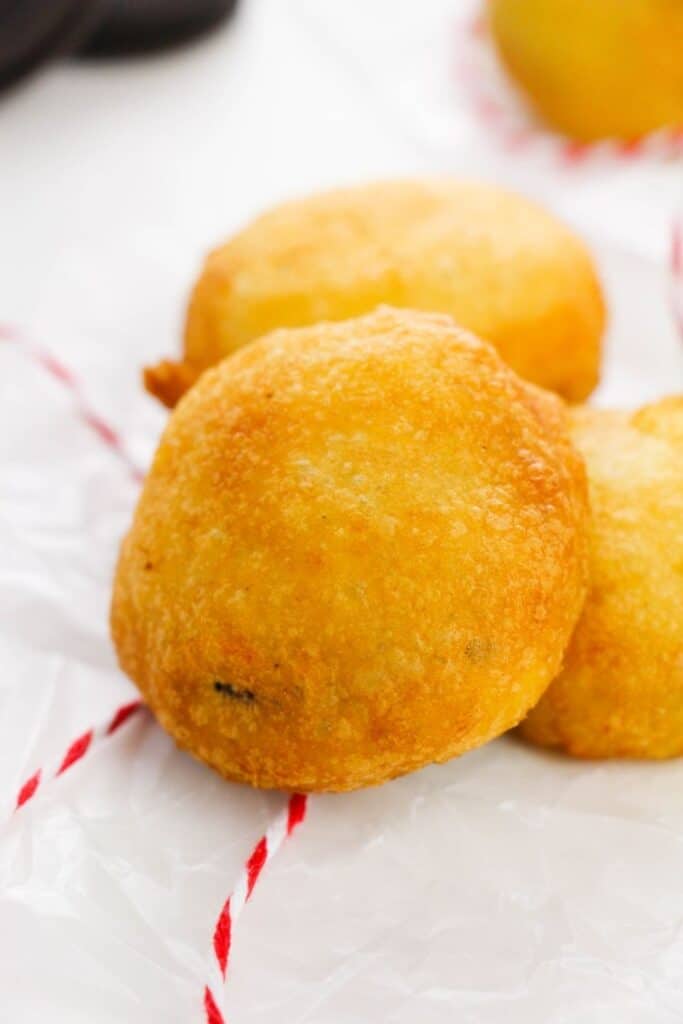 Expert Tips and Variations To Recipe
Use any flavor of Oreo you would like. Peanut butter, mint, or even a vanilla Oreo would be delicious. Change up the fried Oreo ingredients to fit your preference.
You can also use canned biscuit dough to wrap around each Oreo. If you want to know how to make fried Oreos without pancake mix.
Make sure the oil doesn't get too hot or it can burn the batter.
Flip the Cookies carefully after a minute to make the other side golden brown as well.
Let the cookies cool for a short bit, as they will be super hot.
Use a slotted spoon for getting the deep fried foods out of the oil. This is going to help the excess oil to drip off.
Use a candy thermometer to watch the oil temperature. If it gets too hot it will overcook or burn the batter but leave the center of the dough raw.
I love using a large Dutch oven for frying as it is sturdy and will heat evenly without hot spots.
Ways to Serve up this Oreo dessert
Dust with powdered sugar (confectioner's sugar) , or have a bowl of chocolate sauce, caramel or other sweet sauces for dipping.
You could also pair with a big scoop of vanilla ice cream for an ultra decadent dessert that everyone will love.
Recipe FAQs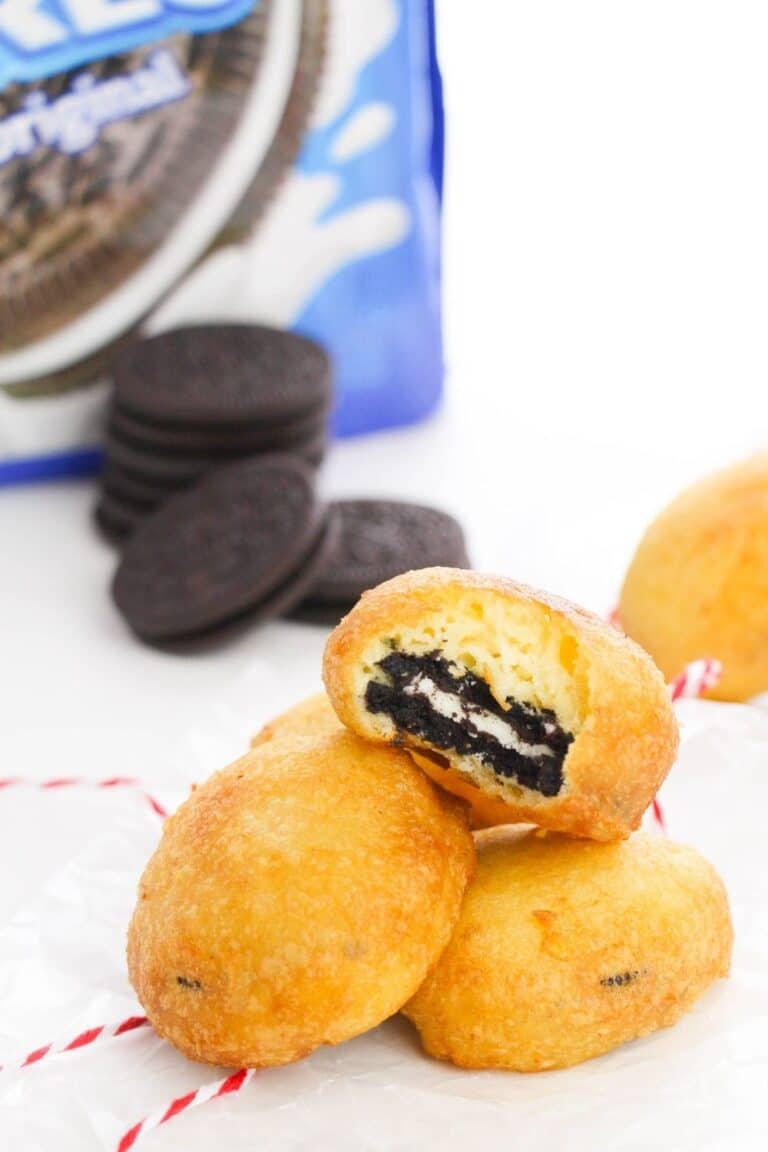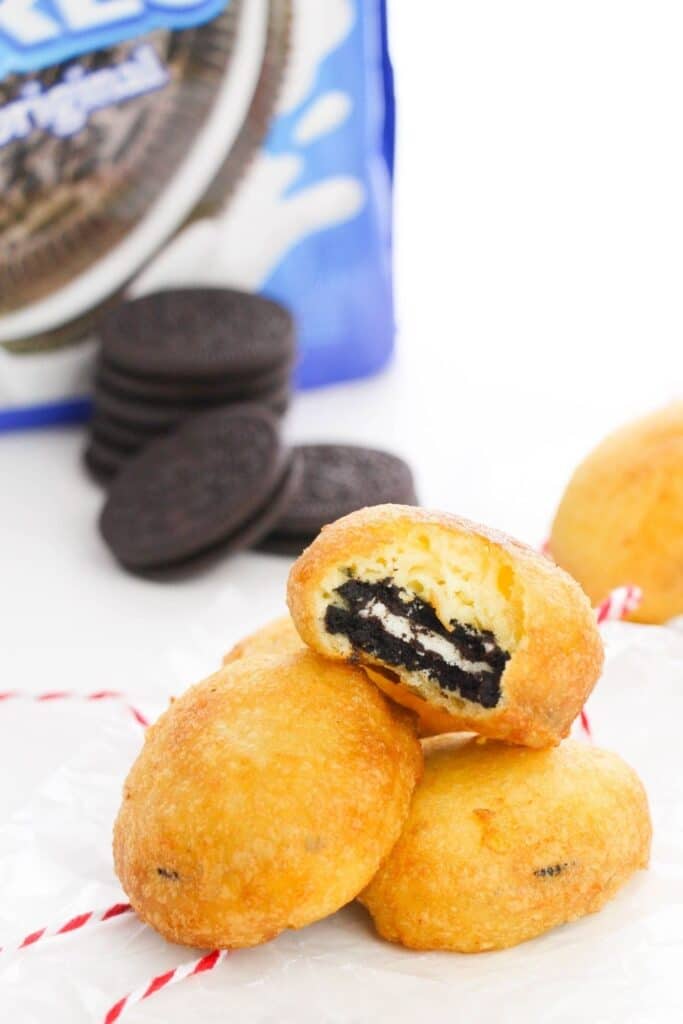 More Delicious Dessert Recipes
Print Recipe Card Here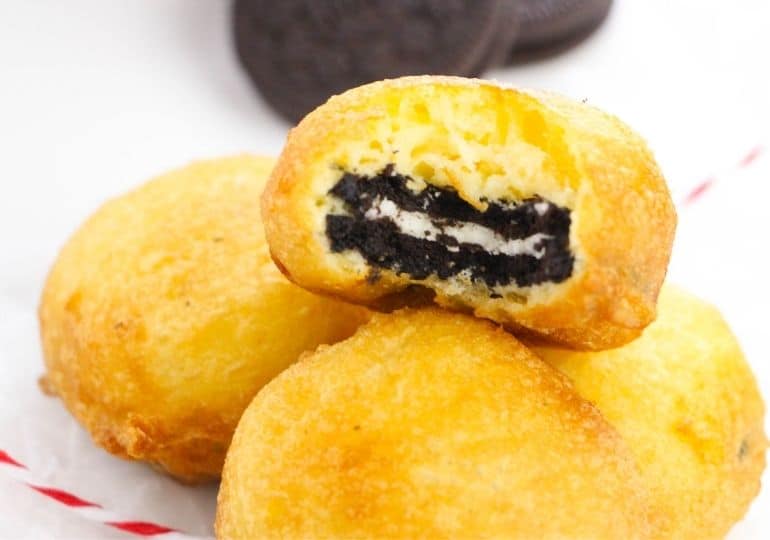 Fried Oreos
Servings 20
Fried Oreos are a pancake batter dipped Oreo that is fried in oil. A popular fair food dessert that will blow you away with one bite. Deep fried Oreos are a must make!
Ingredients
1 cup Pancake Mix
1 Egg
1/2 cup Milk
2 teaspoons Vegetable Oil
20 OREOs
Oil for Frying I used peanut but you can use vegetable oil
Instructions
In a sturdy pot you will want to pour your oil in and use a thermometer to bring the temperature up to 350 degrees. You want the oil to be 3-4 inches deep.

In a small bowl add your pancake mix, egg, oil, and milk and mix until fully mixed and no lumps.

Carefully dip in one Oreo, and lift it up with a fork or slotted spoon. Place the Oreo in the hot oil.

Let the Oreo cook for around a minute, then carefully flip the Oreo over to Brown up the other side.

Once both sides of the batter is cooked, remove and place on a paper towel lined plate. Let the Oreos cool a bit.

Then serve and enjoy. You can dust the deep fried Oreos if you want with powdered sugar as well.
Notes
You will need approximately 4 cups of oil to fry the deep fried OREOs, but the amount will differ based on the size of your dutch oven or whatever you are using to fry them. You want at least 3-4" of depth. You can use peanut, canola or vegetable oil. This recipe makes about 20 or so fried Oreos. Feel free to adjust the recipe to your preference. You can make gluten free fried Oreos, by using gluten free sandwich cookies and gluten free pancake batter. Any flavor of Oreo will work for these easy fried Oreos, feel free to play around with the flavor of cookies.
Nutrition
Serving: 1gCalories: 97kcalCarbohydrates: 14gProtein: 2gFat: 4gSaturated Fat: 1gPolyunsaturated Fat: 1gCholesterol: 10mgSodium: 130mgFiber: 1gSugar: 6g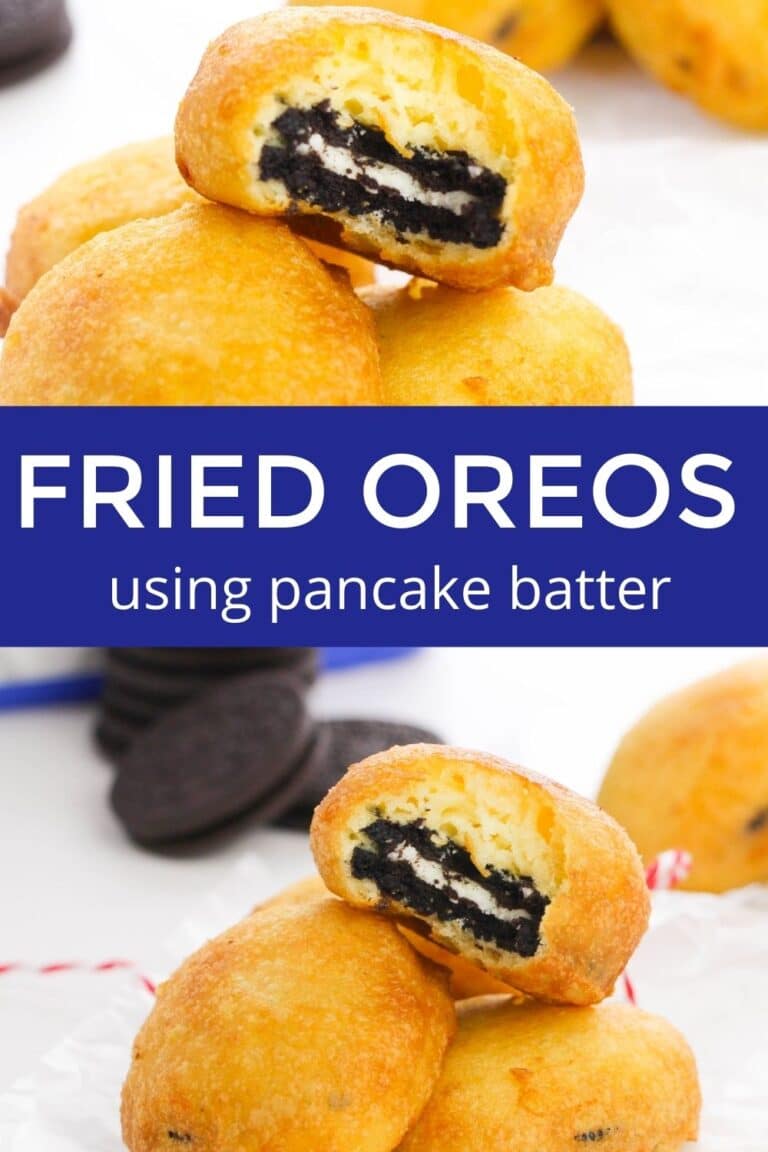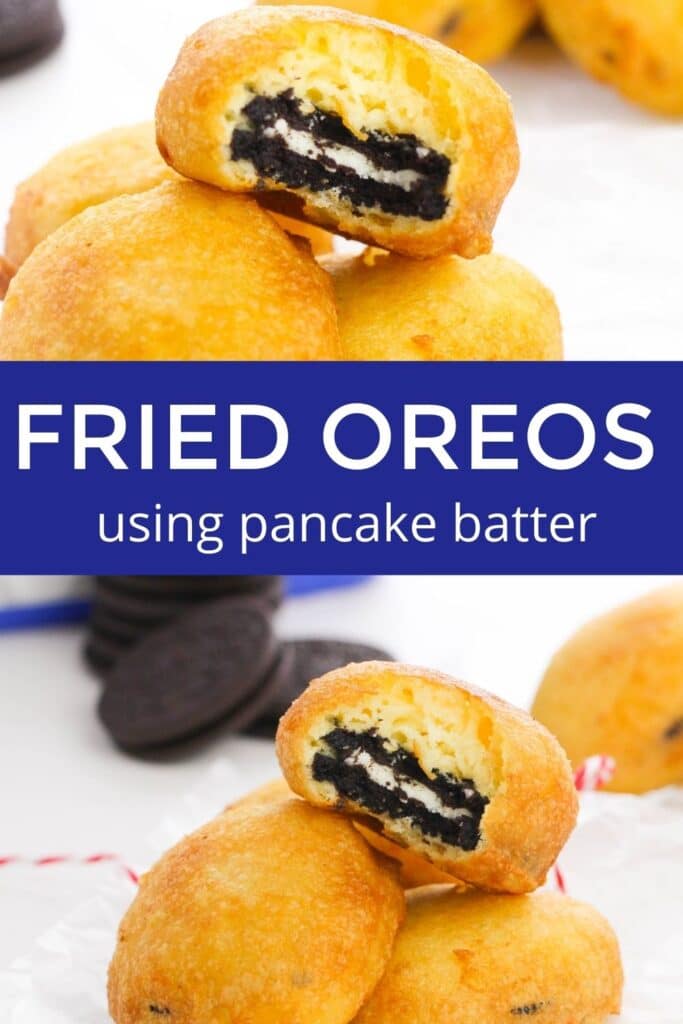 Reader Interactions