Cheesecake tacos are a delicious waffle cone taco that is stuffed with a no-bake cheesecake filling and a strawberry glaze. Mini strawberry cheesecake tacos that are so simple to make. This is a great dessert idea to pair with your Taco Tuesday menu. The cream cheese filling is velvety smooth.
This would make for a perfect dessert for taco night. A dessert taco shell that you can essentially stuff with all your favorites. Also, check out my no bake cherry cheesecake recipe, for another tasty dessert. This is not your usual cheesecake. This awesome strawberry cheesecake dessert tacos recipe is so simple. Plus it is made with a homemade strawberry sauce that is so sweet!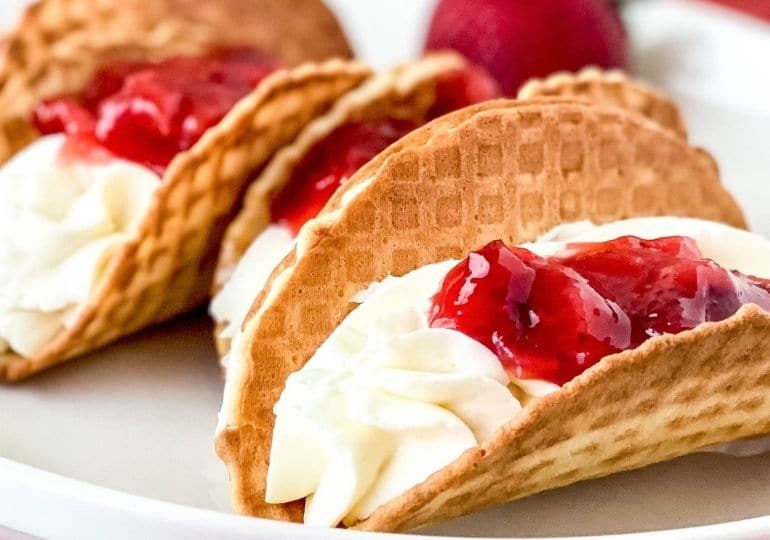 This is one of our favorite desserts to whip up. You might have seen where you dredge a toasted tortilla in a cinnamon sugar mixture for the shell. But I wanted to use a waffle cone. It creates a crunchy taco shell that is a fun twist and easily became our new favorite dessert.
I share a waffle cone recipe as that is what I used as the shell to these cream cheese tacos. Now, some use flour tortillas as the taco shell, but I thought a waffle cone would be delicious.
Give this strawberry tacos recipe a try today and let me know what you think.
Why Make Cheesecake Tacos…
Easy Dessert
Delicious waffle cone shell
No bake cheesecake filling
Top with any of your favorite toppings
Fun and easy
Homemade Strawberry filling
Creamy cheesecake filling
Great for a potluck, summer cookout, or weeknight dinner dessert
Ingredients Needed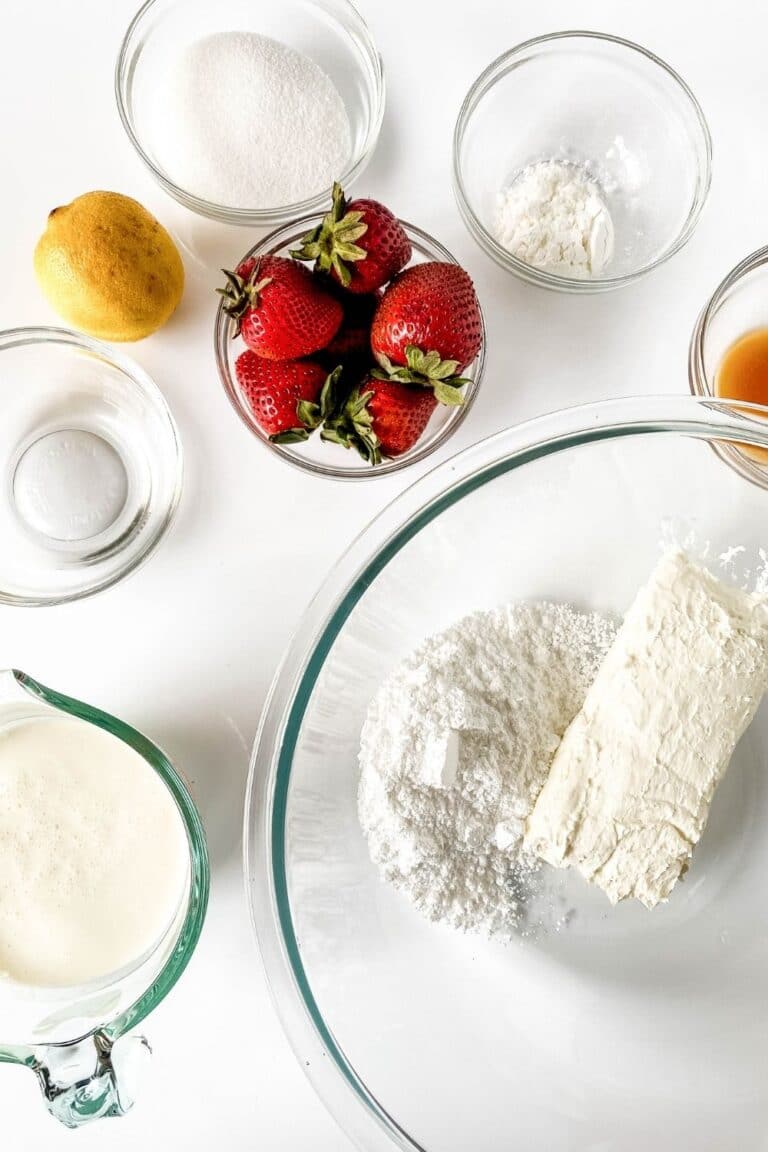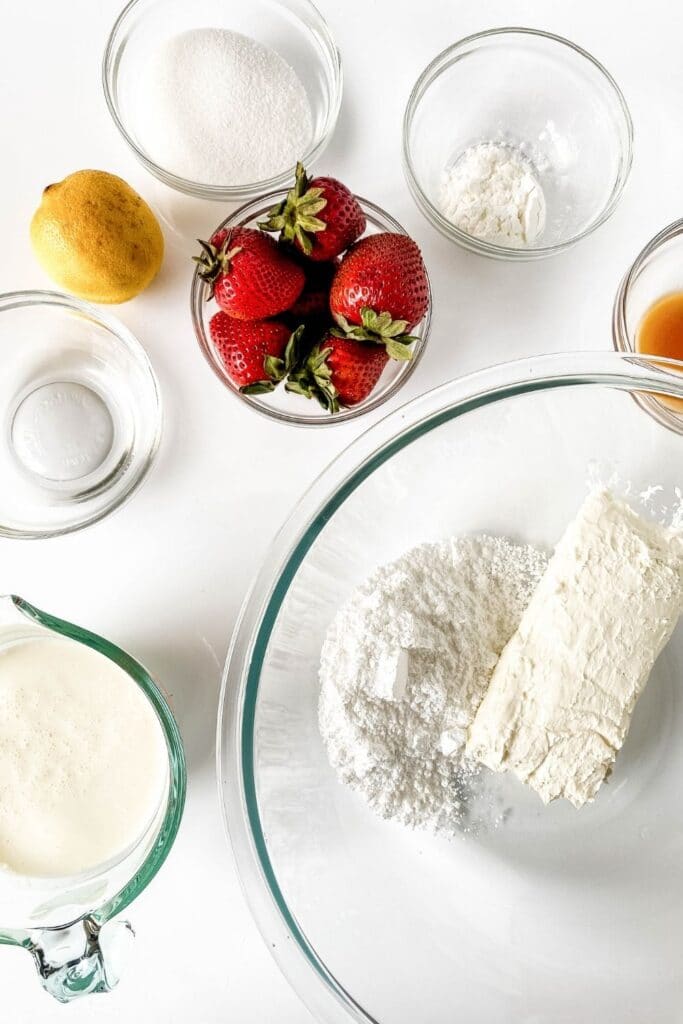 Eggs
Salt
Brown Sugar
Flour
Butter
Milk
Heavy Cream
Cream Cheese
Lemon
Powdered Sugar
Granulated Sugar
Cornstarch
Helpful Tools
How to Make
Full directions on how to make these dessert tacos are in the printable recipe card. This is a visual walk through.
Step 1: Start by working on your strawberry glaze. In a saucepan bring your berries and sugar to a boil. Then allow them to cook for 3-4 minutes, stirring constantly.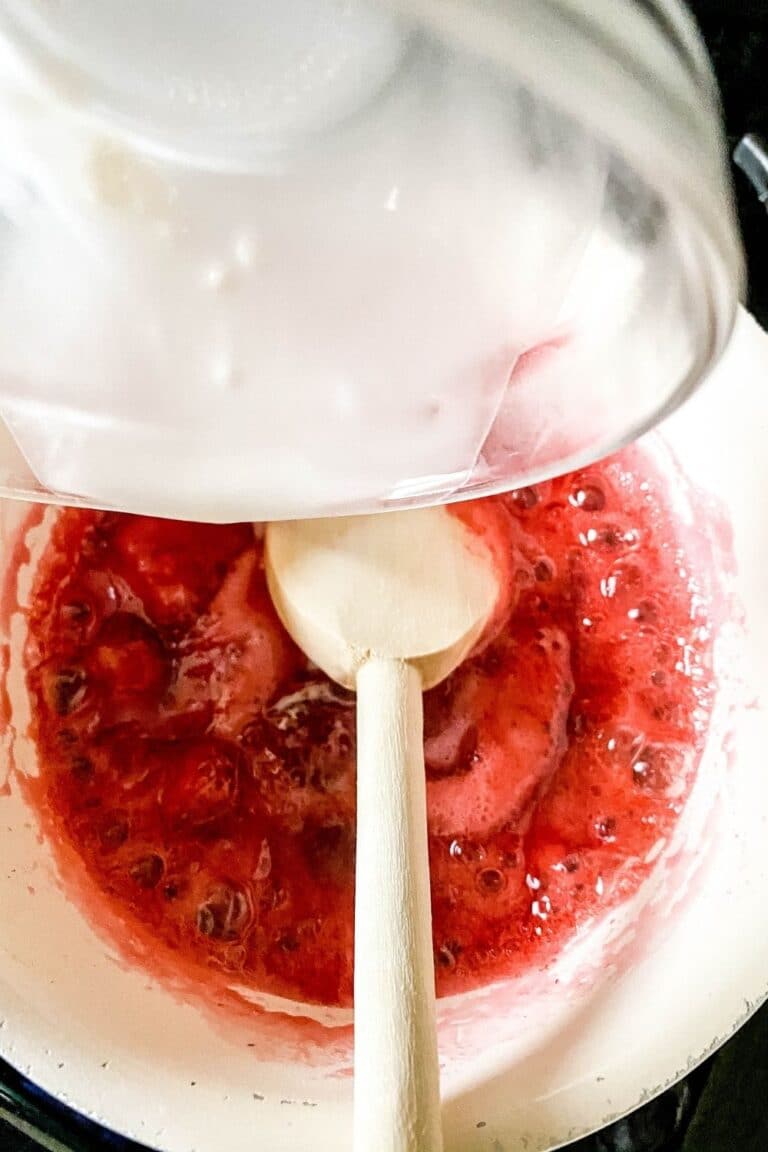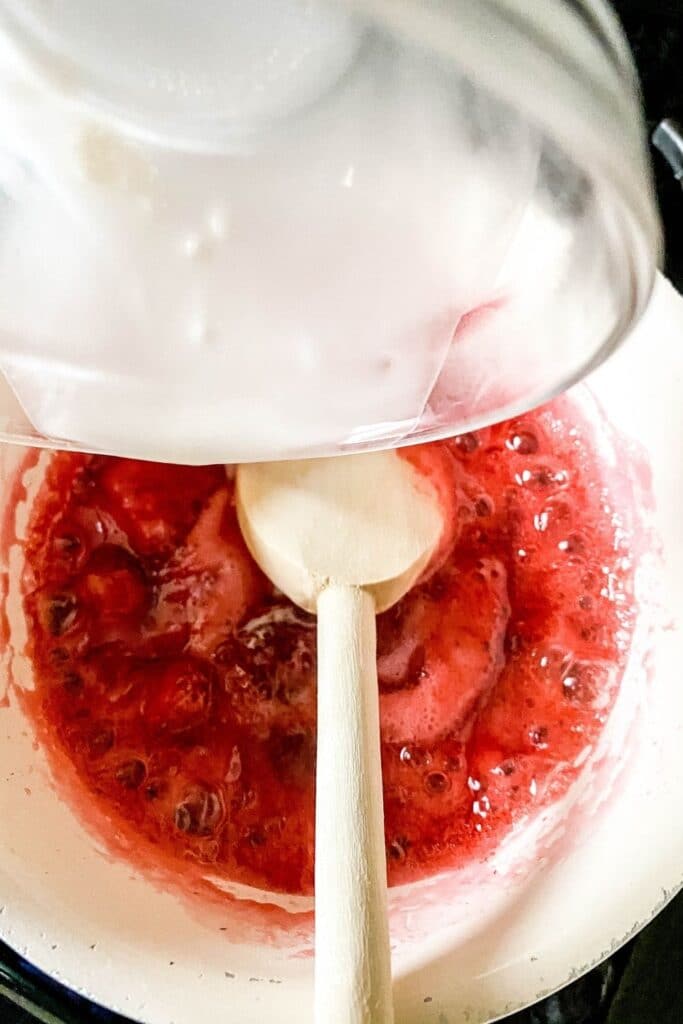 Step 2: Add in the cornstarch slurry, and stir, it will thicken the mixture. Remove from heat to cool.
Step 3: For the cheesecake filling, add all your ingredients in a bowl, mix well, and then once cream refrigerate for 30 minutes. I placed in a piping bag and stored in the fridge.
Step 4: For the waffle cone shell you will mix up your batter and drop a tablespoon on the center of your waffle cone griddle for a mini taco. Or a large taco do 1/4 cup of the batter.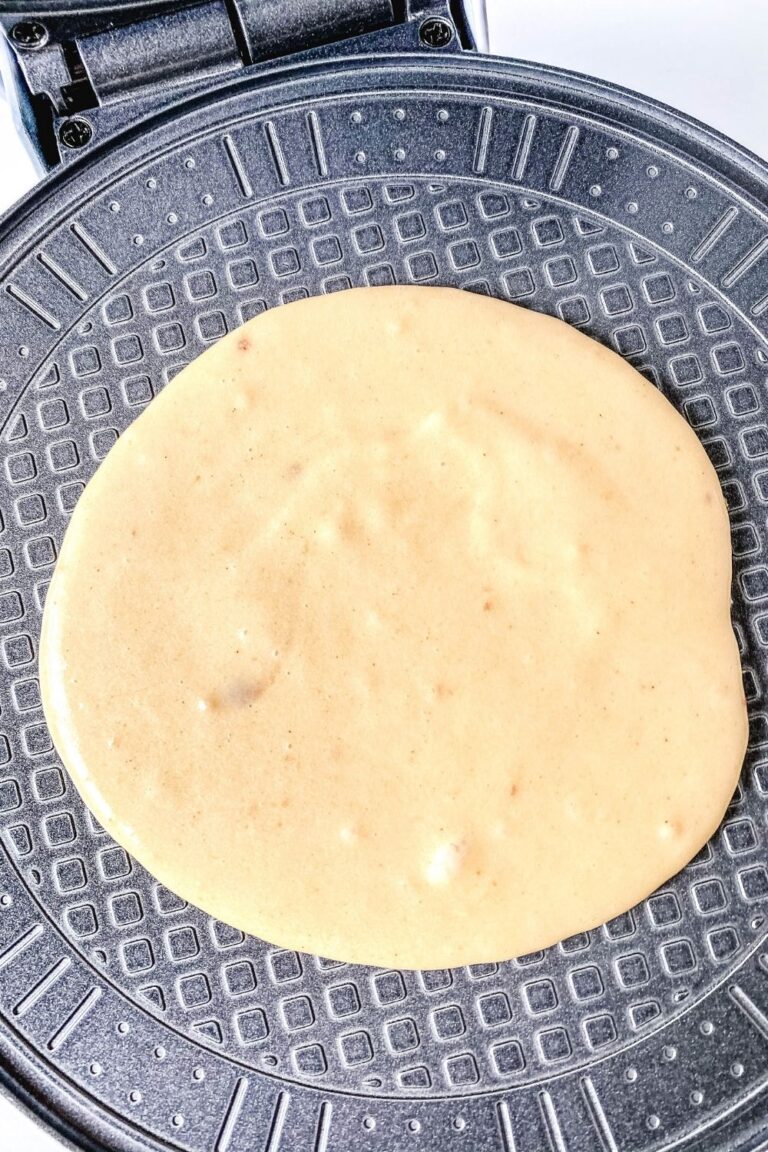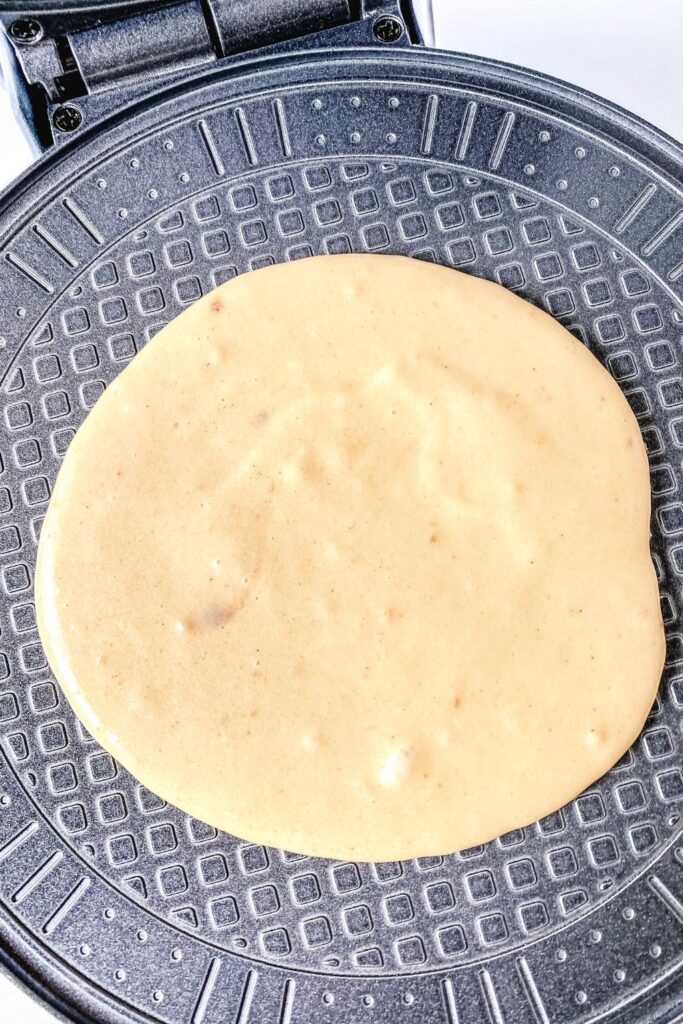 Step 5: Close and let it cook for 1-2 minutes for mini or 2-3 for larger waffles. You want the shells to get golden brown in color.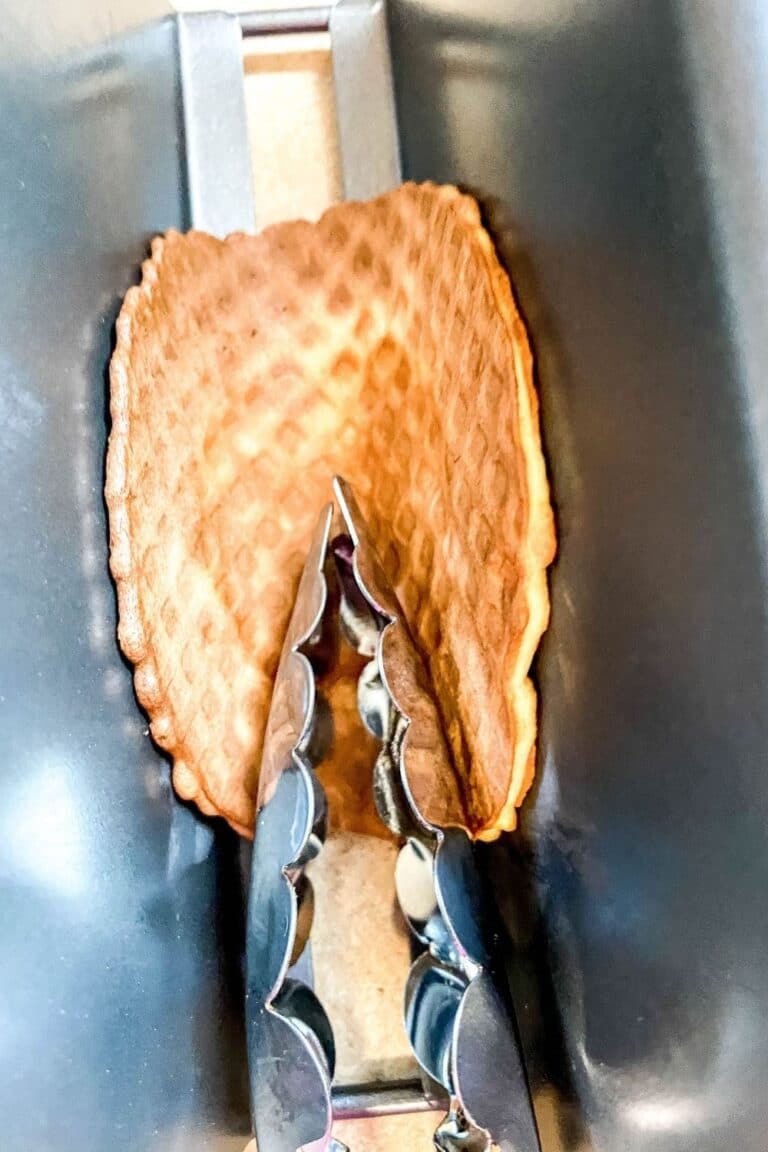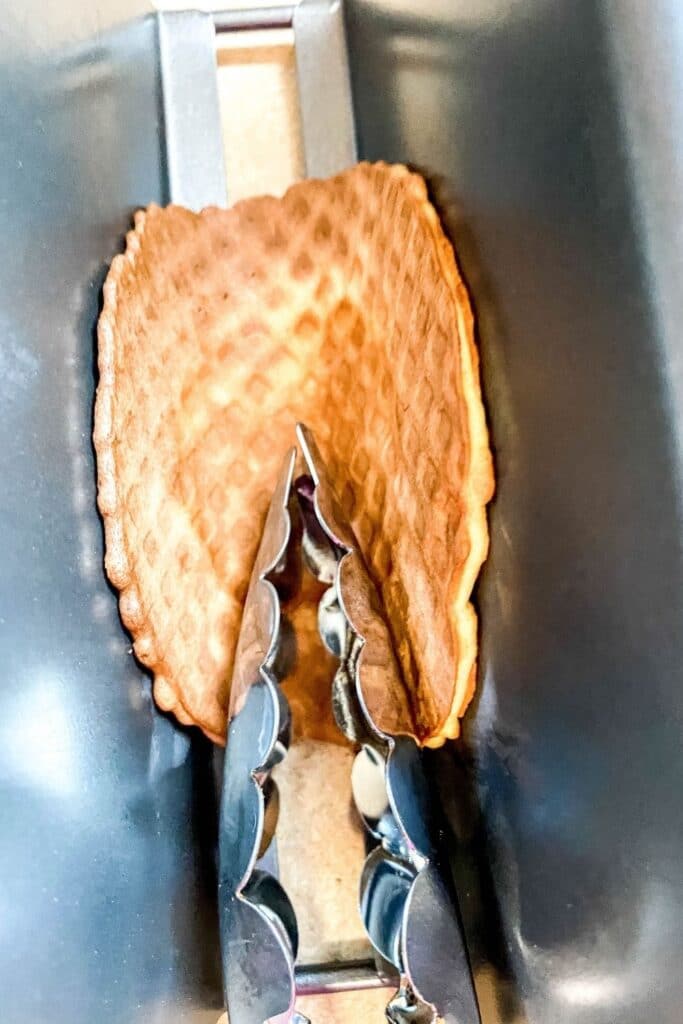 Step 6: Remove and place in the taco shell former, and let it sit for 5 minutes to harden up.
Step 7: Once taco shells are cooled, pipe the cheesecake filling, top with strawberries, and enjoy.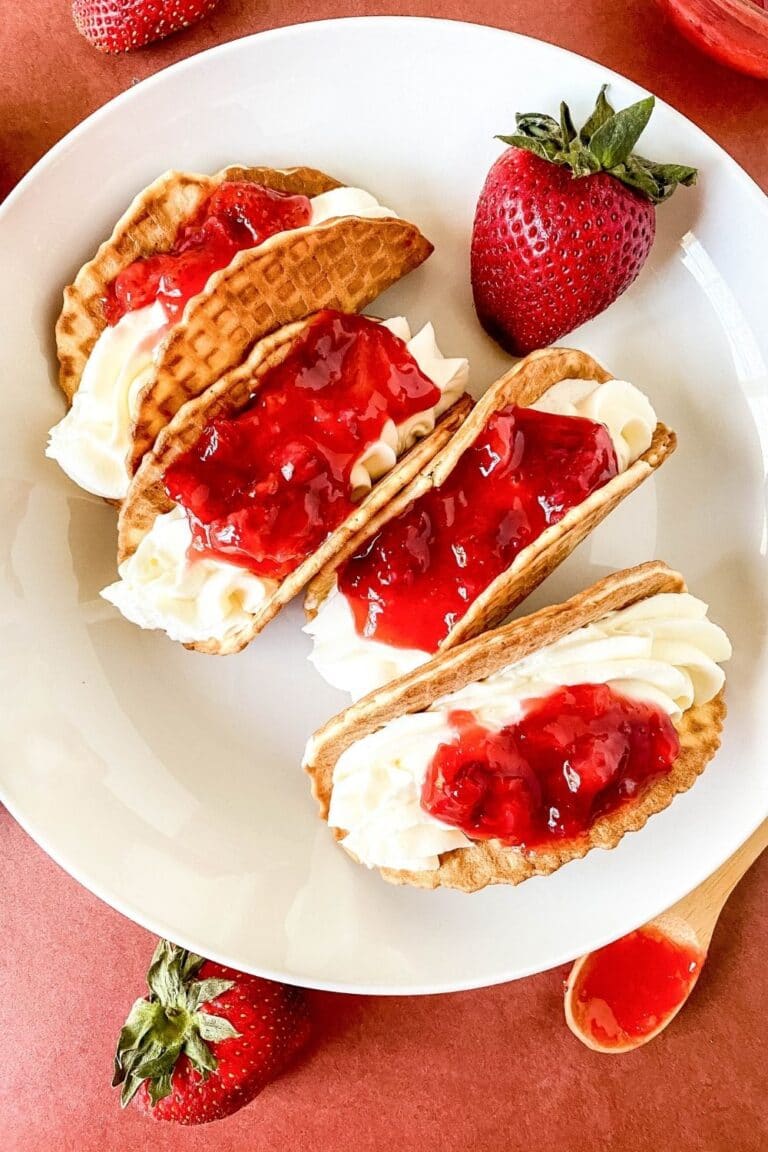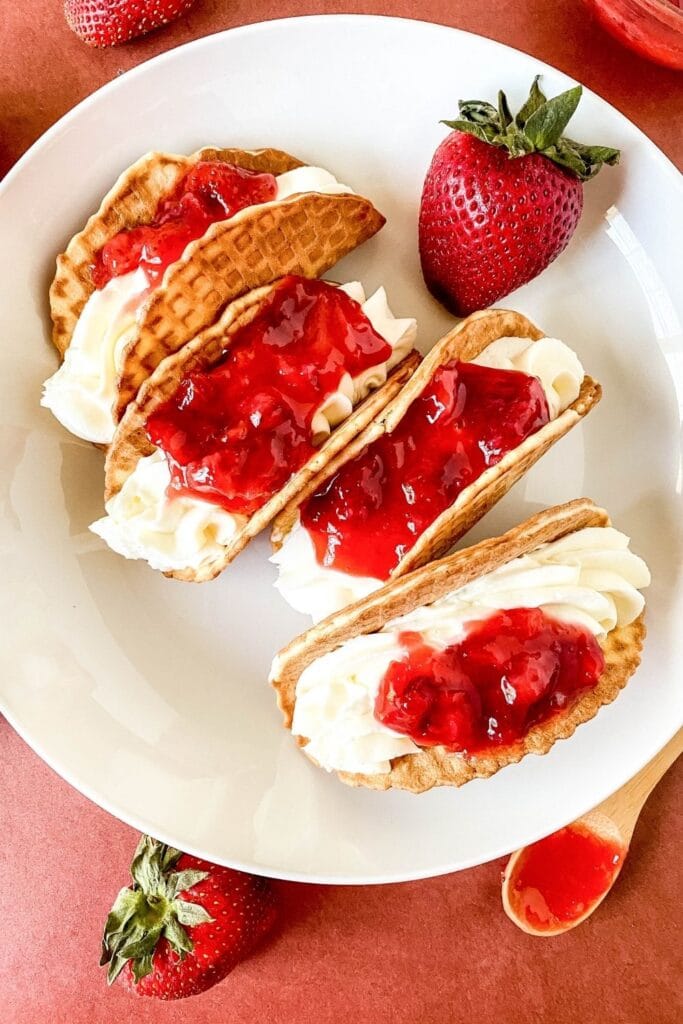 Storage
You will want to store your shells separate from the cheesecake filling and topping. Just place the shells in an airtight container.
For the cheesecake mixture, store in the fridge in an airtight container. Same for the strawberry glaze you made.
Make sure that you assemble only right before eating, as the waffle cone taco shells will soften up as it sits.
Expert Tips and Variations
There are so many incredible ways to top these taco waffle cones, so get creative and have fun.
Apple Pie Tacos – Add on apple pie filling and a sprinkle of cinnamon.
Cherry Tacos – Use cherry pie filling to top your cheesecake.
Chocolate Tacos – Drizzle with chocolate syrup, hot fudge, or make the cheesecake chocolate.
Caramel Tacos – Drizzle the top of the tacos with caramel sauce or even a salted caramel
Make sure to allow the waffle cone shells to harden before you fill.
I like to make the cheesecake batter and the strawberry glaze first. That way the cheesecake sets up and the glaze fully cools.
Recipe FAQs
More Strawberry Recipes
Have you tried the recipe? If so, please leave a star ⭐️⭐️⭐️⭐️⭐️ rating in the recipe card below or drop a comment. Also stay in touch with me through social media by following me on Facebook, Pinterest, or My Facebook Group!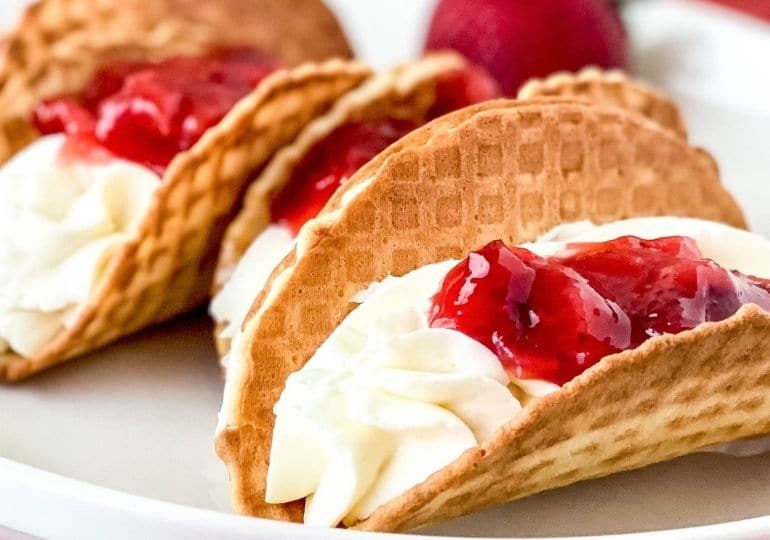 Cheesecake Tacos
Servings 20
Serve up these cheesecake tacos for a delicious dessert. A dessert taco that is a waffle cone shell, no-bake cheesecake filling, and a homemade strawberry topping. A simple strawberry taco that will complete your Taco Tuesday meal plan.
Ingredients
Waffle Cone Shell Ingredients
2 large eggs
2 egg whites
1 teaspoon salt
2 teaspoons vanilla extract
1/4 cup packed light brown sugar
1 cup all-purpose flour
4 tablespoons unsalted butter melted
2 tablespoons milk
Strawberry Glaze Ingredients
1 cup chopped strawberries
1/4 cup granulated sugar
1 tablespoon water
1 tablespoon corn starch
1 tablespoon water
No Bake Cheesecake Filling
1 cup heavy cream
1 cup cream cheese softened
1 teaspoon lemon zest
2 teaspoons vanilla extract
1/4 cup powdered sugar
Instructions
Strawberry Glaze
To make the strawberry glaze you will add your strawberries and sugar in a saucepan on the stove. Cook on medium heat bringing it to a boil.

Stir the berry mixture constantly and cook for 3-4 minutes. This will soften the strawberries.

Now in a small bowl add your tablespoon water and tablespoon of cornstarch. Stir to make a slurry then stir into the strawberry mixture.

This will thicken your strawberry glaze. Then turn off heat and remove from the heat, to allow to cool.
No Bake Cheesecake Filling
In a bowl you will combine your cream cheese, lemon zest, vanilla and heavy cream. Beat until it forms soft peaks.

Place your cheesecake filling in a piping bag and store in the fridge for at least 30 minutes.
Waffle Cone Directions
Preheat your waffle cone maker.

In a bowl whisk your eggs, vanilla, salt, brown sugar, flour, butter, and milk. Once well mixed you will work on your waffle cones.

Drop around 1 tablespoon for mini tacos or 1/4 cup for large tacos on the center of your waffle cone maker.

Close the lid and cook for 1-2 minutes for mini's or 2-3 minutes for large cones.

Remove once the waffles are golden brown, and place in the taco shell former. Let them sit for around 4-5 minutes to harden up.
Assemble Cheesecake Tacos
Take your cooled waffle shell and pipe in some of the cheesecake filling. Then add around a tablespoon or so of the strawberry glaze on top.

Serve immedietly.
Notes
You can use any flavor of topping for these cheesecake tacos as you would like. Feel free to use tortilla shells in replace of the waffle cone shell for these dessert tacos. Assemble right before serving, as the shell will sog up if stored with the cheesecake filling.
Nutrition
Serving: 1gSodium: 171mgSugar: 7gCholesterol: 50mgCalories: 164kcalPolyunsaturated Fat: 4gSaturated Fat: 7gFat: 11gProtein: 3gCarbohydrates: 13g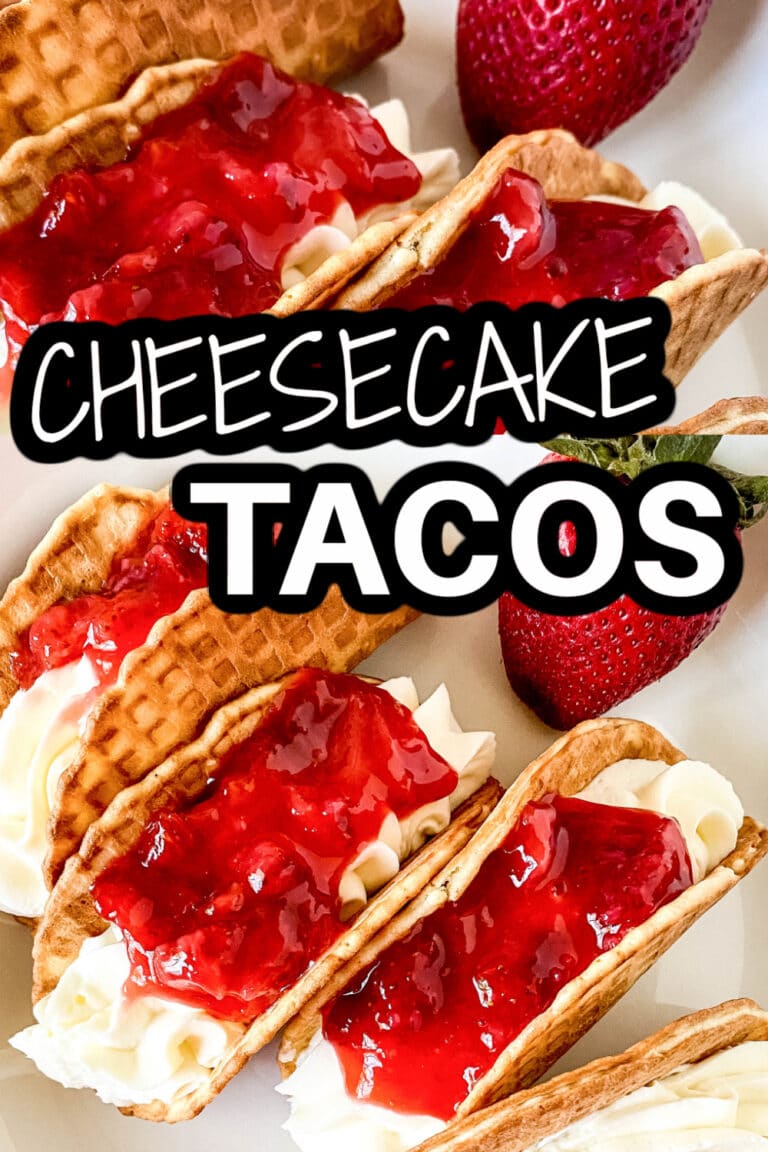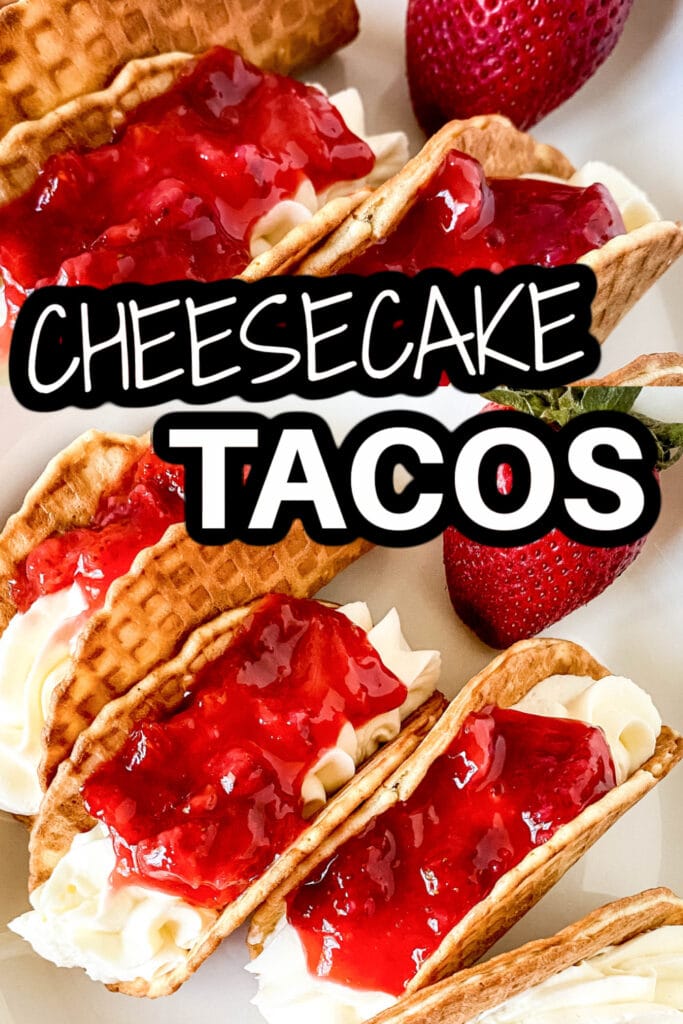 Reader Interactions