Are you a fan of Nerd ropes? If so give this Nerd ropes recipe a try. Just 2 ingredients are all that is needed to make homemade Nerd ropes with your favorite flavor of Nerds candies.
Making homemade candy and treats is always fun. If you want to learn how to make nerd ropes, let me share how I made my gummy ropes.
Nerd Rope candy is gummy and crunchy all in one sweet candy. One of my favorites to indulge in from time to time.
Why Make This Nerd Ropes recipe…
2 ingredients
Easy To Make
Delicious
Copycat Nerds Rope recipe
Fun
Kid friendly treat
Ingredients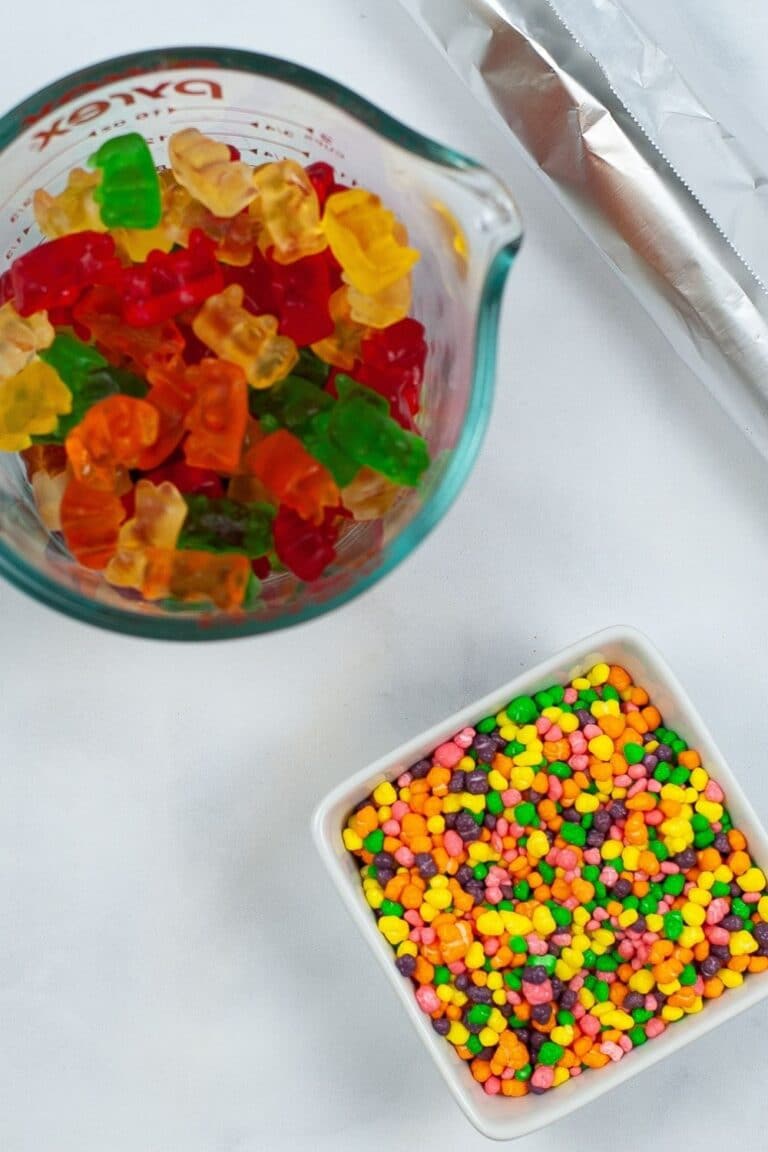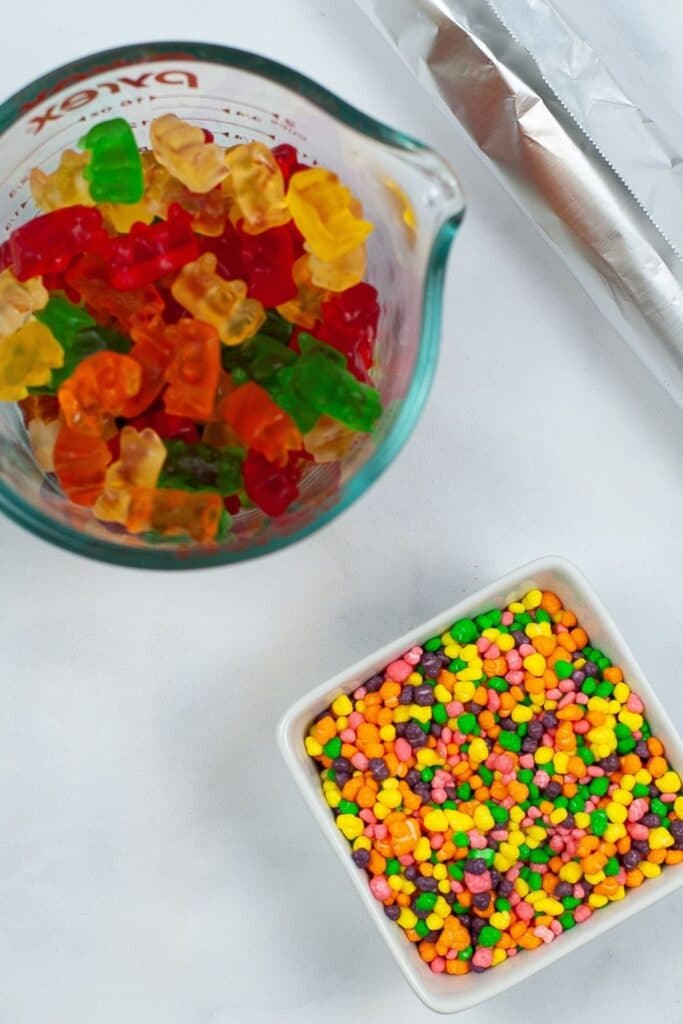 You can use any flavor of Nerds you want for this recipe. Very Berry, Tropical, Rainbow, or create your own mix of flavors!
How to Make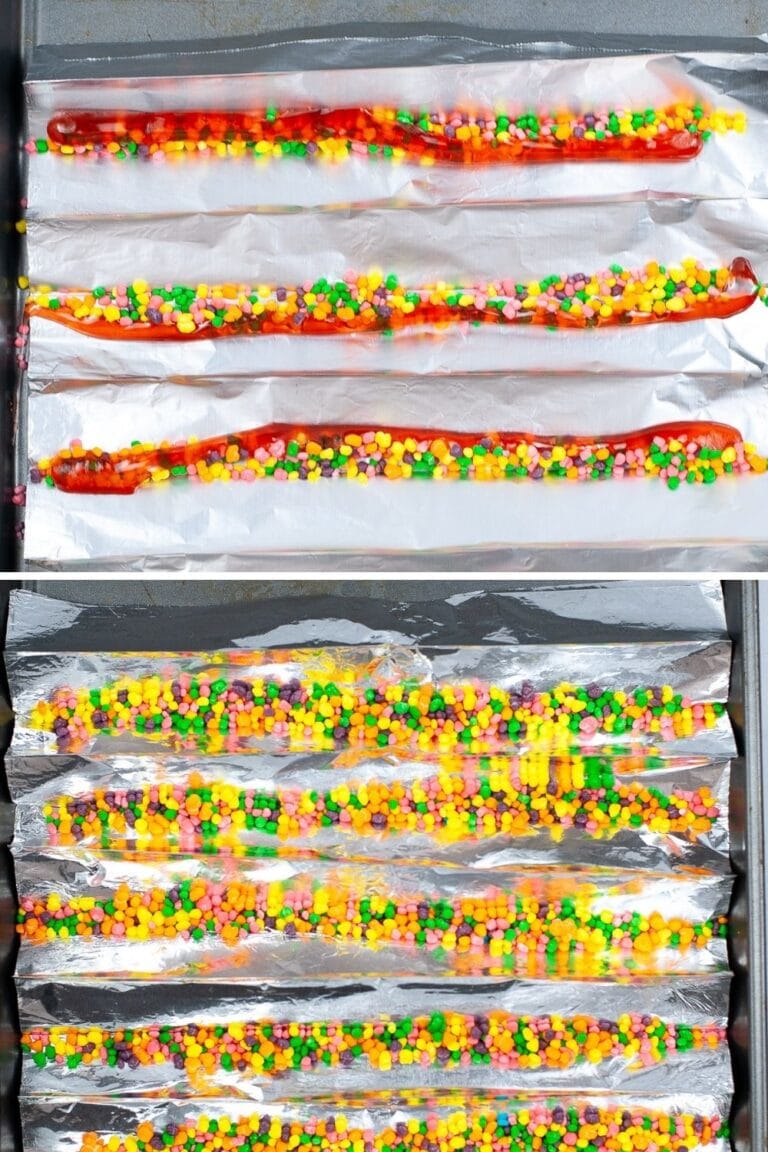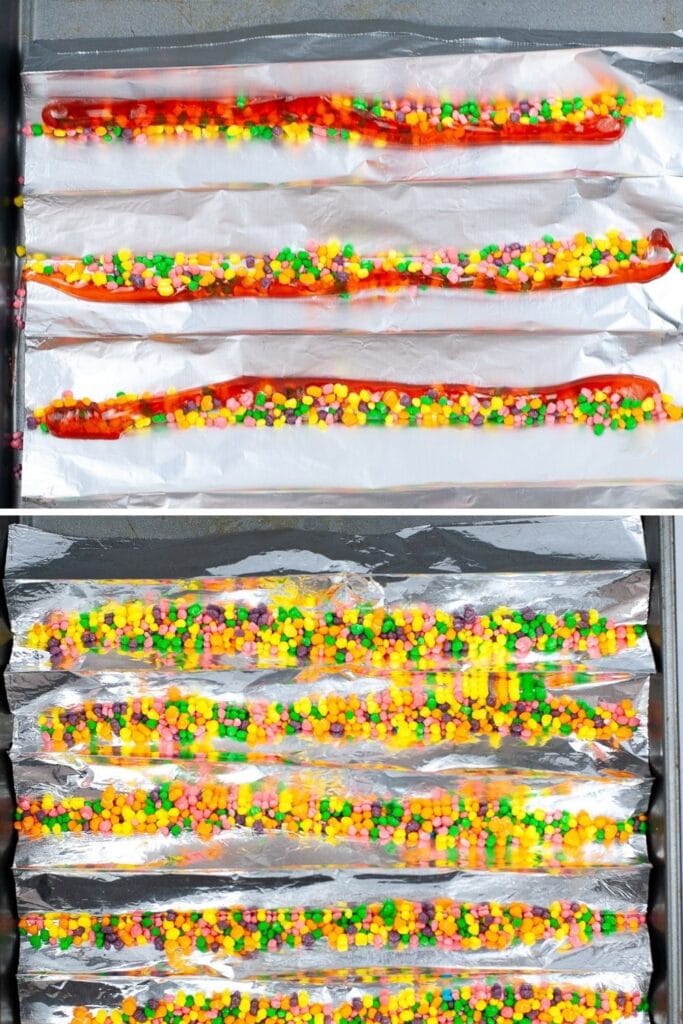 Step 1: Start by melting your gummy bears in the microwave. Do 20-30 second intervals, stirring between each heat cycle.
Step 2: Once melted, pour into a squirt bottle.
Step 3: Fold sheets of aluminum foil to create troughs. I did 5 of them. Fill each are with some of the Nerd candies.
Step 4: Then squirt the gummy bear mixture in a straight line on each are of the aluminum foil.
Step 4: Gently roll the aluminum foil to coat the gummy with the Nerds. You will need to add extra Nerds as you go. Press the aluminum foil onto the ropes, to help the Nerds stick.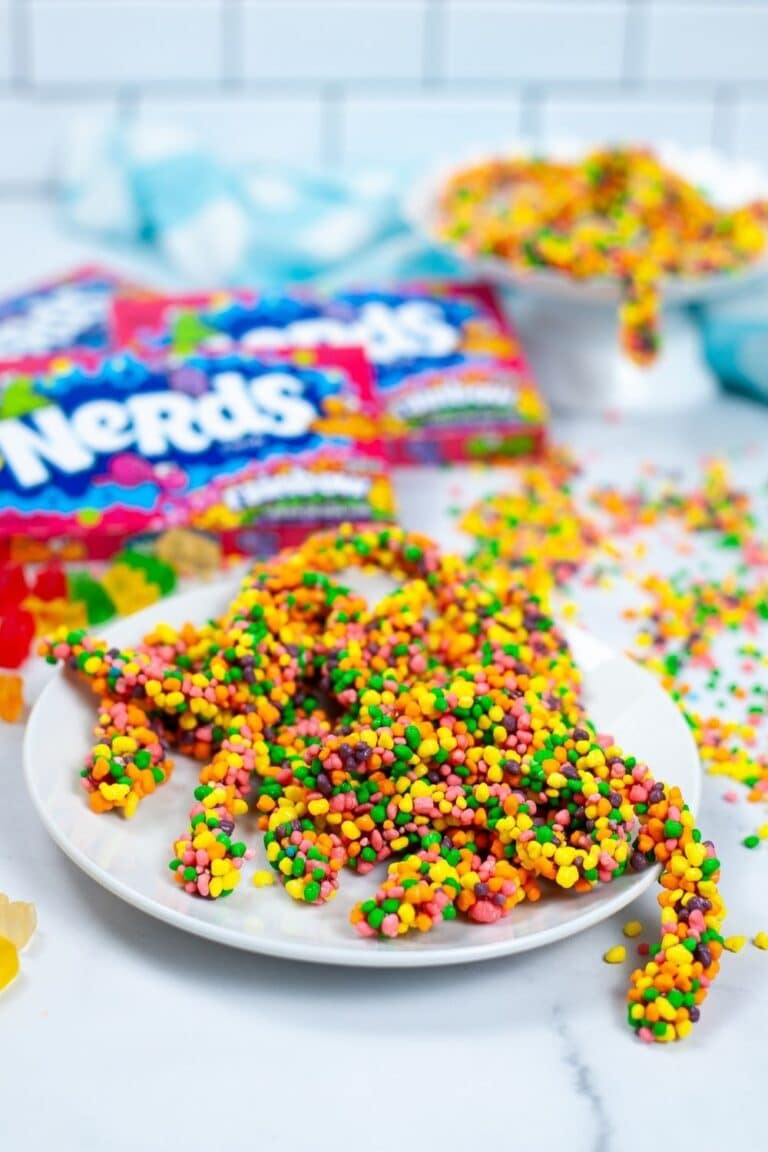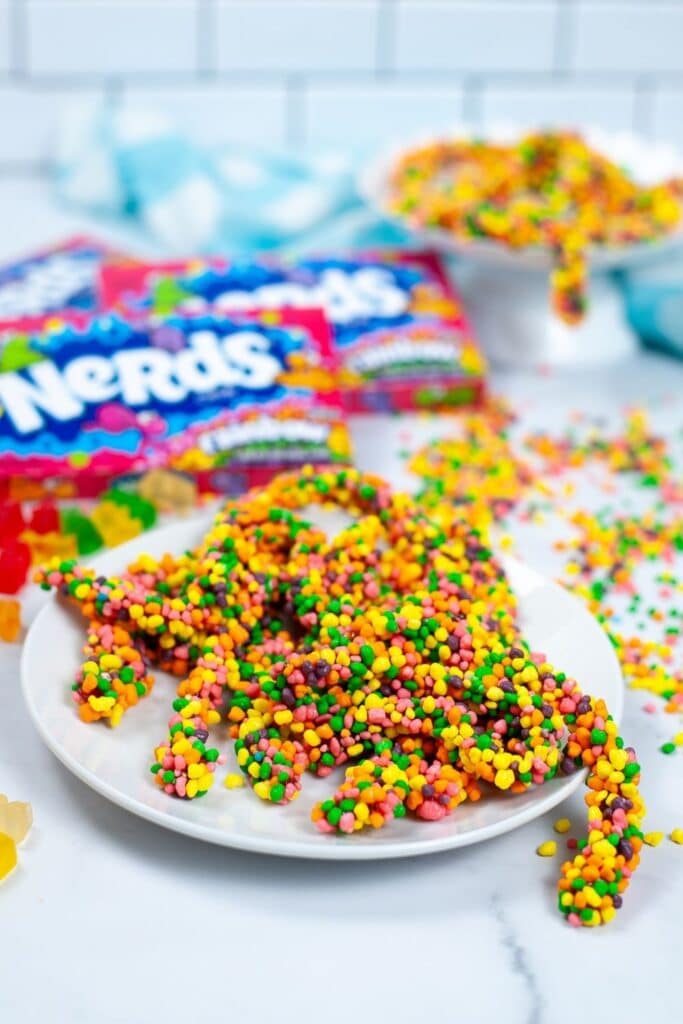 Step 5: Let the ropes sit for overnight, to set up. Then once you wake up serve up and enjoy homemade rainbow rope candy!
Storage
Once the rope Nerds sets up, you can store in an airtight container at room temperature. These will last around a week. You will find after that the gummy portion can become extra chewy.
You will find this recipe does not freeze well. The coating on the Nerds will melt down a bit and the texture will become extra tough on the gummy bear part.
Expert Tips and Variations
I used rainbow candies but you can use any flavors. Make these Nerds rope very berry flavor if you want, or use special flavor of Nerds!
Cut into bites for a Nerd rope bites, instead of long ropes.
Make sure to place Nerds on bottom of aluminum foil before squirting the gummy bear mixture. This will help in coating.
Allow the gummy to set up overnight, as it needs time to become a gummy texture again.
Recipe FAQs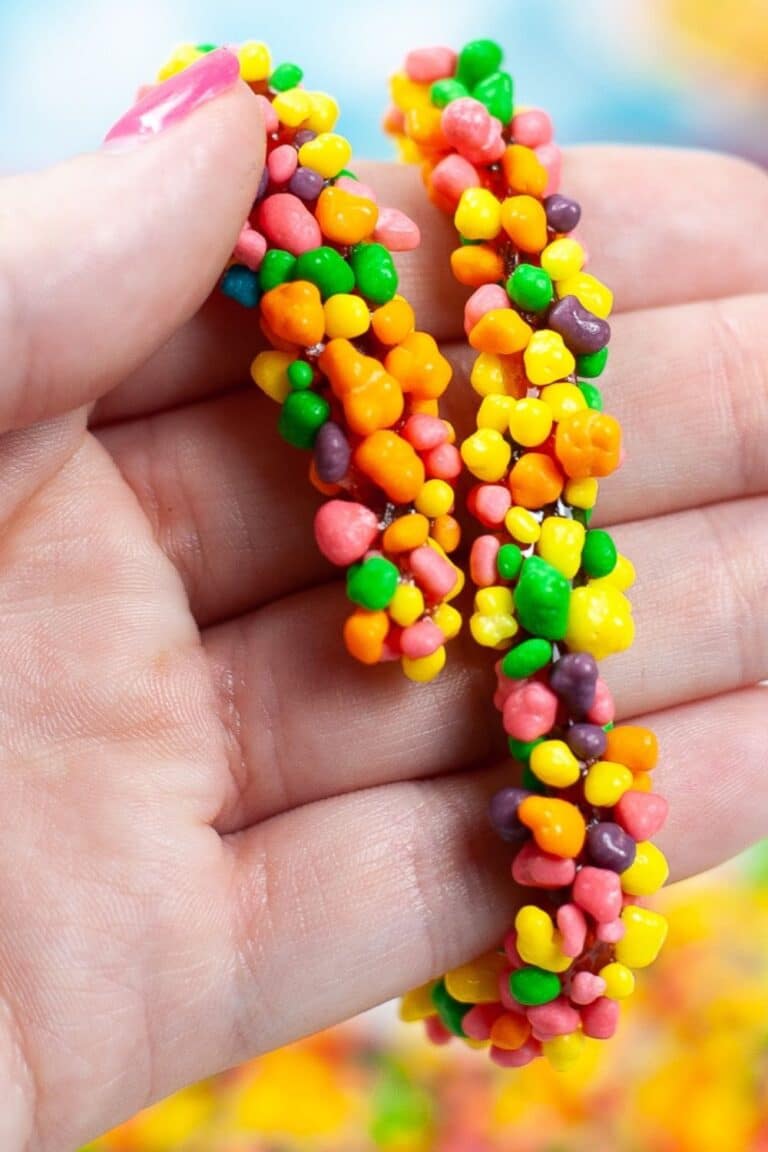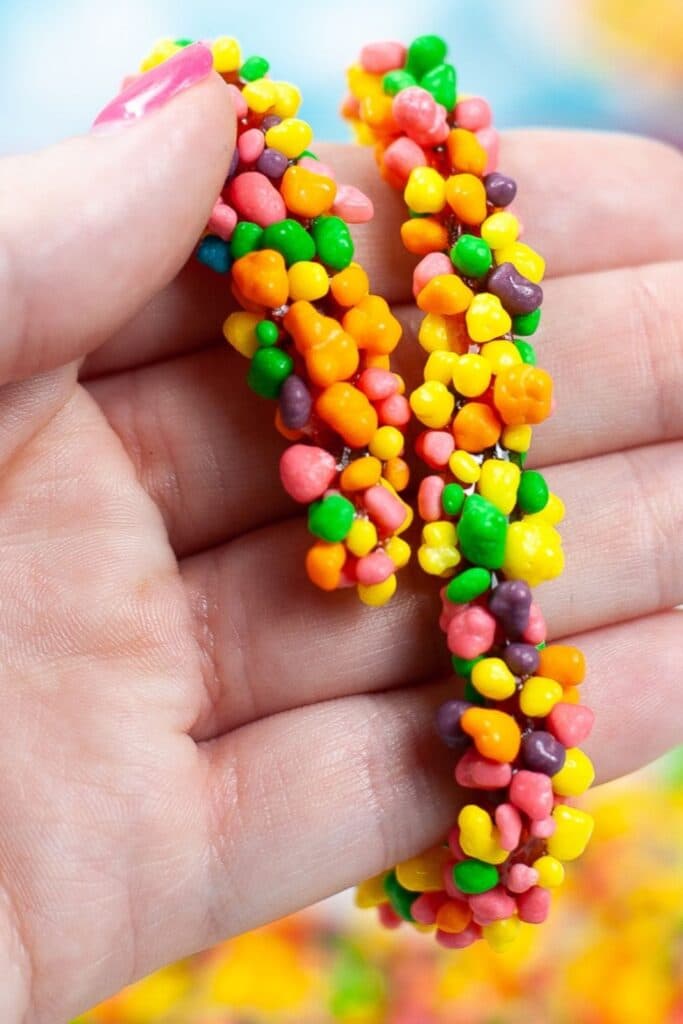 Want More Sweet Recipes
Rainbow Nerd Ropes Recipe
Servings 5 ropes
Ingredients
Supplies
Ingredients for Nerd Ropes
2 cups of gummy bears
2 boxes of Nerds candy movie theater box size. Any flavor desired.
Instructions
Start by adding your gummy bears into a microwave safe bowl. Heat for 20-30 second intervals stirring between each cycle.

Once the gummy bears are fully melted pour them into a squirt bottle.

Next make 5 troughs of aluminum foil. Sprinkle some Nerds in each well of the aluminum foil.

Then squirt some of the gummy bear in each trough. You will carefully use the aluminum foil to press the Nerds onto the gummy.

Sprinkle with more Nerds to coat all sides of the gummy string.

Once done, allow your Nerd ropes to set up overnight so the gummy can resolidify.

Store in an airtight container for up to a week on the counter.
Notes
Use any flavor of Nerds you would like. Make sure to melt the gummies fully, otherwise your Nerds won't stick as well and the texture will be off. These ropes can store at room temperature for up to a week.
Nutrition
Serving: 1gCalories: 354kcalCarbohydrates: 89gSodium: 44mgSugar: 57g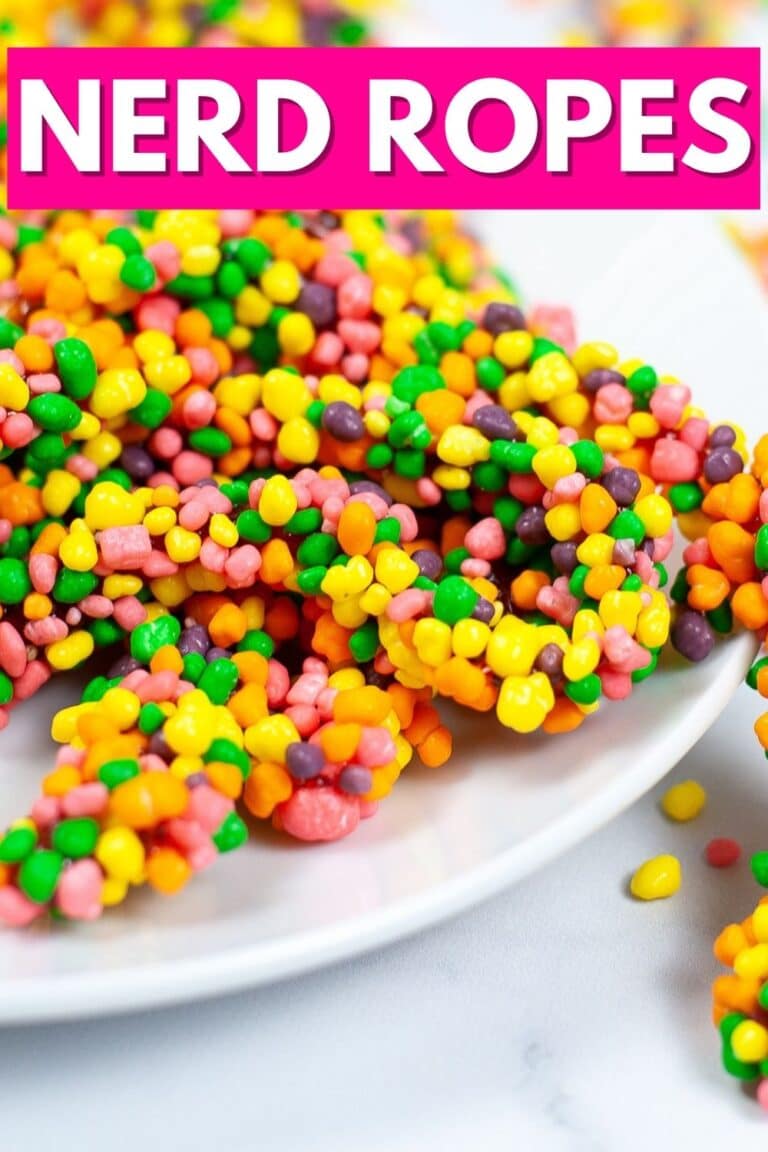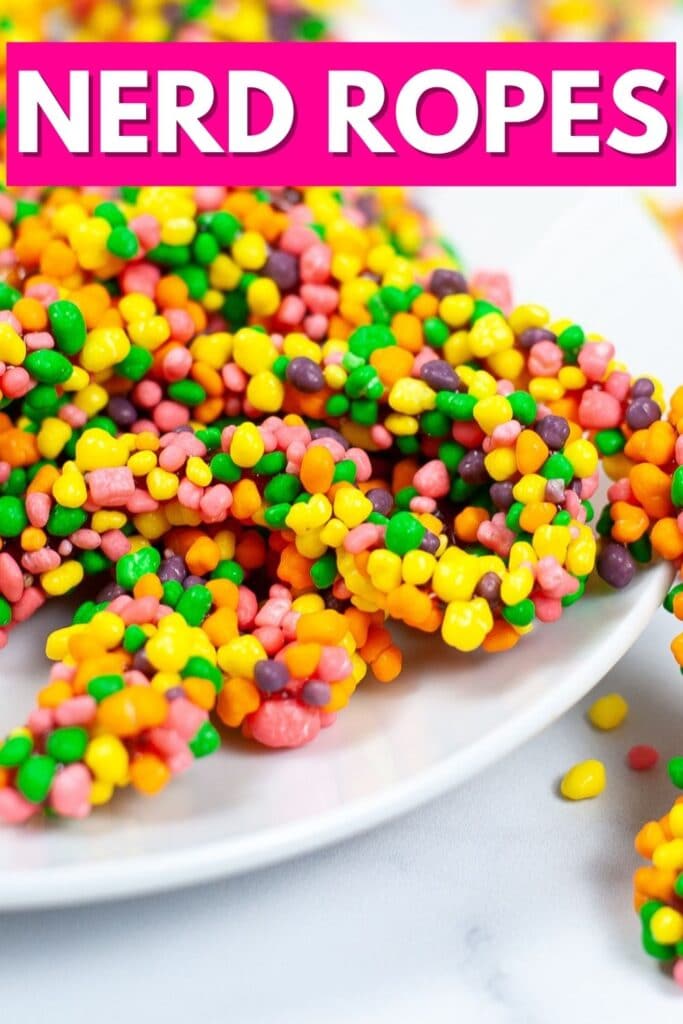 Reader Interactions