Bacon Wrapped Salmon is a delicious and easy way to cook up salmon fillets. This salmon recipe is pan fried and then finished off in the oven. Bacon wrapped salmon with a maple glaze.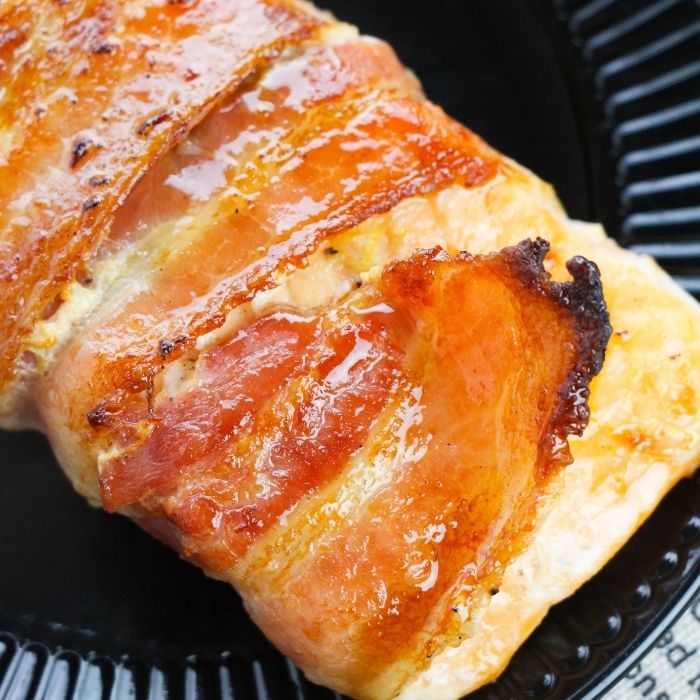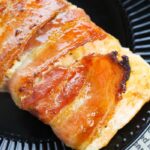 Dress up your dinner with this quick and easy bacon wrapped salmon. A simple but fantastic dinner idea that requires just 5 ingredients to make. This salmon recipe is my go-to for a simple dinner.
Pan seared salmon with bacon that is finished off in the oven. Pair with your favorite sides for a restaurant worthy dinner at home.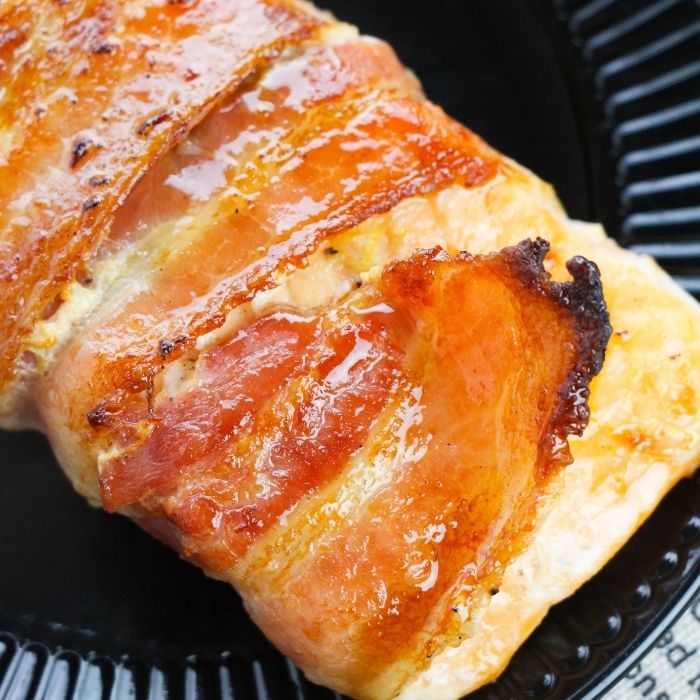 I find this is a tasty salmon steak recipe that is crazy simple.
This Bacon Wrapped Salmon Is…
Keto Friendly (omit maple syrup)
Ready in under 30 minutes
Made with 5 ingredients
Simple everyday ingredients used
Easy prep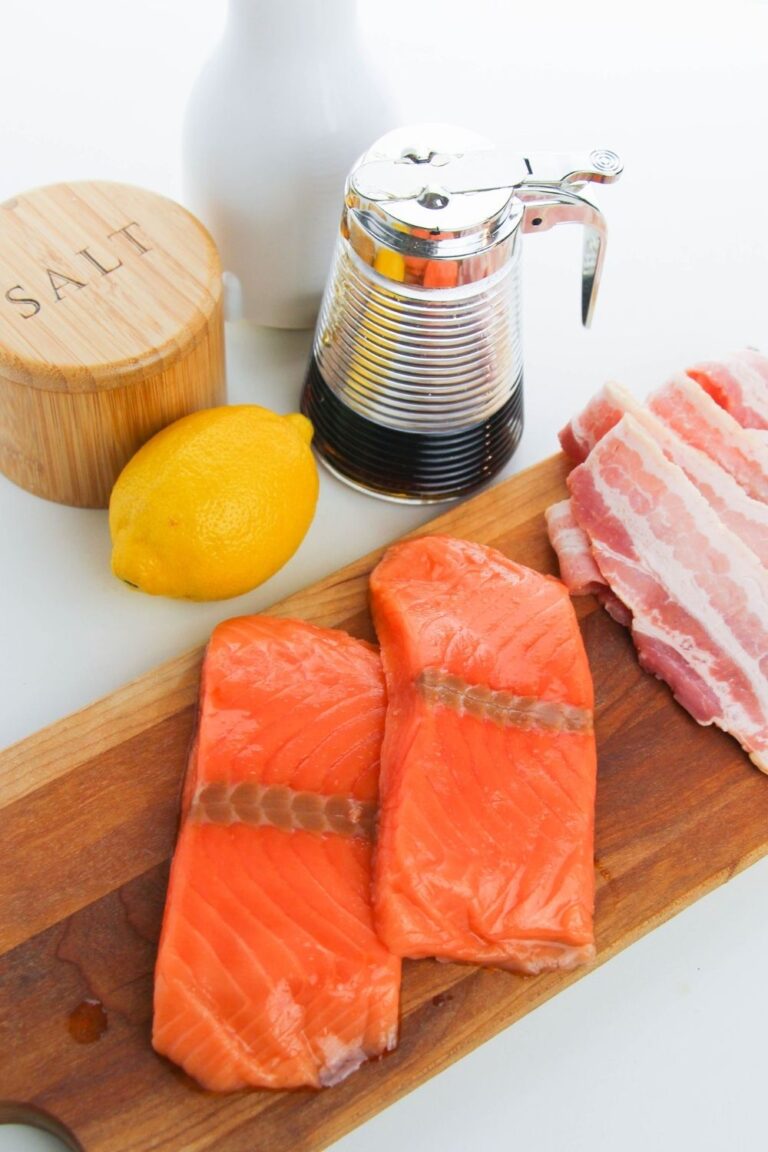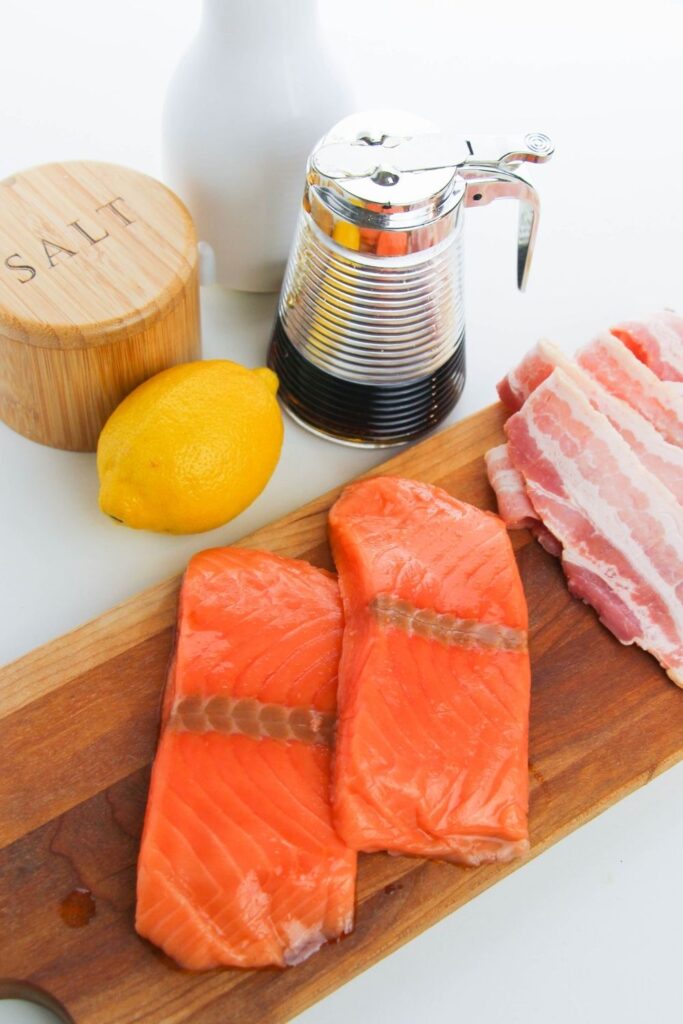 Ingredients Needed
Salmon – Reach for your salmon fillets that have the skin removed for this recipe. You can buy a larger piece of salmon and then just cut into a single serve size. 
Bacon – For this recipe a thin bacon is going to work best. If you do too thick of bacon you will find if can over cook the salmon and the bacon is still needing longer to cook. 
Lemon Zest – Lemon and salmon are just the perfect pairing. Zest a lemon and watch it transform you salmon steak. 
Salt and Pepper – Optional but I do recommend seasoning the salmon before wrapping in bacon. 
Maple Syrup – If you want you can brush the salmon and bacon with maple syrup at the end for a maple bacon salmon. This is optional. 
Variations to Recipe
A few quick changes you can make to change up the recipe a bit.
Do prosciutto instead of bacon.
Season with lemon pepper instead of salt and pepper.
Make bite size bacon wrapped salmon bites for a tasty finger food.
Swap the syrup for brown sugar or a brown sugar alternative. Sprinkle on at the end to create a sweet component.
How to Make
Full steps for this salmon recipe are in the printable recipe card at the bottom of the post. This is a visual walk-through for readers. Here is how to make this oven baked salmon recipe.
Step One: Pat dry your salmon steaks and then place on cutting board. Season with salt, pepper, and the lemon zest.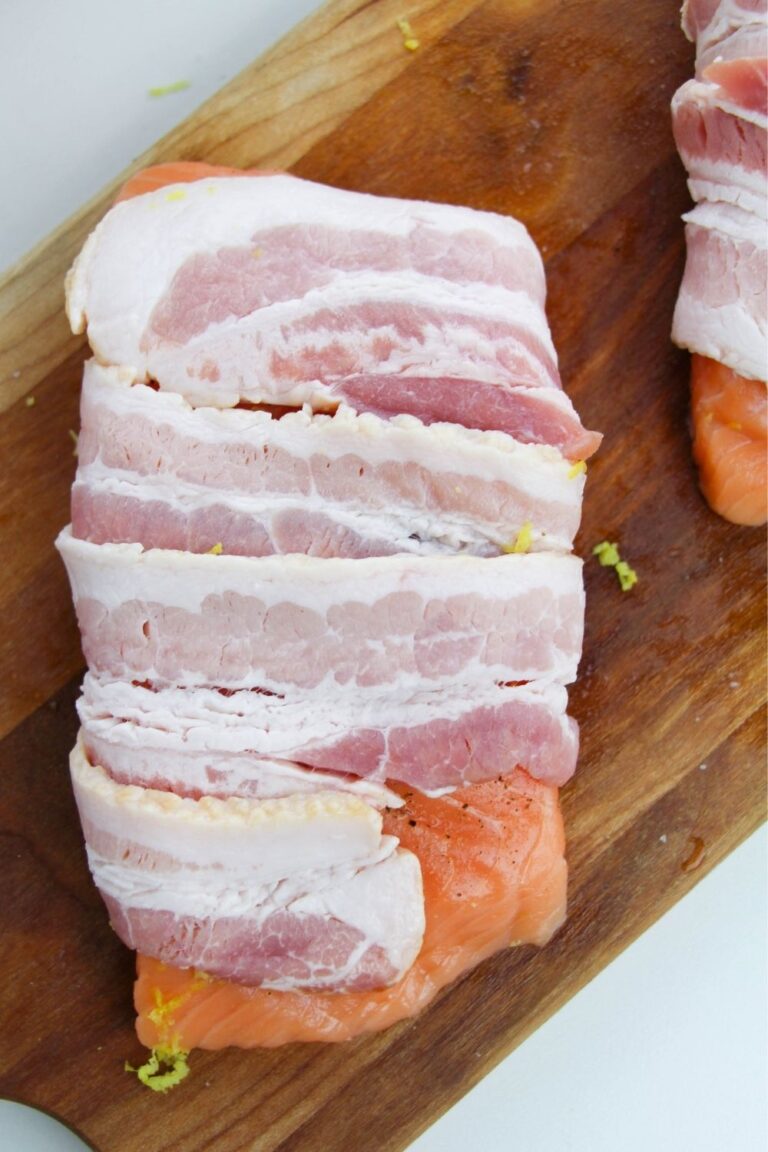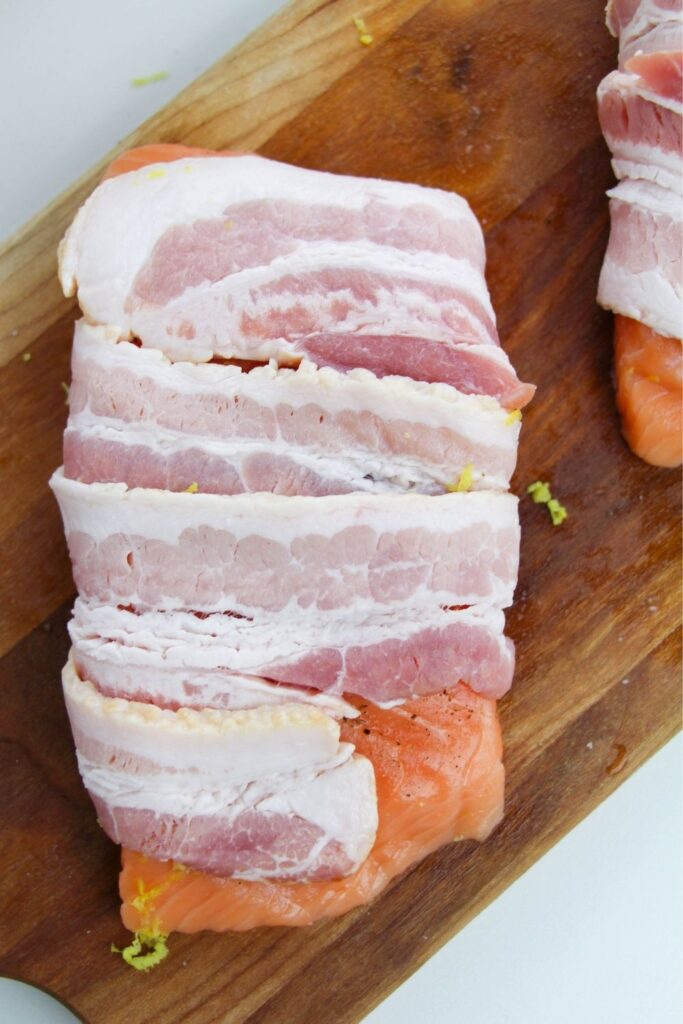 Step Two: Take the bacon strips and wrap around the salmon. I used two strips of bacon per salmon.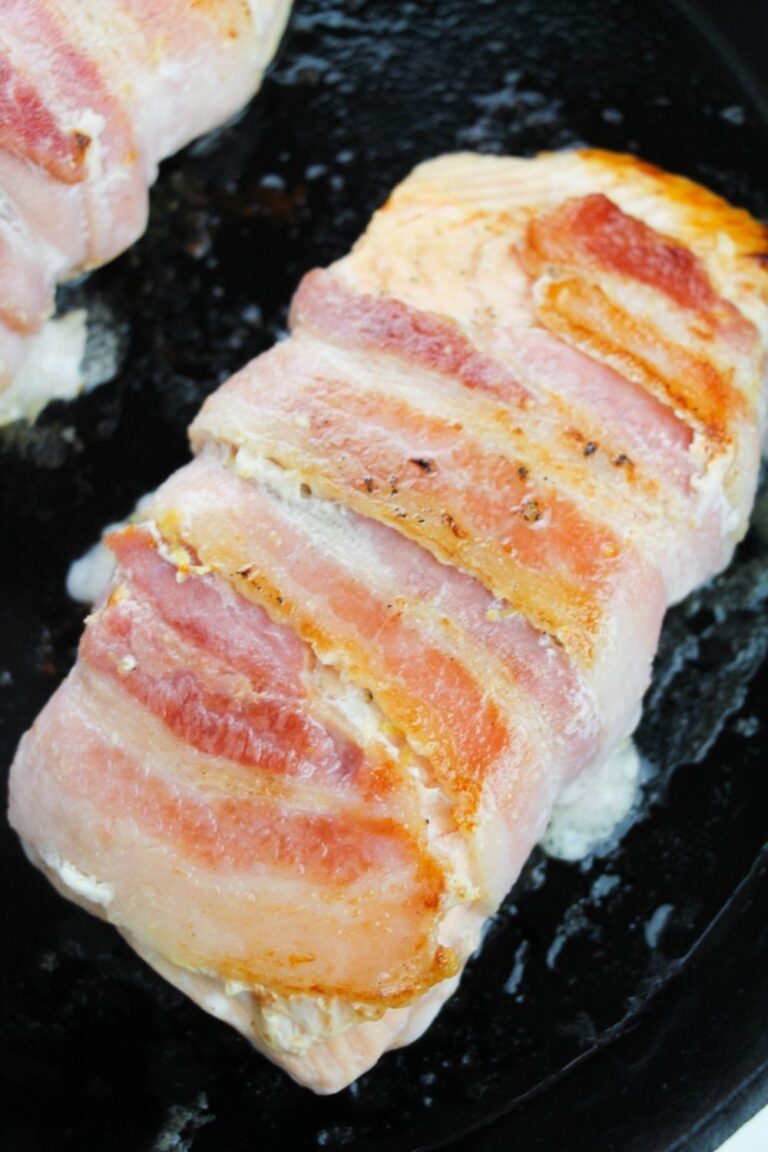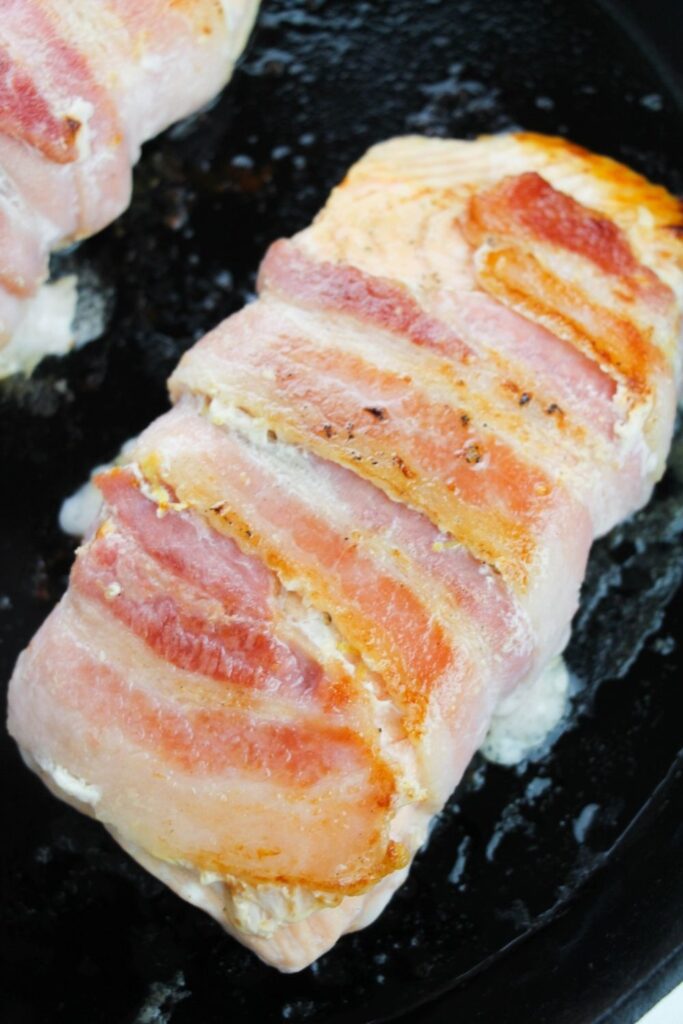 Step Three: Place the salmon in a skillet and sear the bacon for around 2-3 minutes per side. While that is cooking pre-heat your oven for broiling.
Step Four: Once your bacon has seared you will toss in the oven and broil on high for another 3-4 minutes. I flipped my salmon half way through to ensure the bacon cooks on both sides.
Step Five: If you want to add maple syrup you can drizzle on once you remove the fish from the oven. Use a pastry brush and just brush a little on top of bacon.
Serve this bacon wrapped salmon with your favorite sides. We love doing asparagus or Brussels sprouts.
Pro Tip: Use a meat thermometer and ensure the salmon internal temperature is 145 degrees F internally. Depending on the thickness of your salmon, the cook time will vary.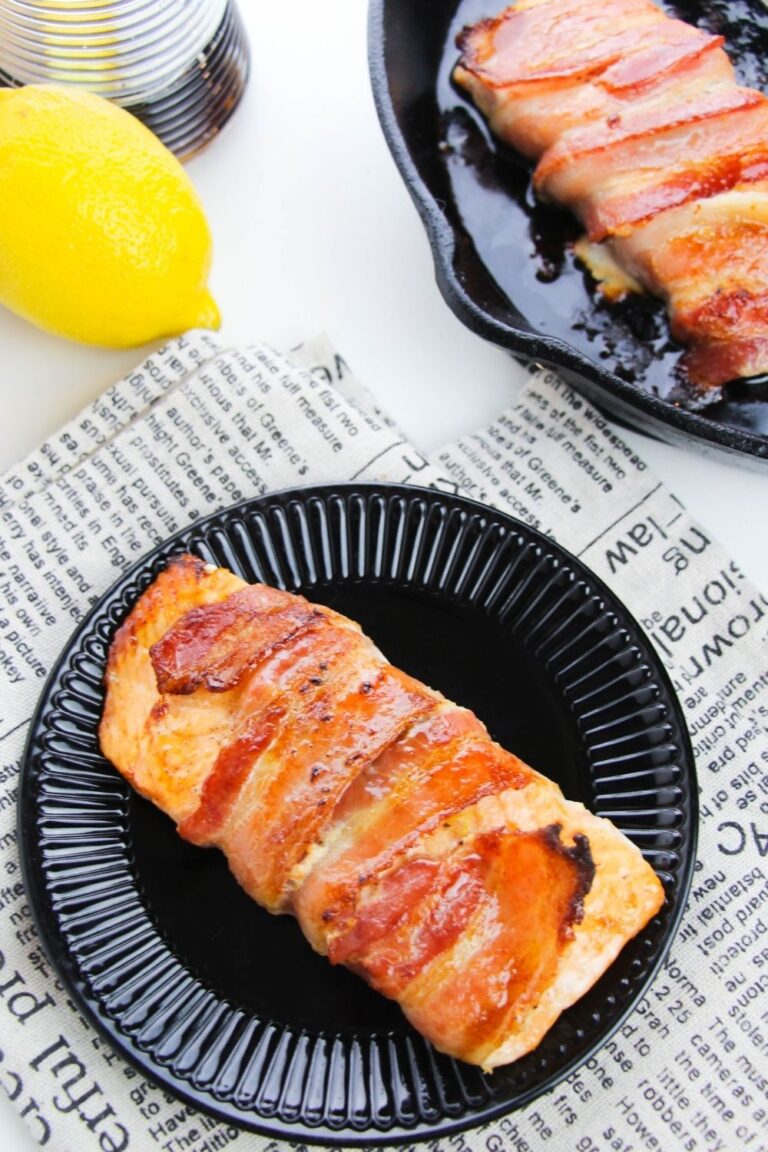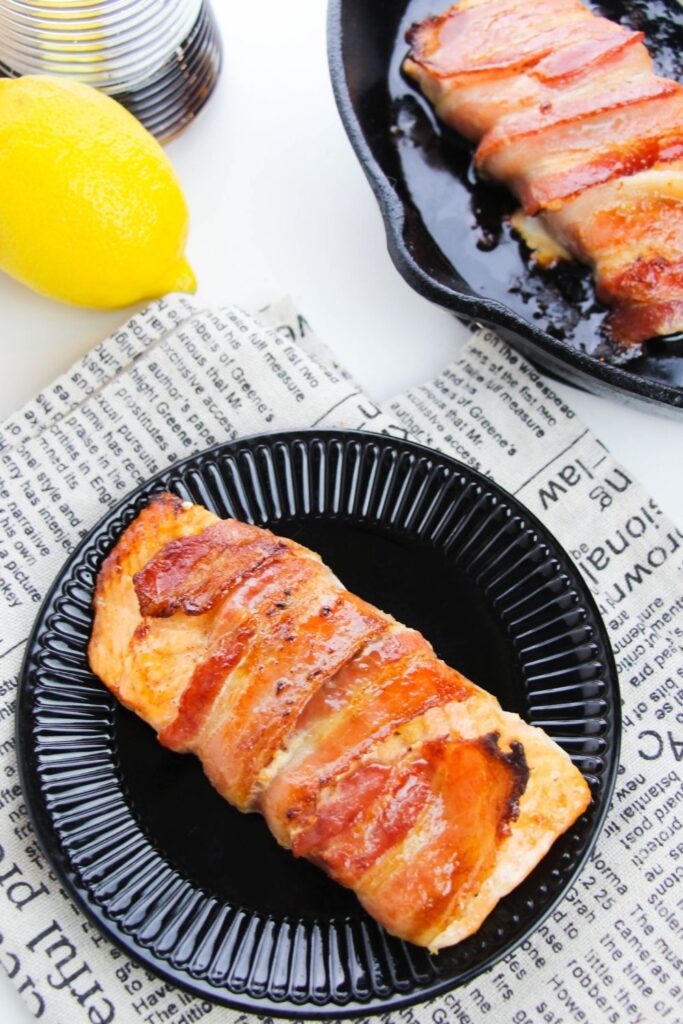 Pro Tips For Success
Thinner bacon is best, as the bacon is too thick it won't fully cook all the way.
Depending on size of salmon the cook time will vary.
I recommend using an oven proof skillet like a cast iron so you can sear on stovetop and then b
The maple syrup is optional but adds a nice sweetness. You could also sprinkle with brown sugar or brown sugar alternative.
I used 2 pieces of bacon per salmon fillet, but depending how large yours are you might need more or less.
Storing Leftovers
If you don't eat all your salmon right away, just store in an air tight container in the fridge. The fish will store for 1-2 days. You can warm it up in the microwave.
Common Questions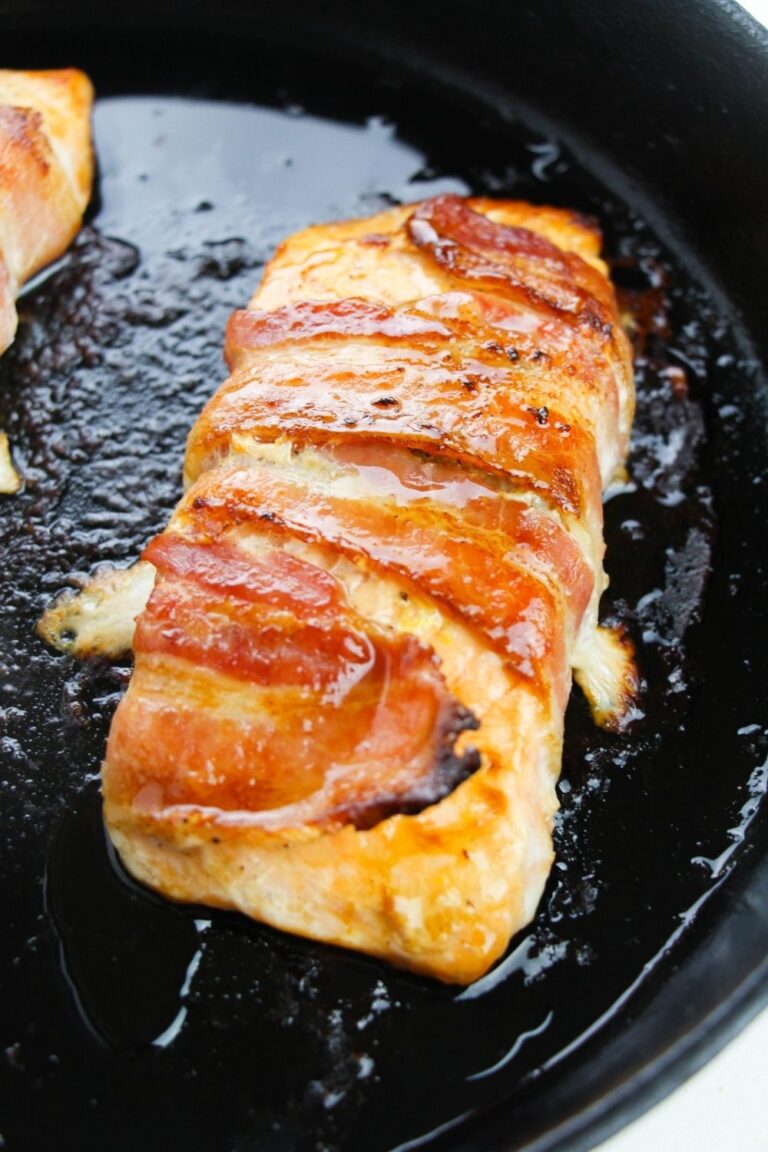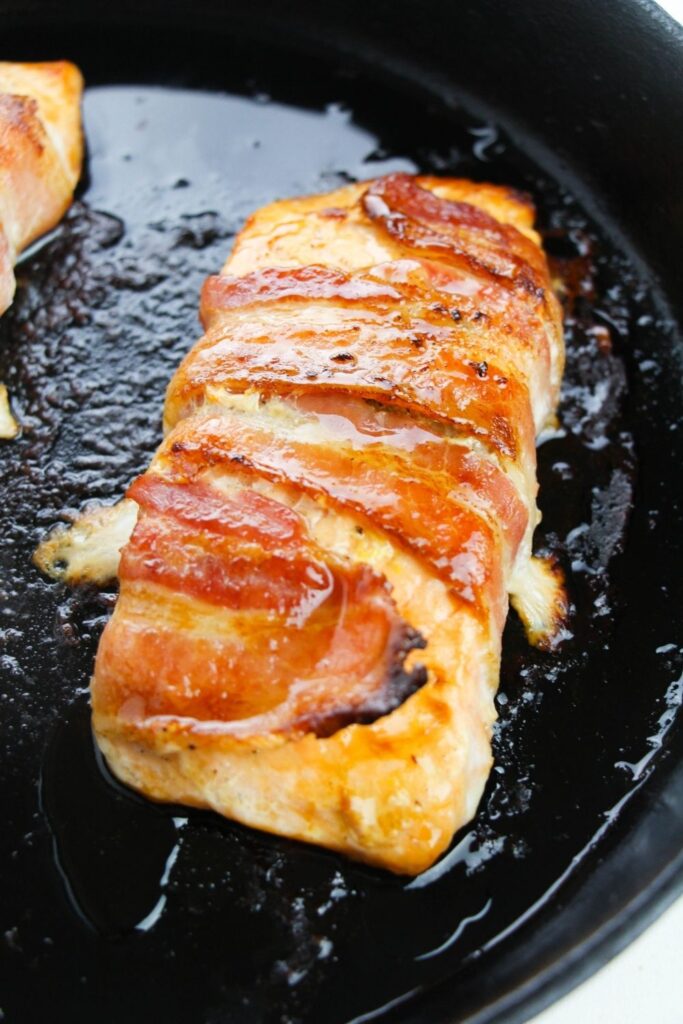 Related Recipes
Have you tried the recipe? If so, please leave a star ⭐️⭐️⭐️⭐️⭐️ rating in the recipe card below or drop a comment. Also stay in touch with me through social media by following me on Facebook, Pinterest, or My Facebook Group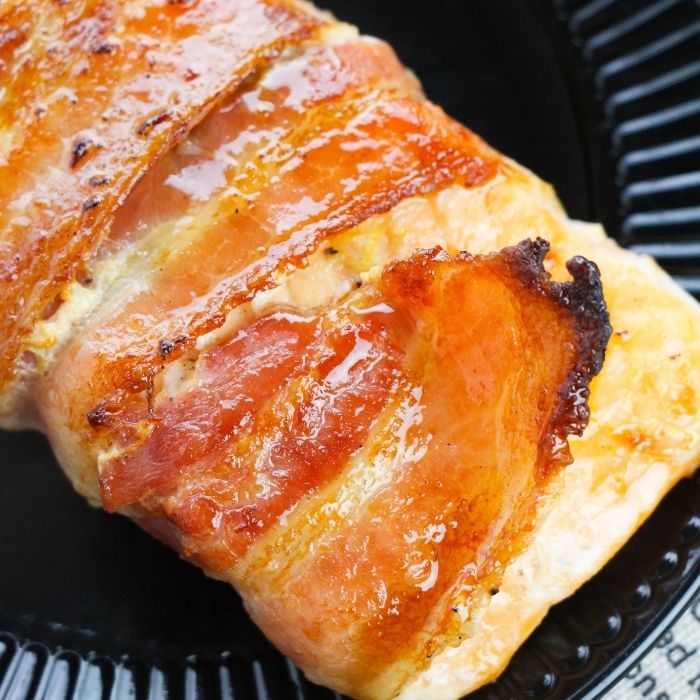 Bacon Wrapped Salmon
Servings 2
Bacon Wrapped Salmon is a delicious and easy way to cook up salmon fillets. This salmon recipe is pan fried and then finished off in the oven. Bacon wrapped salmon with a maple glaze.
Ingredients
2 Salmon Fillets approximately 3oz each
1 teaspoon Lemon Zest
Salt and Pepper to taste
4 Bacon Strips uncooked
2 teaspoons Maple Syrup (optional)
Instructions
Start by seasoning your salmon with salt and pepper, and sprinkle with lemon zest.

Next take bacon and wrap around the salmon fillets. I did 2 pieces of bacon per piece of salmon. Depending on how large or small your salmon fillets are the bacon can be adjusted.

In a skillet on medium-high heat you will pan sear your bacon salmon for 2-3 minutes. Then flip the fillet over and cook the other side.

Preheat the oven and once the bacon is done searing cook in the oven broiling on high for 3-4 minutes or until the salmon reaches 145 degrees F.

Now, you can flip the bacon salmon over half way through cooking in the oven. That will ensure a more even cook on the bacon.

Once the bacon wrapped salmon is done, you can remove from the oven and brush with the maple syrup if you want. It will add a nice sweetness to the salmon.
Notes
Preheat Oven: Make sure you preheat the oven to broil so it is nice and hot when you place the salmon in the oven. Pan-Searing: You want to create a light golden color on the bacon before you broil. Maple Syrup – You can easily swap out the maple for a sugar free option if you want a keto friendly recipe. Or leave the syrup off altogether for a savory take without the sweetness.
Nutrition
Serving: 2gCalories: 213kcalCarbohydrates: 5gProtein: 17gFat: 13gSaturated Fat: 4gPolyunsaturated Fat: 9gCholesterol: 50mgSodium: 562mgSugar: 4g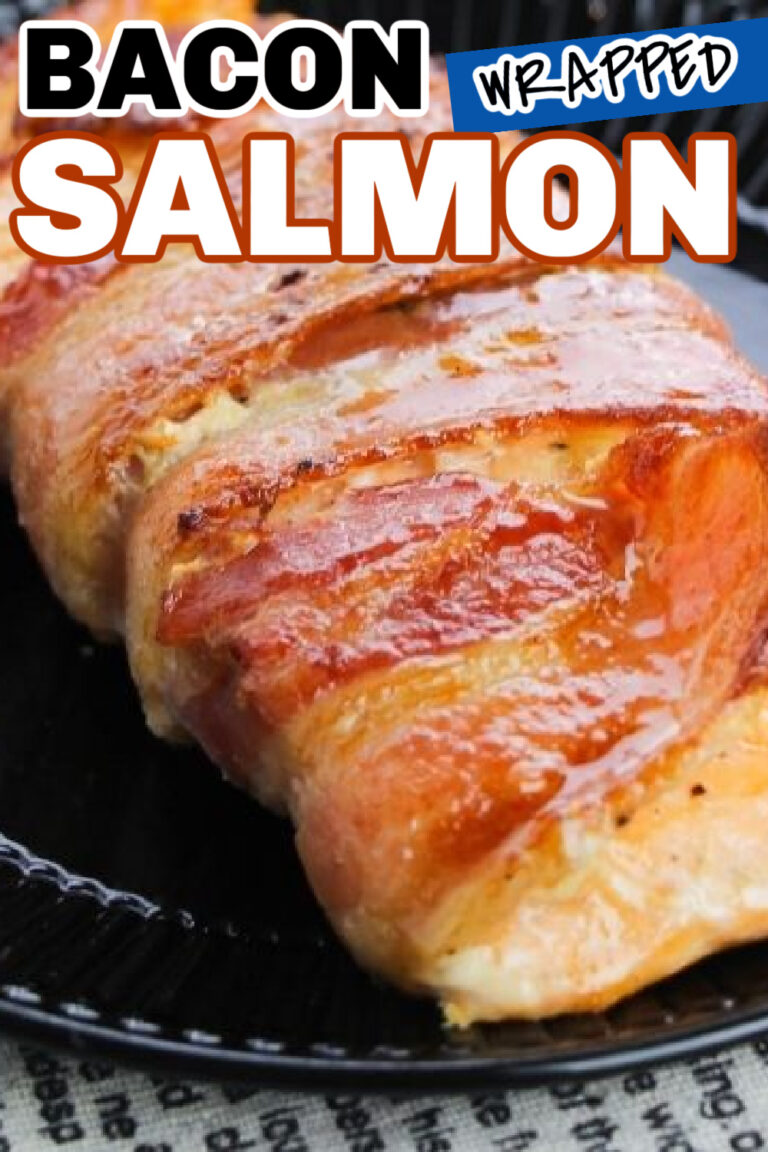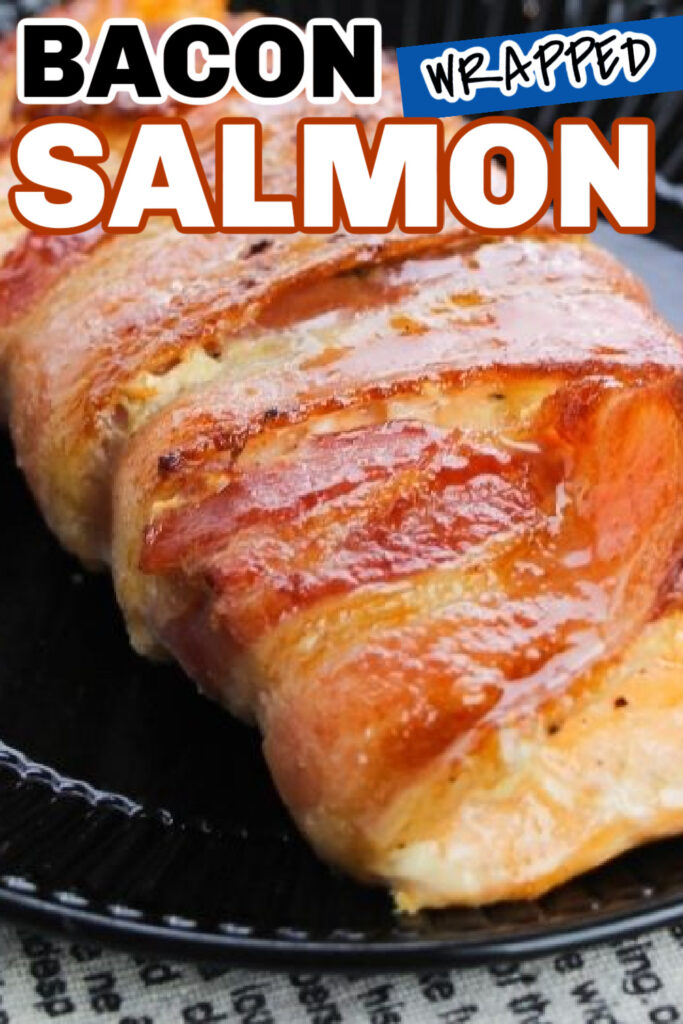 Reader Interactions