Strawberry Jello Pie is an easy no bake Jello Pie! Great party food, summer cookout dessert, and more. This strawberry no bake Jello pie is a winner.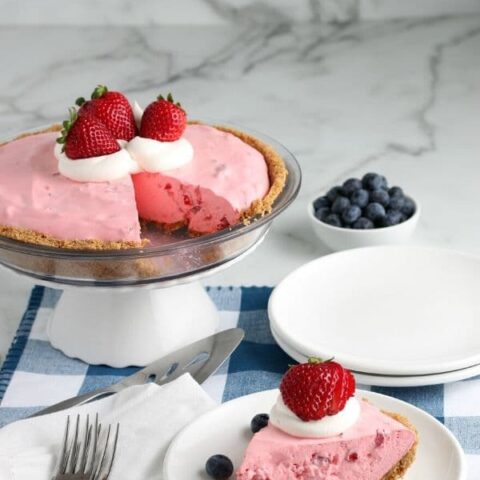 Easy, creamy, and refreshing is what you find in this Strawberry Jello Pie! The ultimate warm weather dessert that is bursting with flavor. Strawberry pie with Jello is a must make.
Pink strawberry pie with Jello is one recipe I make all year round. Whether for a last-minute dessert for unexpected guests or to take to a summer cookout or potluck.
Grab your Cool Whip, Jello, and graham cracker crust for the ultimate party food dessert. Also, try my strawberry syrup recipe for drinks.
Skip turning on the oven and whip up an easy no-bake Jello pie. I love sweets so finding easy pie recipes like this is always welcome.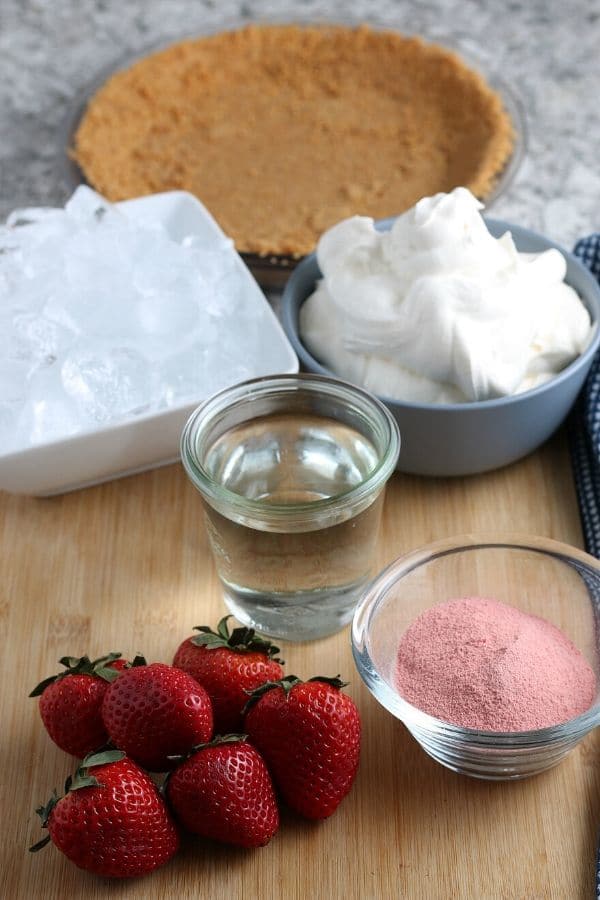 Can You Make Jello Pie In Advance
You absolutely can make this Jello pie in advance. It takes time for this no-bake Jello Cool Whip pie to set up.
So making ahead of time is always welcome. You could make the day before you plan to serve with no problem. Try my microwave cheesecake for another easy dessert.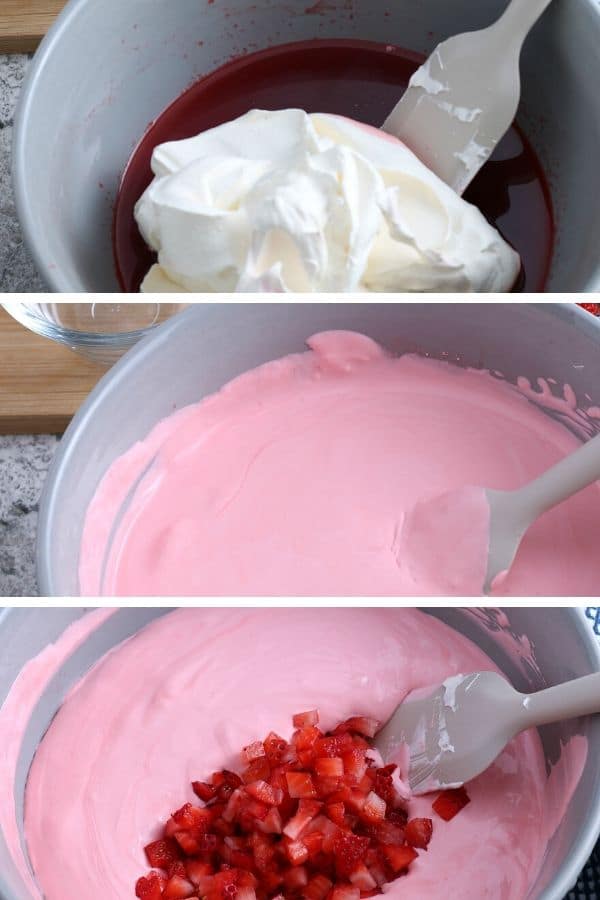 How To Make Strawberry Jello Pie
Start by working on your Jello. Boil water, mix and follow the directions below in the printable recipe card below.
Once Jello is cooled from the ice cubes, stir in the Cool Whip.
Now toss in your chopped strawberries and fold it into the strawberry Jello pie filling.
Refrigerate the mixture in the bowl for 30 minutes. Once done pour into your pie crust, and then cover and refrigerate until it is fully set up.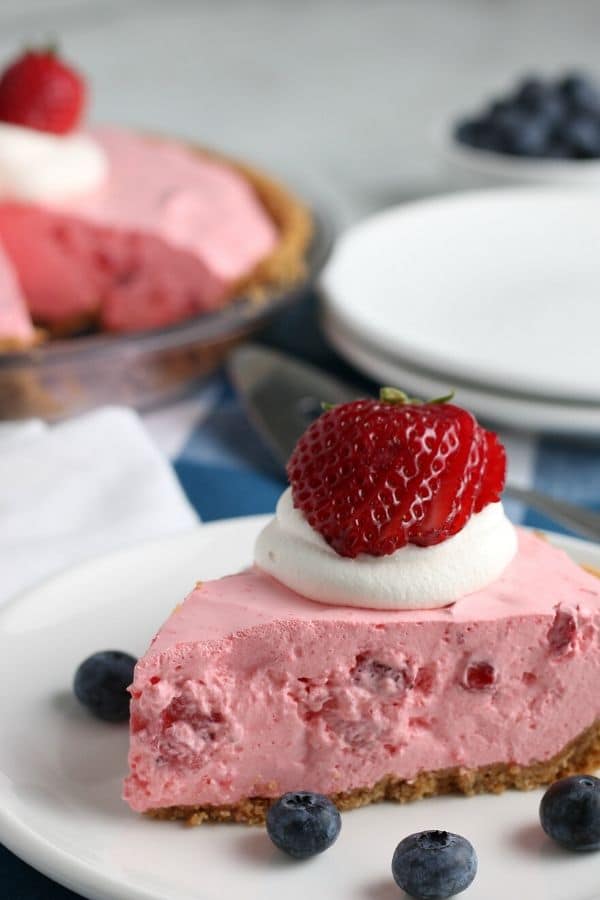 How To Serve
I make sure to slice a nice size piece of the pie, add a dollop of whipped cream, fresh strawberry, and some blueberries. Colorful, bright, and bursting with flavor.
You are more than welcome to decorate your pie differently if you would like! Or leave it naked and slice and serve as is!
Searching For More Desserts
Strawberry Jello Pie
Servings 6 -8 servings
Strawberry Jello Pie is an easy no bake Jello Pie! Great party food, summer cookout dessert, and more. This strawberry no bake Jello pie is a winner.
Ingredients
Crust
• 1 graham cracker crust – store-bought larger extra serving size or homemade
Filling
• 2/3 cup Boiling Water
• 1 box 3 oz. serving size Strawberry Jello
• 1/2 cup Cold Water + enough ice cubes to make 1 cup
• 1 tub 8 oz Cool Whip, thawed plus extra for garnish
• 1 cup Strawberries chopped
• Strawberries for decoration if desired
• Blueberries for decoration if desired
Instructions
First you want to boil up your water, and then mix it into your Strawberry Jello. You will want to stir it for 2 minutes or until all the gelatin mixture is dissolved in water.

Now add in your ice cubes to 1/2 cup cold water. You want the ice to rise the water to 1 cup mark.

Stir your Jello into your ice water mixture.

Fold in your whipped topping with a whisk or spatula. Then chopped strawberries.

Place in fridge for 30 minutes to allow it to set a bit.

Now remove Strawberry pie filling from fridge and pour into your graham cracker crust. Spoon filling in, and then cover and chill for 6 hours to overnight.

Decorate your Strawberry Jello Pie as desired.
Nutrition
Serving: 1gCalories: 136kcalCarbohydrates: 20gProtein: 2gFat: 6gSaturated Fat: 1gPolyunsaturated Fat: 4gSodium: 122mgFiber: 1gSugar: 8g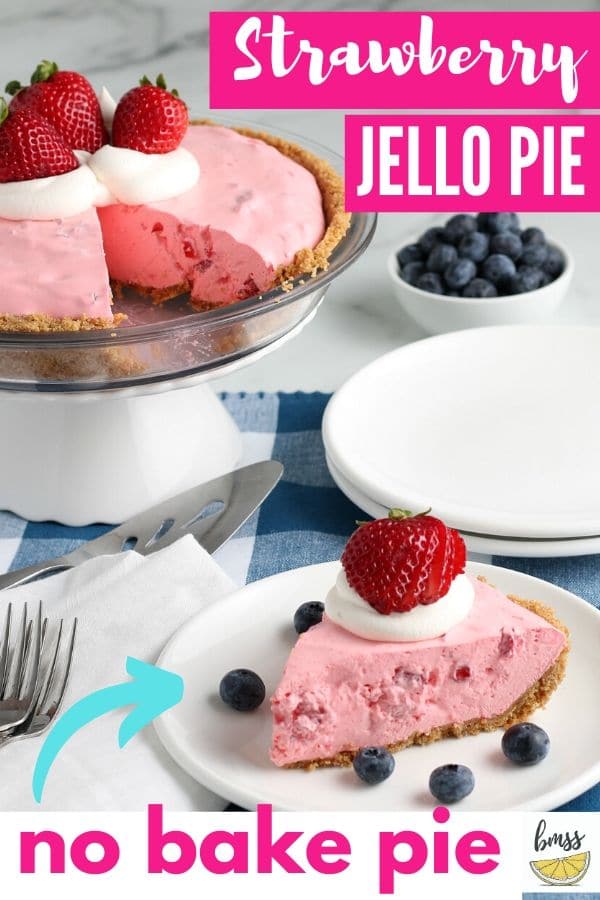 If you are a fan of Jello dessert recipes, you might really like this strawberry pie recipe. Let me know what you think!
Reader Interactions