Have Peeps on hand from your Easter celebrations? If so, you can use Peeps to make these easy indoor Peeps S'mores. Oven s'mores that are finger licking good. This Peep S'mores recipe is so simple I don't know if I should even call it a recipe.
You either love or hate the classic Peeps marshmallows. If you love you will enjoy swapping them in to make s'mores for a tasty dessert for any day of the week.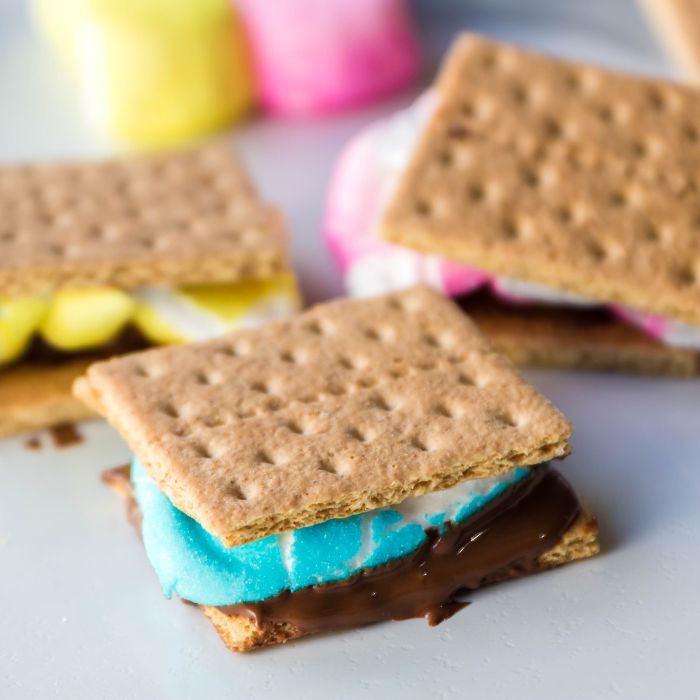 This Peeps S'mores recipe is..
Made with just 3 ingredients.
Takes minutes to prep and just a couple of minutes in the oven.
Gooey marshmallow and sweet chocolate like you know and love.
My son loves making these for a treat. He assembles and I handle the oven.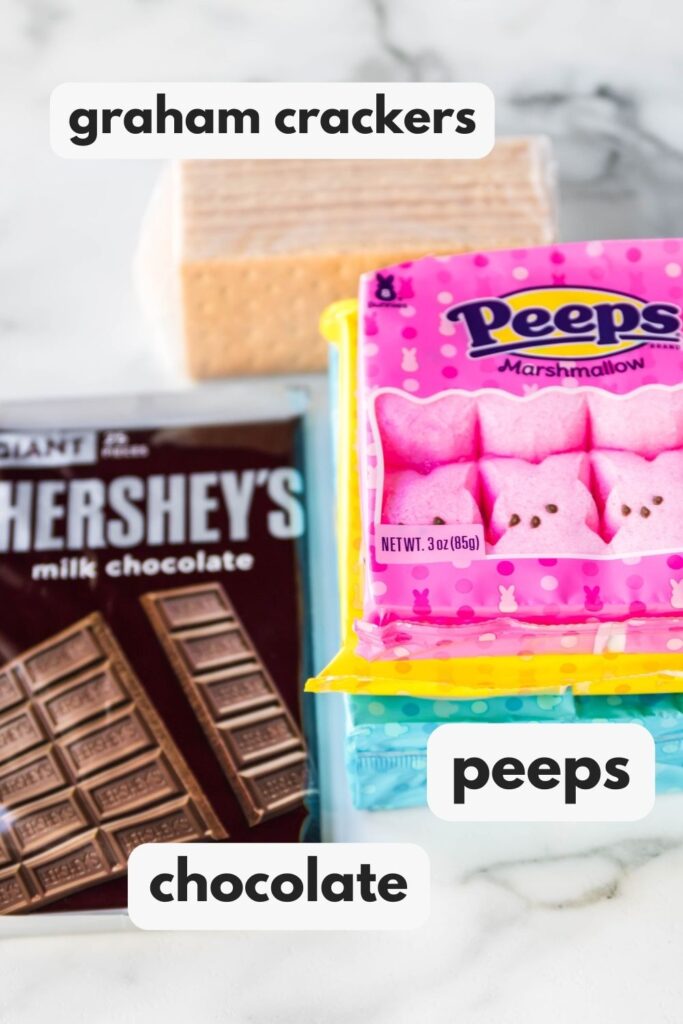 Ingredients
Peeps – Any color or shape works. I loved doing a mix of colors to offer a rainbow look.
Chocolate – A classic Hershey's chocolate bar is what we prefer.
Graham Crackers – Honey golden Graham crackers.
How to make
Full steps are in the printable recipe card featured at the bottom of the post. This is a visual walk through.
Break Graham crackers in hand and place on a baking sheet.
Add chocolate to one side and a peep on the other side.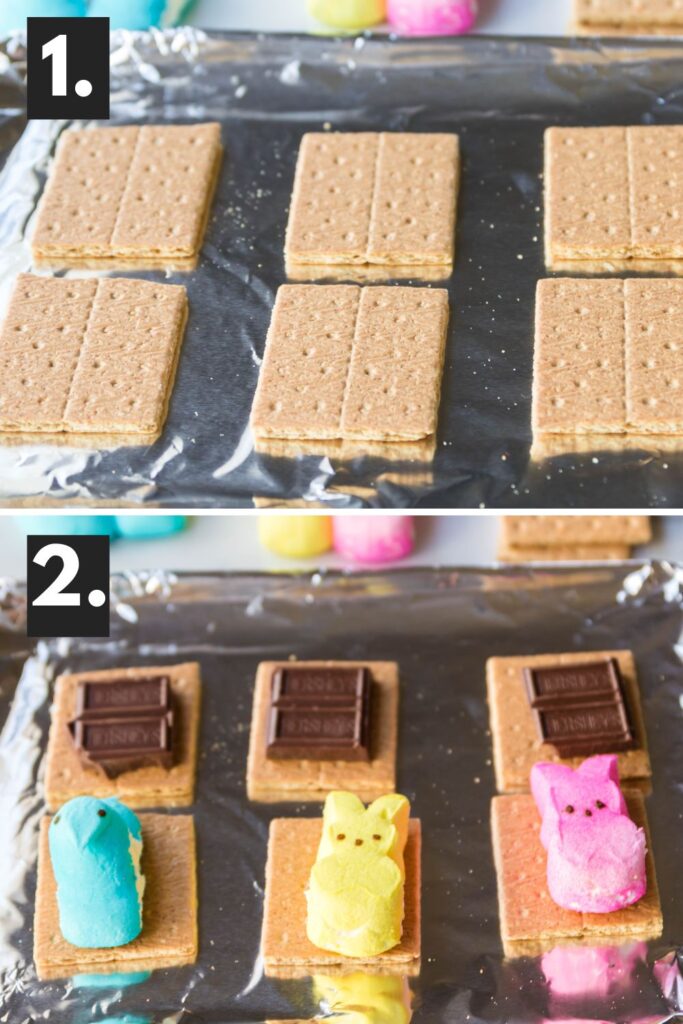 Put in the preheated oven to melt marshmallows.
Assemble and enjoy.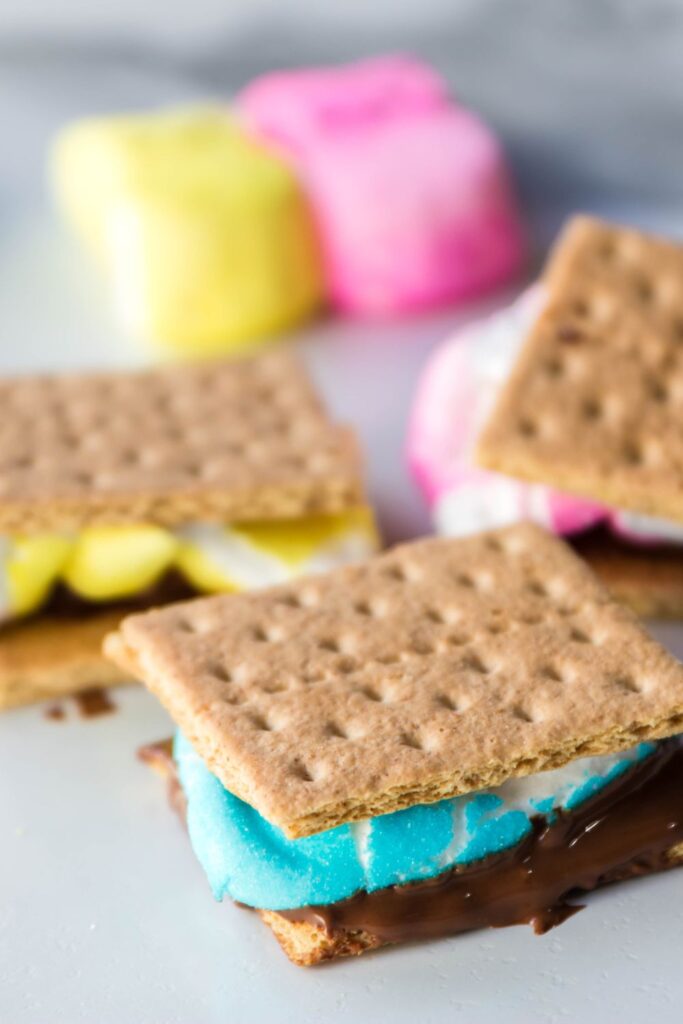 Variations to Recipe
Use any type of chocolate you want. White chocolate, semi-sweet, etc.
No Peeps? Then use any type of marshmallow or marshmallow treat.
Use a shortbread cookie instead of graham crackers.
Expert Tips For Success
Don't add too much chocolate or it will become pretty messy.
Or roast over the open fire for a campfire!
You can microwave or heat in the oven. To heat in the microwave just place one on a plate and heat for 20-30 seconds.
FAQs
Can you roast Peeps over a fire?
Yes, you can definitely roast Peeps over a fire! In fact, roasting Peeps over an open flame is a popular Easter tradition in many parts of the world. To do so, simply skewer the Peep on a stick or metal rod and hold it over the fire until it gets golden brown and starts to bubble.
Are Peeps the same as marshmallows?
Peeps are a type of marshmallow candy, but they are not exactly the same as regular marshmallows. While both Peeps and marshmallows are made from a mixture of sugar, corn syrup, gelatin, and flavoring, Peeps are a bit different in terms of their shape, texture, and consistency.
What is the most popular Peep color?
Yellow was the first favorite. Over the years, Peeps have expanded their color palette and now come in a wide variety of colors, including pink, blue, purple, green, and orange, to name a few. In recent years, pink has also become a popular color for Peeps, particularly during the spring and Easter season when pink represents the colors of blooming flowers.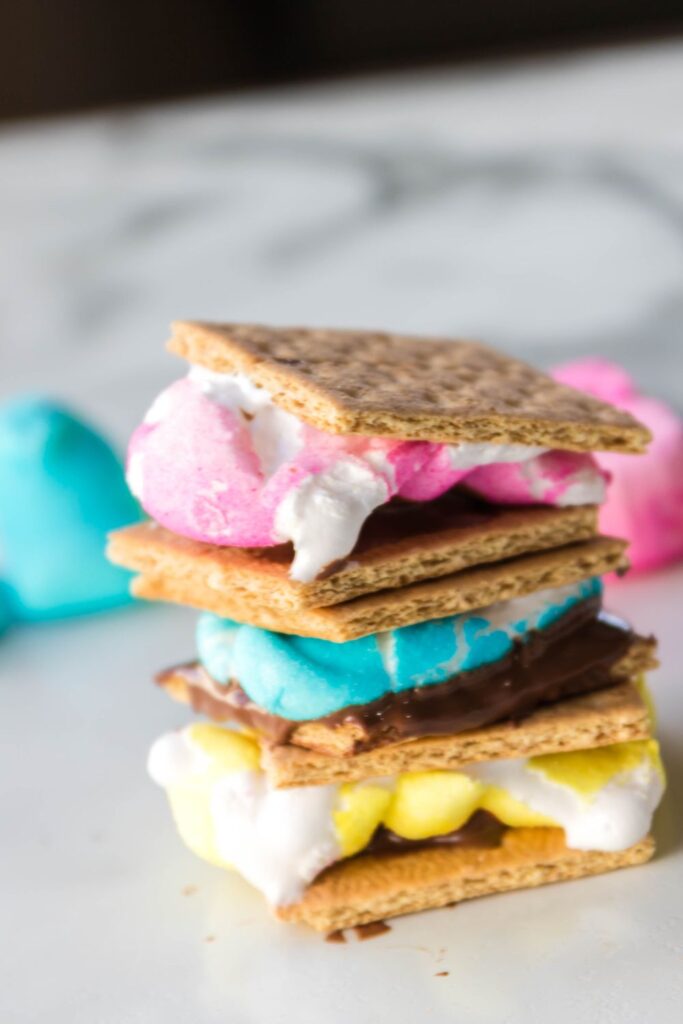 More Easter Recipes
Craving more Easter recipes? Here are a few of my favorite Easter desserts to consider trying.
Have you tried the recipe? If so, please leave a star ⭐️⭐️⭐️⭐️⭐️ rating in the recipe card below or drop a comment. Also stay in touch with me through social media by following me on Facebook, Pinterest, or My Facebook Group