Instant Pot Chocolate Cake is layered of moist and decadent chocolate cake topped with a homemade buttercream chocolate frosting. Pressure cooker cake that will melt in your mouth.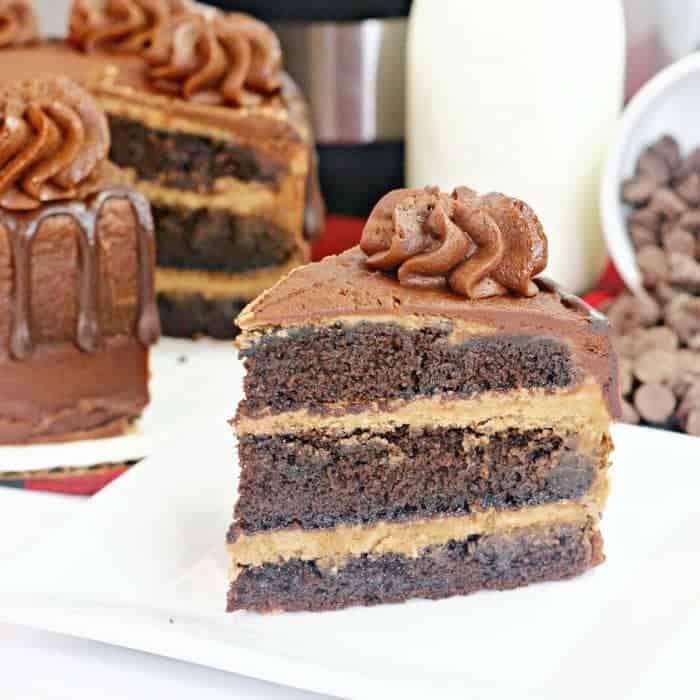 Instant Pot Chocolate Cake using a boxed cake mix as the cake. This cake is moist, delicious and no one will ever know the cake is from a cake mix. Then you smooth on homemade chocolate buttercream frosting for one incredible and decadent chocolate cake recipe. Cake in the Instant Pot is such an easy way to go.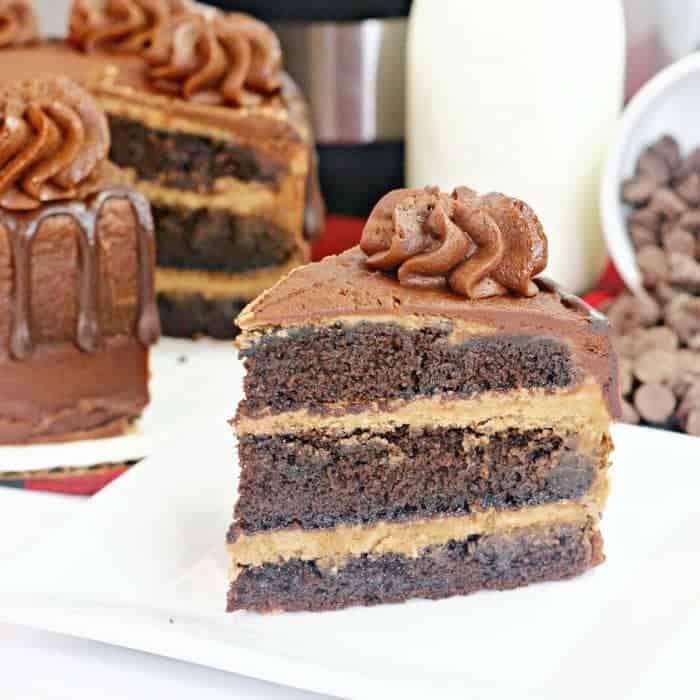 Instant Pot Cake is a fantastic way to get that ultra moist cake you are looking for. You can use any flavor of cake mix you want, I reached for chocolate cause we are chocolate obsessed in our home. Try my Sweet Potato Instant Pot Cheesecake if you love rich and creamy cheesecake.
Instant Pot Chocolate Cake
Why make a cake in the Instant Pot you ask? Well, since it is a pressure cooker, it really keeps your cake ultra moist as it cooks.
This Instant Pot cake recipe is so easy, and it really will give you a rich and decadent dessert. Serve up for birthday parties, an anniversary, Valentine's Day, and more.
What Size Pan Do You Use To Make Instant Pot Cake
So you will want to reach for a 6 inch round cake pan
or even a 7-inch cake pan
. You will find that the classic 8-9 inch round pans don't fit in the Instant Pot.
The cake will be smaller in size, but it will be incredible all the same.
I cut my cake and did 3 layers, you can do that, or even do 2 thicker layers or keep it 1 large cake, and frost as is. The choice is totally up to you.
Do You Use The Trivet When Making Instant Pot Cake
Yes, I always utilize the Instant Pot trivet that came with my pot. I set my cake on the trivet and used the trivet to help me lower it into the pressure cooker.
It helps making it less awkward to put the cake in and of course lift it out of your pressure cooker.

How To Decorate Instant Pot Cake
I frosted my cake with some homemade frosting.
Then I piped a little around the edge, then took hot fudge (jarred for ice cream) and drizzled it on the edge of the cake. It was a chocolate lovers dream come true.
Can I Add Chocolate Chips to Instant Pot Cake Mix
Sure if you want to add in some ingredients like chocolate chips, add in 3/4 cup. You don't want to go over a cup of add-ins or it can have negative effects on your cake.
I found around 3/4 cup was a good amount.
Add in some nuts, chocolate chips, toffee chips, etc. If you do a white cake mix, you could do sprinkles for a fun birthday cake theme!
How Long Do You Cook Instant Pot Cake
What I did was cook my cake for 35 minutes on high pressure.  You will let it natural release for 10 minutes.
Then do a quick release of the pressure once to get rid of any more pressure in the IP. Just remember it will take around 6-8 minutes for your pressure cooker to come to pressure before it begins cooking.
How to Get Even Layers Of Cake in A Layered Cake
You will want to use a cake leveler
to cut your layers of the cake. This will help you get a smooth and even cut on your cake.
You can adjust to where you want to cut. If you enjoy baking it is a great tool to invest in for any cake you make. You can use it for other baked goods as well.
Craving More Instant Pot Desserts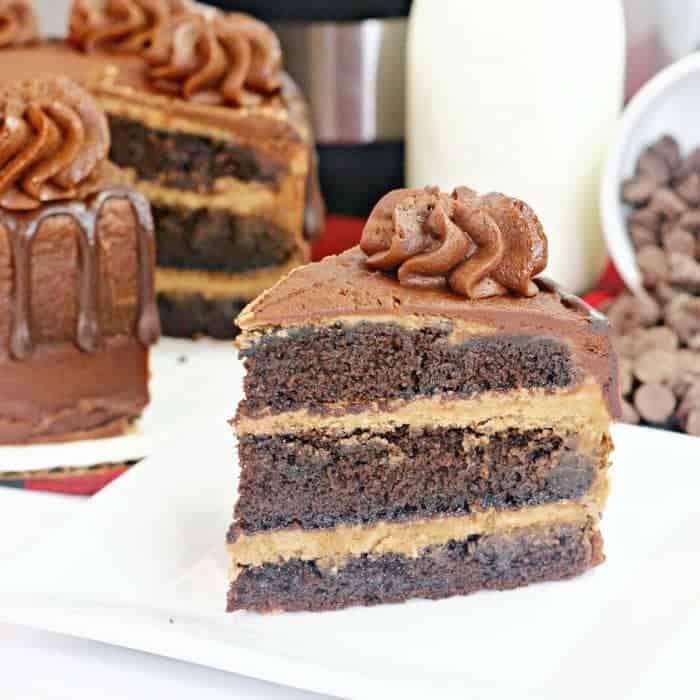 Easy Layered Instant Pot Chocolate Cake
Instant Pot Chocolate Cake is layered of moist and decadent chocolate cake topped with a homemade buttercream chocolate frosting. Pressure cooker cake that will melt in your mouth.
Ingredients
15.25 Cake Mix I used Devil's Food
Ingredients on cake mix box
Frosting Ingredients
3/4 C unsalted sweet cream butter softened
1 - 4 oz cream cheese softened
3/4 C Hershey special dark cocoa powder
1/8 tsp kosher salt
3 1/2 C powder sugar
4-6 tbsp heavy whipping cream
Large piping bag with a medium star tip
Instructions
Pour 1 1/2 cup water into your Instant Pot, and place the trivet in your Instant Pot. Coat your 6 or 7-inch cake pan with cooking spray and set aside.

Mix up your cake mix according to the box, and then pour batter into your cake pan. I used a deep dish 7-inch pan.

Take aluminum foil and create 2 layers to cover the pan, make it super tight on edges so no moisture gets into the cake.

Place cake into the Instant Pot on top of the trivet. Seal pressure cooker, and cook high pressure for 35 minutes.

Let it natural release for 10 minutes, then push the valve over to release any leftover pressure.

Remove foil and check with a toothpick to ensure cake is fully cooked. If not, put it back in for a bit longer.

Place cake in a cooling rack for 30 minutes to cool. Then flip cake over to remove it from the pan carefully.

In a bowl mix up all the frosting ingredients above in a mixer, and then set aside.

Use a cake leveler and cut your cake into 2-3 layers.

Then frost your cake and decorate how you would like.
Notes
I frosted my cake between layers, then used a star to pipe the edges. And poured hot fudge down the edge. That is optional you don't have to decorate this way.
Nutrition
Serving: 1g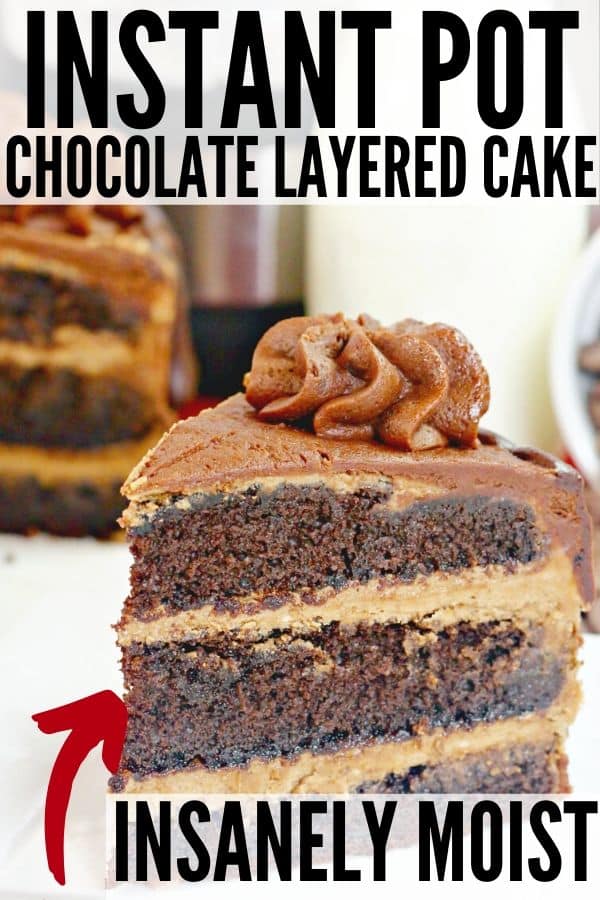 Have you tried Instant Pot Cake before?
Reader Interactions