Glazed carrots are a must make carrot recipe. If you love sweet carrots, this rosemary honey glazed carrots recipe will hit the spot. Whether you serve this as a holiday side dish or a weeknight side to go with dinner.
A simple 4 ingredient honey roasted carrot that will steal the show of your main dish. Pair with chicken, pork, beef, holiday ham or any other main proteins. Candied carrots are a hit!
Don't wait and try this holiday carrot recipe a try today. Kids and adults will enjoy the honey and rosemary paired with the carrots. Also pair with some onion gravy to go with your dinner!
This Glazed Carrots Recipe Is..
Made with 4 ingredients
Sweet and savory
Quick prep
Oven roasted carrots recipe
Baked carrots not pan-seared
Easy side dish or holiday side
Ingredients You Need
Carrots – I prefer whole carrots that you peel and dice into coins for the recipe. I find it cooks up really nicely. Baby carrots can be used as well in replace of the whole diced peeled carrots.
Honey – So I used honey for the sweetening component to this recipe. If you want to add even more sweet go for a little brown sugar as well.
Butter – I recommend using real butter for this recipe. Unsalted or salted butter work great.
Rosemary – You can use fresh or dried rosemary for this perfect side dish! Toss the carrots well and it will help to blend all the sweet and savory flavors together.
Salt – This is optional. I find seasoning with salt after it is done, you will find elevates all the flavors. Salt and pepper are what we prefer.
Variations To Recipe
Add in some garlic powder for a savory component.
Use rainbow carrots instead of classic carrots.
Maple syrup or brown sugar can replace the honey in recipe.
Swap rosemary with parsley.
Etc
How to Make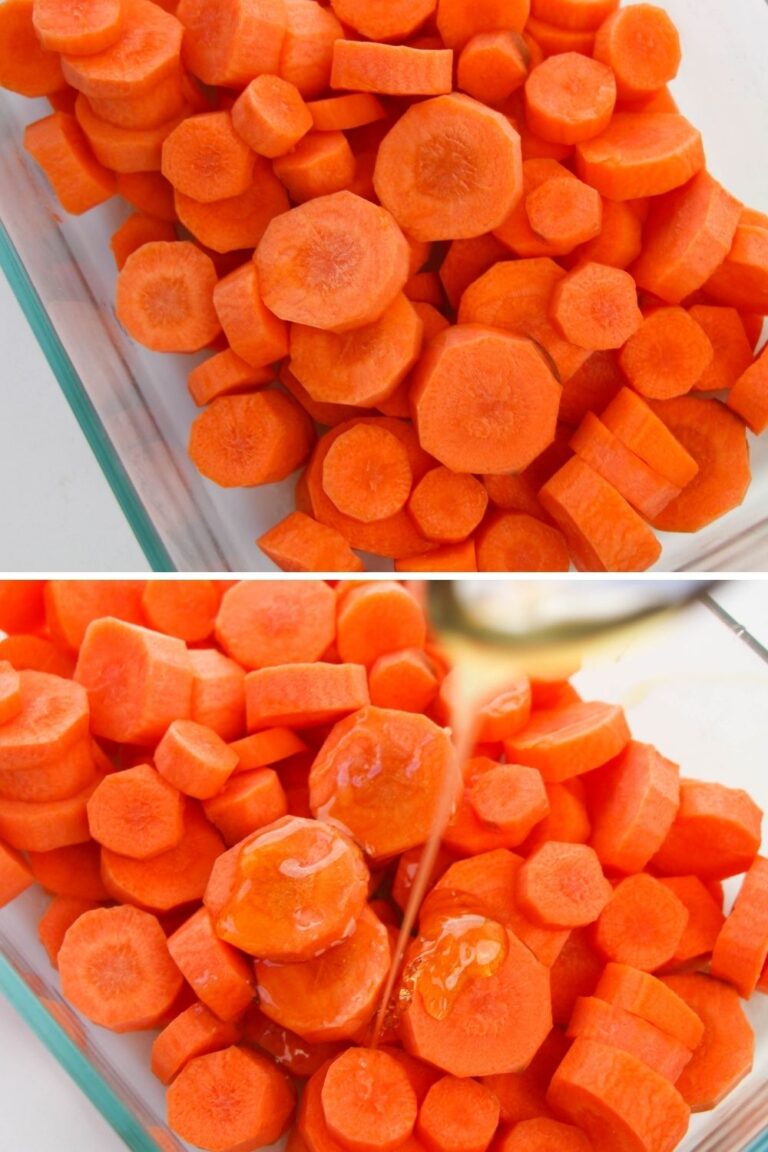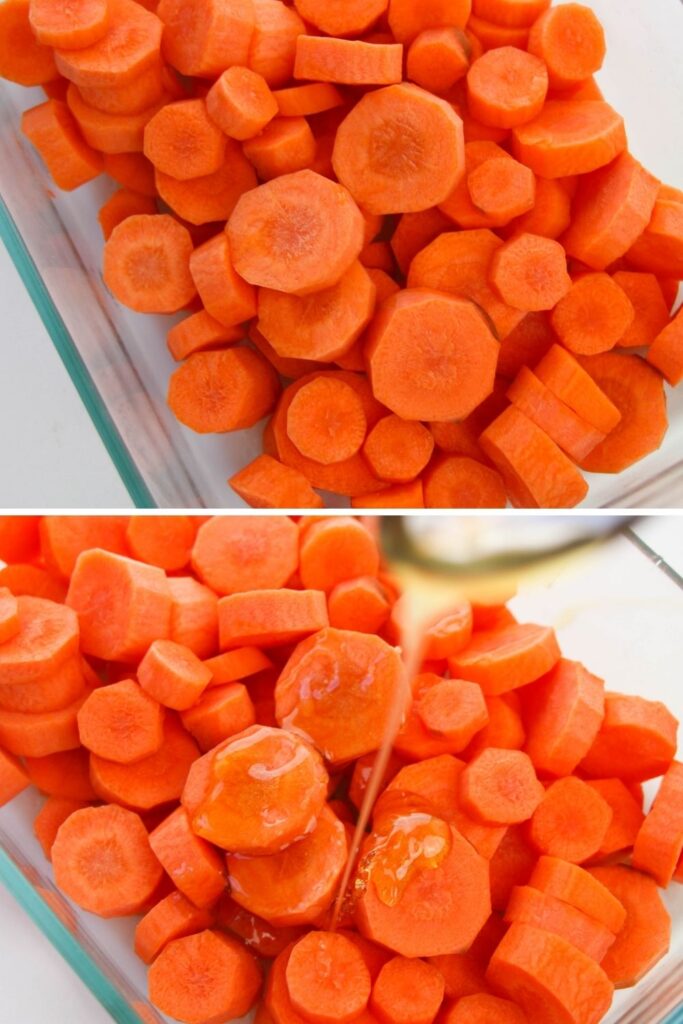 Step One: Wash, peel, and dice up the carrots into coins. Or you are welcome to use baby carrots if you would like for this sweet carrot recipe.
Step Two: Drizzle the carrots with honey and toss to coat all the carrots.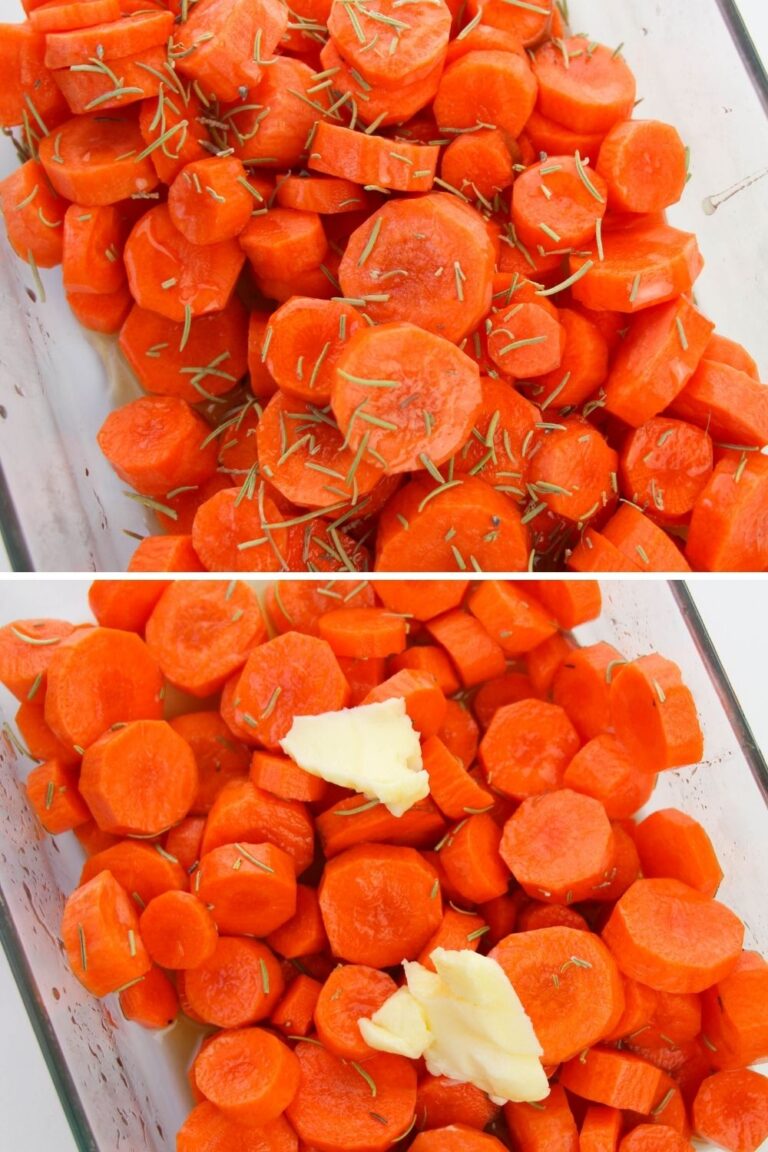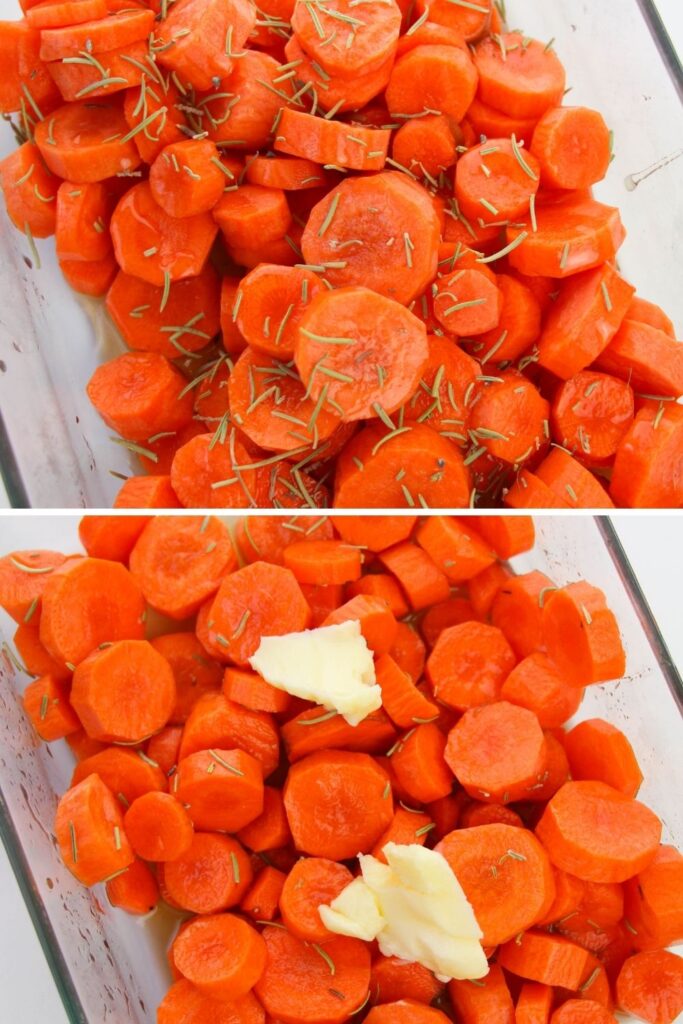 Step Three: Add your rosemary and sprinkle all over. If you don't want rosemary you can then use parsley or skip this step.
Step Four: Place butter on top, and bake in the oven as directed.
Pro Tip: Depending on thickness of the carrots, the cook time will vary. So pull from the oven when the carrots reach your desired doneness.
Tips For Honey Carrots Recipe
Evenly cut up the carrots for an even cook.
You can prep the carrots 2-3 days in advance. Just store them in the fridge, until ready to toss in baking dish.
Use less honey to lessen the sweetness of this dish.
Feel free to add a little brown sugar as well for a brown sugar and honey glazed carrot.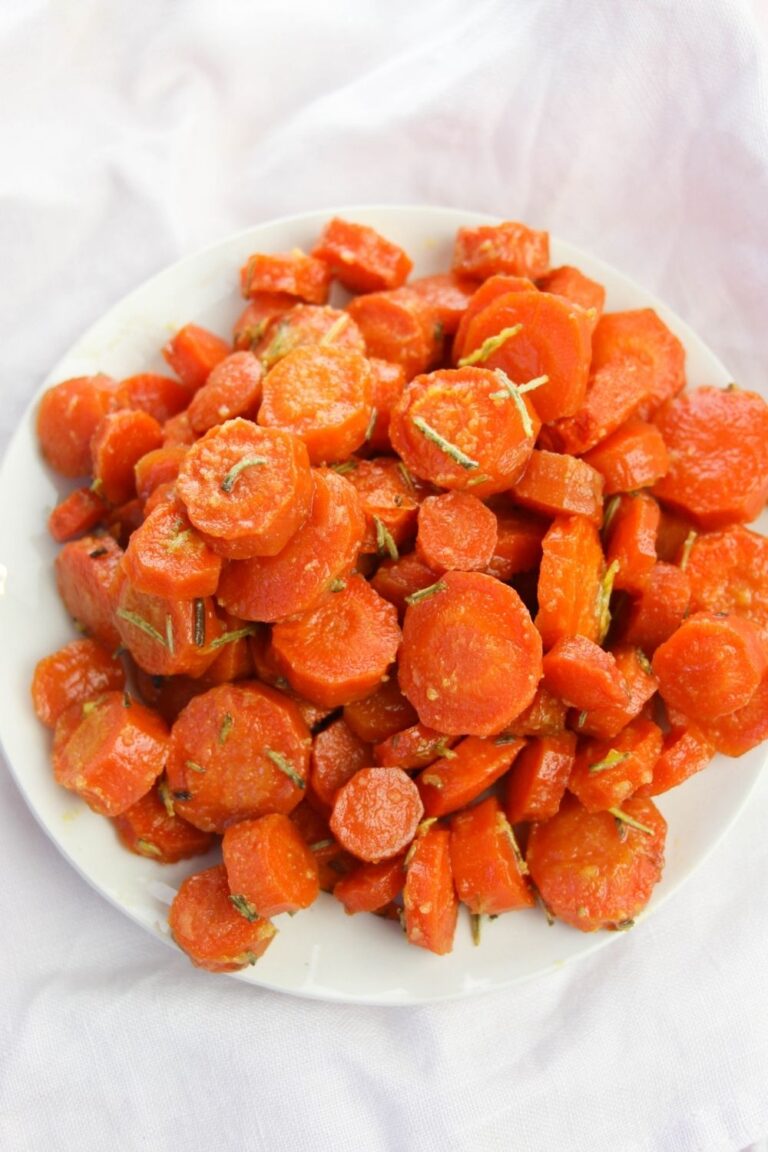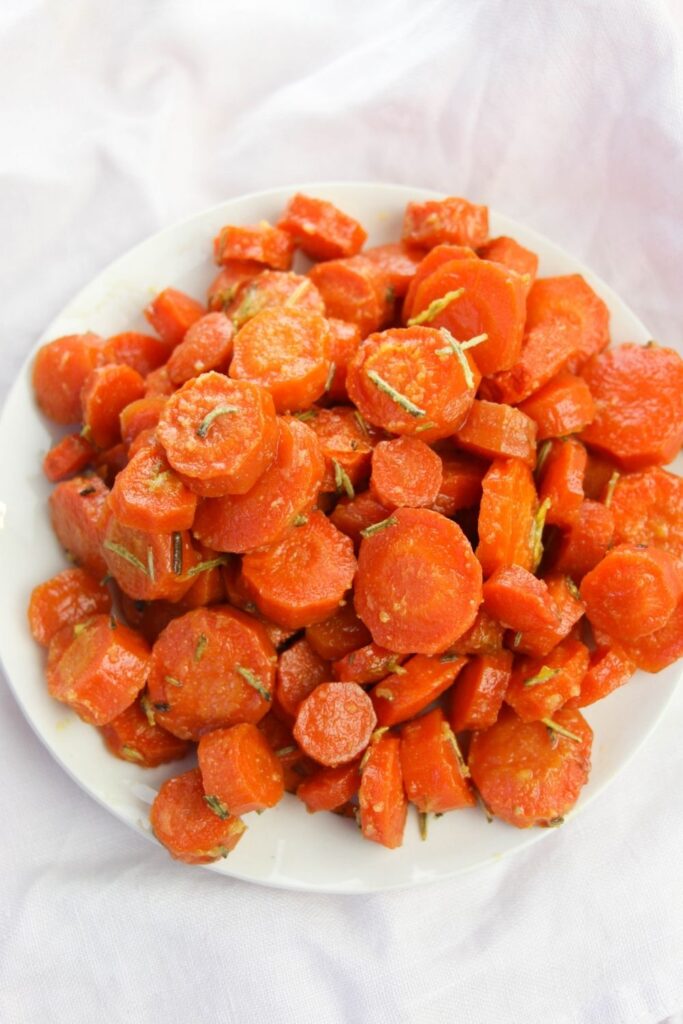 Make Ahead Option
Peel and dice up your whole carrots and store in a sealed container in the fridge. You can do this 2-3 days in advance of when you plan to cook. This is a good prep option for say the holidays when you want to simplify cooking the day off.
Then right before cooking add honey and rosemary, pour into pan, drizzle over butter and bake as directed.
Storage
Store your leftover candied carrots in an airtight container for 1-3 days. You will find the carrots will be softer in texture once you reheat them from being cold. But, they will still taste delicious.
Frequently Asked Questions
Related Recipes
Grab this printable easy side dish recipe below and enjoy!
Honey Glazed Carrots Recipe
Servings 3 cups carrot
Glazed carrots is an easy and delicious sweet carrot recipe. 4 ingredients is all you need for this candied carrots recipe you bake in the oven. A great weeknight side dish or holiday side recipe.
Ingredients
3 cups carrots peeled and diced
1/3 cup honey
1 Tablespoon rosemary
1-2 Tablespoons butter
Salt to taste (optional)
Instructions
Preheat the oven to 350 degrees. Grease an 8×8 baking dish and set aside.

Wash, peel, dice into bite size pieces.

Pour carrots into the dish and then drizzle with honey and toss to coat.

Add in the rosemary if you would like and then place butter on top.

Bake in the oven and cook 25-35 minutes or until the carrots are fully cooked and reach your desired doneness.

Serve up these glazed carrots for an easy side dish this week.
Notes
Carrots – Baby carrots do work for this if you don't want to use diced carrots. Seasoning – You can season your carrots any way you want. I used honey but you can do more or less to flavor to your preference. Swap rosemary with parsley, etc. Sweetening Carrots – You can sweeten the carrots with brown sugar or even maple syrup if you would like.
Nutrition
Serving: 1gCalories: 120kcalCarbohydrates: 22gProtein: 1gFat: 4gSaturated Fat: 2gPolyunsaturated Fat: 1gCholesterol: 10mgSodium: 174mgFiber: 3gSugar: 18g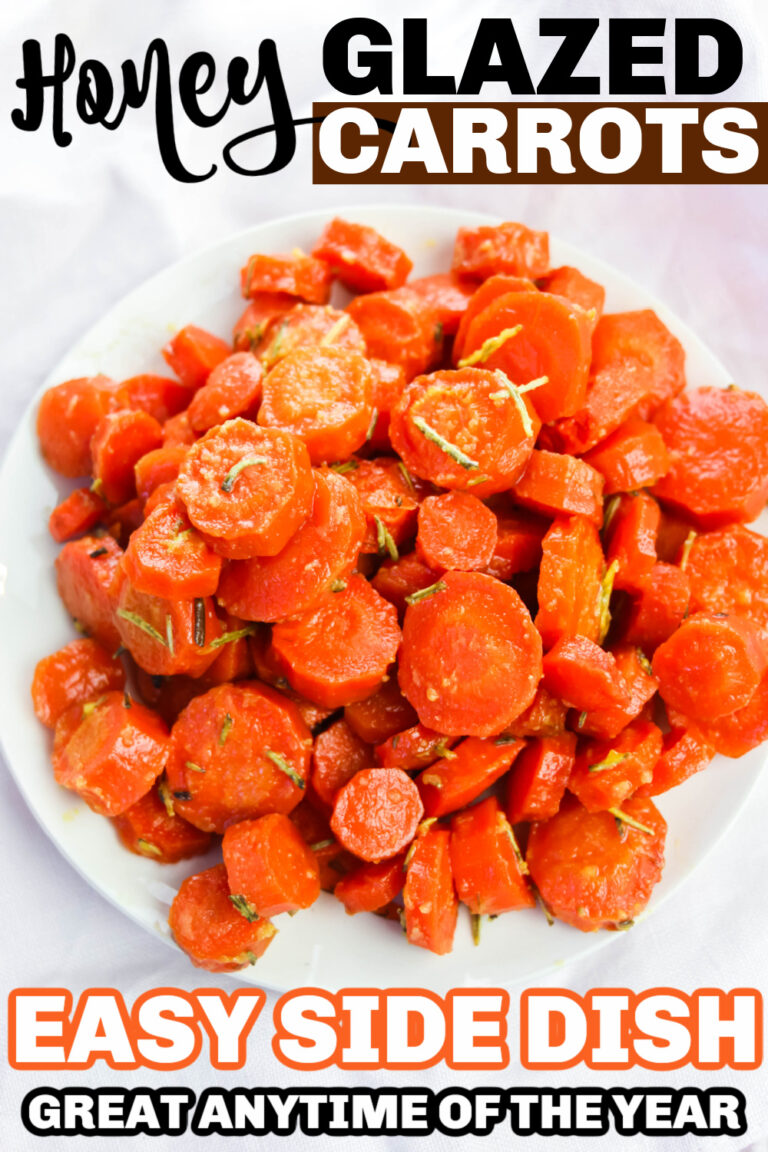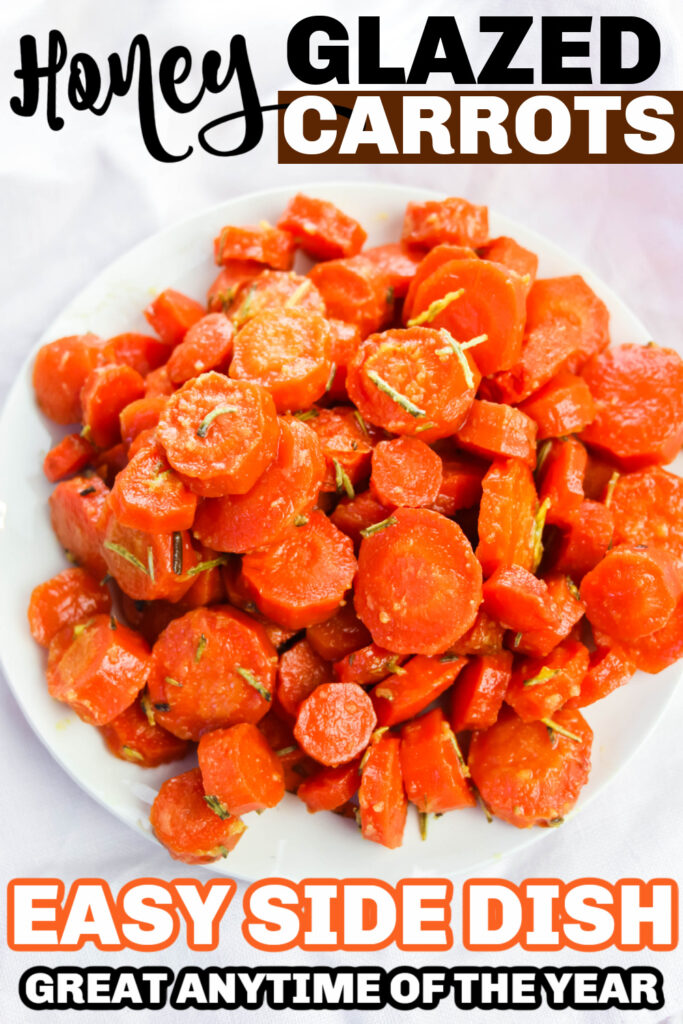 Reader Interactions