Looking for a delicious treat? If so dive in to this strawberry puppy chow recipe. This is a Chex cereal that is coated in white chocolate and freeze dried strawberry dust. Then the other portion is coated in milk chocolate. A tasty chocolate and strawberry puppy chow!
If you are a lover of strawberry desserts, you will enjoy this no bake treat. It is so simple to make, and offers a tasty strawberry and chocolate flavor.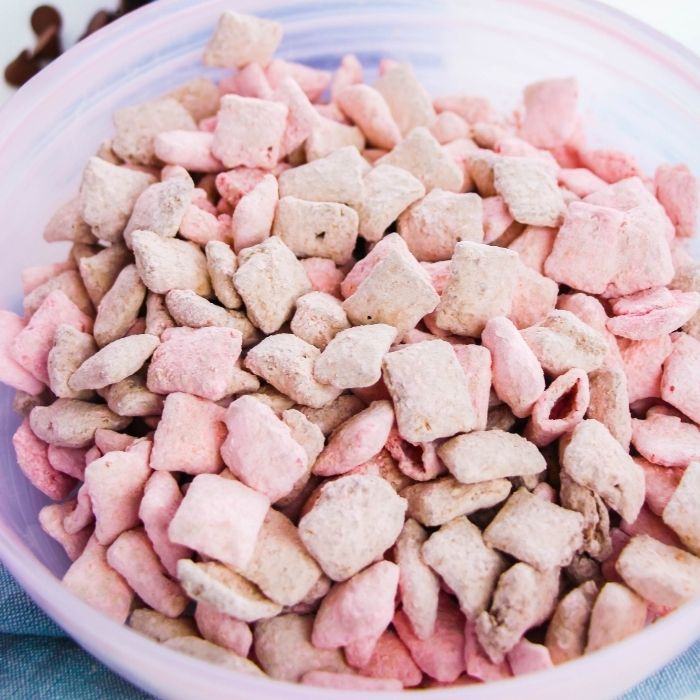 Some might call this a strawberry muddy buddies. I grew up calling it a peoples puppy chow, but you can call it what you want.
This Strawberry Puppy Chow Recipe Is…
Made with 7 ingredients
A no bake dessert
Made with freeze dried strawberries
Half white chocolate the other half milk chocolate
Quick and Easy
A fun Valentine Puppy Chow Mix
What is Puppy Chow
Puppy chow aka muddy buddies is a human snack mix. It is a Chex cereal that is coated in a chocolate base, and dusted with a powdered sugar coating.
Puppy chow got its name as it resembled puppy chow you would feed your dog.
Ingredients You Will Need
Here is what you need for this easy puppy chow recipe.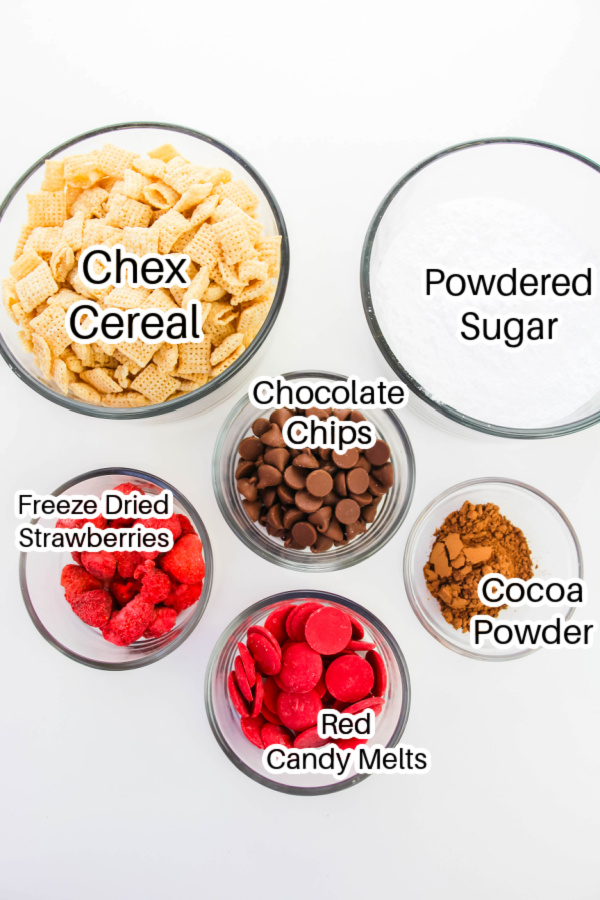 Chex Cereal
Powdered Sugar
Candy Melts – Red Color
Chocolate Chips
Cocoa Powder
Coconut Oil (optional)
How to Make
Full directions on how to make strawberry chex mix is in the printable recipe card at the bottom of the post. This is a visual walk-through.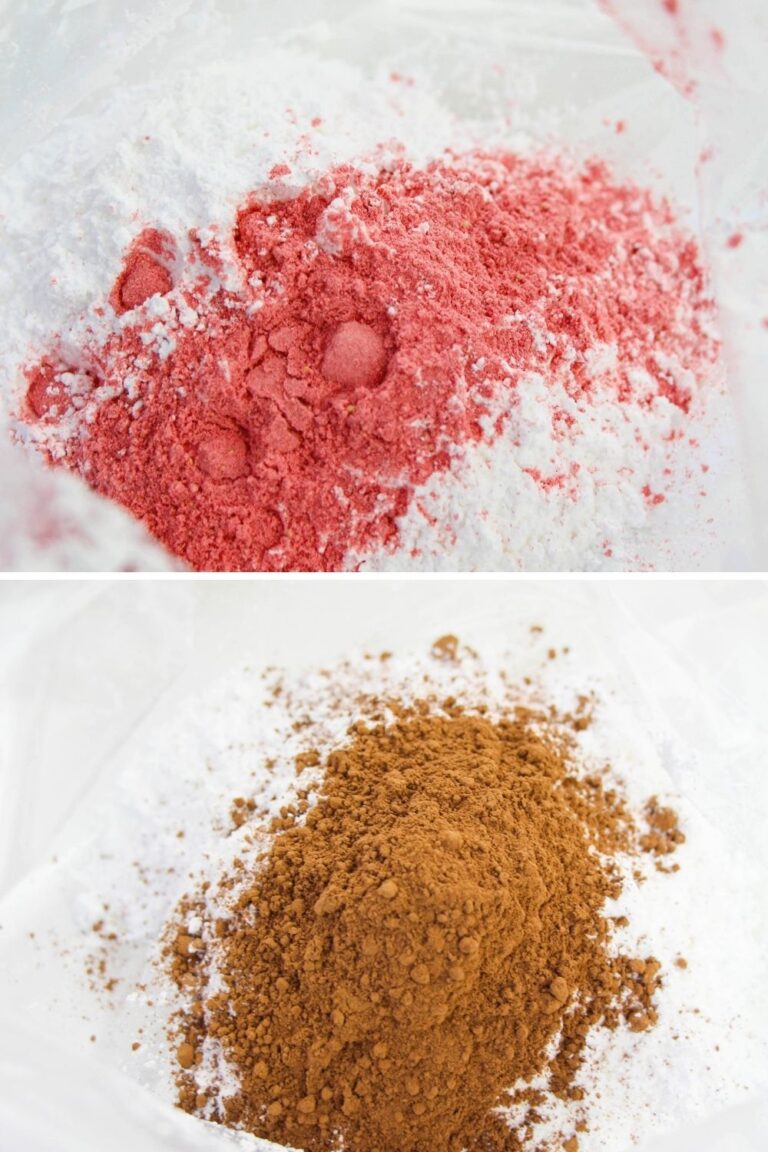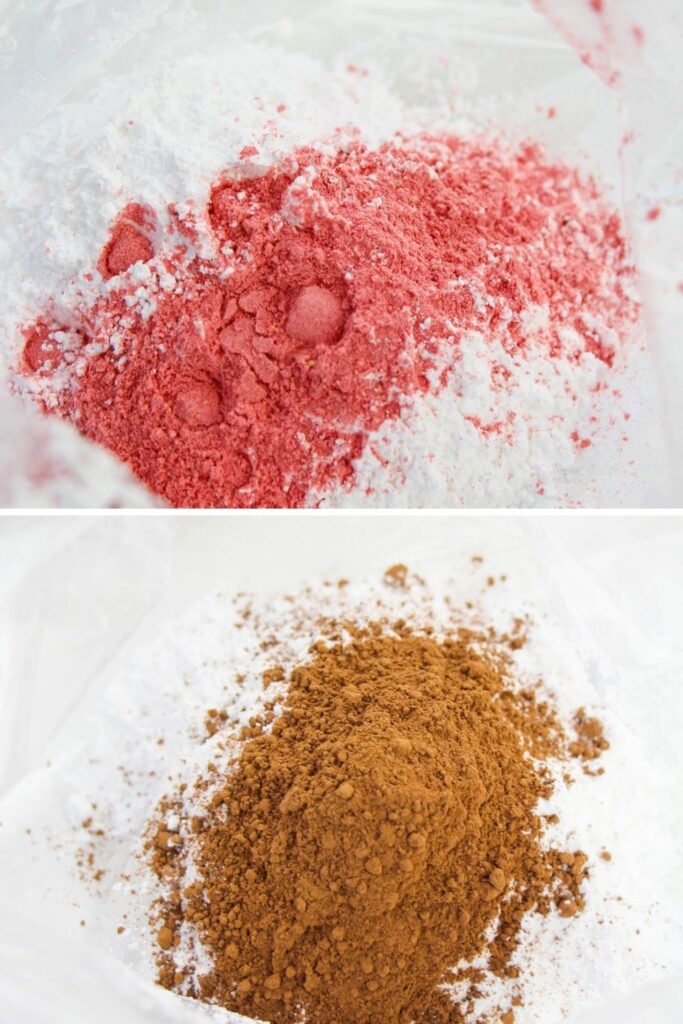 Step One: Start by taking to Ziploc gallon bags and doing split the powdered sugar between both bags.
Step Two: Blend up the freeze dried strawberries to make a dust. Add the strawberry powder to one bag and the cocoa powder to the other bag. Seal and shake each bag.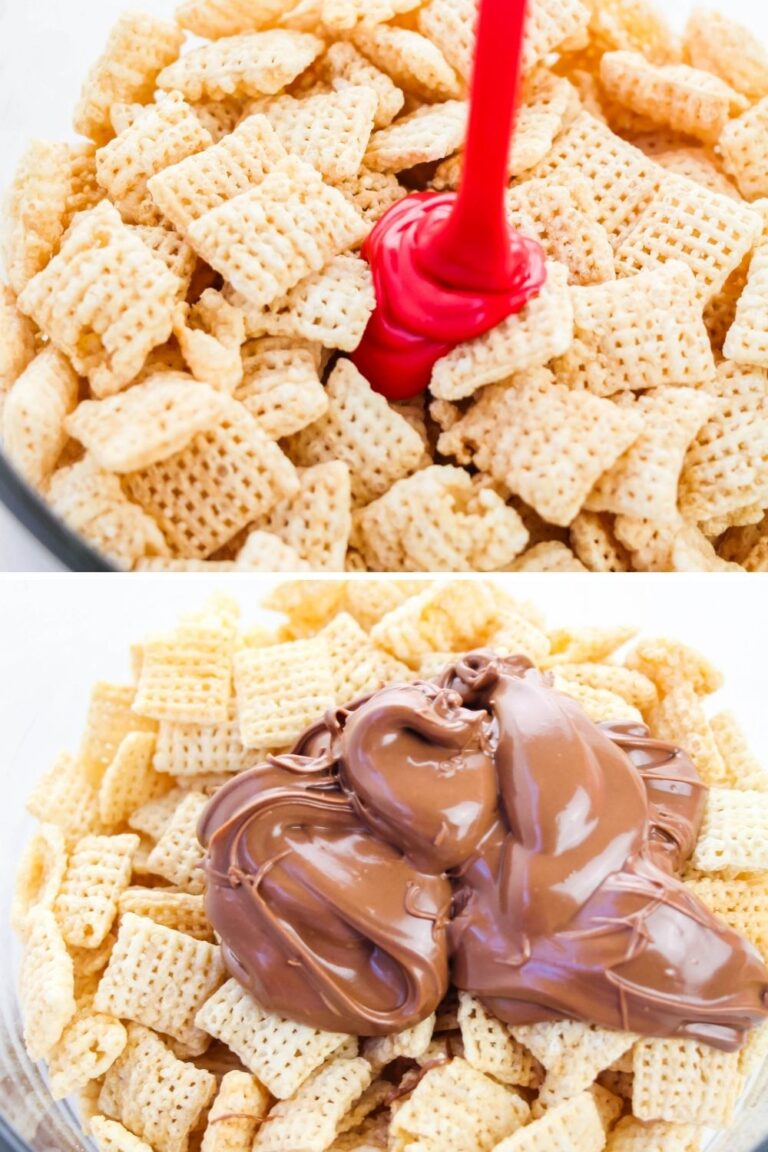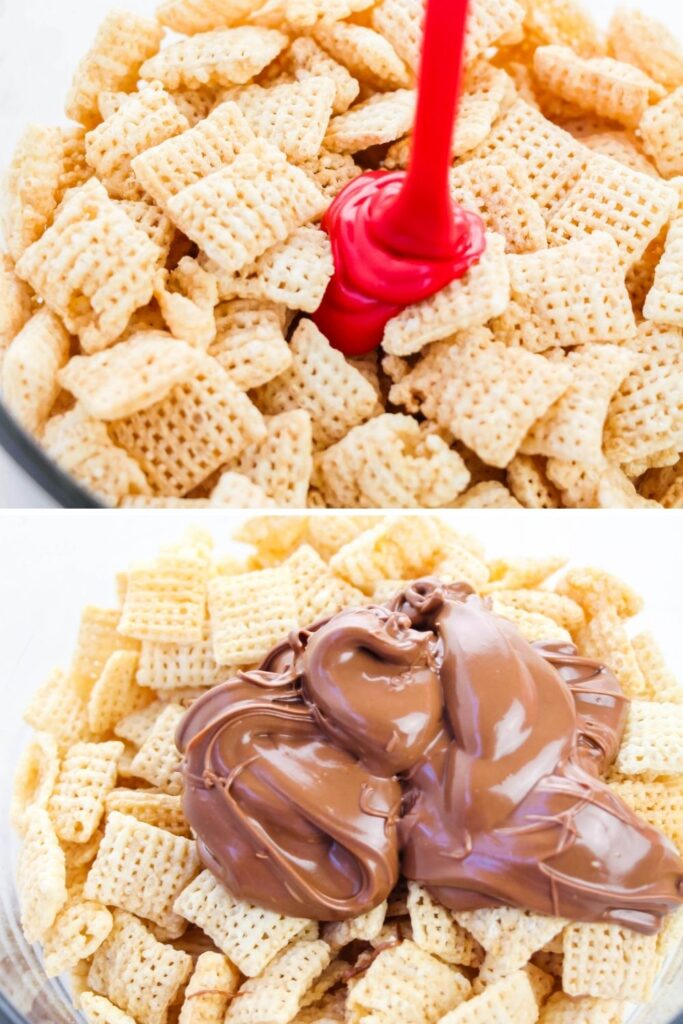 Step Three: Now you will divide the Chex cereal into two bowls. Then start with melting your candy melts as directed. Then pour the red candy melts over a bowl of Chex. Stir to coat.
Step Four: Pour the coated cereal into the strawberry powdered sugar and shake coating all the cereal. Once coated pour the strawberry cereal onto a cookie sheet.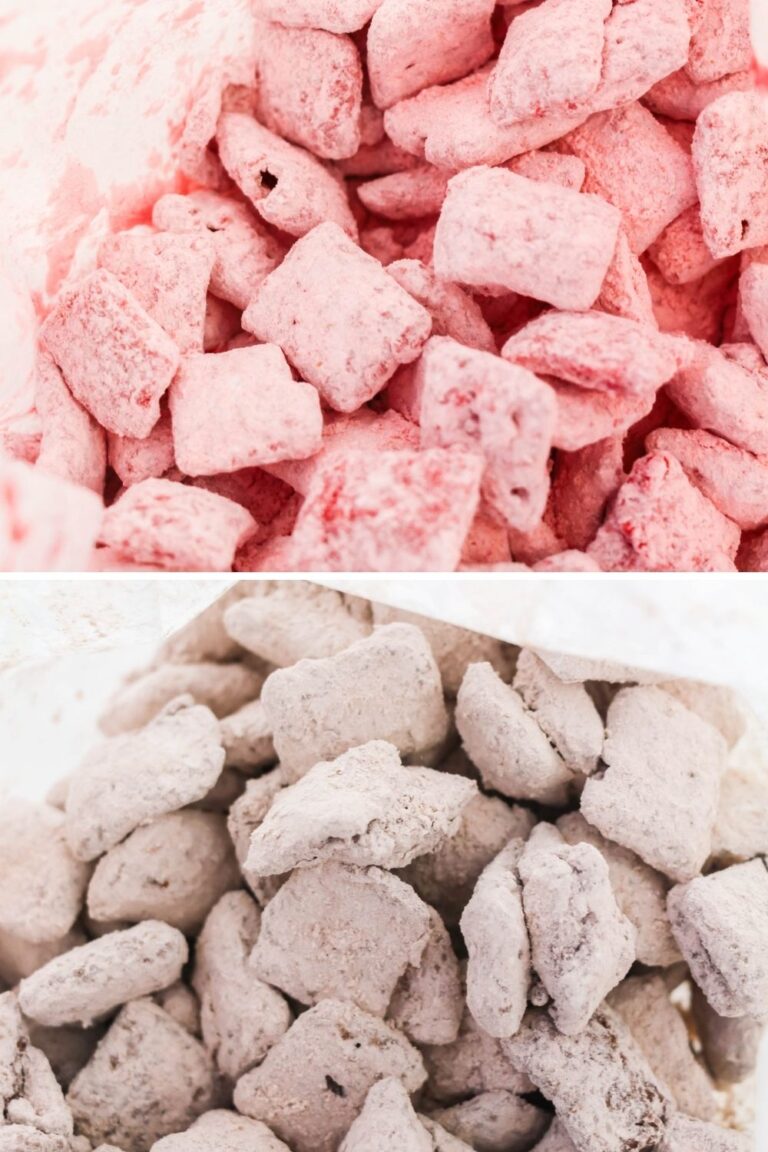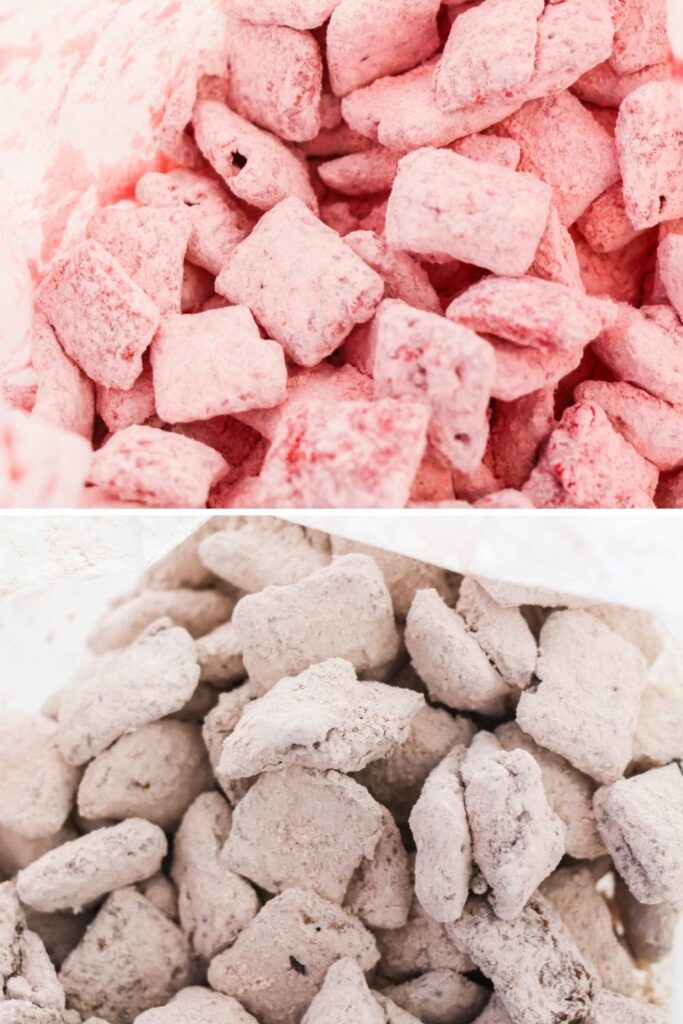 Step Five: Next you will melt your chocolate chips, then mix with cereal, and coat the cereal the same in the powdered sugar with cocoa powder.
Step Six: Once both Chex puppy chow mixes are dry, mix the two together for a tasty strawberry snack mix.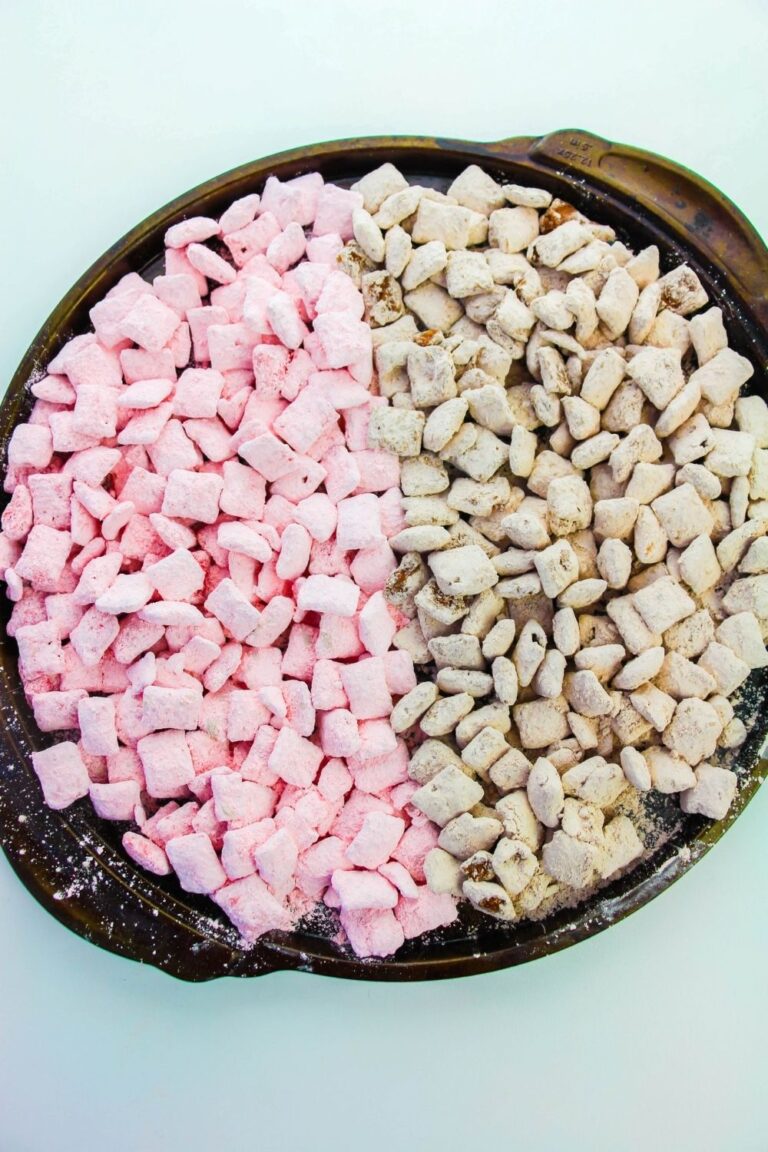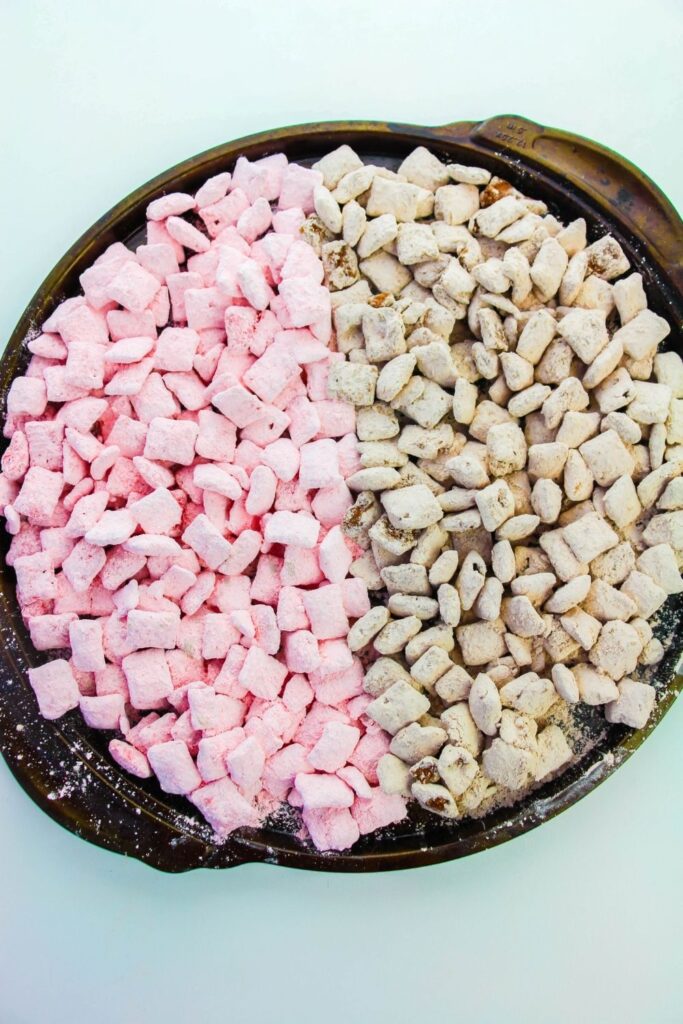 Variations To Recipe
Here are a few variations you can make to this pink puppy chow.
Strawberry Shortcake Puppy Chow – Instead of doing the cocoa powder, leave the powdered sugar in one bag plain. Then swap the milk chocolate with a white chocolate. This can give you more of a strawberry shortcake flavor.
White Chocolate – Instead of red candy melts you could do a white chocolate. It will not be as vibrant pink but you will still have a delicious flavor.
Coconut Oil – Go right ahead and melt up some coconut oil with the chocolate to help thin it out and also allow the chocolate to set up faster.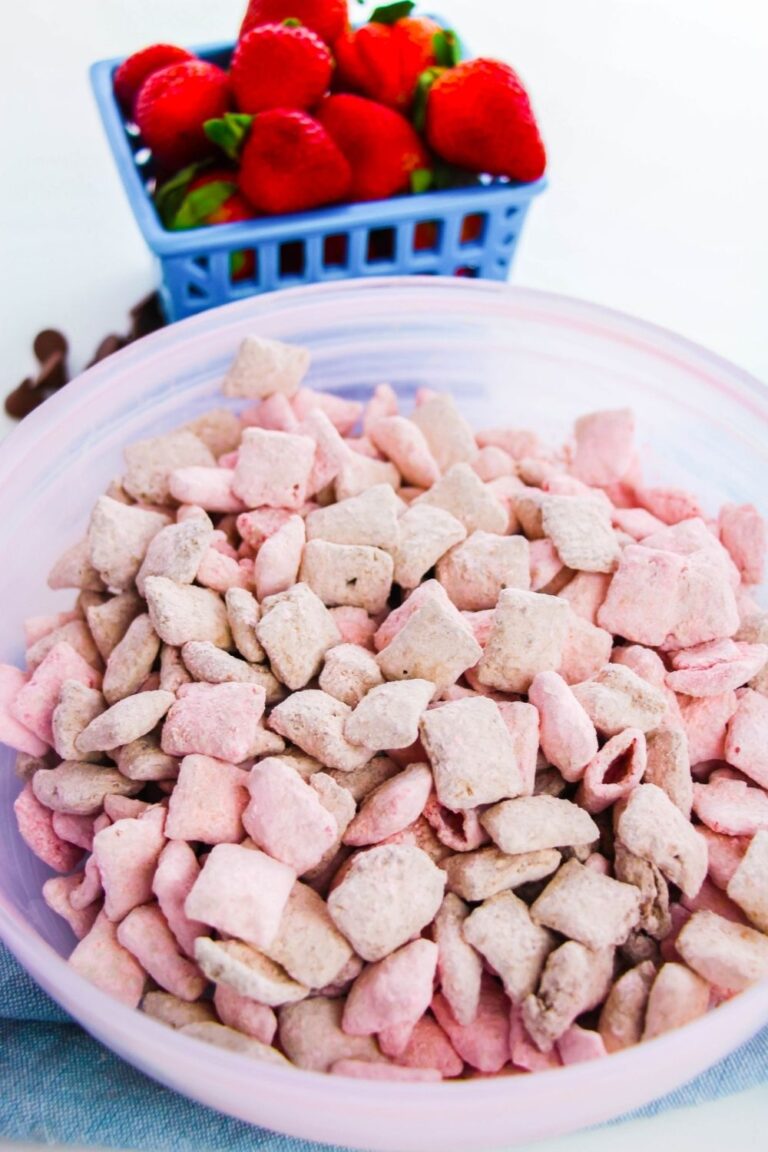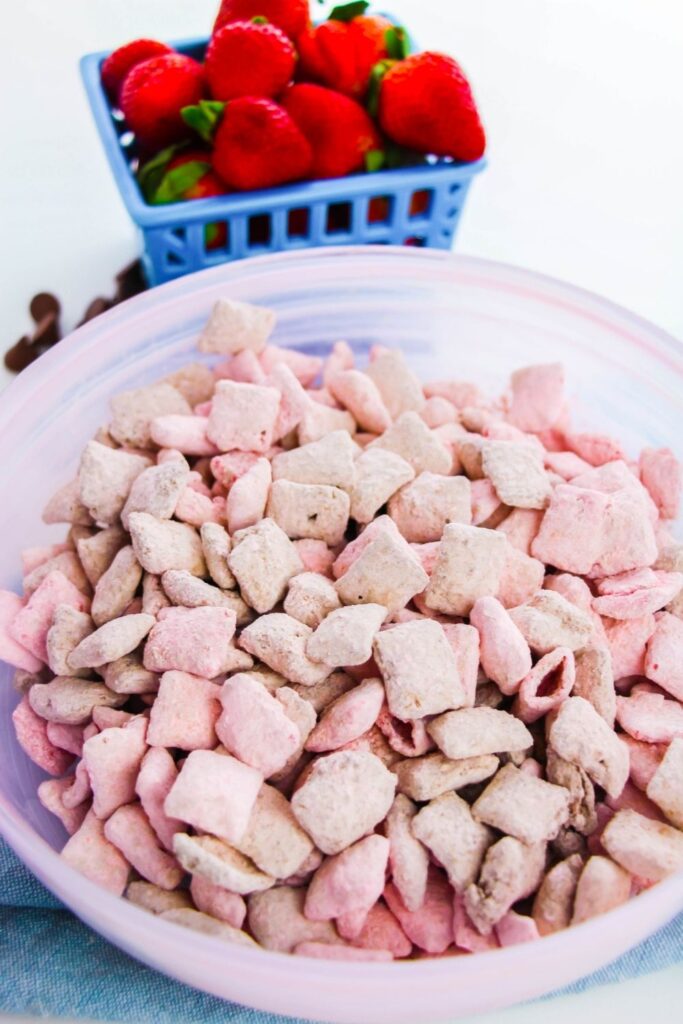 Storing
You can store your puppy chow at room temperature for around 1-2 weeks. Just store in an airtight container or Ziploc gallon bag.
It will store well, just make sure it is fully dried before putting in a container. Otherwise it can build condensation a bit and spoil the mixture quicker.
Frequently Asked Questions
Common questions when making this puppy chow recipe with Chex cereal.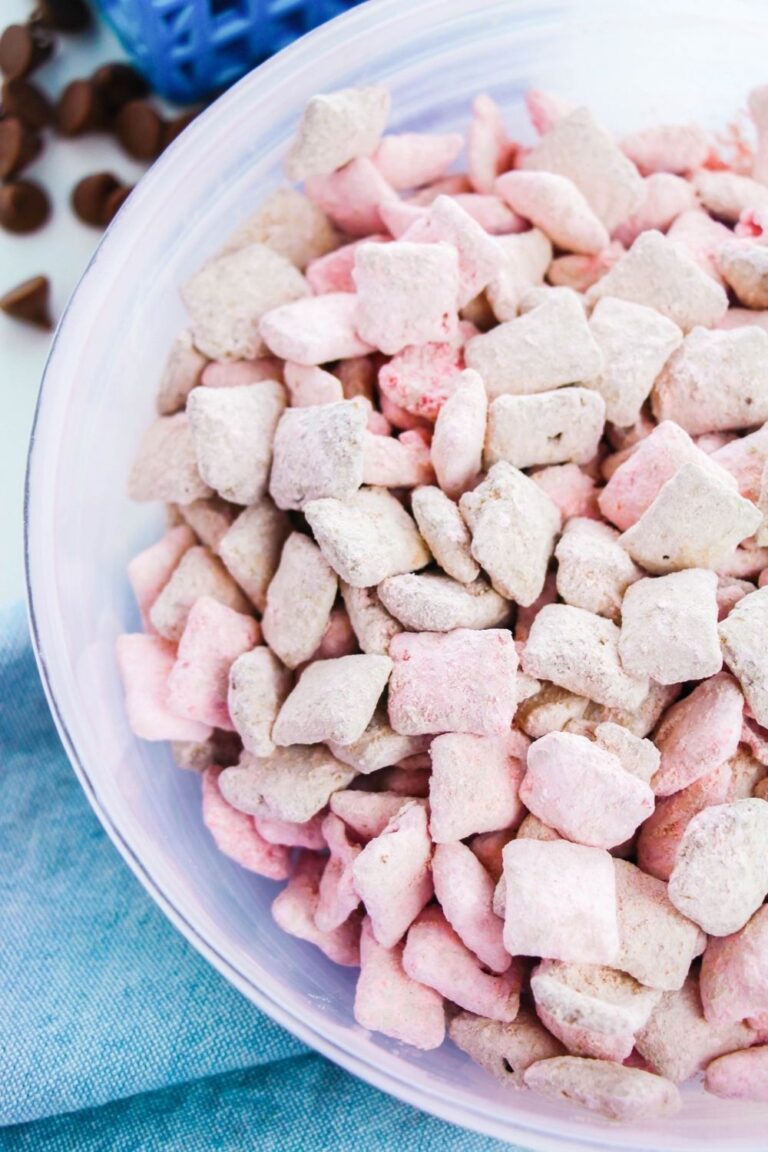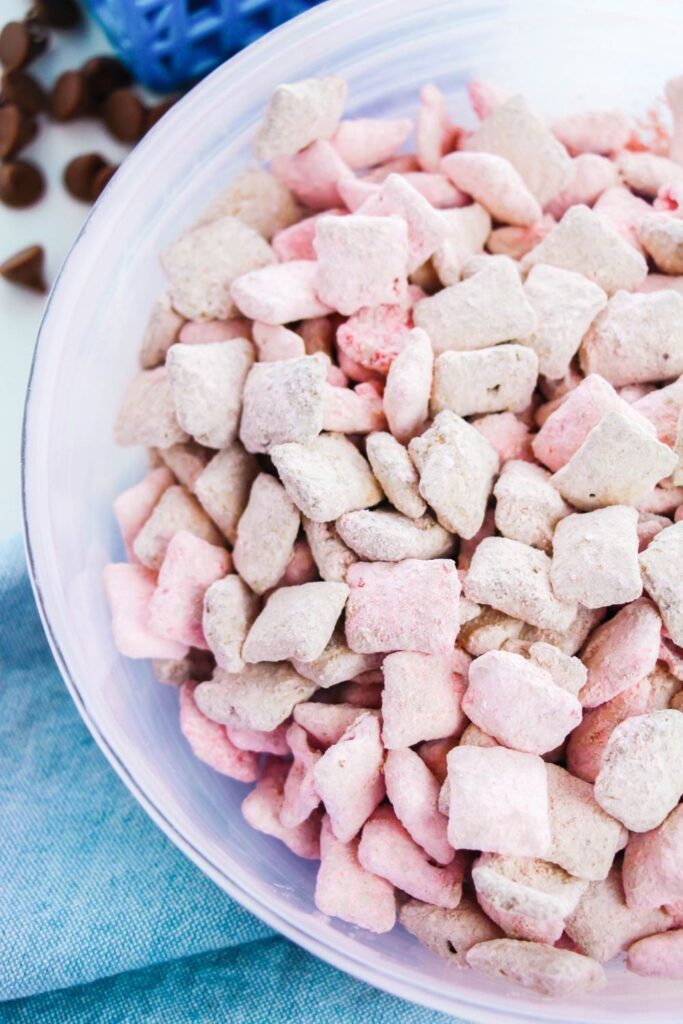 Puppy Chow Recipe Variations
Have you tried the recipe? If so, please leave a star ⭐️⭐️⭐️⭐️⭐️ rating in the recipe card below or drop a comment. Also stay in touch with me through social media by following me on Facebook, Pinterest, or My Facebook Group!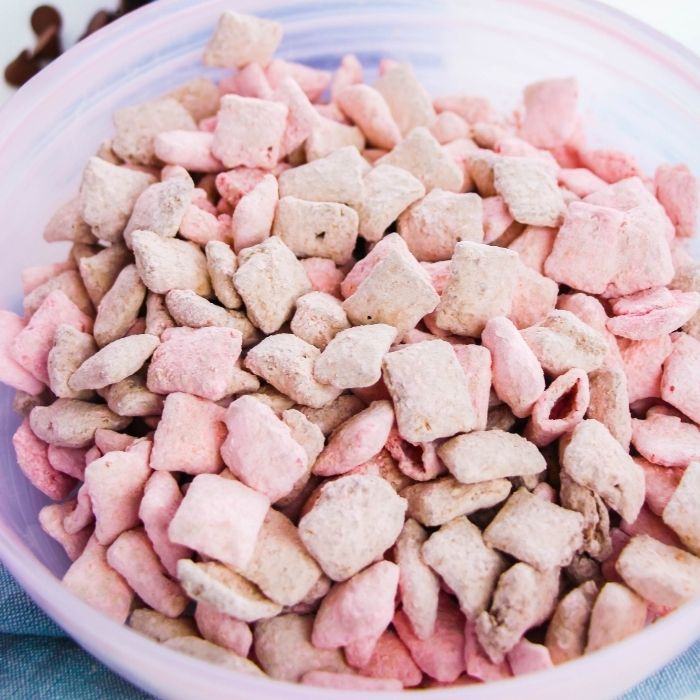 Strawberry Puppy Chow
Servings 10 servings
Strawberry Puppy Chow is a freeze dried strawberry coated white chocolate Chex cereal. Then another part is a milk chocolate coated, for a fun strawberry and chocolate flavored puppy chow mix that is delicious as can be.
Ingredients
1 ounce Freeze Dried Strawberries blended to a powder
1 cup powdered sugar
3 tablespoons cocoa powder
3 1/2 cups Chex cereal
1/2 cup milk chocolate chips
1/2 cup red candy melts
1 tablespoon coconut oil optional
Instructions
Start by placing 1/2 cup of powdered sugar in one gallon sized bag. Do another bag for the other 1/2 cup powdered sugar.

With a food processor or coffee grinder place your strawberries in and mix until it forms a fine powder. Pour the strawberry powder in one of the bags. Mix to combine.

In the other bag of powdered sugar add the cocoa powder. Mix to combine.

Now in a clean bowl add half the Chex cereal, and then pour the remaining Chex in a second bowl.

Next, take your red candy melts and melt in a bowl until fully melted. Once it is melted, pour it over one bowl of cereal.

Stir well to coat and then pour the coated cereal into the strawberry powdered sugar. Shake well to coat the entire cereal in powdered sugar.

Pour the cereal onto a baking sheet.

Then you will melt down the milk chocolate chips just as you did the candy melts. Stir into the cereal, pour into the cocoa powdered sugar and coat well.

Pour mixture into the baking sheet and allow it to set up as well. Once both flavors of the puppy chow are cooled and set, mix together and enjoy.

A tasty chocolate and strawberry puppy chow mix.
Notes
Powdered Sugar – If you find your powdered sugar is clumping you can run it through a sifter to help remove lumps. Storing – Store your puppy chow in a bowl or sealed bag for 1-2 weeks. Freezing – You can freeze this strawberry chocolate puppy chow for 2-3 months. Do a container or sealed bag. If you use a bag try to remove as much air out of the bag as you can.
Nutrition
Serving: 1gCalories: 192kcalCarbohydrates: 37gProtein: 2gFat: 4gSaturated Fat: 3gPolyunsaturated Fat: 1gCholesterol: 2mgSodium: 89mgFiber: 1gSugar: 24g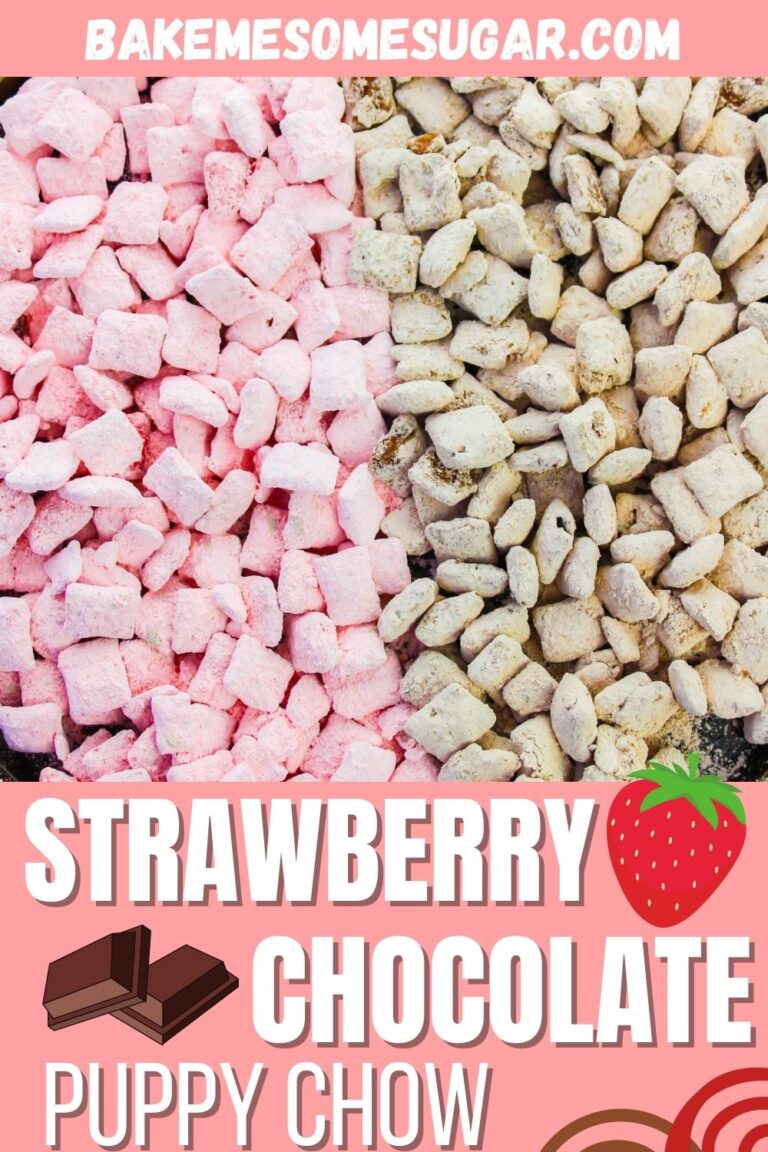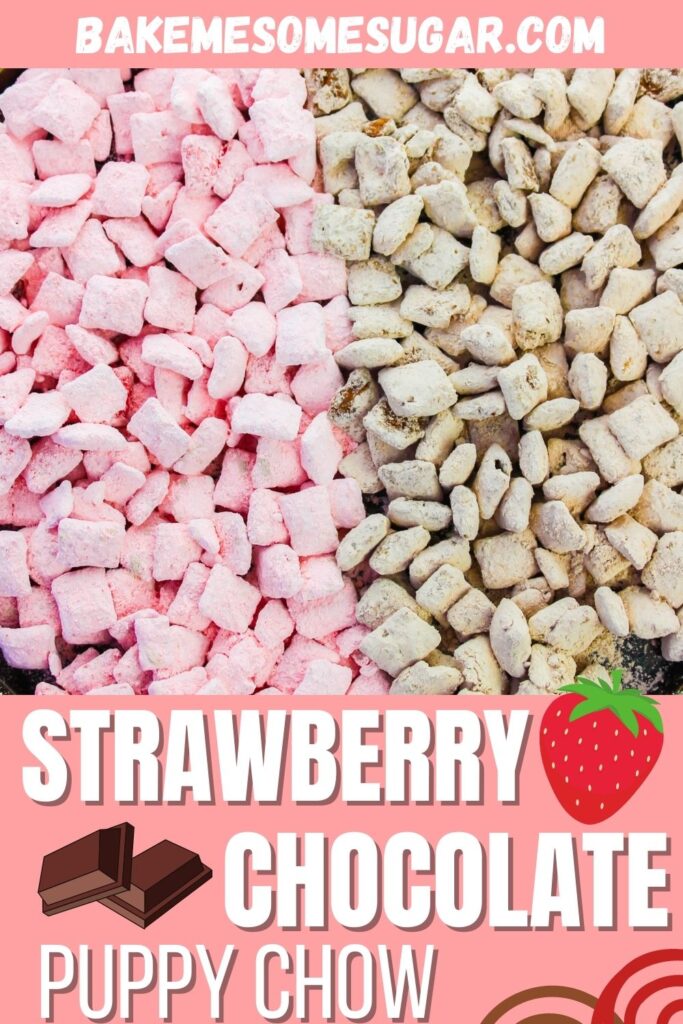 Reader Interactions