Toaster Strudels, the classic dessert you pop in the toaster for a delicious and flakey crust and sweet fruit filling. Learn how to make toaster strudels from scratch for incredible and delicious flavor that can't be denied.
Learn how to make a breakfast strudel that is a puff pastry, sweet jam, and a sweet vanilla drizzle. Serve up these for breakfast or even a dessert to end the night.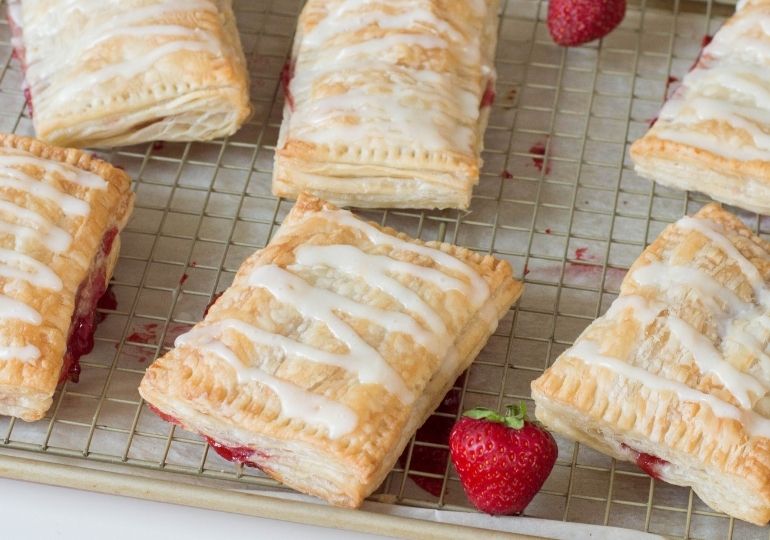 I used strawberry filling but you can use any flavors, apple, cherry, blueberry, etc. Or even adapt to a strudel bites recipe, for a bite size treat.
Why Make These Strudels
Homemade – With just a few simple ingredients, you control how and what you use to make this strudel. Simple ingredients that offer incredible flavor.
Easy to Make – These are truly easy to make. You can have them ready to toss in the oven in no time, and wait for your whole home to smell incredible as it bakes.
Filling Options – You can use any flavor of filling you want. Make a cherry strudel, blueberry, blackberry, strawberry, etc.
Use my homemade puff pastry dough recipe for this puffy pastry recipe if you want to elevate the flavor even more for this strawberry pastry.
Ingredients You Need For Recipe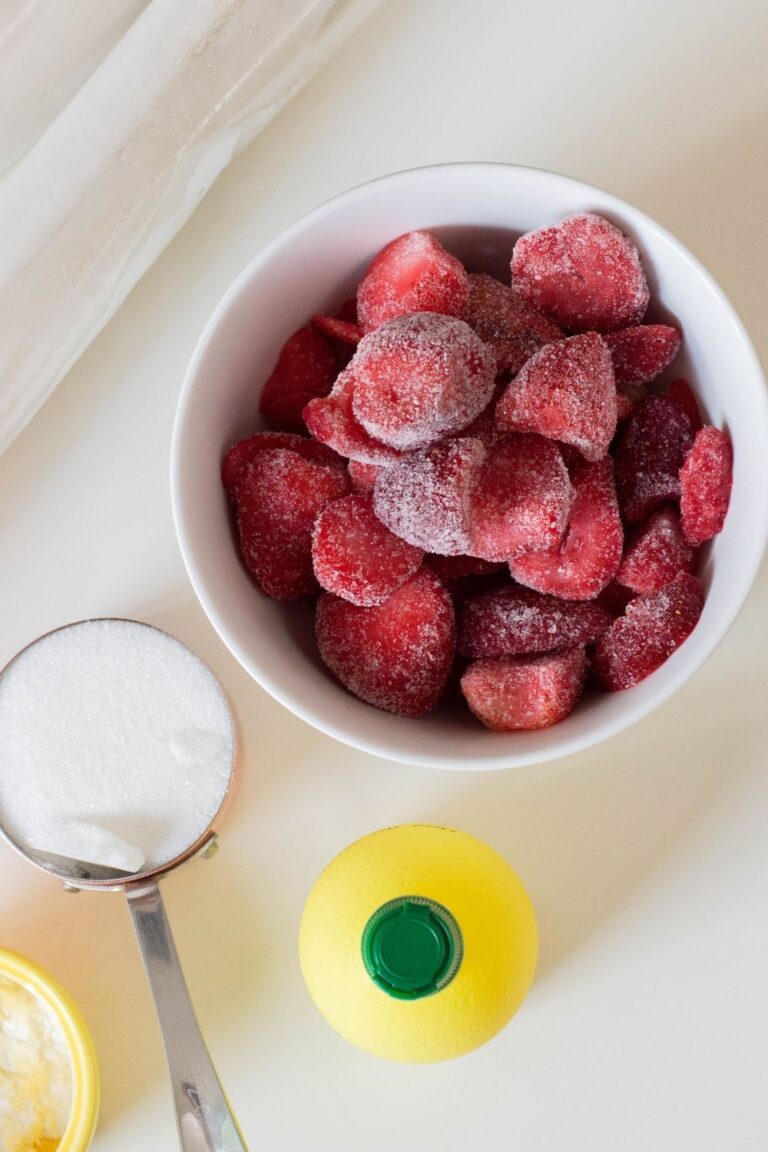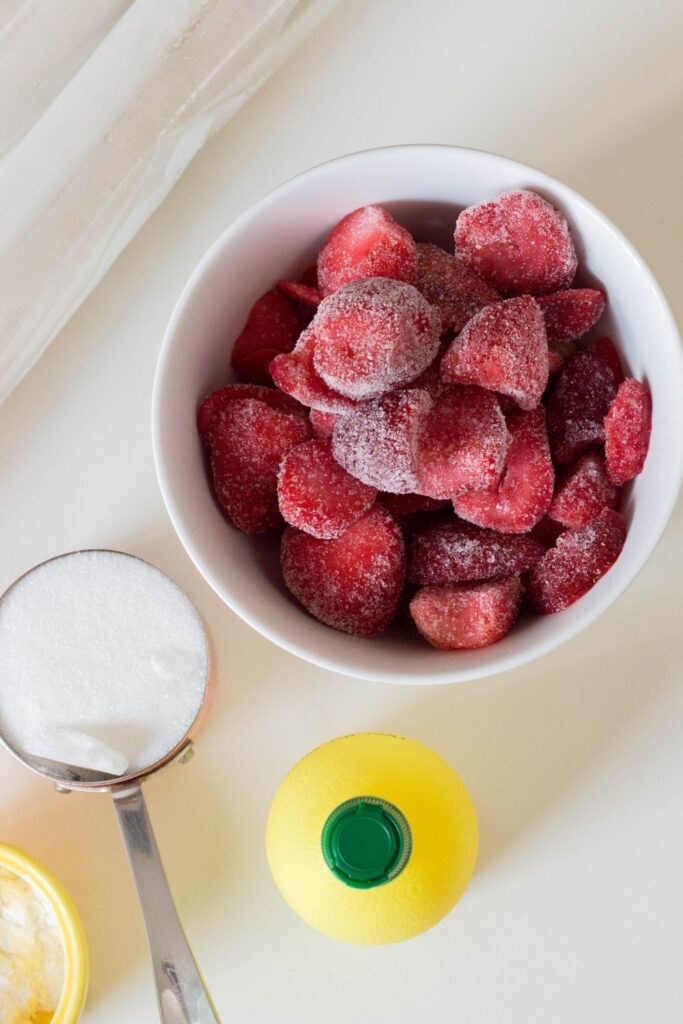 Puff Pastry – Thaw on the counter. You can use homemade or store bought.
Fruit Jam – I made my own fruit jam but you can reach for any store bought jam to use in replace if you don't want the extra steps.
Lemon Juice, Cornstarch, Sugar – For the jam.
Butter, Powdered Sugar, Vanilla, and Heavy Cream – This is the base to your sweet vanilla frosted drizzle you will put on top.
Substitutions To Recipe
Here are a few swaps you can do when making this strawberry strudel recipe.
Use any flavor of jam or fruit mixture you would like.
You could also use pie filling in swap for the fruit filling. Try my apple pie filling in these strudels!
Add a splash of almond extract to icing to give a different flavor.
Add in some cream cheese for a strawberry cream cheese strudel!
How to Make
Step 1: Preheat the oven and prep the pan. Then cut your puff pastry into 6 rectangles. That will be a total of 12 since you have 2 sheets of puff pastry.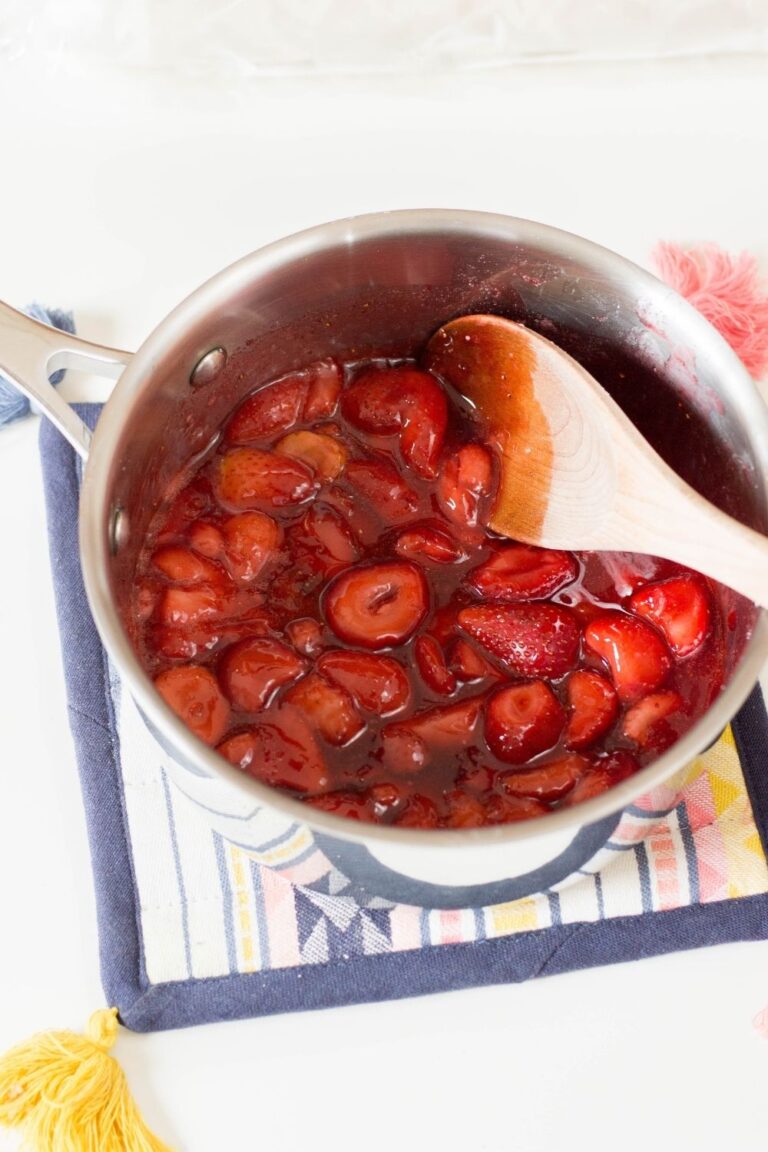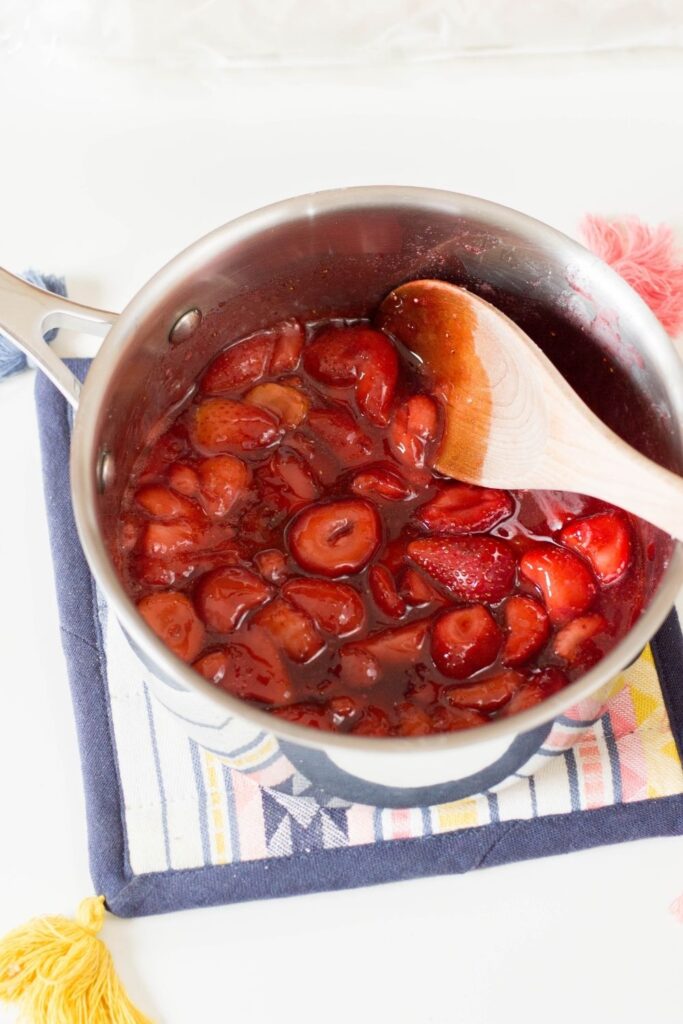 Step 2: Now, you will grab a saucepan and add the strawberries, lemon juice, and sugar and cook over medium heat. Stir often and let it cook 3-4 minutes to break down the berries. Pour in cornstarch to thicken.
Step 3: Remove the strawberries from the heat and spoon some strawberry mixture on 6 of the sheets. Then cover the top with the remaining puff pastries.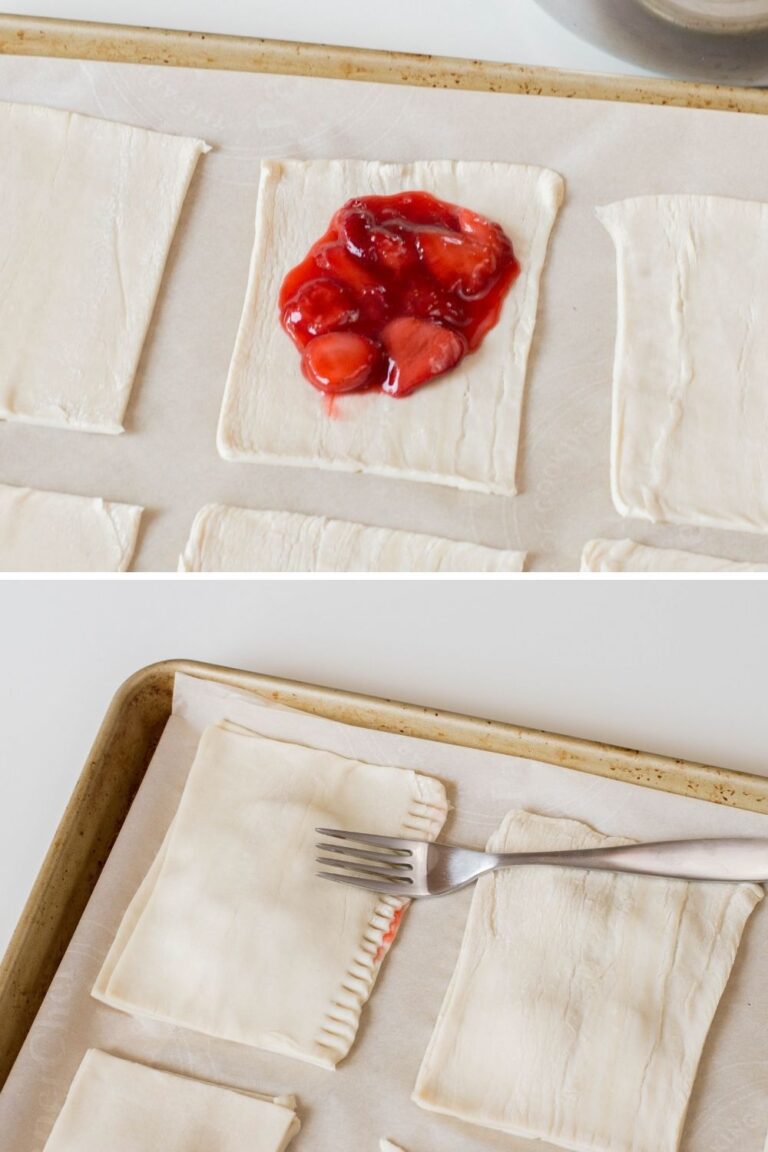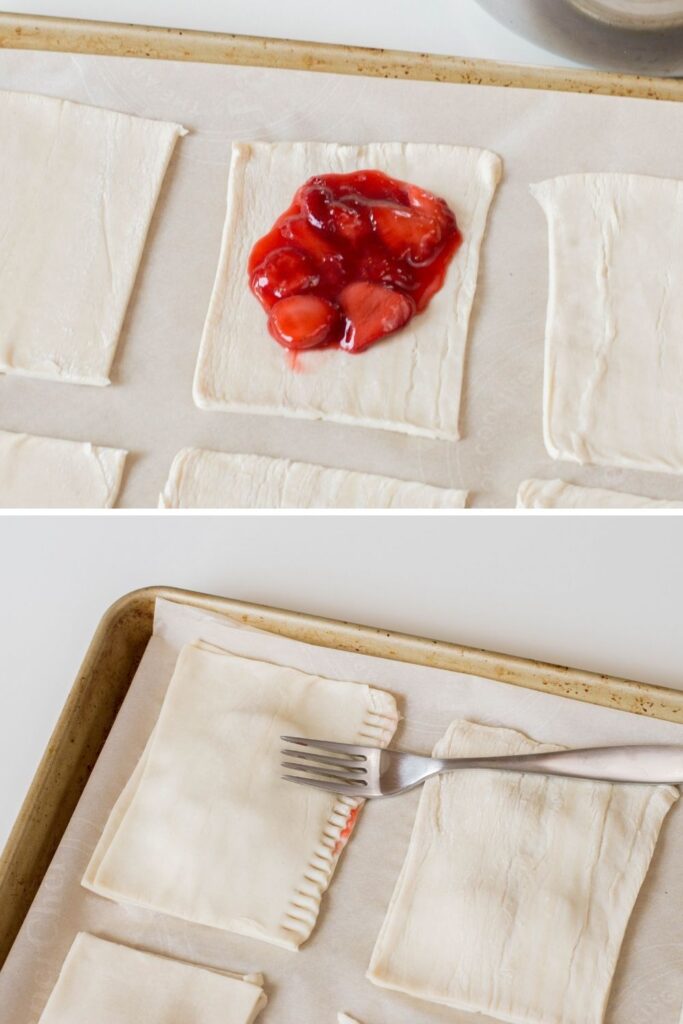 Step 4: Crimp edges with a fork, and then bake in the oven as directed.
Step 5: Allow to cool, then mix up the icing, and drizzle over the top of each of the strawberry toaster strudels.
Storing Leftovers
This homemade strawberry toaster strudel is best served fresh and warm. But if you happen to not eat them all store any leftovers in the fridge or the freezer.
To reheat you can toss in a toaster oven if you want to give it a fresh out of the oven texture. Heat till golden brown and warmed through. Be cautious as the filling is super hot.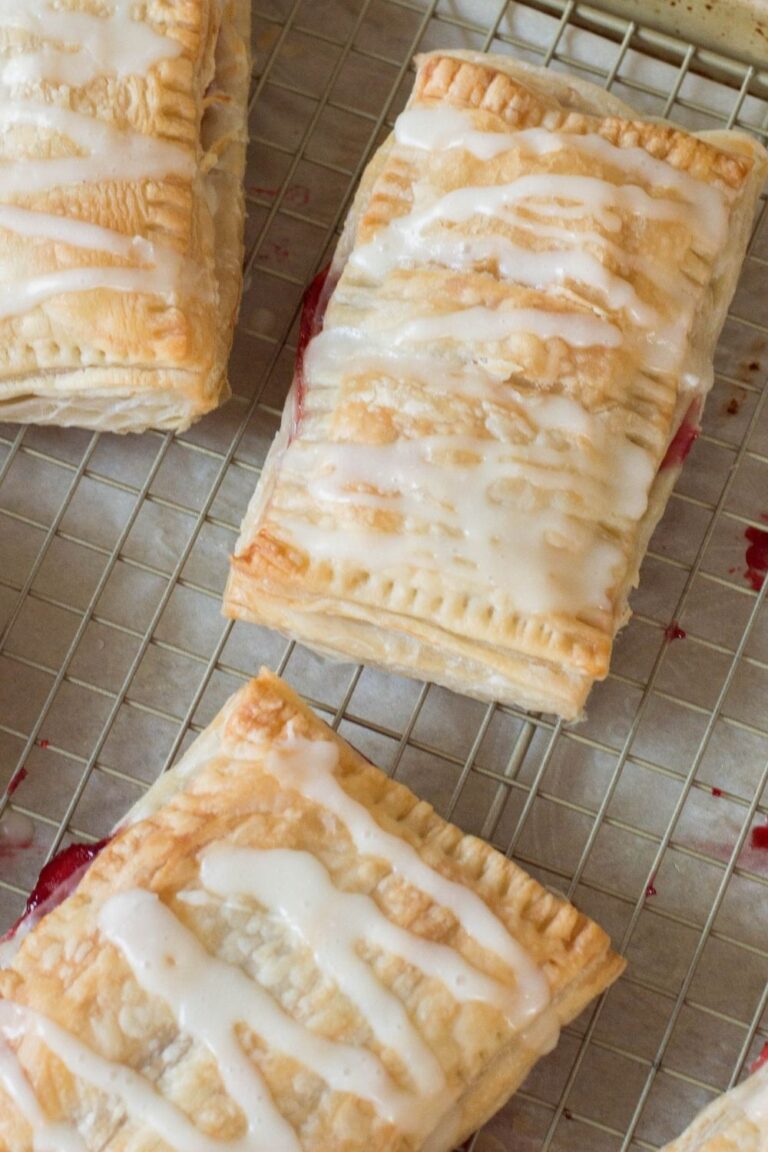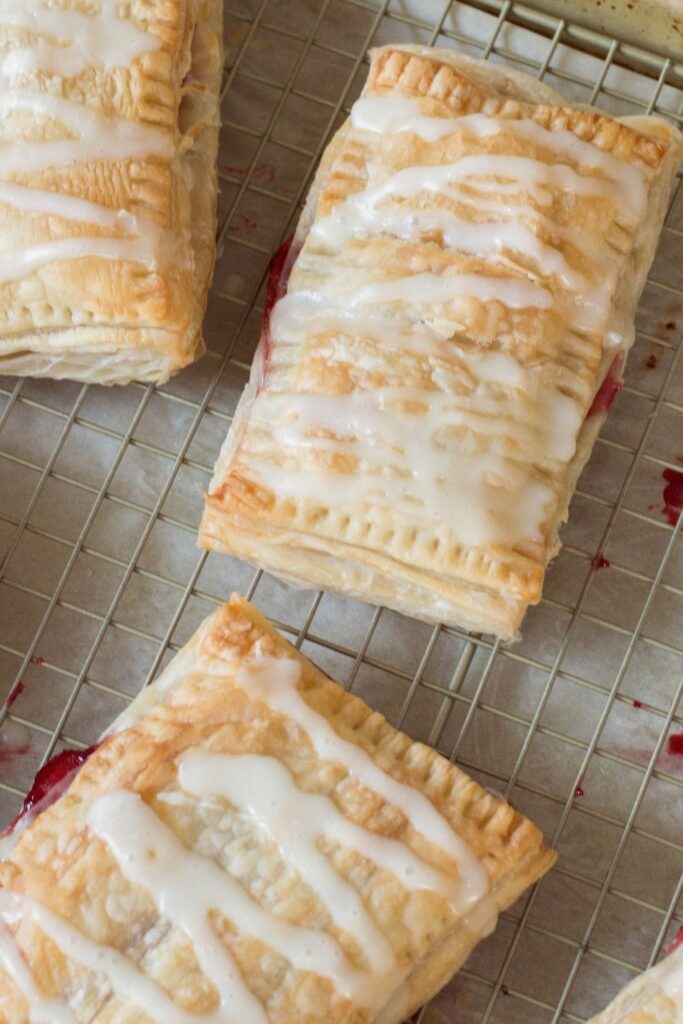 Expert Tips
Use any filling you want, and you can use pie filling or jams instead of making your own fruit filling.
Cut the puff pastry sheets into the same size so they fit on top of each other.
Allow the frozen pastry to thaw before cutting.
You can brush with a egg mixture of egg and water, to get the puff pastry rectangles even more golden on top.
Sprinkle with a coarse sugar for a sweet topping.
Fold the dough together with a fork to create a crimp. This is going to make sure the filling stays inside as it bakes.
Frequently Asked Questions
Related Recipe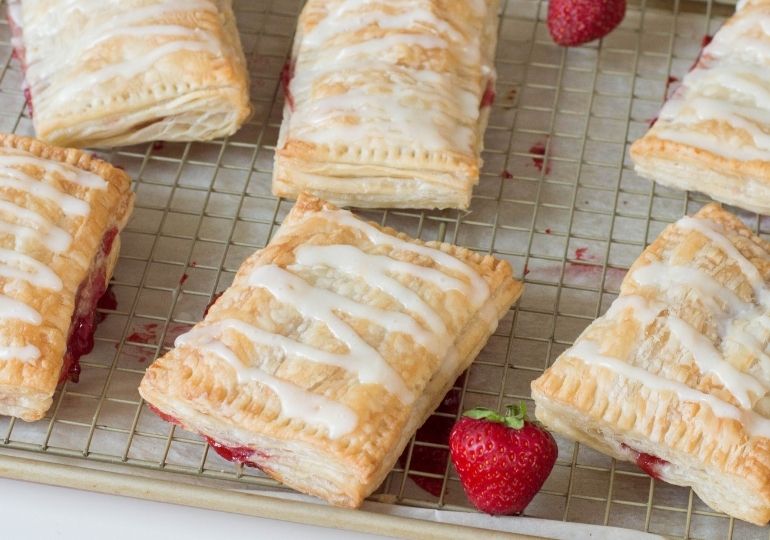 Toaster Strudel Recipe
Servings 6 strudels
Toaster Strudels are a classic breakfast you know and love. Learn how to make homemade toaster strudels with just a few simple ingredients. Big flavor, and such a fun breakfast or dessert option.
Ingredients
2 sheets puff pastry thawed (9×8 inch sheets)
2 cups frozen or fresh strawberries
1 tablespoon cornstarch
1 teaspoon lemon juice
1/2 cup granulated sugar
2 tablespoons butter melted
1 cup powdered sugar
2 tablespoons heavy cream
1/2 teaspoon vanilla
Instructions
First preheat the oven to 400 degrees. Line a cookie sheet with parchment paper or a silicone baking mat.

Thaw your puff pastry sheets, then cut into 6 squares per sheet, making a total of 12 rectangles.

Then in a saucepan you will add berries, lemon juice and granulated sugar. Cook over medium heat for 3-4 minutes. This is going to break down the berries a bit.

Stir in the cornstarch, to thicken the mixture. Remove from heat and allow to cool a bit.

Spoon some of the berry mixture on the center of 6 puff pastry rectangles.

Place one of the plain sheets on top, and use a fork to crimp all the edges, sealing it.

Repeat until you created all the toaster strudels. Then place in the oven and bake for 20-22 minutes or until fully cooked.

Remove, and then in a bowl mix the melted butter, powdered sugar, vanilla, and heavy cream. Drizzle over the cooled strudels and enjoy!
Notes
Filling- If you don't want to make your own fruit filling reach for pie filling or your favorite jam. Fruit Center – Don't overfill the strudels, you want to ensure you can crimp all the edges without the mixture leaking. Or you will end up with a big mess. Storing – Store any toaster strudels you don't eat in an airtight container in the fridge or freezer. Reheat – If you reheat you can do a toaster oven if you want or toaster. If you plan to reheat in the toaster, do not place the glaze on top, or it will burn up and make a mess in the toaster.
Nutrition
Serving: 1gCalories: 263kcalCarbohydrates: 45gProtein: 1gFat: 9gSaturated Fat: 4gPolyunsaturated Fat: 5gCholesterol: 16mgSodium: 57mgFiber: 1gSugar: 38g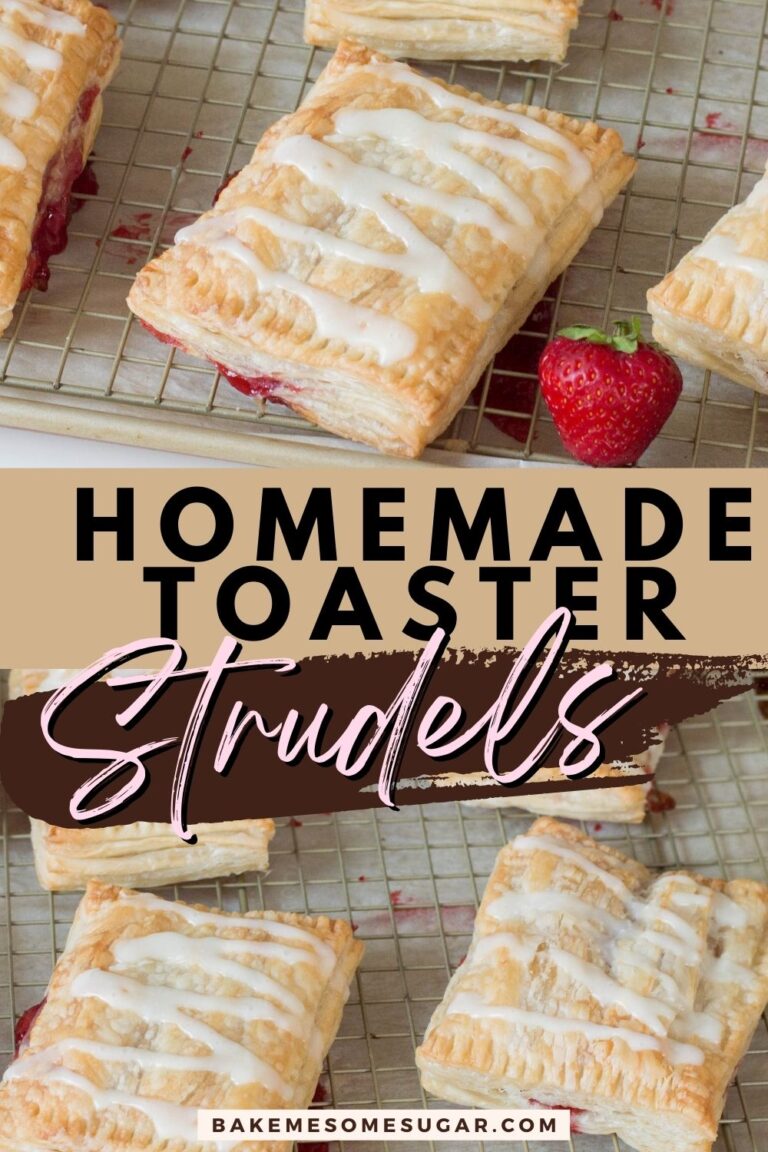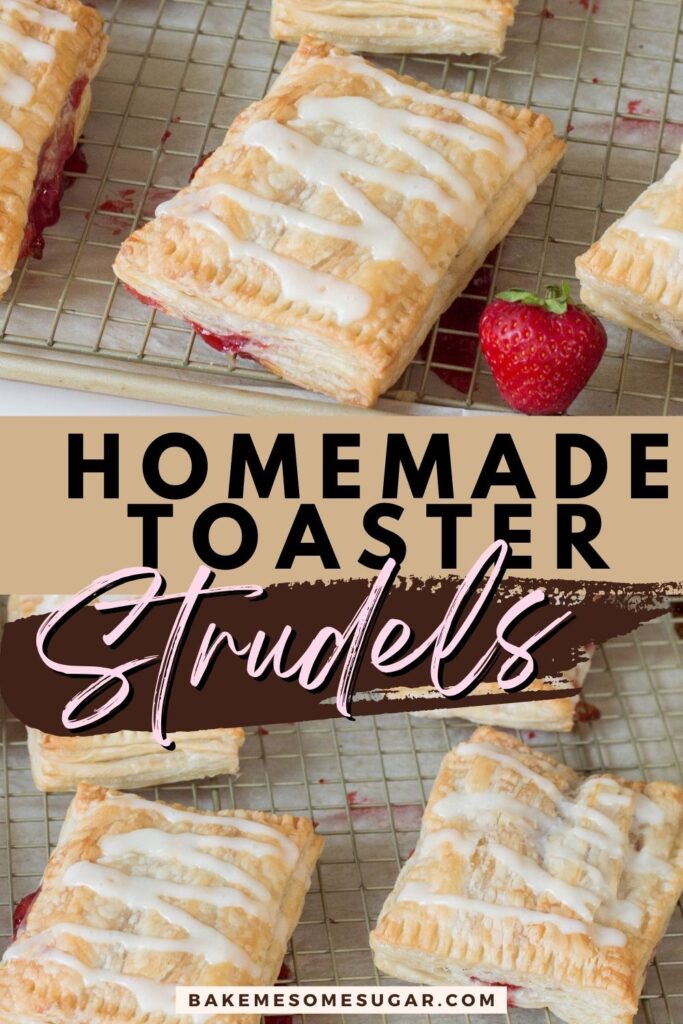 Reader Interactions