Have you tried smothered steak? A pan seared thin steak then is then smothered in a rich homemade gravy. This smothered steak recipe is a total comfort food recipe.
Steak and gravy is a go-to dish for fall in winter. A stick to you bones dinner to warm you up! If your stuck in a dinner rut, this beef recipe might just win you over.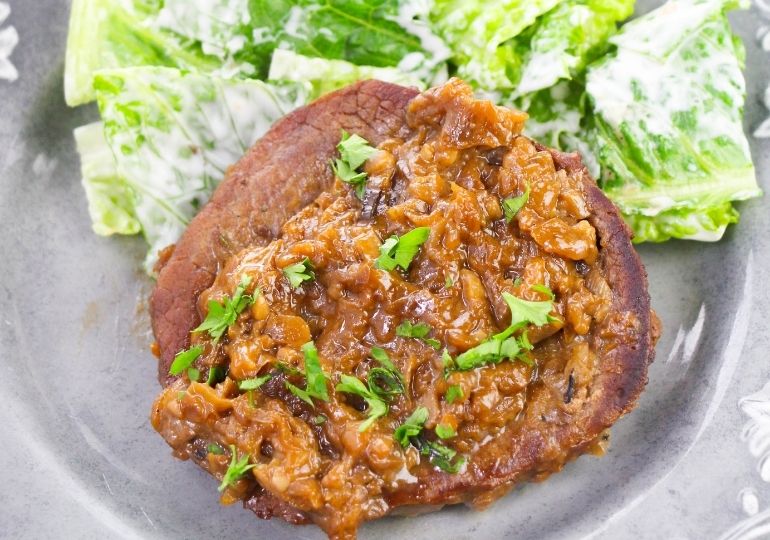 Now I used top round steak for this recipe. But you will find many use cubed steak, top round steak, bottom round steak, etc. All of these cuts of beef work.
Why This Recipe Is A Hit
Variety Cuts Of Beef Can Be Used – Ribeye, top round, cubed steak, bottom round, etc. You are welcome to use any cut of steak you want. It is a personal preference on what you choose to use. Many do a smothered cube steak for a more tender cut of beef.
Steak and Onions – If you are a fan of steak and onions, you will love this recipe. It pairs so well together and makes a delicious easy weeknight dinner for the whole family.
Simple Ingredients – This recipe is made with simple ingredients. It takes just a little prep to make. This is a no fuss beef dinner ideas.
Ingredients You Will Need
Steak – The idea is to use a thinner cut of steak that way it can sear nicely and cook through.
Season Salt – I used a season salt to season the steak. You are welcome to do a simple salt and pepper, steak seasoning or any spices and herbs you would like.
Oil
Butter
Onions and Garlic – These two items are going to give you a rich flavor to your gravy and season your steak to a whole new level.
Beef Stock – The beef stock is going to be the base liquid to your gravy. You could swap with bone broth if you have that as well.
Heavy Cream – The heavy cream adds such creaminess to the gravy. You could use a whole milk if you want, but the gravy won't be as rich.
Substitutions And Variations
Use any cut of steak you would like. The goal is a thinner steak. If it is too thick use a tenderizer or mallet to thin out the steak. You can also place steak in a bag, and then pound it out to thin it out with a rolling pin.
Season the steak as you would like. I used a season salt but you are welcome to do salt, pepper, garlic, or even a steak seasoning.
Create a nice golden sear on the steaks, this will help to really lock in incredible flavor.
Scrape pan when making gravy, remove any stuck on bits from searing the top round steak. This is going to really help flavor your gravy.
Tools That Will Be Helpful
How to Make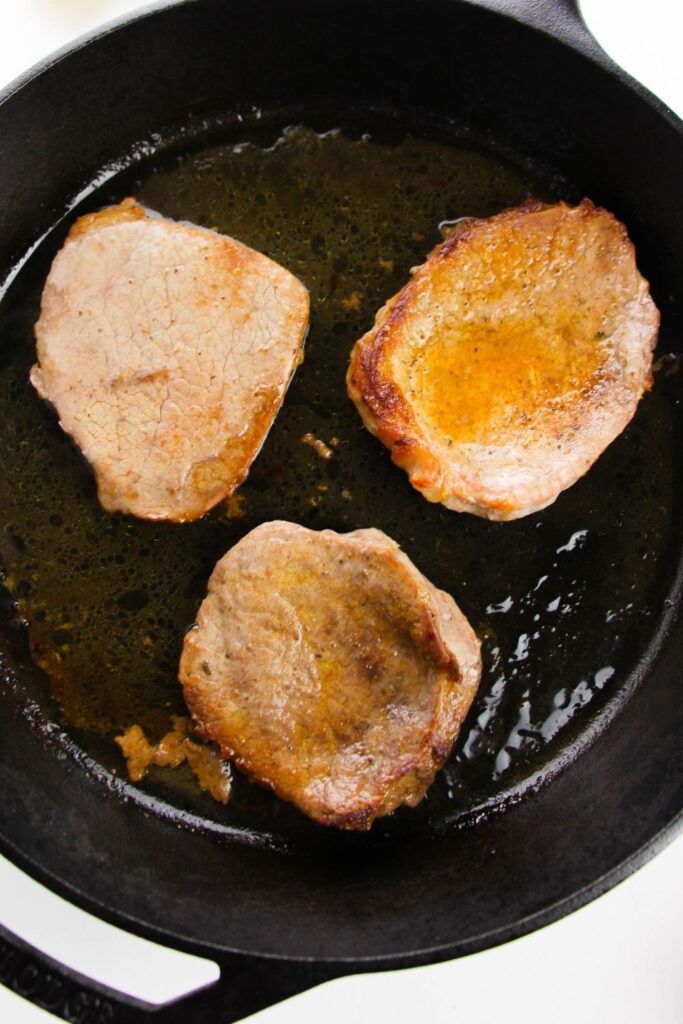 Step 1: Season your steak with season salt on both sides. Then dredge the steaks in flour.
Step 2: Heat the oil and some of the butter in a cast iron skillet on the stove or heavy duty skillet. Sear the steak on both sides.
Step 3: Remove the steak, and then add the last bit of butter in the skillet. Toss in your onions, and garlic and saute.
Step 4: You will then add in the beef broth and your heavy cream. Whisk well to incorporate your gravy.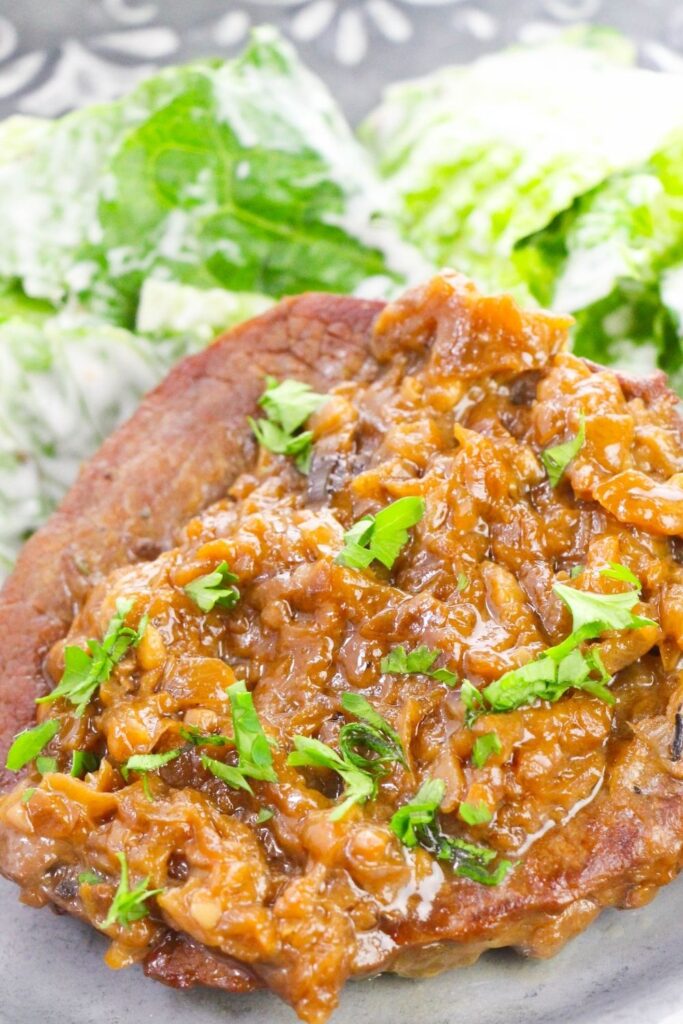 Step 5: Bring the mixture to a boil, then lower the heat to simmer.
Step 6: Once the sauce is thickened, you will dish up your steak and gravy and serve and enjoy a delicious dinner with your favorite sides.
What To Serve With Steak and Gravy
Caesar Salad
Mashed Potatoes
Rice
Pro Tips
Let your gravy simmer. As it simmers it will begin to thicken and reduce.
Yellow or white onions are best for this recipe.
If you would like you can use chicken or vegetable broth in replace beef broth.
For added flavor add in a tablespoon of Worcestershire sauce to help add another layer of flavor to the dish.
This can easily be a top round steak recipe, or any other cuts of meat you have on hand.
Frequently Asked Questions
Here are a few questions that get asked often with this round steak recipe.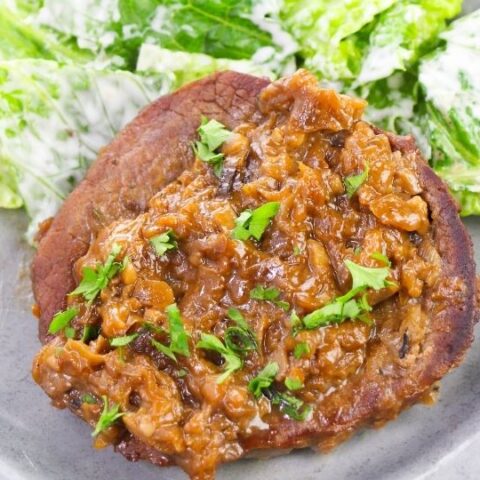 Smothered Steak and Gravy
Smothered Steak and Gravy is a delicious and comforting steak recipe. A pan seared seasoned steak that is then topped with a homemade onion gravy mixture. Serve your smothered steak with all your favorite sides.
Ingredients
3-4 Small Steaks, Ribeye, Top Round, Cubed Steak, etc
2 teaspoons Seasoning Salt
1 Tablespoon oil
1/4 cup all purpose flour
3 Tablespoons butter, divided
2 small onions, diced
3 cloves garlic, sliced
1/2 cup beef stock, as needed
1/4 cup heavy cream
Instructions
Heat oil and 2 tablespoons of butter in a skillet over medium-high heat. Pat your steaks dry and then season with the season salt. Do both sides.
Dredge your steaks in all purpose flour lightly then sear in a hot skillet. You will cook 4-6 minutes per side, to your desired doneness.
Remove steaks from the pan, and in the rest of the butter and onions. Next, saute for 4-5 minutes to soften. Then toss in the garlic, and cook another minute or until you smell the garlic.
Stir in the beef broth and then heavy cream. Whisk well, scraping the bottom of the pan to remove any stuck on bits.
Once the sauce boils, reduce heat, and cook for another 5 minutes or until the gravy begins to thicken.
Place your steaks back in the gravy mixture, and smother them. Then serve your smothered steak with your favorite sides.
Notes
Steak to Use- I used a top round steaks that were thin and round. You can use Ribeye steak, bottom round, cubed, etc.
Seasoning Steaks - Use any of your favorite spices to season your steak. I did a simple season salt but you can swap if you want.
Onion Gravy - Once your gravy boils, reduce the heat to medium. Then allow time for the gravy to thicken. Make sure to stir often, or it will burn.
Storage- Store your leftovers in the fridge for up to 3 days. Warm any leftovers up in the microwave, or if you want the oven cover with foil to prevent drying out.
Double the Recipe - Feel free to make a larger batch if you are planning to feed a larger crowd or want leftovers. Just use a larger skillet or batch cook the steaks.
Recommended Products
As an Amazon Associate and member of other affiliate programs, I earn from qualifying purchases.