Pepper Steak with Rice is a delicious sliced steak paired with bell peppers and onions smothered in a savory sauce. Learn how to make pepper steak with just a few ingredients at home.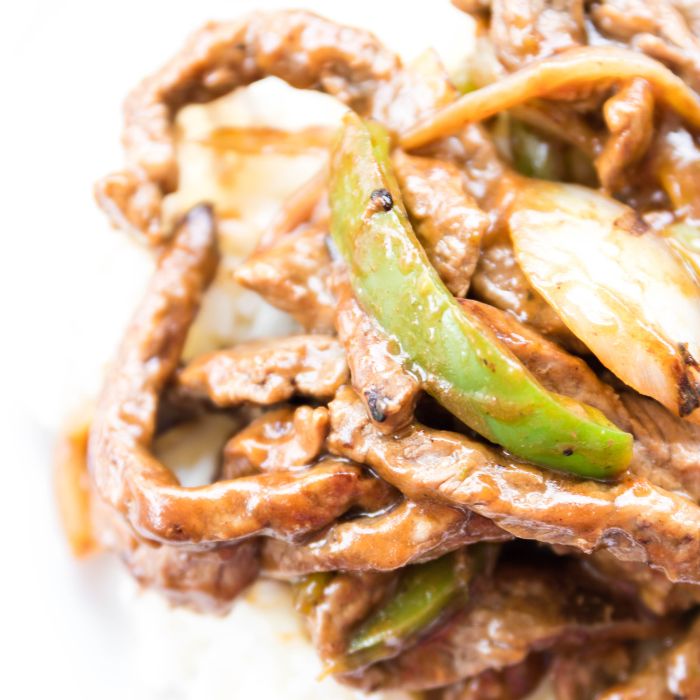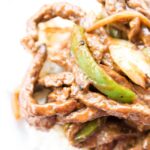 Pepper steak stir fry is a delicious 30 minute dinner idea. Thinly sliced flank steak, green bell peppers, onions, smothered in a savory sauce. Pair with a bed of white rice and ring that dinner bell. This pepper steak is a skillet dinner that will become an instant family favorite.
You get the same restaurant quality pepper steak and rice but made at home. Best part of all is the steak reheats really well for leftovers.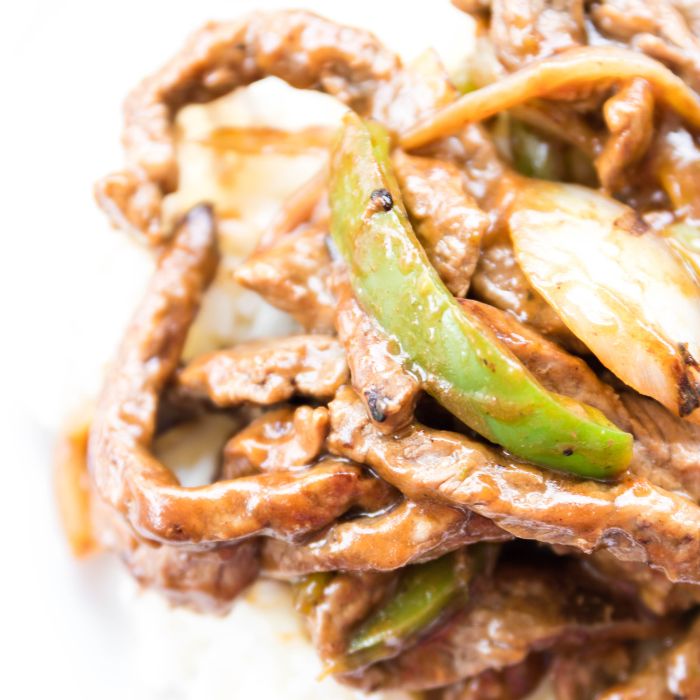 This Pepper Steak Recipe Is…
Quick and Easy Pepper Steak Recipe
A Popular Local Chinese Restaurant Favorite Dish
Fun Weeknight Meal
Gluten Free
Minimal Ingredients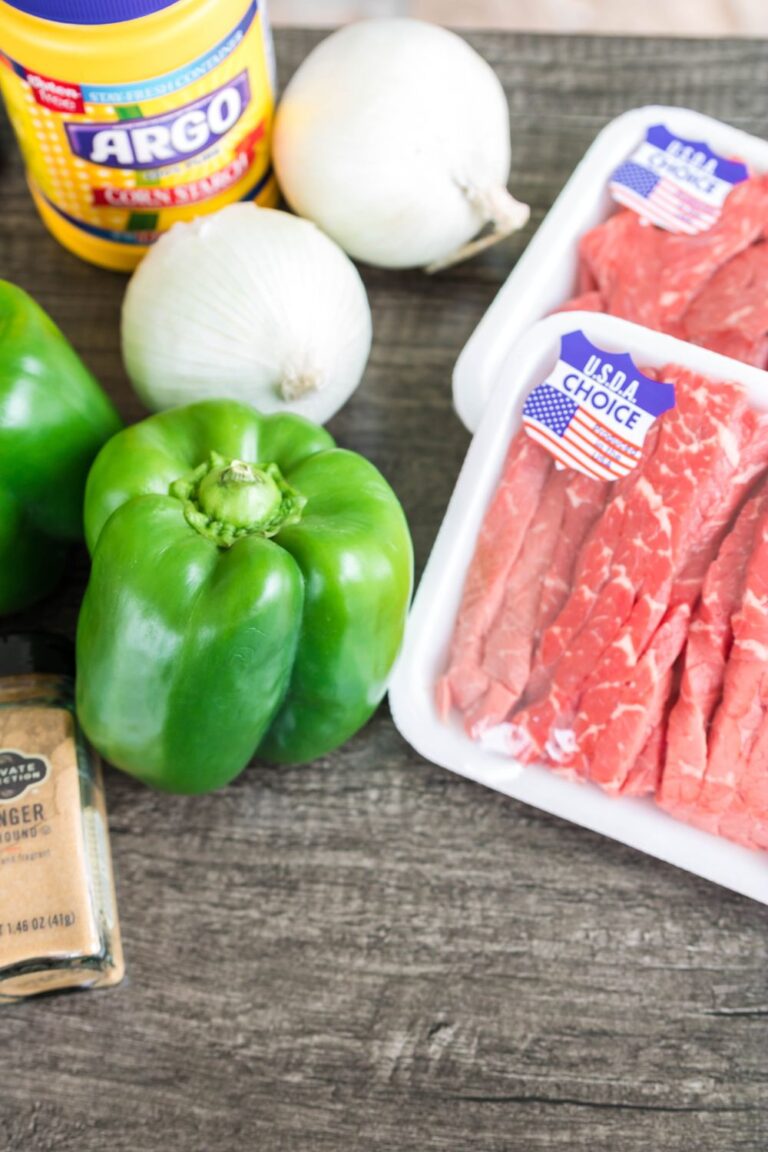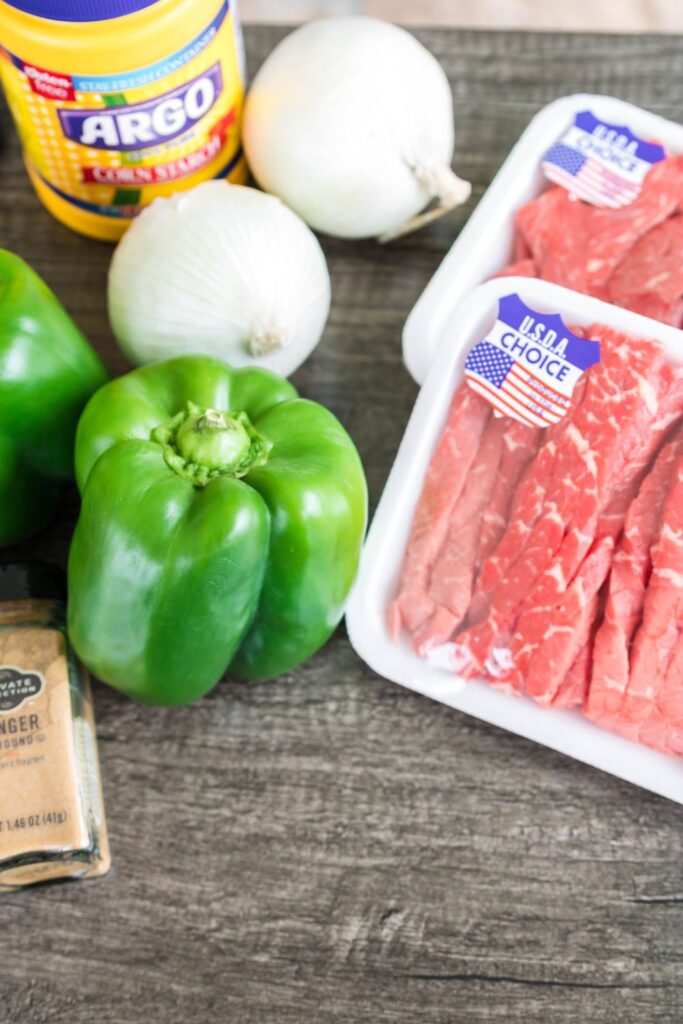 Ingredients
Steak – I used a flank steak that was thinly sliced. You are welcome to use any cut of beef. Higher quality beef will provide a more tender steak result.
Onion – White or a yellow onion work best for this recipe. I used white this time.
Pepper – Red bell pepper or green bell peppers work. Feel free to do a mix of peppers if you would like. I find that red peppers are sweet peppers where bell peppers are more savory.
Seasonings – Salt, pepper, and ginger. Now, I used powder ginger but you could grate and use fresh ginger for a stronger ginger flavor.
Cornstarch – You will mix the cornstarch with wet ingredients, which makes a slurry. This is what creates that thick savory sauce.
Soy Sauce and Water – The other ingredients for the sauce. You are welcome to use low-sodium soy sauce if you are watching your sodium intake.
Oil – You will want a little bit of oil to heat up and sear the steak till golden brown.
How to Make
Full directions on how to make this pepper steak stir-fry are in the printable recipe card at the bottom of the post. This is a quick walk through on this Chinese American dish. An easy meal with simple ingredients.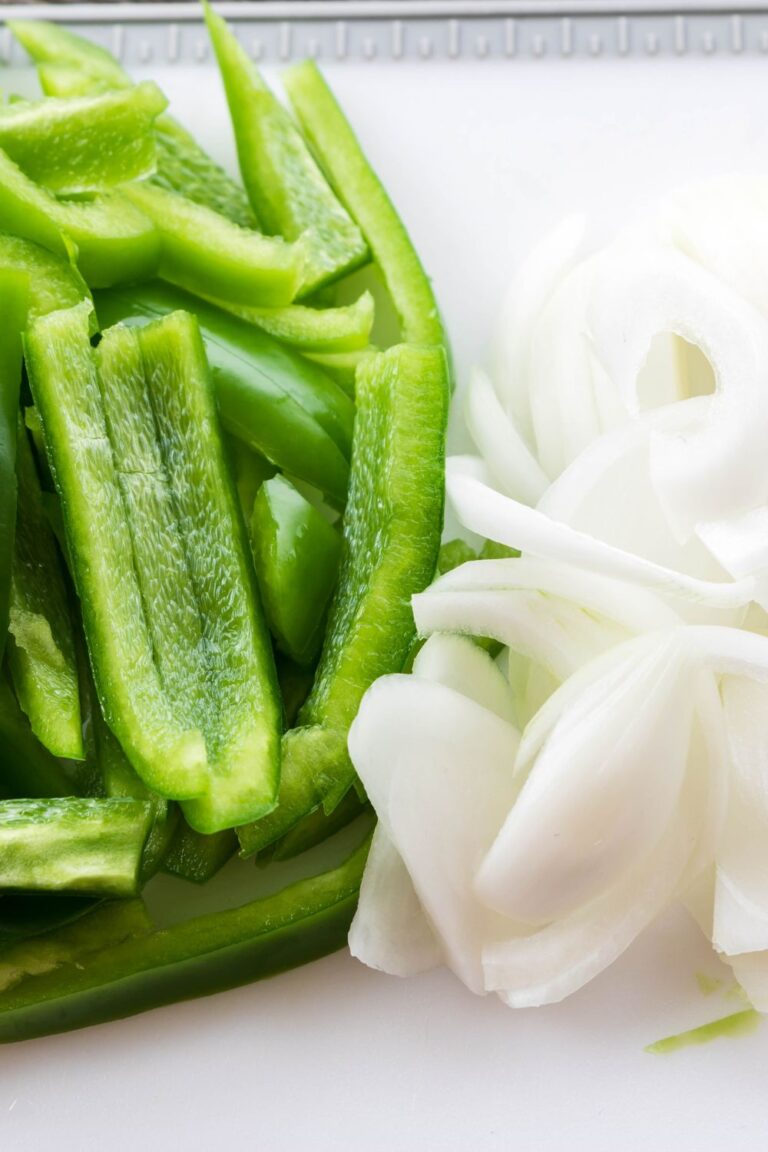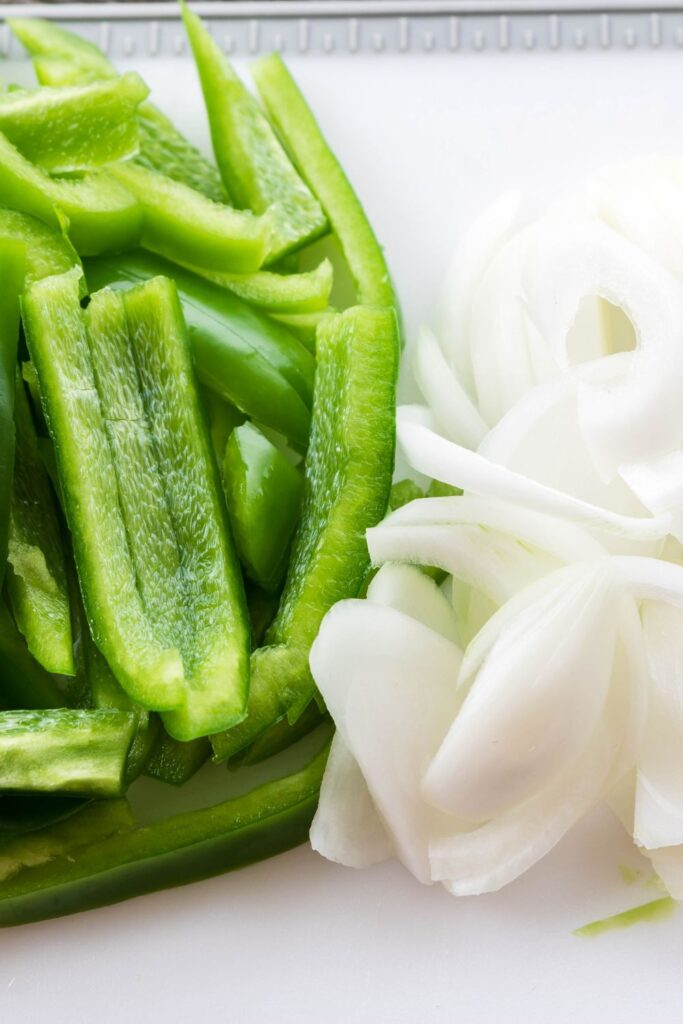 Step One: The first steps is to prep your beef and slice into thin strips. The thinner the strips the easier it will be to eat. Too thick of pieces can become chewy.
Step Two: Slice up the peppers and onions and set to the side. Heat a pan with oil on medium-high heat.
Step Three: Season the steak with salt and pepper. Don't use a ton of salt, because of the soy sauce.
Step Four: Place steak into the hot oil and sear for 3-4 minutes. Then add in the pepper and onions and saute to finish cooking.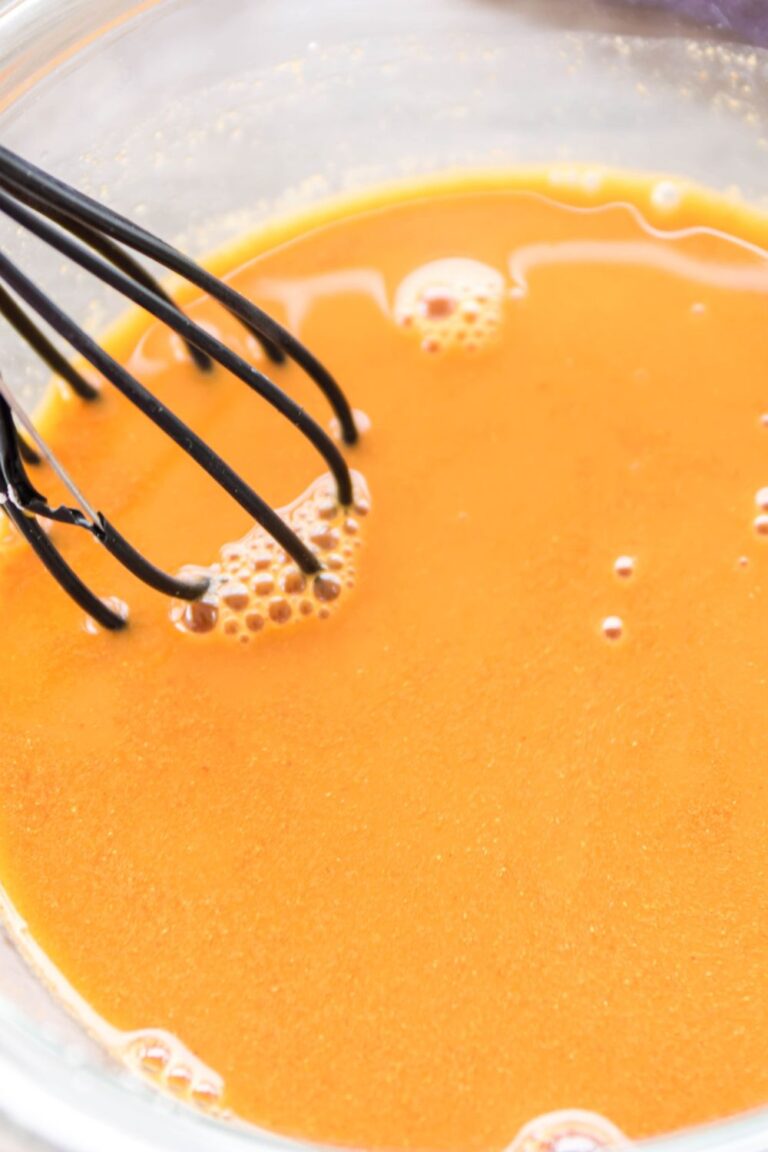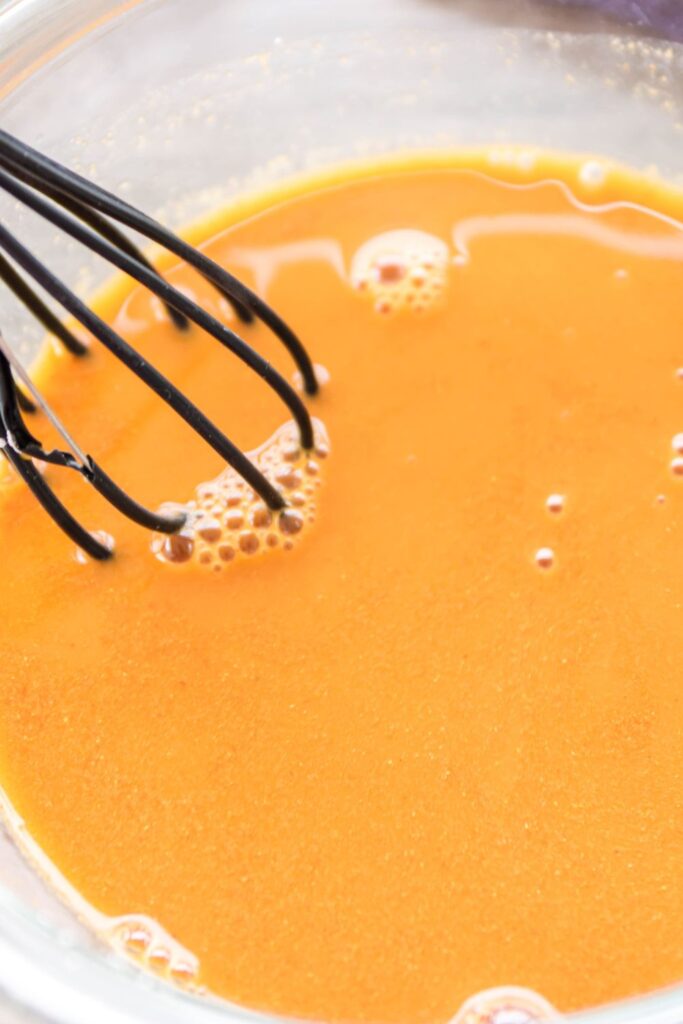 Step Five: Next you will grab a bowl and add your water, cornstarch, soy sauce, and ginger. Mix well.
Step Six: Pour the sauce into the steak mixture and cook for a minute until sauce is coating all the beef and peppers. Then serve!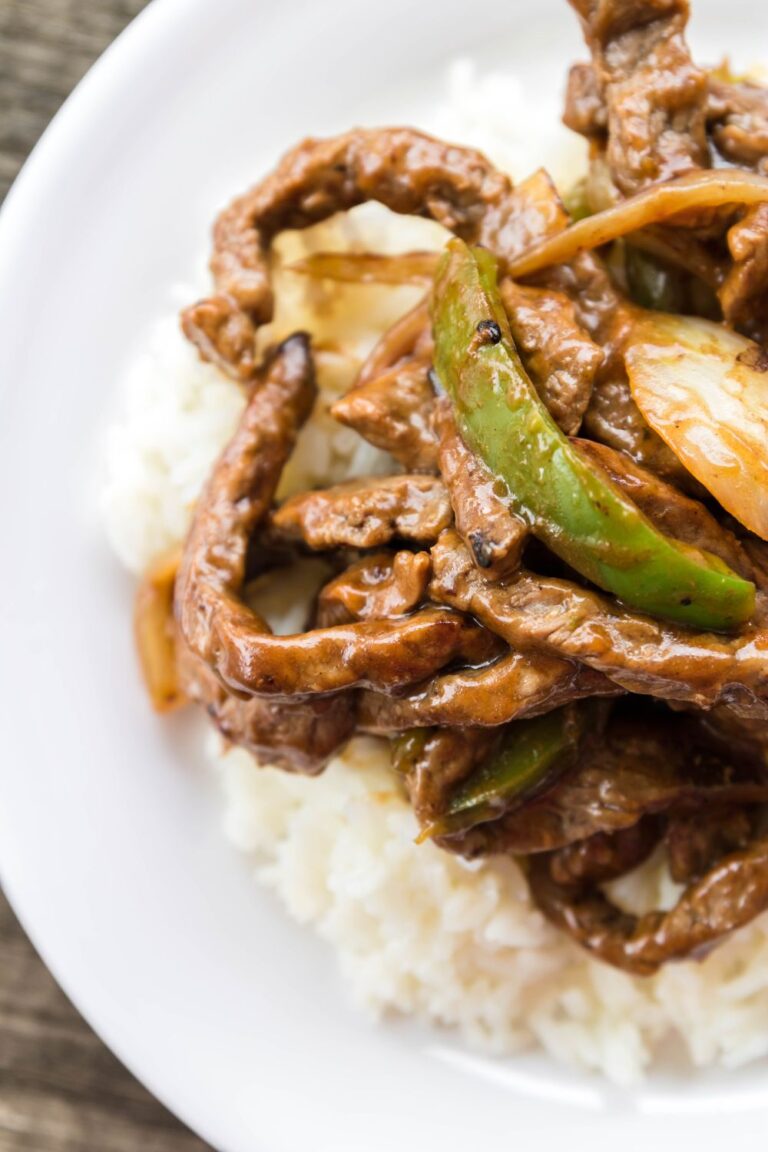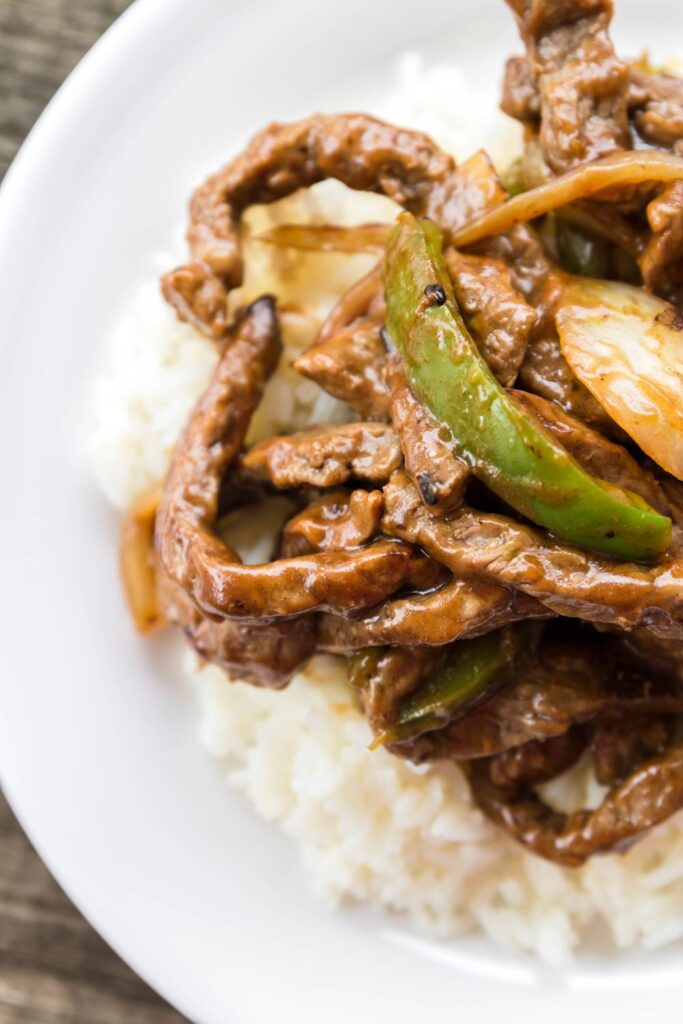 Variations To Recipe And Tips
Here are a few changes you can make to this Chinese pepper steak recipe you can alter to fit your preference.
For a lower carb, serve with cauliflower rice.
Swap out the white rice for brown rice or even a Jasmine rice. Jasmine has a stronger flavor so just take note in that.
Top with sesame seeds, red pepper flakes, or even green onions slivers.
Cut against the grain on your steak. This will help the muscle fibers to break down and not be as chewy.
Feel free to use low sodium soy sauce instead of regular to lower sodium.
Skirt steak, rib eye, round steak, flank, or any other cut of beef works. Look for tender steaks to slice for a tender cut of meat.
Cooking steak in a single layer helps to create a nice sear on the steak.
You can add a little sugar to sweeten up the pepper steak if you want. We prefer to not have the sweet.
Toss in other fresh vegetables like zucchini, broccoli, etc. This will give your dish even more flavor. Stir Fries are great for using up produce. I have even done snap peas in the past.
Storing
Refrigerate – Any leftovers you have you can store in the fridge in an airtight container. You will find it stores for 2-3 days in the fridge.
Reheat – To reheat you can warm it up in the microwave. You will find if you heat it up on the stovetop it can burn the sauce.
Frequently Asked Questions
Related Recipes
Have you tried the recipe? If so, please leave a star ⭐️⭐️⭐️⭐️⭐️ rating in the recipe card below or drop a comment. Also stay in touch with me through social media by following me on Facebook, Pinterest, or My Facebook Group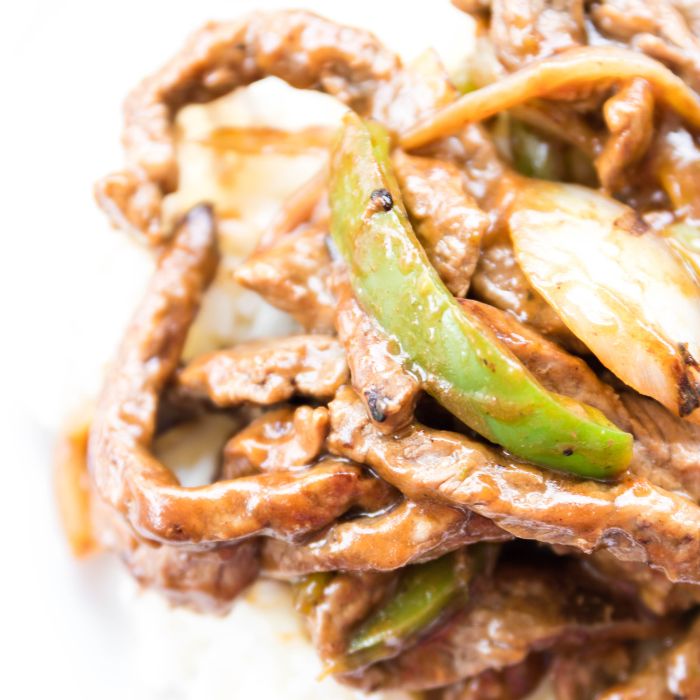 Pepper Steak with Rice
Servings 8
Pepper Steak with Rice is a delicious sliced steak paired with bell peppers and onions smothered in a savory sauce. Learn how to make pepper steak with just a few ingredients at home.
Ingredients
2 pounds thinly sliced flank steak
1 tablespoon oil
2 bell peppers
1 medium white onion
pinch of salt and pepper
1/2 teaspoon ground ginger
1/2 cup soy sauce
1/2 cup water
2 tablespoons cornstarch
2 cups white rice optional
Instructions
Add oil into a large skillet and heat on medium to medium-high temperature.

Thinly slice your steak, peppers, and onions.

Season your steak with salt and pepper, and massage the salt and pepper into the steak.

Toss the steak into the hot skillet and sear the steak. I cook the steak for about 5 minutes.

Add in the sliced peppers and onions, and saute with the steak.

Once the steak and veggies are done, work on the sauce.

Add the water, soy sauce, cornstarch, and ginger in a bowl. Whisk to combine the ingredients.

Pour the sauce into the skillet and stir, the sauce will instantly stick to the steak and veggies.

Once the sauce is thickened, serve over a bed of white rice. To cook the rice just cook as directed on the package.
Notes
Steak – Flank, flat iron, skirt, ribeye, KC strips, all work. Depending on quality of steak will vary in the tenderness of steak.  Peppers – Red bell peppers work as well as green bell peppers. You can do a mix of the two varieties if you want, or do two of the same.  Vegetables – If you want toss in other fresh ingredients. Snap peas, broccoli, zucchini, etc.  Rice – We serve pepper steak over a bed of white rice. Now you don't have to do this. You could also do brown rice, cauliflower rice, etc. 
Nutrition
Serving: 8gCalories: 214kcalCarbohydrates: 43gProtein: 5gFat: 2gSaturated Fat: 0.2gPolyunsaturated Fat: 1gMonounsaturated Fat: 1gTrans Fat: 0.01gSodium: 815mgPotassium: 168mgFiber: 2gSugar: 2gVitamin A: 932IUVitamin C: 39mgCalcium: 22mgIron: 1mg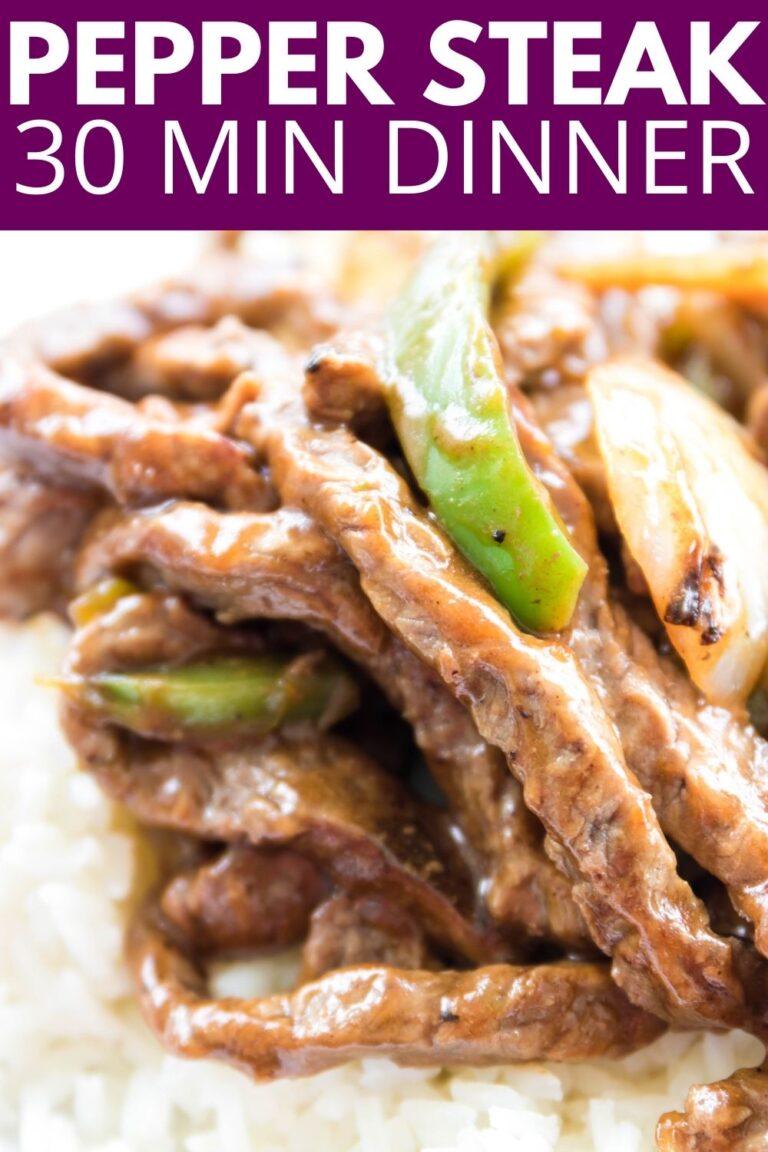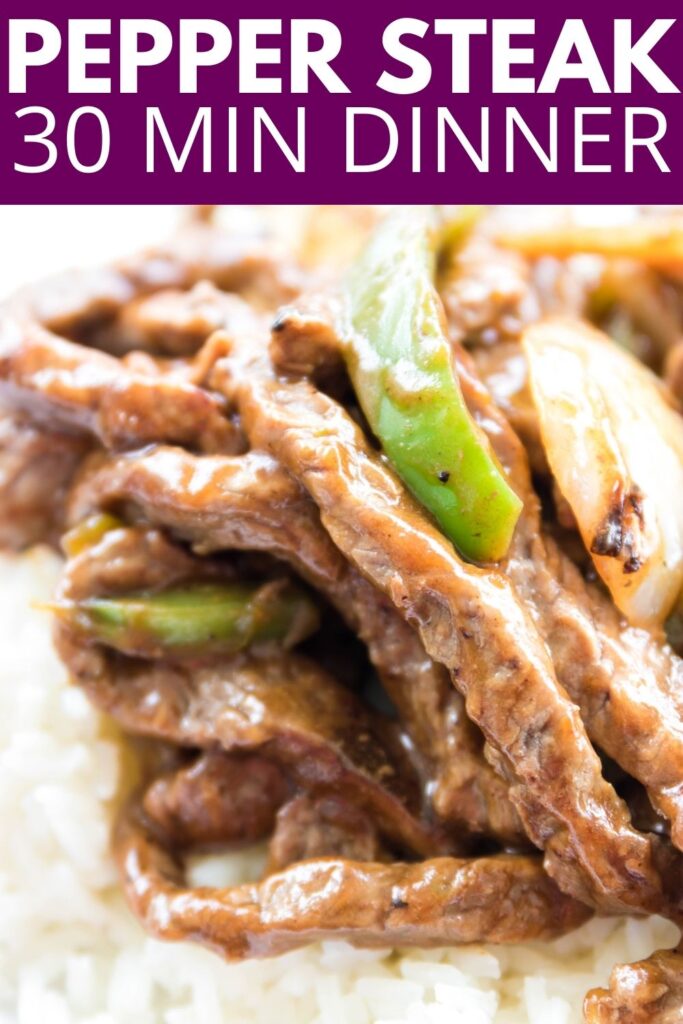 Reader Interactions