Snowman Christmas Oreos are a white chocolate dipped Oreo decorated like a snowman. I added the Oreos to cake pop sticks for an Oreo cookie on a stick treat. A simple no bake Christmas treat.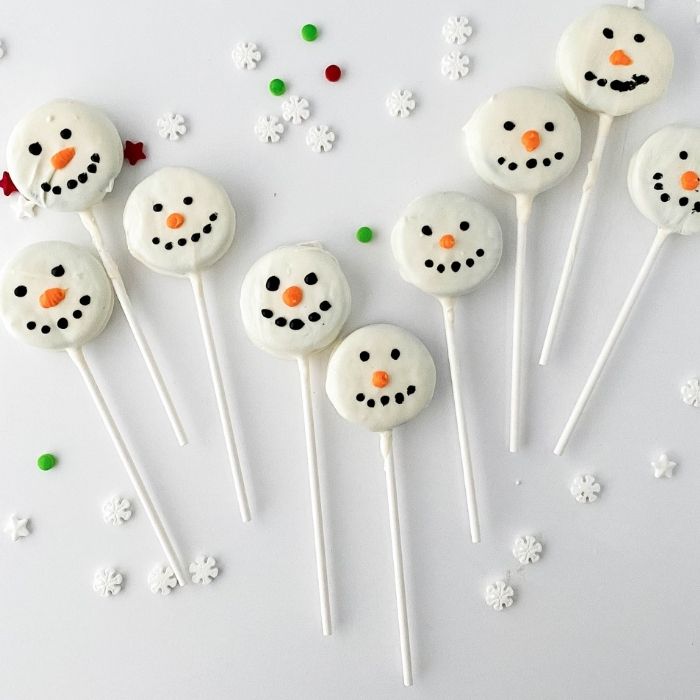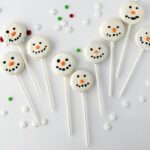 Snowman Christmas Oreos are a no bake treat perfect for kiddo's this Christmas season. A white chocolate dipped Oreo that is decorated like a snowman. I added mine to sticks for a cookie pop, but that is up to you! Give these snowman Oreos a try!
Chocolate covered Oreos are a favorite of mine. Add in the snowman theme and you win my heart. Let your kids help decorate their own snowman dessert this holiday! Also check out my snowman sugar cookies!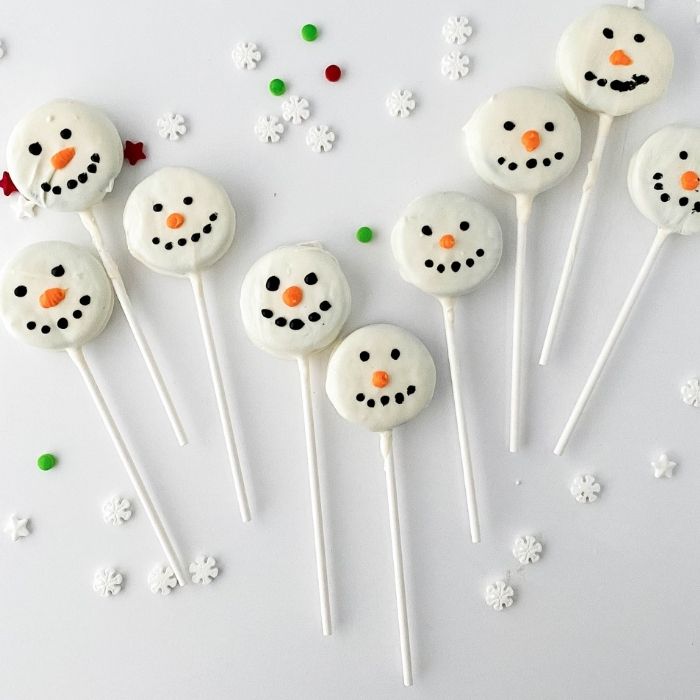 Oreo Dipped Christmas Cookies are always a go-to for a quick dessert to add to a dessert tray to gift friends, or for snacking on Christmas day.
These Snowman Christmas Oreos Are…
No Bake
Dipped in White Chocolate
Easy to Decorate
Sweet and Delicious
Great Make Ahead Dessert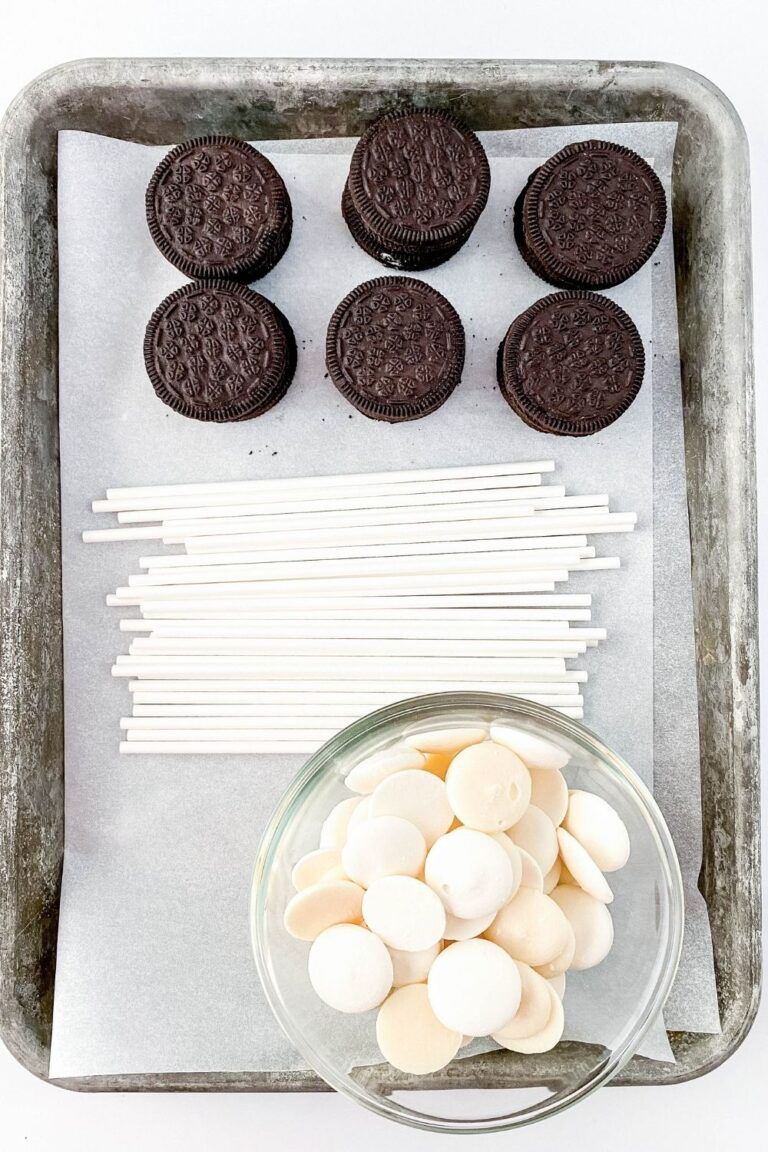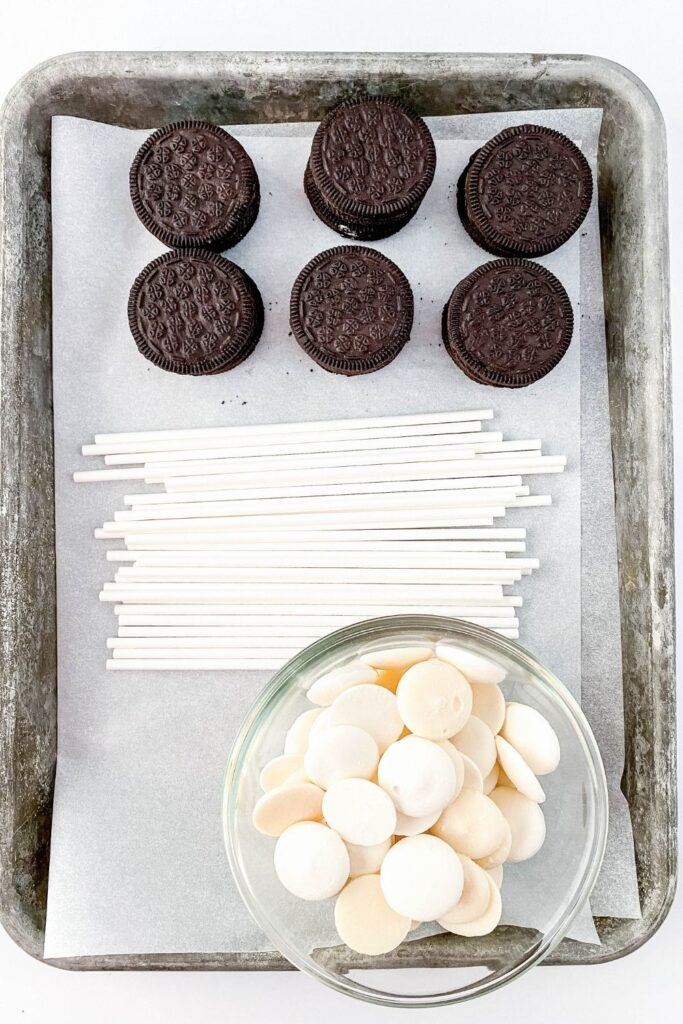 Ingredients You Will Need
Oreos – Reach for your favorite flavor of Oreos. From the classic to a Christmas Oreo, or even mint. This is up to you what flavor to buy.
White Chocolate Melting Wafers – I used melting wafers so I get that nice hardening of the chocolate. You can also add a teaspoon of shortening to white chocolate to get the same hardening texture of the chocolate.
Edible Pen – You can find this in the baking aisle, or shop and ship to your home. This is what I used to draw on to the snowman.
Orange Candy Melting Wafers – I used orange chocolate to pipe on a nose. You could also use an Edible Pen as well for drawing on a carrot nose.
Cake Pop Sticks – So if you make them into cookie pops, you will want stocks or even paper straws for this.
How to Make
Full directions on how to make these Oreo dipped cookies are in the printable recipe below. This is a quick visual walk-through on the Oreo holiday cookies.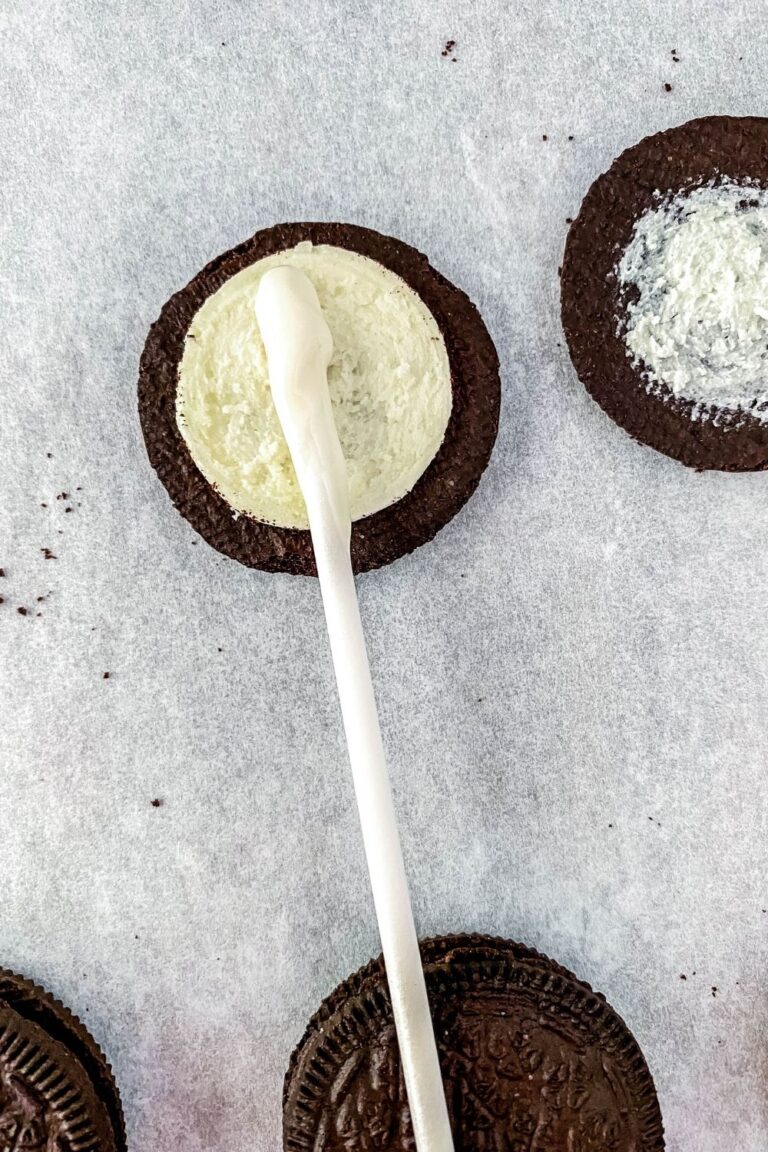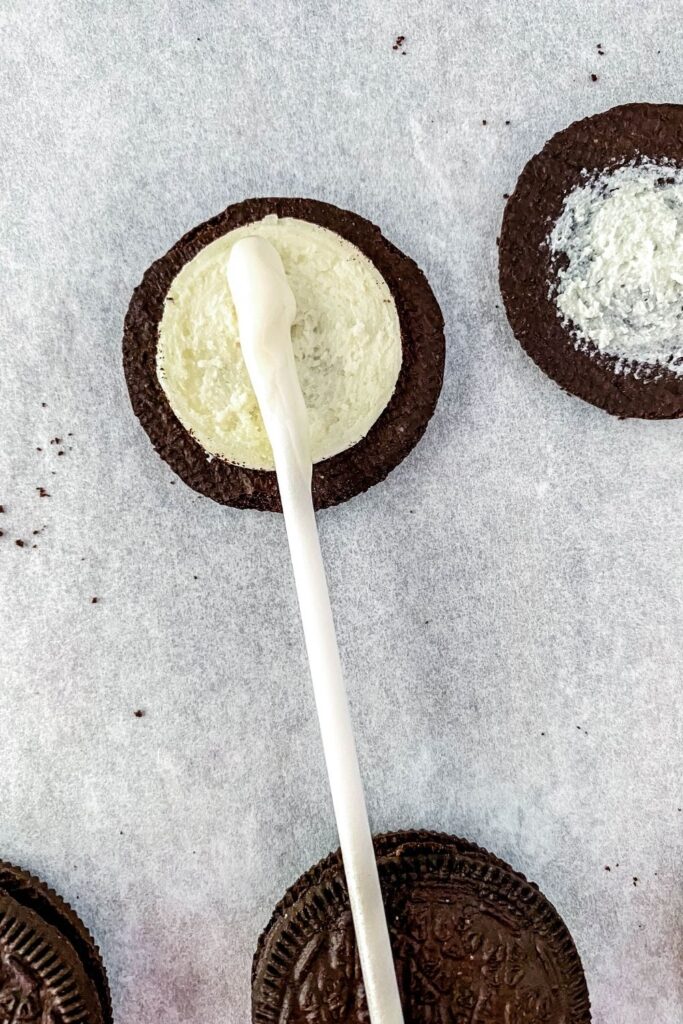 Step One: First grab supplies, then take your Oreos apart. You will want to place a stick in the center of the Oreo that is dipped in some white chocolate. The white chocolate will help ensure the Oreo stays together.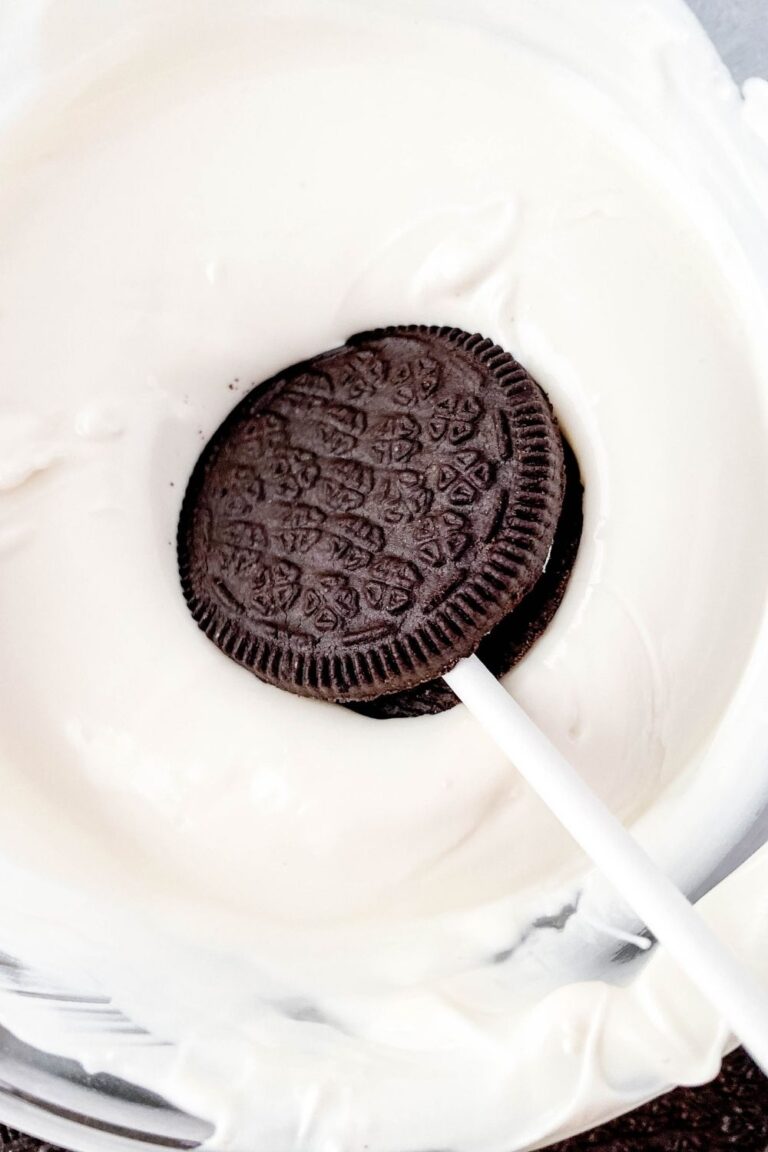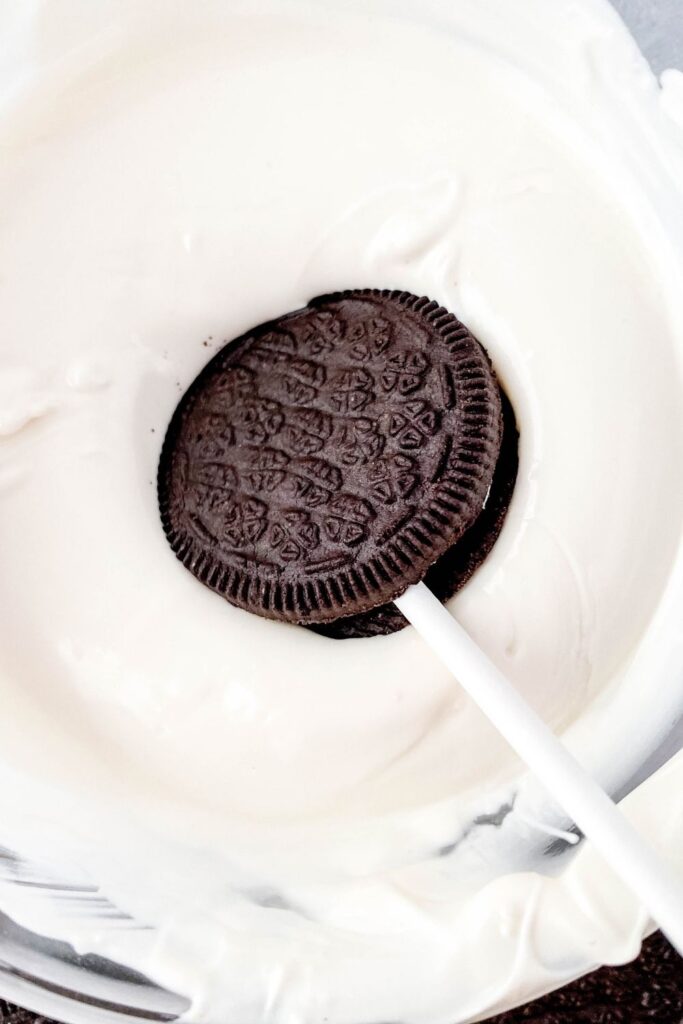 Step Two: Repeat till all the Oreos are assembled, then dip in the white chocolate. The stick is a great way to ensure the Oreo is evenly coated. Shake off excess chocolate.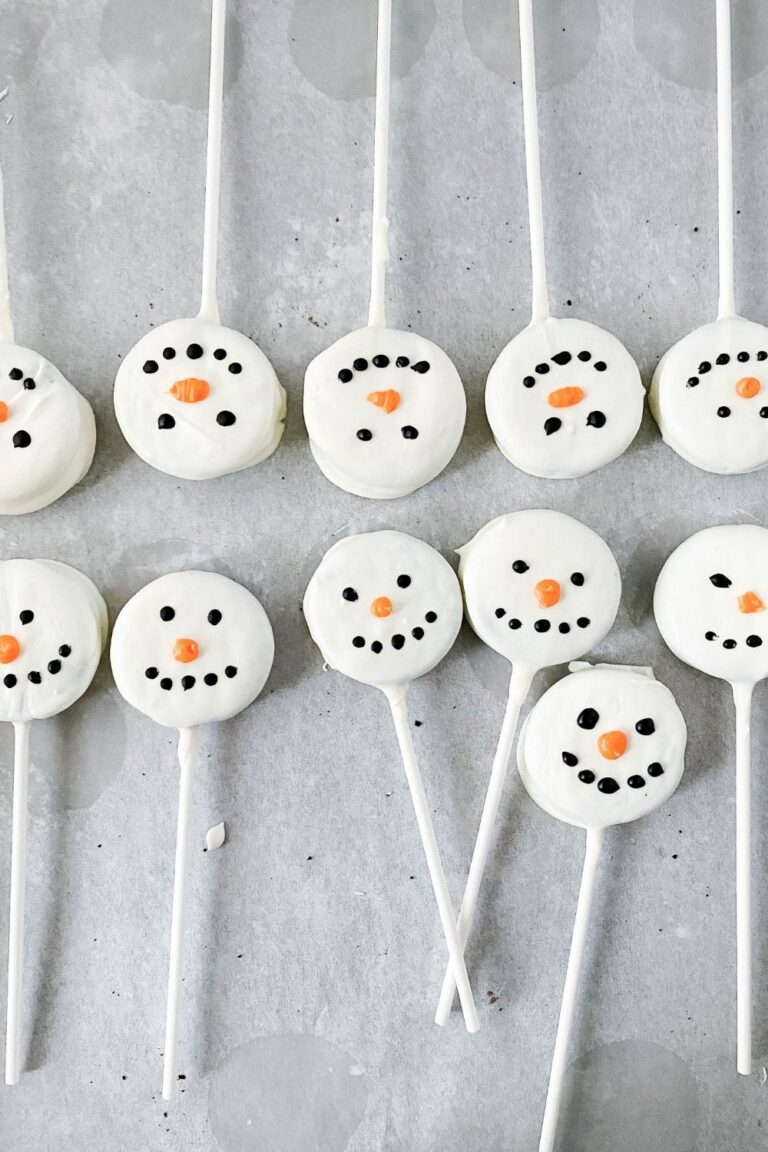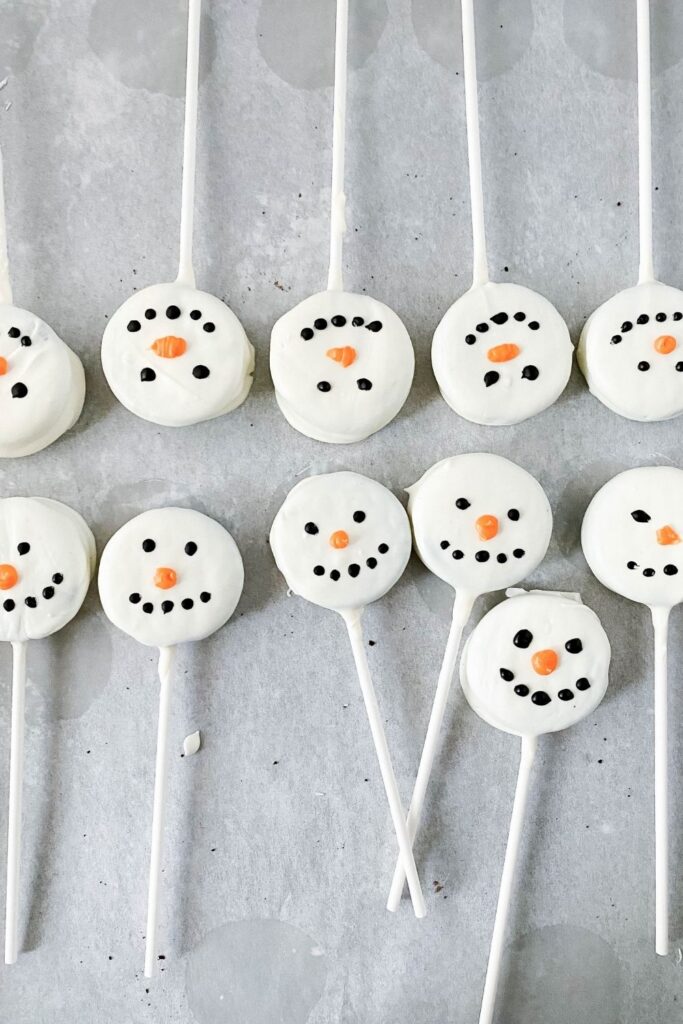 Step Three: Let the white chocolate Oreos to dry, and then use your pen to draw on the eyes, and smile. Then melt orange candy melts and create a triangle shape for nose.
Simple steps are all that are required for this chocolate covered Oreos Christmas! If you have little kids they will love drawing on their snowman treats!
Variations To Recipe
Use mini chocolate chips to place on the cookie for eyes and smile. Just place the chocolate chips upside down so the flat part is facing up.
Use a piece of candy for the nose. I like to cut and shape orange Starburst as well in replace as white chocolate.
Leave the sticks off if you want. I find the sticks help tremendously for easy dipping in white chocolate.
Decorate your cookies as you would like. If you don't want to do the snowman white Christmas Oreos, you could add sprinkles, drizzle chocolate, etc.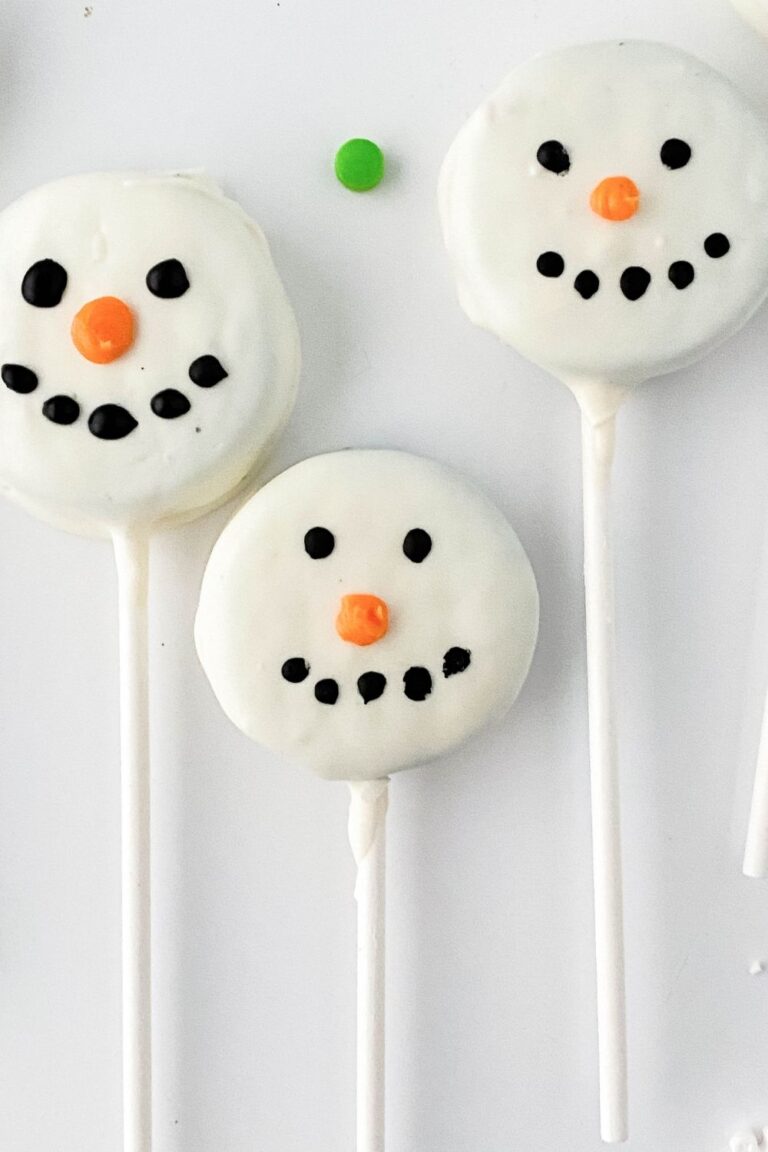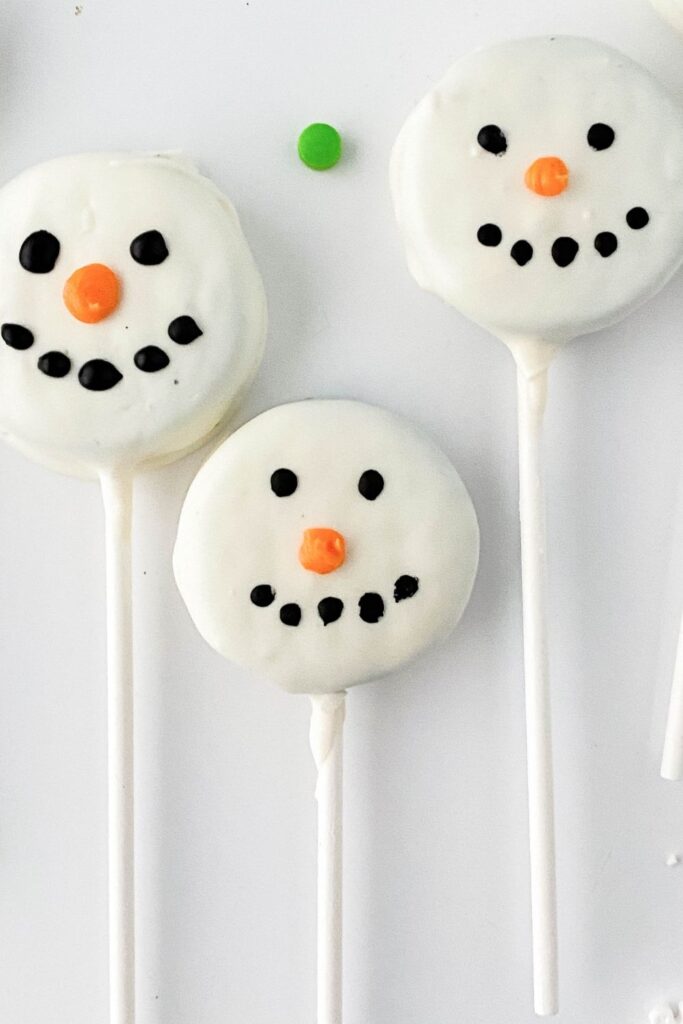 Storing Cookies
Room Temperature: Store your Oreo Christmas cookies in an airtight container on the counter for 1-2 weeks. They go bad when the Oreo starts to become softer in texture.
Freezing: You can also freeze your dipped Oreos. Just let them set up fully then place in a bag or container and freeze for 3-4 months. Thaw on the counter when you are ready to eat.
FAQs
Common questions about this no bake Christmas treat recipe!
Related Recipes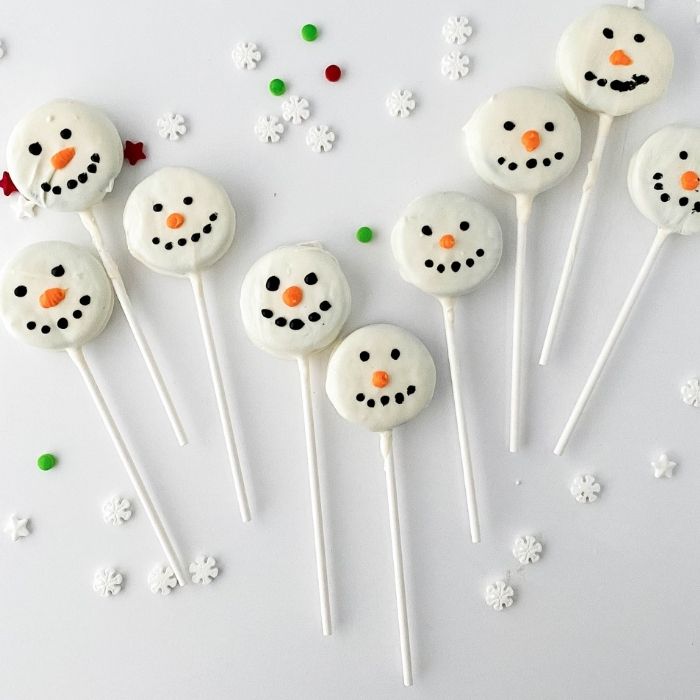 Snowman Christmas Oreos
Servings 12
Snowman Christmas Oreos are a white chocolate dipped Oreo decorated like a snowman. I added the Oreos to cake pop sticks for an Oreo cookie on a stick treat. A simple no bake Christmas treat.
Ingredients
12 Oreo Cookies
1 cup white chocolate melting wafers
Edible Black Marker find in baking aisle
1/4 cup orange melting wafers chocolate
Cake pop sticks optional
Instructions
Start by carefully opening up your Oreos, so the Oreo is split in half showing the cream filling.

Melt your white chocolate candy melts in the microwave until fully melted. Follow directions on the package.

Take a lollipop stick and dip the tip in the white chocolate. Then place the dipped stick in the center of the Oreo.

Place the top of the Oreo on top, and allow the chocolate to harden. This will act like the glue keeping the cookie together.

Then when Oreos are ready dip the whole Oreo in the melted chocolate. Make sure to allow excess chocolate to drip off.

Then place on a parchment lined counter or tray.

Once the chocolate is set up, you can draw on the eyes and face with the edible pen.

Melt your orange candy melts, and place in a piping bag or sandwich bag. Cut the tip off and then pipe on a nose. I did a long triangle shape.

Let the Oreo lollipops to fully set up, and serve and enjoy your Oreo snowman cookies!
Notes
Decorating Snowman – You can use mini chocolate chips in replace of the edible marker if you want. Just place the chocolate chips so the flat side is sticking up. Nose – The nose I did orange candy melts. You can easily swap with an orange candy or sprinkle if you want. You can buy carrot sprinkles that would be cute. Almond Bark – Go ahead and reach for white almond bark in replace of candy melting wafers if you want. Storing – Store at room temperature in a cool place. The cookies will last around 2 weeks.
Nutrition
Serving: 1gCalories: 170kcalCarbohydrates: 23gProtein: 2gFat: 9gSaturated Fat: 4gPolyunsaturated Fat: 2gCholesterol: 6mgSodium: 87mgFiber: 1gSugar: 17g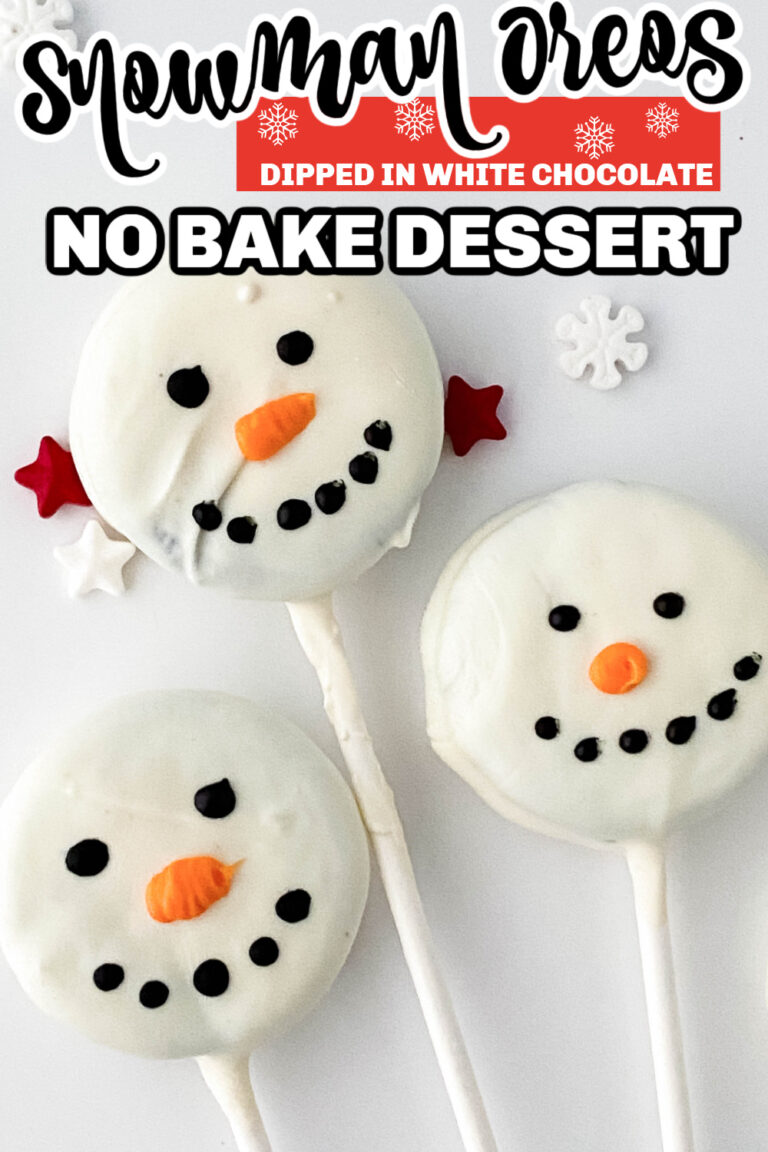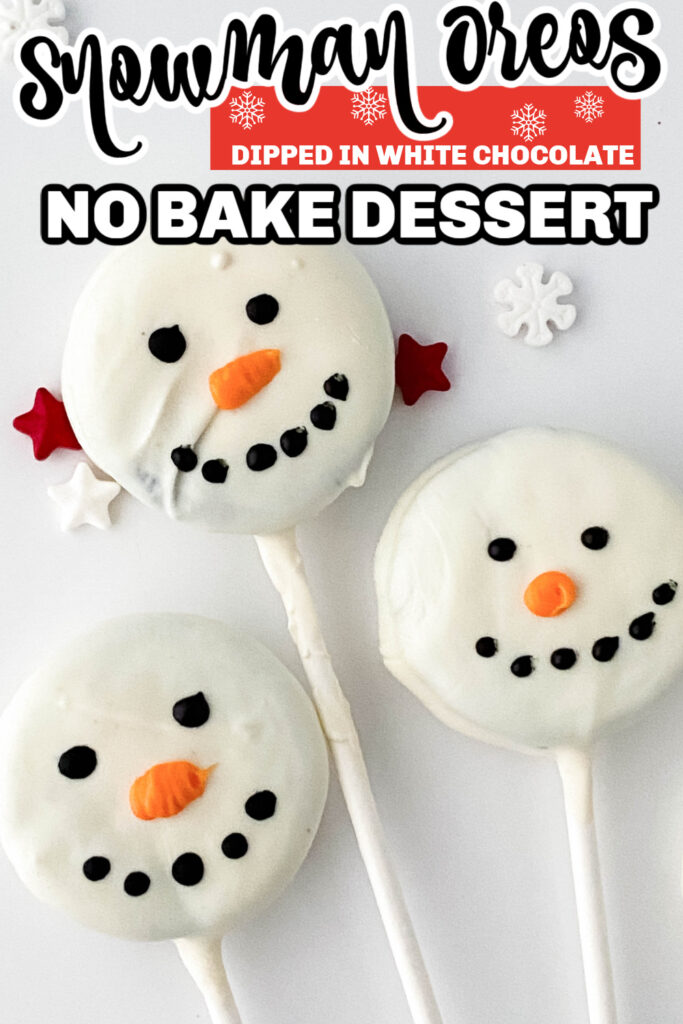 Reader Interactions