Reindeer cookies that are made with a gingerbread man cookie. A cute Christmas cookie that is so easy to make. A fun Rudolph cookie that is great for leaving out for Santa Claus or for your next holiday party.
I will share how to make gingerbread reindeer cookies using a gingerbread cookie as the base. Grab your royal icing, and let me teach you how to make a unique Christmas cookie!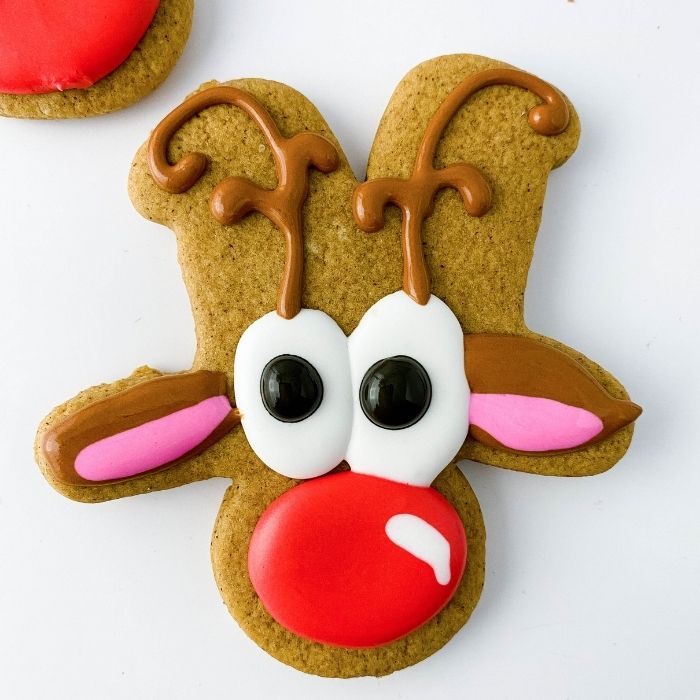 Upside down gingerbread man reindeer cookies are so popular. Make homemade gingerbread cookies or head out and buy a batch of plain gingerbread man cookies that you can ice.
Why Make These Gingerbread Reindeer Cookies
Easy to Make
Can use homemade gingerbread cookies or store bought
Festive
Unique
Delicious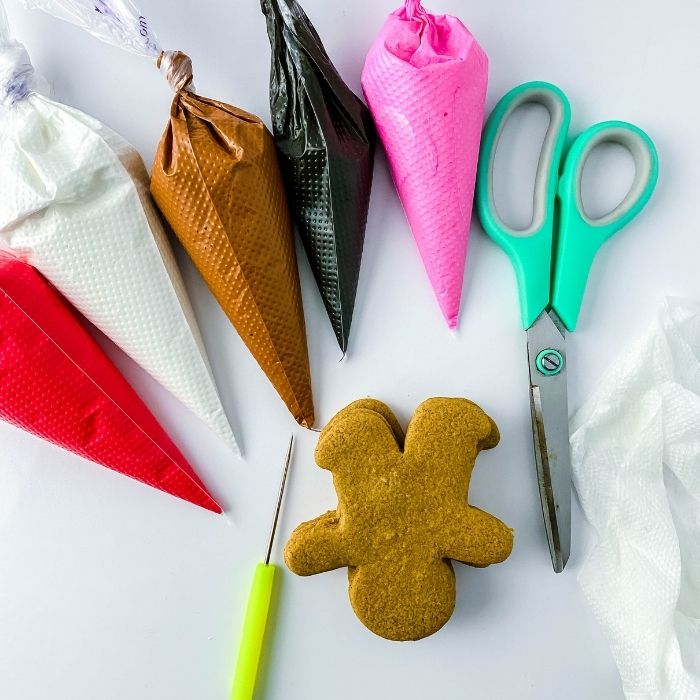 Ingredients Needed
Gingerbread Man Cookies – Buy homemade or reach for store bought cookies. Either method works, you just want a classic gingerbread man shaped cookie for this recipe.
Royal Icing – So for this royal icing is best. As you can create layers of colors to create that classic stand-out cookie that is decorated. Buy or make homemade.
Food Coloring – You will want a gel food coloring to color all the royal icing to the colors of your choice. Feel free to go simple or get creative!
Helpful Tools
Gingerbread Cookie Cutter – If you make homemade grab a gingerbread man cookie cutter! 
Couplers – If you are using regular piping bags. 
Royal Icing Needle – This is great for spreading out the icing if you need to get a cleaner line.
Paper Towels – A wet paper towel is very helpful when working with royal icing. 
How to Decorate Cookies
Full directions on how to make these reindeer cookies are in the printable recipe card below. This is a quick walk-through how to make with images.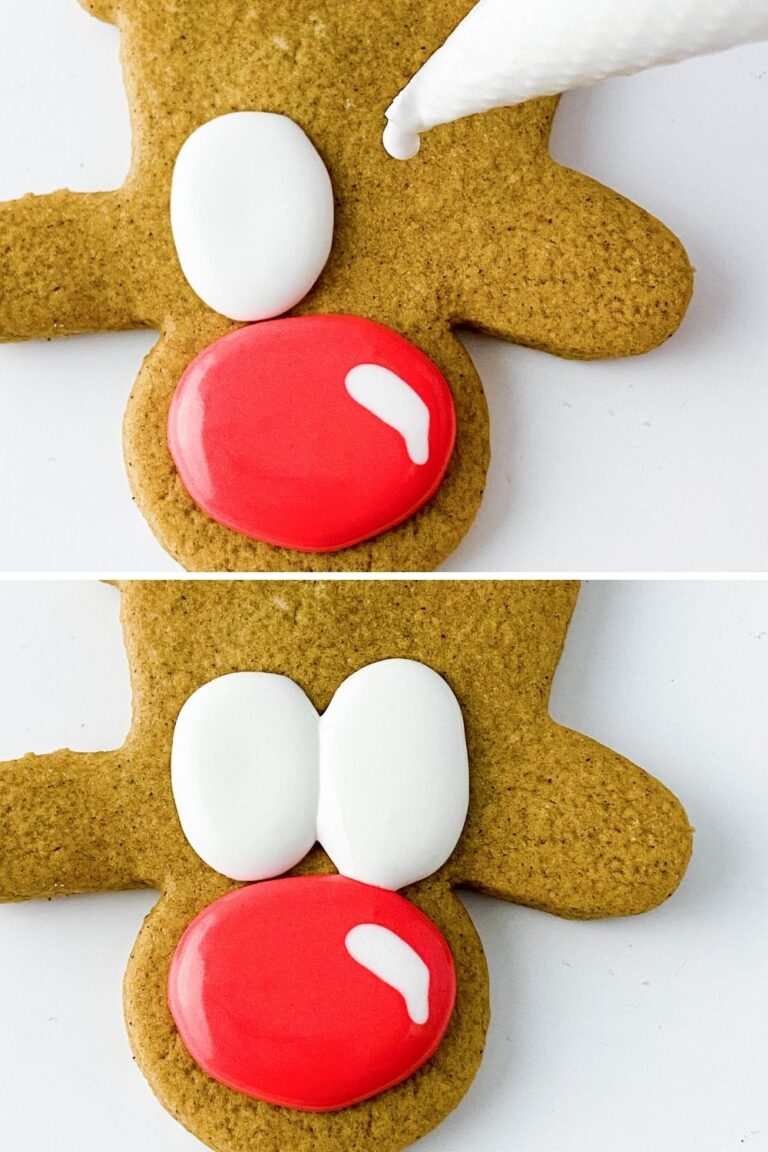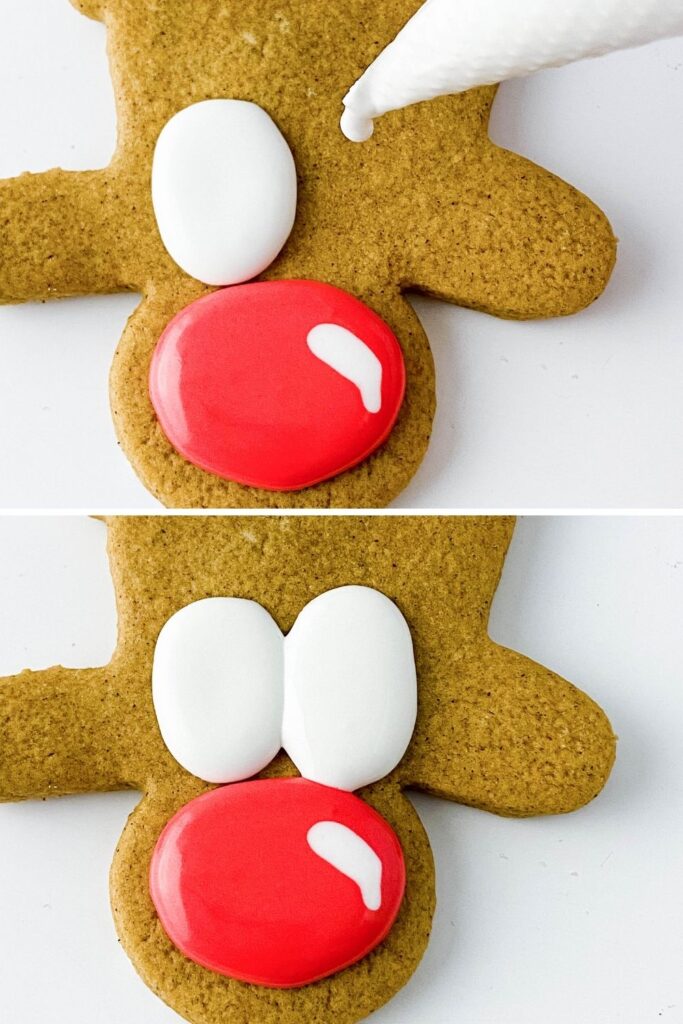 Step One: Bake your cookies or go buy plain gingerbread man cookies. Place cooled cookies upside down on tray or on counter for decorating. 
Step Two: Near the arm of the gingerbread you will pipe oval shaped eyes. You want a puffy white icing for thid. 
Step Three: Let the eye dry and then go back and create the second eye, you will let the two touch. Let it fully dry then add on black icing in the center of each eye. 
Step Four: You will then add a bright red nose in the head section of the gingerbread. Let it fully dry before you add the white patch on the side of nose.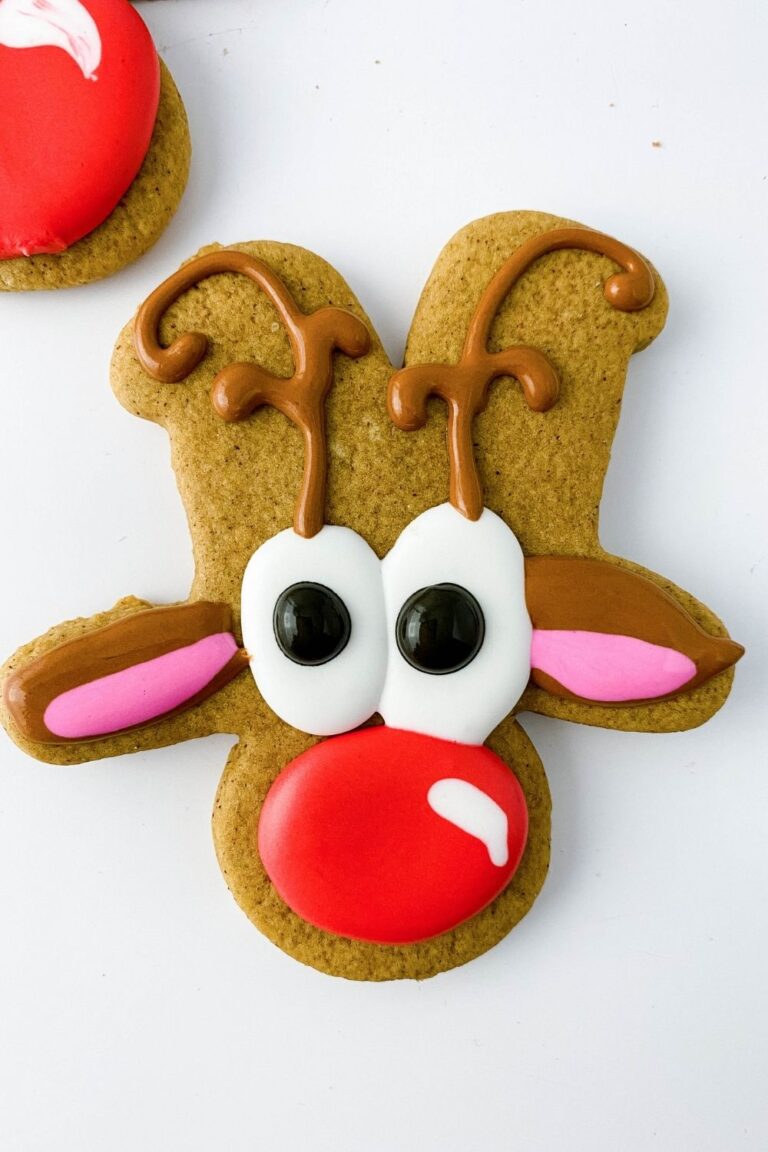 Step Five: With brown royal icing crest ears where the arms are and antlers where the legs are on cookies. Then add some light pink in the center of ears once brown is dry. 
Allow your reindeer cookies fully dry, then serve and enjoy!
Pro Tips
Make sure to allow time for the royal icing to fry in between as it will help allow defined shapes. I did one eye and waited for icing to dry before I moved in. That way if defines your design.
In between icing your icing if in a bowl, cover with a damp paper towel. This will prevent your icing from drying out when you are not using it.
Use any colors of royal icing you want. I just went with classic and simple colors.
Allow time for your icing to fully dry. If it is humid it can take all the way up to 12 hours to dry,
Storing
Room Temperature: Feel free to store your cookies at room temperature in an airtight container on the counter. These cookies will store for 4-5 days.
Freezing: You can also freeze the Rudolph cookies for 3-4 months. Just place in a freezer bag or container. If you want use wax paper in between layers of stacking cookies to prevent sticking.
Common Questions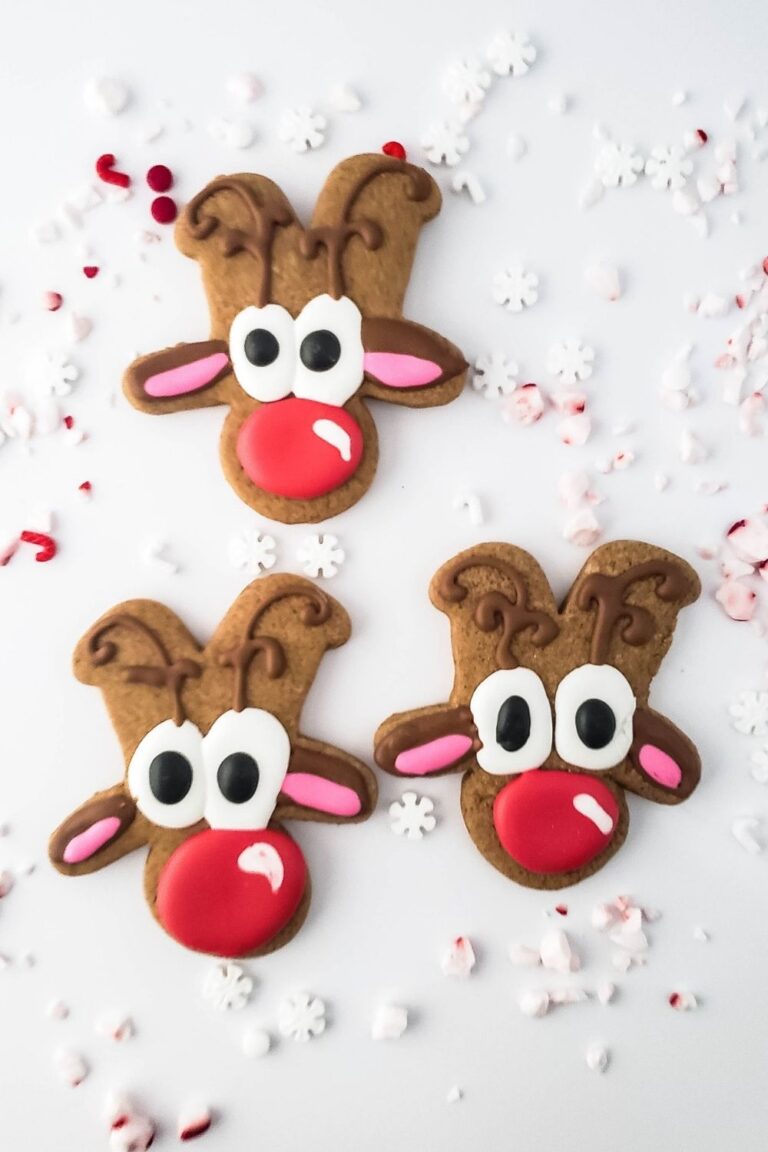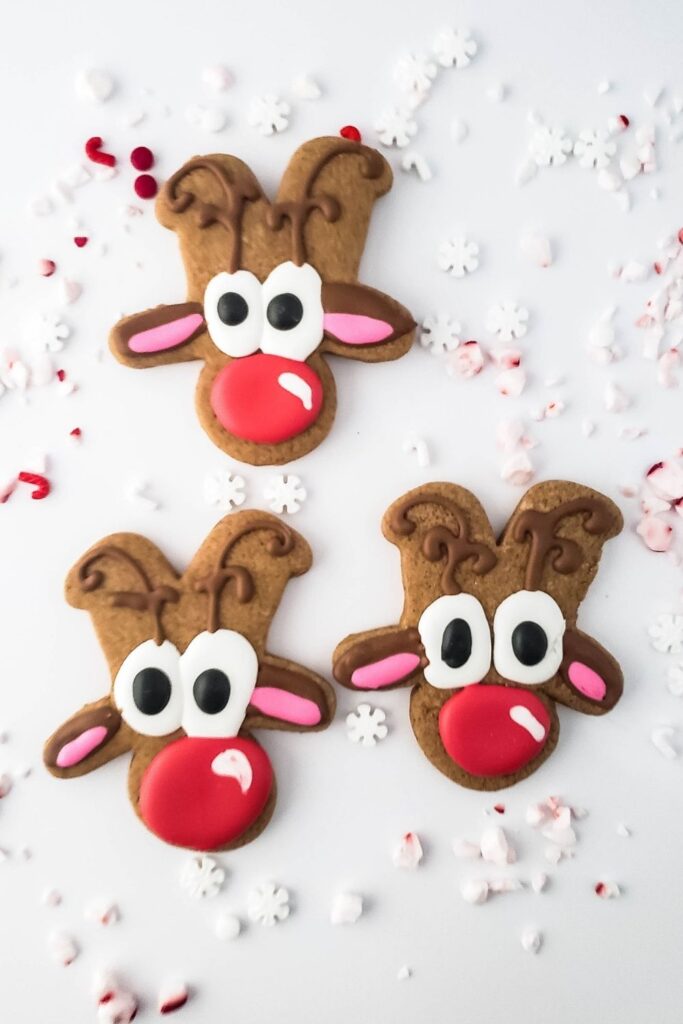 More Holiday Desserts
More tasty desserts to pair next to these reindeer decorated cookies!
Have you tried the recipe? If so, please leave a star ⭐️⭐️⭐️⭐️⭐️ rating in the recipe card below or drop a comment. Also stay in touch with me through social media by following me on Facebook, Pinterest, or My Facebook Group!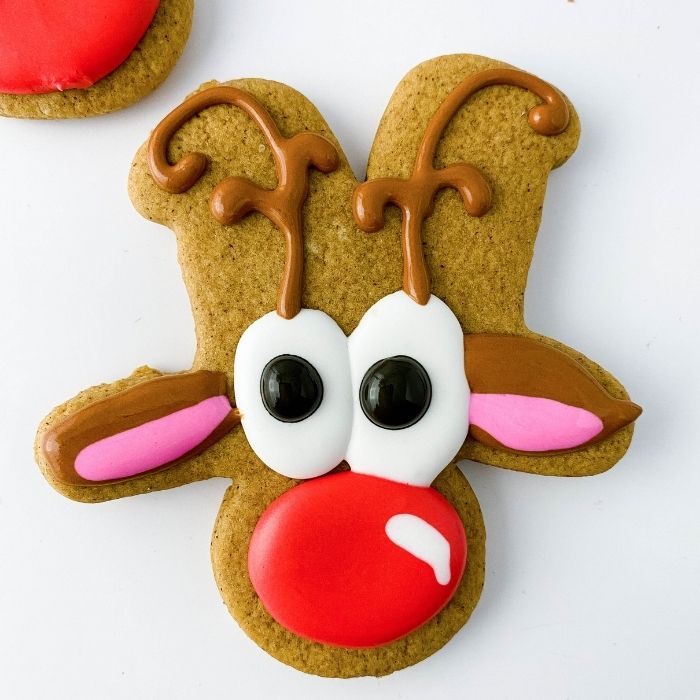 Gingerbread Reindeer Cookies
Servings 12
Upside down gingerbread men reindeer cookies are a unique Christmas cookie to try out. These reindeer cookies are so easy to make and you can use homemade cookies or store bought gingerbread men.
Ingredients
12 Gingerbread Men Cookies baked and cooled
1/2 cup white royal icing
1/4 cup brown royal icing
1/4 cup black royal icing
1/4 cup red royal icing
3 tablespoons pink royal icing
Instructions
Bake up your gingerbread men, or buy them. Then place them upside down on a wax paper lined tray or counter.

Mix up all your royal icings and place in piping bags. Start with the white and make large ovals at the arm area of the gingerbread cookie. Do one large oval, this will be they eye. Let it sit 15-20 minutes to set up a bit, then do the second eye.

Next, you will take your black after the eyes are set up, and add in the black eye oval in the center of cookies.

Next pipe a red nose in the head section of the gingerbread cookie. I let it dry 15-20 minutes and then added a white drop in the nose.

Next grab the brown royal icing and create ears where the arms of the cookies are. Then pipe on antlers above the eyes.

With the pink you will fill in the ears.

Let the reindeer cookies sit for a minimum of 6-8 hours, to allow the royal icing to fully set up.

Then serve and enjoy these gingerbread reindeer cookies.
Notes
Royal Icing – Depending on humidity and such, the drying time can vary. If it is humid it can take up to 12 hours for your icing to dry. Colors of Icing – You can use any colors of royal icing you want. I just made a batch and separated all the icings, and colored. Royal Icing – Place a wet paper towel on top of each bowl of royal icing to prevent the icing from drying as you are mixing up colors and such.
Nutrition
Serving: 1gCalories: 388kcalCarbohydrates: 63gProtein: 3gFat: 15gSaturated Fat: 5gPolyunsaturated Fat: 9gCholesterol: 16mgSodium: 294mgFiber: 1gSugar: 45g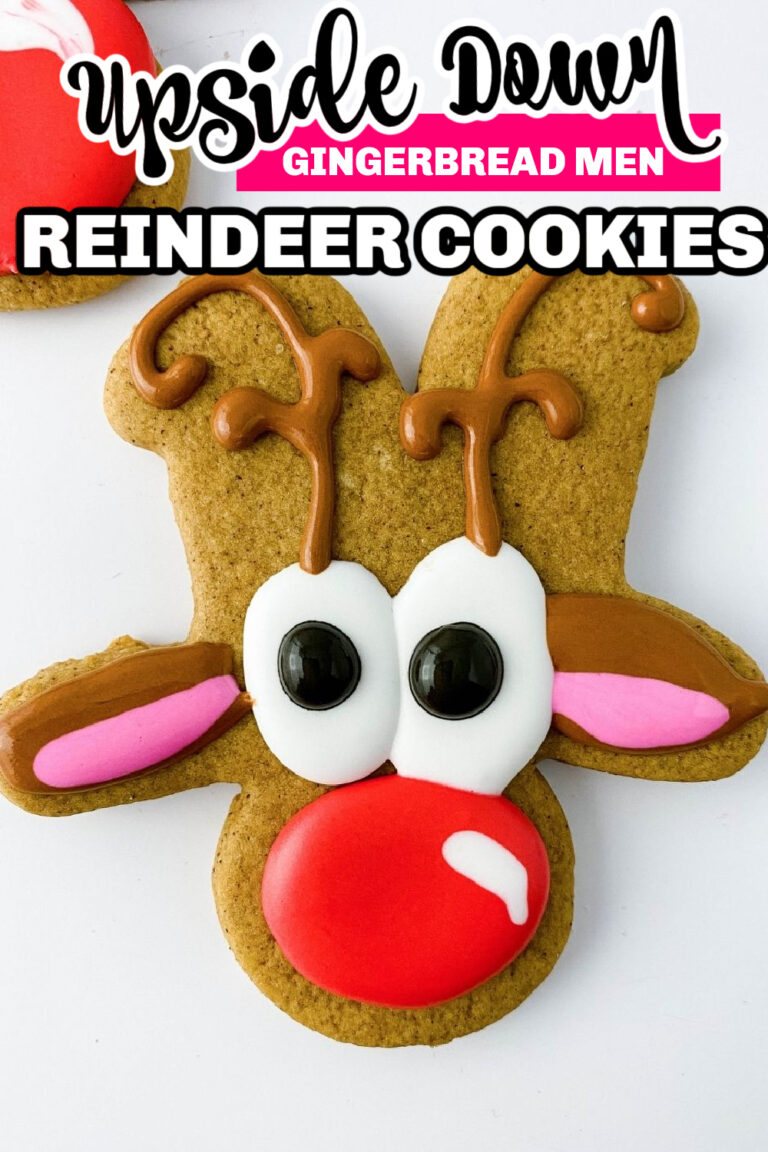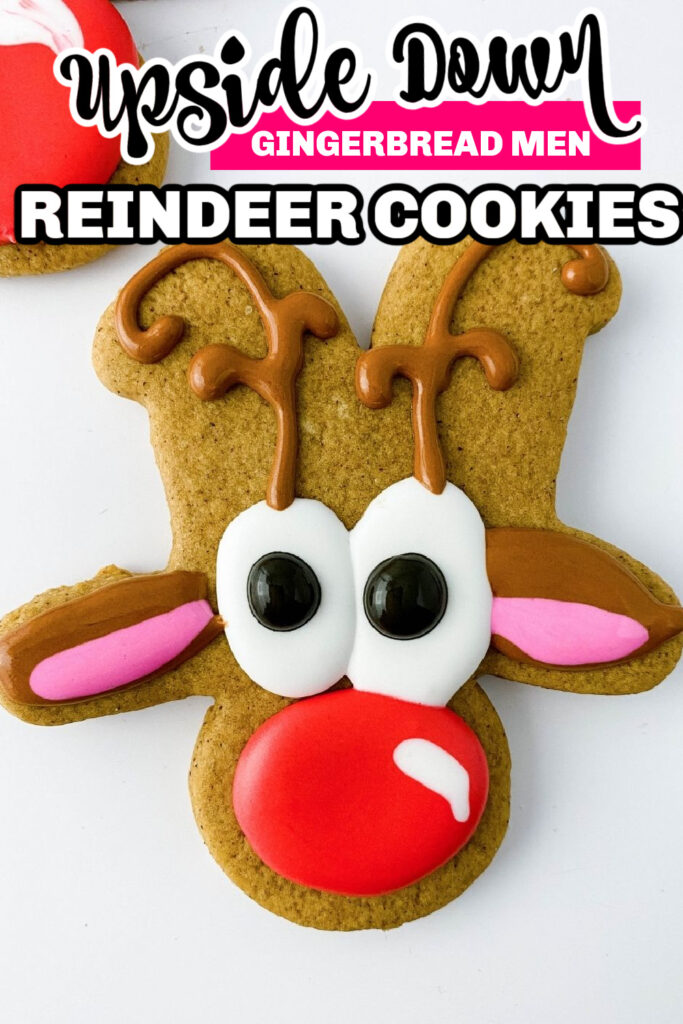 Reader Interactions