No Churn Pistachio Ice Cream is an easy pistachio ice cream recipe you can make without an ice cream machine. 4 ingredients is all that is needed for this creamy and sweet pistachio dessert.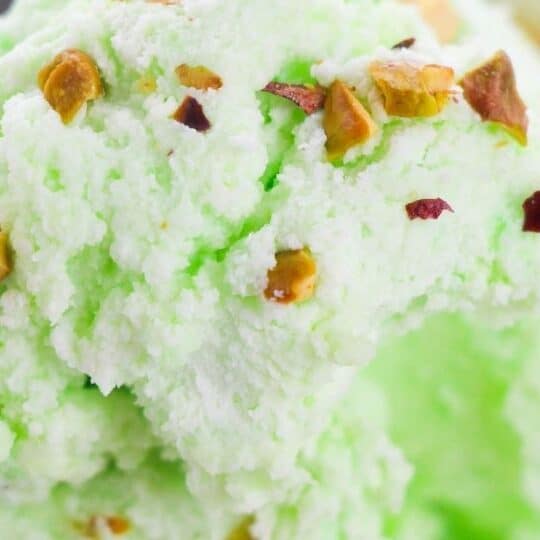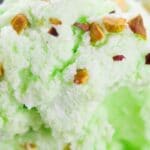 Pistachio ice cream is one of my favorite no-churn ice cream recipes. A creamy pistachio dessert that is studded with crunchy pistachios in each bite. A 4 ingredient DIY ice cream you can make without an ice cream machine.
This homemade pistachio ice cream is so easy, and you can make it with our without the nuts. Or toss in almonds to make it a pistachio almond ice cream instead.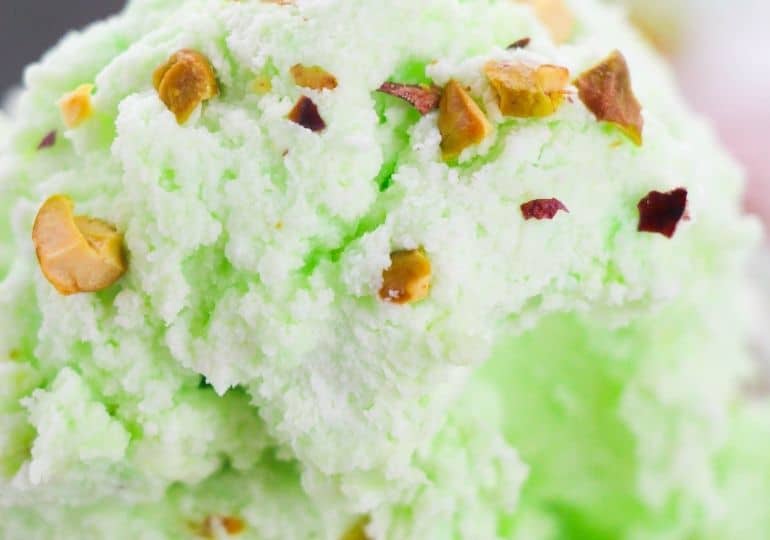 This Pistachio Ice Cream recipe is…
Sweet and creamy
Quick prep
Freezes well
Fast and delicious 
Made with just 4 easy ingredients 
The perfect way to chill down after a hot summer day
So much more flavorful than anything you can buy at the store! 
Ingredients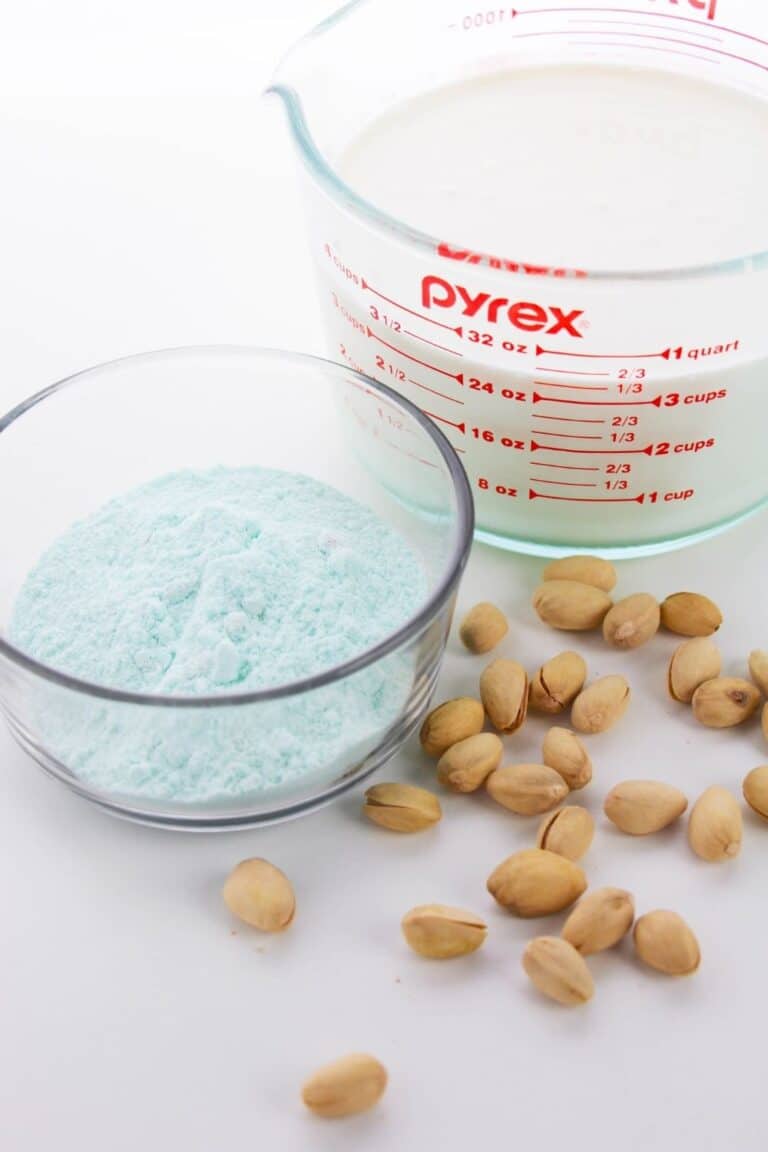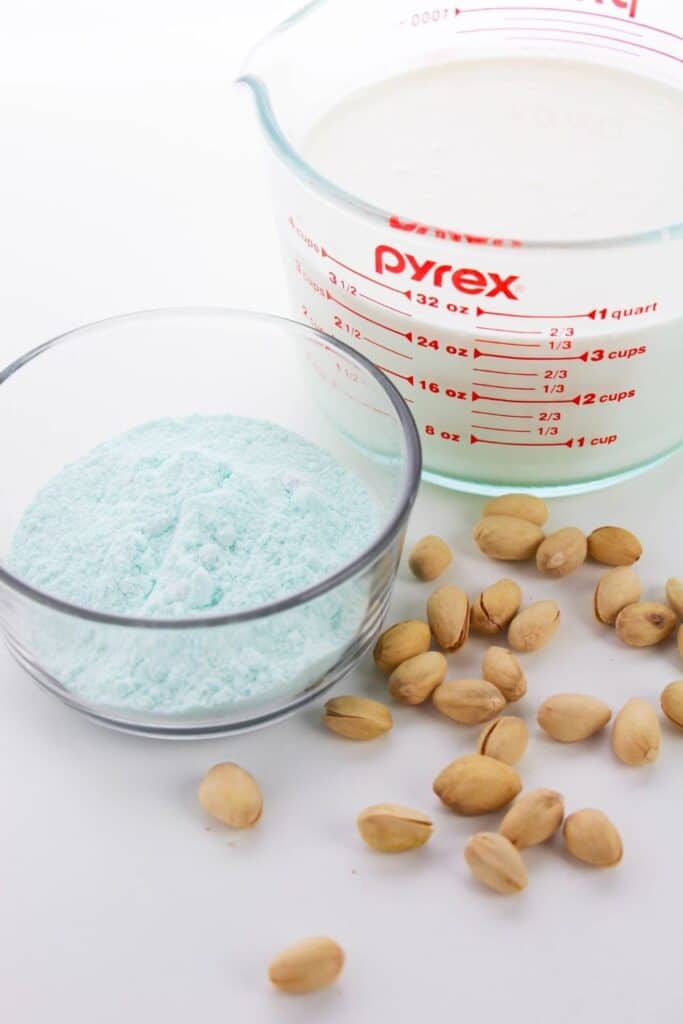 Heavy whipping cream
Sweetened condensed milk
Pistachio pudding mix
Crushed pistachios (optional)
Here are the ice cream ingredients. Know you can change up a few things to alter the flavor. Add in mint extract for a mint pistachio ice cream.
Or dice and toss in maraschino cherries for a cherry pistachio ice cream. You have wiggle room for creativity!
Supplies
How to Make Pistachio Ice Cream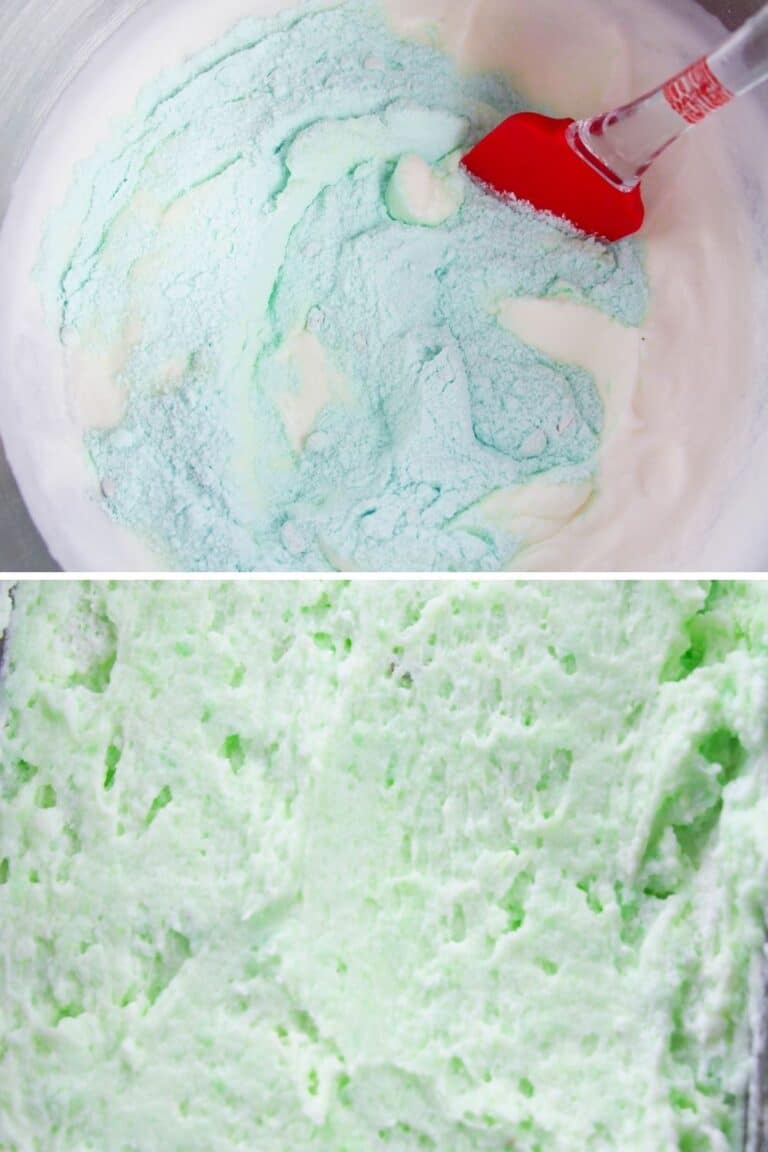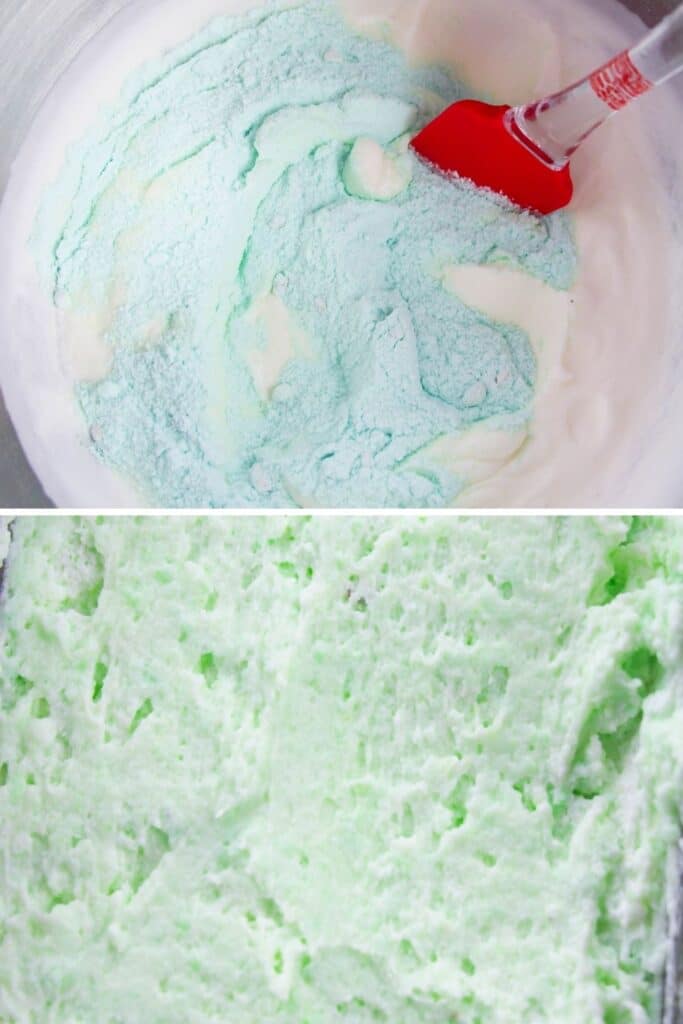 Step 1: Beat the whipping cream until soft peaks form. I find using a stand or hand mixer is key.
Step 2: Fold in the pudding mix and sweetened condensed milk, making sure it incorporated with the whipped cream.
Step 3: Stir in the crushed pistachios. This step is optional. I love the crunch of the nuts in the ice cream.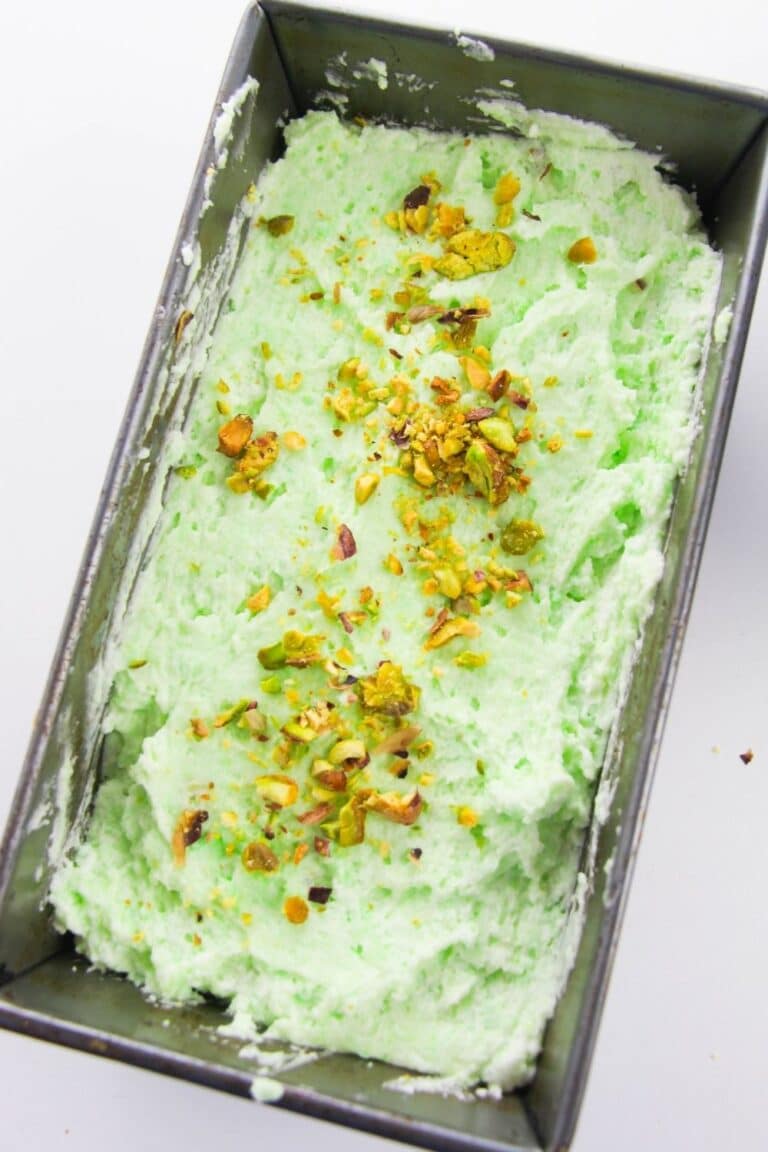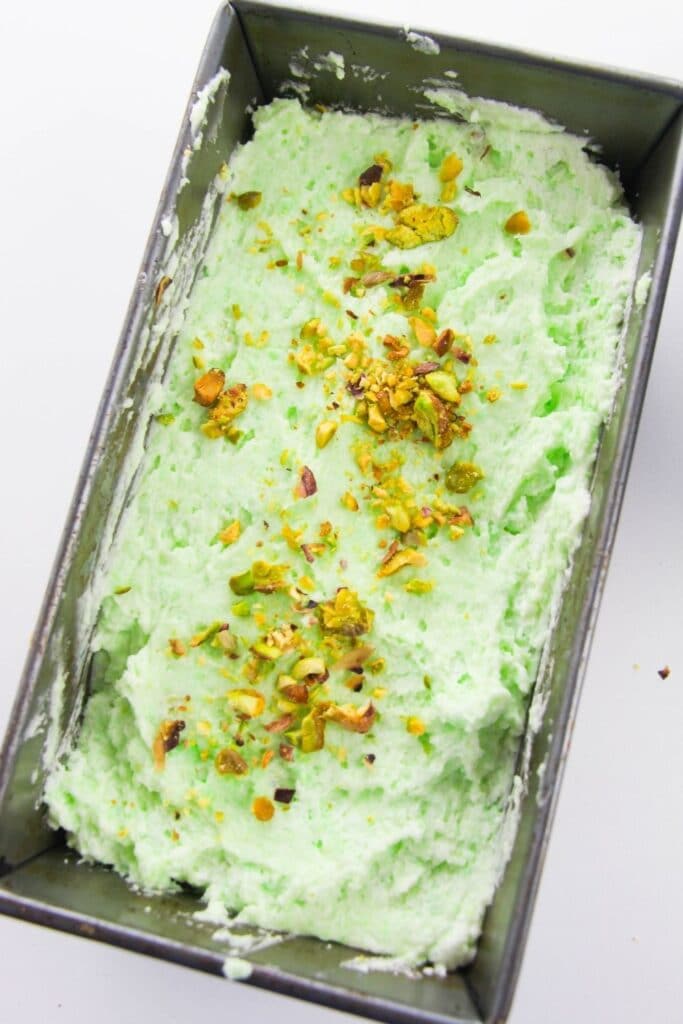 Step 4: Pop in the freezer for a minimum of at least 3 hours or until the no churn pistachio ice cream is set.
Expert Tips
The sweetened condensed milk adds sweetness and creaminess to the ice cream. To keep the ice cream less sweet and airy, skip the condensed milk.
Incorporating the ingredients well allows for even flavor over the ice cream.
An electric mixer is a must for this recipe to get those peaks to form! 
You can leave out the nuts if you want a creamy pistachio dessert.
Store in a proper container to prevent the ice cream from picking up odors in the freezer.
Placing plastic wrap over the container before placing the lid helps prevent ice crystals from forming on no-churn ice cream.
I promise you that once you realize how simple and easy it can be to make ice cream at home, your dessert world is going to change.
Keep in mind that this recipe comes together quickly but you do need to account for the time it needs to set up in the fridge.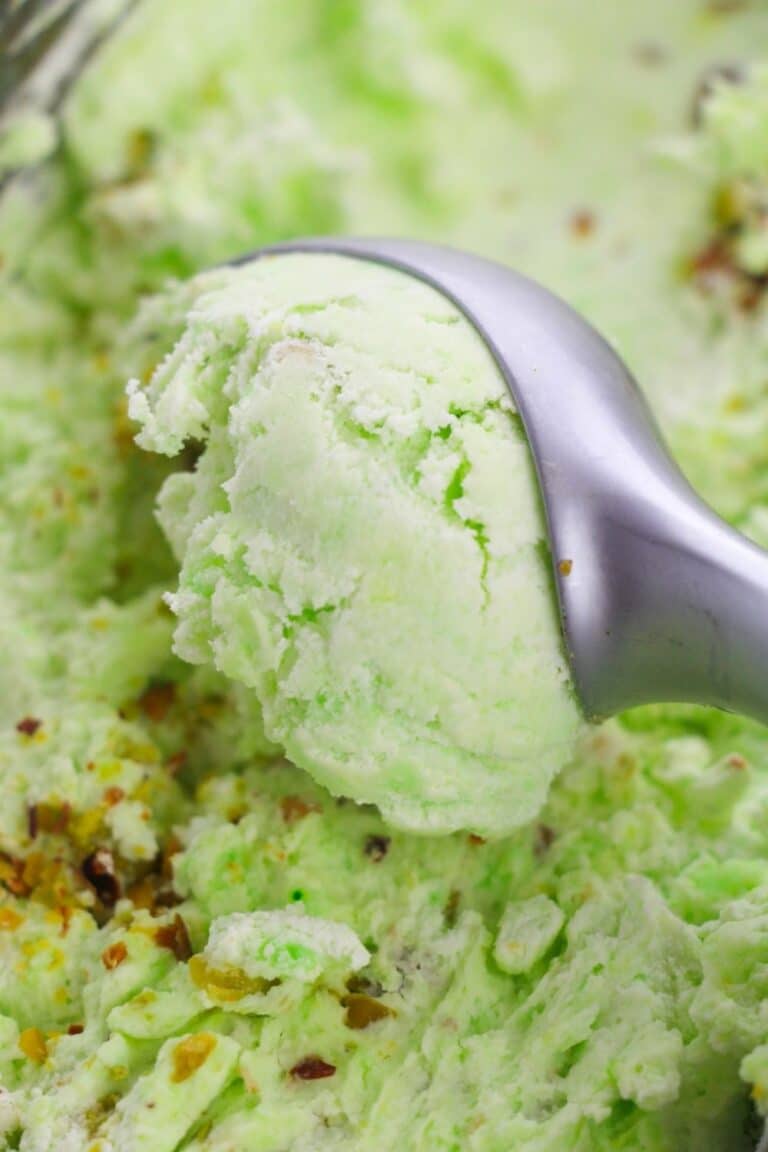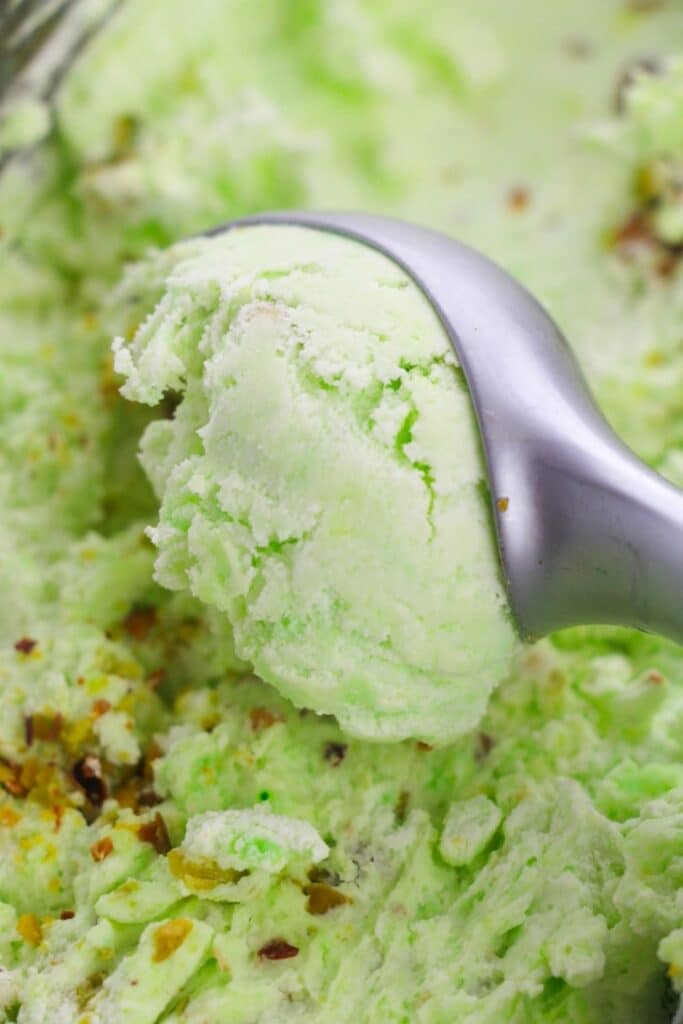 Toppings for ice cream
I could probably go on forever about this…but ice cream toppings are seriously the best. Some of my favorite toppings for ice cream are:
Crushed nuts
Chocolate chips of all flavors
Hot fudge
Caramel
Chocolate sauce
M&M's 
Gummy worms (yes, gummy worms)
Shredded coconut
Rice Krispie treats (seriously, it's so good!)
These are just a few of the toppings that you can always add on if you decide that you want to create even more of a sweet flavor and taste. Having an ice cream bar with fun toppings would be such a cute idea for this simple ice cream recipe, too!
Variations to Recipe
While this ice cream recipe is crazy easy, there are always a few ways that you can easily change it up.
Change out the flavor of the pudding! This opens so many doors for you to create ice cream of so many different flavors! Don't be afraid to change out the flavors and try and find one that you love.
You can always add in other types of crushed nuts or even some mini chocolate chips, too. Have fun because we all know that ice cream mix-ins and toppings are the best.
Recipe FAQs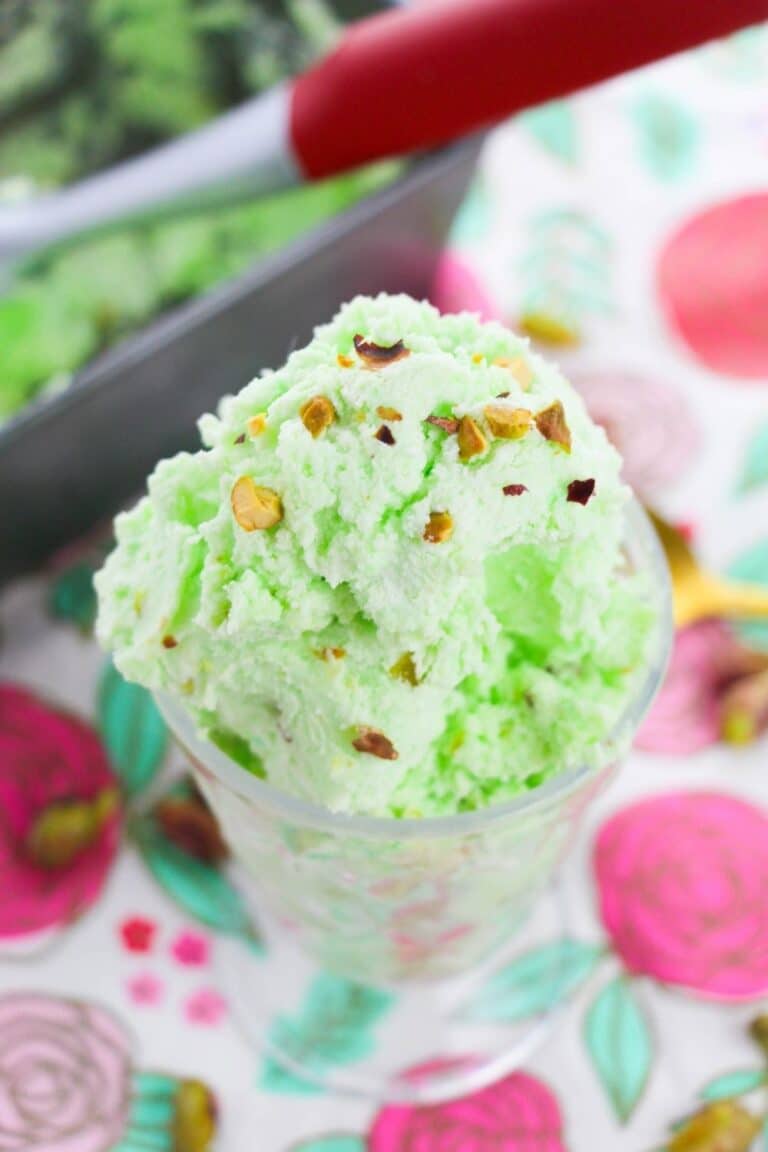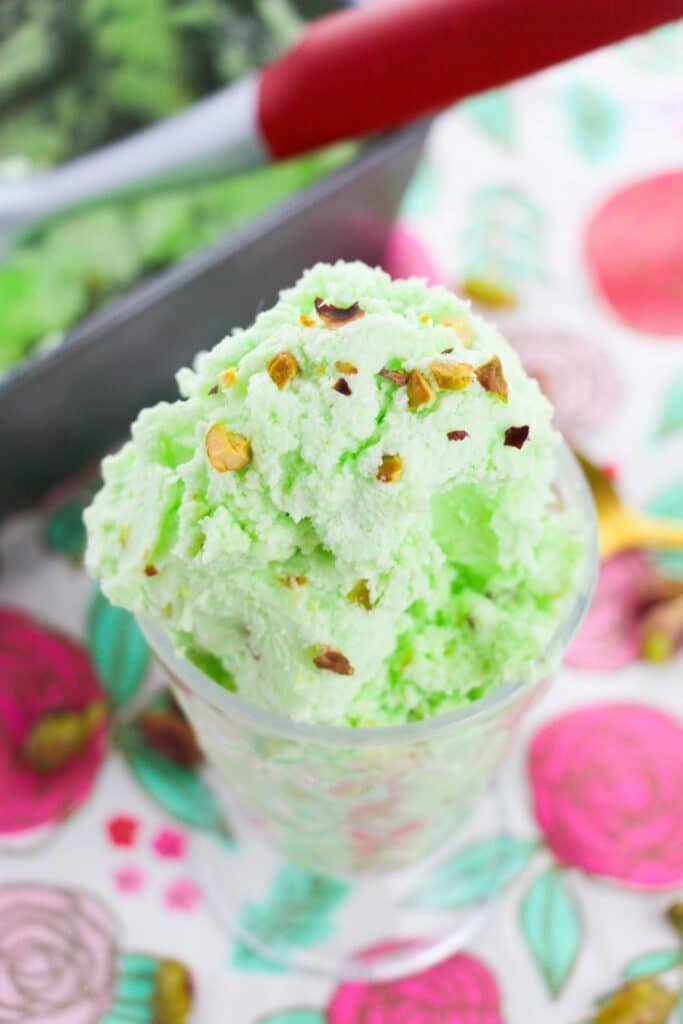 More Ice Cream Recipes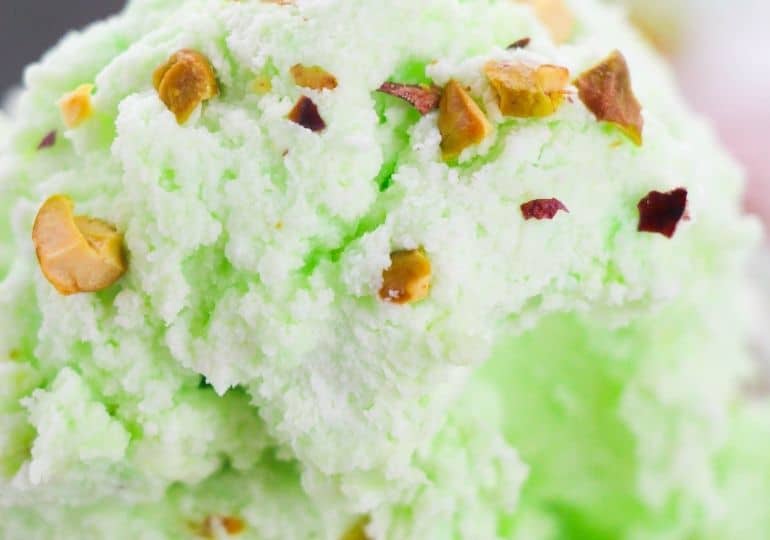 No Churn Pistachio Ice Cream
Servings 1 tub
No Churn Pistachio Ice Cream is an easy pistachio ice cream recipe you can make without an ice cream machine. 4 ingredients is all that is needed for this creamy and sweet pistachio dessert.
Ingredients
2 1/2 cups heavy whipping cream
1-10 oz can sweetened condensed milk to taste (optional)
1-3 oz package pistachio pudding mix
1/2 cup crushed pistachios
Instructions
Add your heavy cream into a bowl or stand mixer. Whip up the heavy cream until it forms soft peaks. This takes around 4-6 minutes.

Once the peaks are formed mix in the sweetened condensed milk and the pudding mix.

Fold in the ingredients and once mixed add in the nuts if you would like.

Pour the ice cream mixture into a loaf pan or ice cream container. Freeze for 3 hours or overnight.

Once the pistachio ice cream is set up, then serve and enjoy!
Notes
You can leave out the sweetened condensed milk. The condensed milk adds a lot of flavor and creaminess to the ice cream. To make it a lighter ice cream leave it out. The nuts are optional as well for this no churn pistachio ice cream. You can use a sugar free pudding mix, and then leave out the condensed milk to have a lower sugar dessert. Consider adding in almonds, diced maraschino cherries, or other mix-ins that you can enjoy for the ice cream. Or leave the ice cream like it is, for delicious ice cream. You can double the recipe if you want, just reach for a larger container or use two containers. Make sure that you whip the cream to soft peaks or it can make the ice cream not set up the way you want. Place plastic wrap over the top of the container before you place the lid. This will help prevent ice crystals on top of your ice cream.
Nutrition
Serving: 1gCalories: 232kcalCarbohydrates: 16gProtein: 4gFat: 17gSaturated Fat: 10gPolyunsaturated Fat: 6gCholesterol: 50mgSodium: 64mgSugar: 15g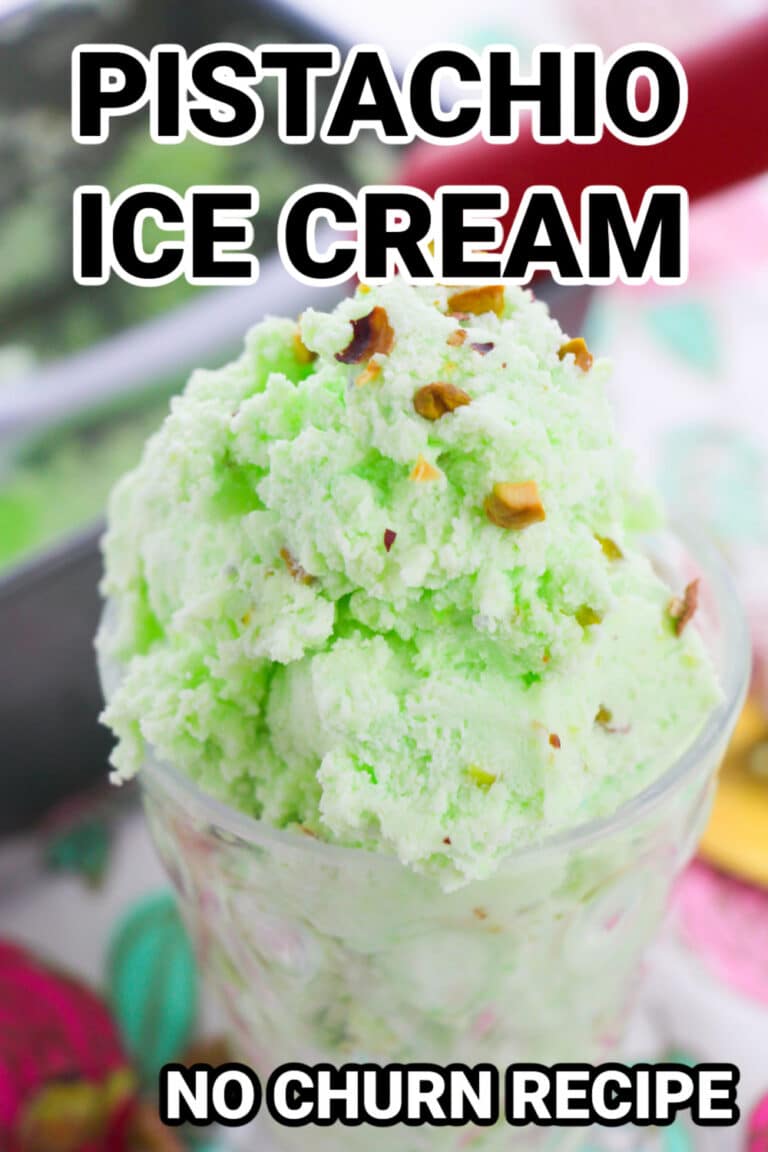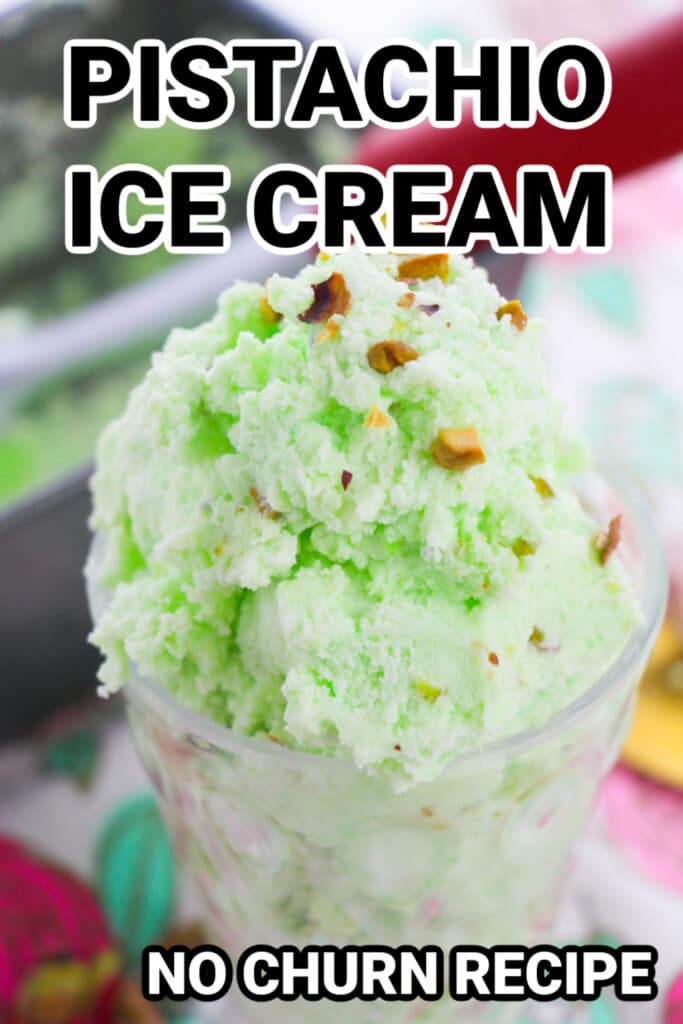 Reader Interactions