Instant Pot Chicken Lo Mein is a quick and easy weeknight dinner idea. Serve up this pressure cooker lo mein any day of the week, and skip takeout.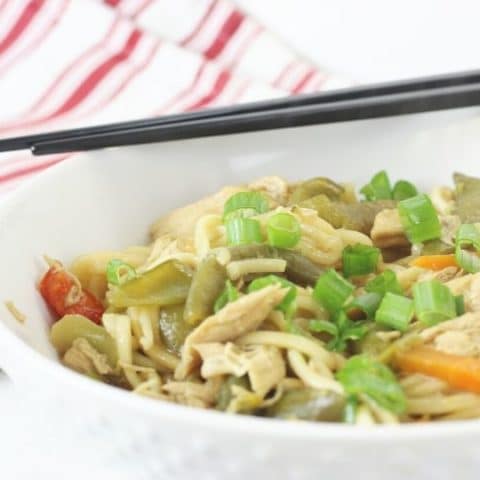 Instant Pot Chicken Lo Mein is a quick and easy pressure cooker Lo Mein recipe that is incredible.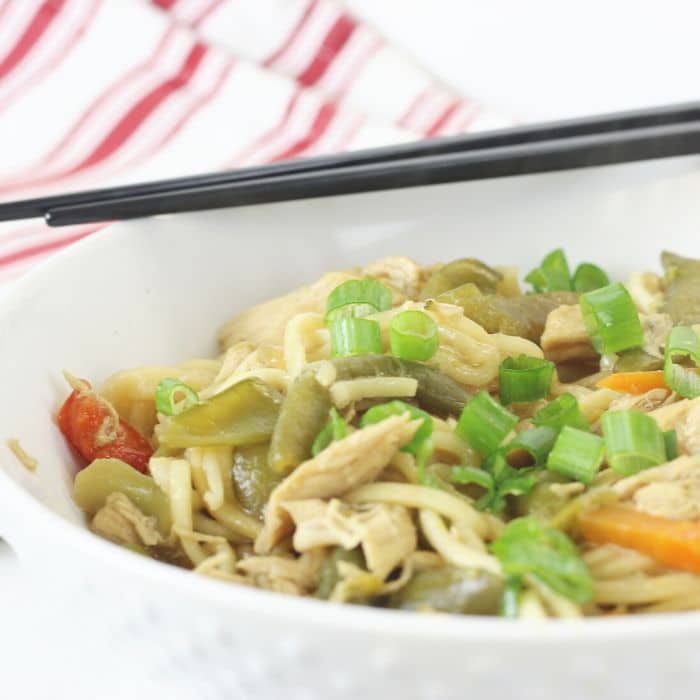 So when I made this I cooked my veggies at the same time as the chicken. Next time I will stir vegetables in at the end so they stay somewhat crisp.
Instant Pot Chicken Lo Mein
I used a homemade sauce that really gave these noodles, chicken and veggies a lot of flavor.
Even my picky husband gobbled it right up.
Frozen Vegetable Blend
For this recipe, I reached for a bag of frozen veggies. Snap peas, broccoli, water chestnuts, peppers and more.
It saved a ton of time on prep and tasted fantastic. So if you really want easy this recipe is it.
What Type of Chicken to Use For Lo Mein
For my Chicken Lo Mein, I used frozen shredded chicken. I wanted to utilize the chicken I batch cooked a few weeks back.
It made Cook time a breeze and the chicken was so flavorful.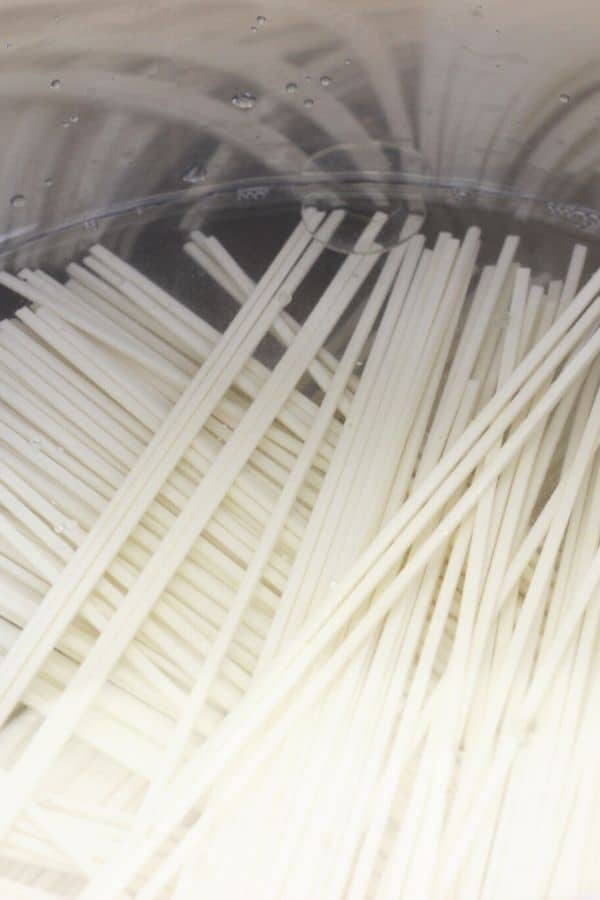 How To Prevent Lo Mein Noodles From Sticking in Pressure Cooker
When you lay your noodles in the pot make sure to fan out the pasta. Also make sure that all the pasta is covered in water.
Can I Substitute Lo Mein Noodles
Of course you can substitute Lo Mein Noodles in this recipe. Reach for spaghetti noodles instead. They work just as good.
I used Lo Mein for something different and new. I really like how they soaked the marinade up as if cooked.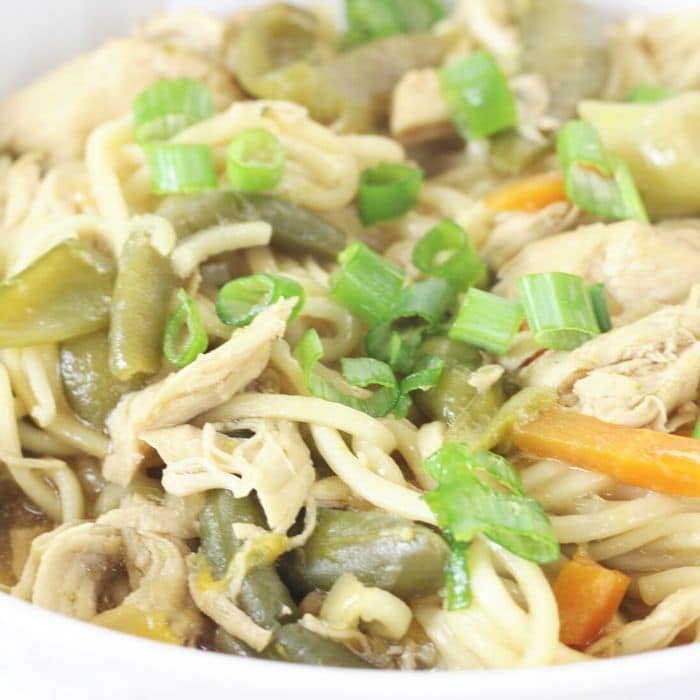 What Vegetables To Use For Lo Mein
You can use any that you want. I grabbed a bag of frozen with broccoli, snap peas, carrot sticks, water chestnuts, etc.
You are welcome to use any veggies that you like! I just picked this mix cause I knew my family would like it. Can I Use Fresh Veggies For Instant Pot Lo Mein
Of course! I made my Lo Mein into a freezer meal so that is why I reached for frozen. I wanted easy and quick.
But feel free to whip up and prep fresh vegetables for your Lo Mein. You can use any that you like.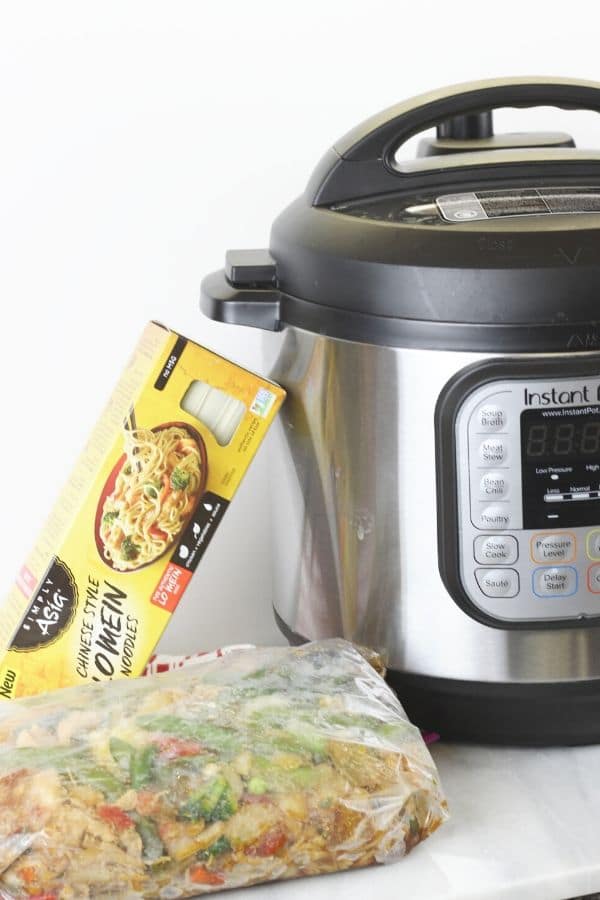 Instant Pot Freezer Meal Lo Mein
I used shredded chicken that was precooked, made my marinade and tossed it all in the bag. You can store chicken Lo Mein in the freezer for up to three months.
I found that tossing veggies in at the end on sauté will keep them crispier. I originally put all contents in to be cooked.
If you like crisper veggies do sauté mode after you pressure cook chicken. Chicken lo mein instant pot recipe is so versatile on ingredients you use.
How To Make This Instant Pot Lo Mein A Freezer Meal
Grab a freezer bag and toss in a pound or a pound and a half of shredded pre-cooked chicken.
Add all the ingredients except chicken broth into the bag.
Choose to put veggies in or leave them out. If you put in with chicken now it will pressure cook making them tender. Or leave the bag of veggies separate to sauté once done pressure cooking.
Then freeze for up to 3 months!
How to Cook Chicken Lo Mein From Frozen
Dump the frozen bag of chicken in instant pot. Add in liquid.
Pressure cook 5 minutes and do a quick release.
If you add veggies in now then to sauté and dump the bag of frozen veggies and heat until they are warmed.
See how easy this Instant Pot Chicken Lo Mein freezer meal is!

Do I Have to Cook Lo Mein Longer From Frozen
No, it will just take your pressure cooker longer to come to full pressure and begin cooking. Lo mein in instant pot whether frozen or fresh is rather fast.
It will thaw the mixture almost fully before it begins cooking. It took around 15-20 minutes for my 6 quart to come to pressure.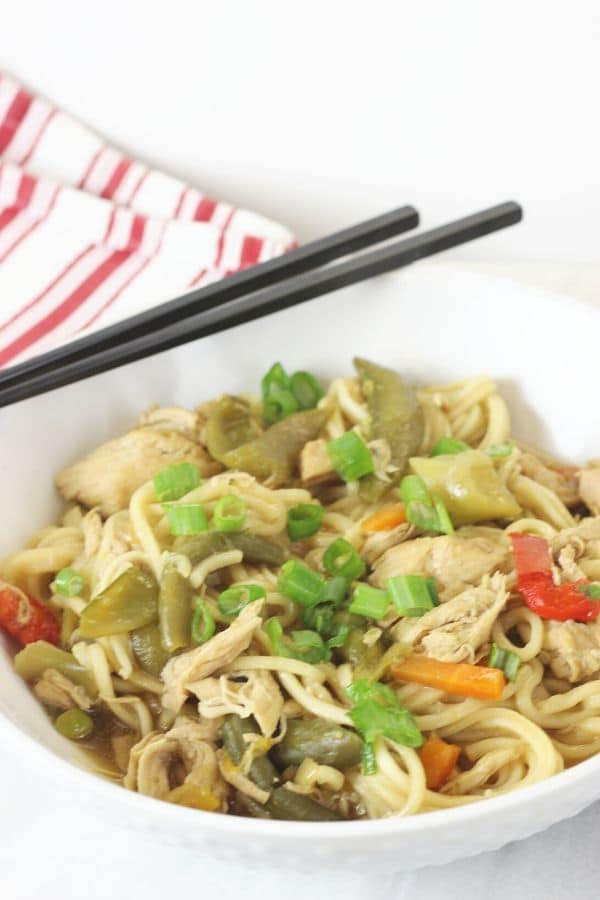 How To Serve Pressure Cooker Lo Mein
I added some slivers of green onions and tossed mixture in a bowl! This was our meal, with a drizzle of soy sauce or teriyaki sauce on top.
My husband loved doing teriyaki sauce on top of the noodles. This has become an instant pot chicken recipe family favorite.
Looking for more freezer friendly Instant Pot recipes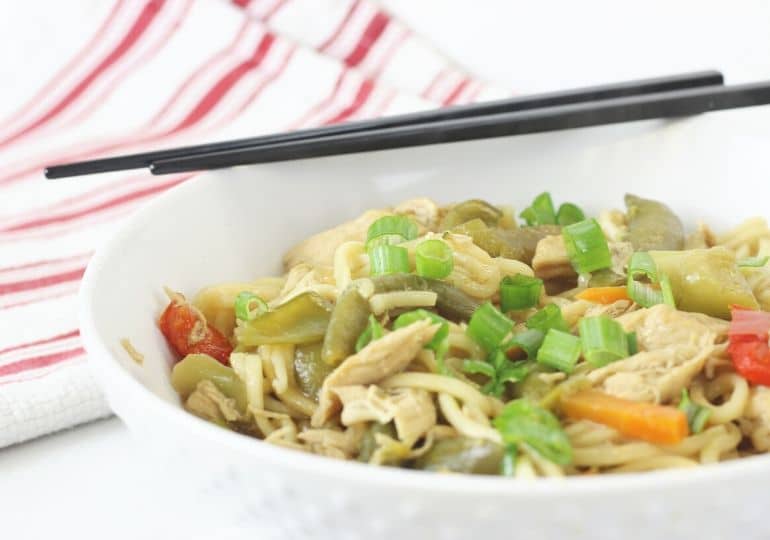 Instant Pot Chicken Lo Mein
Servings 6 servings
Instant Pot Chicken Lo Mein is a quick and easy weeknight dinner idea. Serve up this pressure cooker lo mein any day of the week, and skip takeout.
Ingredients
1 lb or 1 1/2 lb shredded pre-cooked chicken
1 tablespoon minced garlic
2 tablespoons oil
1/2 cup onion chopped
1 tablespoon brown sugar
3/4 cup soy sauce + extra for drizzling on top at end
7 ounces Lo Mein Noodles
1 Bag frozen stir fry veggies
3- 4 cups water or chicken stock
Green Onions for Garnish optional
Instructions
Add your oil to the bottom of the instant pot.

Lay out your noodles, fanning them as you lay them out. Pour water or chicken stock over the noodles just enough for them to be fully covered.

Add in your shredded chicken, soy sauce, and all the other ingredients.

Seal and cook on high for 5 minutes with a quick release.

If you wait to add in veggies for a firmer veggie, once you released pot, pour in frozen vegetables and turn the instant pot to saute. Then heat until the vegetables are fully cooked to your liking.
Notes
FREEZER Meal Instructions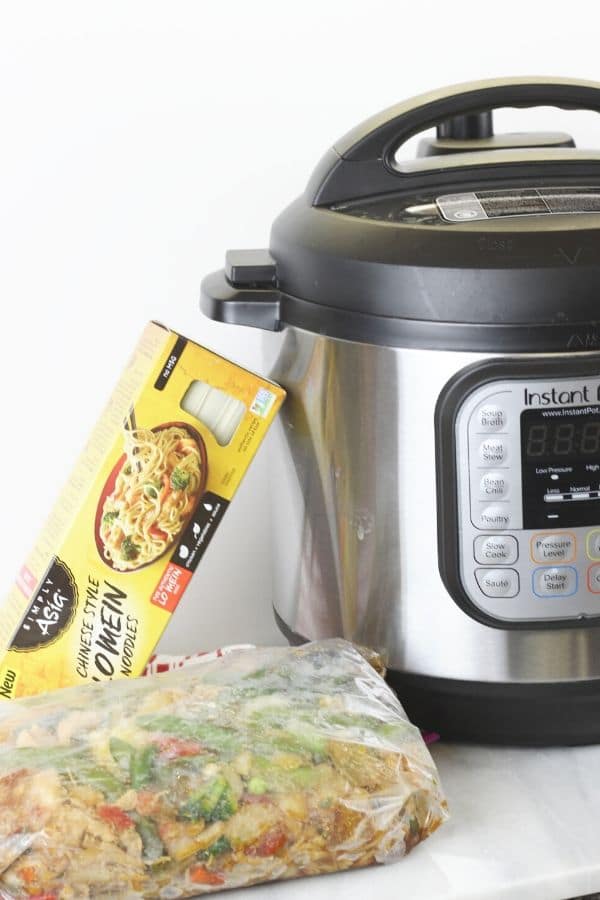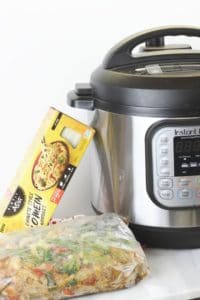 Put all contents (but noodles, water or stock, and oil) into a freezer bag. You can add in veggies or leave them separate.
Freeze for up to three months.
When ready to cook, add oil to bottom of pot. and then fan out the lo mein noodles.
Pour water or stock in just enough to fully cover the noodles.
Place chicken mixture on top, seal and cook for 5 minutes, with a quick release.
Now toss in your veggies and turn Instant Pot to saute and heat until warmed and cooked to your preference.
Nutrition
Serving: 1gCalories: 409kcalCarbohydrates: 17gProtein: 34gFat: 23gSaturated Fat: 5gPolyunsaturated Fat: 16gCholesterol: 108mgSodium: 2204mgFiber: 2gSugar: 5g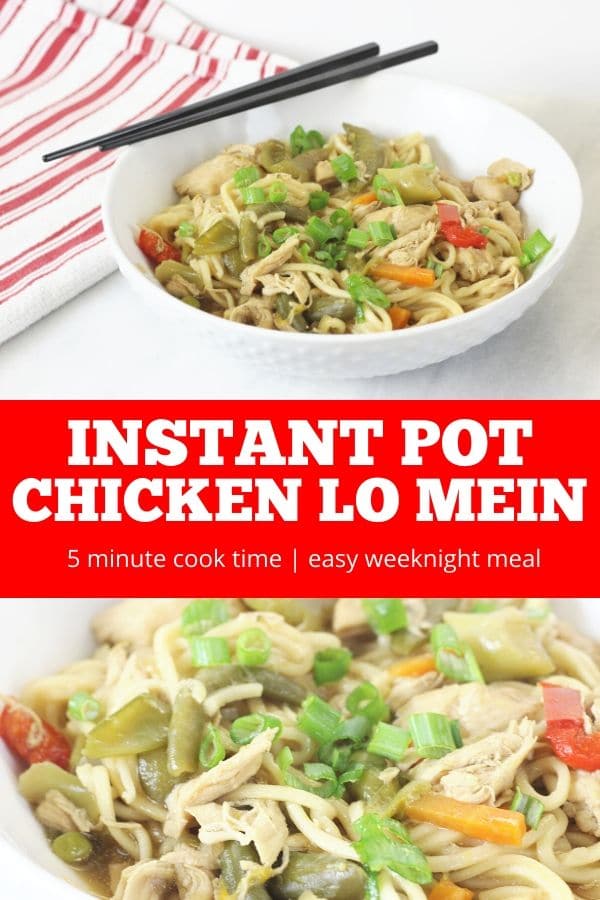 Reader Interactions