Frankenstein Cupcakes in A Jar are a fun and easy Halloween cupcake recipe. Green cupcakes, purple buttercream, and a Frankenstein Rice Krispies Treat!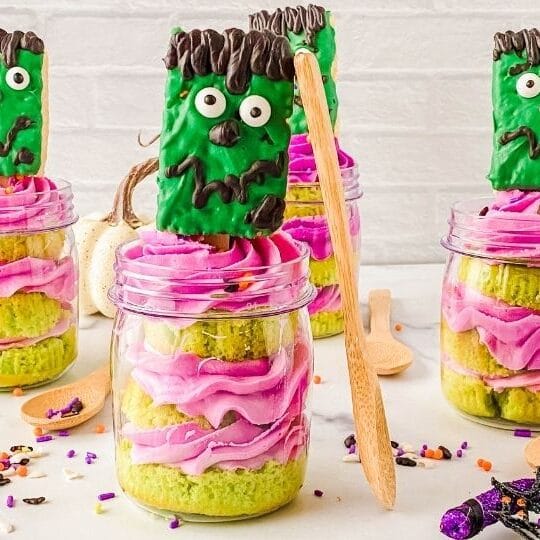 These Frankenstein cupcakes are a scary easy Halloween cupcake recipe that is kid-friendly and full of Halloween spirit. A dressed up box cake mix, that is paired with a homemade buttercream frosting, and a Frankenstein Rice Krispies treat.
This is an easy Halloween cupcake idea that is easy to assemble and the Frankenstein topper is so fun!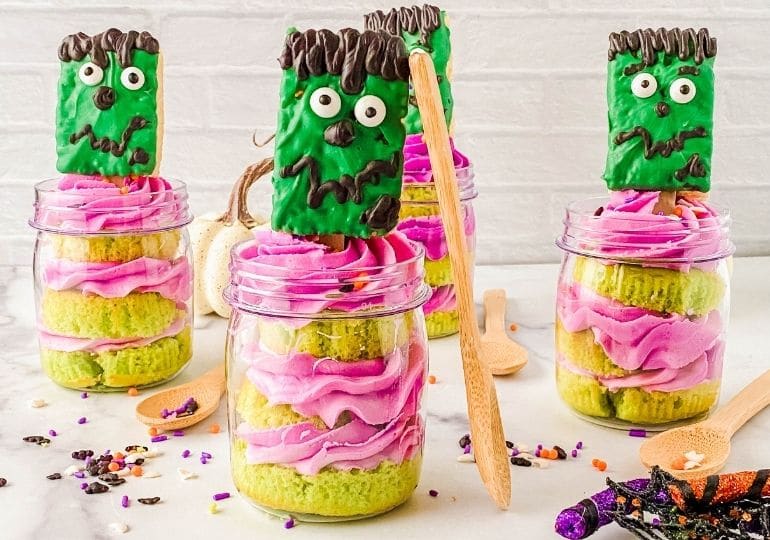 This is a fun cute Halloween cupcake that is great for kids, Halloween parties, or take as a Halloween dessert to a party.
Why This Is A Popular Cupcake Recipe
Dress Up Boxed Cake – I share how to dress up a boxed cake mix to make it taste like a bakery cupcake! So easy, simple ingredients but a big payout in flavor.
Bright and Colorful – Aren't you just drawn to bright and colorful cupcakes. A Frankenstein green cupcake with a sweet pinkish purple frosting. Eye catching and it tastes even better than it looks.
Cupcake in a Jar – Now you can do a cupcake in a jar like I did for a fun and creative way to serve up your cupcakes!
Expert Tip: You can easily make homemade cake mix, but I find dressing up boxed saves time and tastes just as delicious.
Ingredients Needed
Frankenstein Treats – Here is the tutorial on how to make Frakenstein Rice Krispies treats.
Cake Mix – White cake mix is what I used.
Eggs
Water
Vanilla Extract – Adds a pop of flavor to the cake.
Neon Green Gel Food Coloring – A bright way to dress up the cake mix is neon food coloring, to give it that monster Halloween cupcake feel.
Butter – you will use this for the buttercream frosting
Powdered Sugar
Electric Purple Food Coloring – This is going to be used for making the buttercream frosting nice and vibrant.
Halloween Sprinkles – If you want you can easily sprinkle on some Halloween sprinkles to dress up the cupcakes in a jar even more.
How to Make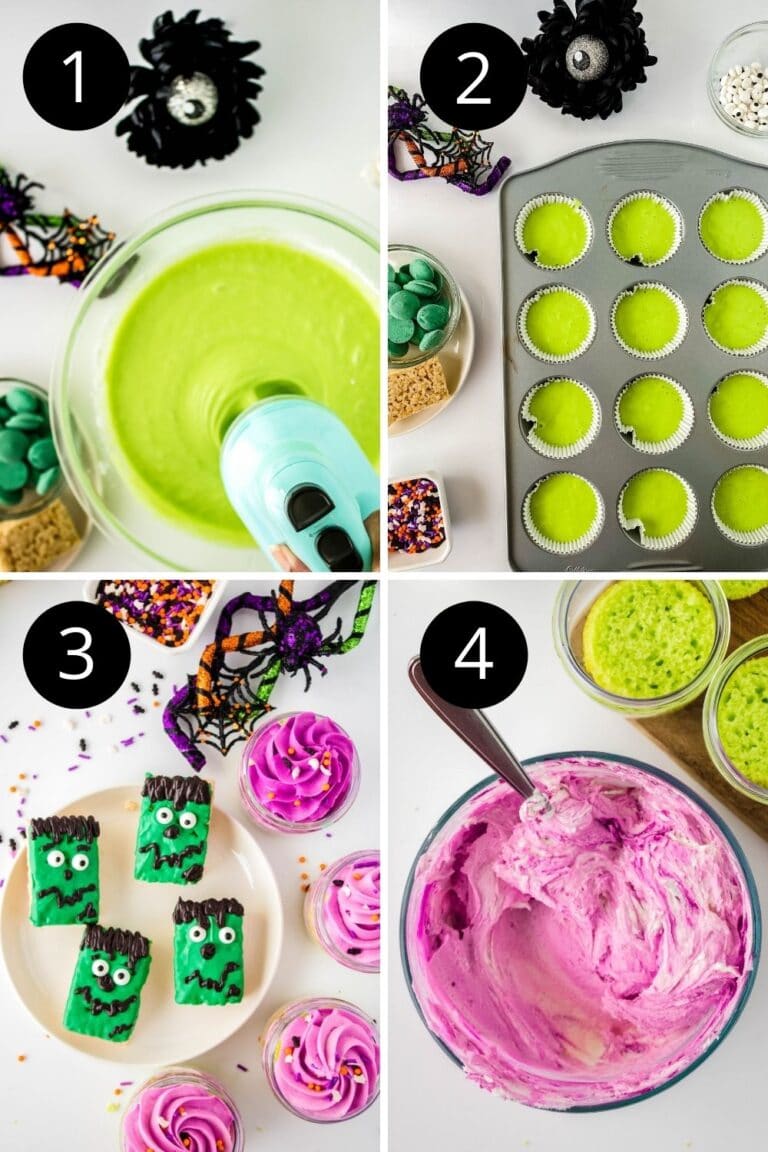 Step 1: Start by preheating the oven and place liners in the cupcake pan. Then mix up the cake mix and add in the 1 teaspoon of vanilla to the cake mix. This dresses up the flavor.
Step 2: Pour the batter into the cupcake tin around 3/4 the way full. Bake for 15-18 minutes or until the cupcakes are done. Let cool completely.
Step 3: Work on making your Frankenstein Rice Krispies, directions are here.
Step 4: Once cupcakes are cooled work on the buttercream frosting. Beat butter on medium heat with a hand mixer, until fluffy.
Work in the powdered sugar, a little at a time. Then add in the vanilla and milk, to thin out the frosting.
Add in the neon purple food coloring. I did 2 drops of the Neon purple. Beat for 5 minutes until super silky.
Place the frosting in a piping bag, with a 1M or 2D piping tip.
How to Assemble Halloween Cupcakes
Step 5: Remove the cupcake from the liner, and slice in half.
Step 6: Place half the cupcake in a jar, upside down. Just keep it on the bottom of the jar.
Step 7: Add a layer of frosting. Make sure to apply even pressure the whole time as you create your circle.
Step 8: Top with the other half of the cupcake and repeat the frosting on top. Then add one more cupcake, and repeat frosting again.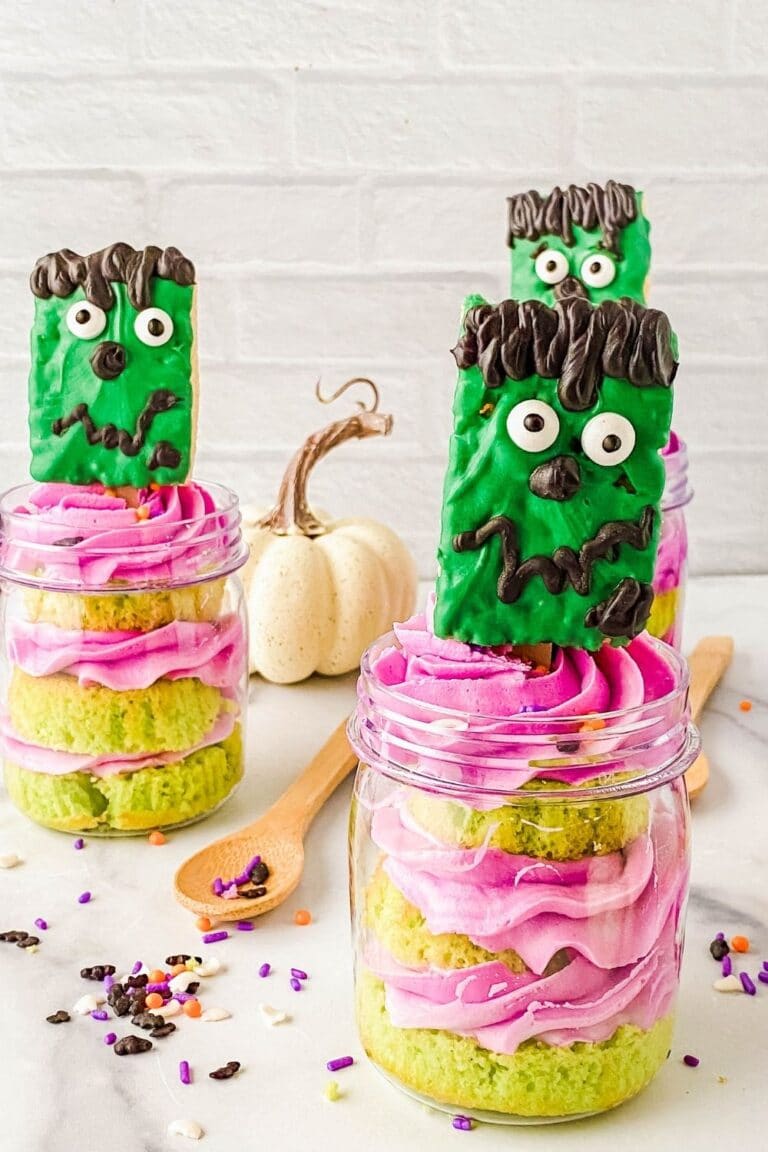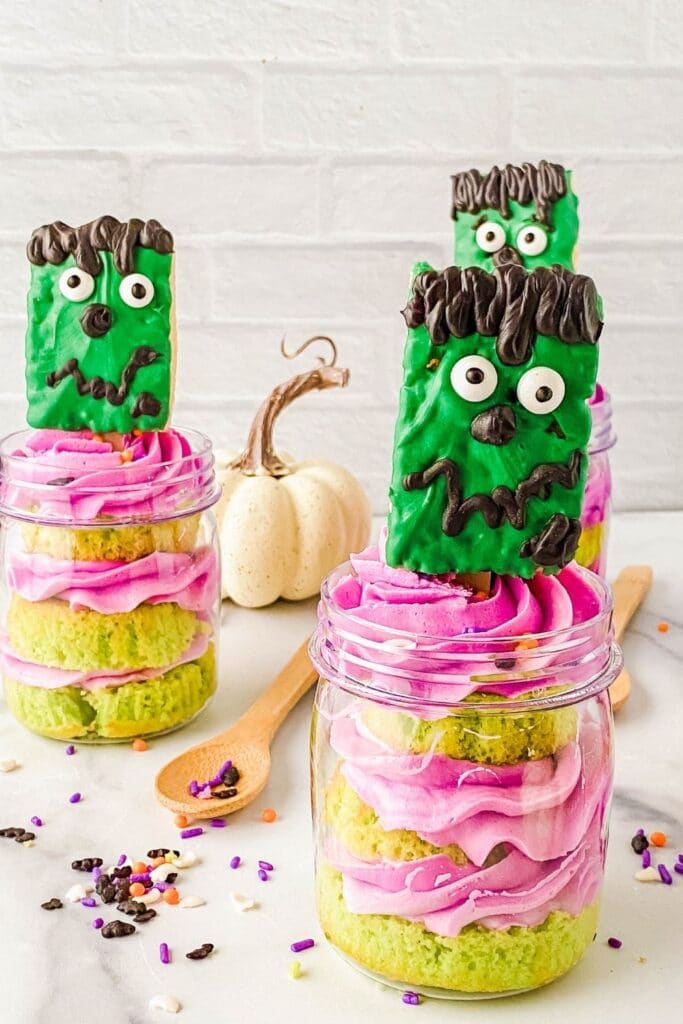 Step 9: Place the Frankenstein on the center of the jar, for a Frankenstein cupcake in a jar treat.
Expert Tips
Helpful tips for DIY Halloween cupcakes and Halloween cupcake decorations tricks.
You want 3 layers of cupcakes in each jar, with a layer of frosting in between.
Top your cupcakes with a store bought treat if you don't want to make the Frankenstein.
Use even pressure when you make the circle of frosting between the layers.
Gently sit the cupcake on top of the frosting, try not to push down and smoosh the frosting.
Add Halloween sprinkles in the layers of cake and frosting if you want added texture and color.
Store these cupcakes in an airtight container until ready to serve, so you don't dry out the cupcakes.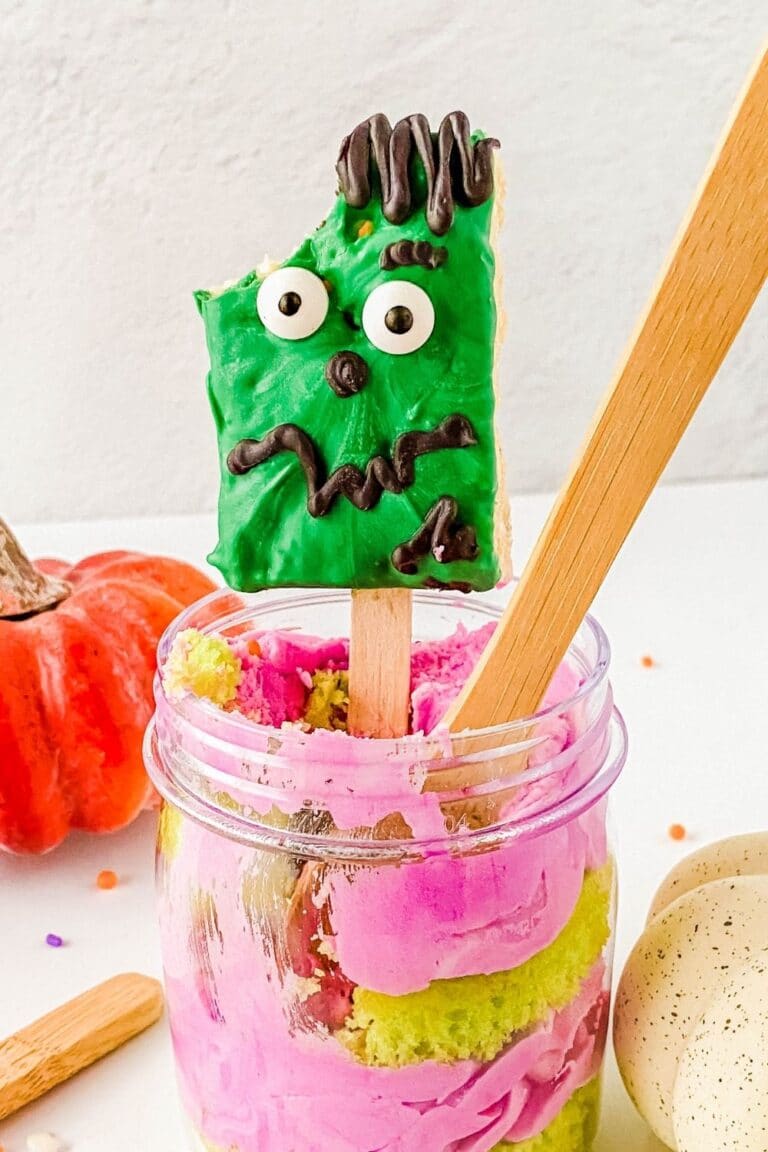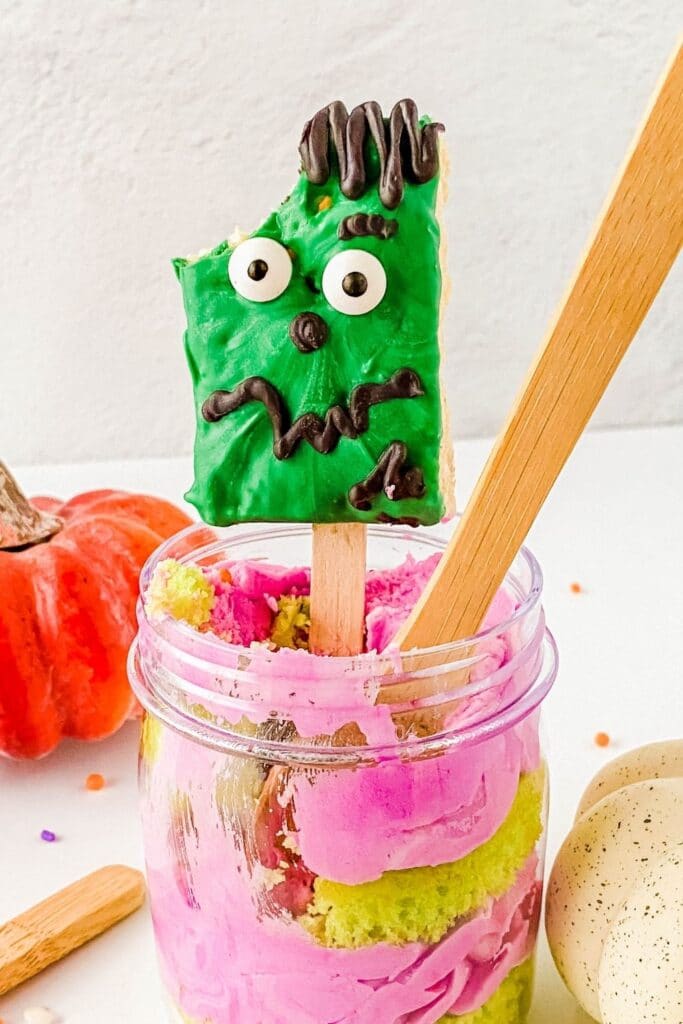 Variations To Recipe
Use homemade cake batter instead of boxed cake if you want.
Color the cake mix any color you want.
Same for the frosting, choose any color of frosting. I find neon colors work the best in terms of food coloring.
You do not have to top the cupcakes with the Frankenstein if you don't want, I just love the way it looks.
Add on fun Halloween candy to dress up and give as optional Halloween cupcake toppers.
You can use chocolate cake instead of white cake if you want.
Recipe FAQs
Here are a few helpful tips for these silly scary Halloween cupcakes! A simple frankenstein cupcake recipe.
How long to bake cupcakes at 350 degrees?
I baked my cupcakes at 350 degrees for 15-18 minutes. You can stick a toothpick in the center of the cupcake to feel if they are baked. No wet batter will be on the toothpick when you pull it out.
Can you freeze cupcakes?
Go right ahead and freeze the cupcakes if you want. You can freeze them before you slice and assemble them in a jar. Or after, just place lid on the jar and leave of the Rice Krispies treat, or place the whole treat in an airtight container.
Cupcakes will freeze 3-4 months. Thaw in the fridge in an airtight container in the fridge.
Do you need to refrigerate buttercream frosting?
Buttercream frosting does need to be refrigerated, otherwise it will begin to break down.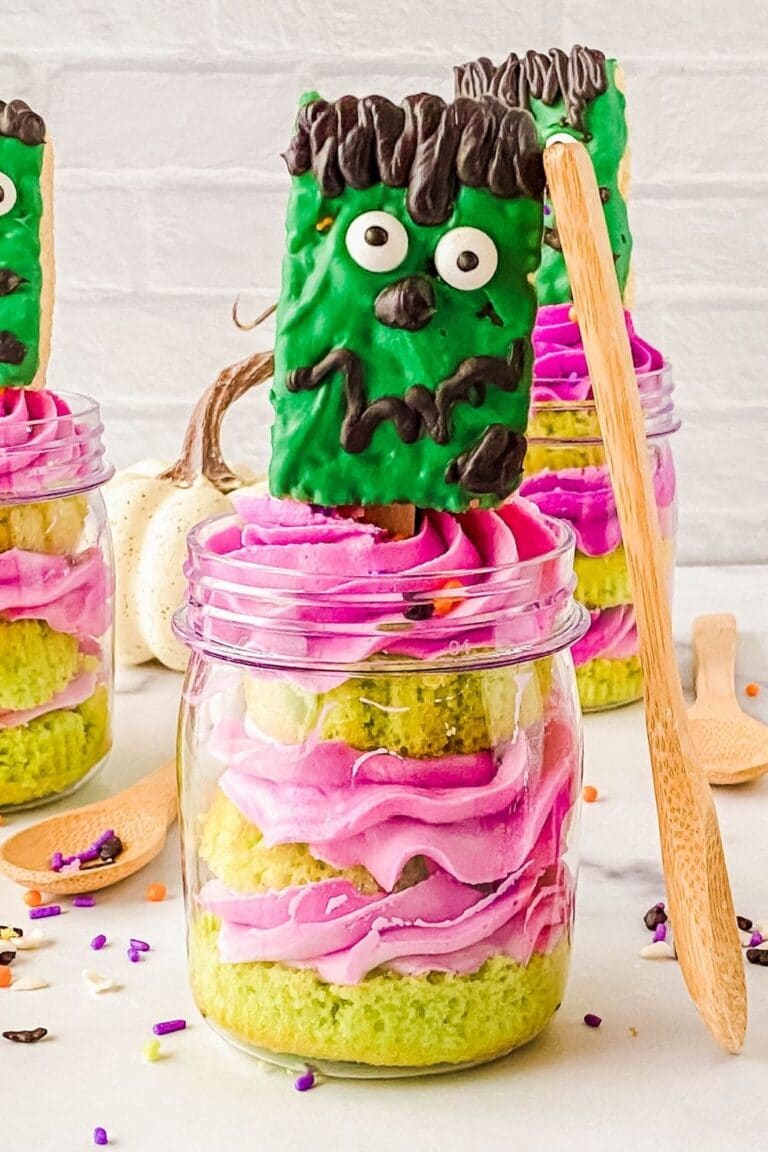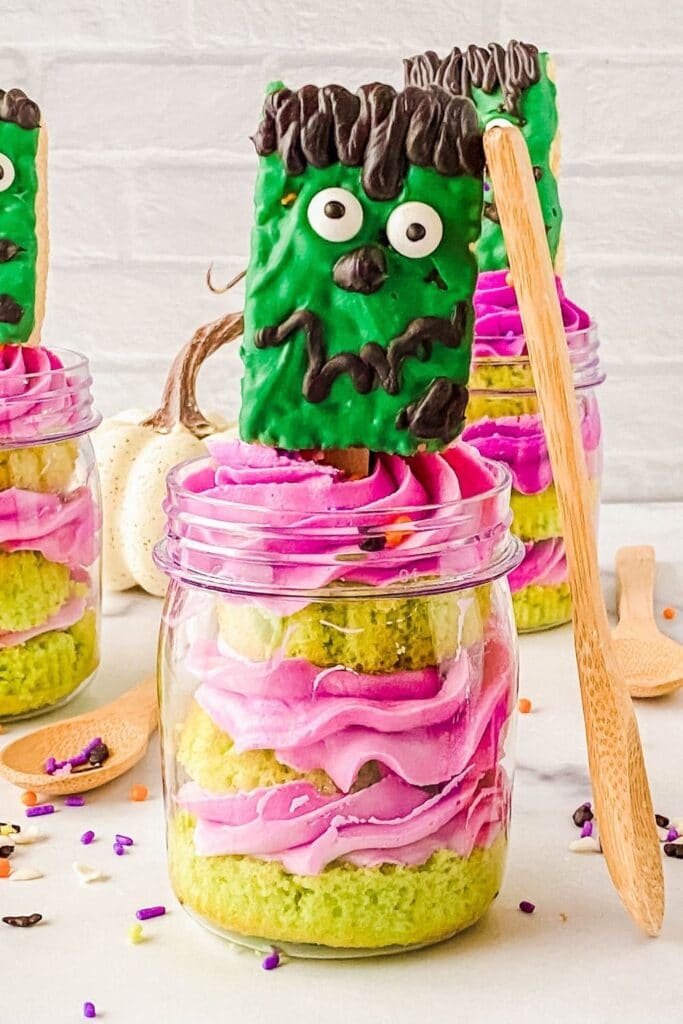 Related Recipes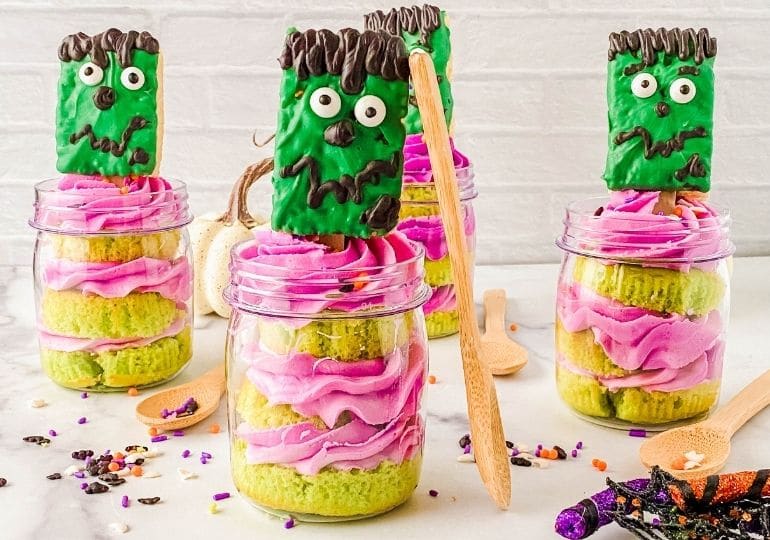 Frankenstein Cupcakes in A Jar
Servings 16 jars
Frankenstein Cupcakes in A Jar are a fun and easy Halloween cupcake recipe. Green cupcakes, purple buttercream, and a Frankenstein Rice Krispies Treat!
Ingredients
16 Frankenstein Rice Krispies tutorial Here
Cake Mix Ingredients
1 box white cake mix 15.25 oz
3 Eggs
1 Cup water
1 teaspoon vanilla
2 drops Neon green gel food color
Buttercream frosting Ingredients
2 cups butter softened
5 cups powdered sugar
2 teaspoon vanilla
1-2 drops neon purple food coloring
Instructions
Preheat the oven to 350 degrees, and line you cupcake pan with liners. Mix up the cupcake batter. Cake mix, water, egg, and vanilla. Then color with food coloring.

Pour the batter 3/4 the way full, and then bake 15-18 minutes until they are fully cooked. Then allow to cool on cooling rack until fully cooled.

While cupcakes are cooling I made the Frankenstein Rice Krispies treats.

Then in a bowl you will work on your buttercream. Beat your butter on medium speed for a few minutes until fluffy. Then slowly mix in the powdered sugar.

Add in the vanilla and milk and beat till it is incorporated. It takes around 2 minutes.

Add in the food coloring, and create the desired color you want. Then beat for 5 minutes or until super silky.

Put the frosting in a piping bag and then use a 1M or 2D piping tip.

To assemble the cupcakes, slice cupcakes in half. Place one half of the cupcake in a jar.

Squeeze a circle of frosting on top, and then add another half of cupcake, more frosting, then cupcake, and then top with frosting.

Stick your Frankenstein Rice Krispies pop in, and add sprinkles if you want.

Serve up these Frankenstein cupcakes in a jar!
Notes
I recommend using a piping bag as it allows more control than a Ziploc bag.
Color the cake mix and the frosting to your desired color. I prefer neon food coloring for this recipe.
Sprinkles are optional.
You want 3 layers of cupcake and 3 layers of frosting in each jar.
You can use homemade cake batter instead of boxed if you want.
Store in an airtight container until ready to serve.
Nutrition
Serving: 1gCalories: 480kcalCarbohydrates: 62gProtein: 4gFat: 25gSaturated Fat: 15gPolyunsaturated Fat: 8gTrans Fat: 1gCholesterol: 96mgSodium: 365mgSugar: 38g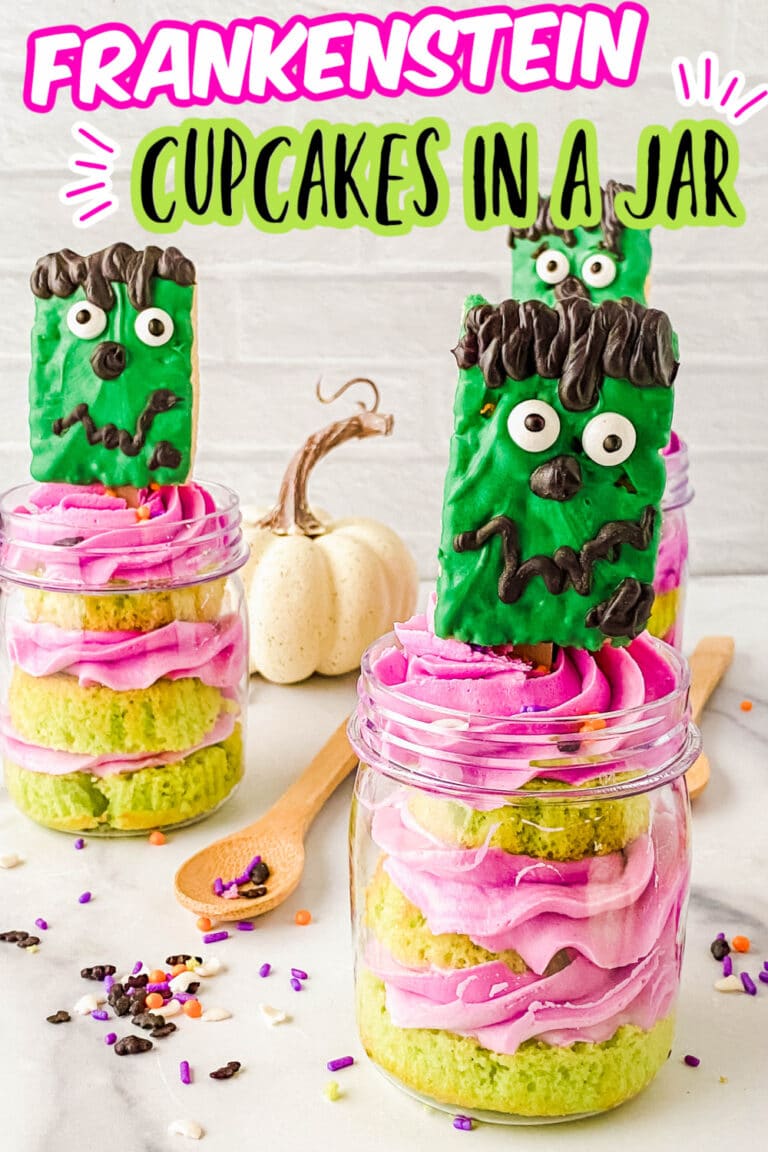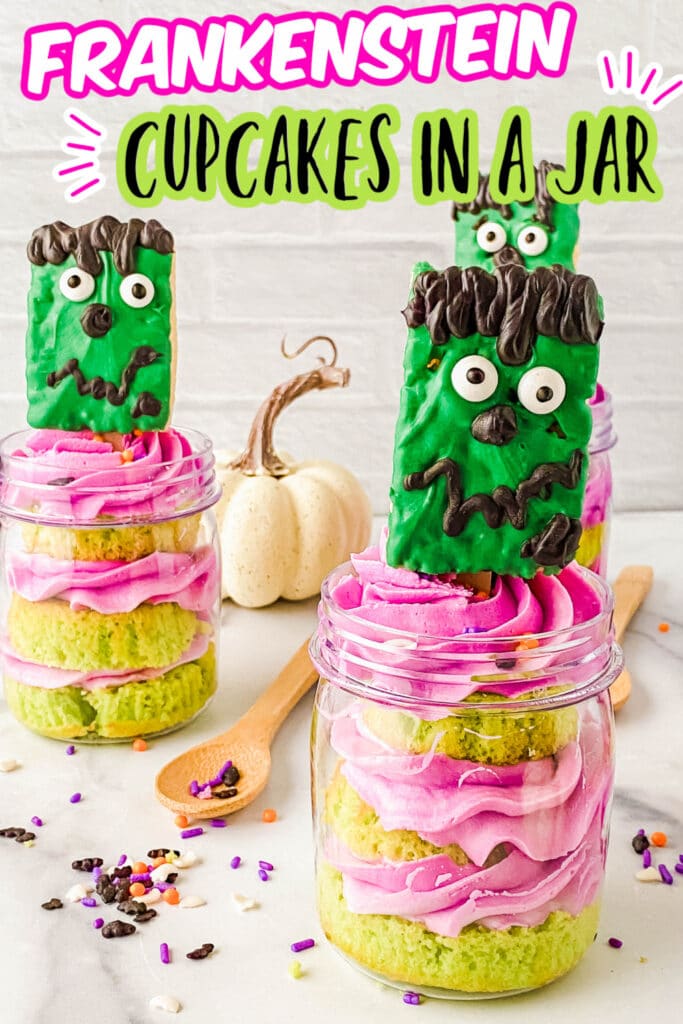 Reader Interactions