Cauliflower Fried Rice Recipe is a super simple and easy 15 minute side dish. A healthy lower calorie side that uses frozen cauliflower rice. Loaded with flavor, but not heavy on carbs. A great healthy fried rice recipe.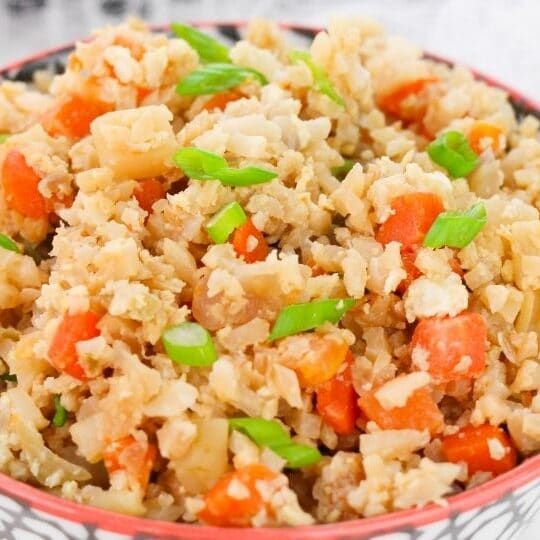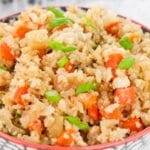 Looking for a quick and easy side dish or main dish? Try out this simple and quick cauliflower fried rice. Riced cauliflower that is paired with veggies, and a scrambled egg. A healthy fried rice recipe!
A tasty frozen cauliflower rice recipe you can make in no time. Whether you are vegetarian and want a simple vegetarian dinner, or pair this Chinese cauliflower rice with the rest of your dinner.
This is a special fried rice that uses cauliflower in swap of a classic white rice. This can easily be converted to a keto fried rice. Just swap out the veggies used!
Why This Recipe Is A Hit
15 Minute Side Dish – This recipe literally takes just 15 minutes to make. Quick, easy no fuss recipe!
Simple Ingredients – You can use simple ingredients you might already have on hand in your kitchen.
Vegetarian – If you are a vegetarian, consider this as a main or side dish. Simple ingredients that will fuel your body till your next meal.
Frozen Riced Cauliflower – Whether you make your own riced cauliflower or reach for a bag of frozen, this recipe works with either. I use frozen cauliflower rice as it is simple and quick.
Healthy – You are serving up lots of veggies that are loaded with nutrients. A tasty way to incorporate more vegetables into your daily diet.
Busy Mom Hack – Reach for frozen cauliflower rice, to simplify prep. Same with frozen veggies. You literally dump and heat this dish up!
Ingredients
Here are the ingredients I used for this cauliflower rice stir fry dish. Feel free to swap items if you have something different you want.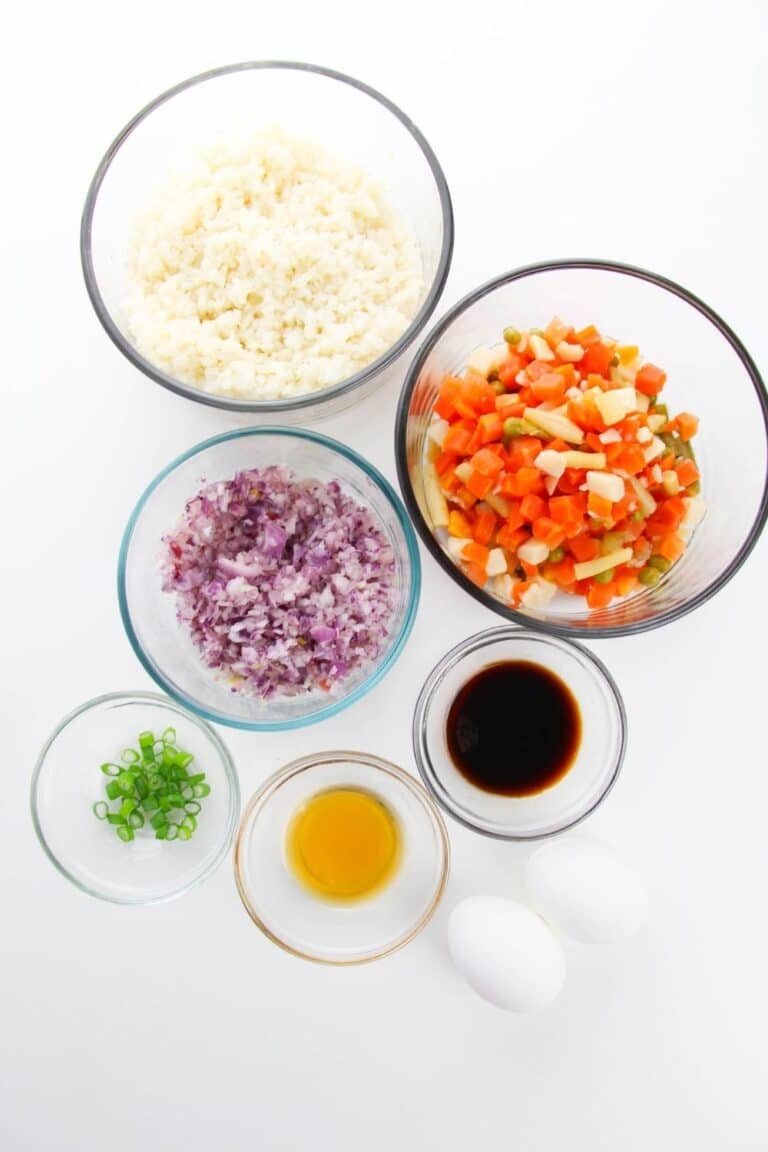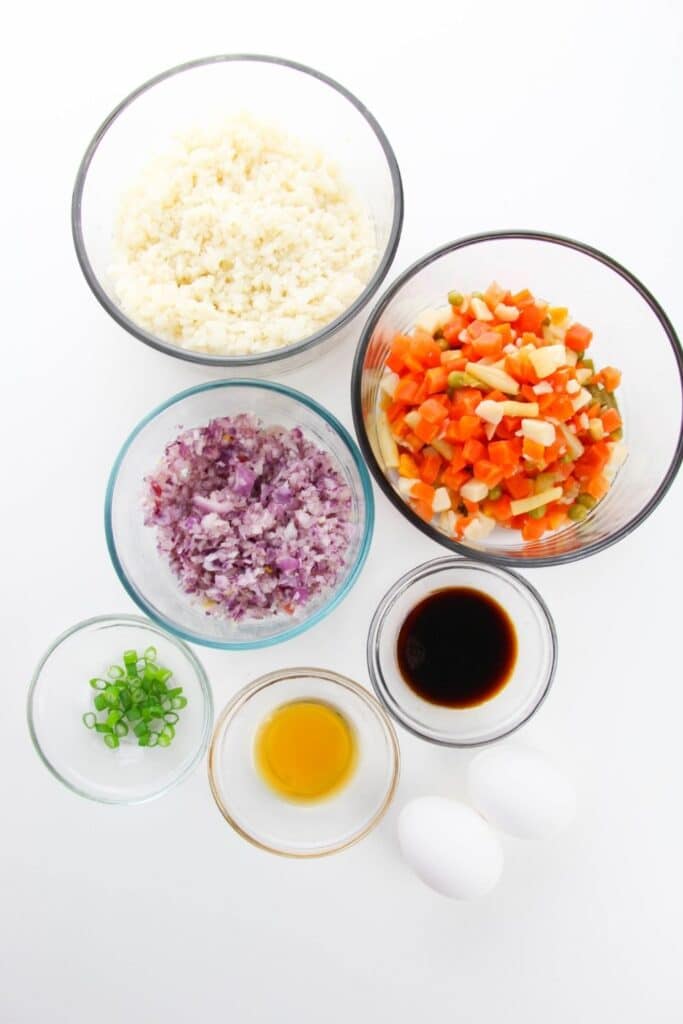 Cauliflower Rice – Frozen or fresh cauliflower rice work for this recipe.
Oil – Olive oil or even canola or vegetable work great.
Sesame Oil – This sesame oil adds a rich nutty flavor to the rice that makes it stand out.
Red Onion – You can swap with a white or yellow if needed.
Vegetable Mix – I used a mix that had peas, beans, and carrots in it. I bought a bag of frozen vegetables.
Egg – This give it that authentic fried rice taste with the scrambled egg.
Soy Sauce – You can easily swap with Coconut Aminos if you need.
Green Onions – Slice and top with the green onions for a nice kick of flavor.
How to Make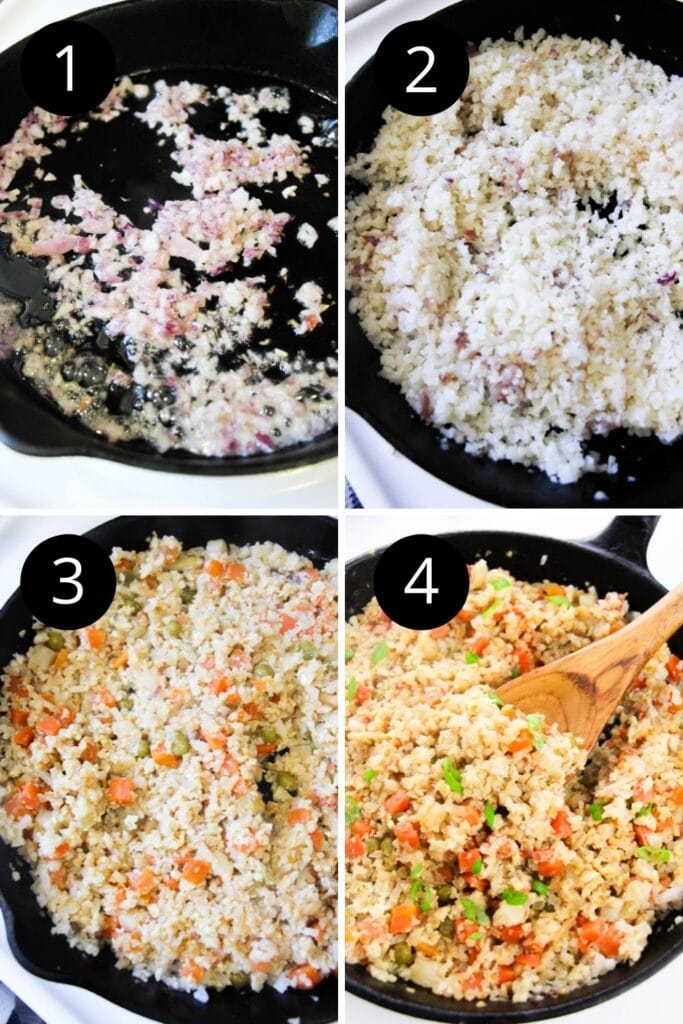 Step 1: First, in a skillet on the stove, you will heat your sesame oil and olive oil (or choice of oil). Heat oil on medium heat till warm.
Step 2: Next, dice up the red onion into small pieces, and toss into the pan. Cook for 3-4 minutes till softened and translucent.
Step 3: Then you will add in the cauliflower rice and the mixed veggies. Stir well until warmed through.
Step 4: Next, stir in the egg, and cook until the egg is full cooked and scrambled.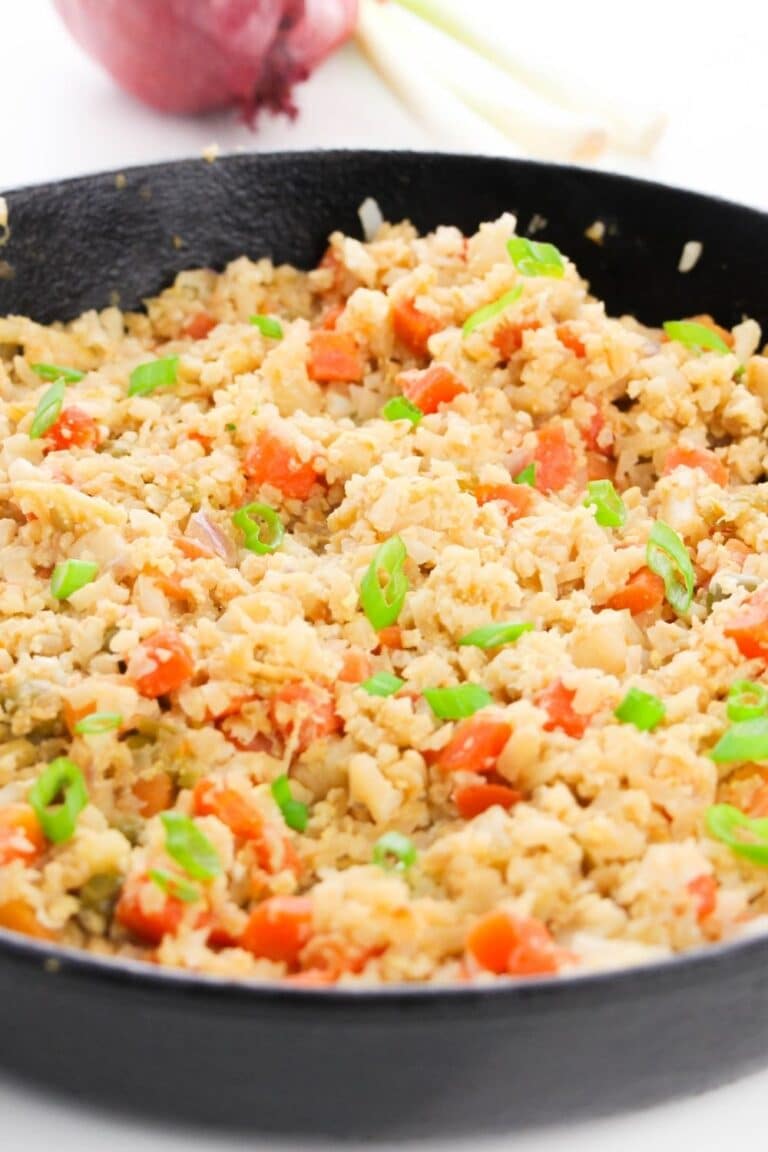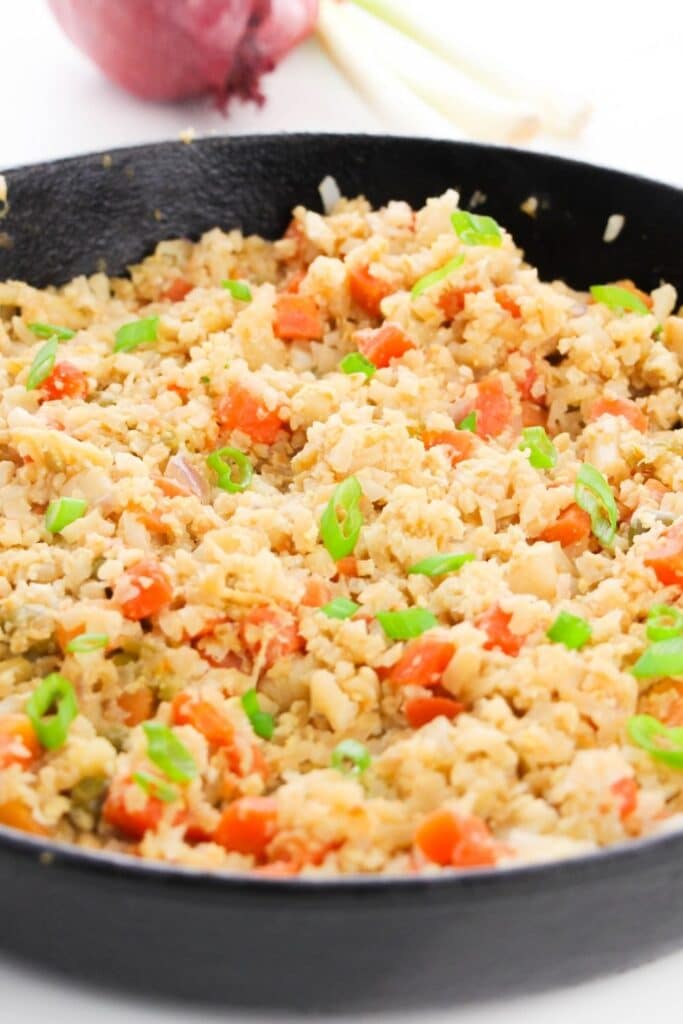 Step 5: Finally, garnish the fried cauli rice with green onions and serve.
Pro Tip: Toss in some cooked chicken. Or dice up chicken small and pan fry first, to make this a cauliflower chicken fried rice!
Storage
Refrigerate – You will want to refrigerate any leftovers of this fried rice recipe. Just place in an airtight container, and store for up 3-5 days.
Meal Prep – You can also meal prep with this. Place in your single serve containers, and use this for grab and go lunches, or even easy weeknight dinners!
Freezer Friendly – Feel free to freeze any leftover cauli-rice mix you don't eat. It will freeze for 2-3 months when stored properly.
Then reheat in the microwave, or reheat in a skillet on the stove. Add a few drops of water if you reheat in a skillet as you don't want to dry out the cauli rice.
Recipes Using Cauliflower Rice: Mediterranean Cauliflower Rice, Mushroom Cauliflower Rice Skillet Dish.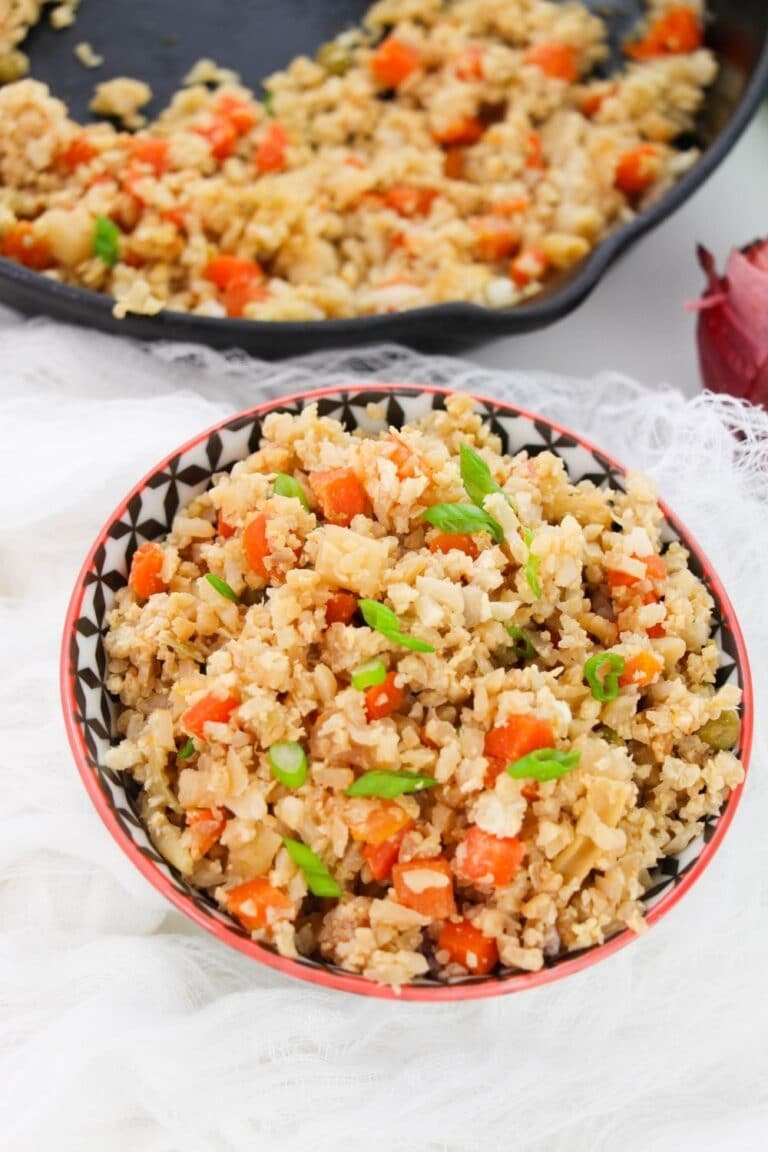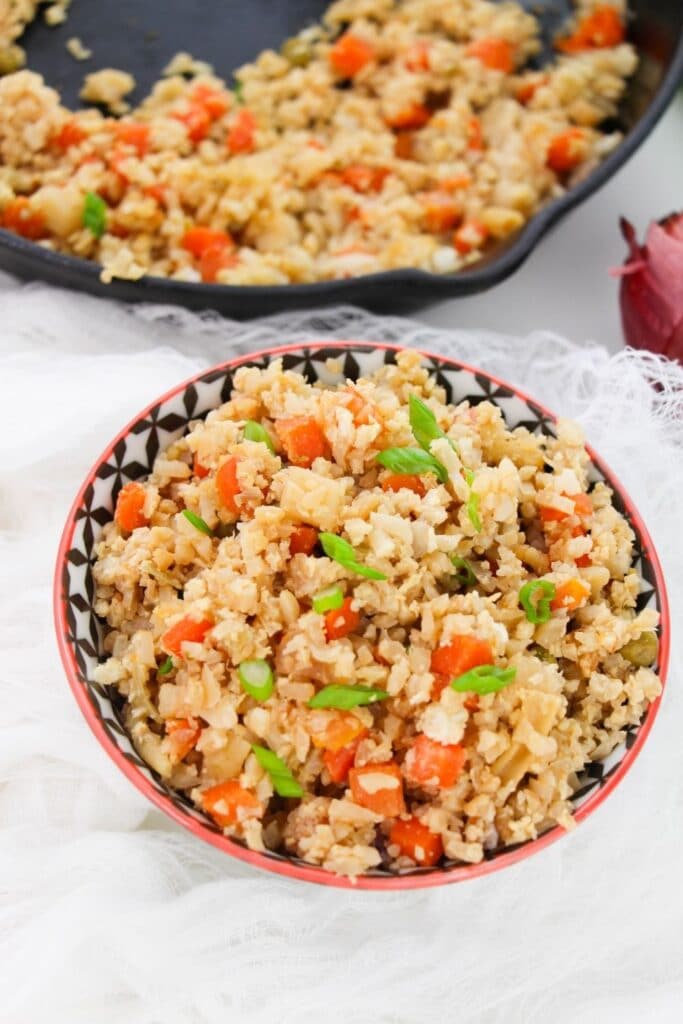 Expert Tips And Variations
If you want less veggie – do 1/2 cooked white rice, and 1/2 cauliflower rice. To help little ones not feel like all they are eating is veggies.
For a keto cauliflower rice, reach for lower carb veggies to stir in. Peppers, onions, etc. Instead of peas, beans, etc.
Add in chicken, you can use leftover chicken or shredded chicken. Or you can cook your chicken in the skillet, slice, and then work on the rice for a main dish.
I love to get our cauli-rice really cooked, so feel free to cook the veggies and rice as long as you want before you toss in the egg.
Make a double or triple batch if you want! This is such a simple and quick prep recipe, it is great leftover.
I meal prep with the leftovers for my lunches, it is so refreshing and light!
Try my crab rangoons as a tasty side dish for this cauliflower dish.
FAQs
What to serve with cauliflower fried rice?
Egg rolls, wontons, orange chicken, etc. You can essentially eat this fried rice as a meal or pair with your favorite main dishes.
Is cauliflower rice good for you?
Cauliflower rice is a low calorie alternative to rice. It is a vegetable based side dish so you gain nutrients, while cutting out the excess carbs. This is a great item to incorporate into your diet.
How to cook cauliflower rice?
You can essentially cook your cauliflower rice anyway you want. Use in stir fries, mix in dishes that would alternatively use rice, and more. Cauli-rice is very versatile, and mild in flavor.
Can you freeze fried rice?
If you want you can freeze the leftover fried rice. Place in an airtight container and freeze for 3-4 months. Then when you want to reheat, toss in microwave in a covered dish, or warm up in a skillet on the stove. Add a splash of water to prevent it from drying out.
What is the difference fried rice vs white rice?
Fried rice is generally where you use leftover white rice, that you toss in a hot skillet. Add in veggies, and a fried egg. White rice is just a long grain white rice that is cooked till it is soft and fluffy in texture.
This is one of my favorite frozen cauliflower recipes. I hope you all enjoy it as much as we did!
Related Recipes
Cauliflower Fried Rice Recipe
Servings 4 -6 servings
Cauliflower Fried Rice Recipe is a super simple and easy 15 minute side dish. A healthy lower calorie side that uses frozen cauliflower rice. Loaded with flavor, but not heavy on carbs. A great healthy fried rice recipe.
Ingredients
4 cups cauliflower rice prepared
2 tablespoons oil
1/4 cup onion diced
1 1/2 cups frozen vegetables I used peas, carrots and beans
2 eggs beaten
Green onions optional
Soy sauce to taste (or coconut aminos)
Instructions
Start by dicing up your onion very fine. Turn the stove on and place a skillet with oil in the pan. Let it get hot, then toss in the onions. Cook onions for around 3 minutes or until softened.

Now you will add in your veggies and cauliflower rice, and cook until fully cooked.

Mix up your eggs in a small dish, whisking it. Make a hole in the pan, add in the egg, and scramble, and mix in with the cauliflower and veggies. The egg will cook in 2-4 minutes.

Remove cauliflower fried rice from heat, garnish with green onions and add on some soy sauce or coconut aminos for flavor.
Notes
Veggies – Feel free to use any variety of veggies you would like. Onions, peppers, peas, carrots, broccoli, etc. Chicken – If you want to make this a main dish, dice up and pan cook chicken until fully cooked. Or use leftover diced or shredded chicken you mix in. Storage – You can store the cauliflower rice in the fridge for up to 5 days, or 3 days if you add chicken to the mixture. Freezer Friendly – You can freeze leftover cauliflower rice for 2-3 months. Then reheat in the microwave or skillet. Cauliflower Rice – You can use frozen cauliflower rice or make fresh. Both methods work for this recipe. If you are in a hurry or want to simplify, use frozen.
Nutrition
Serving: 1gCalories: 118kcalCarbohydrates: 11gProtein: 5gFat: 7gSaturated Fat: 1gPolyunsaturated Fat: 5gCholesterol: 62mgSodium: 207mgFiber: 4gSugar: 3g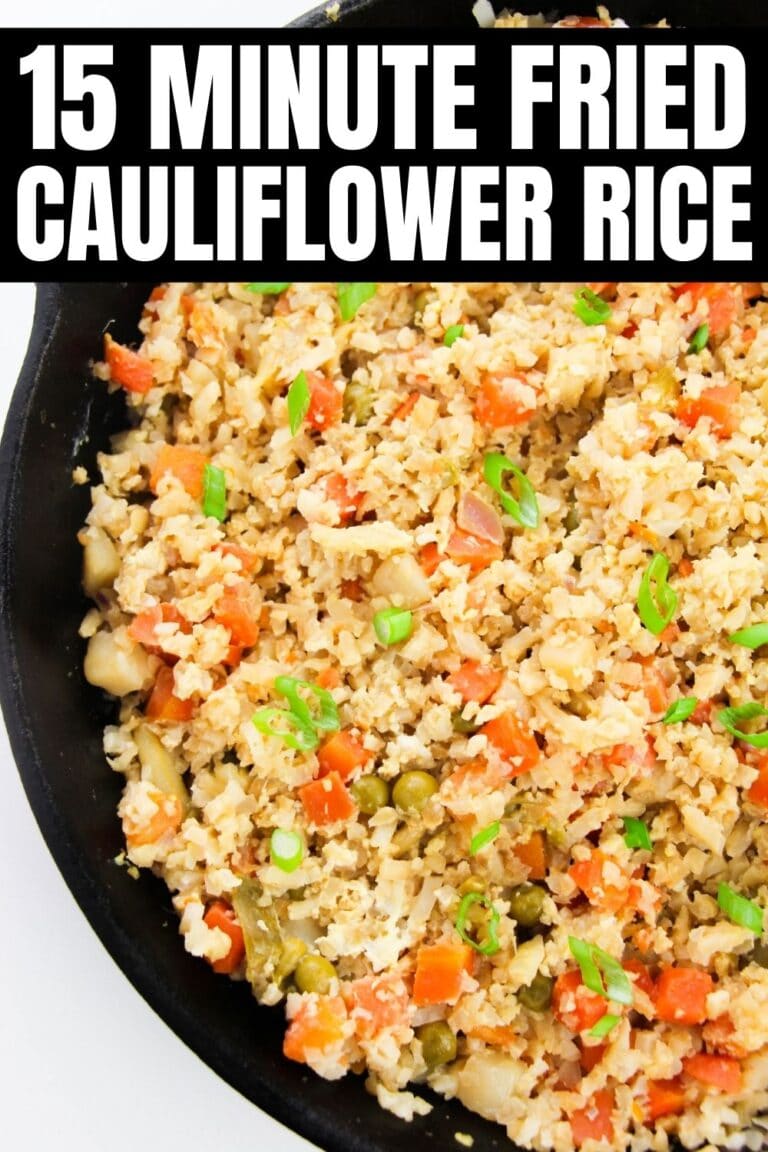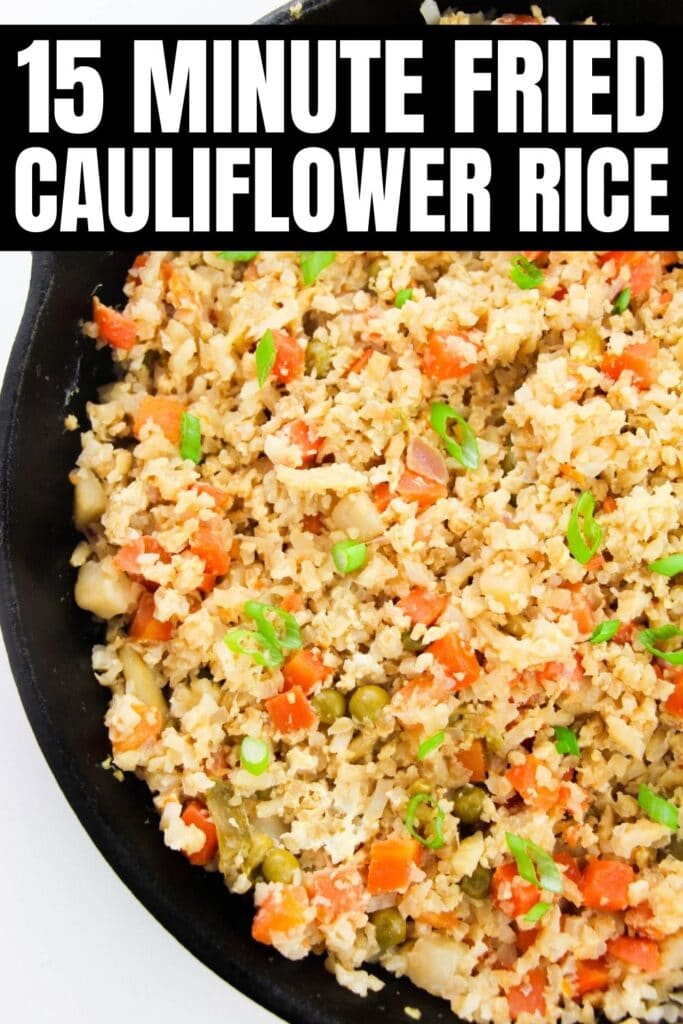 Reader Interactions