Lucky Charm Rice Krispie Treats are like a Rice Krispie treat but made with Lucky Charms. These magically delicious marshmallow treats are a huge hit. Simple ingredients for a chewy and flavorful easy dessert.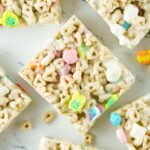 These Lucky Charm Rice Krispie treats are magically delicious! A chewy and sweet marshmallow treat made like a Rice Krispie treat but instead of Rice Krispie cereal you use Lucky Charms. A simple and delicious no bake dessert that you can slice and serve up your family and friends.
Three ingredients is all it takes to make these Lucky Charms treats. A quick and easy dessert that kids and adults will dive into.
If you love no bake bars, try my Peeps Rice Krispie treats made in the oven! Or try these easy no bake avalanche cookies that are made with Rice Krispie cereal.
These Lucky Charm Rice Krispie Treats Are..
A no bake dessert recipe.
Needs just 3 ingredients.
Kid friendly dessert.
Great for parties and events you need a simple dessert.
A St. Patrick's Day dessert idea.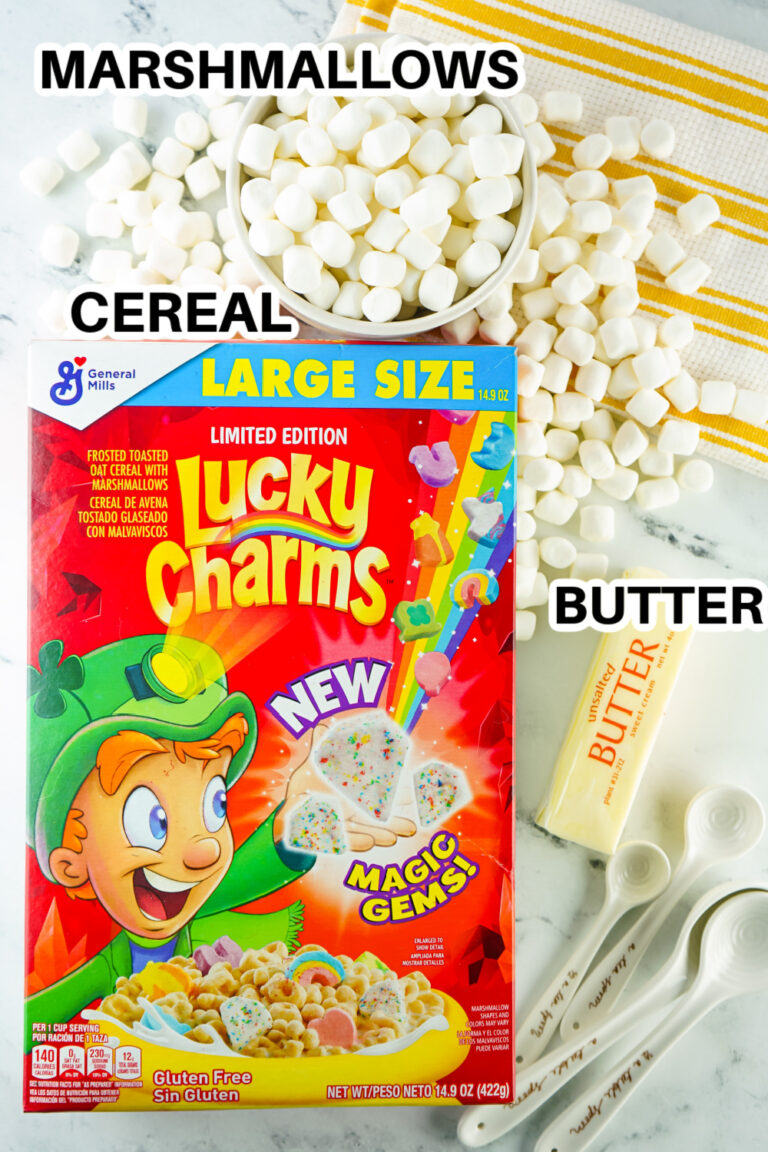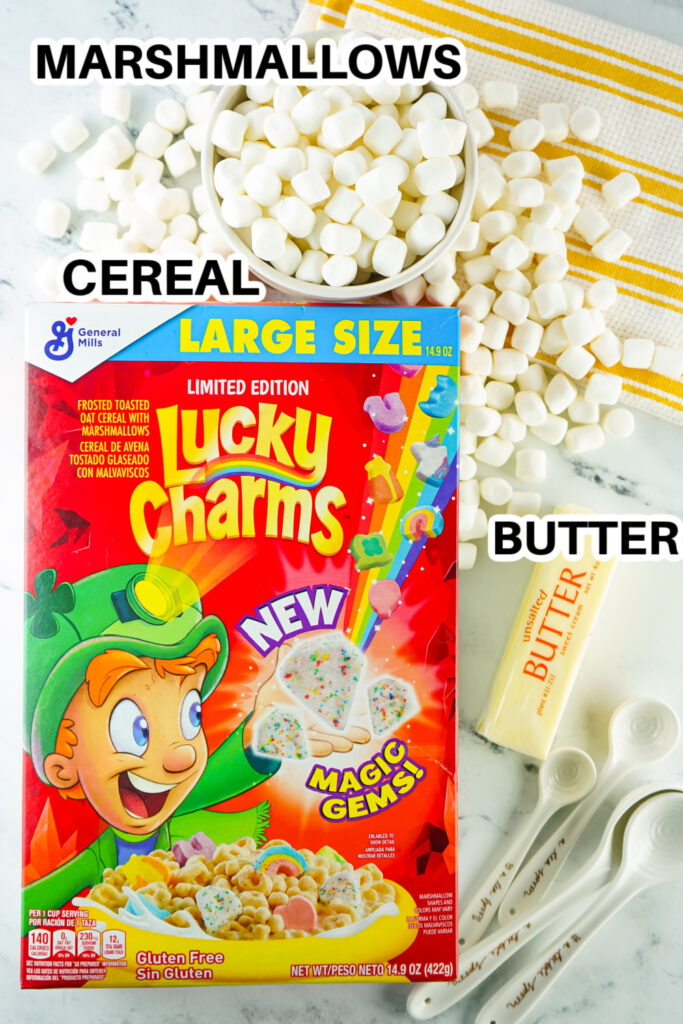 Ingredients Needed for Dessert
Lucky Charms – Cereal, any brand.
Marshmallows – Mini marshmallows work great.
Butter – Unsalted.
Cooking Spray – Optional but helps in bars not sticking.
Variations to Recipe
Cereal: Change up the cereal used. Any type of cereal works from Golden Grahams to Cocoa Pebbles and more.
Marshmallows: You can reach for a flavored marshmallow if you want. From the rainbow marshmallows to another flavor.
Butter: You can use salted butter but just know it will add flavor to the bars.
Melted Chocolate: Drizzle melted chocolate on top of the bars. Or pour the chocolate and spread into a thin layer and let it set up.
Extra Marshmallows: Add additional marshmallows into the bars once you stir in the cereal. You could buy Lucky Charm marshmallows to mix in for added chewy texture.
How to Make
Full steps are featured below in the recipe card. This is a quick through on how to make Lucky Charms Rice Krispie Treats with images.
Cut the butter into small pieces and put it in a large mixing bowl along with 8 cups of mini marshmallows. Microwave the mixture on high for 2 minutes, or until the marshmallows have melted and the butter is fully incorporated.
Add the remaining 2 cups of marshmallows and 5 cups of Lucky Charms cereal to the bowl. Gently fold everything together until the cereal and unmelted marshmallows are fully coated in the melted marshmallow mixture.
Grease a 9×13 inch cake pan with nonstick cooking spray. Pour the mixture into the pan and use the spatula to spread it out evenly.
Sprinkle the remaining 1 cup of Lucky Charms cereal over the top of the mixture. Press down lightly to help the cereal stick to the surface.
Allow the mixture to cool and set for at least an hour before cutting into squares and serving. Enjoy!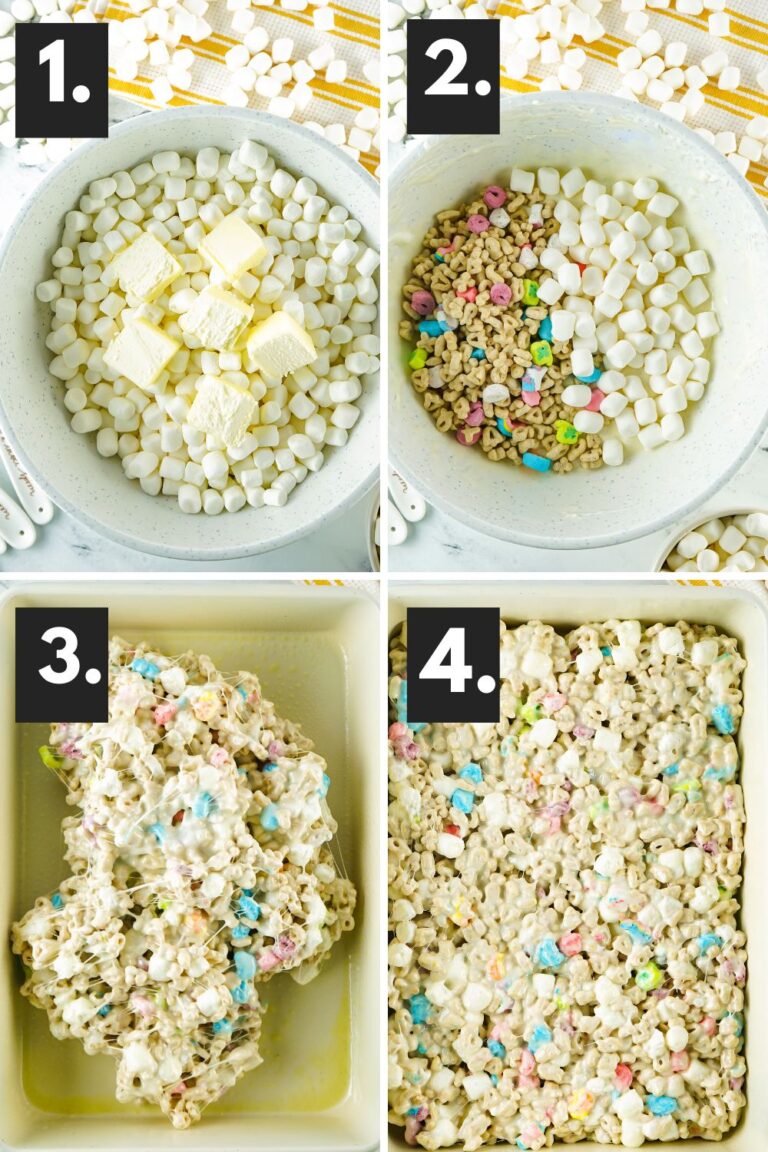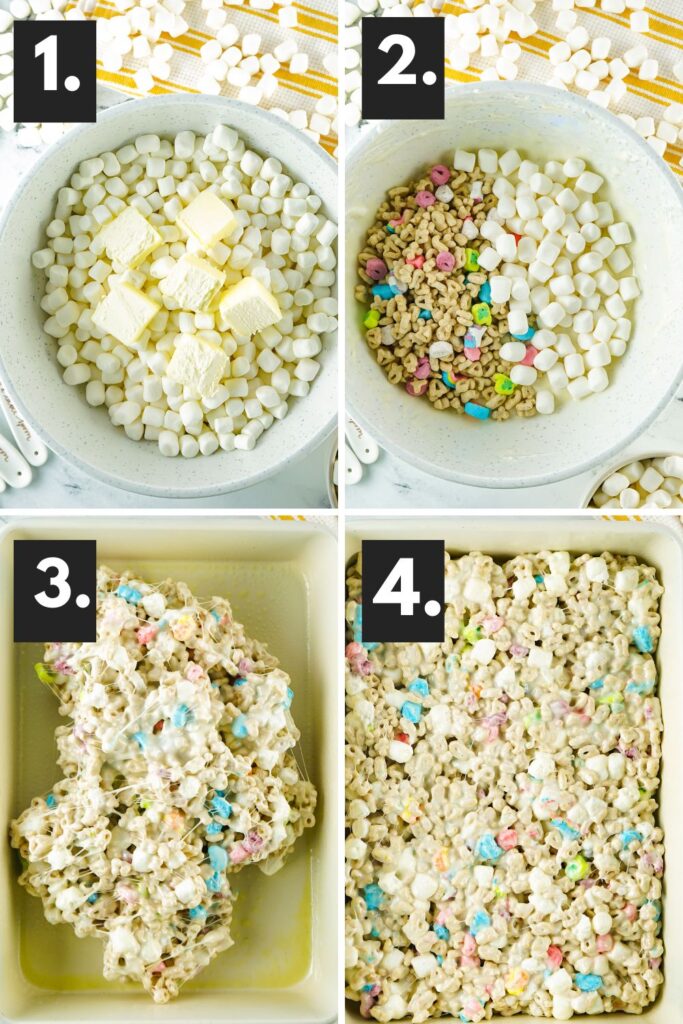 Tips for Success
Use fresh marshmallows: Make sure your marshmallows are fresh and haven't been sitting in the pantry for too long. Stale marshmallows can result in a tough and chewy texture.
Don't overheat the marshmallows: When melting the marshmallows, be careful not to overheat them. If you microwave them for too long, they can become hard and rubbery. Microwave them in 30-second intervals and stir between each interval until they are fully melted.
Mix gently: When folding in the cereal and additional marshmallows, be sure to mix gently. If you stir too vigorously, the cereal can become crushed and the marshmallows can become sticky and clump together.
Press the cereal lightly: After sprinkling the remaining Lucky Charms over the top of the mixture, be sure to press them down lightly so that they stick to the surface. This will help keep the cereal in place and prevent it from falling off when the bars are cut.
Let them set: After pouring the mixture into the pan, be sure to let it rest for at least an hour or until set. This will allow the marshmallows to cool and solidify, resulting in a chewy and delicious texture.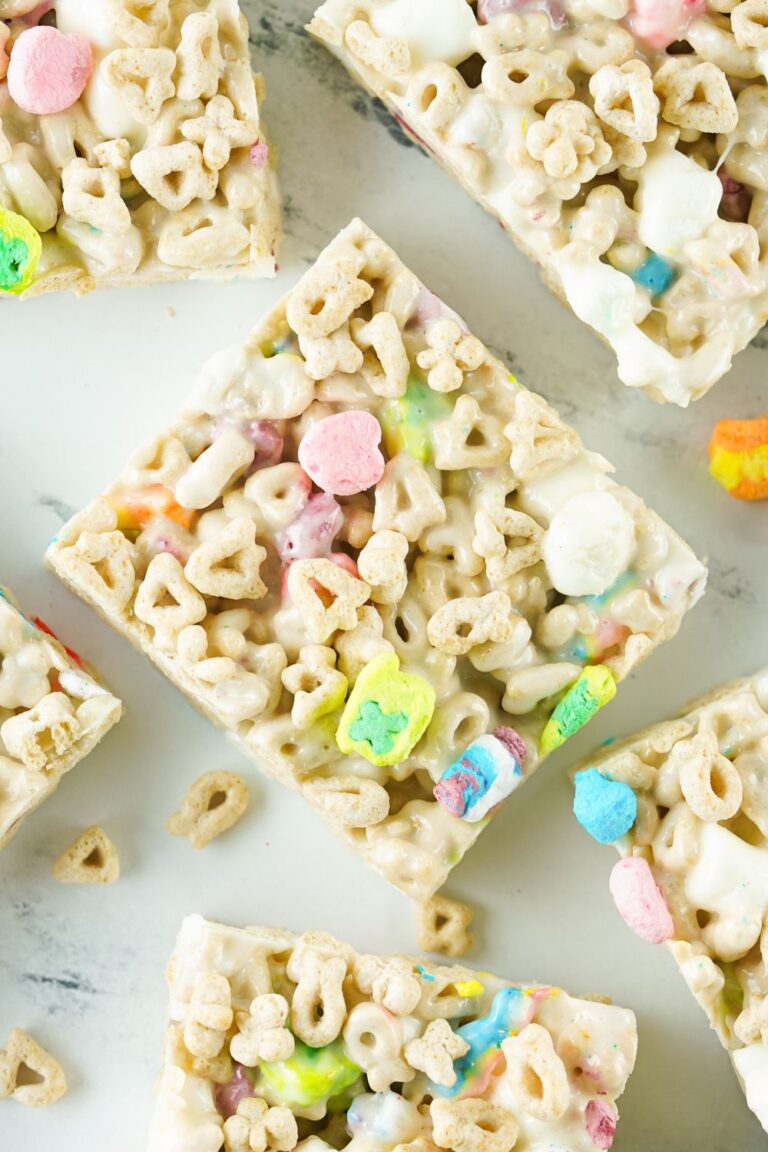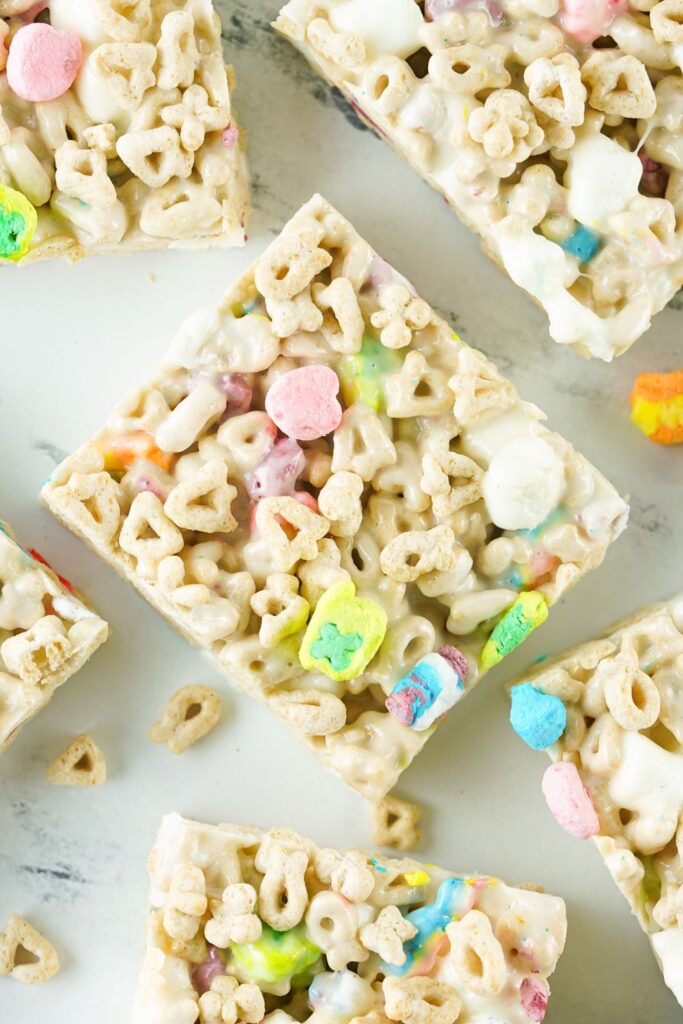 Storing Bars
Room Temperature: Store any of the bars at room temperature in an airtight container. You can store the bars for up to 5 days. You will find after that the cereal can go a bit stale.
Freezer: Cut the bars into desired portions and wrap each piece individually with plastic wrap or aluminum foil. Place the wrapped bars into a resealable freezer bag and label the bag with the date and contents. Place the bag into the freezer and freeze for up to 2-3 months.
Recipe FAQs
Can I use marshmallow fluff for Rice Krispie Treat bars?
Go ahead and use marshmallow fluff in replace of marshmallows if you want. You will want to use 14 ounces of marshmallow fluff for 10 cups of cere
Can you use stale marshmallows for rice krispy treats?
Stale marshmallows will not work as they become a big glob when melted. You are welcome to use stale marshmallows for smores, roasting over a fire, etc.
Can I melt marshmallows and butter on stovetop?
You can melt marshmallows and butter on the stovetop instead of the microwave. Just place both in a saucepan on medium heat. Stir constantly to ensure it doesn't burn the marshmallows.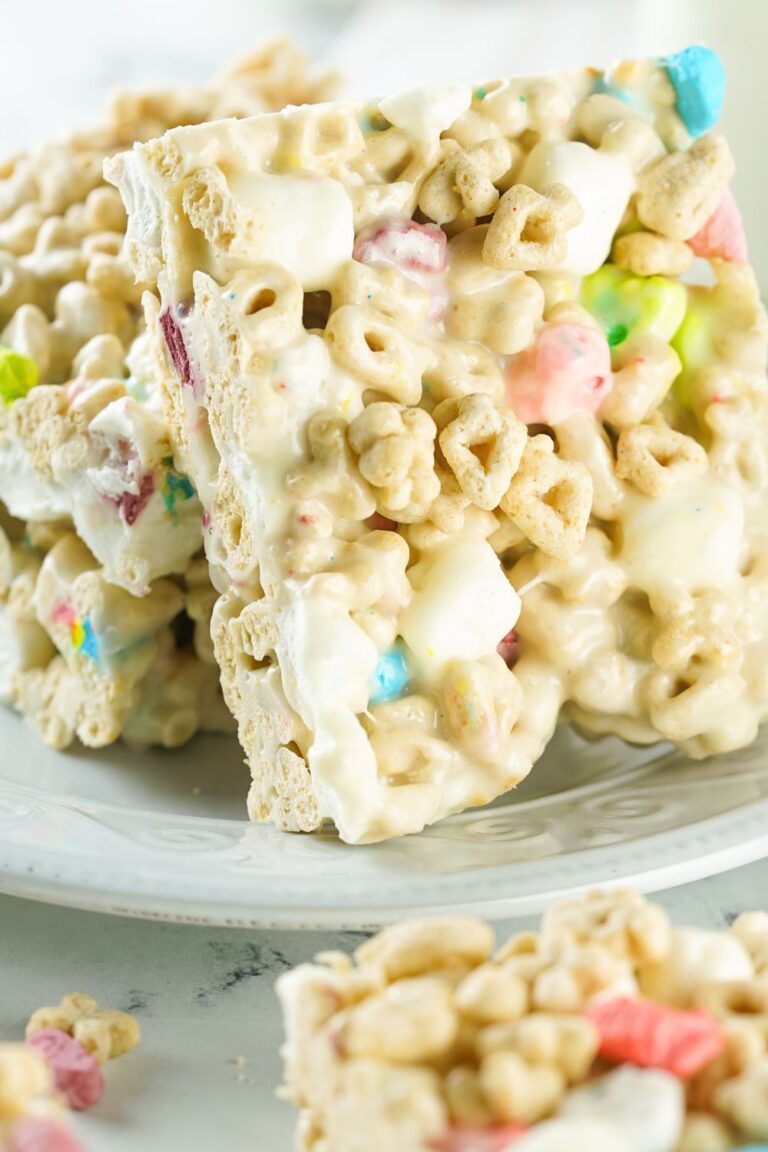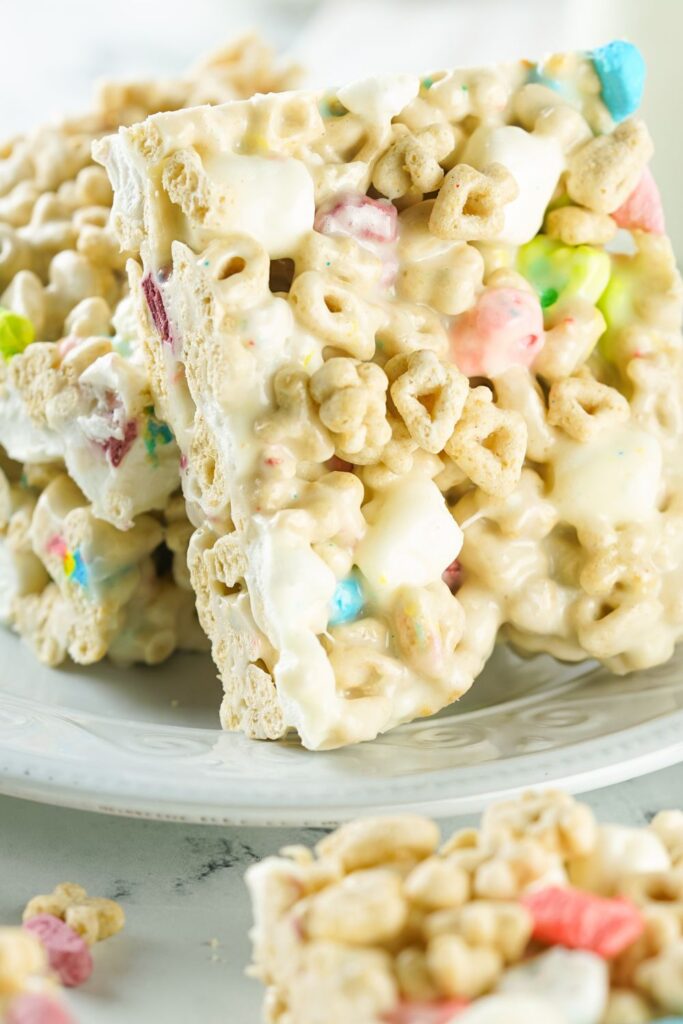 More Desserts
Have you tried the recipe? If so, please leave a star ⭐️⭐️⭐️⭐️⭐️ rating in the recipe card below or drop a comment. Also stay in touch with me through social media by following me on Facebook, Pinterest, or My Facebook Group
Lucky Charm Rice Krispie Treats
Servings 12
Lucky Charm Rice Krispie Treats are like a Rice Krispie treat but made with Lucky Charms. These magically delicious marshmallow treats are a huge hit. Simple ingredients for a chewy and flavorful easy dessert.
Ingredients
6 cups Lucky Charms cereal
10 cups mini marshmallows
6 tablespoons unsalted butter
cooking spray optional
Instructions
Slice butter into slices and place in a microwave safe bowl with the 8 cups of the mini marshmallows.

Microwave for 2 minutes, and then remove and stir. If the marshmallows are not fully melted, heat for another 30 seconds and stir. Repeat until the marshmallows are completely melted and creamy.

Stir in 5 cups of cereal and the remaining marshmallows. Stir well to combine.

Pour the mixture into a greased 9×13 baking dish and press the bars into the pan. I find that adding a little cooking spray to my hand works great at pressing the bars down without it sticking to my hands.

Add a few more pieces of cereal on top of the bars and press them down to ensure the cereal sticks.

Let the Lucky Charm Rice Krispie treats cool in the container for 1 hour, before you go to slice into squares.
Notes
Thicker Bars – You can use an 8×8 or 9×9 pan to make a thicker bar if you want.  Cereal – I used Lucky Charms but you can use any type of cereal you want to make cereal bars.  Press Lightly in Pan – If you press the bars too hard it will make them harder and more dense. Lightly press the bars in the pan to ensure they stick together. 
Equipment
1 microwave safe bowl

Silicone Mixing Spoon

9×13 Baking Pan
Nutrition
Serving: 1gCalories: 251kcalCarbohydrates: 48gProtein: 2gFat: 7gSaturated Fat: 4gPolyunsaturated Fat: 1gMonounsaturated Fat: 2gTrans Fat: 0.2gCholesterol: 15mgSodium: 151mgPotassium: 44mgFiber: 1gSugar: 31gVitamin A: 683IUVitamin C: 5mgCalcium: 81mgIron: 4mg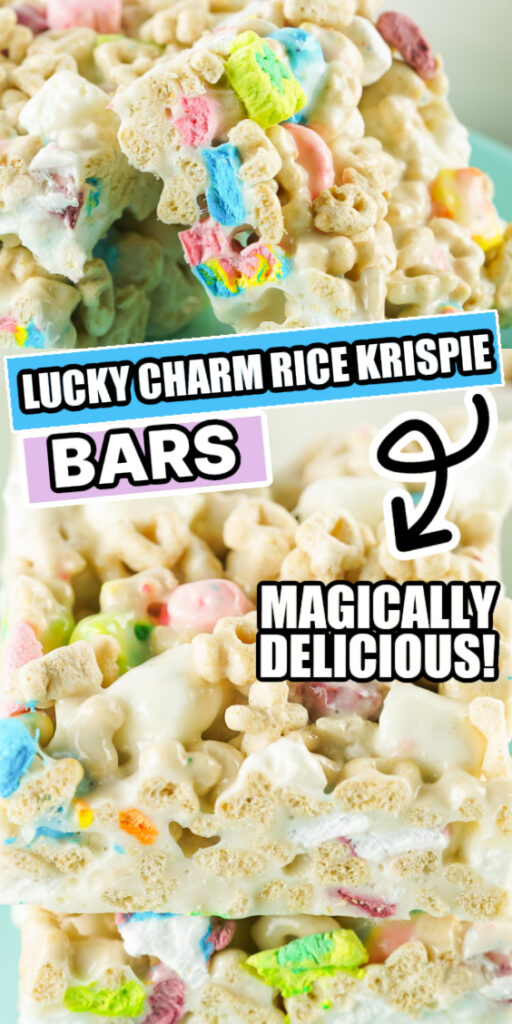 Reader Interactions