Smoked Brisket that is melt in your mouth tender. This Texas style Brisket is so easy to make, and will be a treat for the whole family. Learn how to smoke brisket easily.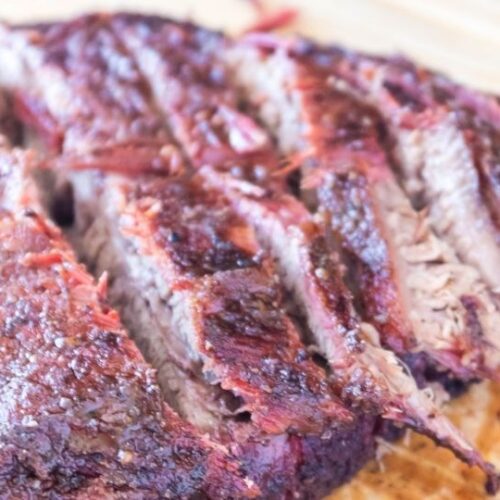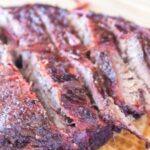 Smoked brisket is crazy simple to make. All you need is 4 ingredients and a little time. A tender and juicy brisket recipe you can slice up or shred and serve. 
Many get intimidated by brisket, and I am here to tell you to take the leap and learn how to smoke brisket! Skip your favorite BBQ pit and master smoking brisket at home.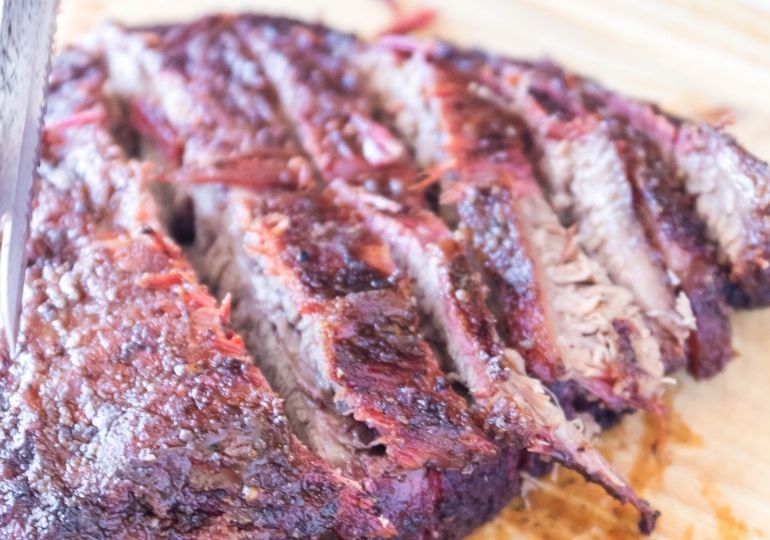 You will see a smoke ring as you slice into the brisket. We used a pellet smoker , but you could also use wood chips, wood chunks, or whatever you prefer. For a tender brisket the idea is low and slow, for a long smoke process.
I went with a Texas style brisket recipe. Salt, pepper, and brisket is all you need. Now for us we added in a little smoked paprika to enhance the flavor even more.
This Brisket Recipe Is…
Made with 4 ingredients 
Tender
Juicy end result 
Easy beef brisket recipe 
Texas-style brisket
Great brisket
Easy steps to make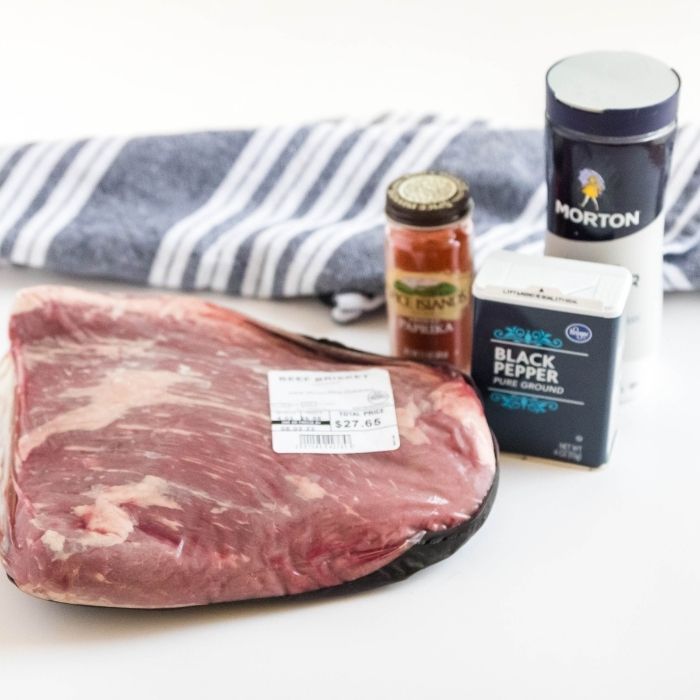 Ingredients Needed
Here is all you need for this BBQ brisket! You will love how you probably have everything on hand.
Beef Brisket – You can use any size brisket you want. For our family we did a 3 ½ pound brisket. If you want a larger one just add additional time to cook time and make extra rub.
Salt – Kosher coarse salt is what I recommend. It will really help add tons of flavor to the beef.
Pepper – Coarse ground pepper is another great one. You can use traditional pepper but it won't be as vibrant in flavor.
Smoked Paprika – We love paprika in our home. This is optional but the paprika adds an additional layer of flavor.
Tools Needed
Smoker – We used our Green Mountain Grill but you are more than welcome to use any grill or smoker you own. 
Foil or Meat Paper – Either works for wrapping the beef brisket once it is cooked so long. It is all about whatever you prefer.
Cutting Board – I used a large wooden cutting board for seasoning our beef and slicing. It catches any drips of juice.
Tongs or Spatula – You will need a way to flip over your cut of beef as it smokes.
Sharp Knife – Trimming and slicing up brisket yiu will need a knife. This serrated knife is what we used.
Why You Need to Trim A Brisket
Too much fat will not allow a good bark to form..
Undercooked and overcooked areas depending on thickness.
Smoke will not properly penetrate beef.
How to Trim a Brisket
Depending on the brisket you purchased, some briskets come pre-trimmed. If that is the case, you can skip this section.
Step One: First start with the underside of the brisket. Use a fillet knife, and begin trimming the white fatty area. 
Tip: It is ok to leave some fat on the brisket. You just want to ensure it is not too thick of a layer. Thinner areas of fat will cook down with the brisket. 
Step Two: Flip the brisket over and repeat the same steps. Then if you need trim down sides and your set on trimming.
Step Three: Silver skin is a very shiny and white looking skin. This will leave your brisket extra chewy if you do not cut it away.
Take the time to trim away any of this skin you find on your brisket.
The goal is to create a uniformed piece of meat. If the meat is too thin in a particular trim it, as it can burn and over cook easily.
How to Smoke Brisket
Full directions are below in the printable recipe card. This is a visual walk through.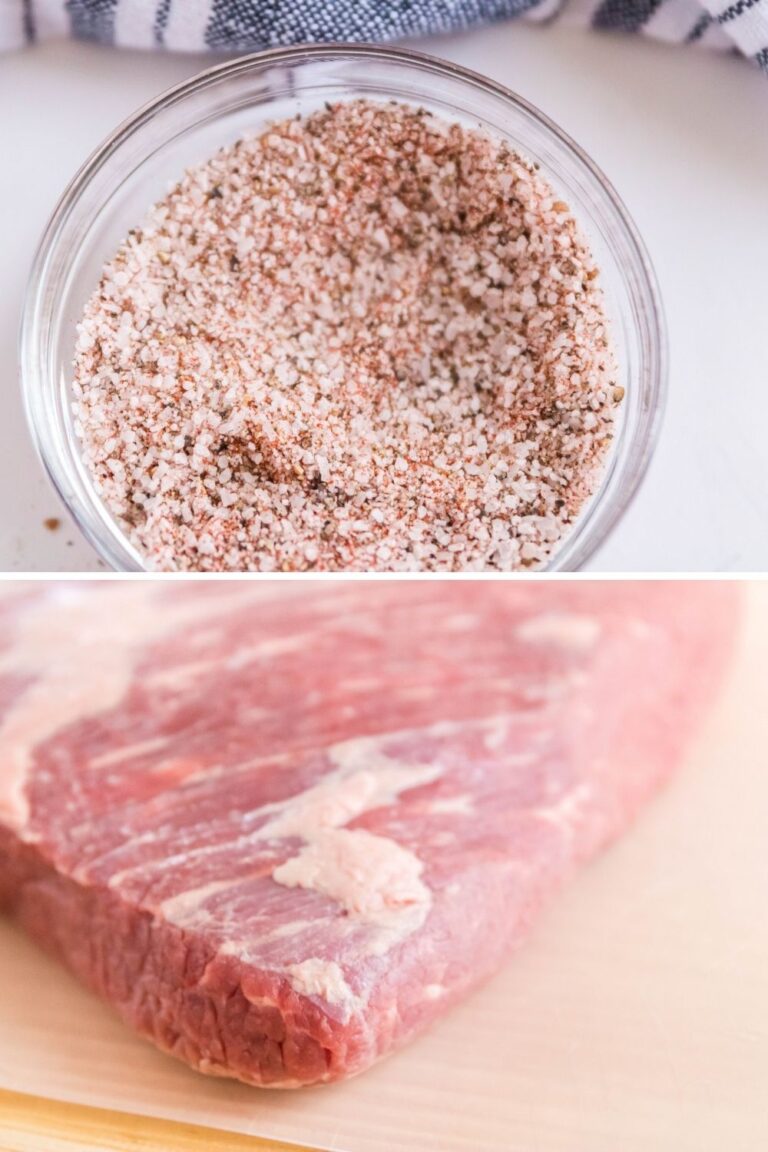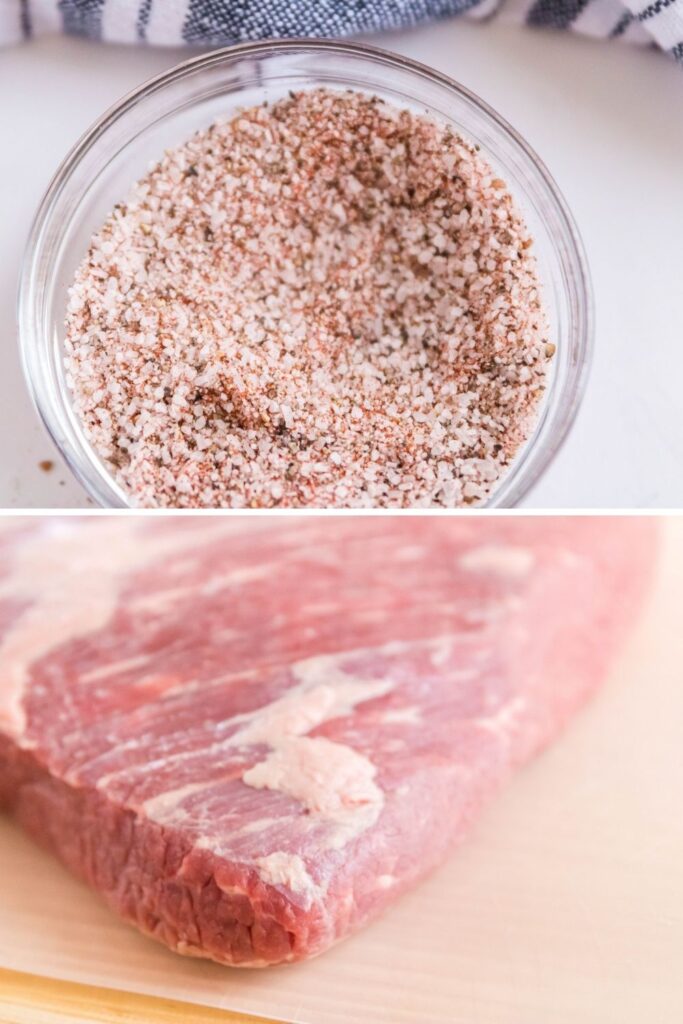 Step One: First start with the underside of the brisket. Use a fillet knife, and begin trimming the white fatty area. You want to get rid of the excess fat, and muscle fibers. This results in a better results at the end of cooking the smoked meat. 
Depending on your local butcher, you can ask them to trim the brisket for you before you purchase. They are pros and it eliminates the hard work.
Step Two: In a small bowl add your coarse salt, coarse pepper, and smoked paprika. Mix to combine.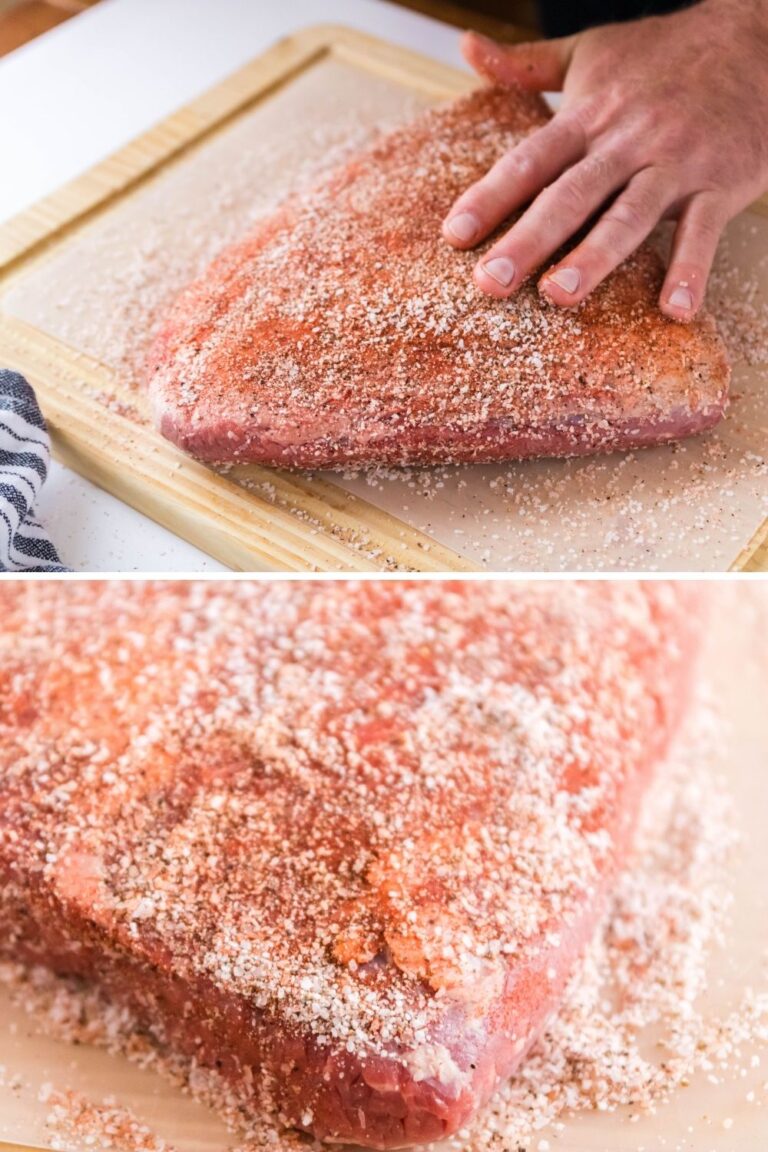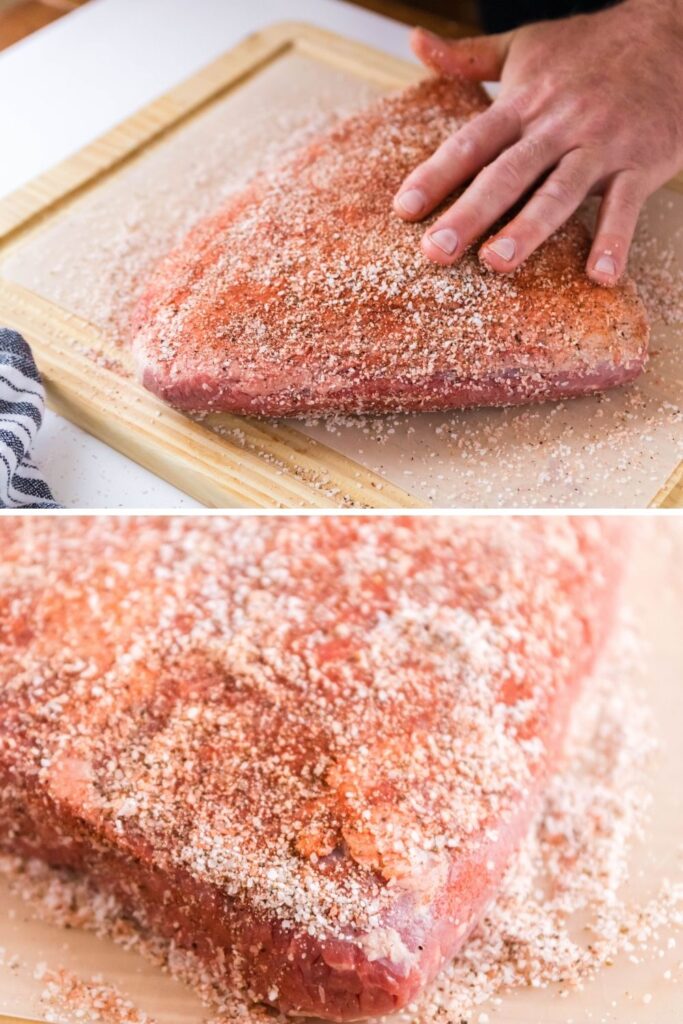 Step Three: Take the seasoning and massage it into the meat on both sides and edges of the brisket. Make sure to get the sides of the brisket as well.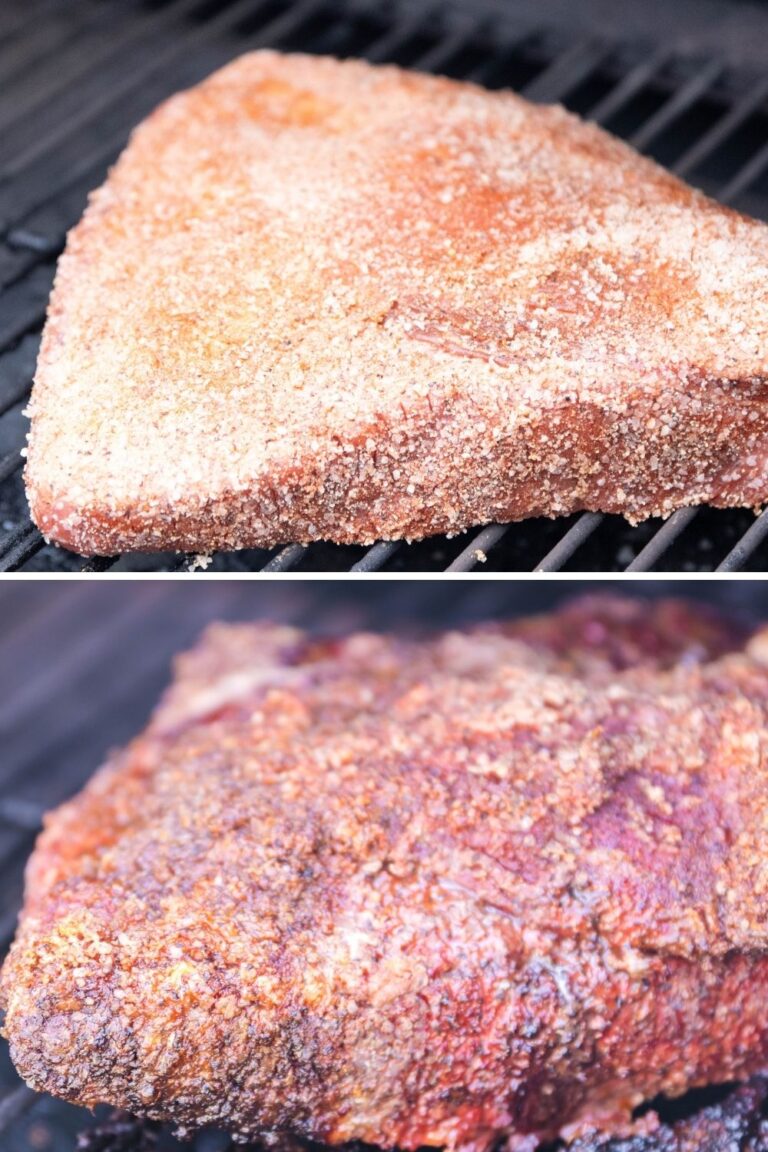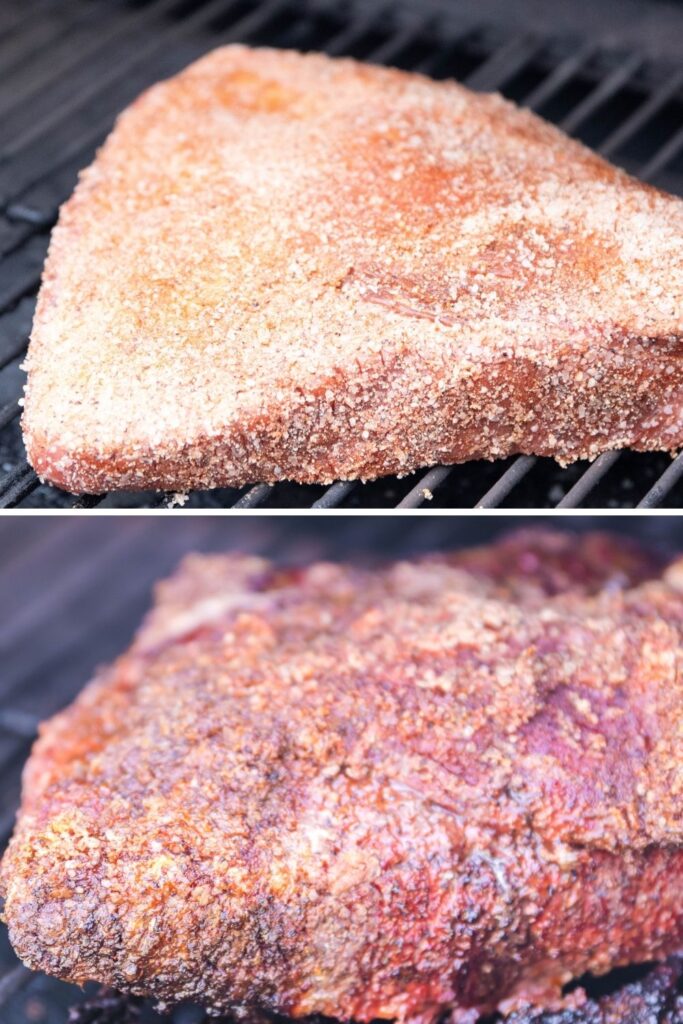 Step Four: Next, once seasoned, set beef on the counter and preheat the smoker to 225 degrees F. 
Step Five: Next, place beef in the smoker, either side works. And let it cook for one hour at this temperature. 
Step Six: Then after an hour pump up the heat to 225 degrees Fahrenheit. Allow the brisket to cook for 4-5 more hours. When it hits 165 degrees F, I like to remove from the smoker, and wrap in paper or aluminum foil. Then return to smoking. 
Recipe Notes:
Depending on size it will cook for a shorter or long time. Brisket is ready when the internal temperature reaches 185-190 degrees F. 
If you want to pull the meat, allow the internal temperature to go up to 200-210.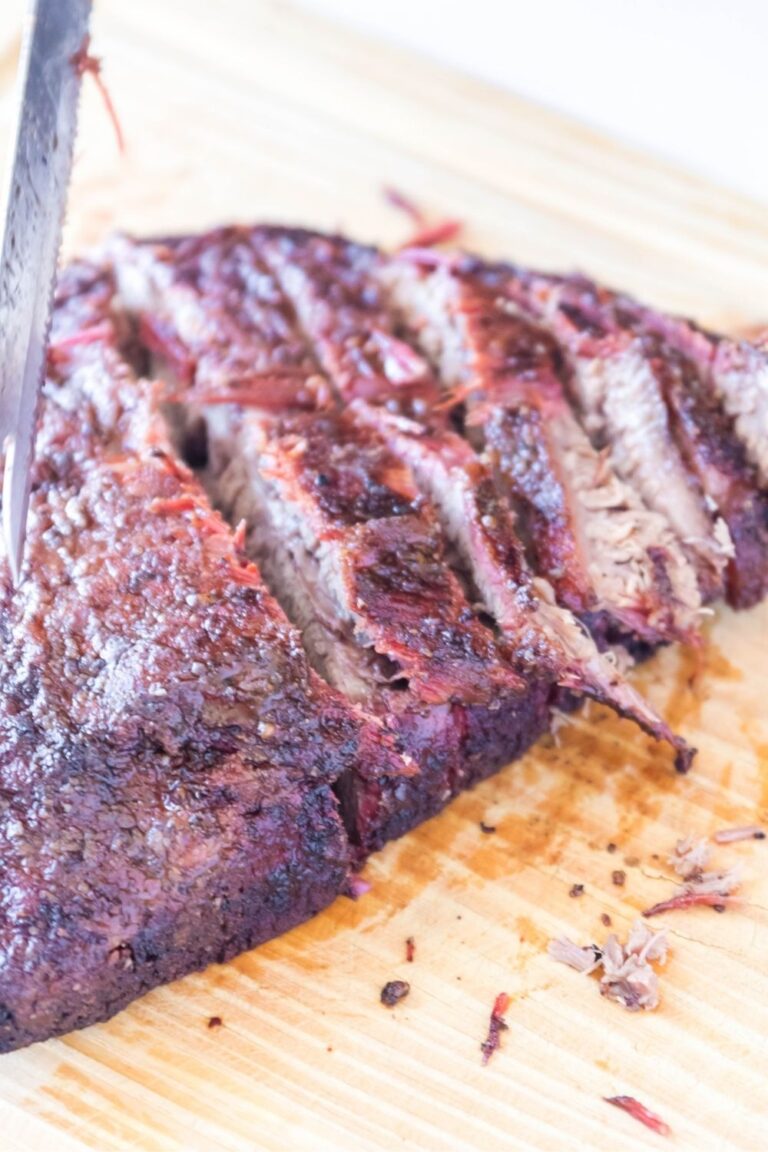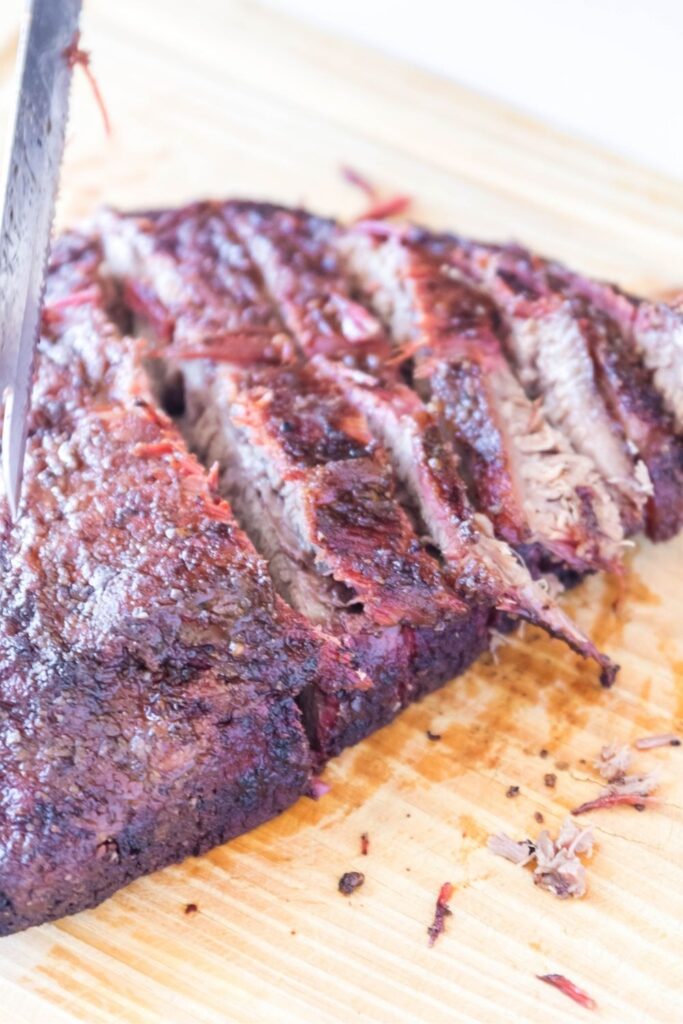 Step 7: Remove brisket and wrap in aluminum foil or butcher shop paper. Then wrap in an old towel and let it rest for 20 minutes.
Then with a sharp knife, slice or shred your brisket. I use these meat claws for shredding pulled pork, pulled chicken and of course this beef. 
Expert Tips For Success
Expect 1 ½ – 2 hours per pound of brisket for cook time at the heat of 225 degrees Fahrenheit. So ideally, 3 pounds takes roughly 6 hours. Or a 10 pound brisket could take 15-20 hours. 
Allow your meat to rest. This is imperative. Letting the meat rest 20-30 minutes once cooked helps ensure it is going to lock in juice for a juicy tender result. Cutting meat as soon as it comes off the grill will release all the juices and leave you with dry meat. 
FAQs
Common questions for making this smoked beef brisket recipe. This Texas brisket is easy, so give it a try today.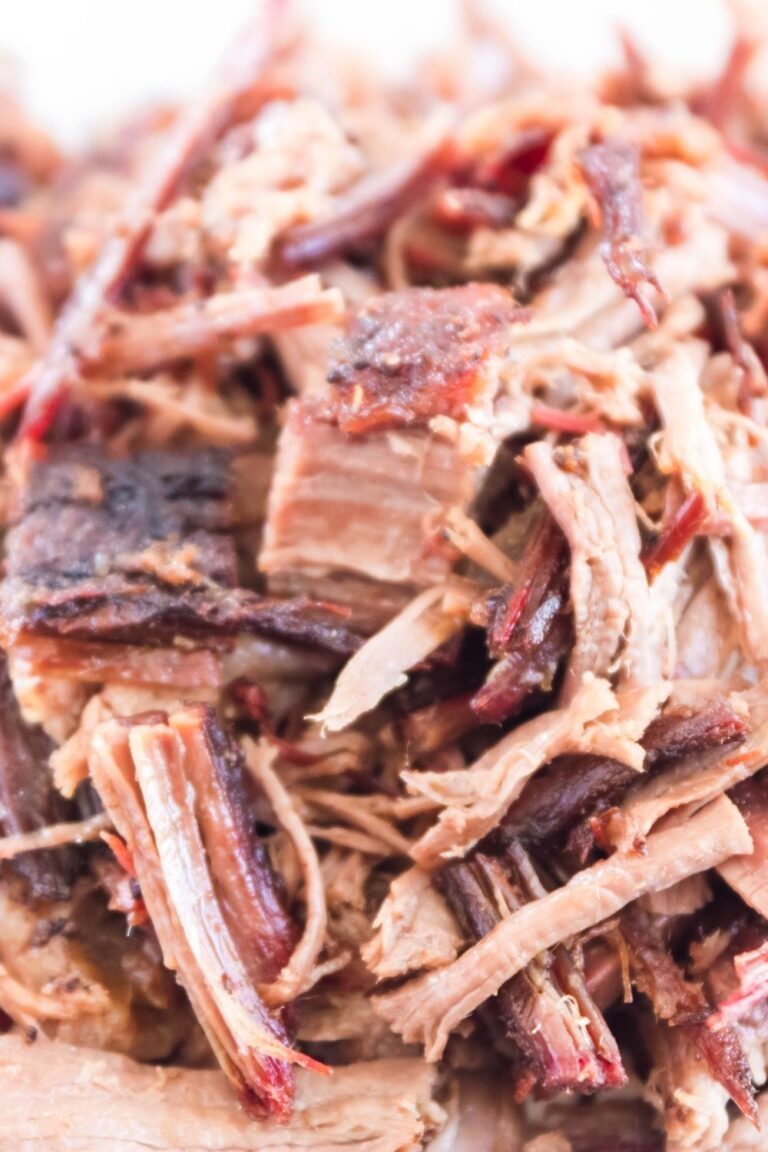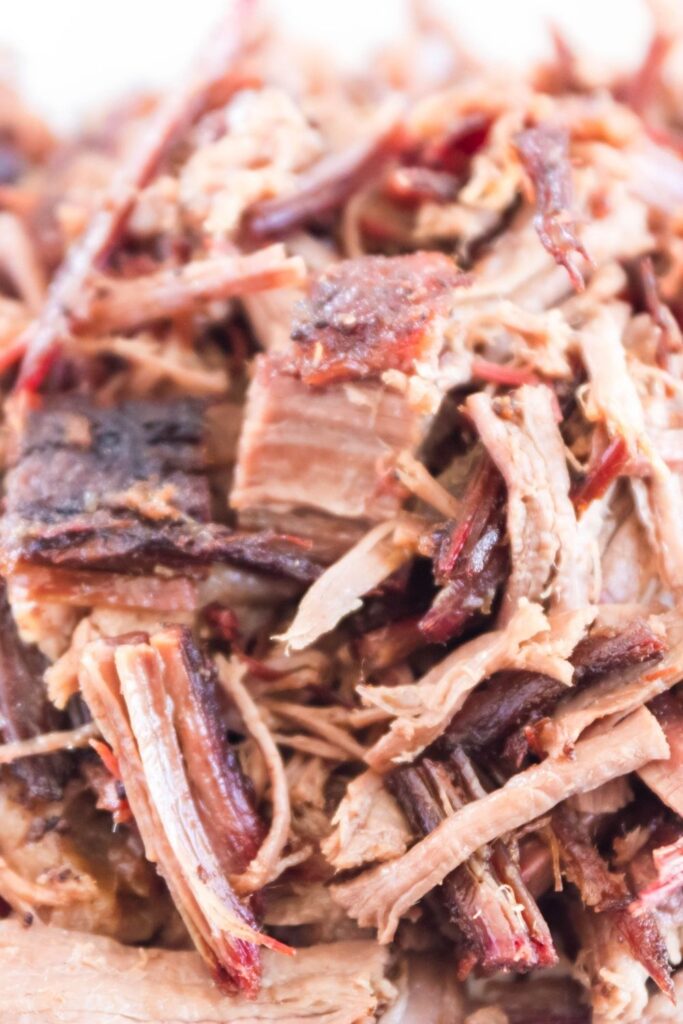 More Grilling Recipes
Have you tried the recipe? If so, please leave a star ⭐️⭐️⭐️⭐️⭐️ rating in the recipe card below or drop a comment. Also stay in touch with me through social media by following me on Facebook, Pinterest, or My Facebook Group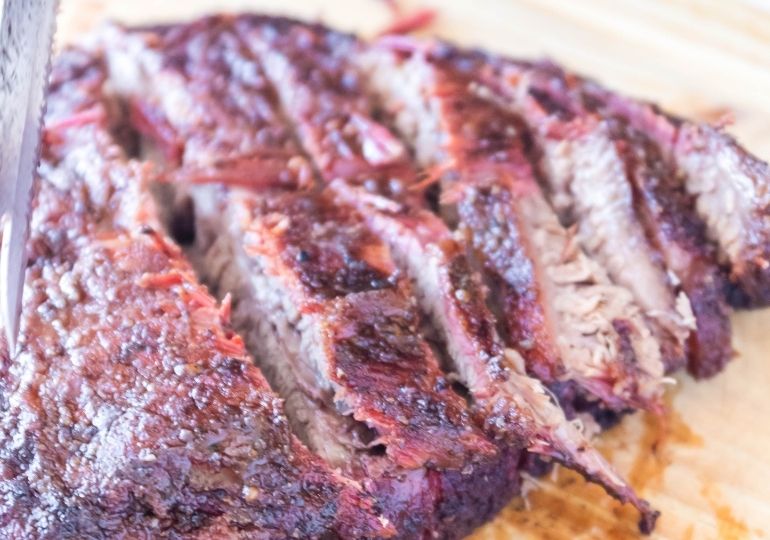 Smoked Brisket
Servings 6
Smoked Brisket that is melt in your mouth tender. This Texas style Brisket is so easy to make, and will be a treat for the whole family. Learn how to smoke brisket easily.
Ingredients
1 3-4 pound Brisket
1 tablespoon Kosher Coarse Salt
1 1/2 tablespoons Black Pepper
1/2 tablespoon Smoked Paprika optional
Instructions
Preheat your smoker to 225 degrees F.

Trim your brisket by removing the excess fat and silver skin. We purchased a pre-trimmed brisket so there wasn't the excess prep work.

Then you will mix your salt, pepper, and paprika in a small bowl. Once well combined begin massaging into the brisket.

Make sure to do all sides and even the edges. Once well seasoned head out and place your brisket on the smoker.

Aim to cook your beef brisket for 1 1/2-2 hours per pound of brisket. So a 3 pound brisket can take up to 6 hours to fully cook.

About half way through cooking, flip over the brisket to allow an even cook on both sides.

Smoke your brisket until it reads 165 degrees internally. This takes a few hours to reach this internal temperature. Depending on how large the cook time will vary greatly.

Once your brisket reaches 165 degrees, remove and wrap in aluminum foil or even meat paper. Then place it back on the smoker to finish cooking.

You want to continue cooking your brisket wrapped until it reads 202 degrees F internally. Once it is done allow it to rest for 30 minutes up to 1 hour.

Slice your brisket against the grain. You can also shred your brisket if you prefer, it should be nice and tender so you are welcome to do either method.
Notes
Seasoning – You are welcome to change up how you season your brisket. Adding some garlic powder is a delicious option as well.  Trimming – Make sure you do not skip trimming away excess fat if you don't purchase a pre-trimmed brisket.  Cook Time – You need to adjust the cook time according to how large or small your brisket is. Average time is 1 1/2-2 hours per pound of meat you are cooking.  Resting – You need to allow your brisket to rest once you pull from smoker or it will dry out and not stay moist and tender. 
Nutrition
Serving: 4gCalories: 6kcalCarbohydrates: 1gProtein: 1gFat: 1gSaturated Fat: 1gPolyunsaturated Fat: 1gMonounsaturated Fat: 1gCholesterol: 1mgSodium: 1164mgPotassium: 34mgFiber: 1gSugar: 1gVitamin A: 296IUVitamin C: 1mgCalcium: 9mgIron: 1mg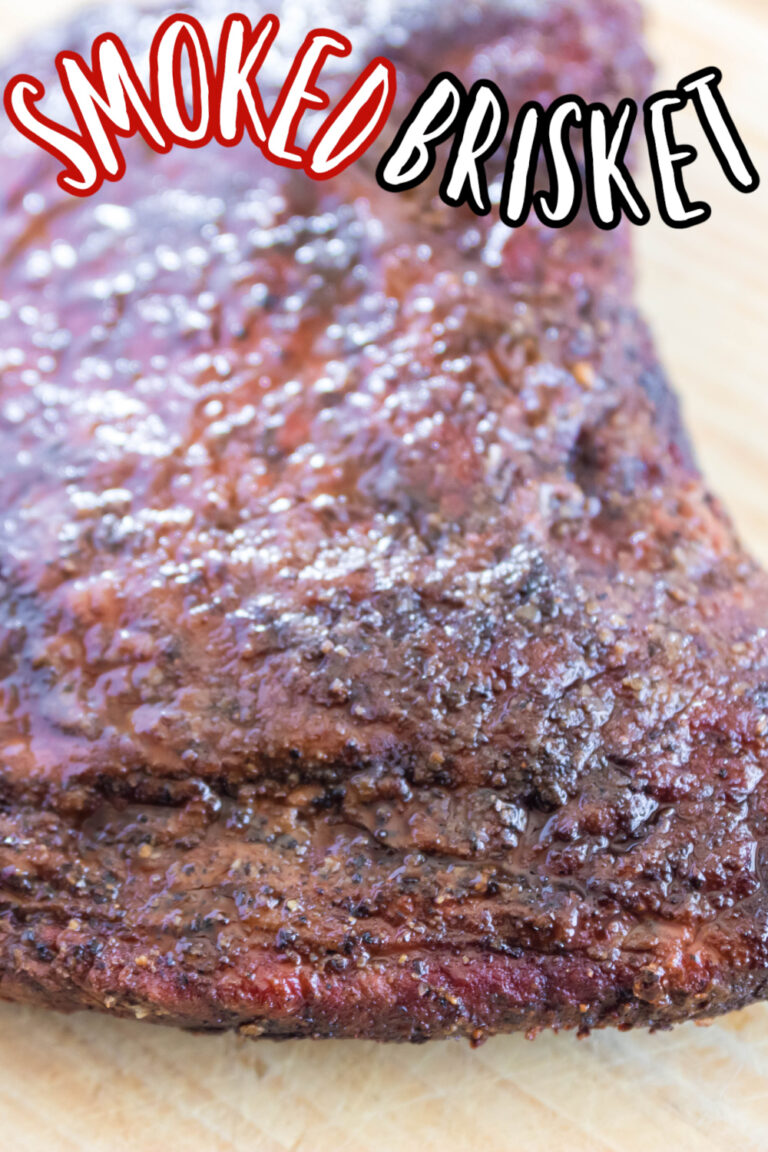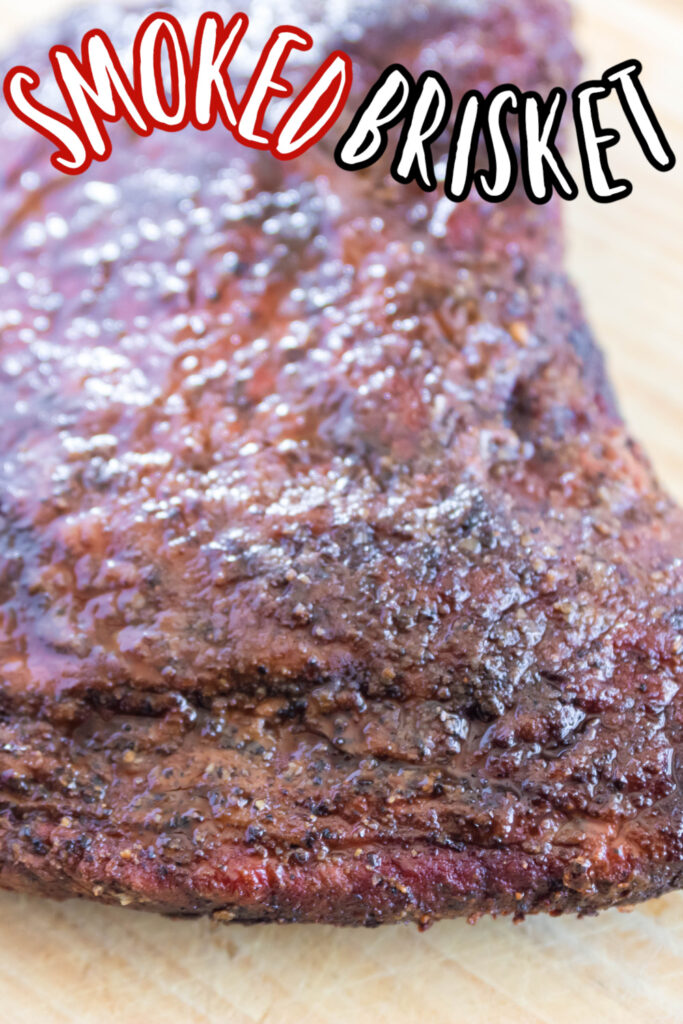 Reader Interactions