These Football strawberries are a chocolate dipped strawberry that has a white chocolate football lace design. An easy and quick football dessert that you can make in no time. Give this fun game day dessert a try.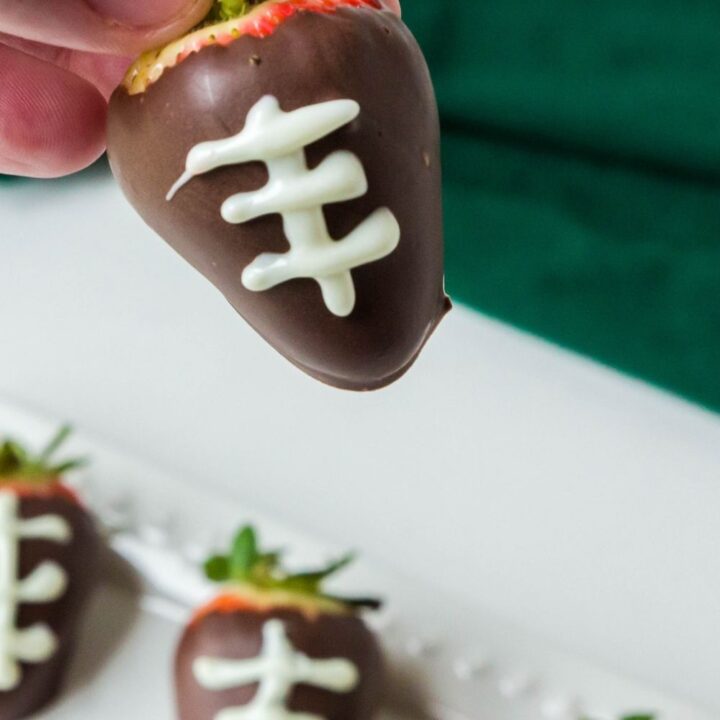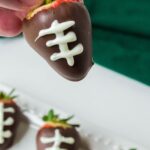 Turn on your big game and serve up these delicious football strawberries. A football designed chocolate covered strawberry! This is one tailgate dessert everyone will want!
Chocolate dipped strawberries are a weakness of mine. Add on a football lace design, and you have a football shaped dessert to nibble on as you cheer on your favorite team.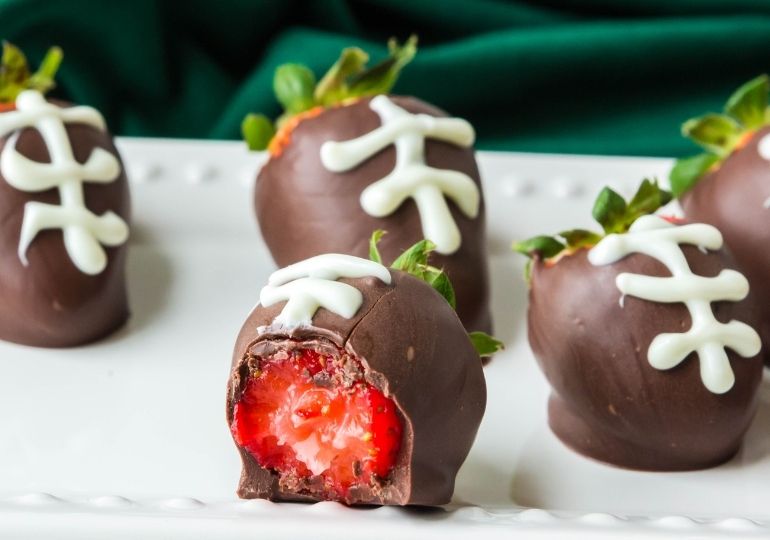 This is a super simple but fun game day dessert you got to try. I am no pro at working with chocolate, but these berries were pretty easy to make. 
Why Make These Dipped Strawberries
Easy – This is a fun game day treat that you can throw together. It's simple to do but the presentation value is awesome!
Gourmet Strawberries – Skip the expensive berries and make them yourself. Serve up gourmet strawberries without the hefty price tag.
3 Ingredients – You just need 3 ingredients to make this super bowl dessert! It's so fun and affordable.
Football Food – This is a great dipped strawberry recipe for a football party or football birthday theme! Any game day lover will enjoy biting into this sweet treat.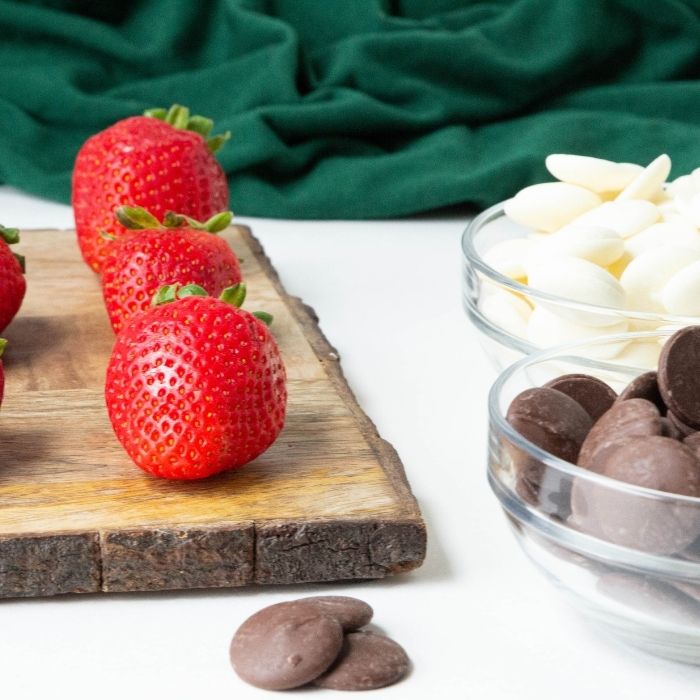 Ingredients You Need
Strawberries – Fresh strawberries are best. You can buy regular size or reach for gourmet straw west size if your store has any.
White Chocolate – I used Ghirardelli white chocolate wafers for drawing on the football laces.
Dark Chocolate – You either need melting chocolate or you need to temper your chocolate. I used Ghirardelli dark chocolate wafers. I melted down.
Tools That Are Helpful
Microwave Safe Bowl – You can melt your candy melts in the microwave.
Parchment Paper – to prevent chocolate from sticking once you dip.
Squeeze Bottle – I used this to draw on the football laces. You could use a piping bag as well.
Substitute and Additions
You can use your favorite teams color of chocolate. Dip in one color, and then for the lace do a white or another color.
Add on some team color sprinkles.
You can dip apples, other berries, etc. as well.
Use chocolate chips instead of chocolate wafer melts. If you do chocolate chips add a teaspoon of shortening to allow the chocolate to harden.
How to Make
Step 1: First you will want to melt your milk or dark chocolate wafers in the microwave.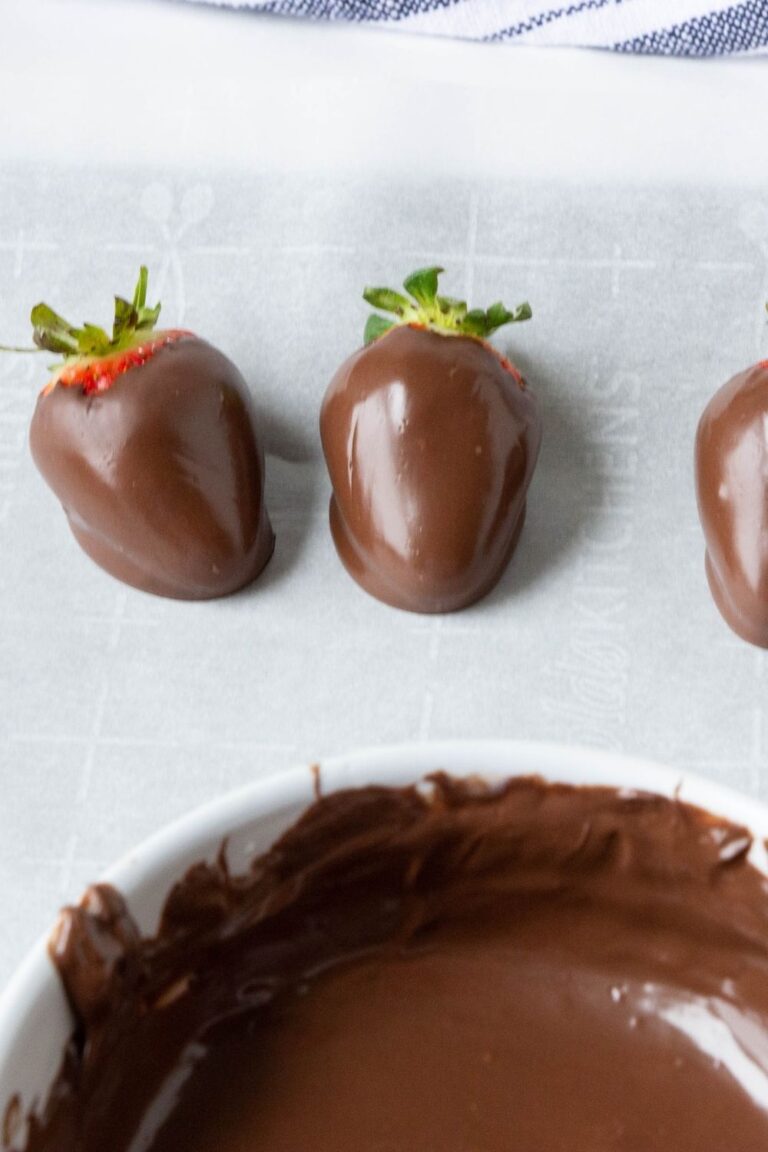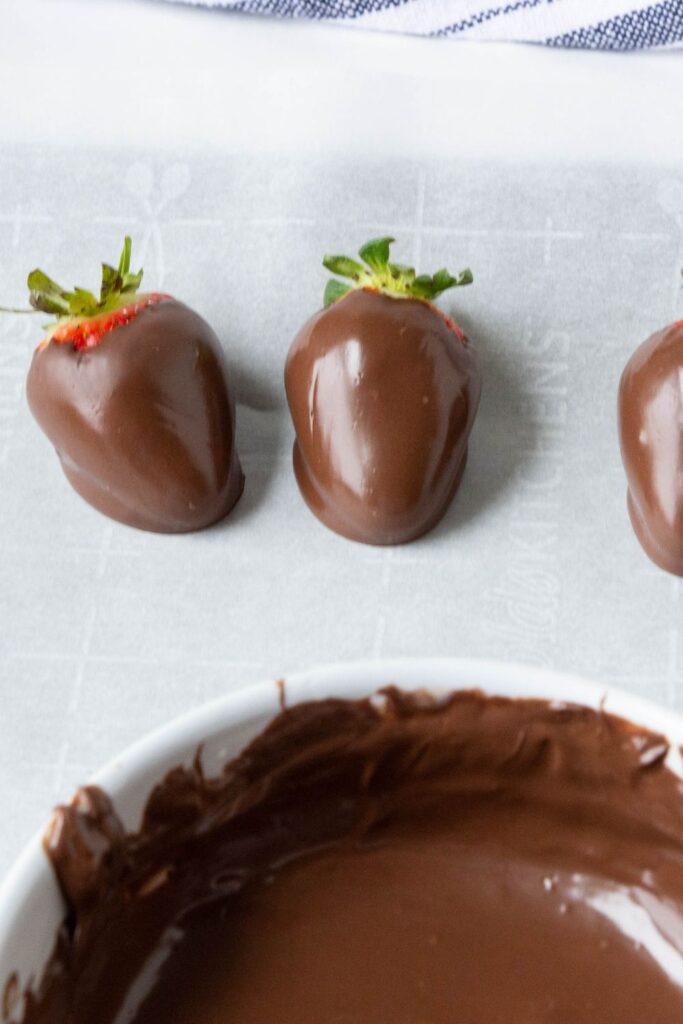 Step 2: Next, you will dip your berries in the chocolate. I hold on to the stem then roll the strawberries in the chocolate coating all areas. Then shake off excess.
Steps 3: Let the chocolate harden on the strawberries. This takes around 5 minutes. In a microwave safe bowl or the squirt bottle add chocolate and melt. Stir in between 20 second heat cycles till melted.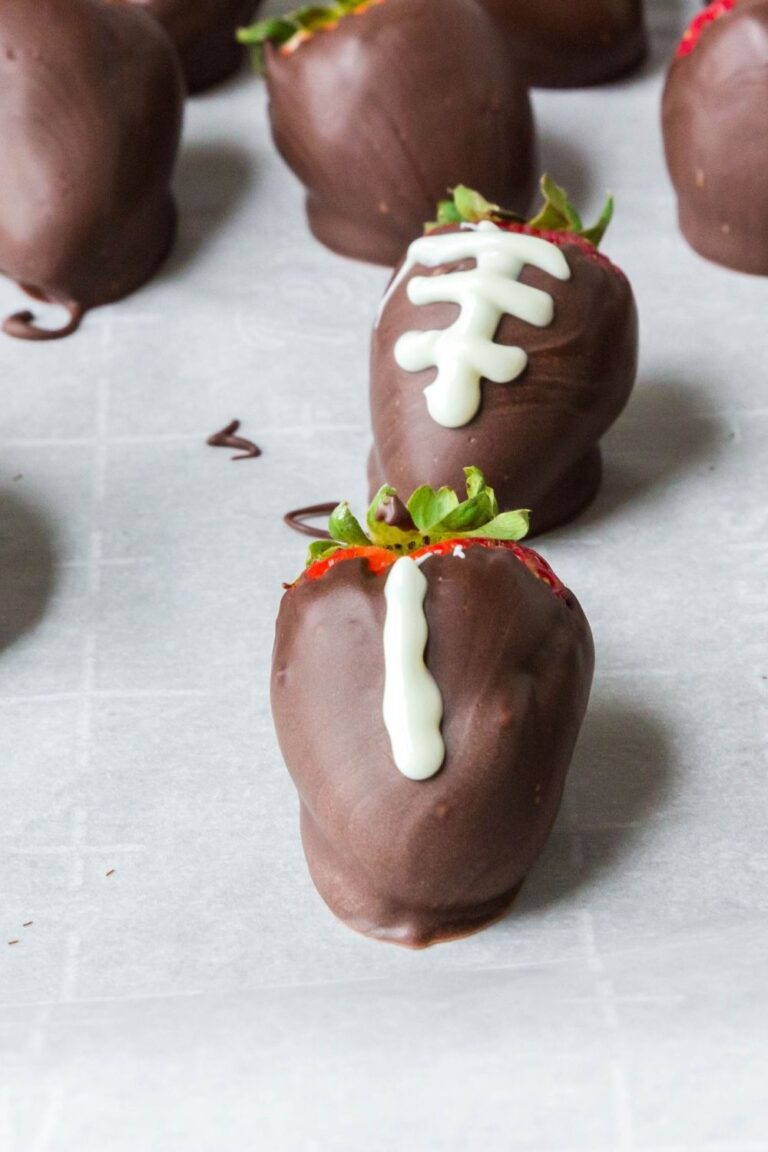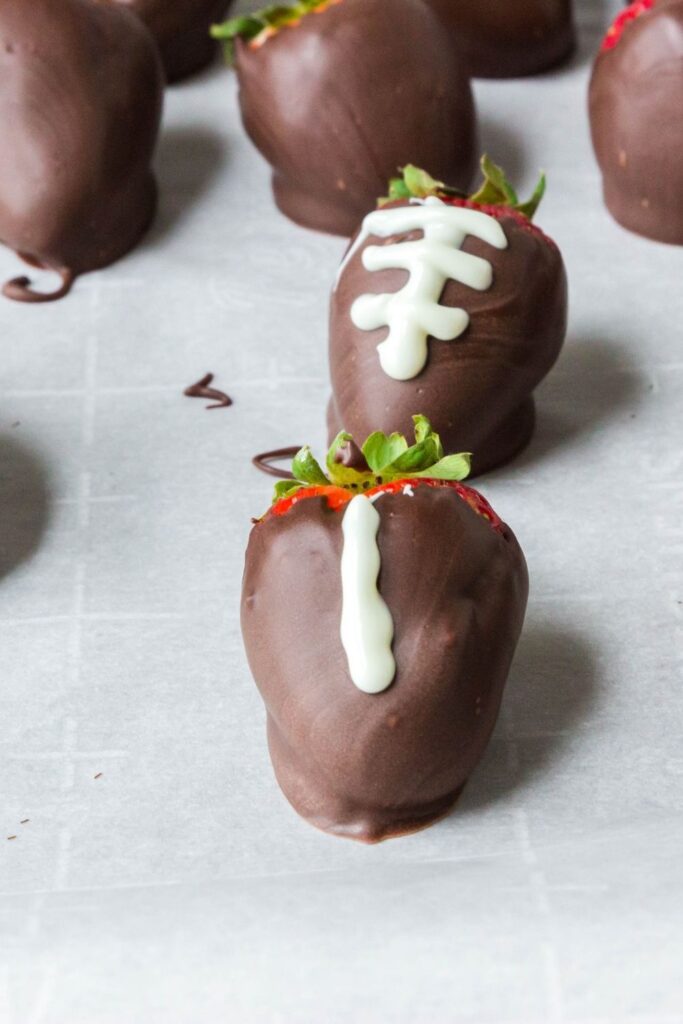 Step 4: Then draw a line down the middle with 2-3 lines going across to be like a football lace. Then let the chocolate covered strawberry design harden then serve.
Storage Of Berries
Your strawberries will store for 1-2 days in the fridge. The strawberries will release juice, and leak out a bit the longer they sit. I recommend making these only up to 24 hours in advance. But they are best made and served only a few hours in advance.
Freezing berries can work but the texture of the strawberry will be totally different. If you do freeze they would just be for snacking on, it wouldn't be good for serving up to guests.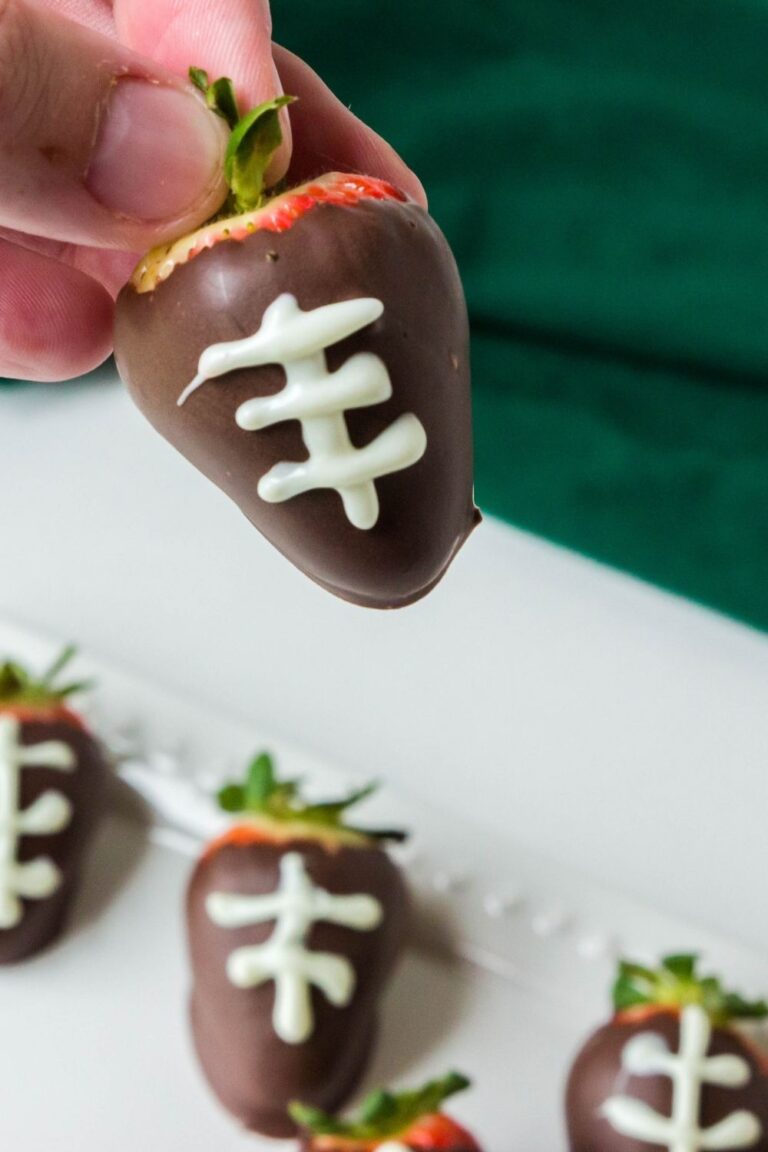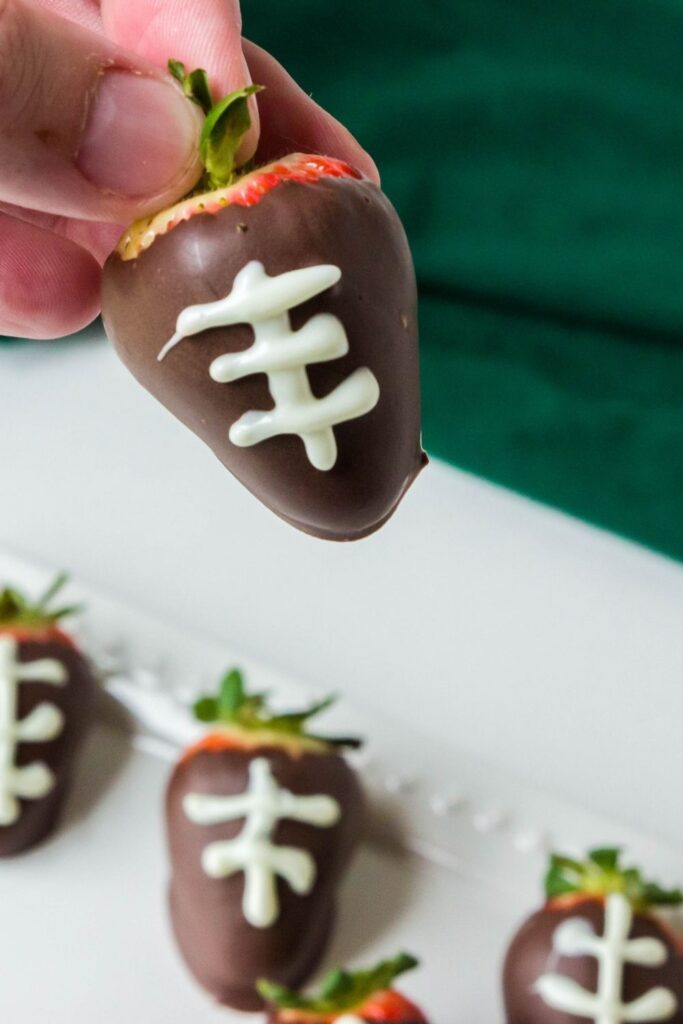 Expert Tips
When you draw on the white lines, make sure the chocolate isn't too hot. If it is it will be a lot more liquidy and run a bit. Letting it set up slightly before you pipe.
You can use a piping bag to draw on the lace of the football if you want. My bottle had a bit of a larger tip so the look isn't perfect.
It is okay if your berries are not perfect. It adds a personal touch and is still so much fun.
Frequently Asked Questions
Related Game Day Recipes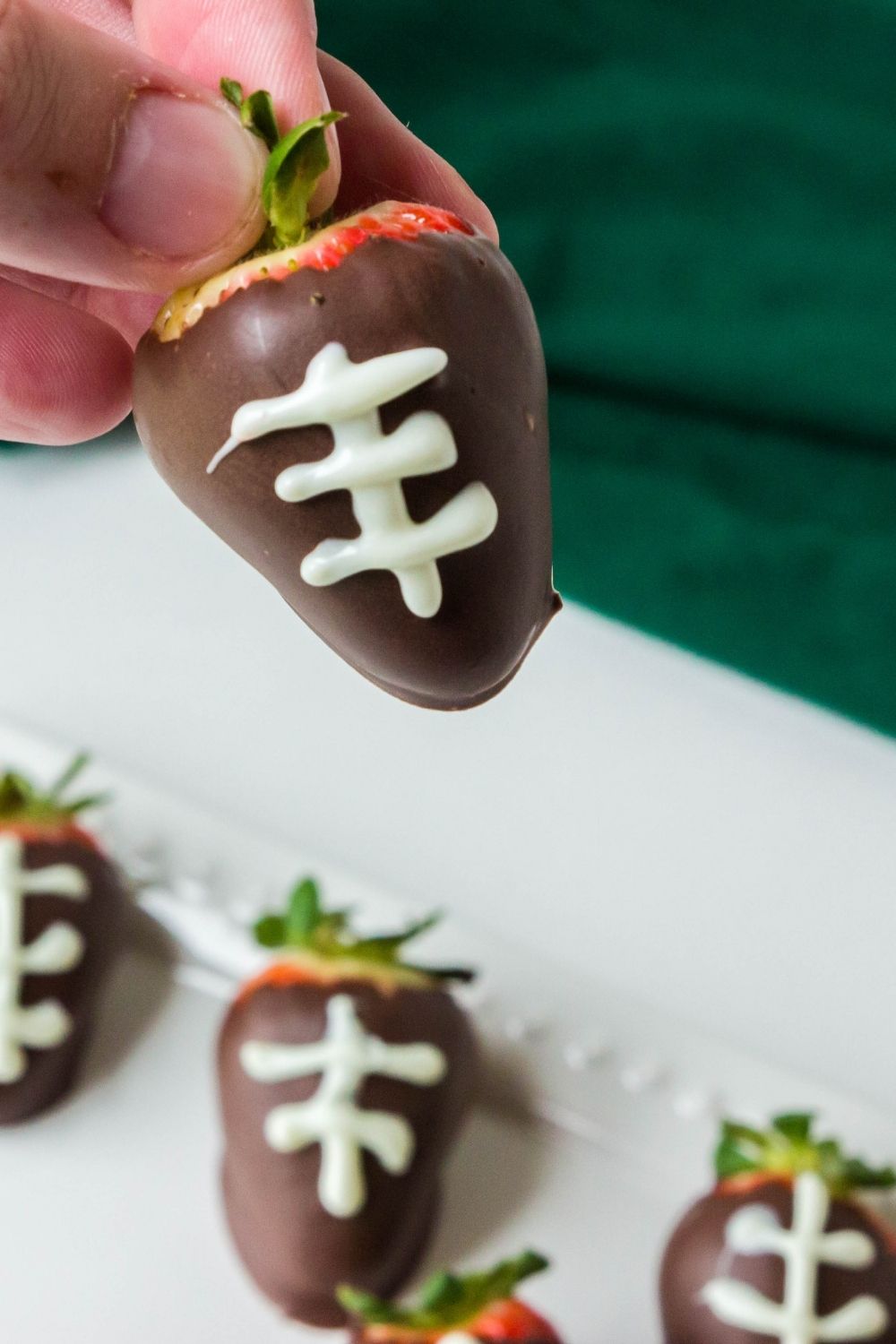 Football Strawberries
Servings 2 pound strawberries
These Football strawberries are a chocolate dipped strawberry that has a white chocolate football lace design. An easy and quick football dessert that you can make in no time. Give this fun game day dessert a try.
Ingredients
2 pound of strawberries
10 ounces dark chocolate Ghirardelli wafers
5 ounces white chocolate Ghirardelli wafers
Instructions
Start by melting your dark chocolate in the microwave for 20-30 second increments.

Lay out some parchment paper, and then with the melted dark chocolate hold the strawberries my leaves and dip in the chocolate.

Shake off the excess chocolate and then place the berry on parchment paper to set up. Repeat the process till all the strawberries have been dipped in the dark chocolate.

Next, once your chocolate is hardened, you will work on the white chocolate. Melt your chocolate in the microwave again. I placed my chocolate in the squirt bottle then stirred and heated till fully melted.

Let the chocolate cool a bit, if it is too hot the chocolate will run a lot. Then you will draw a straight line down the center of the berries. Then create 2-3 stripes across the berry to mimic football laces.

Once all your white chocolate is on the berries, you will then plate up the football strawberries and serve or refrigerate until you are ready to serve.
Notes
Chocolate For Melting – You can use almond bark or candy melts. If you use chocolate chips you need to add 1 teaspoon of shortening to the chocolate. Or temper your chocolate so the chocolate hardens. Color of Chocolate – So you can get creative and use all different colors of chocolate. If you are rooting for Kansas City Chief do a yellow dipped strawberry with red laces. Or swap any colors you want to fit your teams colors. Storing – These strawberries will store for 1-2 days in the fridge. After that the berries will break down a lot and release a lot more juices.
Nutrition
Serving: 1gCalories: 101kcalCarbohydrates: 13gProtein: 1gFat: 5gSaturated Fat: 3gPolyunsaturated Fat: 2gCholesterol: 2mgSodium: 15mgFiber: 1gSugar: 10g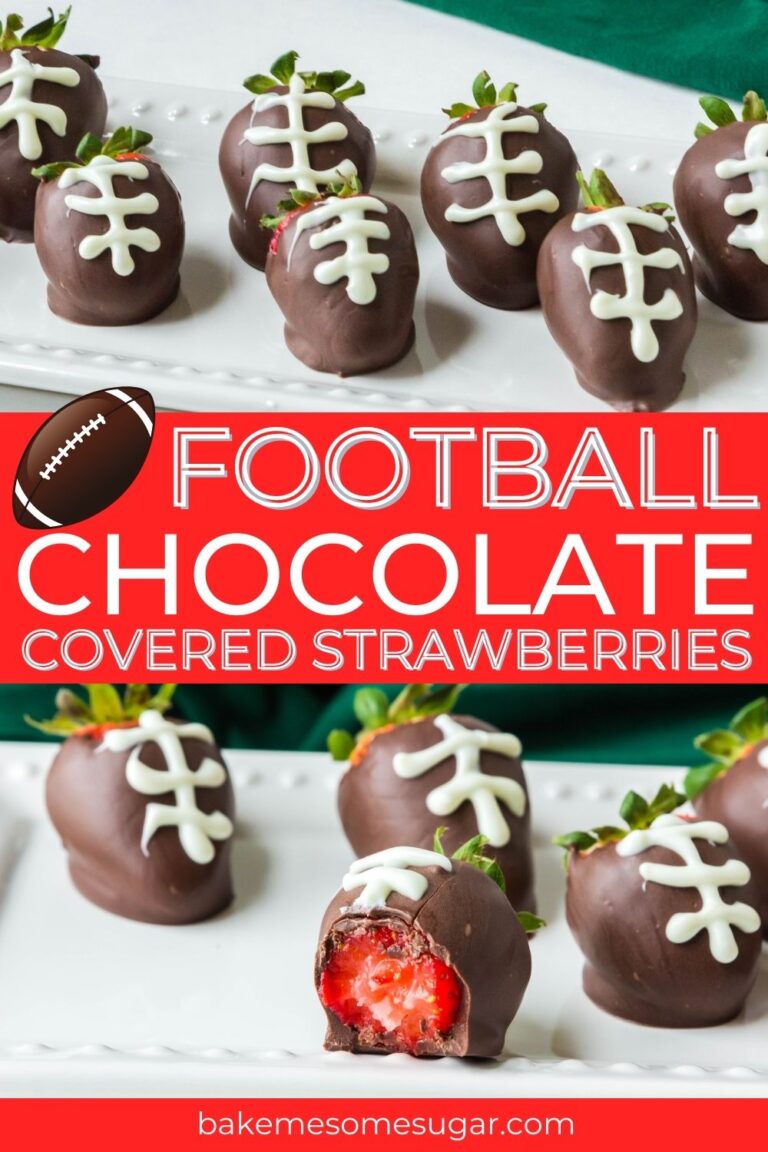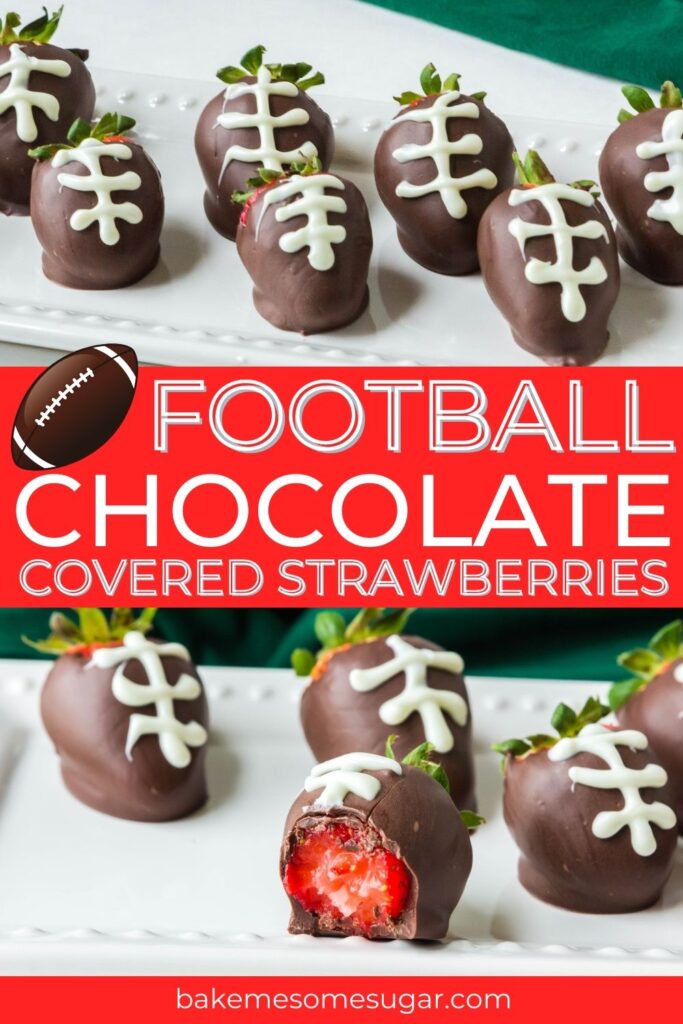 Reader Interactions