Soft Pretzel Recipe that will be your new go-to homemade soft pretzels recipe. An easy pretzel that is so good.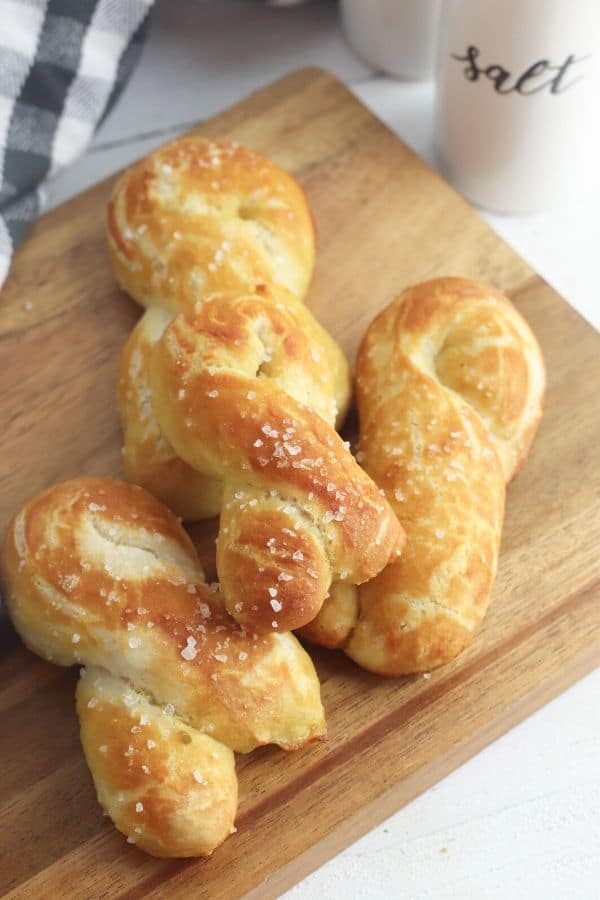 Soft Pretzels Recipe
I reached for my Instant Pot to make proofing the dough for the pretzels to rise faster. If you don't have an Instant Pot you can let it rise in a bowl covered as well. It just takes longer.
Also, if you are looking for more Instant Pot recipes to try, check out my pantry recipes!
I am an Amazon Affiliate, so if you purchase through my link I can earn a commission on sales.
Homemade Pretzels Made Easy
Homemade pretzels don't have to be hard. I want to share a simple way on how to make pretzels that are just like the ones you love. Add on a little salt, pair with cheese dip, and devour!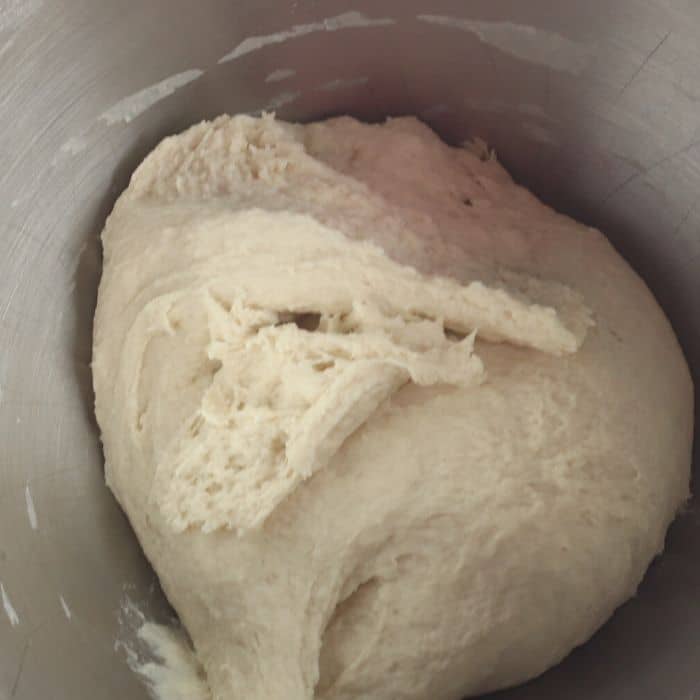 Proofing Dough In Instant Pot
I love using my Instant Pot to proof dough. I have made lots of recipes that you can try out, as well as these soft pretzel rolls.
Proofing your pretzel dough using the Instant Pot is a great way to speed up the rising process of the dough. You just select the yogurt setting on low and it takes about 30 minutes to rise.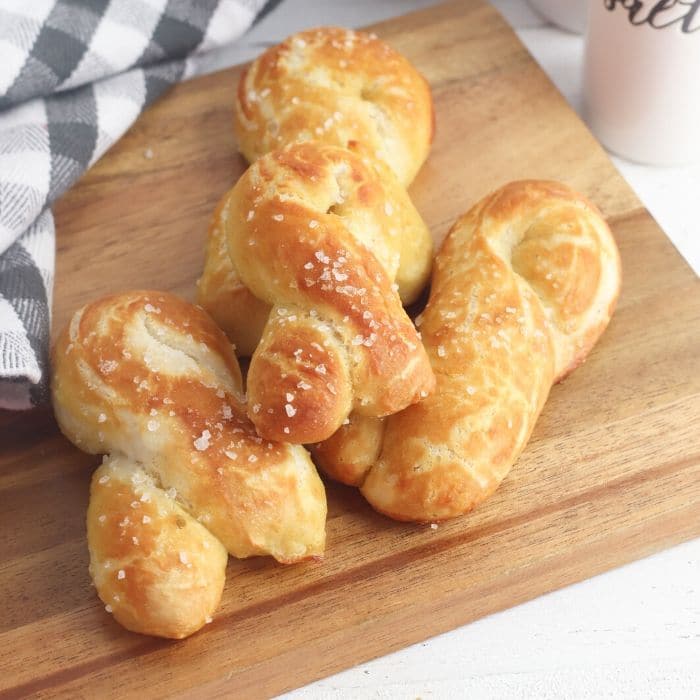 Ways To Serve Up Homemade Pretzels
Add cinnamon and sugar for a sweet pretzel
Dip in honey butter
Sprinkle on Pretzel Salt
Dip in Cheese
Make Beer Cheese
Any other favorite pretzel dipper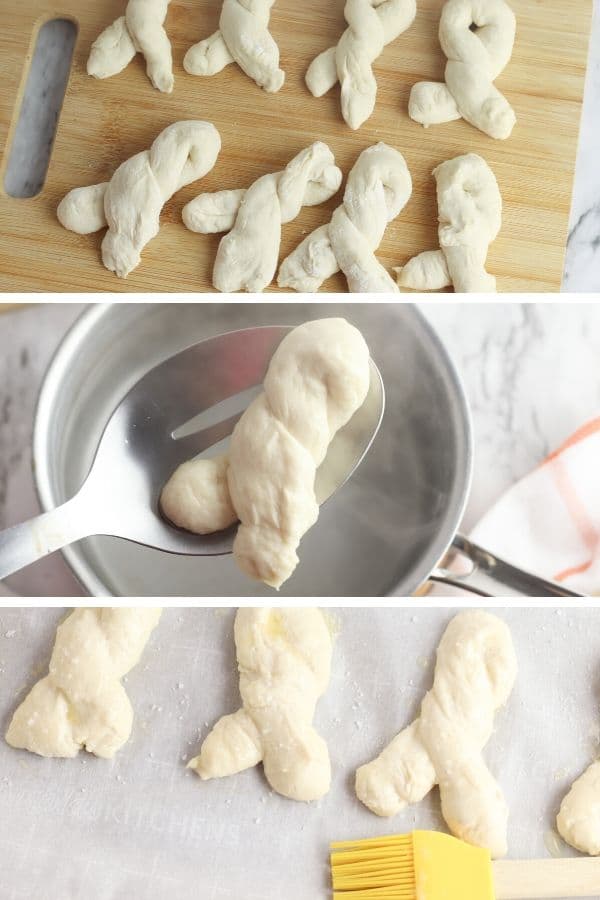 How To Make This Easy Pretzel Recipe
Start by allowing your yeast to activate. Then work on your pretzel dough.
Toss the dough in the Instant Pot on the yogurt setting to proof to speed up the time. Otherwise cover in a bowl and sit on the counter.
Once the dough is cut and twist your pretzels into the shape you want.
Boil water with baking soda, drop the dough in and then move to the next step of baking pretzel dough in the oven.
The full directions are in the recipe card below.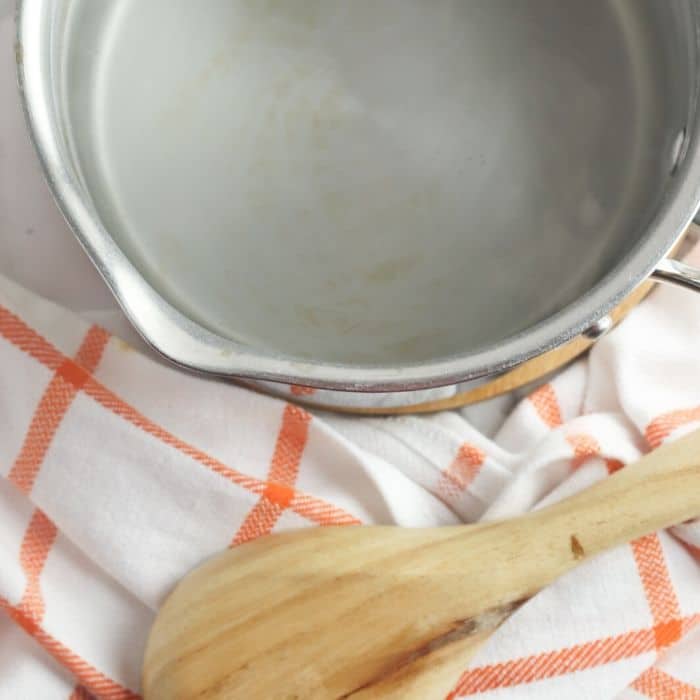 Why Do You Boil Pretzels
You boil pretzels with baking soda so that you get that shiny crust and brown color you are used to with pretzels.
Plus boiling your pretzels you get a distinct flavor that stands apart from a classic bread recipe.
Boiling your pretzel dough in water with baking soda is one step you can't skip.
What Is The Best Yeast To Use
While I generally use active dry yeast, you can use instant yeast as well. Those are the two I would recommend to using.
Can I Mix The Dough By Hand VS A Stand Mixer
Absolutely, you can mix your dough either way. Just as long as you mix it enough that it forms a ball you can then transfer to rise.
I love how easy this dough is to work with, if you measure right you will have an awesome dough to work with.
How Many Pretzel Twists Does This Recipe Make
I was able to make 24 pretzels out of this dough. Depending on how big your pretzels are will depend on how many you can make.
Or you can make these pretzels into a classic pretzel shape or do twist knots like I did in this recipe.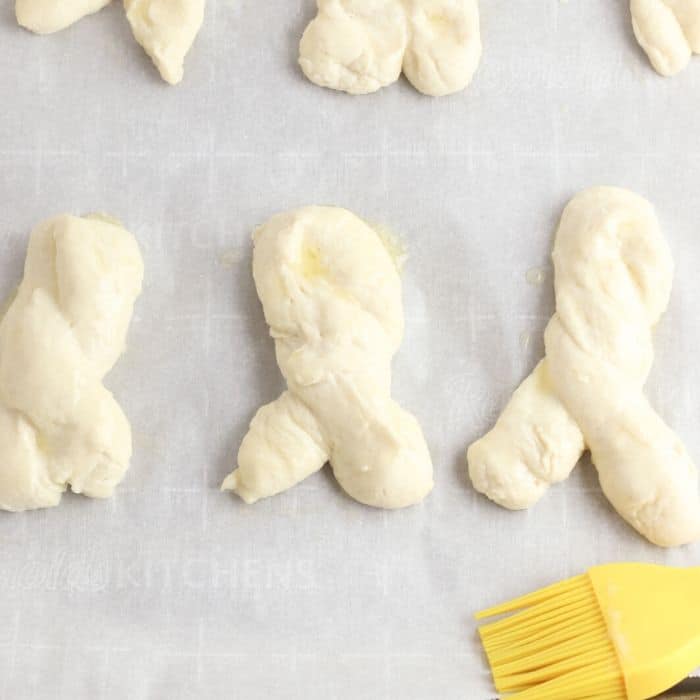 How To Get Golden Brown Pretzels
The key is after your dough is formed and on the baking sheet, spread the melted butter all over the pretzels. I use a silicone brush to dip and brush all over.
You then get that ultimate golden brown look you know and love when it comes to pretzels.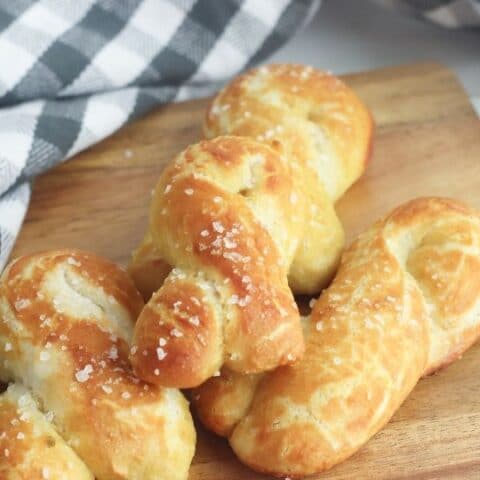 Soft Pretzels
Additional Time:
30 minutes
Total Time:
1 hour
10 minutes
Soft Pretzels that are homeade and so easy to make. Learn how to make soft pretzels while proofing your dough in the Instant Pot.
Ingredients
1 package yeast (active dry yeast)
1 cup warm water
2 ½ cups all purpose flour
1 teaspoon sugar
1 teaspoon salt
4 cups water
2 tablespoons baking soda
3 tablespoons butter, melted
1 tablespoon coarse salt
Instructions
Start by adding your yeast in a bowl with warm water that is 105 degrees. Add in your sugar as well. Let the yeast sit for 5 minutes to wait for it to bubble up.
Once the yeast is activated (bubbles up) you will add in your flour and salt. You can hand stir or use a stand mixer with the hook attachment. You will want to knead the dough for 3-5 minutes on the stand mixer setting of medium.
Now you can move your pretzel dough to a greased bowl and cover to rise for one hour. Or turn your Instant Pot to low on the yogurt setting and place your dough inside. Cover with a glass lid for 30 minutes.
Once your dough has risen from whatever method you chose, you will turn down the dough and roll out on a floured surface.
Cut your dough into long logs, and make even strips.
You want to roll your dough into thin strips and then twist the strips to make a knot and set aside. Repeat till all your knots are done.
Now turn the oven on to 400 degrees to preheat the oven.
Now you will want to bring a pot of water to a boil, and add in the baking soda. You will heat until baking soda is dissolved. Then remove from the heat.
Now you will dip each of your pretzels in the hot water (in and out), and then transfer to a paper towel-lined plate.
Move all your dipped pretzels to a baking sheet that has parchment paper. Now spread some melted butter on each of the pretzels. Then top with the coarse salt.
Bake in your preheated oven for 15-20 minutes or until your pretzels are golden brown.
Nutrition Information:
Yield:

24
Serving Size:

1
Amount Per Serving:
Calories:

61
Total Fat:

2g
Saturated Fat:

1g
Trans Fat:

0g
Unsaturated Fat:

1g
Cholesterol:

4mg
Sodium:

681mg
Carbohydrates:

10g
Fiber:

0g
Sugar:

0g
Protein:

1g