Vegan Energy Bites to fuel your body and please your tastebuds. Skinny strawberry shortcake bites are vegan and gluten-free. These little bites give you that strawberry shortcake flavor that is perfectly sweet and such a satisfying treat.
With just a handful of ingredients you might have in your pantry, you can whip up these bite-size strawberry shortcake bites in minutes. Gluten-free, vegan, and a pretty pink!
What more could you want in a treat? Just 10 minutes is all it takes to make these delicious bites.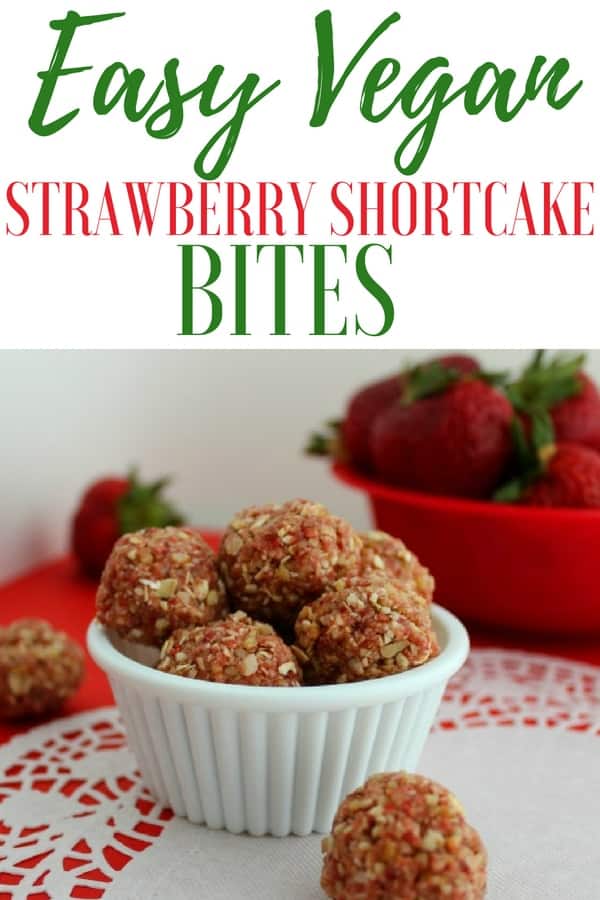 Vegan Energy Bites
This week we took a plunge and bought a handful of Guinea fowls for our home in the country. They are really fun and great for eating ticks, spiders, mice, and other bugs that are roaming around.
We have to keep them locked up for a few weeks so that they get used to our home, and then we slowly will let them out. I am hoping they are a great asset to our home! We live on 20 acres, so we have a lot of areas for them to roam and enjoy the country life.
Other Desserts to Try
Strawberry Shortcake Bites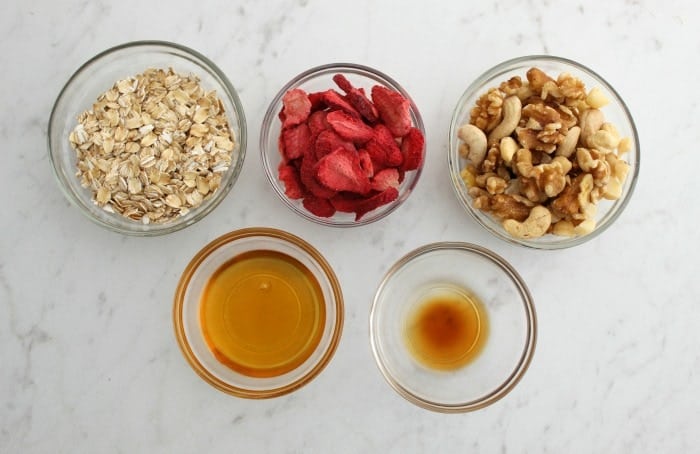 Where To Buy Freeze Dried Strawberries
I use freeze dried strawberries when I make these bites. I find that it gives the perfect texture and flavor to them. When I have used fresh strawberries in the past these bites end up in a gunky-mess. I bought my strawberries on Amazon. But you might be able to find at a specialty store near you.


Because the strawberries have so much moisture reaching for freeze-dried just makes more sense. The beauty of freeze-dried fruit contains less water which is great for cooking with and you can eat more pieces, which means more nutrients. The only downfall is during the freezing process it can lose some of the nutrients like vitamin C, but for the most part, the nutrients are preserved.
No-Bake Strawberry Bites
These strawberry shortcake bites only require a few ingredients, and I love with a few pulses of the food processor you have the perfect mix ready to roll up into balls.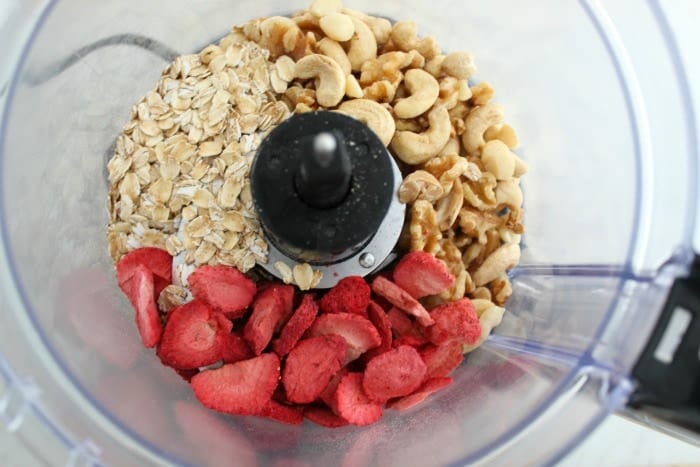 How to Make Strawberry Energy Bites
You simply mix in your nuts, strawberries, and gluten-free rolled oats. Pulse in your food processor or if you don't have one you can use a blender as well. Once it forms a ground coarse powder, toss in your agave and vanilla. Then allow the liquid to soak up a bit, and then roll your balls. My tip is after a few balls wash your hands, or you will struggle with getting the balls to form! They tend to stick to your hands if you do many more balls at once.
How Long Can You Store Strawberry Shortcake Balls
You can store these bite-size strawberry shortcake balls in the fridge or room temperature. They last around 4 days, but I recommend eating them in the first 2-3 for prime flavor.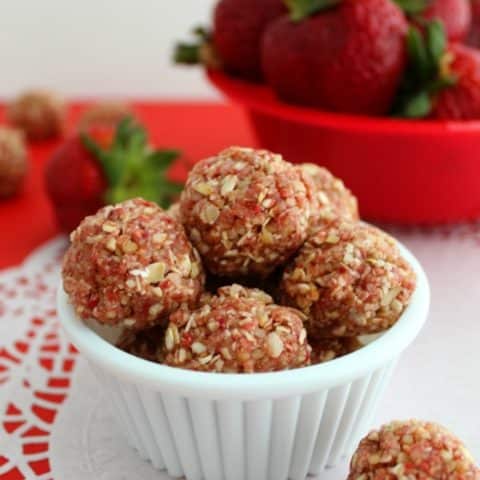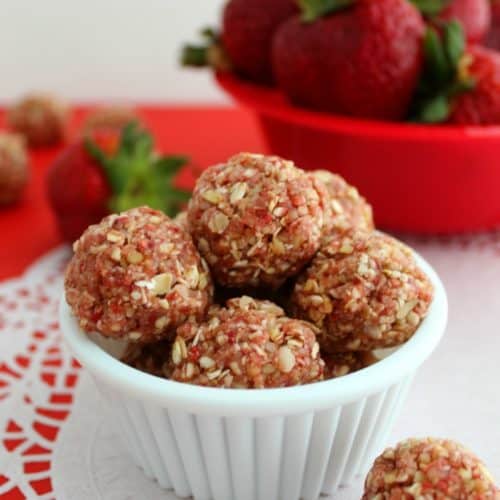 Skinny Strawberry Shortcake Bites
This skinny strawberry shortcake bites recipes is vegan and gluten-free. These little bites give you that strawberry shortcake flavor that is perfectly sweet and such a satisfying treat.
Ingredients
3/4 cup freeze dried strawberries
1/2 cup Gluten Free old fashioned rolled oats
1 cup raw unsalted mix of cashews, walnuts and macadamia nuts, You can mix these nuts or just use one type of nut
4 tbsp raw agave nectar, (if you are not vegan can substitute honey)
1/2 tsp vanilla
Instructions
Place the freeze-dried strawberries, gluten-free oats, and cashews in a food processor. Pulse just until the mixture is ground to coarse powder.
Pour the raw agave nectar and vanilla extract into the food processor. Pulse a few more times until the liquid is evenly absorbed and the mixture starts to stick together.
Lay a piece of parchment paper on a flat surface or baking sheet.
Place a tablespoon of the mixture into clean hands and roll into a ball. Place on parchment paper and continue this process until all of the mixtures is used.
Recommended Products
As an Amazon Associate and member of other affiliate programs, I earn from qualifying purchases.
Nutrition Information:
Yield:

12
Serving Size:

2 bites
Amount Per Serving:
Calories:

133
Total Fat:

9g
Saturated Fat:

2g
Trans Fat:

0g
Unsaturated Fat:

7g
Cholesterol:

0mg
Sodium:

81mg
Carbohydrates:

12g
Fiber:

1g
Sugar:

5g
Protein:

3g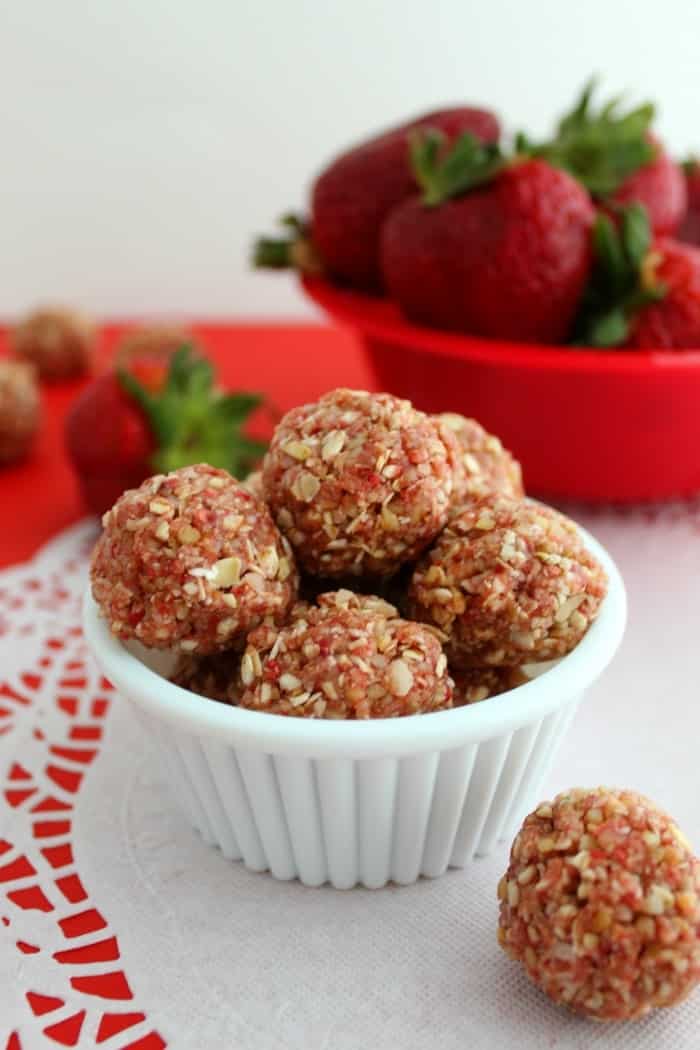 I hope you enjoy these tasty skinny strawberry shortcake bites as much as well do! Grab for a quick breakfast, pack for lunch, or a snack any time of the day!
What is your favorite way to eat strawberries?