Instant Pot Brownie Cheesecake topped with a rich chocolate ganache layer. An easy cheesecake recipe that will stand out from the rest!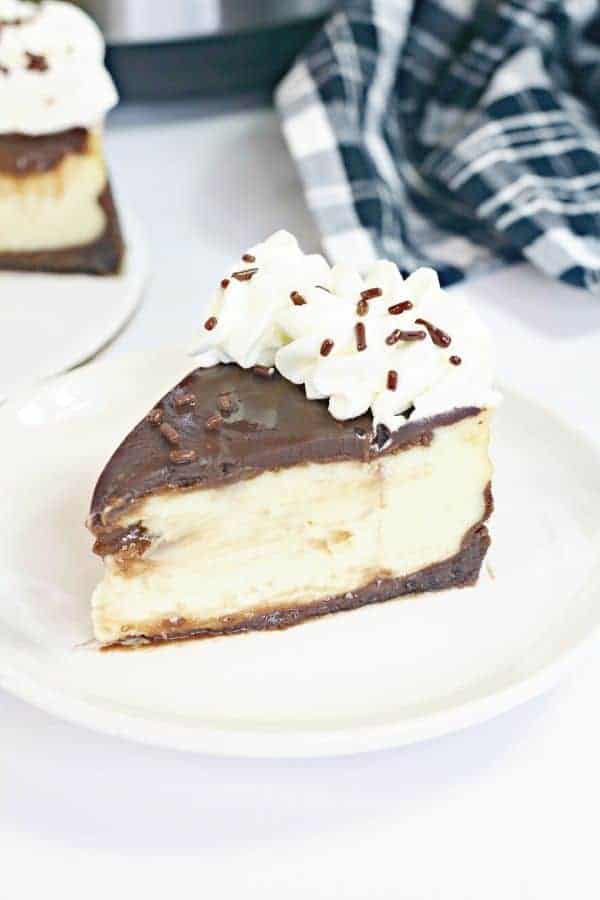 Instant Pot Brownie Cheesecake
I am a HUGE fan of cheesecake. Whether I order it at my favorite restaurant or make a homemade cheesecake in my Instant Pot. This brownie cheesecake gives you cheesecake and brownies all in one.
The best of both worlds in my books. You have a brownie batter bottom, homemade velvety cheesecake center and chocolate ganache on top, with chocolate sprinkles.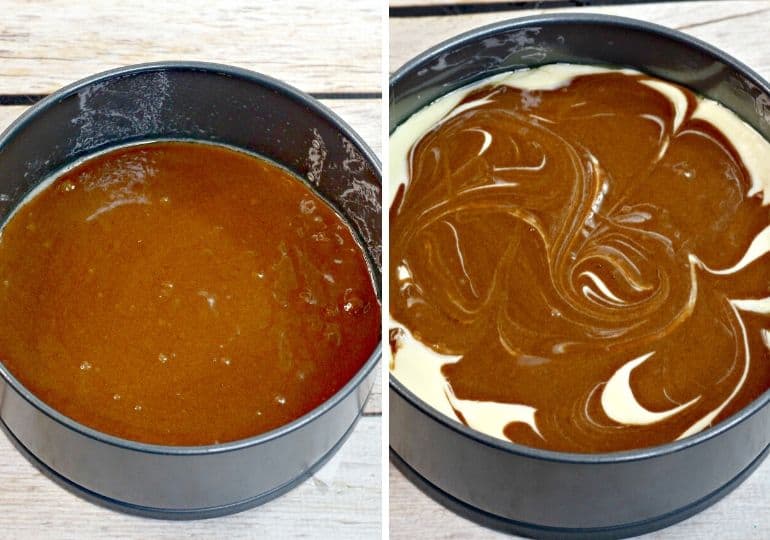 I am an Amazon Affiliate, so if you purchase through my link I can earn a commission on sales.
Looking for something a little lighter? Try my chaffles recipe, great for those who are on the keto diet.
How To Make Instant Pot Brownie Cheesecake
Making cheesecake in your Instant Pot is easy. Start by greasing your cheesecake pan and laying out parchment paper on the bottom.
Then work on the brownie batter that you pour into the bottom of the cheesecake pan. You will not use all of the batter as the crust, you will save some back to swirl on top.
Now tackle the homemade cheesecake filling, pour on. Swirl with some brownie batter and cook according to the directions below. Once your cheesecake is cooled allow to cool a bit and refrigerate.
Once the cheesecake has cooled you will then work on the chocolate ganache. Pour it over the top and return to the fridge until ready to serve.
Decorate the top right before you serve your brownie cheesecake. Slice and devour.
The full directions for this chocolate brownie cheesecake recipe are in the recipe card below.
Brownie Cheesecake Recipe
I am kind of obsessed with cheesecake. This brownie cheesecake recipe is a favorite but, here are some of my others you might want to try.
What Is Best – Push Pan Or Spring Form Pan
So I have used both, push pans and springform pans for making cheesecake.
You are welcome to use either pan, it is up to what you prefer. The push pan I feel gives a pretty presentation as it is a lot thicker, while the 7-inch cheesecake is a bit thinner but still an incredible choice.
So it is all about what pan you prefer to use, or even what style of cheesecake you prefer in terms of look.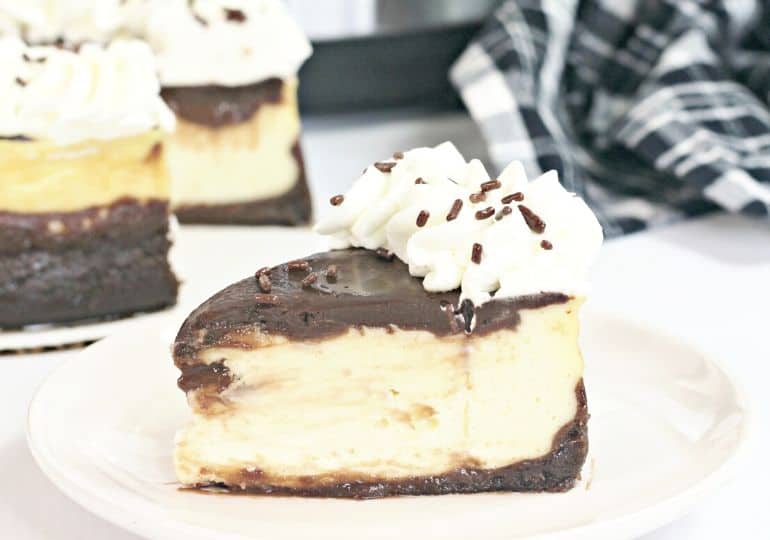 What Do I Need To Make Instant Pot Cheesecake
Instant Pot | I recommend a 6 or 8 quart Instant Pot, they are great for making homemade cheesecakes.
Push Pan or Springform Pan | Either pan will work for making cheesecake in your pressure cooker. It is all about preference. I have used both style of pans and enjoy them both.
Silicone Sling | I have this and it is great for all types of recipes. I use my sling to sit my pan on to lower it in and out with ease into the Instant Pot. Or you can create a foil sling if you don't want to buy a sling.
Parchment Rounds | You will love having these on hand to easily lay in the bottom of your pan. Or use regular parchment that you can cut to fit into your round pan.
Star Tip | I used the star tip with a piping bag to decorate the top of my cheesecake. This is totally optional.
Hand Mixer | I used a hand mixer to whip up my homemade whipped cream. You can use a stand mixer as well to get the stiff peaks you need.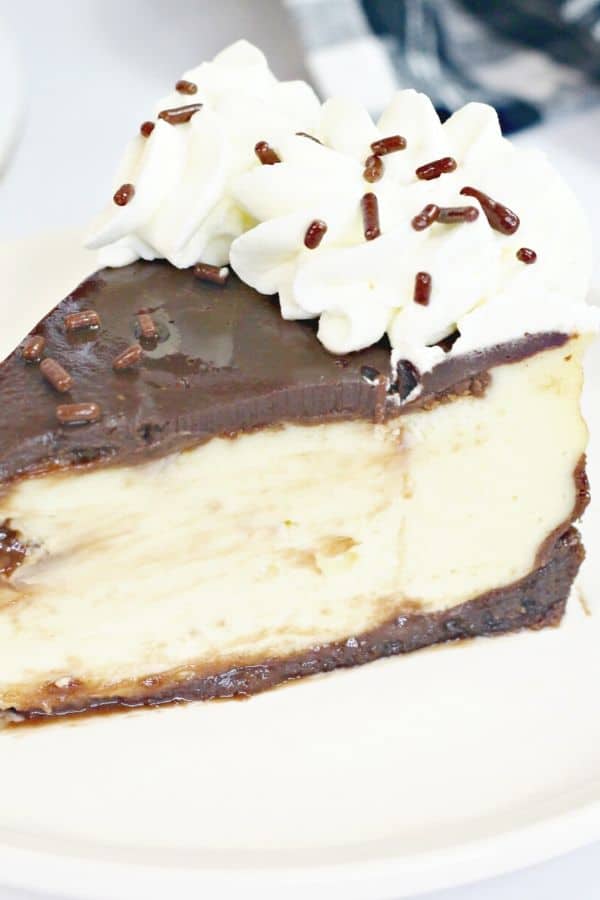 Want To Make More Instant Pot Cheesecakes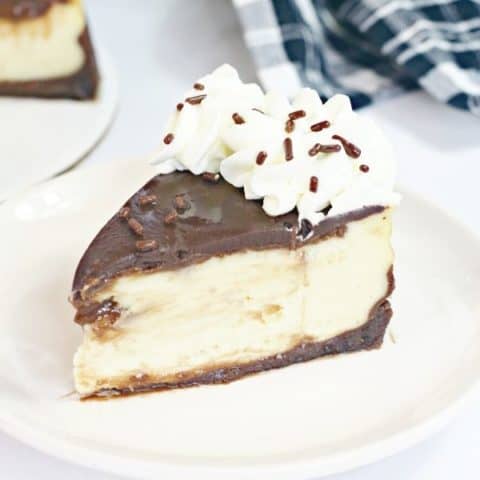 Instant Pot Brownie Cheesecake
Additional Time:
1 days
12 hours
Total Time:
1 days
12 hours
48 minutes
Instant Pot Brownie Cheesecake is a brownie base with a homemade cheesecake filling with brownie swirled on topped. Bake in the Instant Pot and then top with a homemade chocolate ganache. This brownie cheesecake recipe is incredible.
Ingredients
Brownie Crust
10.5 ounce brownie mix (I used classic brownie)
1/3 cup canola oil or vegetable oil
2 tablespoons water
1 large egg
Cheesecake Filling
2 Packages of Cream Cheese At Room Tempearture (8-ounce packs)
1/3 cup granulated sugar
1/4 cup sour cream
2 tablespoons all purpose flour
1 teaspoon vanilla
2 large eggs (room temperature)
Chocolate Ganache
1 cup semi-sweet chocolate chips
1/2 cup heavy whipping cream
Other Ingredients
Whipped Cream (optional)
Chocolate Sprinkles
Water for Instant Pot
Instructions
Start by spraying your Instant pot cheesecake pan with cooking spray and then lay down parchment paper in the bottom of the pan.
Then in a bowl, you will mix up your brownie batter - brownie mix, oil, egg, and water. Now once your brownie batter is mixed up, you will pour all but 1/3 of your brownie mixture in the bottom of the pan. Spread it out evenly. Set the pan aside.
In a new bowl you will cream you softened cream cheese and granulated sugar until you get a creamy consistency.
Now you will add an egg at a time making sure it gets fully incorporated. Now begin mixing in your sour cream, all purpose flour, and vanilla extract.
Pour the cheesecake batter on top of your brownie crust base. Spread evenly with a spatula.
Now you will take your remaining brownie batter and pour on top of the cheesecake. Take a knife or toothpick and swirl it around so the brownie mixture incorporates a bit into the cheesecake.
Take a paper towel and lay over the top of your cheesecake followed by a layer of aluminum foil. This is going to prevent condensation from developing on the top of your cheesecake.
Now you will pour 1 1/2 cups water into your Instant Pot inner pot.
Then create a foil sling or use your silicone sling to place your cheesecake on and lower into the inner pot.
Place pressure cooker lid on and do high pressure for 33 minutes, with a natural release.
Once your cheesecake is done cooking, remove the brownie cheesecake from the pressure cooker carefully. Remove your foil and paper towel, and use a paper towel to remove any condensation on top of your cheesecake.
Allow brownie cheesecake to cool for 1 hour on a wire cooling rack on the counter. Then take your cheesecake and cover it and place in the fridge for at least 12 hours to overnight.
Then after the time is up you will now work on your chocolate ganache mixture.
In a pan, you will mix your heavy cream to a simmer on the stove. Then pour your chocolate chips into a glass bowl, and mix your heavy cream into the chocolate chips. Then allow the mixture to sit for 2 minutes.
With a whisk, you will mix your ganache until it is creamy and smooth. Spoon it onto your cooled cheesecake and use a spatula to spread evenly.
Then place in the fridge for an hour to harden.
Once the brownie cheesecake is set up and ganache is fully set up, you can then decorate or slice and serve your Instant Pot Cheesecake.
Notes
To decorate your brownie cheesecake you can pipe on whip cream using a star tip and add chocolate sprinkles over the top. This is optional and doesn't have to be done. It adds a nice presentation value to this Instant Pot Brownie cheesecake.
Recommended Products
As an Amazon Associate and member of other affiliate programs, I earn from qualifying purchases.
Nutrition Information:
Yield:

10
Serving Size:

1 sk
Amount Per Serving:
Calories:

457
Total Fat:

31g
Saturated Fat:

12g
Trans Fat:

0g
Unsaturated Fat:

17g
Cholesterol:

90mg
Sodium:

173mg
Carbohydrates:

44g
Fiber:

1g
Sugar:

18g
Protein:

6g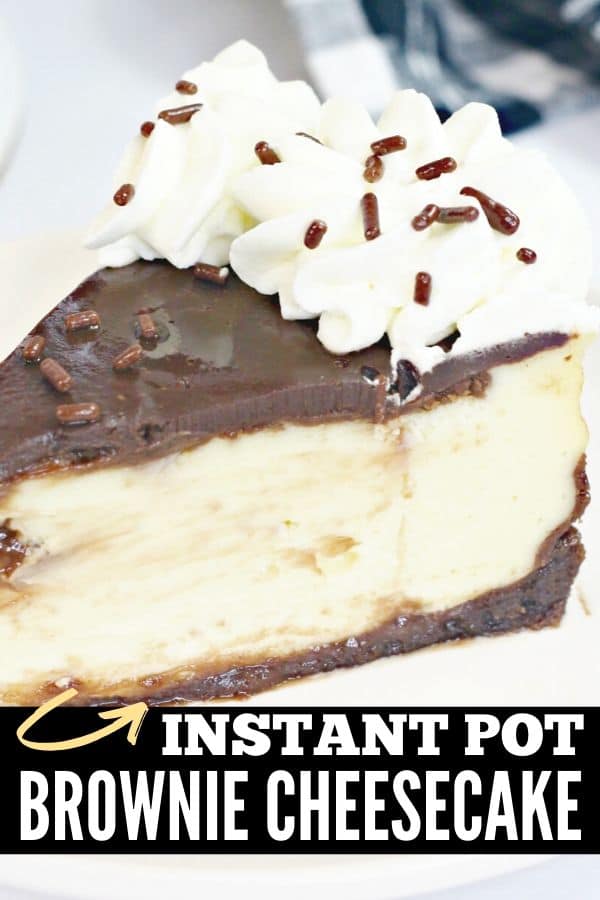 What Do You think of this Instant Pot Brownie Cheesecake?