Grilled Bruschetta Chicken is a tender and juicy chicken breast that is perfectly seasoned topped with melty mozzarella cheese, fresh tomatoes, and pesto.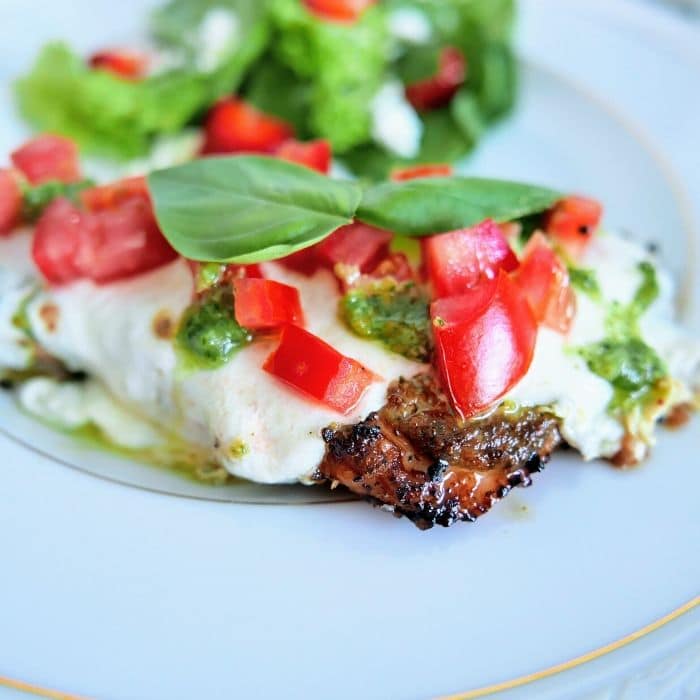 This chicken bruschetta recipe can be made on your pellet grill, charcoal, propane or even on your Ninja Foodi Grill! Try my bacon-wrapped stuffed chicken recipe as well.
Grilled Bruschetta Chicken
I used my indoor Ninja Foodi Grill to make this chicken recipe. It is my new favorite way to grill when I don't want to mess with our pellet grill.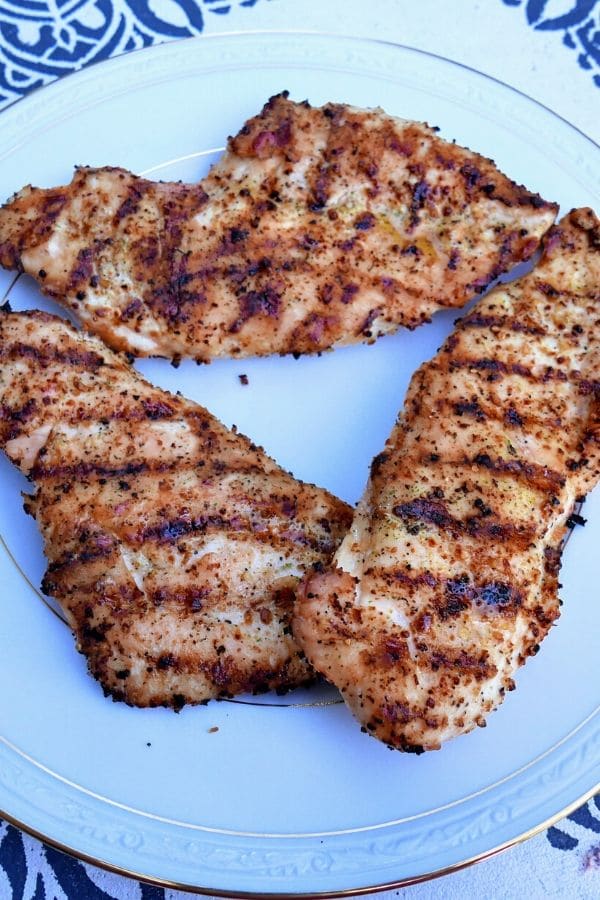 What Can I Cook This Chicken On
Indoor Grill – I Used a Ninja Foodi Grill
Outdoor Grill – I have used our pellet grill in the past
Pan Fry then Broil In Oven
You can honestly cook this chicken in so many different methods. The key is cooking the chicken and then add topping, broil or heat until cheese is melted and toasty, the top and serve.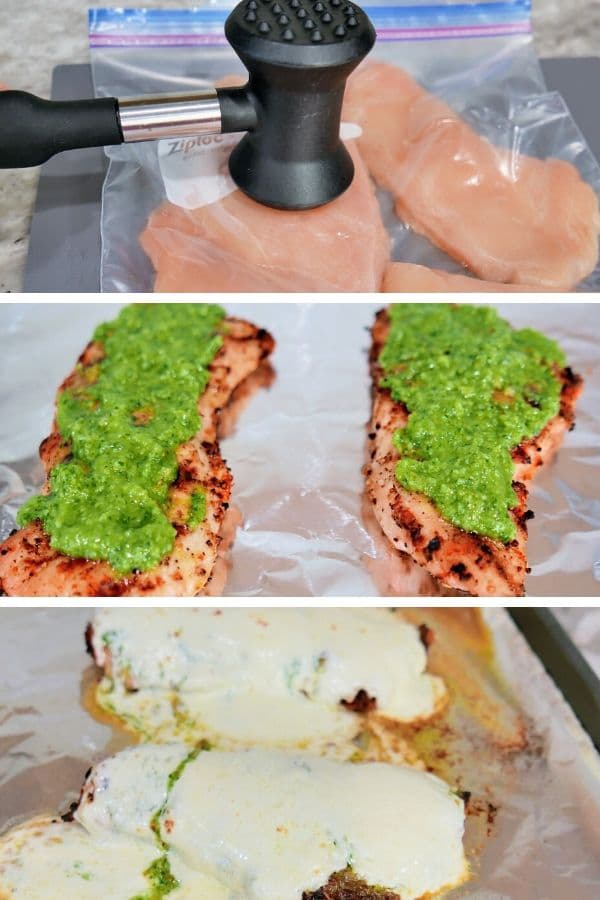 How To Make Bruschetta Chicken
Trim chicken breast and then use tenderizer to flatten them out so they are not so thick. You want chicken to be about 1/4 inch thick.
Season your chicken and then toss on the grill and cook until your chicken reaches 165 degrees internal temperature. You will want the grill to be 450 degrees, and then cook for 3-4 minutes flipping after and repeat cook time.
Place on foil once fully cooked, and then top with pesto and mozzarella slices.
Broil in the oven or use air fryer on your Ninja Foodi to toast up the cheese on the top.
Remove and top with fresh tomatoes and basil leaves.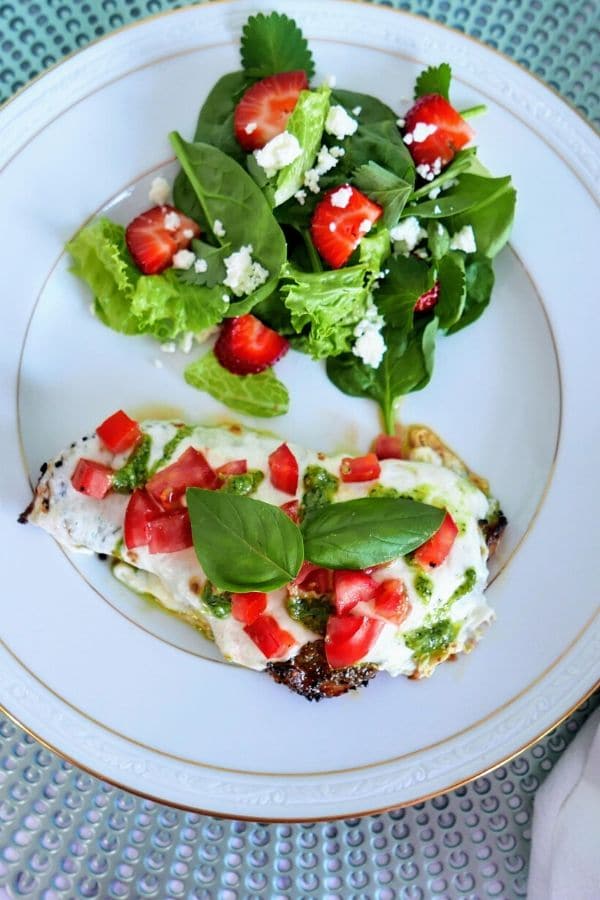 What To Serve With Bruschetta Grilled Chicken
Salad – I did a strawberry spinach salad
Steamed or Roasted Vegetables
Rice or Cauliflower Rice
Etc
There are so many things that you can pair with this Ninja Foodi Grill chicken recipe. I personally love salad next to mine but feel free to reach for any favorite side dish you would like.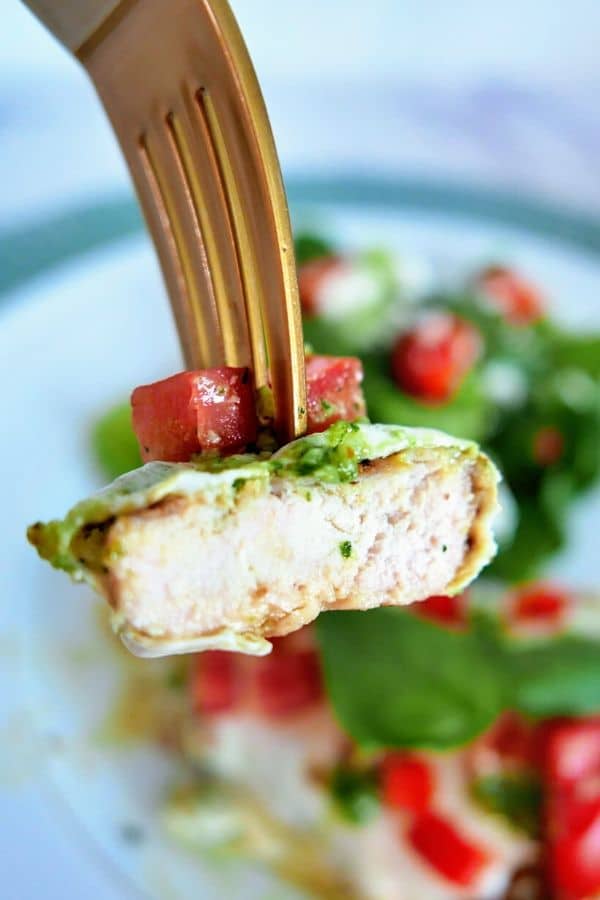 How To Know When Chicken Is Done
The best way to know when chicken is done is to reach for a meat thermometer. I used my probe that came with my Foodi grill! But you can buy any meat thermometer.
Chicken needs to reach an internal temperature of 165 degrees. You will also know when chicken is done when the juices run clear.
Craving More Chicken Recipes
How To Store Leftover Chicken
If you have leftover chicken just place in an airtight container and store in the fridge. You will find to reheat you will need to remove the tomatoes or fresh basil leaves on top.
They will wilt if you reheat with them on it. I tend to only assemble the bruschetta chicken if I know we are going to eat it.
So if I have leftovers I like to store the chicken plain, and then assemble and reheat like I was cooking it night one.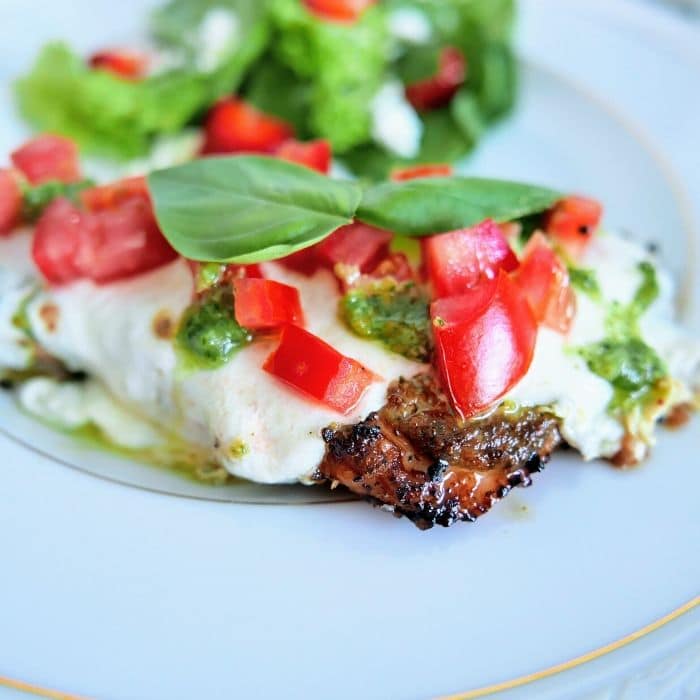 Grilled Chicken Bruschetta
Servings 3 chicken breasts
Grilled Bruschetta Chicken is a super easy and satisfying weeknight or weekend dinner. Juicy chicken breast, mozzarella, pesto, and more. Give this chicken bruschetta recipe a try.
Ingredients
3 Chicken Breasts
McCormick Perfect Pinch Roasted Garlic and Bell Pepper Seasoning
Salt and Pepper to taste
Cooking Oil Spray For Grill
1 cup Homemade or Store Bought, Jar of Basil Pesto
Fresh Mozzarella Cheese Sliced
2 Roma Tomatoes diced
Instructions
Take your raw chicken breasts and trim them with kitchen shears if needed. Then place in gallon size bag and then use a meat mallet to pound the chicken to around 1/4" thick.

Preheat your grill to 450 degrees. Spray your chicken breast lightly with cooking oil spray. Then play on grill and cook for 3-4 minutes on one side. Flip and cook another 3-4 minutes.

You will want to cook your chicken till it is fully cooked. Make sure it reads 165 degrees internal temperature.

Now remove the chicken from the grill. You will want to lay out your chicken on an aluminum foil lined sheet. Then place some pesto on top of each chicken breast, then slice and lay out some fresh mozzarella on each slice of chicken.

Now if you are using the Ninja Foodi Grill you can select the air fryer setting and do 425 and cook to broil the cheese and brown it up. Otherwise toss it right in the oven on broil for 2-4 minutes or until the cheese is browned and melted.

Remove your grilled bruschetta chicken from the oven and top with diced roma tomatoes, add extra pesto, basil leaves and serve as desired.
Nutrition
Serving: 1/2 chicken breastCalories: 359kcalCarbohydrates: 6gProtein: 25gFat: 27gSaturated Fat: 5gPolyunsaturated Fat: 19gCholesterol: 65mgSodium: 399mgFiber: 1gSugar: 1g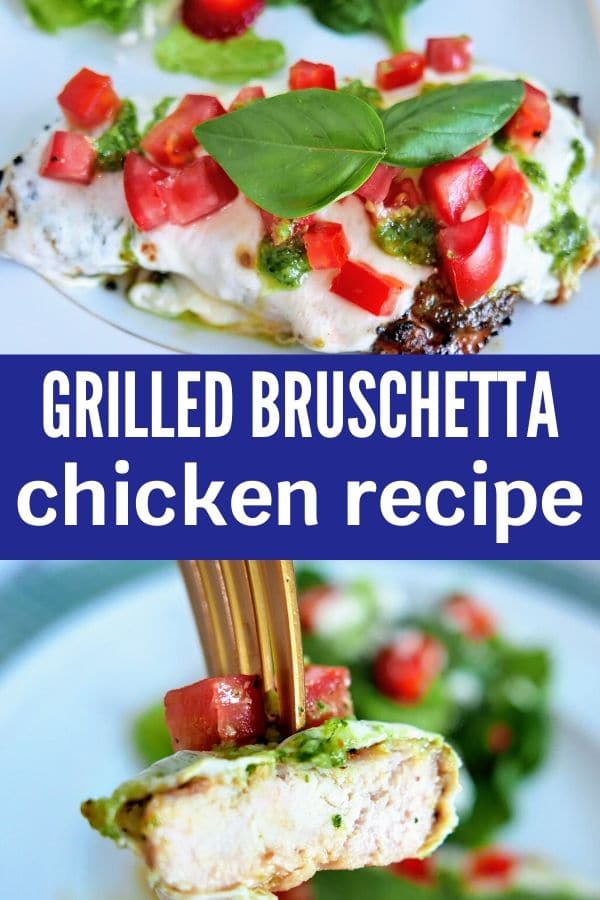 I hope you enjoy this Ninja Foodi Grill chicken recipe! Have you ever made grilled bruschetta chicken before?
Reader Interactions